In order, the top 3 overall best-selling vehicles in the U.S. last year were the Ford F Series, Ram Trucks, and the Chevy Silverado. With a near impossible entry, the pickup truck market is tight yet enormous. The segment actually stands as the second-largest in the U.S. behind crossovers, a much more diverse landscape. It's pretty clear that auto manufacturers are focusing on entering the electric car market with electric crossovers, but where are the electric pickup trucks? Are electric trucks bound or will gas-guzzling tanks remain the norm for years to come?
While EV automakers like Tesla roamed the new territory of EV's with minimal competition, legacy automakers took a step back. Years later with emission regulations in place and the idea of EV's and sustainability finally at a mass scale, automakers finally began to recognize the future of transportation. Investments and roadmaps were put in place to make the eventual transition towards electric cars.
However, with battery costs still too high, the idea to power a massive work vehicle capable of towing 8,000 lbs such as the Ford F150 seemed every bit of ridiculous. Legacy automakers once again took a step back and waited for costs to come down and be comparable to current engine manufacturing prices. Who could blame them? Sure, EV sales are rising, but truck sales aren't declining.
With this ideology in place, the electric truck market was just theoretical with it open for anyone to join. New electric truck companies quickly formed to fill in the space. Now, in 2021, even legacy automakers are looking to jump into the EV truck space. With electric truck news growing, below are 15 new electric trucks fighting to be the first. Some might be coming sooner than you'd imagine.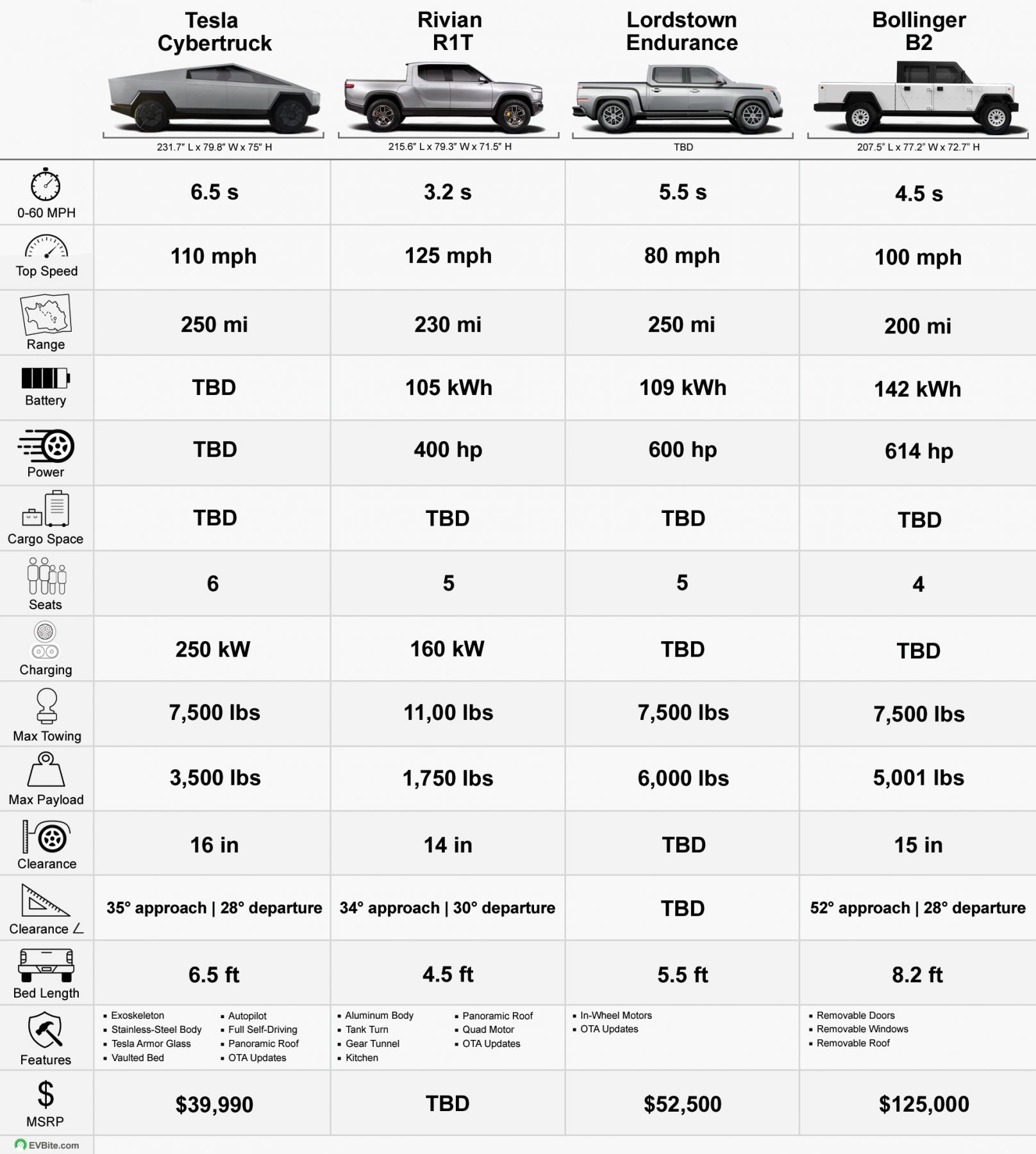 ---
After making its debut at the 2018 L.A. Autoshow, the Rivian R1T might just be the most anticipated electric pickup truck on this list and gunning for the future competitive spot of the best electric truck. Rivian is actually the first electric truck company with its conception way back in 2009. What might seem like an unusable preppy electric luxury truck is everything but that. The company dubs this next-gen vehicle an "electric adventure truck", merging the best of both worlds.
With 600 employees, 4 facilities, and a few billions of dollars in backing, this will be the first electric pickup truck to actually hit the mass market.
Specs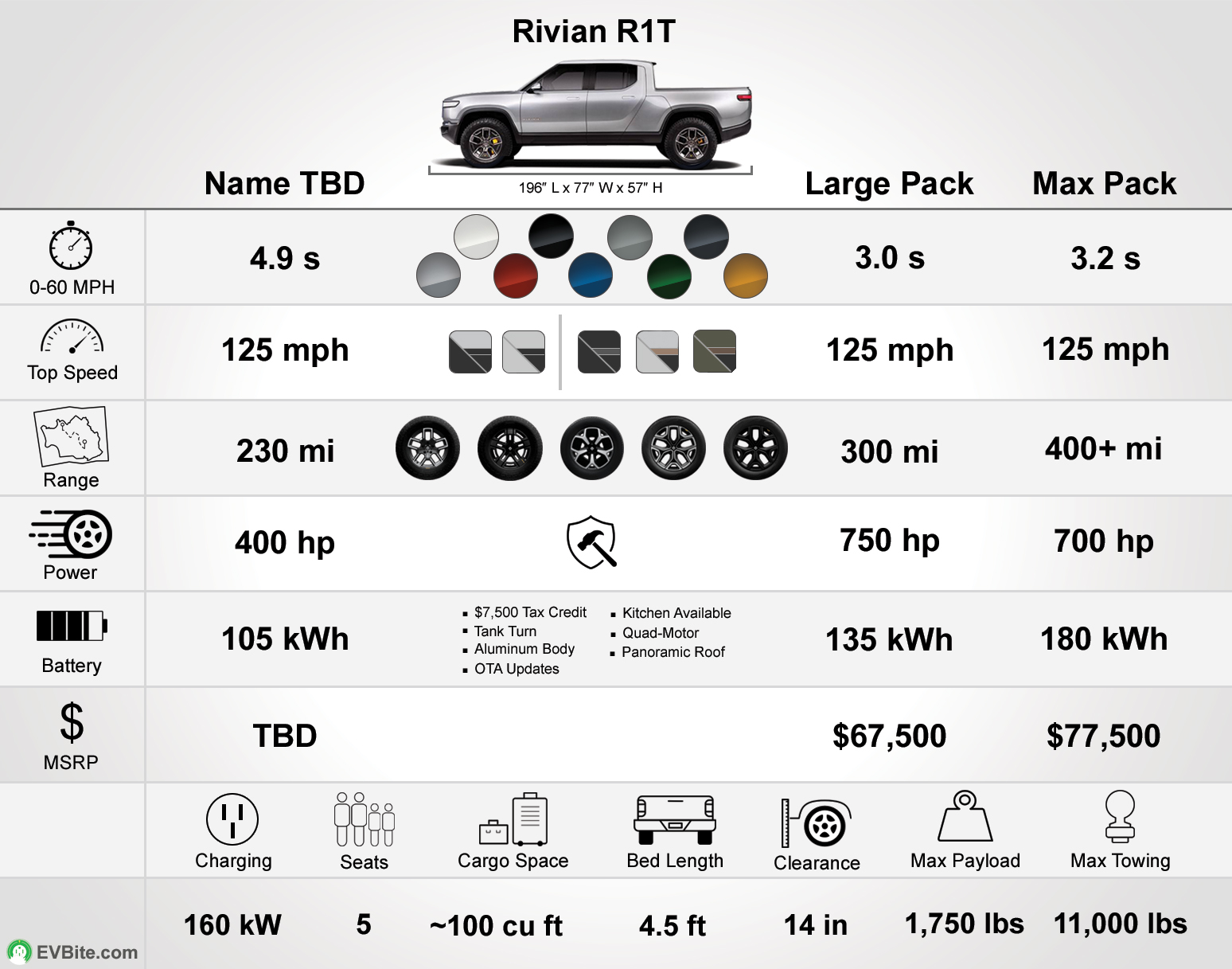 Initially, the Rivian electric truck was set to come with three battery options, a 105 kWh, 135 kWh, and a massive 180 kWh. These translated to 230 miles, 300+ miles, and 400+ miles of range. However, as of now, the configurator excludes the 230-mile ranged batter. For some perspective, the largest battery currently on the market is made by Tesla at 100 kWh capacity with a 412-mile range.
Surprisingly, the mid-range 135 kWh model is set to have the most performance at 754 hp and an impressive 0-60 of 3 seconds. The long-range 180 kWh battery is set to have 700 hp and a 0-60 of 3.2 seconds. The difference is most likely a byproduct of the weight of the packs. The base model is set to go 0-60 in 4.9 seconds with 402 hp. All 3 models are capped at a 125 mph top speed but Rivian has stated the possibility of over-the-air performance upgrades as an option for its new-age all-electric truck.
Even with a massive battery pack, the Rivian electric truck can safely travel through waters up to 3.3 feet in depth, which is a foot more than the Mercedes G-Class. It has a payload of almost 1,800 lbs and can tow 11,000 lbs.
The electric Rivian R1T by no means will come with a dreadful ownership experience. The electric truck will have fast charging capabilities of up to 160 kW with an onboard 11 kW charger. That excels current standards and meets what will most likely be standards at the time of release but we aren't so sure it's future proof with the ongoing 350+kw chargers being prepared. The R1T should charge at a more than decent speed of 200 miles in just 30 minutes.
Design
The Rivian R1T electric pickup truck is designed with off-road and lifestyle intentions over work. While its aesthetic displays it in line with Range Rover's class, the electric truck company is looking to make the Rivian R1T a bit more capable. The R1T caters to both those who leave their weekend vehicles covered in mud or those who just need a massive stunt machine to tow their jet skis.
Like most electric vehicles, its appearance is mostly focused on aerodynamics. The front features unique headlights meant to grab eyes and distinguish itself from other vehicles on the road. Rivian has dubbed these unique features as "Stadium Lights" and long "Position Light" and I think they speak for themselves.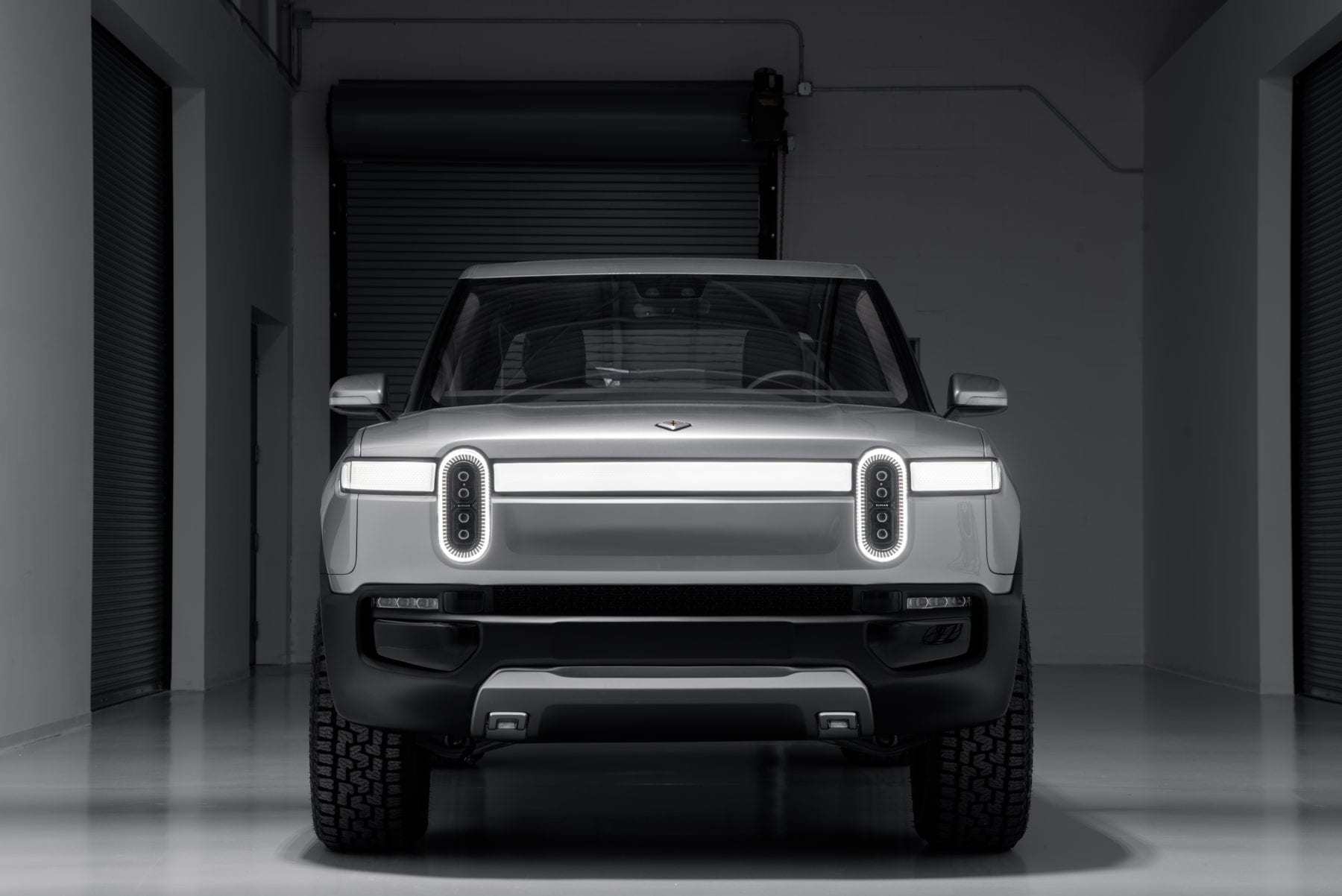 "We're a new brand coming to the marketplace and we wanted something – maybe people wouldn't recognize the name initially but you'll certainly memorize that and remember it and remember that that's a Rivian."
Its general dimensions make it slightly larger than a Honda Ridgeline or Chevrolet Colorado Extended Cab.
What might not be the largest truck on the market definitely has an adequate amount of storage. The Rivian EV truck bed is on the small side at 55 inches but the company has found other storage solutions. This new electric truck will also have a massive front trunk boasting 11.6 cubic feet of space. They've also gotten a bit innovative by adding an innovative new storage space called a "gear tunnel" meant for things such as snowboards, fishing rods, or golf bags. It adds 12 cubic feet of space and the door can also be used as an outdoor seat or stool to easily access the roof racks. Under the bed is also a lockable compartment with a full-sized spare tire. If you opt-out of the spare, the compartment holds another 7 cubic feet of space.
The dedicated electric truck manufacturer is also working on modular gearbox and bed additions. The first to take advantage could be Rivian's camper truck featuring an entire kitchen in the gearbox with a popup tent converting the bed into a bedroom.
Technology
As every new car entering the decade does, Rivian is also focusing on tech. The R1T features 3 massive screens. One replacing the traditional dash, another replacing the dials behind the steering wheel, and the third in the back for infotainment and climate control for rear passengers.
The R1T is also equipped with cameras, radar, and ultrasonic sensors for very basic autonomous driving. Initially, LIDAR was intended on being used for more advanced level 3 autonomy but with silence and it being delisted from their website, we can only assume that project has been pushed back.
The company has done like many and has placed a focus on software with the inclusion of over-the-air update capabilities. The fan-favorite Alexa voice assistant has also been built into the electric truck along with other quirks like access to a live feed of the forward-facing camera.
Release
Right now, Rivian sits as the most promising electric truck company actually having the first electric truck coming out. If the production version is anything like the concept revealed, it's sure to be a hit.
The order books are now open with the mid-tier Rivian starting at $69,500. The smaller battery pack is currently unavailable on no word if it will ever come and at what price point. The larger 400+ mile range battery pack features a hefty $10,000 price tag.
Deliveries for the Rivian R1T begin in June of this year for Launch Edition reservation holders. The standard Explore and Adventure editions both begin deliveries in January of 2022. If you're just now ordering, expect a waitlist that could potentially be over a year long.
Alongside the electric pickup truck, the company is producing an electric SUV dubbed the Rivian R1S. For those wondering Rivian's naming scheme, the R for Rivian, 1 for 1st edition, and S/T for SUV/Truck. With so much ambition and plans, many are calling Rivian the next Tesla. The company has even been commissioned by one of their backers, Amazon, to build 100,000 electric delivery vans. A Ford electric truck collaboration is rumored to be in the works as well, as Ford is another one of Rivian's long list of investors.
---
While it looks like electric pickup truck plans are being thrown around by every automaker in hopes of making the news cycle, there are few electric truck companies that have been here from the beginning. With its founding in 2016, Atlis Motors is another startup trying to make something of itself during this electric vehicle renaissance. Unlike side projects brought in by others, Atlis Motors' sole ambition is to remain an electric truck manufacturer fitting all the needs of the working class while delivering exceptional specifications for the rest.
This Arizona-based company is considered the market's electric truck underdog by many. With a fraction of the workforce and very little funding, they have still managed to state some out of this world, almost unreasonable, specs for their electric pickup truck, the Atlis XT.
We actually had the opportunity to ask their CEO, Mark Hanchett, a few questions:
Specs
On release, the Atlis truck is aiming to have specs high enough to lead the industry. Presently, the Atlis XT electric pickup truck offers four future trim levels. A 300-mile ranged, 400-mile ranged, 500-mile ranged, and another 500-mile ranged pickup with higher towing specs. Each model comes all-wheel drive with four doors, something lower-end pickup trucks tend to miss. Atlis Motors states that the vehicle will be able to be propelled to 60 mph in just five seconds and have a top speed of 120 mph, but there's no clarification on which trim level those specs are stated for.
Towing capabilities range from 6,000 pounds all the way to 17,000 pounds, while payload restrictions go from 1,000 pounds up to 5,000 pounds. The heaviest duty Atlis XT electric pickup truck will offer an 8′ bed with a gooseneck cable of towing 35,000 pounds. The 8′ bed is not restricted to the priciest model as it will be offered to the lower trim levels as a $3,000 option. The option to opt for a dually version will also be available for those who need the most out of their electric pickup truck.
With these tier one specs, you'd certainly expect an upper-class price tag. Lucky for consumers, Atlis looks to make a vehicle suited for most at a price most can afford. The Atlis XT price starts at just $45,000.
*We are uncertain which (or if all) trims will contain this single stated spec
Design
One look at the Atlis XT truck, its specs, and its stocky build and you can easily tell what the company is aiming for; A great electric truck option for any job site. The design is rather boxy with a somewhat busy face, not too far off from what we've come to expect from truck makers. The front of the XT is imposingly flat and tall resembling nothing but a brick wall heading your way.
The company has gotten a bit innovative with its front-end design. The so-called 'frunk' can fold open like a rear tailgate, allowing for easy access.
In terms of body configurations, the XT will be available in either a 4-door cab or a 2+2 crew cab (available after launch). As seen with traditional pickups, there will be two different bed lengths, an 8 ft. option as well as a shorter 6.5 ft. version. Thanks to the modular design, further customization is found for the rear of the truck as you can spec out the XT to have a flatbed or a service body that allows for an increase in storage compartments, a feature that shows Atlis' commitment to catering towards their truck needing to be a 'work truck'.
While the standard interior is cloth, for $3,000 you can opt for leather seats and carpeted flooring. Both the front and rear seats fold in a 40/20/40 configuration, allowing for seating of six people (unless you get the 2+2 configuration). Atlis not oblivious to the fact that the interior is going to be beaten up on a daily basis and will be subject to dirt, grime, snow, rain, etc. They have explicitly stated that they are aiming to have their interior be able to stand up to the abuse found in day-to-day heavy usage.
Technology
In the dashboard, you can find the usual array of screens found in today's modern-day car. The UI behind the wheel ensures that the driver is in full control and allows for various customization. Either side of this screen is where you find the side camera feeds. That's right, the Atlis XT comes with no side mirrors, instead opting for cameras. With them positioned to the left and right of the steering wheel, the driver does not have to shift their eyes at all to take in all surroundings.
On worksites, the electric truck is a tool itself. The company looks to add a necessary feature such as an on-board air compressor and readily available 240v and 120v outlets used to power tools using the energy stored in the truck itself.
Staying with the new norm of technologically advanced vehicles, Atlis Motor Vehicles plans to incorporate OTA updates. Taking a look at something like Tesla software updates and you quickly find the importance of continuous vehicle updates. Vehicle software updates are nothing new to the world. However, throughout the years, aside from a relatively few, they've only been used to fix minor bugs. With consistent updates being sent to vehicles implementing new features and concepts, your car feels fresh for longer. This also allows automakers to cater to both new and current customers at the same time, leaving everyone ecstatic about their purchase decision.
Autonomous driving features are planned with a partner in the future, but no more details have been given. The Atlis XT electric truck is said to come stock with these autonomous features included in the already low price.
Release
In all, the Atlis truck looks to cater to all situations. Whether it be the workforce, the tech-savvy, the off-roaders, the road trippers, or just those needing to get from A to B, the Atlis XT electric truck is set to fill all those shoes without exceptions. Forget the VW ID Buzz, this is the vehicle we need to see on the road pronto.
The team has been working on the Atlis XT electric pickup truck for some time now with progress seemingly slower than others. The company is officially nearing the crucial moment where funds need to be collected and prototypes need to be made in order to continue. Atlis has a lot on its plate, making an EV is tough, designing a battery and charger that can eventually charge the truck in just five minutes, that's even harder.
Atlis does have a lot of work to do in regards to this electric truck. While there are a lot of promises, it is very important to note that full production prototypes have yet to be made. The original 2020 Atlis XT release date came and went with it now rescheduled for the second half of this year.
If you're interested in the Atlis truck, you can reserve your vehicle today with no money down. If you're interested in Atlis Motor Vehicles as a potential investor, you can buy shares directly from them.
---
Bollinger is a relatively new startup as an electric truck company looking to enter a rather small niche of expensive recreational vehicles. The company actually has two electric trucks planned, the B2, an electric pickup truck, and the B1, what they call a "Sports Utility Truck". Catering to a small niche, they definitely have their place in the market.
"Rivian's extremely different than us. It's more mainstream, more luxury — and that's great. That's their market, but it's not ours.
I'm sure when Tesla comes out with their pickup truck, it'll be great. But we're still going to be different. I'm just happy that there are
more electric cars. I applaud them for doing a great job, and I believe that we can co-exist very nicely."
Specs
With its massive 120 kWh battery, which is currently larger than anything else on the market, it only gets a 200-mile range. This is mostly due to its weight and poor aerodynamics but that's nothing new to lovers of box-shaped vehicles. The typical Bollinger customer won't go on road trips and instead use these trucks for work or off-roading.
Like most trucks, the Bollinger B2 is no track car. With its dual motors, 614 hp, and an all-aluminum body, the Bollinger B2 can reach a top speed of 100 mph with a 0-60 of 4.5 seconds.
Design
Both the Bollinger B1 and B2 are extremely simplified but rugged vehicles. Until an electric Jeep Wrangler or the Hummer EV is released, those looking for an all-terrain electric truck would have to at least consider Bollinger.
The B1 and B2 both classify as Class 3 Work Trucks and will not have airbags. These EV trucks will be able to haul significant loads with a 5,001 lbs payload capacity, 7,500 lbs tow capacity, and 668 ft-lb torque on the B2. Doors, glass, roof, and seats are all removable making this one of the more versatile vehicles. The B2 will have a max bed length of 8'2" with its wall open and rear seats removed.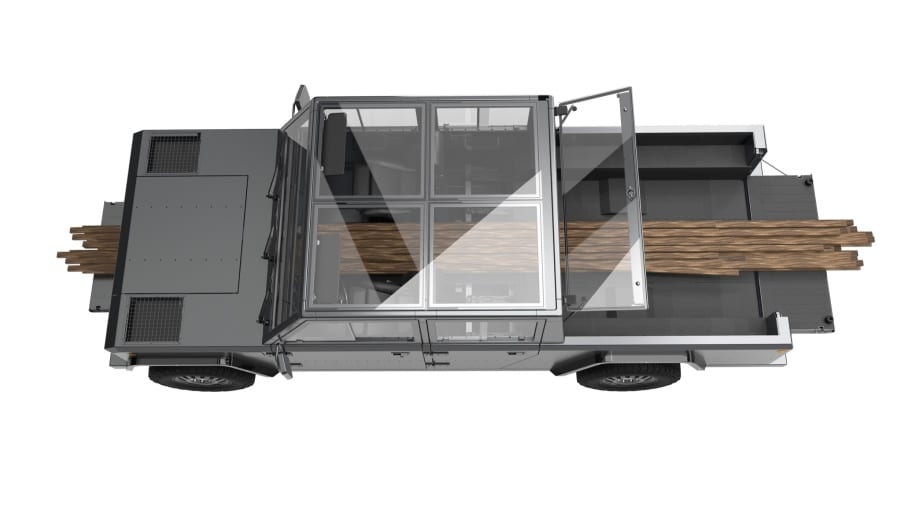 The interior of these electric trucks is just as simple as their exterior design. With bare steel and minimal tech, it's as simple as it gets with almost a military aesthetic playing a part.
Technology
In terms of technology, there is none. The Bollinger electric trucks keep it simple with an old-school and classic vibe. Enjoying the outdoors in a quiet vehicle seems to be the idea behind this electric truck.
Release
As a smaller company with fewer resources, Bollinger is not looking to make its own motors or batteries. Instead, they will off-source most components and focus on the assembly and design of their electric trucks. While some would argue cons against this method, it could also be argued that it's better than promising the unachievable.
A Bollinger B1 release date is scheduled for 2021 with the Bollinger B2 electric pickup truck to follow shortly after. Due to their simplicity, both EV trucks can very easily enter the European market soon after with a right-hand drive. The Bollinger B1 price will start at an astonishing $125,000, well above initial expectations.
---
You probably haven't heard of Workhorse and their plug-in hybrid truck, and there's a good reason. Workhorse trucks are typically produced for fleet use like utility companies or UPS. They don't generally deal with the public and rather focus on business use. This Workhorse electric truck was set to change that when the company opened up reservations for their W-15 electric truck in 2019 to the public.
The Workhorse truck was a project set to initially begin deliveries in 2020. Sadly, even after a decent amount of preorders, Workhorse paused all development of this vehicle. However, the project is not entirely dead (more on that later).
Specs
This EV truck is actually not fully electric, rather a plug-in hybrid. The Workhorse W-15 concept can go 80 miles on all-electric with a 60 kWh battery pack and an additional 310 more driving miles on gas. The range extender, supplied by BMW, is just a gas generator that supplies power to the electric motors. It could possibly go even further on just electricity but 20 kWh are reserved for degradation. That means the manufacturer stated 80-mile electric range should remain the same throughout the majority of this vehicle's lifetime, unlike other EV's that gradually lose range over time.
The Workhorse W-15 is nowhere near record-breaking with its 5.5 second 0-60 or 80 mph top speed. Its 2,200 lbs max payload and 5,000 lbs tow capacity also don't stand out against its ICE counterparts for its size but it's not meant to. These fleet trucks are mostly used for service calls and rarely haul heavy equipment.
Design
Interestingly, the Workhorse W-15 concept is based on a Chevrolet Silverado with the chassis fully designed by Workhorse themselves. The electric truck strikes the pose as a traditional-looking pickup being hard to tell apart from others on the road.
The interior looks just like what you'd expect from a truck built for fleet purposes, dull. There's no luxury here, just a vehicle ready to get dirty and take on just about any job.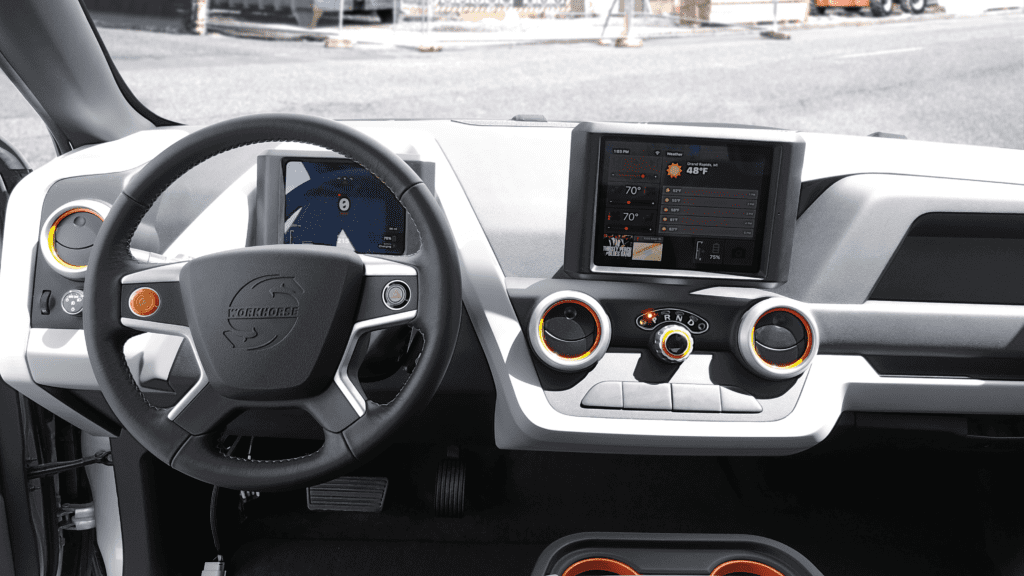 Technology
As an electric work truck, you can plug in your equipment into the Workhorse W-15 and its 7.2 kW charger. If you run out of juice, the generator will just kick on allowing you to continue powering your job site. Previously Workhorse was also working on a 14-kW module that would be able to power an entire house in case of an outage. The Workhorse W-15 was basically just a generator on wheels.
Aside from that, you won't find much tech on this electric truck. The basics such as lane departure warnings and emergency braking are there but you won't see any autopilot or self-driving features.
Release
The Workhorse pickup truck was initially set to start at $52,500, but that ship has sailed. After the company ceased production of this EV truck, they licensed the technology involved to Lordstown. Conveniently, Steve Burns, Workhorses founder and former CEO, is now CEO of Lordstown. So it seems the project was not entirely killed, rather transferred ownership. That being said, many changes have been brought to the original concept.
---
Another new electric truck company that appears on this list is Lordstown Motors, which takes its namesake from Lordstown, Ohio where a former GM factory is now being retooled to create electric trucks. Lordstown has a relation to another entry on this list, Workhorse, which owns 10% of the company.
The company was founded only a year ago but is being staffed by experienced executives such as former Workhorse Founder and CEO, Steve Burns as well as former Tesla Director of Manufacturing, Rich Schmidt, along with former employees of Tesla, VW, Toyota, and more.
The Lordstown Endurance can be seen as the revival of the Workhorse W-15. In fact, Lordstown is licensing the tech behind the canceled W-15 to build the Endurance and is even targeting the same segment of electric fleet vehicles.
Specs
Currently, the Lordstown Endurance EV truck is set to have 250+ mile range (at least 200-mile range EPA), 7,500 lbs. towing capacity, 600 hp, and a top speed of 80 mph. While those specs are nothing to brag about, the Endurance, like the W-15, is targeting fleet vehicles and commercial use.
Design
As a fleet vehicle, the design of the Endurance follows function over form. That however doesn't prevent it from standing out among the rest. The electric truck takes a unique approach with distinguishable body lines and a heavy grill. The truck's taillights stand out most with a modern and straightforward design.
The EV truck's interior comes with use in mind yet still finds a way to remain future-forward with a massive driver's display.
Technology
The most unique aspect of the Endurance is that it will feature four in-wheel hub motors. Instead of having motors in the middle of the axel(s) like EVs traditionally have, Lordstown will have a motor placed within each wheel, similar to what Rimac does with their electric hypercars. While the concept has obviously existed before, Lordstown claims that this will be the first time that in-wheel motors will be used in a commercial vehicle.
Having a motor in each individual wheel allows for the greatest amount of control and power delivery for each wheel. It will be interesting to see how the Endurance handles as an EV truck. Additionally, Lordstown claims that the in-wheel motors cut down on moving parts and makes the bold claim that the Endurance has the fewest moving parts of any moving vehicle. We do not actually know how you would go about measuring and validating that claim, but it has been made.
Release
Lordstown had the reveal of the Endurance on June 25th and showed the electric truck in its production form, which was not too unlike the concept that was initially shown. The company revealed that the Lordstown Endurance has about 40,000 pre-orders and is targeting a production date sometime in 2021.
While the specifications are not final, the price seems to be as Lordstown is already accepting $100 deposits and lists the Endurance electric truck with a starting price of $52,500. The company is gunning directly for the Ford F-150 demographic which it proudly pits the Endurance up against on their website detailing the cost savings.

It should be noted that the company has recently admitted that its financial situation is not the greatest. There is a threat that the company could go under before they even get to produce the Endurance.
---
The most unexpected addition to this list will come from a brand that was most famous for the amount of gasoline its models drank years ago. Hummer will look to shed its old gas-guzzling days and in true "pinch me, am I dreaming?" fashion, the brand has been revived with a fully electric model.
The Hummer EV was revealed to us in October, giving us a look at its design, features, and some of its specifications. Unfortunately, we still don't have the full picture as we do no know its battery things such as its battery capacity or towing capabilities, but we have a good enough picture for the time being.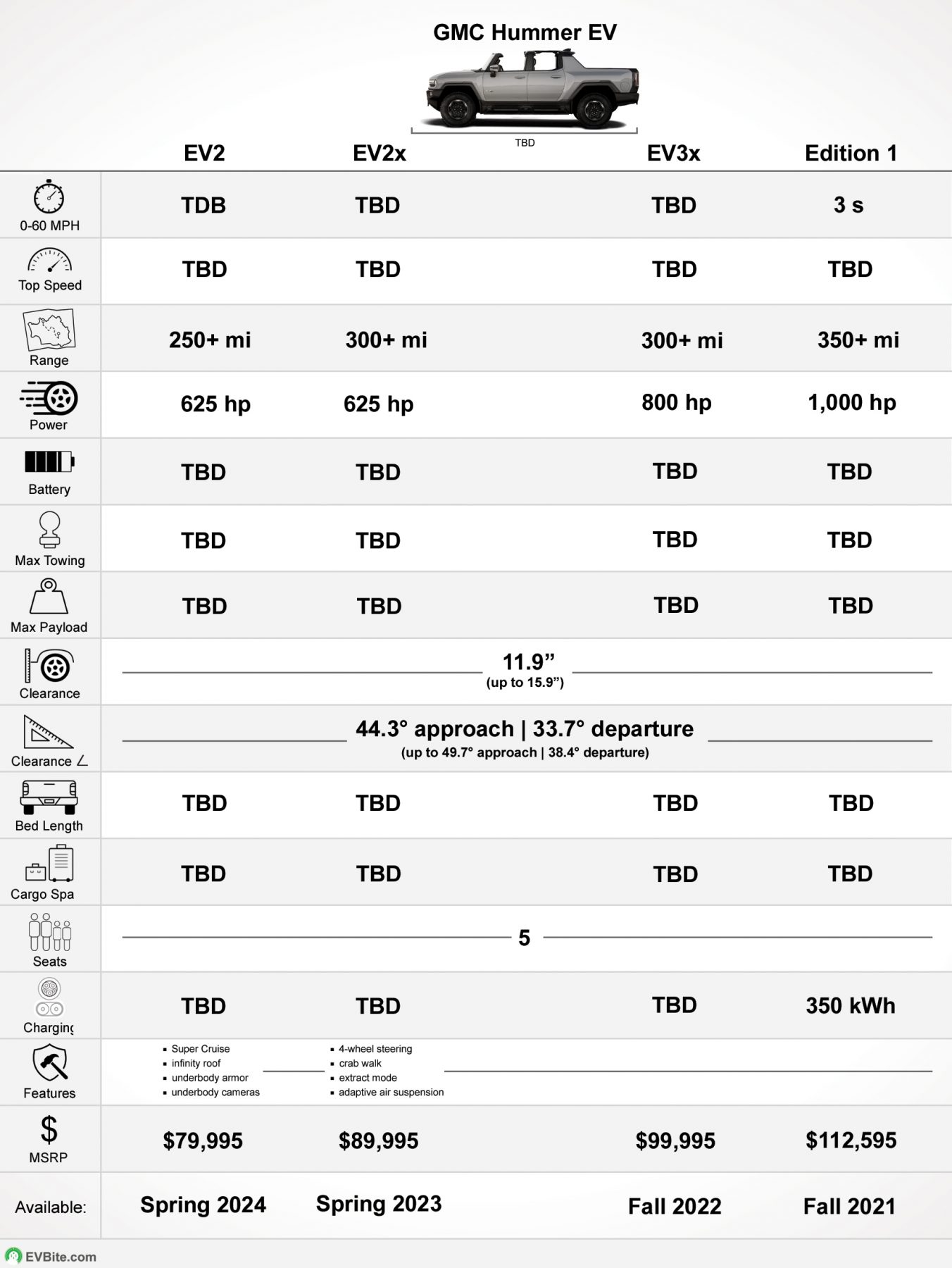 Specs
The Hummer EV will be one of the first to use GM's newest Ultium batteries and powertrain, and it shows. GM is targeting a range of over 350 miles and a 0-60 mph time of just 3 seconds for this the first-ever GM electric truck. Even with the price in the six-figures, the Hummer EV truck provides enough high-end specs to be seriously competitive in the near future. The electric truck could sway some rich buyers looking for an exceptionally thick EV that aren't fans of the much more affordable electric trucks on this list.
Off-roading has obviously been given attention to the development of the Hummer EV. The upcoming electric pickup truck is equipped with 35-inch wheels as standard which GMC states can scale 18-inch verticals and go through 2 feet of water. The bottom of the truck has been reinforced with steel plates to protect the truck and battery from any sort of sharp debris that you might be driving over.
Design
From a design standpoint, the GM electric truck did a good job of retaining the Hummer look while modernizing it away from the traditional block feel. The electric pickup truck is imposing and easily recognizable as a Hummer. The front is dominated by a light bar that spans across the entire front end actually doubling over as a charging indicator.
Hummer took a new approach with this EV allowing for a convertible option. The roof has panels that can be pulled out and stored neatly in the large frunk when you want to enjoy the great outdoors. We don't yet have an exact size for the truck bed (or any dimension) but it most certainly looks smaller than the standard truck bed length, limiting some of the utility that this electric pickup truck can bring.
The interior is relatively modern and attractive. The dashboard houses your now usual arrangement of a 13.4-inch center console screen and a 12.3-inch information display behind the wheel. There are not too many frills in the interior, in a good way. It looks just as rugged and sharp as the outside of the car, but you still get the modern comforts of leather seats, glass roofs, and big screens, leaning away from the spartan interior of the original Hummer H1.
Technology
In regards to autonomous driving, the Hummer EV will have GM's Super Cruise. The system, currently exclusive to Cadillacs, is one of the best implementations of autonomous driving found today. Super Cruise is able to be driven hands-off on about 200,000 miles worth of roadway across America. Automatic lane changes are in the works ready to be added later this year, so hopefully, the feature will be ready in time for the Hummer EV's debut. The system can also act as a traditional adaptive cruise control as well as employing lane centering.
To help you avoid off-roading incidents, the Hummer EV implements 'Ultravision'. Simply put, there are cameras under the electric truck so that you can better understand the terrain that you are on and avoid any nasty gashes to the bottom of your car. Other off-road features include an adaptive air suspension that can raise the truck up about 6 inches along with their dubiously useful CrabWalk which allows the Hummer EV to move in a diagonal line thanks to its four-wheel steering.
Release
For those looking for an affordable electric pickup, you might as well skip over this entry as the Hummer EV will be the most expensive option aside from the Bollinger. The old gasoline Hummers were not exactly affordable and the Hummer EV, which GM is touting as a "Supertruck", is no exception. The first Hummer EV trim available will be the 'Edition 1' (because every first-year model of an EV needs to be a special edition now) in Fall 2021 and will cost about $112,000.
The Hummer EV will be available in four different trim levels that will be released in a staggered fashion on yearly basis starting from next year, with the cheapest and least powerful version not appearing until 2024. GMC's order page gives a quick and concise look at the differences between all the models.

From a strict specs perspective, the Hummer EV is on the upper end for any electric car, but it's value looks to quickly plummet as the years go on and the specs remain stagnant, a 250 mile, $80,000 electric pickup in 2024 just doesn't seem like its a good idea.
---
Arguably the most popular electric truck on this list, the Tesla truck was finally unveiled in late 2019. Unlike anything the company has made before, this EV truck sways away from the modern design styles found in today's Teslas and pushes in the direction of something only imagined in dystopian-themed movies.
As it turns out, the two fan favorites, the Rivian R1T vs Tesla Cybertruck compare nicely.
Specs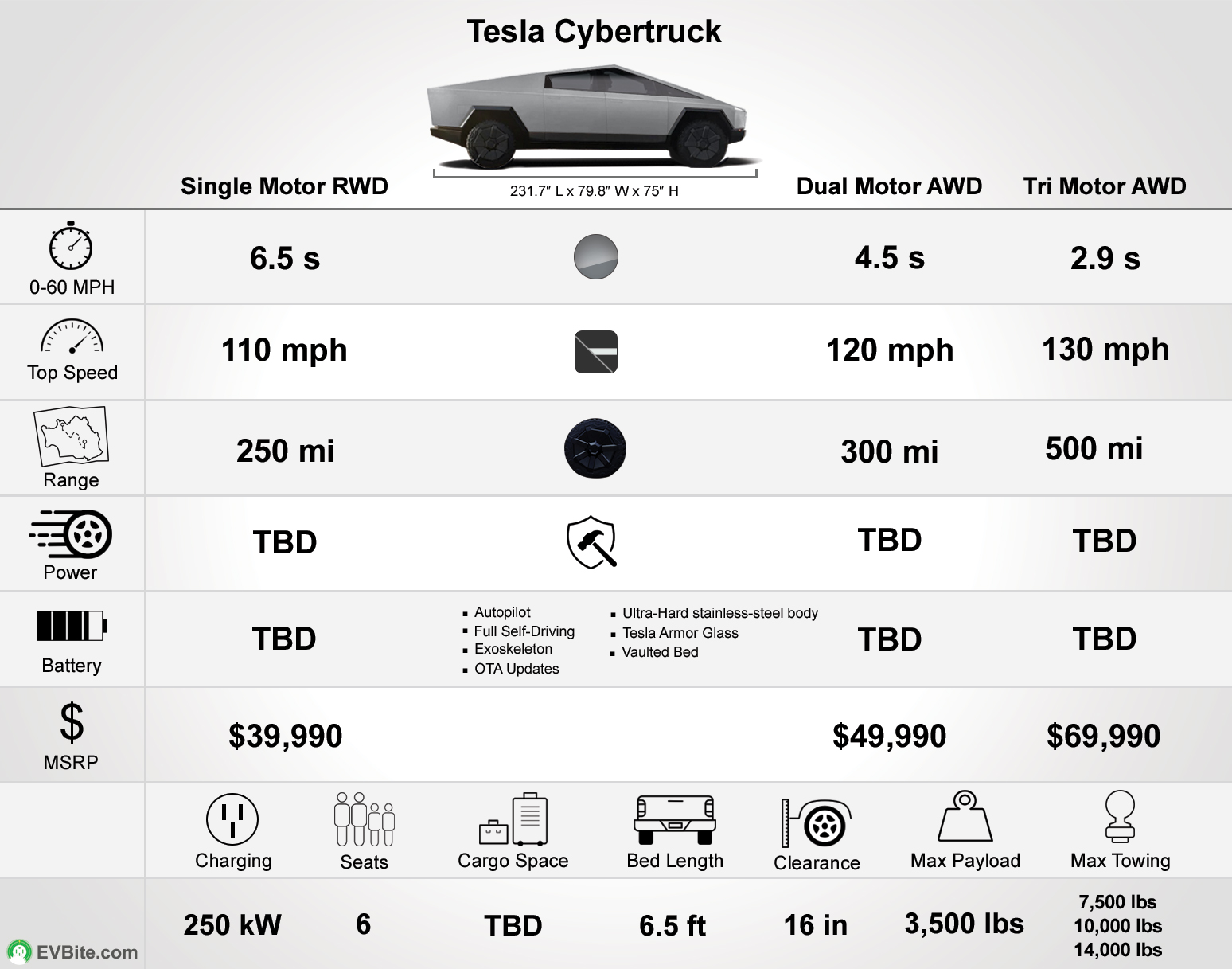 While we don't have exact battery specifications yet, we do have range. The Tesla Cybetruck tops out at an industry-leading 500-mile range. Musk did at one point state that the Tesla pickup could possibly go over the current 100 kWh battery packs but nothing has been confirmed just yet. With Tesla's new 4680 battery on the horizon, just about anything is possible. For comparison, EV truck competitor Rivian has stated a 180 kWh battery in their 400-mile range electric truck.
Like other new electric trucks, the Tesla Cybertruck will have 220V power outlets for work tools, completely replacing the need for generators. It will also be equipped with 110V outlets and a built-in air compressor to make life on the job that much easier. Most notably, it will also come with Tesla's famous OTA updates which will push your vehicle's software to new heights even after your initial purchase.
In terms of usability, the Tesla truck aims to compete with the best, the Ford F-150. The two pare up nicely in terms of truck specs. Even with the unique design, Tesla found a way to make sure this EV truck's dimensions, both inside and out, could cater to the average truck user.
| | Tesla Cybertruck | Rivian R1T | Ford F150 |
| --- | --- | --- | --- |
| Max Payload | 3,500 lbs. | TBA | 3,270 lbs. |
| Max Towing | 14,000 lbs. | 11,000 lbs. | 13,200 lbs. |
| Max Range | 500+ Miles | 400+ Miles | 500+ Miles |
| Top Speed | TBA | 125 mph | 110 mph |
| 0-60 mph | 2.9 sec. | 3.0 sec. | 5.1 sec. |
Design
The build up to the Tesla Cybertruck unveil was years long with the companies CEO, Elon Musk, rambling about its conception on every platform where given the opportunity. The Tesla truck was actually built around collected fan feedback and requests on Twitter. In typical Tesla fashion, they listened to what people wanted in an electric truck and built features around that. Initially, the general idea was simple, an indestructible cyber-esque design.
"Well I can't talk about the details, but it's gonna be like a really futuristic like cyberpunk, "Blade Runner" pickup truck. It's gonna be awesome, it's gonna be amazing. This will be heart-stopping…It's something I've been wanting to make for a long time. And I've been iterating sort of designs with Franz … It's like I really wanted something that's like super-futuristic cyberpunk. Which, if it doesn't … if I'm weirdly like … if there's only a small number of people that like that truck, I guess we'll make a more conventional truck in the future. But it's the thing that I am personally most fired up about. It's gonna have a lot of titanium."
Cyberpunk it most definitely was. The design drew up much controversy with groups equally standing on opposing sides. The titanium was dropped for a bullet-proof ultra-hard 30X steel, most likely to keep this electric truck on the affordable end. As a first of its kind, this electric truck is built on an exoskeleton. Additionally, a proprietary transparent steel "Tesla Glass" was designed in order to round this truck up as one of the most durable vehicles on the road. The Tesla Cybertruck is nearly a military-grade street legal tank.
In terms of size, the Tesla truck concept was a bit larger than most, unable to fit in a large percentage of garages. Musk took the criticism and shrunk the dimensions around 3% for the production version. For those that need something even smaller, a second smaller Cybertruck is rumored to be in the works.
In traditional Tesla fashion, the interior is both modern and sleek. It's fitted with a horizontal 17″ screen with an all-new interface.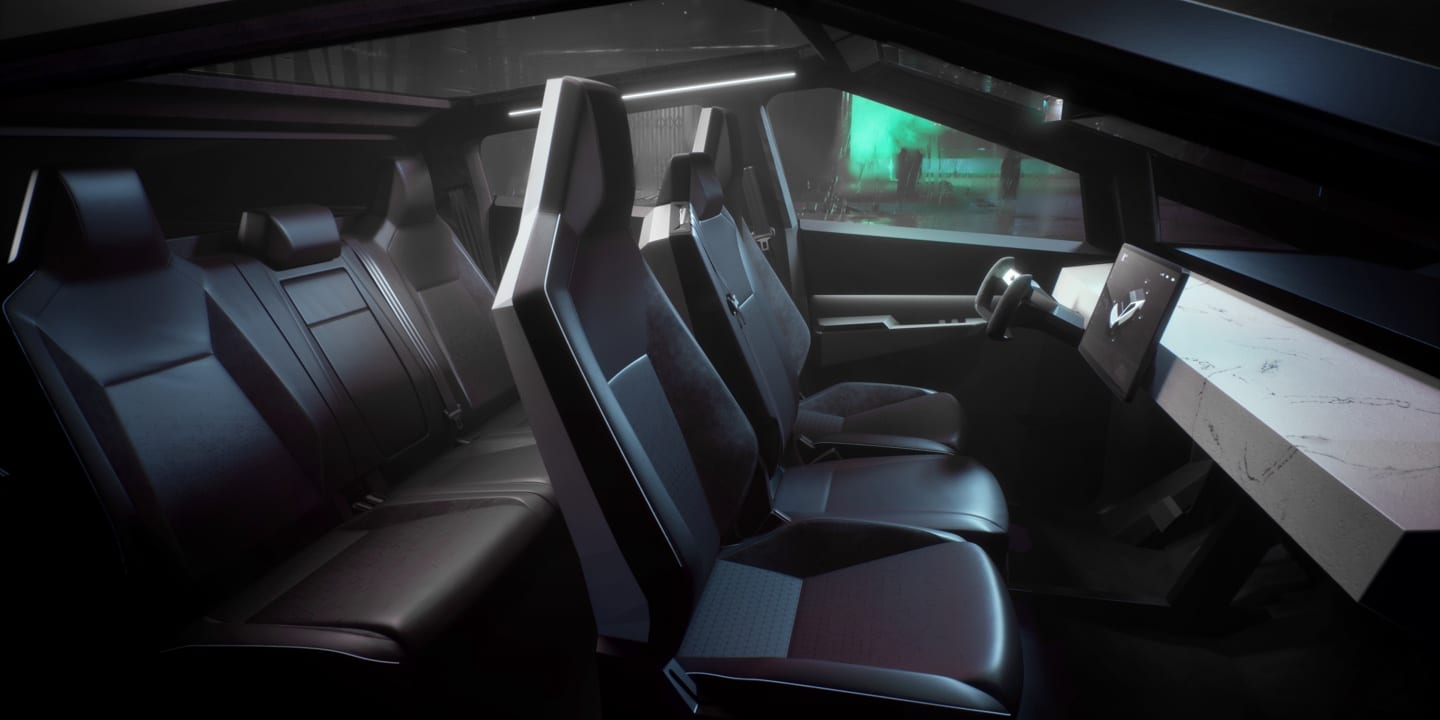 Technology
It's hard to talk about Tesla without mentioning Autopilot, FSD, and their robotaxi ambitions. Of course, the Cybertruck will be capable of it all but it's yet to be confirmed whether or not Full Self-Driving and robotaxis will be ready for prime time by release. However, with Advanced Summon and FSD Beta now out, we expect Tesla to make use of their Autopilot system for some truck focused maneuvers.
Tesla currently offers the most technologically advanced vehicles on the market. Taking advantage of the infotainment area already found in most cars, the company opted for a massive tablet. Tesla's display allows you to control all aspects of the vehicle and settings as well as play Tesla games or watch videos.
Release
Tesla still has a long way to go before starting production for their truck but that hasn't stopped people from talking about it. The Tesla truck could possibly be the furthest away on this list, as of today. It is expected to go into production in late 2021 and 2022 for the single-motor option.
A new Tesla ATV was shown during the unveiling and is set to come as an option for the electric pickup truck itself. From its own webpage, we can see that a camping option and trailer will be made available, but not much information has been shared. Like the Rivian R1T, Tesla's camper option is fit with its own cooktop and built-in tent. A special edition made using recycled steel from SpaceX's MK-1 is also set as a future option for the Tesla Cybertruck. As for colors, only the standard steel and matte black have been confirmed.
Tesla has wasted no time in calling out Ford. A potential Ford vs Tesla competition is in the works. It's only a matter of time before an electric Ford F150 can be put head to head with the Tesla Cybertruck. Contrary to popular opinions, the Tesla Cybertruck certainly is a real truck ready to take on the rest. Some are even anticipating it could one day even stand out as the best Tesla available.
---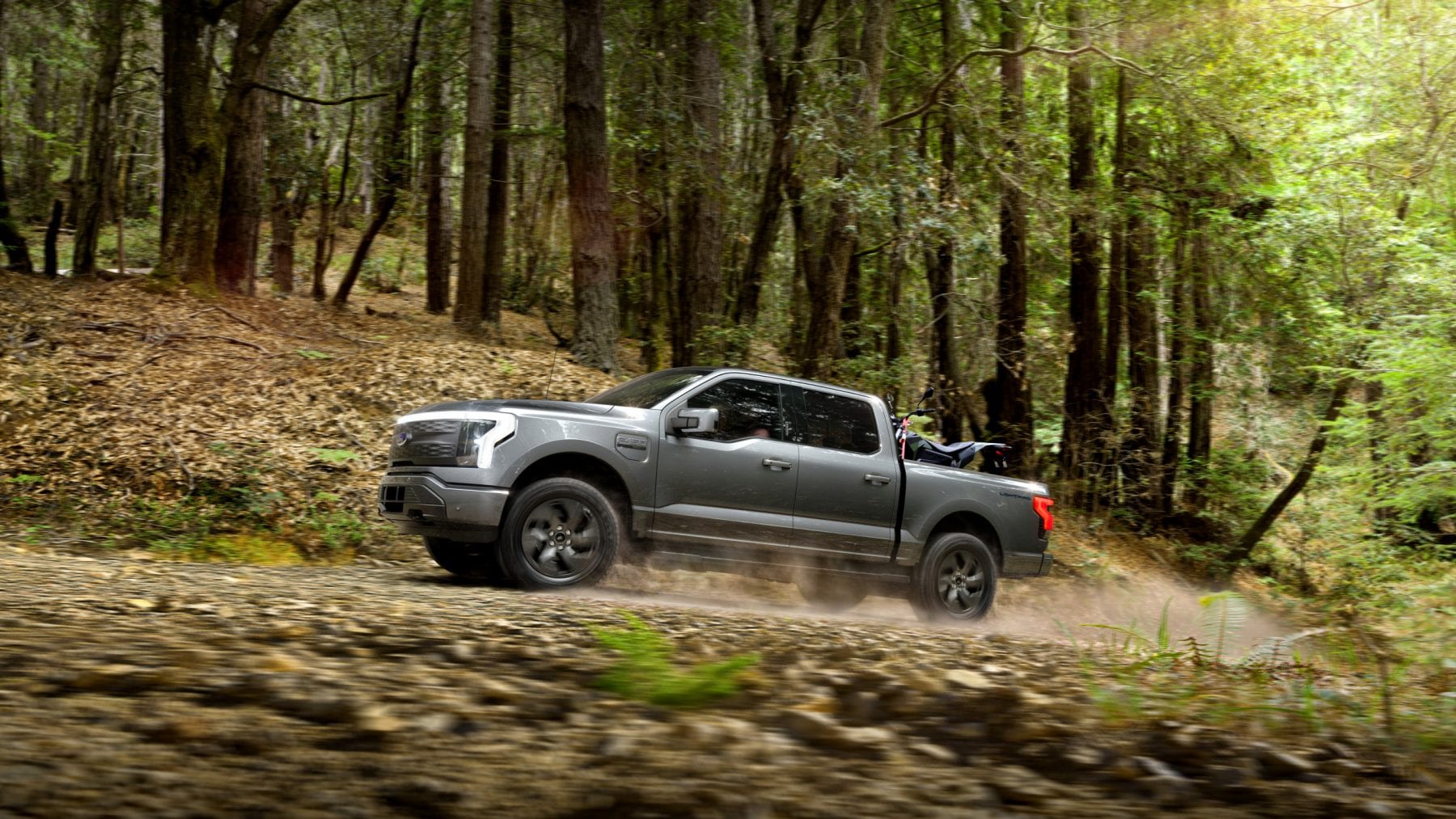 Like most legacy automakers, Ford has been taking their time transitioning their lineup of vehicles towards electrification. Given how dominant they are in the truck space, as the industry leader, you would imagine that they would have been the first to try and dominate the Electric pickup truck space as well.
But as they say, better late than never. Somewhere around the time of Tesla announcing its intentions to create the Cybertruck, mummers of an electric F-150 were starting to arise. After some waiting, we were treated to a new addition to the F-150 family as ford announced the Ford F-150 Lightning.
Specs
The Ford F-150 Lightning specifications are still not finalized as the specs given are are still targets for Ford ahead of their Spring 2022 release. Nonetheless, they did share that at there will be there will be two battery sizes. Additionally, all the consumer models will have a dual motor setup with AWD.
| | Standard-Range Battery | Extended Range Battery |
| --- | --- | --- |
| Horsepower | 426 hp | 536 hp |
| Torque | 775 | 775 |
| 15%-80% Charge Time (150 kW) | 44 min. | 41 min. |
| Range | 230 miles | 300 miles |
| Max Payload | 2,000 lbs. | 1,800 lbs. |
| Max Towing | 7,700 lbs. | 10,000 lbs. |
The specifications do seem to compare well with the gasoline version of the F-150, so it will have to be down to whether or not new owners will need the extra range. It is important to note that if you have the larger battery, you will have to sacrifice payload weight, but you will be able to tow considerably more weight than the standard battery.
A neat feature that Ford is touting with their transition towards electric cars is using the F-150 as a giant battery. Ford states that the extended battery F-150 will be able to power the average home for three days, more if the power is rationed. So whenever there is an issue with power, you will be covered. Additionally, the F-150 will be able to feed the house with its own power during peak hours, and charge up overnight when electricity rates are lower.
Design
Ford, not wanting to mess with a proven formula did not deviate too far in terms of styling. The biggest difference from its gasoline counterpart is the addition of a lightbar on the front, which isn't even present on the commercial-oriented version. So for those hoping for something that really stands out, you might be disappointed. The interior is also essentially identical as the gasoline version, coming with Ford's SYNC4 technology, but with a UI that looks to emulate the one found in the Mach-E. Higher trims will have SYNC 4A, which is the same system found on the Mach-E.
Still, there are some neat features around the electric truck. The Lightning features lights all around the car to illuminate workspaces at night. The F-150 Lightning can be optioned to have up to two 120V outlets in the cab, four in the bed and front trunk, and an additional 240V in the bed. Also since the engine is gone, Ford has made use of that massive empty space to bring us the Mega Power Frunk which gives you 400L of space and is drainable.
Release
First deliveries will take place in Spring 2022 and Ford will be producing the F-150 Lightning in their new Rouge Electric Vehicle Center which they have invested $700 million into.
Pricing is still unclear as Ford has only given us a few price points. The commercially-oriented entry model will start at $39,974 and the price goes all the way up to $90,474 for a fully loaded Platinum model, A mid-tier XLT will start at $52,974. All of these prices are not accounting for the $7,500 tax credit.
Taking the XLT model as an example, after the tax credit the price is $45,474. The starting price of a gasoline XLT is $40,310. It's unclear if Ford's number includes a couple of options as well, but regardless the difference in price is not outrageous after accounting for the tax credit.
Ford states that more detailed pricing will be released in Fall, so we will have a better understanding in a few months.
---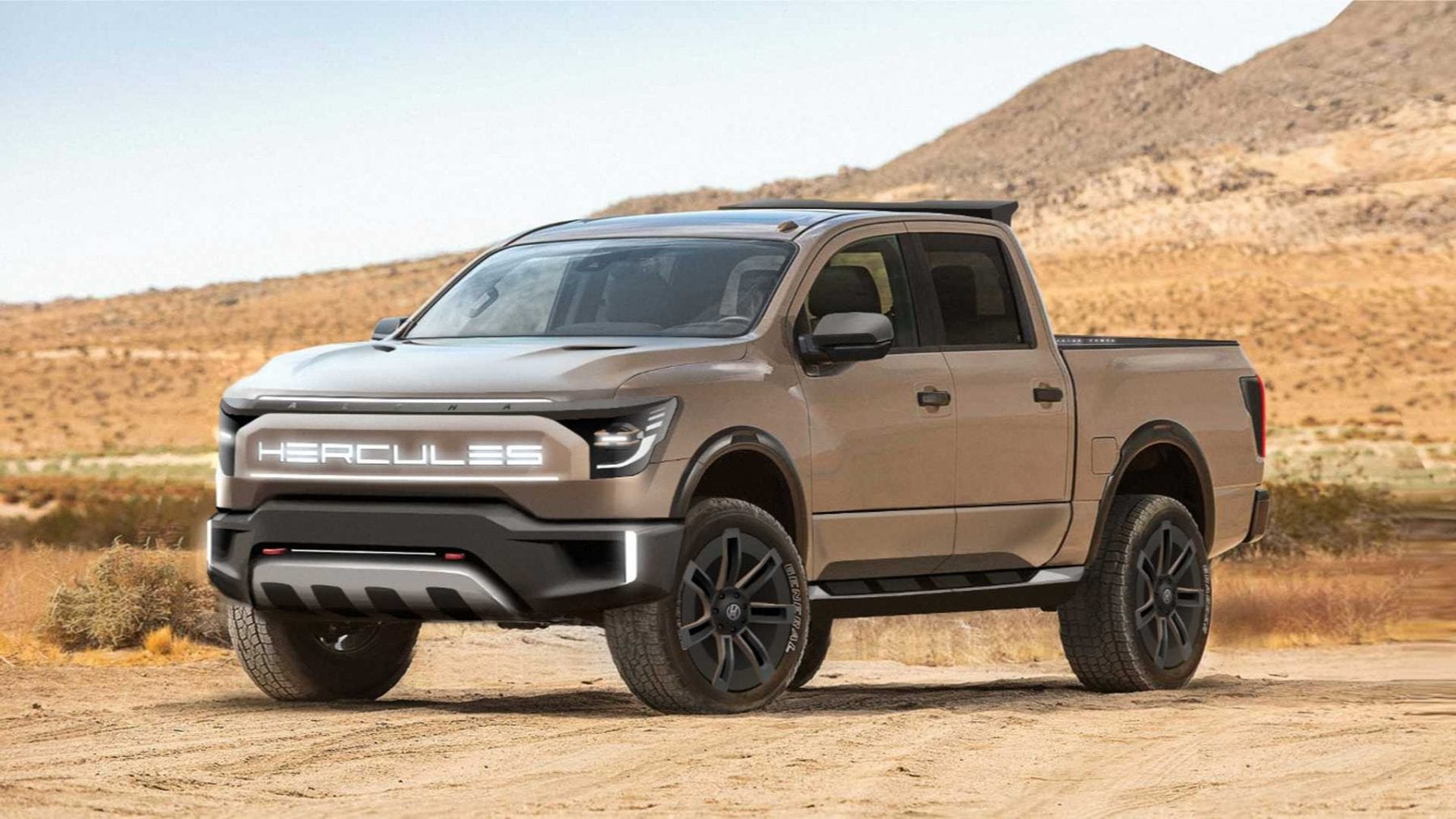 Hercules is yet another newcomer to the electric vehicle world with its inception occurring in 2018. Going through their website doesn't particularly give the highest sense of confidence in the existence of the product, especially with the debacle that was the Nikola Badger. I am sure that many will tread on the side of caution until we see a physical car from Hercules.
That being said, Hercules CEO James Brayer has done stints at all of the Big Three American automakers with his most relevant position being the "Electrification Lead Development Engineer" at GM for five years, according to his Linkedin. There have also been reports by Bloomberg that suggest that Hercules will be working with Nissan in some capacity, so there seems to be credibility despite the very good specs and no physical electric pickup actually shown.
Specs
The prospective specifications for the Hercules Alpha electric pickup are some of the best on this list. The company is looking to provide a four motor drive system capable of over 1000 hp. The upcoming electric pickup truck will shoot to 60mph in less than three seconds and have a top speed of 120mph, all while delivering a range that is over 350 miles. In regards to towing, Hercules is saying that the Alpha has a 12,500 lb. towing capacity and a 2,500 lb. payload limit.
Hercules does not give a specific battery size or charge rate for the Alpha. It is of course always important to stress that these are goals for the electric pickup and not actually something that has been shown in a physical car. While it's possible that Hercules is has achieved these specs in their testing, they have not made it public.
Design
All we have to go off regarding the design of the Hercules Alpha is the few renderings that are on their website. Truthfully the car looks like a photoshop of the existing Nissan Titan, which you can see in this article that shows the Nissan Titan in what appears to be the same exact spot. Given the reports that Hercules might be working with Nissan, them using the Titan as a base would make sense.
Overall based on the few renders that we have, the Alpha looks pretty good and should appeal to fans of traditional truck stylings. But who knows what will change when the upcoming electric pickup truck goes into production.
Technology
The product page for the Alpha does not cover any autonomy features or other hi-tech features. Depending on their agreement with Nissan we might see an implementation of Nissan's ProPILOT driver assistance features in the Hercules Alpha. The system isn't exactly the most advanced but it should provide some comforts that drivers will expect, such as adaptive cruise control and lane-keep assist.
Release
According to Hercules' reservation page, the Hercules Alpha will be available in 2022 and can be reserved with a $500 deposit. Once again, it is far from the most professional-looking reservation pages that I have seen, neglecting to even get rid of the Square branding from the page, but hey, whatever works right? Let's see where this one goes.
---
While Nikola Motor's predominant mission statement is to provide the world with hydrogen fuel cell semi-trucks, the company took a left turn and tried to compete with the hype garnered by the Tesla Cybertruck. With so much on their plate already, the plan was to rely on GM to actually build the Badger while Nikola focused on the design and media attention.
The original deal gave GM an 11% equity stake in the company, worth $2 billion at the time, as well as a seat on the Nikola board. GM would supply contracts from Nikola to build the electric truck for an additional $4 billion of benefits. In hindsight, the deal was less of a partnership and more of a payment. Nikola would use GM's Ultium battery system and Hydrotec fuel cell technology as well as have them build the actual truck.
Specs
The Badger electric pickup truck is an interesting addition to the list as it is the only one with the option of a hydrogen fuel cell range extender. With the FCEV option selected, the Badger is advertised with a 600-mile range, with only 300 miles of that coming from the 160 kWh battery pack. If you don't intend on using hydrogen, a standard electric truck version will be available as well.
Thanks to the proposed hydrogen half, the Nikola Badger's specs top the charts with a stated 0-60 of 2.9 seconds, 906 peak hp, and 980 ft. lbs. of torque. Towing capacity for this EV truck is in line with industry standards at a maximum of 8,000 lbs.
Design
The design of the Nikola Badger aimed to please those who wanted a traditional-looking EV truck although it hasn't yet left the digital realm. Renders of this EV truck have minor changes from one another so it seems a finalized design has not yet been chosen. We have however been given its dimensions.
The Nikola Badger interior is designed to be future-forward with a massive center display and shiny neon lights.
Technology
With a combination of both electricity and hydrogen, the Nikola Badger allows you to swap between the two fuel sources at the touch of a button. For launching, an "Advanced Supercapacitor Launch Assist" option combines the two for maximum power.
Like others, the Badger will also allow power transfer with a 15 kW power export outlet. Unlike others, it'll offer a water and soda fountain as well.
The EV truck will offer OTA updates with its interface being run on an industry-leading "HTML 5 Supercomputer".
Release
The Nikola Badger release was initially slated for a 2022 launch with an unveiling in late 2020, although that never happened. With a list of impressive specs yet no product to display, many were wondering if Nikola is a scam. Nikola's founder and previous chief executive, Trevor Milton, insisted Nikola was on track to achieving all of their Badger related promises.
Since the statement, Trevor Milton has been let go from his own company due to continuous deception and the deal with GM is now off the table.
Nikola's new CEO, Mark Russell, has noted the Badger as not important towards the companies long term mission. For now, the Nikola Badger ceases to exist with no expectations of its return. With all the turmoil that has gone on at Nikola, it looks like the company is going back to only focusing on semi-trucks.
---
Fiskers CEO, Henrik Fisker, has been toying with the idea of an electric pickup truck since the reveal of the Fisker Ocean. The companies long history is filled with ups and downs but with their recent deal with Magna and SPAC merger, they've seemingly secured their future.
Specs
Unfortunately, there's not much known about this EV truck with it still remaining in the shadows as the company begins to ramp up with their first EV, the Fisker Ocean. Henrik stated the possibility of an electric pickup truck based on the Oceans platform which would only make sense given the platform's goal of being modular. The idea was teased once more alongside a render and a statement stating "we have already decided on our next 2 EV's on the same platform!" If it were to be the case, the two vehicles should have very similar specs.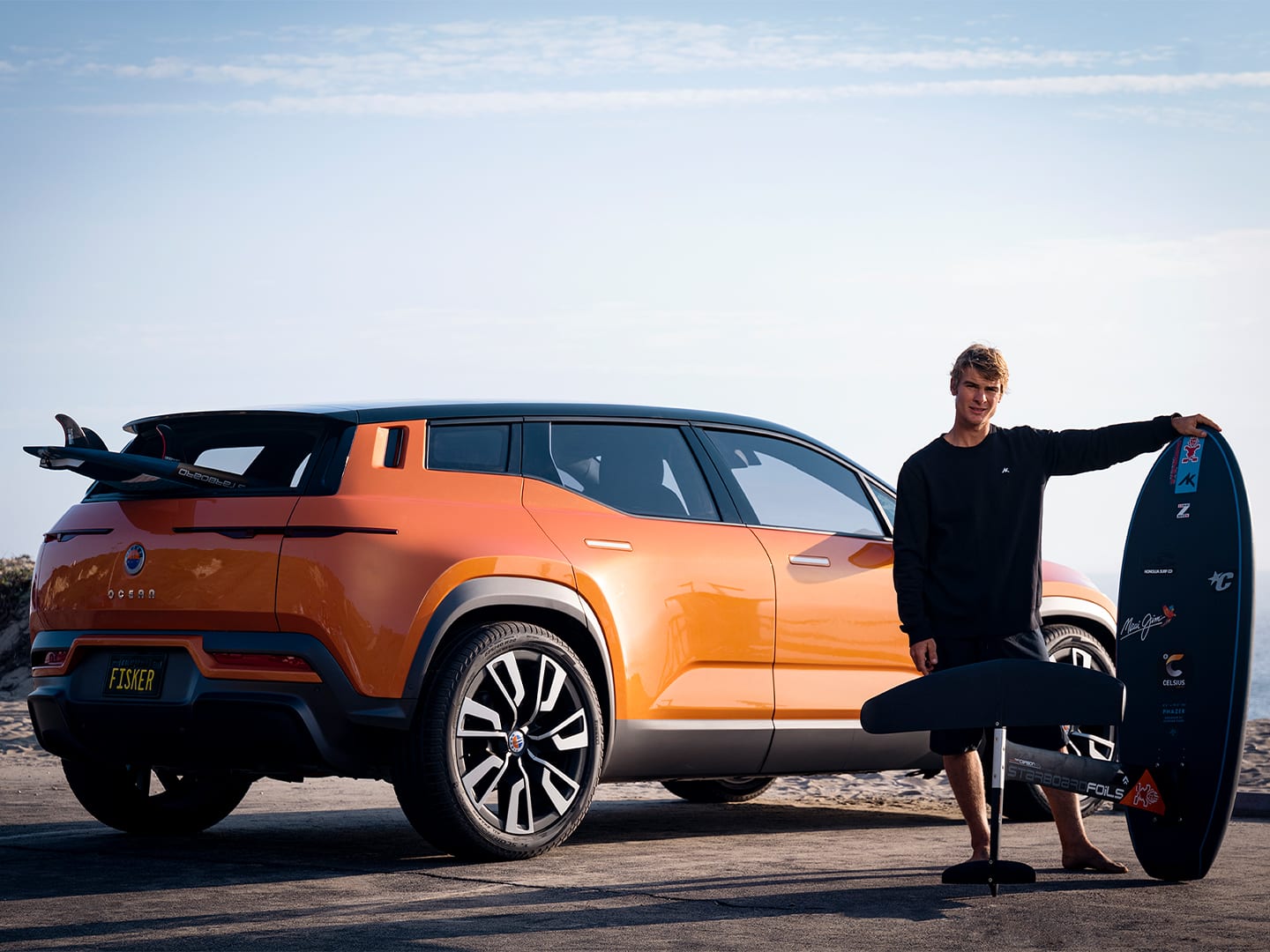 The Fisker Ocean is an electric crossover looking to take on the mass market. The Ocean remains on the more affordable side with a starting price of $37,499 prior to rebates. Conveniently, the Oceans released specs are also minimal with an update expected later this year.
The base Fisker Ocean will be a rear-wheel-drive but a four-wheel-drive configuration will also be available with an output of over 300 hp. A performance version targeting zero to 60 mph in less than 3 seconds is also expected.
Design
From Aston Martin to megayachts, Fisker's influence is spread across the board. Henrik Fisker is a renowned automotive designer and as such we expect the Fisker truck to stand out against the rest.
Three distinct images of the Fisker EV truck have been teased but nothing is yet finalized.
Technology
Fisker has a long history of technological experimentation. The company has previously been working on solid-state battery technology along with autonomy. They even claim to be the worlds first "digital car company".
Autonomy is almost certain to be featured in the Fisker EV truck given the companies recent announcement of Fi-Pilot, an advanced drivers assistance unit made in collaboration with Magna.
Release
Absolutely nothing is official about this EV truck. Even its name, the Fisker Alaska, is uncertain as it came from a quickly deleted tweet by Henrik Fisker himself. Neither the release nor unveil for the Fisker EV truck have been scheduled thus far.
---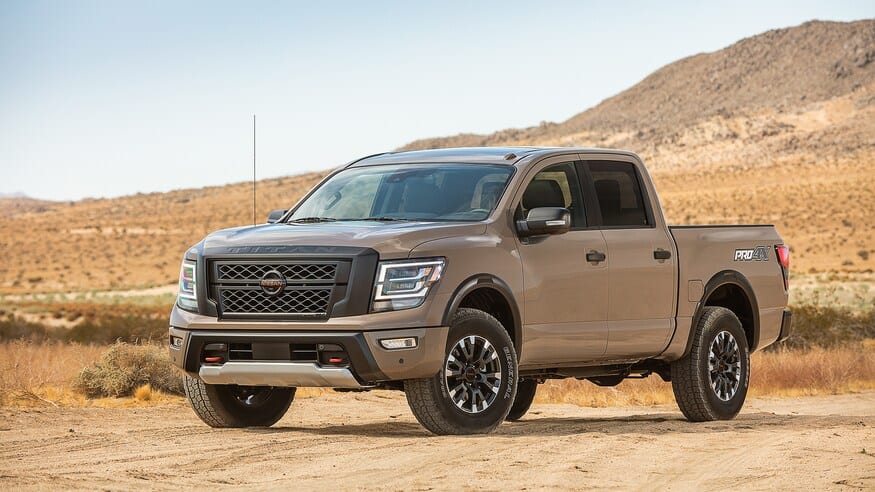 Any indication of a Nissan electric pickup maybe, possibly, coming is scarce. Understandably trucks, in general, are not high on Nissan's priority list where it's Titan faces stiff competition from GM, Ford, Dodge, and even Toyota. The only electric truck news we have regarding a Nissan electric truck is from the same report from Bloomberg that we referenced in the Hercules section of this electric truck list. There are no details regarding the possible cooperation, but I can't imagine what Nissan would gain from working with another company given that Nissan is already producing truck bodies and has about a decade of experience with electric cars.
Ironically, Nissan has already beaten everyone on this list in terms of releasing a modern electric truck, sort of. In 2019 Nissan, in a joint venture with Chinese automaker Dongfeng, released an electric version of the gasoline-powered Dongfeng Rich 6. It was China-only, had abysmal performance, and wasn't really a Nissan, but hey, it still qualifies by some accounts.
Specs
The frame of reference for what the specs of a Nissan electric pickup truck might be is pretty skewed. The Dongfeng Rich 6 EV had only 250 miles of range (NEDC, so really sub-200 miles EPA) and the Hercules Alpha promises over 350 miles. The newest entry into the Nissan electric car lineup is the upcoming Nissan Ariya, which is offering a range of 300 miles, but we wouldn't be surprised at an electric pickup truck range in the mid-200 miles given the added weight and reduced aerodynamics.
The top-tier gasoline-powered Titan has a towing capacity of around 11,000 lb. and a payload limit of almost 2,400 lb., so that is our only frame of reference for some of the truck specs of the potential electric Nissan truck.
Again, there is absolutely nothing official, so your guess is as good as ours.
Design
We imagine that Nissan will make their electric pickup truck look as rugged as their current Titan. Looking towards the Ariya for possible design reference wouldn't be fair as that is a completely different segment of car that prioritizes soft lines and curves as opposed to the traditional boxy design of pickups.
Technology
The Nissan Ariya will debut with Nissan's newest ProPILOT 2.0 which represents an important evolution of Nissan's ADAS and allows for hands-off single-lane driving as well as assisted lane switching and ramp-on ramp-off features. Once again, we would like to assume that a theoretical Nissan electric pickup truck would have the same ProPILOT 2.0 given that EVs tend to have the most advanced autonomy features offered by the respective company.
Release
If rumors of Nissan and Hercules cooperating are true, Hercules 2022 timeline could be seen here as well. Honestly, who knows if this electric truck will even ever happen.
---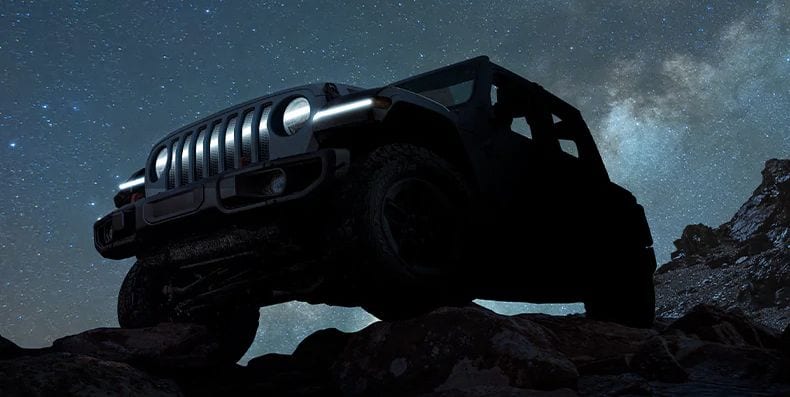 The Jeep Wrangler is one of the most iconic cars in the world. So it would seem like a no-brainer to go ahead with an electric version of the boxy truck. Despite FCA's (now Stellantis) snail's pace in the EV world, it looks like an electric Jeep is happening.
The brand recently released a plug-in, but now we will be getting a bonafide electric Wrangler. The electric truck is set to be revealed on March 27th and we can't wait.
Specs
We don't have any hard specifications right now for the electric Jeep Wrangler. However, Jeep has shown us the powertrain of the future electric truck.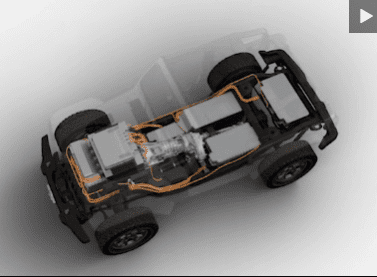 Interestingly, it appears that Jeep has decided to not use two separate motors for each axle and is relying on the transmission to deliver power to the rear wheels. Additionally, we do not see the skateboard battery design that we have grown accustomed to. Instead, we see multiple battery packs strewn about the EV. Admittedly it is far from the most advanced setup we've seen and looks to be more of an EV conversion of the current Wrangler rather than one that was built from the ground-up.
Design
It's going to look like all the decades of Jeeps that have preceded it. At least, it better. The teaser image makes it clear that Jeep is not planning any sort of major departures from the current design.
Technology
There are none that we know of so far. Perhaps we will see some off-road focused features when the EV truck is revealed in March.
Release
We will soon have a more concrete date at the end of March. However, given that it looks like it's simply an EV conversion of an existing Jeep Wrangler we think that it will be one of the earliest available EVs on this list.
---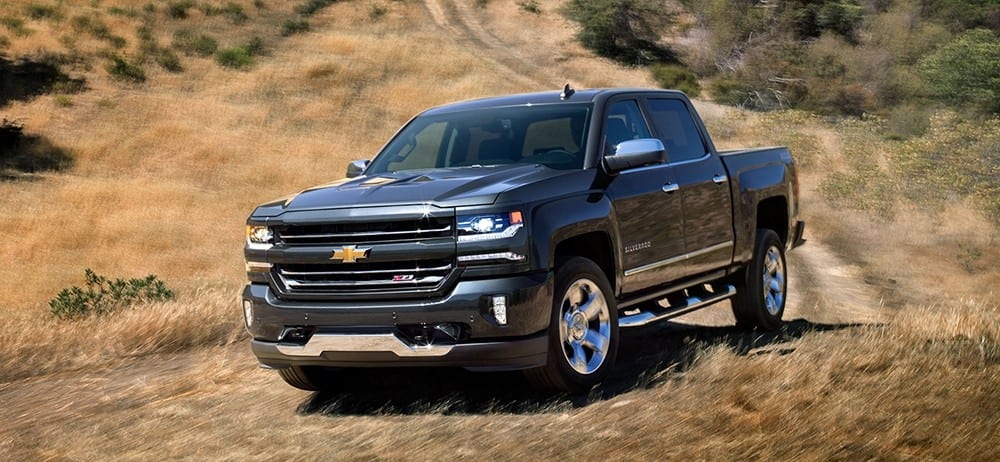 Chevrolet's parent company, GM, has gone back and forth originally stating no intentions to manufacture electric trucks anytime soon. However, it seems GM has reconsidered their position and are working towards an electric truck.
"We intend to build on our truck leadership. And with that in mind I want to address media coverage of the various industry partnerships around battery electric vehicles and trucks. As you know GM has an industry-leading truck franchise and industry-leading electrification capability. I assure you we will not feed our leadership on either front. We intend to create an all-electric future that includes a complete range of EVs including full-size pickups. And we will share additional information when competitively appropriate."
Further evidence of the existence of a Chevy electric truck was written in GM's sustainability report, stating:
Chevrolet BET Truck, which will be the brand's first electric full-size pickup, offering 400+ miles of range on a single charge
Since those quotes, we had the announcement of the GMC Hummer EV, but things have been quiet regarding an EV truck from Chevy.
Specs
Based on the quotes that we have, we can say that Chevys future EV truck will have over 400 miles of range. A very respectable number that would put it at the top tier of electric trucks. Other than that, we only have the Hummer EV to base any other specs off of. While the Hummer EV has some pretty insane stat, we imagine that the Chevy EV truck will come in at a much lower price point. As such, it probably won't be hitting 0-60's in less than three seconds. Although, there could always be a performance version.
The Chevy electric pickup will almost certainly make use of GM's Ultium battery technology. This would allow it to have a battery capacity of up to 200 kWh. The current Silverado can have a towing capacity of up to 13,300 lbs. and a max payload up to 2,280 lbs.
Design
We actually caught a glimpse of what the future EV truck could look like during a GM presentation.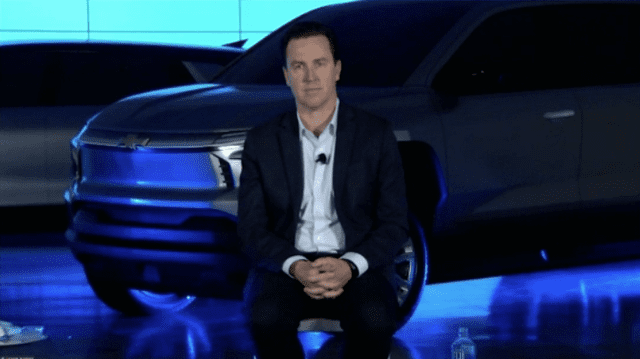 It's not the best view of the electric pickup truck, but it is something that is significantly different from the current face. We see the absence of a traditional grill as well what appears to be aggressively thin headlights.
As of now, this is the only indication of the possible design for the EV truck.
Technology
We would like to see GM's Super Cruise make its way into the EV truck. While it was once reserved for Cadillacs, the system will be available on the 2022 Chevy Bolt EUV.
Super Cruise is the only system out right now that currently allows for the driver to take their hands off the wheel for an extended period of time. This technology comes with the caveat that you must be traveling on the over 200,000 miles of mapped out roads in the US and Canada which look to predominantly be interstates. So if you happen to be on a road GM themselves haven't mapped, you won't be able to take full advantage of the system. However when you are on one of the mapped roads, you will be able to take your hands off the wheel and a small camera will track your eyes to make sure that you are still vigilant of the road, otherwise, it will send you alerts to return your attention.
With how far away the probable release date is, it gives GM optimum time to expand out its mapped roads.
Release
With GM wanting 30 EVs by 2025, we can safely set the release date to be at least by 2025. Given the pressures of new and old rivals releasing their trucks much sooner, we might see the truck sooner than later.
---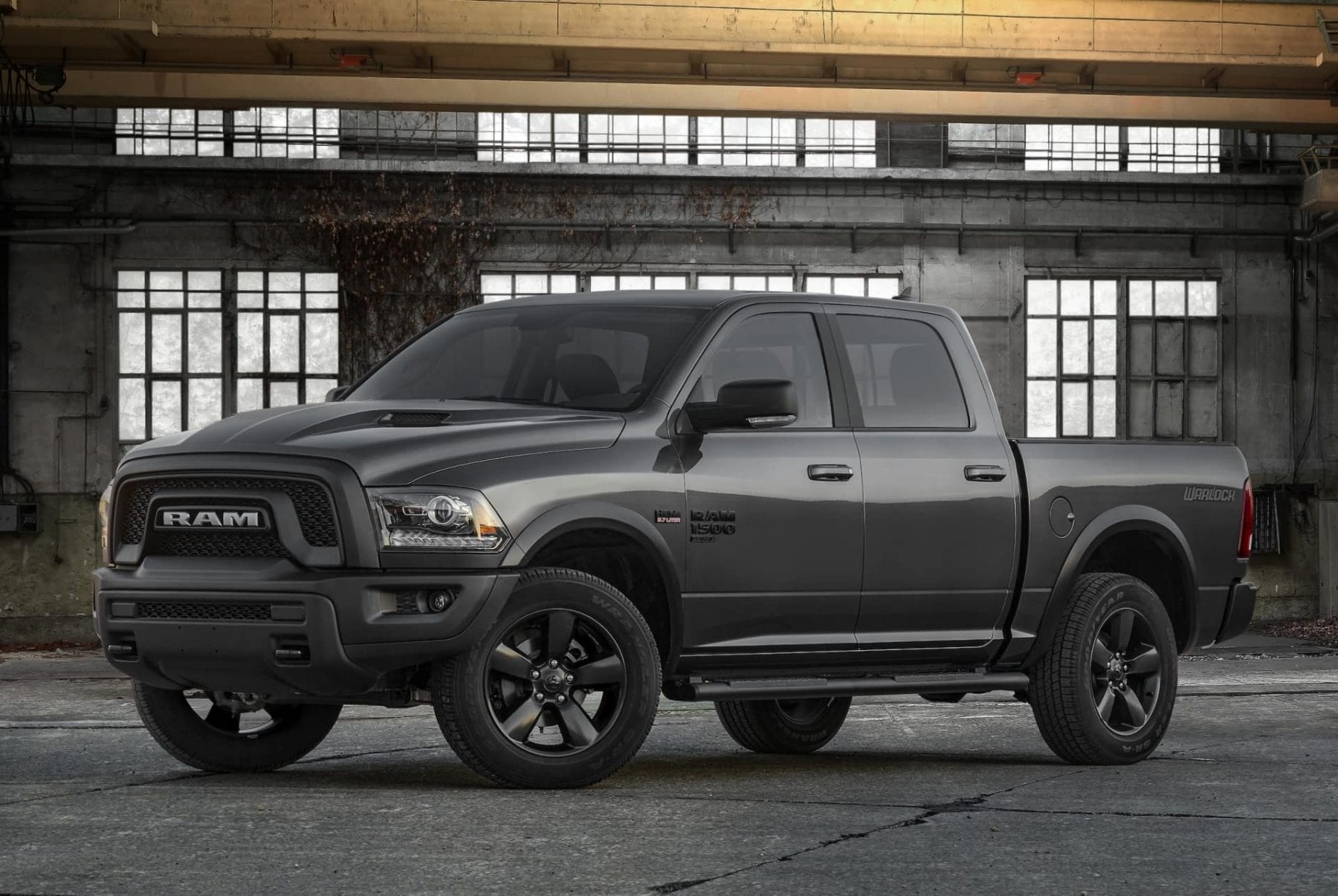 While there were no official plans yet, FCA CEO Mike Manley did tell analysts that electric trucks are eventually going to come.
"The reason we haven't spoken much about electric pickup trucks is not because we view that market as nonexistent. But we've always had a slightly different view of timing and adoption rates, particularly in North America in terms of full electrification. We are very committed to our electrification strategy — most of which we have revealed. We haven't revealed everything. But obviously pickup trucks are a key franchise for us, and we're not going to sit on the sidelines if there is a danger that our position gets diluted going forward."
More recently, Manley spoke to the Detroit Free Press and once again reiterated that an electrified Ram truck would be making its way into production:
"I do see that there will be an electrified Ram pickup in the marketplace, and I would ask you just to stay tuned for a little while, and we'll tell you exactly when that will be,"
As always, I tense up a little when an automaker chooses to use the "electrified" wording. It does not confirm that the future truck will be fully electric. Given how far behind FCA appears in regards to electrifying their lineup it would not surprise me if the electrified Ram that Manely is talking about is a plug-in. Perhaps they think that it will serve as a good middle ground that will be able to appease the traditional truck market. We will have to stay tuned as Manely recommended for more news to come.
Specs
As always, we imagine that an automaker would like their electric offering to have parity with their gasoline offerings. Given the many variations of the RAM 1500, it's hard to point to potential goal numbers. The model has payload limits as low as 1,210 lbs. all the way up to 2,300 lbs. Likewise, its towing capacity ranges from 7,730 lbs. to 12,750 lbs.
Dodge takes their trucks seriously, so much so that they have turned into their own Ram brand. Whatever future electric Ram pickup makes its way on the road, we hope the specs are good.
Design
We don't imagine that there will be any significant departures from the design of gasoline Ram trucks. Potentially it could use the sporty stylings of their TRX trim, but that will left to be seen.
Technology
The current Rams do not have any outstanding technology features. They are adorned with the standard set of screens and features like a 360-degree camera. But overall, no autonomy features as of now. That of course can change.
Release
The mid-2020s? We still haven't gotten a lot of news on the upcoming EV truck. With most automakers looking for 2025 as the latest date of release, it would be our most conservative guess. However, we hope that Ram won't drag their feet as not only will it have to go up against the likes of Ford and Chevy, but also a slew of newcomers bringing great EV trucks as well.
---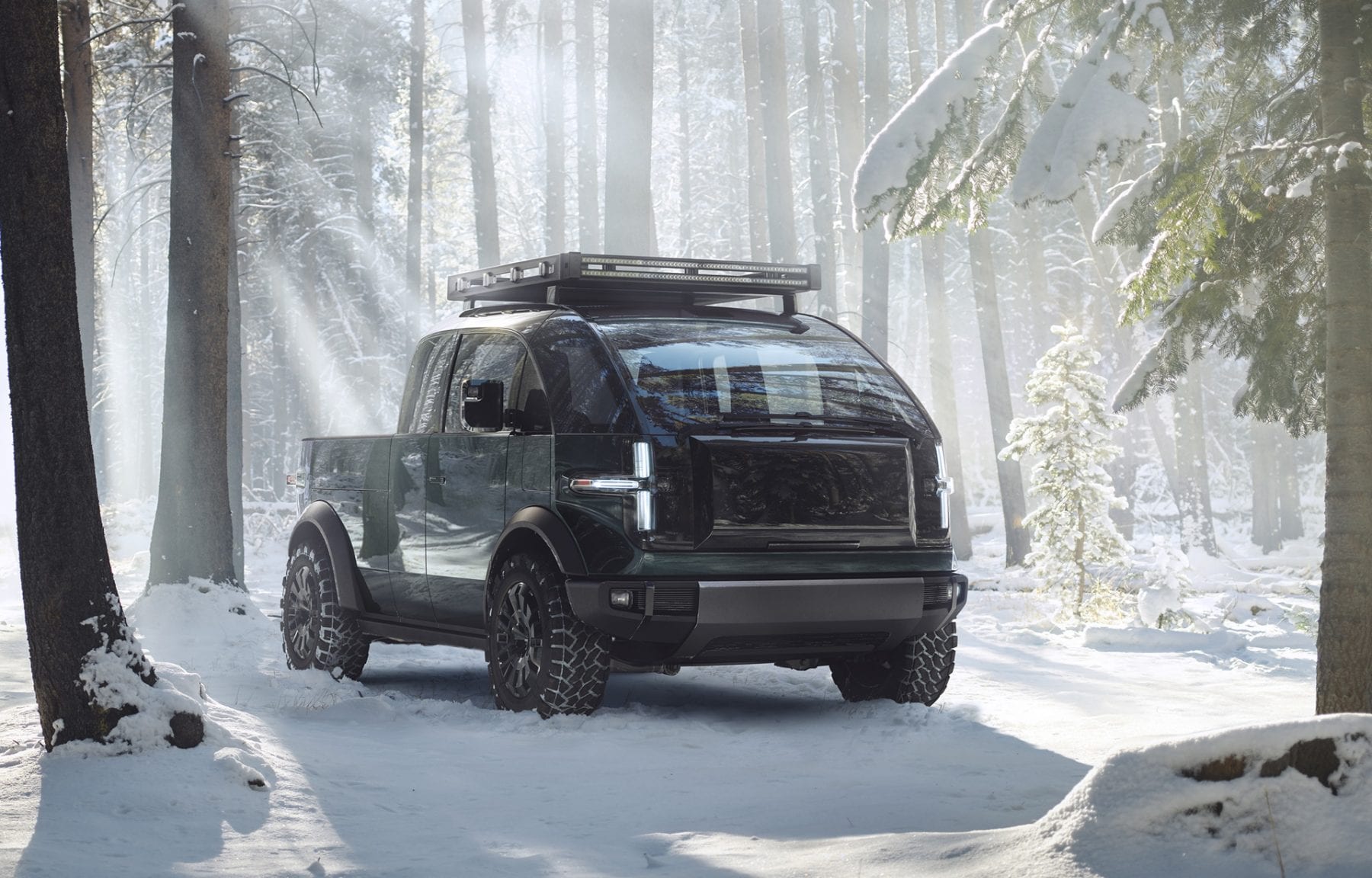 EV startup Canoo has thrown its hat in the ring of upcoming electric trucks. While the company first started with its shuttle minivan, it has been quickly expanding over the past year. The Los Angeles-based automaker has already announced an electric delivery van and now an electric truck, with more cars still to come. The new brand has not attained the hype of some of its peers like Fisker or Lucid, but it has impressed enough that Hyundai Motors announced a partnership to develop an EV platform with Canoo.
Specs
As of now, these are the specifications that have been provided about the truck.
Dual or rear motor configurations
Up to 600 hp and 550 lb-ft of torque with dual motors
Vehicle payload capacity of 1800lbs
200+ miles of battery range
Wheelbase: 112.2 inches/ 2850 mm
Overall length: 184 inches/ 4677 mm (with bed extension: 213 inches/ 5400 mm)
Width: 78 inches/ 1980 mm (with mirrors: 87 inches/ 2209 mm)
Height: 76 inches/ 1920 mm (with roof rack: 82 inches/ 2085 mm)
Bed W,L: 64 inches/ 1627 mm x 72 inches/ 1817 mm (with extension: 64 inches/ 1627 mm x 102 inches/ 2600 mm)
Bed depth: 21 inches/ 522 mm
Power metrics look a little light, good enough with up to 600hp and 550 lb-ft of torque. The cheaper single motor version is obviously gonna have significantly less power, but I don't think you're going to take this car to the drag strip. There is a blemish when we look at the range. The truck is still a few years away so there's no point in trying to give a precise answer right now. Technically 300 miles is still "200+ miles" so it's possible to launch with a competitive range. It is worrying however that Canoo's EV platform page shows that the maximum battery size for their platform is 80 kWh. It's quite possible that that's simply illustrative and not a hard limit, but it certainly lowers hopes of maybe a 300+ mile range in something heavy like an electric truck.
While low 200 miles should be enough for most people's daily commutes, if Canoo truly believes that their truck can be used for off-road adventures far away from still limited chargers, I don't believe that's enough range. But perhaps that's just me nitpicking promotional material.
In regards to size, Canoo did a great job at packing a lot of utility in a relatively small size. While the dimensions of the truck are roughly that of a Ford Ranger, with the bed extension the Canoo electric truck has bed space that starts to compare with the Ford F-150.
Design
Canoo has so far kept a very consistent design language between their planned vehicles. Canoo's vehicles give off a futuristic vibe, but not in the same way that something like the Cybertruck does. While the Cybertruck takes inspiration from Blade Runner the Canoo electric truck looks perfectly at home next to the Audi RSQ from iRobot, a much cleaner but still futuristic aesthetic.
One of the most prominent visual aspects of the truck is of course the headlights and taillights. While the crosshair design is distinctive enough on their own, they also serve as the brand's logo, serving double duty. While the production version might change, there are no wordmarks on the truck. While the truck is visually very similar to the van, it has been beefed up with larger trim pieces along with wheel wells and bumpers, along with skid plates on the bottom of the car. It doesn't look like there's crazy ground clearance, but it should be good enough for most off-roading that doesn't involve climbing mountains.
The real fun with the Canoo electric truck is all the handy features that aren't immediately noticeable.
For instance, while the truck bed is six feet long, the bed can actually be extended to allow for eight feet of usable space. Along with the extension, the tailgate splits in the middle and swivels out with secondary brake lights so that you can still drive in this configuration. Additionally, both sides of the bed can be folded down to provide a work area close to the truck's embedded power outlets for your tools. There is also an extendable side step on the side of the vehicle in roughly the same location as the storage tunnel on the Rivian R1T. However, it is not only a step, but also another storage area that can hold a first aid kit, a cooler, and laptop storage. The concept has also been shown with a divider system that can allow you to further optimize your cargo space. Lastly, a small touch but a nice one, the third brake light at the top of the cabin can act as a spotlight so that the contents of your truck bed can be easily illuminated.
The truck also features a compartment in the front of the car that folds down to reveal more storage and can be used as another working area when folded down. Interior wise, all Canoo stated was that the trim would be durable, but other than that, we did not have a look at possible interior design.
Technology
Nothing was specified regarding autonomy or other advanced features.
Release
The electric truck will open up its reservations in a few months and will start deliveries in 2023. With the truck still a few years away, the specifications are still tentative and we will get full finalized specification numbers closer to the production start.
Pricing is also up in the air and will be an important factor for Canoo as there are a lot of options coming in the next few years. We do know that Canoo's delivery van will have a starting price of $33,000. A commercial van is more barren than a consumer truck, so the truck should be noticeably more expensive. With different options of motor numbers and possible different battery sizes, there is going to be a wide range. However, I would go out on a limb and say that the base Canoo electric truck could get in the low $40,000 range before incentives, making it yet another compelling offer in the space.
---
What's taking so long?
There's a reason nearly half the names listed here are unrecognizable. Legacy automakers are a bit late to the party with their electric pickup trucks with most not even having displayed specs yet. You might be asking, why? Trucks take up almost half of all car sales in the U.S. Sure, EV sales are on the rise but truck sales are far from declining.
For the last few years, legacy automakers just sat back and watched these new electric truck companies fight it out. There is no real reason for someone like Dodge to enter the market with an electric Ram this early with manufacturing costs still this high. As costs come down and demand increases, they'll enter the market last minute with their logistics and marketing networks already ahead of the newly-formed competition. The Dodge Ram has been one of the best-selling vehicles in America for years. Eventually, the electric Dodge Ram will take over that title, and the same with the electric Ford F-150.
On one hand, this mentality is slowing down the electric car revolution but on the other, it has given new companies such as Tesla and Rivian the opportunity to rise and enter this newfound market. We don't expect electric car sales to surpass traditional gasoline anytime soon but numbers are steadily rising. As long as EV sales continue to incline, legacy automakers will follow behind, albeit at a much slower pace.
FAQs
When will electric trucks be available?
The first noteworthy electric truck that will make its debut with be the Rivian R1T which is set to start production in the middle of 2020 and will start deliveries in 2021.
Who makes electric trucks?
At the present moment no one makes an electric truck, however many companies have plans for them. These companies include: Tesla, Rivian, Ford, GM, Workhorse, Atlis, Lordstown, and Bollinger.
Are there any hybrid trucks?
Interestingly there are no hybrid trucks currently available. There are however rumors of a plug-in Ford F-150 along with plug in Jeeps coming to market in the future.
Will there be a Ford electric truck?
Yes, Ford is planning to bring a fully electric Ford F-150 which is rumored to be coming to market sometime in 2021.
How much does the Tesla truck cost?
The Tesla Cybertruck will come in 3 different motor options. Single Motor option starts at $39,900, the Dual Motor starts at $49.900, and the Tri Motor starts at $69,900.
How much the Rivian truck cost?
The lowest trim level of the R1T with the 105 kWh will start at $69,000 with the prices of the 135 kWh and 180 kWh versions not yet revealed.