The invention of the electric car is one of the greatest achievements in modern history. They are quiet, affordable, and they don't add toxic gases to the atmosphere. For these reasons, a lot of people today are now shifting towards the new, sustainable, technology. Just a few years ago the idea of an electric SUV seemed impossible. Battery range was way too low for a family car and efficiency would never be able to hold the weight of a larger vehicle.
Today, car manufacturers have realized the potential of electric cars, and a good number of companies are now focusing their attention on advancing this technology and bringing these vehicles to fruition. If you are considering making the switch from fossil fuels to electric, you will have quite a lot of options to choose from. From the latest Tesla models to the Jaguar I-Pace, and Audi e-Tron, battery-powered vehicles are becoming more and more popular.
From any perspective, it is easy to see that electric cars are sooner or later going to dominate the auto industry in the near future. Electric cars are much cheaper, environment-friendly, and their power source is sustainable. After all, there will be a time when we will be forced to rely on an alternate energy source. Mother Earth's fossil reserves will not last forever.
Here is a list of some of the best electric SUVs in 2020.
2020 Electric SUV – Currently Available 
Tesla Model X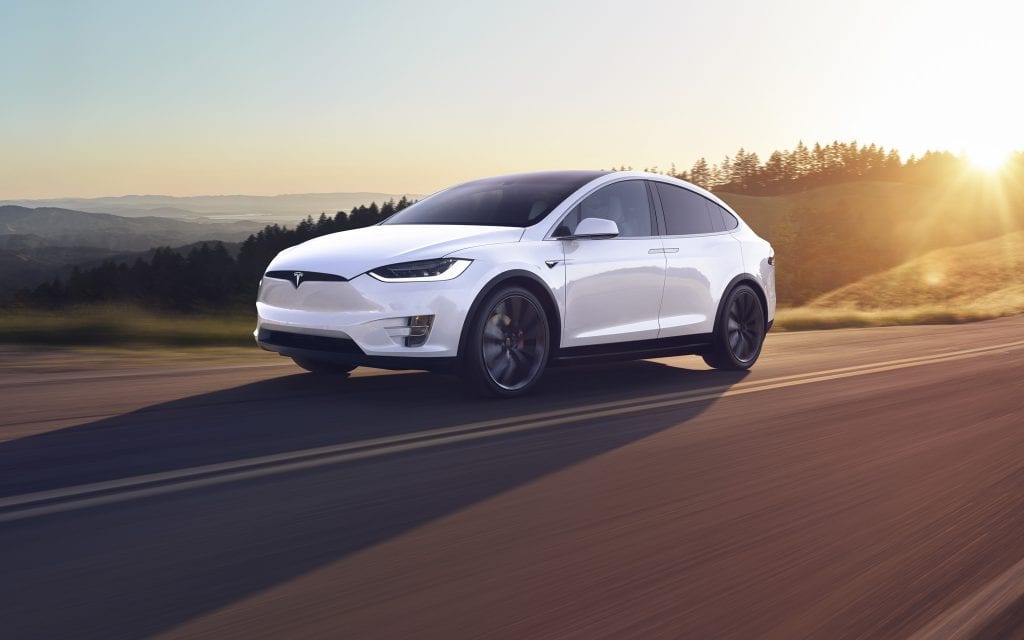 The Tesla Model X is basically a futuristic version of the Tesla Model S. It is equipped with front impact protection, side-impact protection, and has the lowest rollover risk of any vehicle. Alongside Tesla's Autopilot system, these safety features make the Model X one of the safest SUVs in the world.
It is a mid-sized SUV that has an all-electric range of 305-351 miles on the current model year. The Model X has previously been available with 60, 75, 90, and 100 kWh battery packs. Currently, only two versions of the vehicle exist for 2020, a Long Range and a Performance trim, both with a 100 kWh battery. Both variants of the Tesla Model X come with an all-wheel drive system. The vehicle uses two motors, one for the front wheels, and one for the rear. The most advanced and most powerful version of the Model X, the Performance mode, can go from 0-60 mph in just 2.7 seconds, which is even faster than most hyper-cars.
Its distinct Falcon Wing doors are one of the many things which separate the Model X from the Model S, and most vehicles on the road. Although the door design is considered as a "gimmick" by some, it is indeed a clever design which can be extremely useful in tight parking spaces. It can also be seen as convenient for large families or even the elderly.
The Model X allows a seating capacity of seven adults (along with a more spacious six-seat configuration available), which makes it an ideal family car. It is also equipped with front and rear trunks providing more storage space compared with traditional SUV's. With free Supercharging the Model X might just be the best road trip vehicle out there.
The Tesla Model X inspired other car manufacturers to come up with similar vehicles. For instance, the Jaguar I-Pace and the Audi e-Tron were launched to target Model X skeptics specifically. Both electric SUV's fall within a similar price point and the same luxury SUV segment.
More information on Tesla model X
Jaguar I-Pace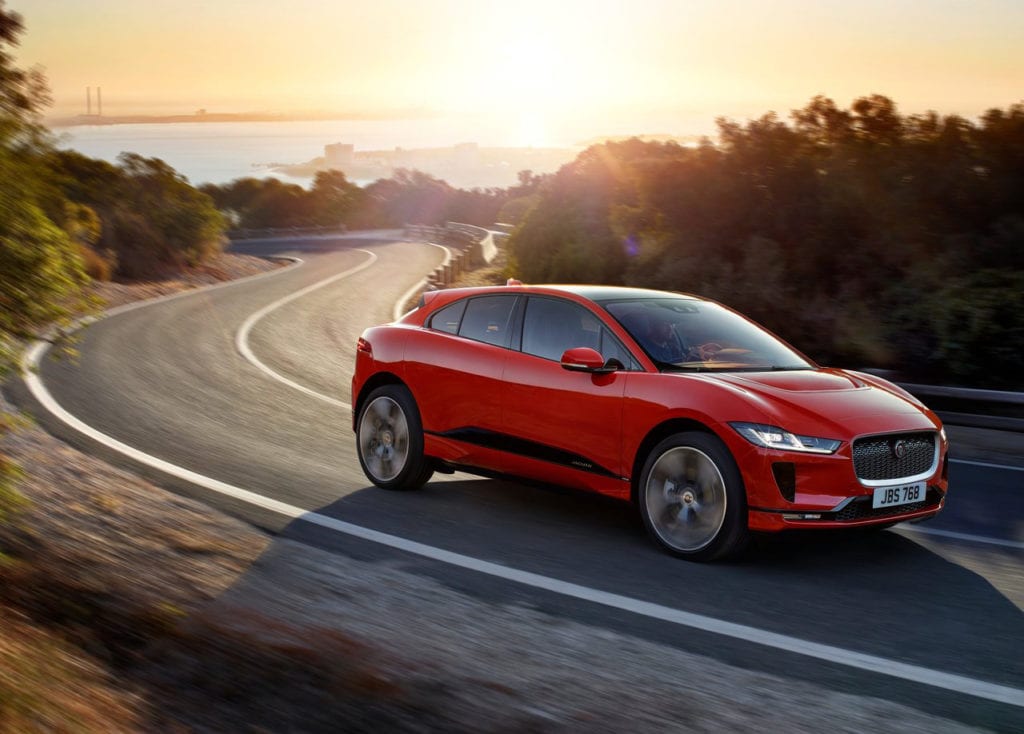 Jaguar I-Pace is the first all-electric vehicle manufactured by Jaguar, a company known for its luxury status only fit for royalty. Upon release, it was considered as the first credible rival to Tesla's Model X. The I-Pace is actually the first electric SUV produced by a premium European automaker. It was launched way back in 2018 and has won numerous international awards, including the European Car of the year in 2019.
The electric car has a 90KWh lithium-ion battery which can be charged from 0 to 80 percent in just 45 minutes with a 100kW charger. Charging this car at home may take a little longer than 10 hours but that comes as standard with electric car charging. The Jaguar I-Pace also has an AWD system powered by two motors; each motor can deliver up to 197hp. This electric crossover has a range of 240 miles and can go from 0-60 mph in under five seconds with a top speed of 124 mph.
Like Tesla and most other new-age vehicles, the Jaguar I-Pace comes with a smartphone app that can be used to perform various functions such as locating the car, view charging status, and controlling the alarms.
In terms of safety, this car is a champ. After all, it did not receive more than 60 awards within a year for nothing. The I-Pace was awarded a 5-star safety rating by the European New Car Assessment Programme.
This electric SUV has a spacious interior with an equally large price tag of $69,850. Even though the car is a bit pricey, with it being the company's first fully electric-powered car, the Jaguar I-Pace is a great road machine that makes a bold statement in a world of electric vehicles. It stands as the companies first step in electrifying their lineup. Rumors suggest an electric Range Rover is next.
Production of the Jaguar I-Pace was recently paused due to battery constraints, something we are seeing more and more as EV demand surpasses expectations.
Detailed information on Jaguar I-Pace
Audi e-Tron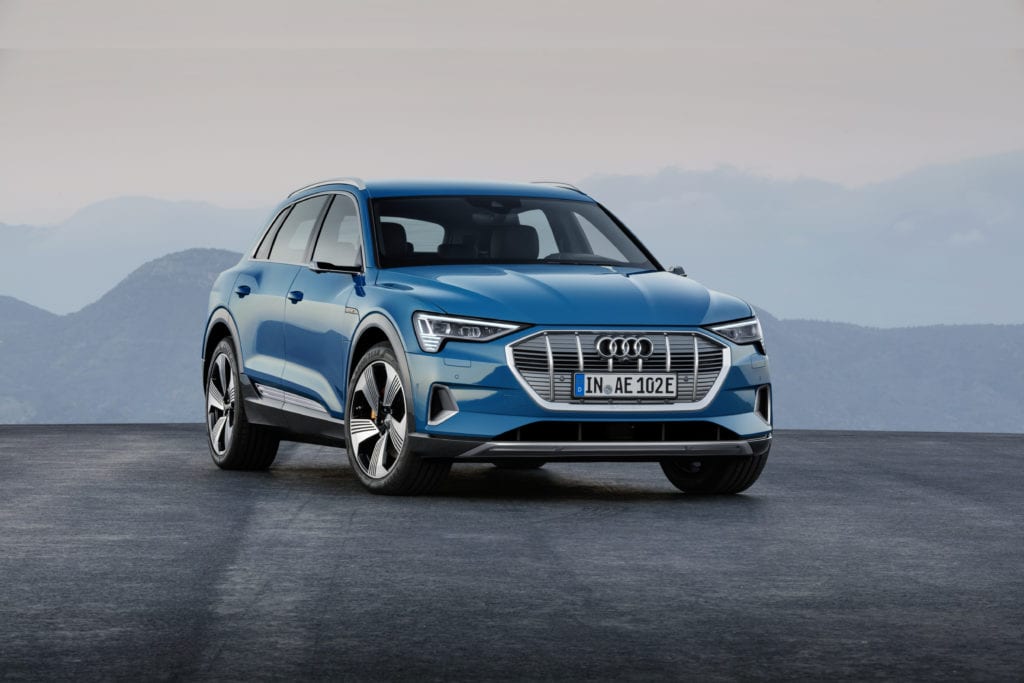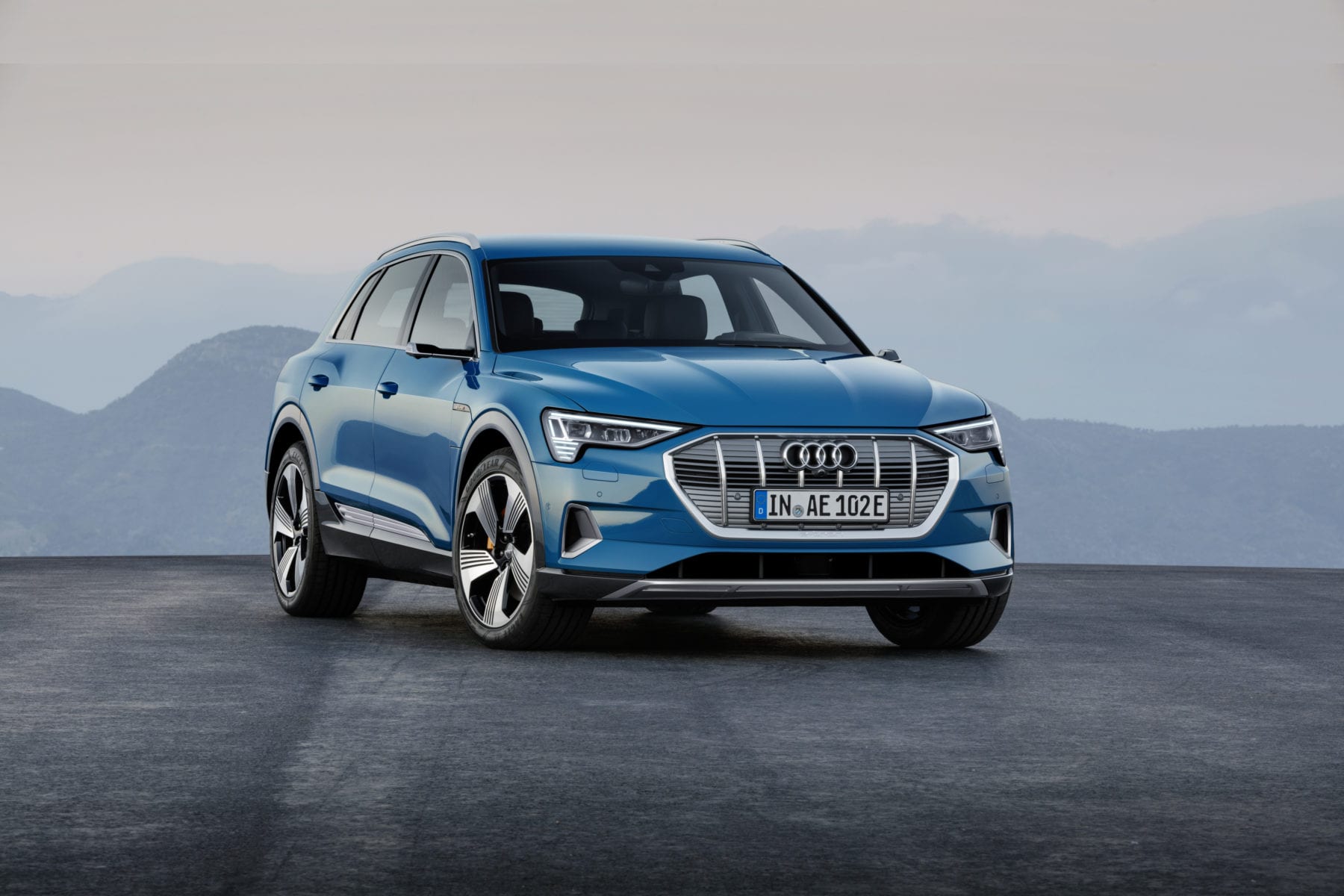 Meet the first of many electric SUV's to be produced by Audi. This futuristic-looking vehicle is another high-performance electric car with long-range capabilities.
The e-Tron is an all-wheel drive electric SUV powered by a 95 kW battery that can zoom from 0-60 mph in 5.5 seconds. The top speed of the e-Tron is 124 mph, and it has a total range per charge of 204 miles. The air suspension has five modes, and it provides excellent control in any kind of driving conditions.
The battery technology of the e-Tron is very impressive as it's made for both durability and performance. The battery has a warranty of eight years or 100k miles and of course, it is capable of fast charging. With its available 150 kW DC charging, a ten-minute charge can provide up to 54 miles of range. That equates to an 80 percent charge in just 30 minutes. Owners of this electric SUV can enjoy up to 1000 kWh of free public fast charging.
The best tech feature of this car, in my opinion, is the in-car Amazon Alexa integration – getting access to navigation functions and entertainment is made easy through Amazon's services.
From the safety perspective, the e-Tron has a lot of features to provide maximum protection. The active cruise system, for instance, is an awesome addition; it can automatically stop the car in traffic, and get it going again, almost like Tesla's Autopilot system.
If you were to compare the Audi e-Tron vs Tesla Model X in terms of features, range, and performance, you might be in for a disappointment. However, the e-Tron is Audi's first EV, and is sure to keep improving.
Hyundai Kona Electric
The auto industry is on a race to build the most practical, most reliable zero-emission electric cars. In this regard, Hyundai also joined the race by introducing the Kona electric SUV.
While the Kona may not be the most powerful production car as an electric SUV, or the most advanced, it may change the way you think of electric cars all together.
The Kona Electric has a respectable electric range of 258 miles. This range should be more than enough to get you through the day. In fact, many argue that electric car range doesn't actually matter.
The powerful electric motor available to the Hyundai Kona can deliver up to 134 brake horsepower, while its peak torque is 395 Nm. The acceleration is not as great as other electric SUVs on our list, but it is pretty impressive. Accelerating from 0-60 takes 9.7 seconds. The number may not be as impressive, but given the fact that It is an SUV, it's not too shabby.
Like most, the Kona Electric has an automatic transmission making driving an effortless experience. The battery is covered for ten years or 100,000 miles, whichever comes earlier, giving you a little more peace of mind when switching to an EV.
In terms of looks, the Kona is a futuristic-looking SUV that resembles concept cars we only see in the magazines. This car has no front grill which makes sense as EV's don't need air intakes. The interior is beautiful with a large touchscreen infotainment system, and the gear lever is replaced with buttons.
Kia Niro EV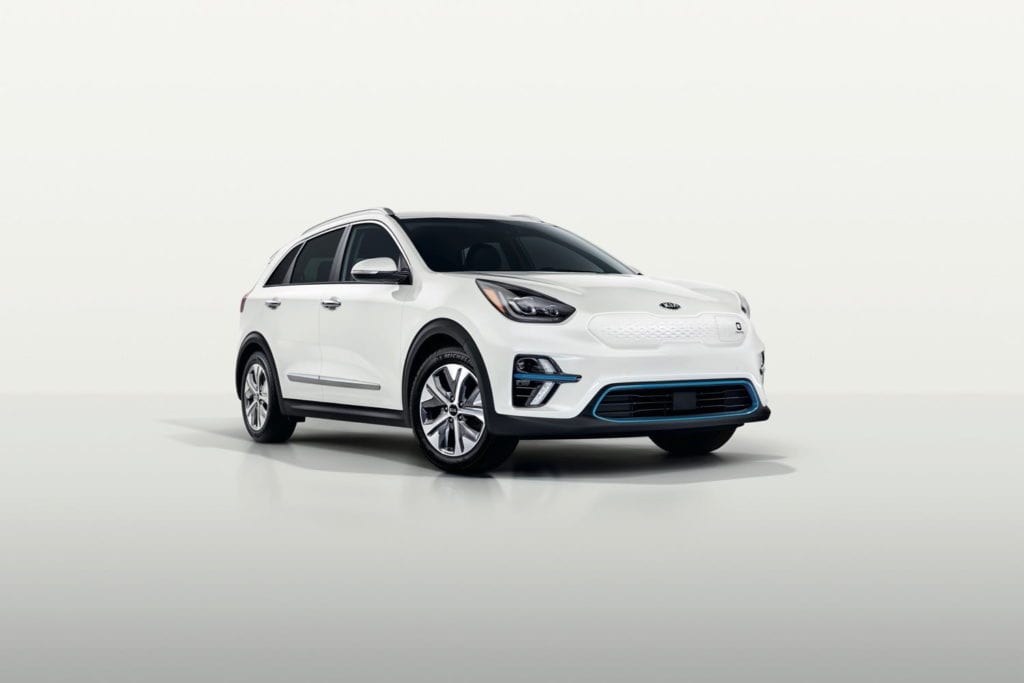 Kia Niro EV is a well-engineered and well-designed electric vehicle that is packed with tons of features. It comes with an EPA rated 239-mile range. That means you can go on an adventure out of town with confidence.
The electric car is fitted with a 64-kWh Lithium-ion battery which can be charged to 80 percent with a 100 kW DC fast charger in just one hour. With the network of public charging stations increasing rapidly, finding one should not be a problem.
Although this car has an electric crossover-like design, the Niro does not have an all-wheel drive system. It is a front-wheel drive, powered by a 150-kW magnet synchronous motor which can deliver up to 201 horsepower. Accelerating from 0-60 mph takes 7.8 seconds isn't going to win any races but this vehicle isn't designed with performance in mind. The maximum speed of this electric vehicle is 104 miles per hour an that's perfectly acceptable for an electric commuter car.
With its highly responsive power train, the handling is pretty smooth. However, it may be disappointing for those who are looking for a more classic sporty feel.
The Kia Niro EV offers more interior space and cargo capacity than the Nissan Leaf, and Kona electric. There are pockets and cup holders on all four doors.
2021 Electric SUV – Upcoming
This is a list of electric SUVs that are set to hit the market with a 2021 model year.
Mercedes EQC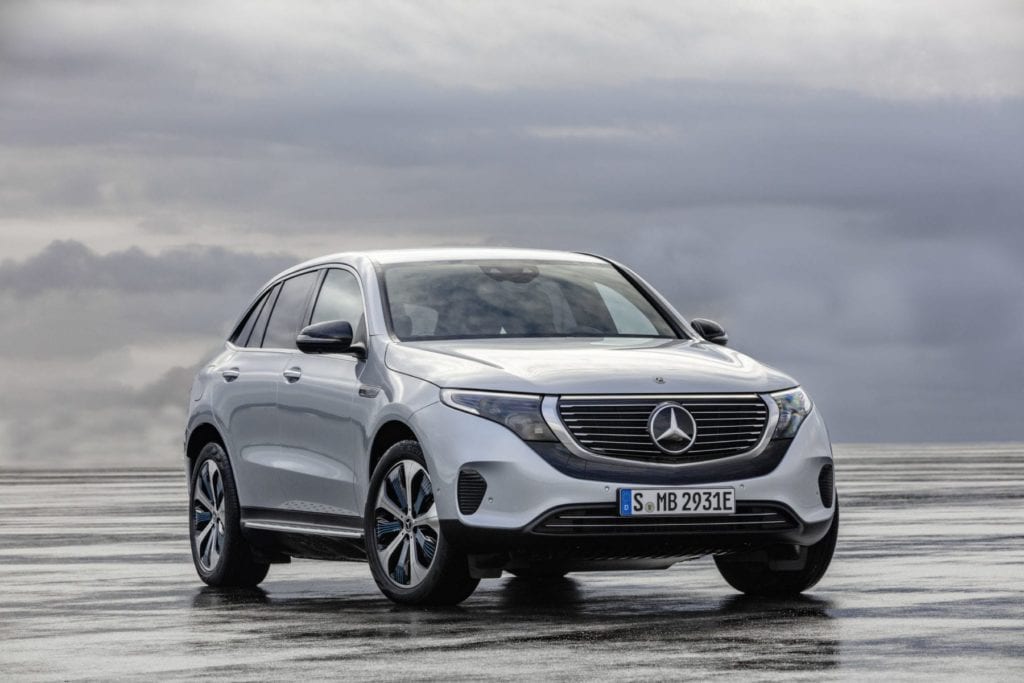 This is the first full electric-powered SUV manufactured by Mercedes Benz. This compact electric luxury SUV is expected to have similar designs and performance with the Jaguar I-Pace, and Tesla Model X.
The EQC will have an 80 kWh Lithium-ion battery with a range of 220 miles. The car will be driven by dual motors, which of course means it will have an all-wheel drive system. The powerful high-performance battery will team up with the dual motors to produce 402 horsepower. Sprinting from 0-60 mph can be achieved in 4.8 seconds which is impressive for any SUV. The car is expected to have a top speed of 112 mph for those ready to hit the autobahn.
Similar to the most advanced electric vehicles, the EQC can be integrated with a smartphone app that will assist the user in navigating the road easily and finding available charging stations when traveling. With fast DC charging equipment, the battery can be replenished up to 80 percent in just 40 minutes.
The addition of smart technology like the Dynamic Select makes the ECQ extra special. This feature will allow the driver to tune the acceleration and handling response at the tap of a console switch. Drivers can also choose between the Max Range and Eco Program, which are designed to boost the efficiency of the battery.
The Mercedes EQC is technically available today in its homeland, but US release has continuously been delayed.
Want to know more? Check out the full review of Mercedes EQC on YouTube.
BMW iX3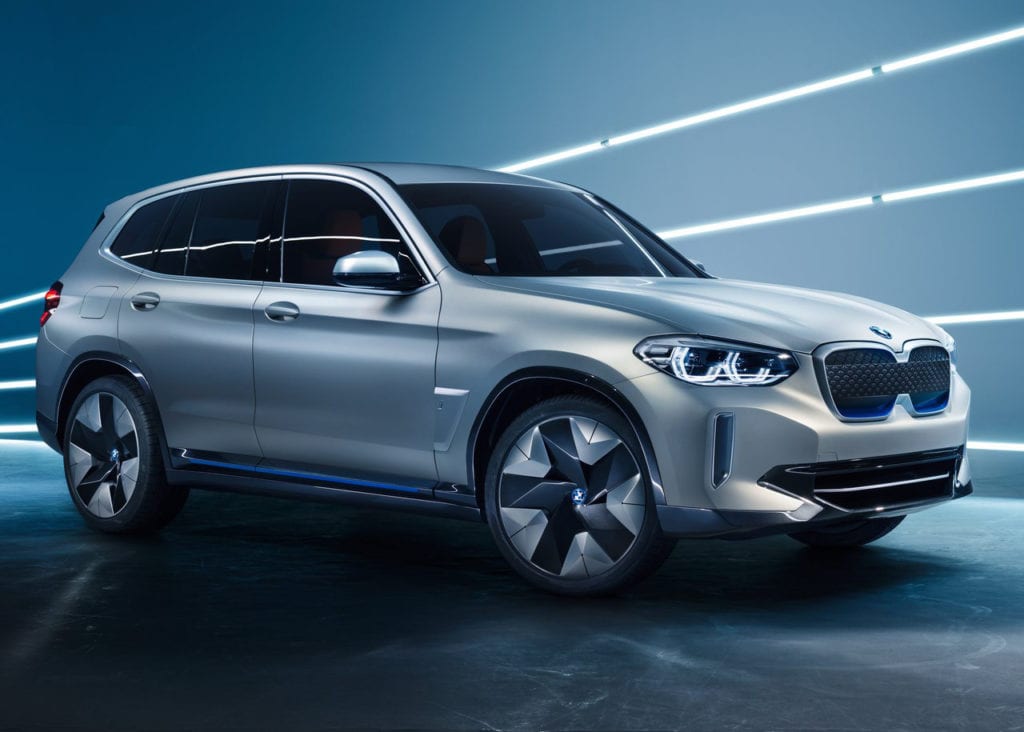 The long-awaited BMW iX3 is due to hit the market sometime this year. It will be the first electric SUV designed with the iconic BMW DNA.
This car is not only appealing in terms of looks, but it will also give you a thrilling experience with its impressive performance. With a powerful 75 kW battery pack, the iX3 will have a range of 250 miles, which means you'll have enough range to meet your daily needs, plus some. The car can be fully charged in just 30 minutes or less at 150 kW DC fast-charging stations. This will be a huge treat for the impatient. Electric car charging has come a long way and most cars on this list exceed expected EV charging rates.
There isn't a lot of information about this speculated electric SUV. BMW has yet to disclose the full features of the iX3, but according to the BMW Blog, the iX3 will have an All-Wheel Drive system (some models of this car are rumored to have a rear-wheel-drive configuration), and will be able to accelerate from 0-60 in five seconds. The motors will be able to deliver up to 300 hp, while the top speed of the car will be limited to 124 mph.
Another speculation is that the iX3 will have an advanced feature like a self-driving system. Since the iX3 is going to be the first to represent the firm in the world of electric cars, we can expect an abundance of advanced features with the introduction of this electric SUV.
Ford Mustang Mach E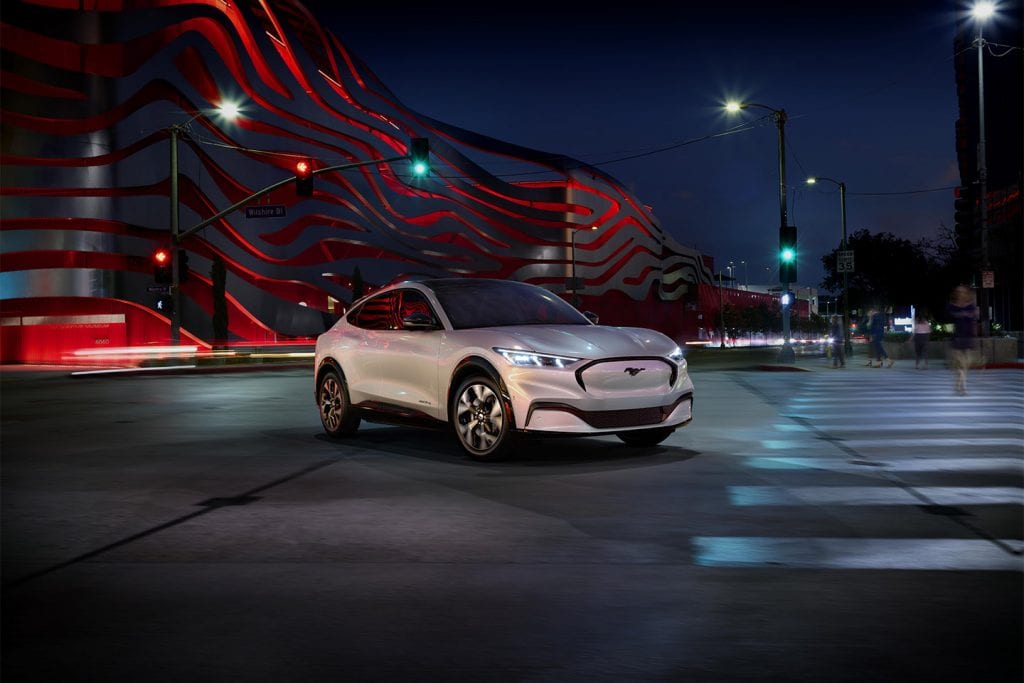 The most recently announced electric SUV on this list, the Ford Mustang Mach E was fully revealed only a few months ago.
We've been waiting some time for an unveiling of the electric SUV, knowing only that it would be "Mustang-inspired". Little did we know that the SUV would actually becomea Mustang and carry the legacy name into the new world of electrification and sustainability. The Mustang Mach E acts as the beginning of a new era for Ford and possibly automobiles as a whole.
Aside from the Mustang stylings, the Mustang Mach E comes in a variety of trim levels with the top trim level, the GT Performance Edition, targeting a 0-60 time of mid-3 seconds.
Many have found that a Mustang Mach E vs Tesla Model Y comparison works nicely. Through Ford's stated plans, we can conclude that they've certainly taken note of Tesla's success and are looking to follow in the electric car companies path. Ford looks to be hitting a home run with its first electric car and we might be looking for towards a possible Ford v. Tesla scenario.
The "First Edition" of the car has reportedly been sold out already and will start deliveries in late 2020. The remaining trims will follow shortly after. Test drive units are expected to hit the lots within the next few months which will hopefully clear up some Mach E misconceptions.
More Ford Mustang Mach E Information
Volvo XC40 Recharge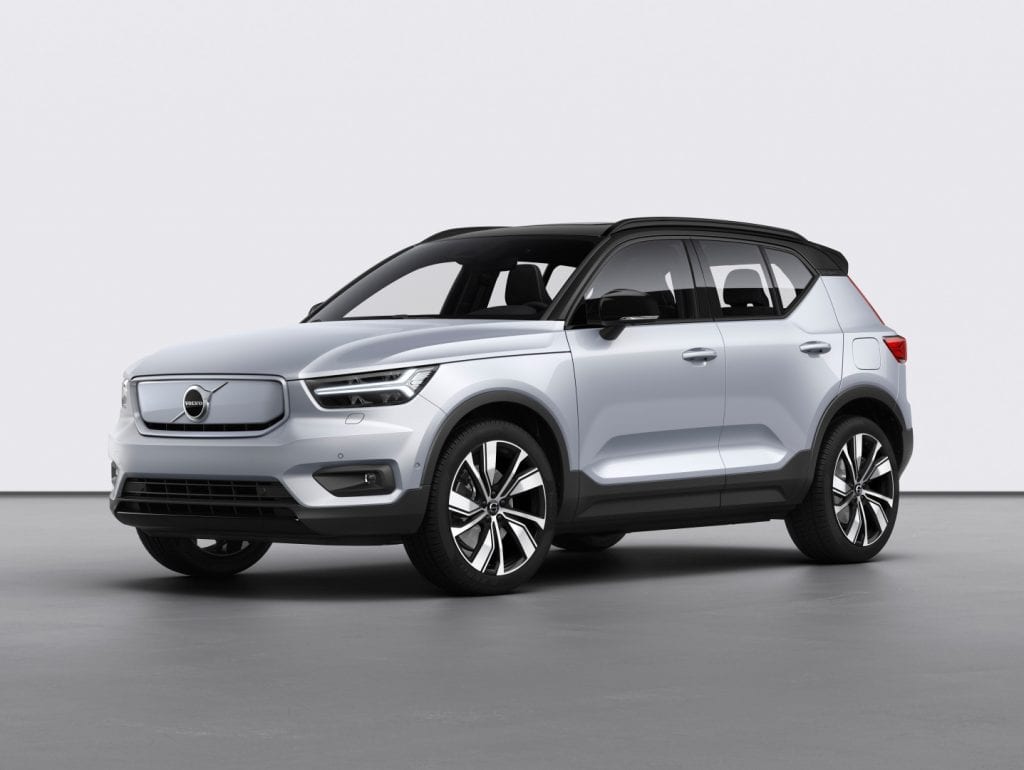 The Volvo XC40 Recharge electric SUV is closely related to the standard Volvo XC40 in terms of looks and design. This electric SUV will be one of the first to have the car's infotainment system that's powered by Google's Android Operating Systems.
This car will have the ability to travel up to 248 miles on a single charge. The power will come from the 150 kW dual motors mounted on the front and rear axle. These powerful electric motors can produce 402 brake horsepower, which is at least twice as powerful as the standard ICE model which produces only 187 hp.
Surprisingly, the XC40 is a lot heavier than the standard gasoline version (1100 lbs heavier to be precise). However, despite its heavy weight, the motors are powerful enough to propel the car from 0-60 in just 4.9 seconds, which is still significant given it weighs a half a ton heavier.
The 78 kWh Lithium-ion battery can be charged to full capacity in a short amount of time. When using a fast charger, it only takes 40 minutes to charge the battery from 0 to 80 percent.
Like Tesla cars, the XC40 Recharge will have a storage space over one cubic foot at the front. The XC40 electric version will also have a cabin that closely resembled the standard model.
More details on Volvo XC40 Recharge on YouTube.
Rivian R1S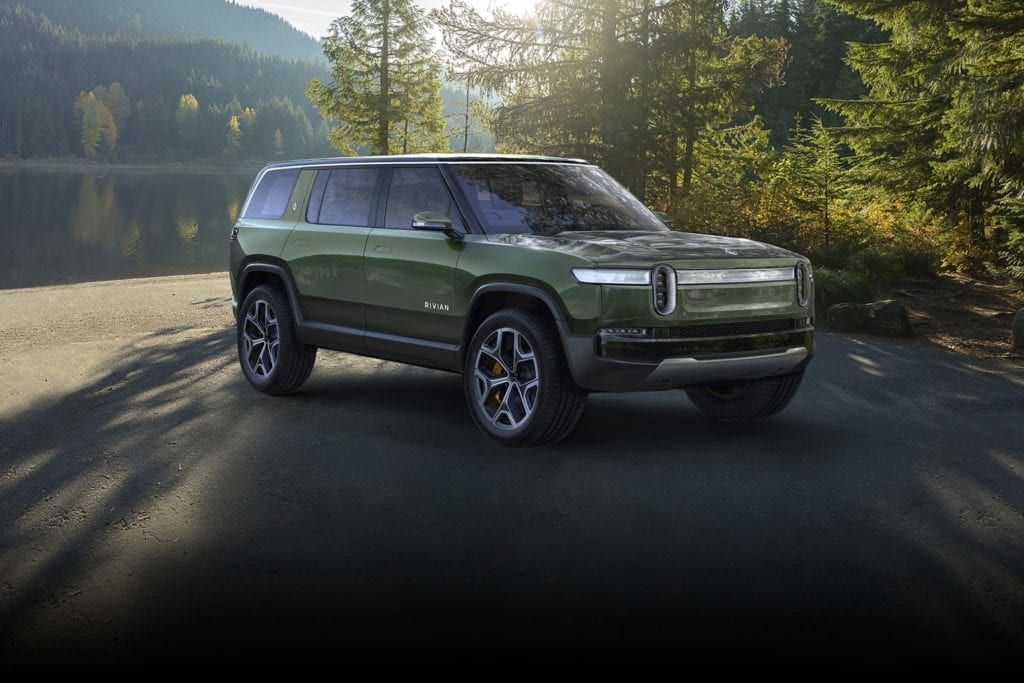 Although the Rivian R1S is yet to hit the mass market, we know for sure that it is going to be the most powerful electric SUV ever produced. It seems like the R1S is going to be the first electric-powered car with a fully off-road capability.
The specifications of this car are very impressive beating out most others on the list. It has a quad motor system which can collectively produce up to 750 hp. We once lived in a world where only hyper-cars could hit a 0-60 mph of 3 seconds. Today, Rivian claims this SUV will have enough power to achieve that feat, i.e. 0-60 mph in 3 seconds.
Quad motor system achieving 750 HP? That sounds like the vehicle consumes a lot of energy, right? The Rivian R1S battery comes in 105/135/180 kWh, and is expected to have a range of more than 400 miles at its peak.
It has been revealed that the Rivian SUV will be available in several versions, but all versions will have a top speed of 125 mph. This electric SUV has a wading depth of 3 feet and a towing capacity of 7700 lbs. You'll also have the option to choose between five or seven-seats.
If you are an adventurous person, and you want to go off-roading in an eco-friendly way, keep an eye on this monster-like electric SUV. Many are claiming Rivian is the next Tesla in terms of performance, innovation, and popularity.
Bollinger B1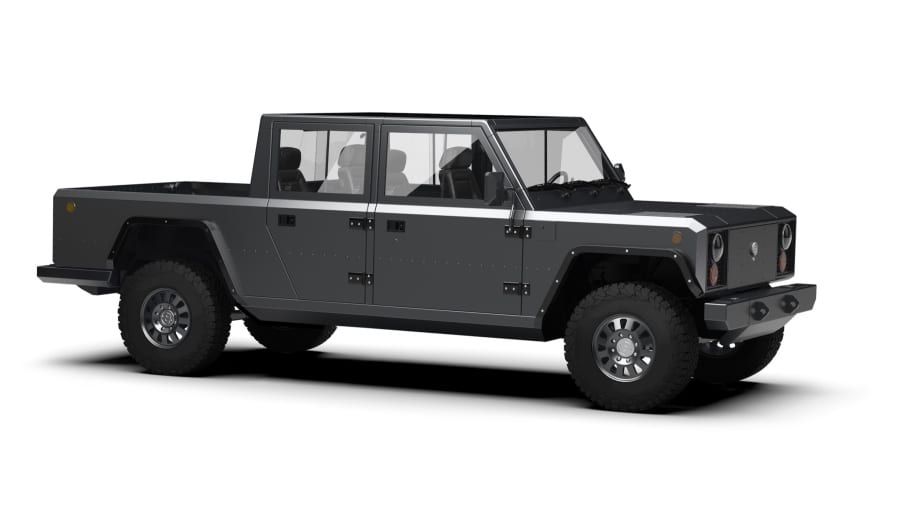 By the time the Bollinger B1 hits the market, it will be regarded as the world's most capable Sport Utility Truck. It has a body structure that takes notes from a military Humvee but with a much more polished and refined look.
Bollinger B1 is a perfect example of a solidly engineered Sport Utility Truck. It has a maximum payload of 5,000 lbs, a ground clearance of 15 inches, and 14 cubic feet of trunk space. This vehicle draws its power from dual motors fitted at the front and rear axle, which produces 614 horse power. Capable of generating 668 ft-lb Torque, the B1 can zoom from 0-60 mph in 4.5 seconds.
The energy source is its 120 kWh battery pack which will come with level 3 charging capabilities. Level 3 charging, which is DC fast, offers the fastest charging time of 75 minutes, while level 2 charging may take up to 10 hours. The Bollinger B1 has a maximum range of 200 miles.
While it may be too early to predict that the Bollinger B1 will replace the existing Sport Utility Trucks, it is obvious that this vehicle will spark off a sense of competition in the automobile industry.
With an all-wheel drive system powered by two electric motors, the Bollinger B1 can easily tread anywhere. On-road or off-road, this vehicle will take you wherever you want to go.
Kia Stonic EV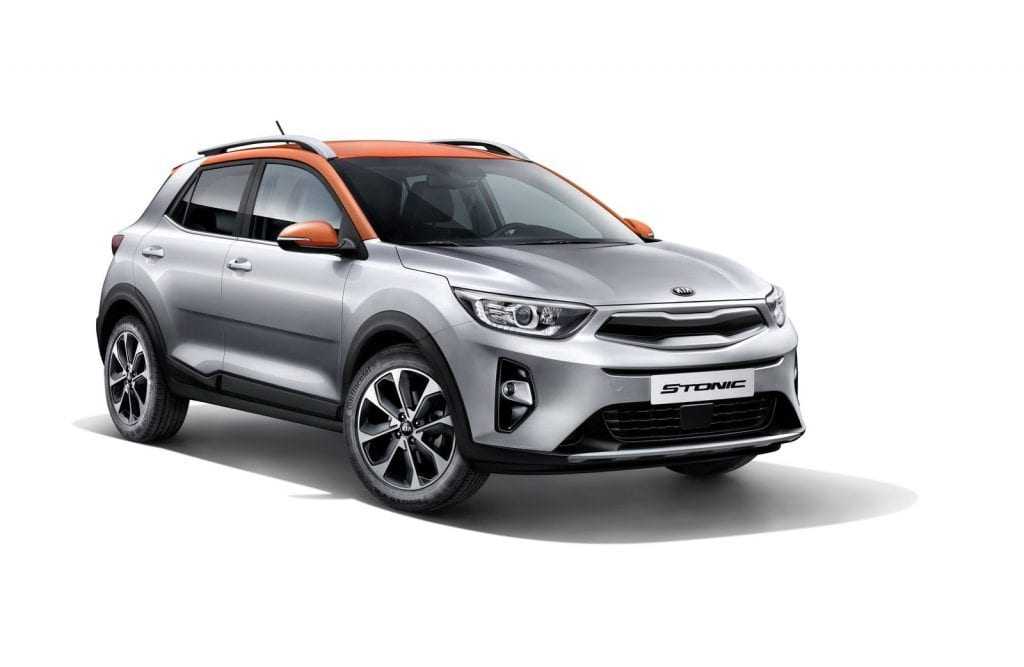 The Kia Stonic SUV has been in production for some time now but an electrified version is set to make its debut in the near future. With the Soul EV also around the corner, Kia seems ready to jump into the electric car world. It is no surprise, though, given that Kia has perfected a very short production cycle.
According to a self-claimed insider, the Kia Stonic will be equipped with a 46 kWh battery, which will provide the vehicle with a range of 201 miles.
The Kia Stonic design features a two-tone color with a sporty bodystyle. The colors are fully customizable allowing you to design a car to fit your personality. It is equipped with a 120 hp dynamic engine ready to meet the needs of all adventure lovers.
With no exact release date given, production is still unknown. But the car is expected to be made available to the market in the next year.
Kia Soul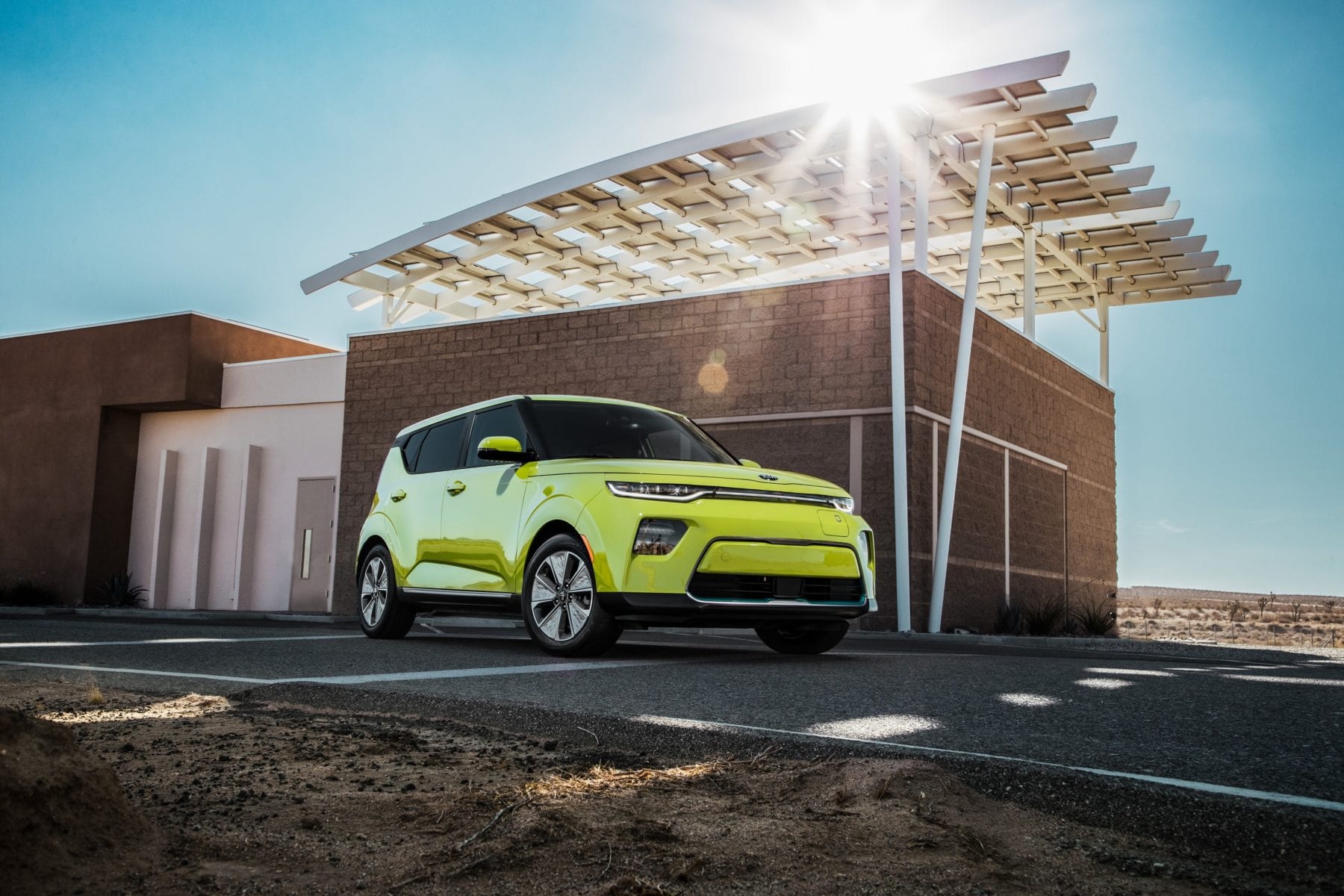 Kia has not one, but two electric SUV's planned. The Soul EV is expected to begin production in the first half of 2020. Kia is a bit behind the others when it comes to electric cars, but the Kia Soul is expected to push the firm a step forward. Let's see what they have to offer. 
 
The Kia Soul EV has almost the same exterior design as the traditional Soul which uses a combustion engine. This compact SUV derives its energy from a 64 kWh liquid-cooled Lithium-ion polymer battery, which is equipped with a Combined Charging System. It can charge the battery up to 80 percent in about an hour. The Soul EV will come with four driving modes, namely, Eco, Normal, Sport, and Eco+. The driver can switch to different modes to allow efficient driving depending on the environment. 
 
This small electric SUV has a top speed of 99mph, and can accelerate from 0 to 60 in 7.6 seconds. The 2020 Kia Soul EV is expected to have a range of 243 miles. This SUV will be made available in two trim levels; the Soul EV, and Soul EV Designer Collection. The higher trim level will have much better features but we'll have to wait to find out more.
Volkswagen ID CROZZ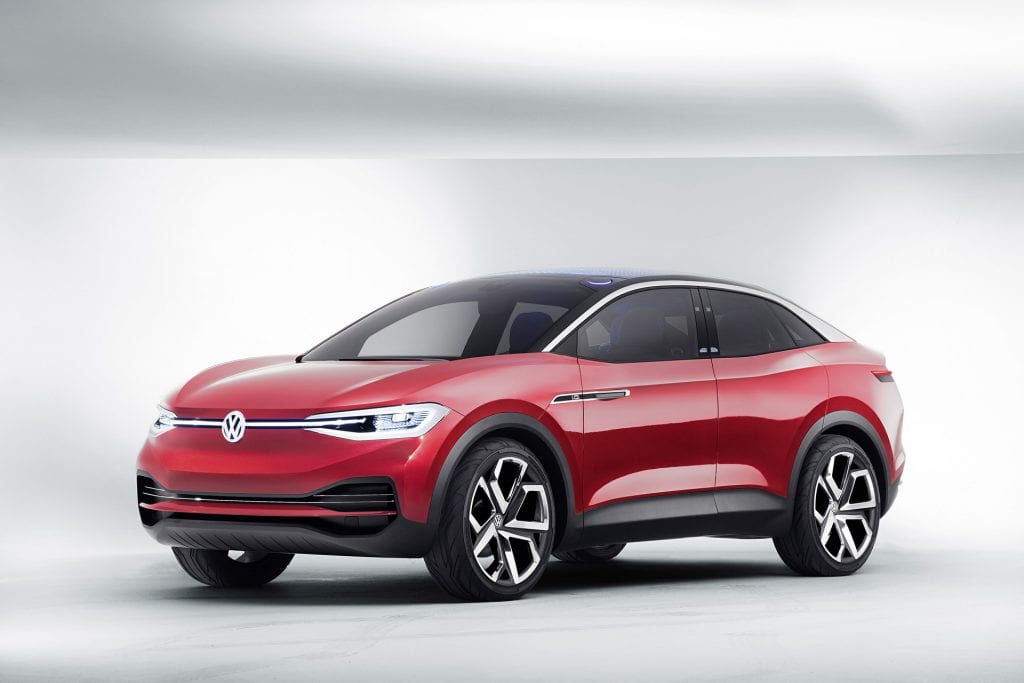 The long-awaited Volkswagen ID CROZZ is soon to be made available to the public. The production version of the CROZZ is expected to be launched later this year. The prototype was revealed to the public in 2017 at the Shanghai Auto Show. Although it's already been a few years since the prototype of this vehicle was revealed, much of the details are still kept secret.
The SUV will be equipped with an 83 kWh lithium-ion battery, and a 150 kW charging capacity. The ID CROZZ will have all the latest technology in the electric car industry to provide optimum performance and low power consumption.
It might not have all the cool features that come with the latest Tesla model, but perhaps the electric range of this vehicle will make you fall in love. According to the company, this SUV will have a range of more than 311 miles; the exact figure is still not disclosed. With the 225 kW and 302 hp dual electric motor, the vehicle can reach a top speed of up to 112 miles per hour.
Volkswagen has also claimed that the front-to rear-weight distribution of the CROZZ will be 48/52. This will provide maximum comfort and efficient handling. The firm has made a lot of promises regarding the performance and features of the ID CROZZ. Will they keep their promise? Well, we will have to wait a few more months.
Byton M Byte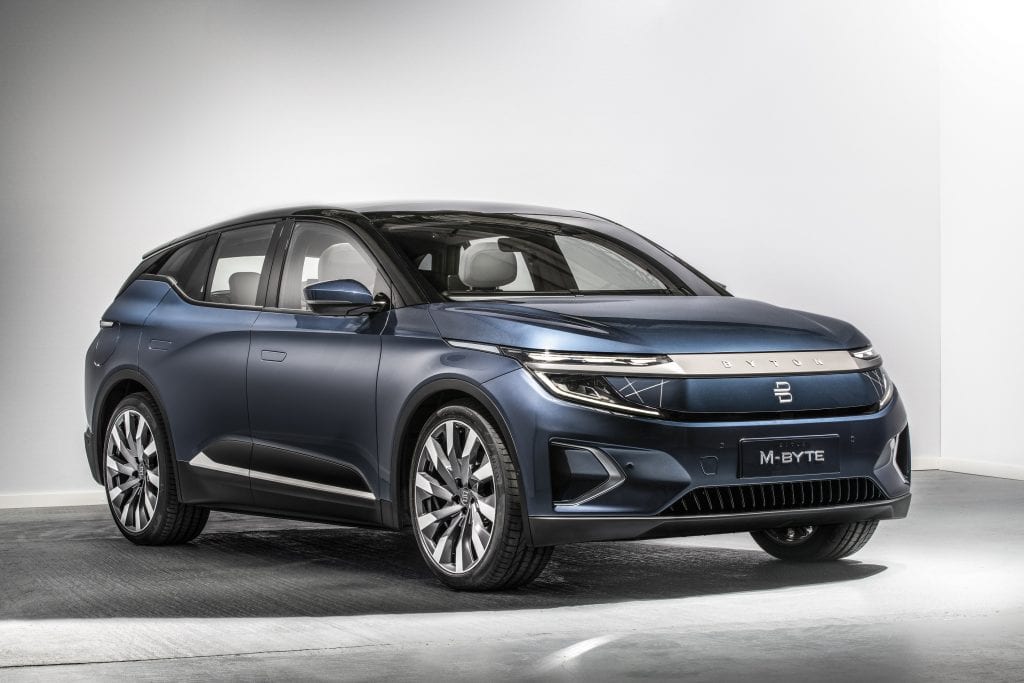 The Byton M Byte is all set to hit the market within the first few months. According to the claims, the manufacturer states this SUV is built with the latest technology and has all the features you should expect from modern cars.
Everything about this car is amazing – from the exterior design, the interior, infotainment system, and storage capacity. Some of the coolest addition to this car includes; 10-degree rotating front seats, flat antenna for high-speed internet connection, and smart app integration.
The M Byte will be produced in two variations. One with a rear wheel drive, and the other with an AWD system. The RWD M Byte can go 0 to 60 in 7.5 seconds while the other, AWD, does it in 5.5 seconds.
The top speed of the M Byte is 118 mph, and the range will be somewhere between 280-350 miles.
Volkswagen ID BUZZ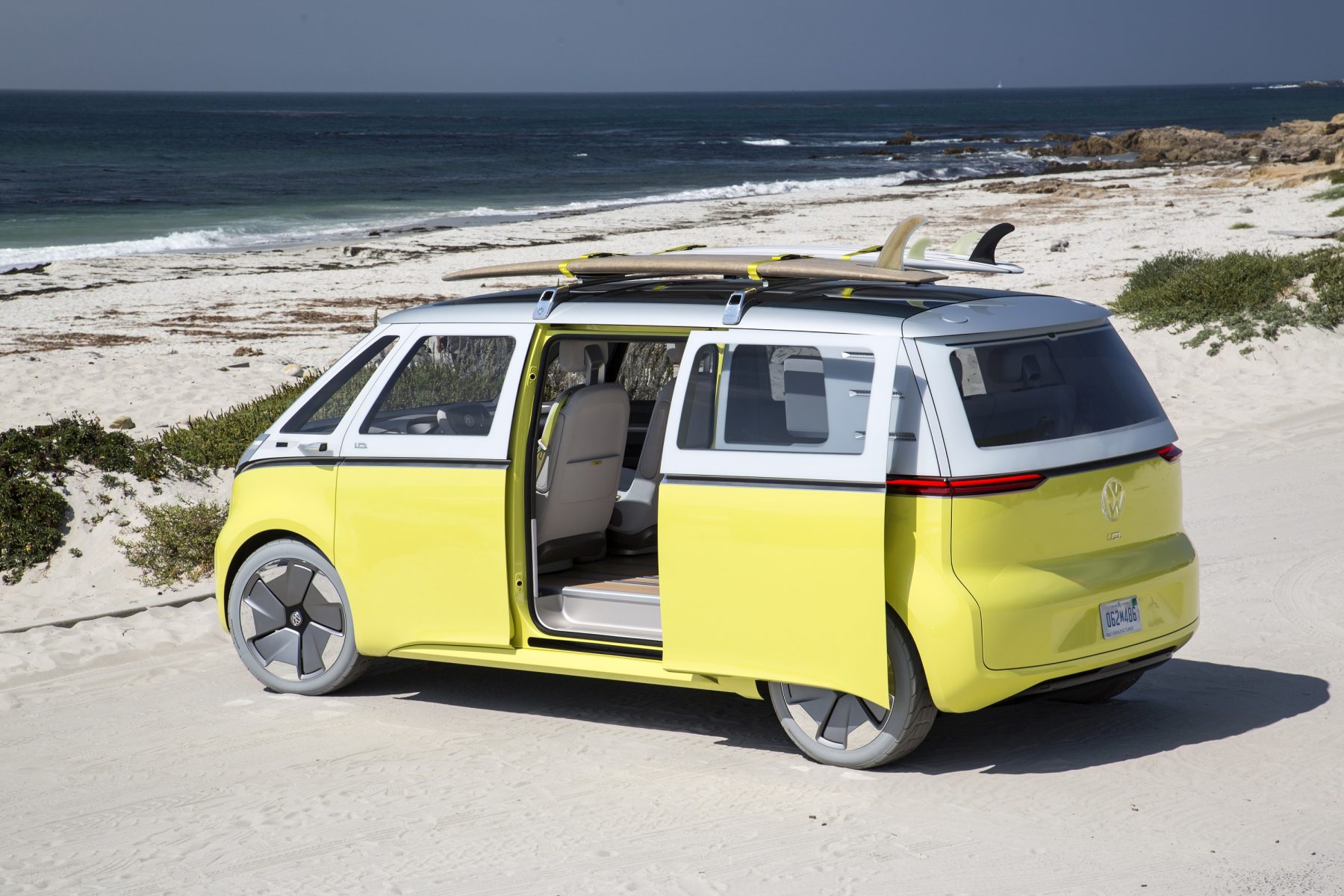 While it is still unclear whether the Volkswagen ID BUZZ will be an electric crossover SUV or a minivan, this next generation all-electric car may take a year or two until it is ready to be produced on a commercial scale. 
 
Based on the firm's indication of the vehicle during the North American International Auto Show in 2017, this ID BUZZ will be one of the most efficient electric cars on the road. The vehicle will be over 16 feet long, and have similar features to the other vehicles in the ID series. This model will have a spacious interior and large storage spaces (the specific figure is still not yet revealed). This car will have tons of cool features, including the fully auto-driving mode. 
 
The ID BUZZ will be made available in two versions. One with an all-wheel drive system with a 111 kWh battery pack, 275 kW / 369 hp, and the other version will have a rear-wheel drive system with an 83kWh battery, with a 200 kW / 268 hp motor. The one with a rear-wheel drive system is expected to be more efficient, and less expensive than the one with an AWD system. Both versions of the ID BUZZ may come with a range of more than 350 miles, but that is just mere speculation at this point. 
 
Here's everything we know about the VW ID BUZZ.
Tesla Model Y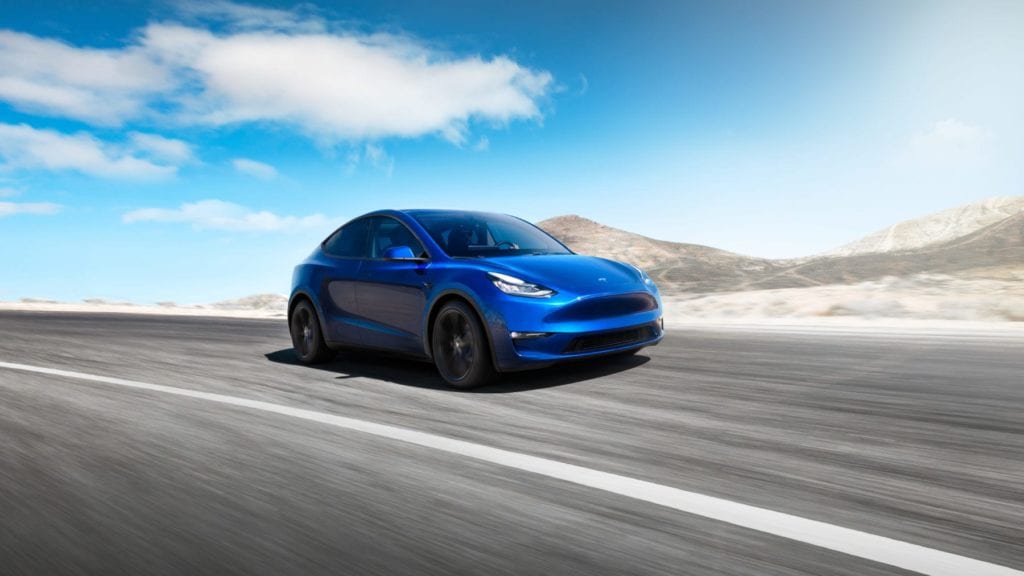 Tesla's next vehicle, the Model Y, is probably the strongest contender on this list. It'll be hard for other manufacturers to come close to this electric SUV in terms of specs and pricing. After all, it is the Tesla, they've been in the electric car industry long enough to figure out what works the best. The Model Y is affordable with a starting price of just $39,000.
After the Model S, Model 3, and Model X, Elon Musk announced the making of the Tesla Model Y. Like the other Tesla models, this compact high-performance SUV will have maximum safety features, including the impact protection system.
The car will have two independent motors, and they can propel the car from 0 to 60 mph in 3.5 seconds with a top speed of 150 mph. The Tesla Model Y is expected to have a range of 300 miles.
This Tesla model will be loaded with cool features such as a glass roof, full-self-driving mode, all-weather control mode, collision warning, 15-inch center touchscreen, emergency braking, and even blind-spot monitoring. You can also expect a lot more features in the future through Tesla's notorious over-the-air software updates.
More information on Tesla Model Y