Since its official unveiling at the 2018 L.A. Auto Show, Rivian Automotive has been making major headlines with the announcement of their electric truck, the Rivian R1T. Not only is this pickup already out of the ordinary with an electric drivetrain, but it also boasts some monstrous specs that hold up well next to its ICE competition.
Battery Pack Configurations
105 kWh
135 kWh
180 kWh
Passangers [#]
5 passangers
Trailer Weight Rating [kg]
5,000 kg
Powertrain/Drivetrain Type
4 motor electric AWD
Overall Lenght [mm]
5,475 mm
Motor – Power [kW]
147 kW per wheel
Wheelbase [mm]
3,450 mm
Vehicle – Power [kW]
300 kW
562 kW
522 kW
Track Width [mm]
1,710 mm
Toque [Nm]
560 Nm
1,120 Nm
Overall Width – Mirrors Folded [mm]
2,015 mm
Total Grounded Toque [Nm]
7,000 Nm
14,000
Overall Height (Curb) [mm]
1,815 mm
Range [miles]
230+ miles
300+ miles
400+ miles
Kneel/Park Ground Clearence [mm]
200 mm
Top Speed [mph]
125 mph
Aero/Standard Curb Mode Ground Clear. [mm]]
240 mm/280 mm
0-60 mph [seconds]
4.9 s
3 s
3.2 s
Off Road Ground Clearence [mm]
360 mm
0-100 mph [seconds]
12.5 s
<7 s
<8 s
Water Fording Depth (Max) [m]
1 m
Vehicle Curb Weight [kg]
2,670 kg
Frunk Volume [L]
330 L
Vehicle Distribution: fron : rear [%]
52%/48%
Bed Length (Tailgate Up) [mm]
1,400 mm
Gross Vehicle Weight Rating [kg]
3,470 kg
Bed Length (Tailgate Down) [mm]
2,100 mm
Payload [kg]
800 kg
Bed Width [mm]
1,385 mm
Rear Bin Volume [L]
200 L
Gear Tunnel [L]
350 L
Underseat Volume [L]
95 L
N/A
A New World
Giving credit where due, Tesla's massive success played a significant part in driving legacy auto manufacturers into an electrification shift. What some might be unaware of is the other side of the food chain packed to the brim with new electric auto manufactures looking to make their bed in this "niche". With Tesla proving the markets potential, heaps of new EV's sprung up looking to take advantage of the opportunity in this newly defined market. One of these new electric car manufacturers goes by the name of Rivian Automotive.
Above all, trucks are currently the leading vehicle segment in the U.S. Out of every vehicle available, the Ford F Series, Ram Trucks, and the Chevy Silverado hold the top three positions in annual sales. Pickup trucks actually account for approximately 15% of all vehicle sales in the U.S., so it's no wonder why so many electric truck manufacturers have entered the EV race.
The Rivian R1T is not only one of the most anticipated upcoming electric trucks, it is also the most important. Like Tesla, they have proper financial backing and a cult following. Fans have taken a liking to Rivian Automotive, ⁠the product and brand they've created.
Tesla is a company solely derived off the hype they've created. Without the optimism and faith of early Model S and X owners, the affordable Tesla might not have ever been made a reality. The company revolutionizing the industry and world would be nothing without its strong following. Most owners bought a Tesla after following the tech behind the company or knowing someone who simply wouldn't shut up about how you should go on a test drive. No marketing, simply word of mouth from content owners sold over 1 million Tesla's worldwide.
While just about everyone is announcing upcoming electric cars and trucks, little to none have brought the traction Tesla did. That was until Rivian Automotive stepped in, however.
Hidden in Plain Site
Even before the Tesla Cybertruck became a reality, they garnered the attention of just about everyone with the R1T. Both the R1T electric pickup truck, and their full-size electric SUV, the R1S, have been on everyone's minds since their debut. Rivian has dubbed both as "outdoor adventure trucks", but they will most likely be treated as a luxury product with capabilities fit for all. The R1S has a range of 410 miles with the option for seven seats and could possibly be the first full-sized electric SUV on the market. The R1T has a few others racing alongside it, but no one brings to the table what Rivian Automotive has to offer.
Rivian is unlike the other automakers jumping on board last minute after newly found opportunity. The company has been working behind the scenes developing electric vehicles for over a decade now. They have the product, the experience, and the money.
Rivian Automotive has collected well over $2 billion in funding through different rounds of investments from companies such as Amazon, Ford, Cox Automotive, and T Rowe Price (early investors in Tesla). They acquired a 2.6 million sq ft facility that once housed a Mitsubishi plant. While all other new electric car manufacturers stepping into the game are talking the talk, Rivian is walking the walk.
Tesla vs Rivian
Rivian and Tesla are very similar when it comes to their recognition. The unveiling of the Rivian R1S was almost reminiscent of the original Tesla Model S unveiling back in 2009. Both drew an unprecedented amount of hype as fans were eager to sit behind the wheel of the future.
The electric truck company is doing what Tesla did with the Model S, but in a whole new market bringing new clientele into the EV world — truck owners. The ones you'd least expect to be in awe over an electric car are now placing deposits for one. There was a time you could say that Tesla single-handily created electric car demand, but now you can add Rivian to that list.
Of course, the Rivian R1T will not enter a market devoid of any competition. Tesla will try to replicate the success the Model S and Model 3 had in their respective vehicle segments and will work to win over the truck market as well. While the Rivian R1T and R1S have both been delayed from their initial 2020 date to a mid-2021 date, they will both still release ahead of the Tesla Cybertruck which at this point is set to start deliveries at the very tail-end of 2021. So Rivian will have a whole six months to capitalize on an open market before having to go toe to toe with the electric giant. We anticipate a lot of Tesla Cybertruck vs Rivian R1T searches as people pour over information about which electric truck to go with. The good news is that either one is probably a good choice.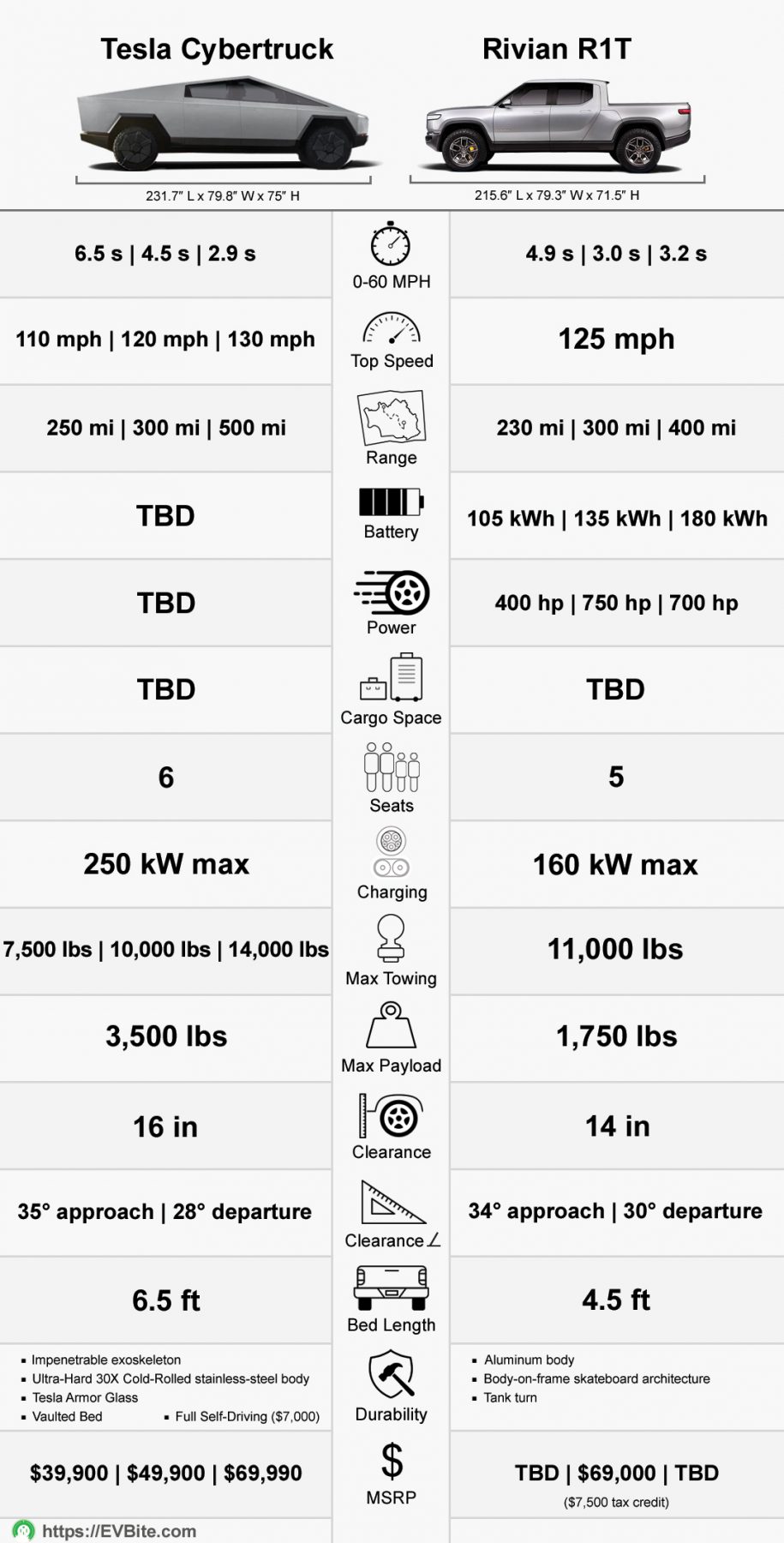 The Upper Hand
Not only is the R1T one of the more promising upcoming electric trucks, but Rivian Automotive is also one of the more promising electric car manufacturers in general. This is a company we will be hearing a lot about as they make waves in the auto industry. The team has already won the trust of Amazon who put forth a huge order of 100,000 electric vans by 2024. Rivian also has a partnership with Ford and despite failing to move forward with an electric Lincoln collaboration, they are still in talks and seeking further opportunities.
The company does not look to be resting on its laurels as trademark filings for an R1V (most likely the Amazon van) and a yet unknown R2X name have popped up as Rivian continues to look ahead and keep the momentum. It's speculated that the R2X could be a rally car or maybe crossover, but as of now it's still speculation.
It looks like all these investments and presumably high pre-order numbers have allowed Rivian to optimize and cut down on costs before production even begins. When the two cars were first announced, a price of $69,000 and $72,000 were given for the R1T and R1S, respectively. With their being three tiers of battery (105, 135, and 180 kWh), it was assumed that those prices given would be the starting price for the base model (because why wouldn't it be?). This was later proven false when Scaringe told Reuters that the previous prices given were for the 135 kWh models that can travel 300 miles and have a glass sky panel. Unfortunately, there was no further elaboration or prices of the lower and higher models. The initial price could have been for the mid-range all along, but it's rather unusual for the published price to not be for the cheapest version at the cheapest cost unless otherwise noted from the very start.
We still are unaware of what the bottom price will be, but we remain doubtful that Rivian will be able to reach the cheapest Cybertruck at just under $40,000 (which won't be out till late 2022 anyways). However, Rivian is still eligible for the full $7,500 EV tax credit which will help even the playing field when it comes to pricing. For those interested, you can preorder the Rivian R1T and R1S today with a $1,000 refundable deposit.