While the modern-day pickup truck has been around for more than a century at this point, two of the most hyped upcoming trucks are coming from brands that didn't even exist at the turn of the century. The Rivian R1T and Tesla Cybertruck are not only looking to transition pickup trucks away from fossil fuels, but also shake up the long-standing dominance that brands like Ford, Dodge, and GM have had in the space. So how do these two contenders compare to one another?
While standing as the second-largest vehicle segment in the U.S. (behind crossovers), year after year, pickup trucks account for the top 3 most sold vehicles. Ford, Ram, and Chevy currently hold the crown but as we transition towards electrification, there's been a few new companies looking to take advantage of the competition-less segment, electric trucks.
Without a doubt, the two largest contenders would have to be Tesla and Rivian, two companies that aren't just looking to bring an electric truck to market, but also change the way we look at trucks altogether.
Design
While both of these electric trucks share obvious similarities of both being trucks, and both being fully electric, the designs of both could not be any more different from one another. While the Rivian R1T tries to keep a familiar pickup truck shape with some unique headlights to help have it stand apart, the Tesla Cybertruck ignores all design conventions. Looking like the love child of an F-117 Nighthawk and a bunch of steel beams, Elon Musk was not lying when he said that the design would not be for everyone. The Cybertruck sports more angles than a geometry class and is proud of its cyberpunk design language.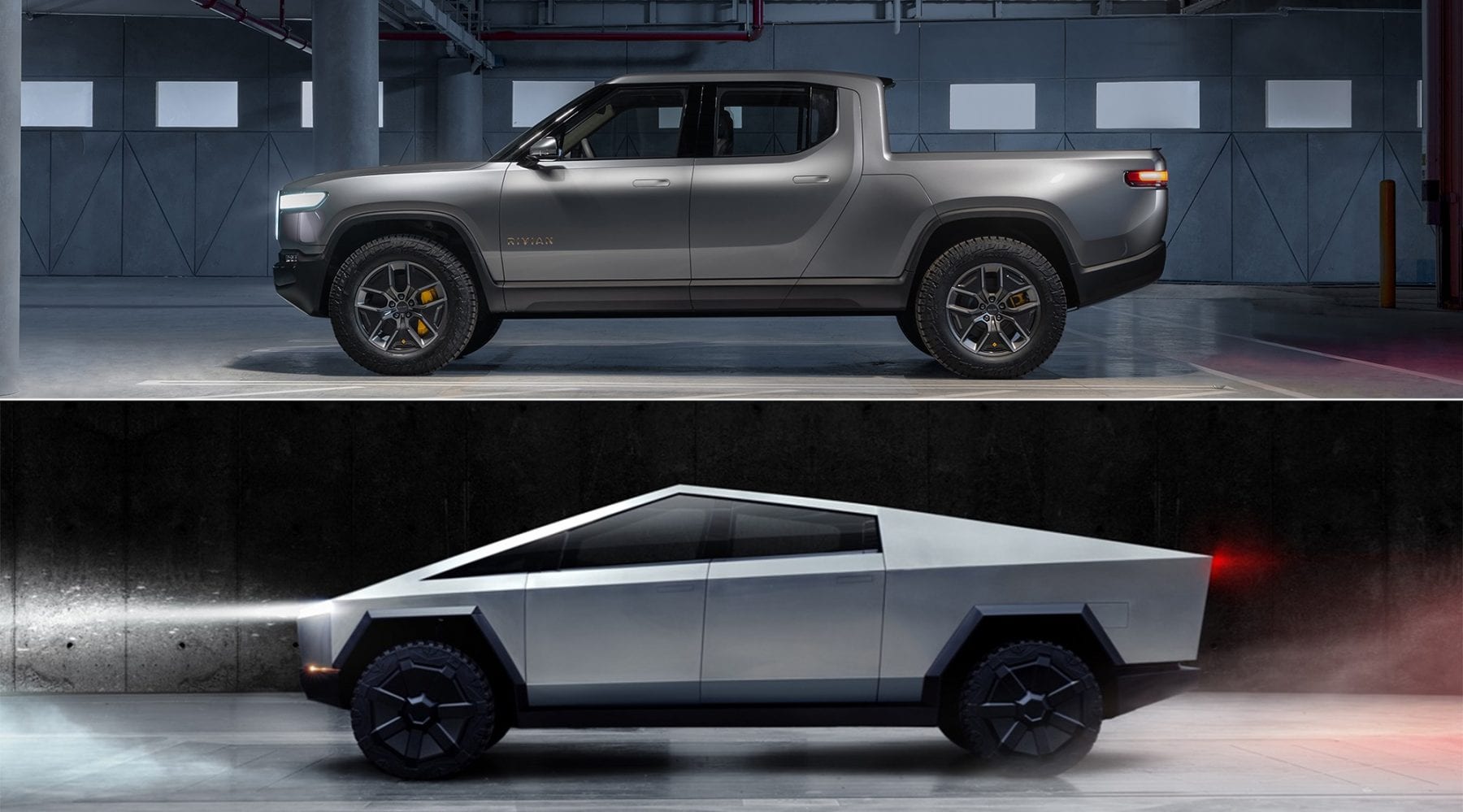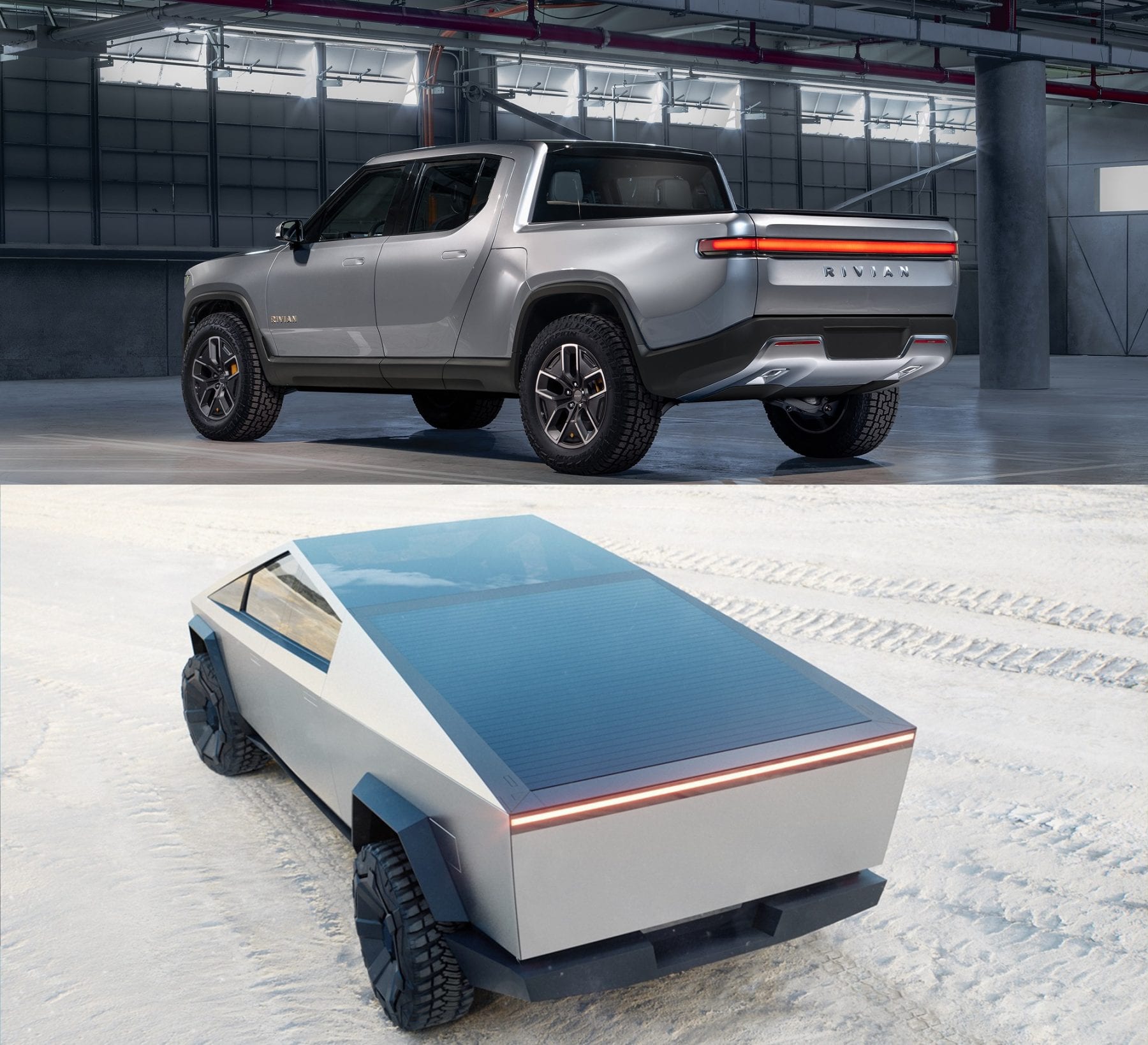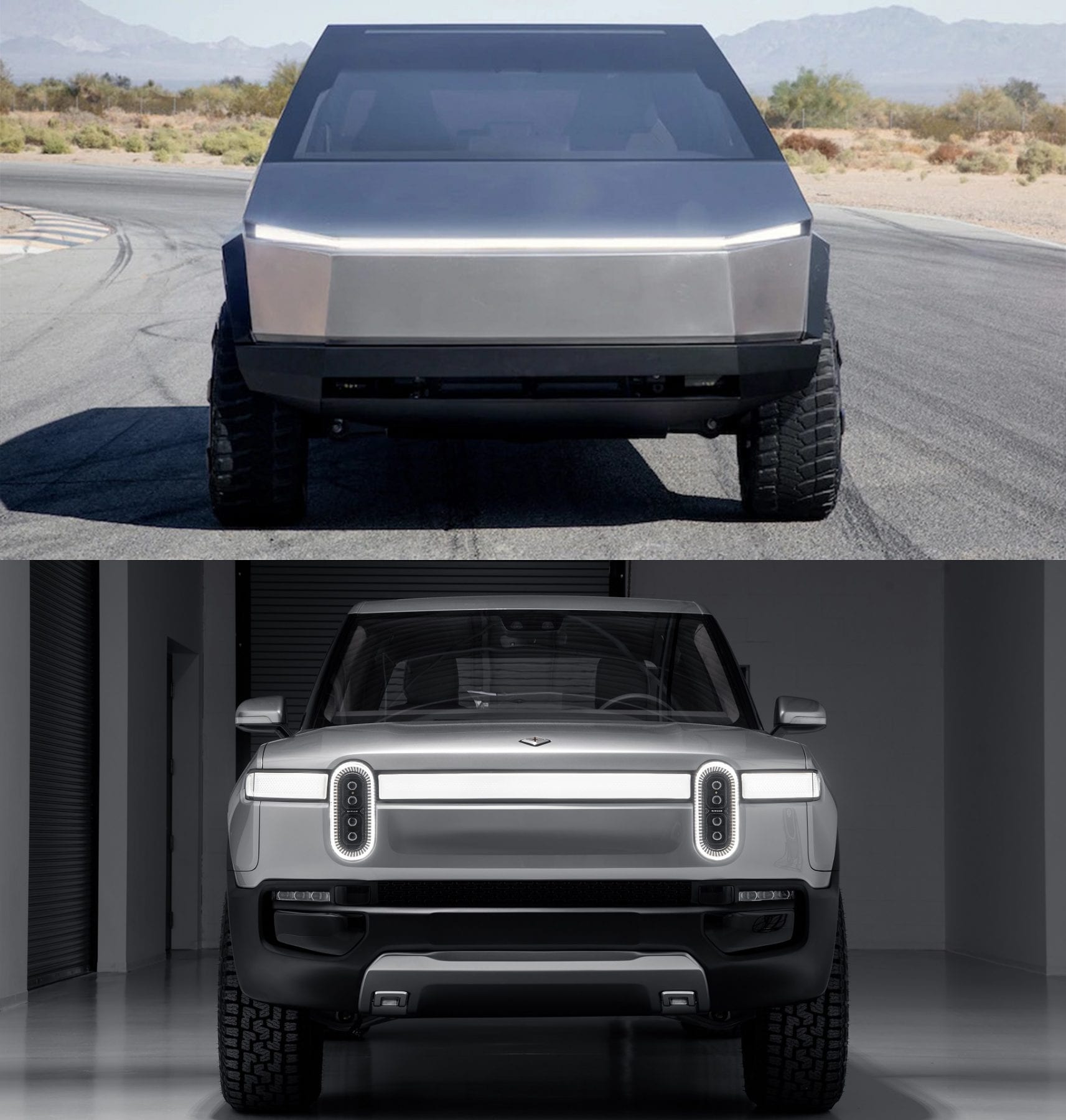 As you can see, the two electric trucks stand in stark contrast to one another. While the reactions to the Cybertruck were initially very mixed, it seems like the design is starting to grow on people.
Not only does the design of the Cybertruck look tough, it actually is tough. The body of the Cybertruck is made of "Ultra-Hard 30X Cold-Rolled Stainless Steel" which Tesla describes:
If there was something better, we'd use it. Help eliminate dents, damage and long-term corrosion with a smooth monochrome exoskeleton that puts the shell on the outside of the car and provides you and your passengers maximum protection.
On top of that, we have Tesla's infamous "Tesla Armor Glass" which spectacularly shattered twice upon demonstration of its strength during the Cybertruck reveal. At its prime, the Tesla Cybertruck is nothing but a bullet proof tank.
The Rivian R1T, on the other hand, employs a more standard aluminum body. It is not inherently a bad thing and will probably work well in most use cases. In fact one could see the aluminum body a positive from a design standpoint as it is extremely difficult to paint the body of the Cybertruck, so you'll probably have to end up wrapping it.
Both electric trucks feature lockable storage compartments, with the Cybertruck having a lockable truck bed while the R1T has something a tad more interesting. The R1T features a "gear tunnel" in front of the rear wheels that runs along the width of the truck. While it can be used simply for extra storage, Rivian has envisioned accessories that fit into the gear tunnel, such as pull-out toolboxes or coolers.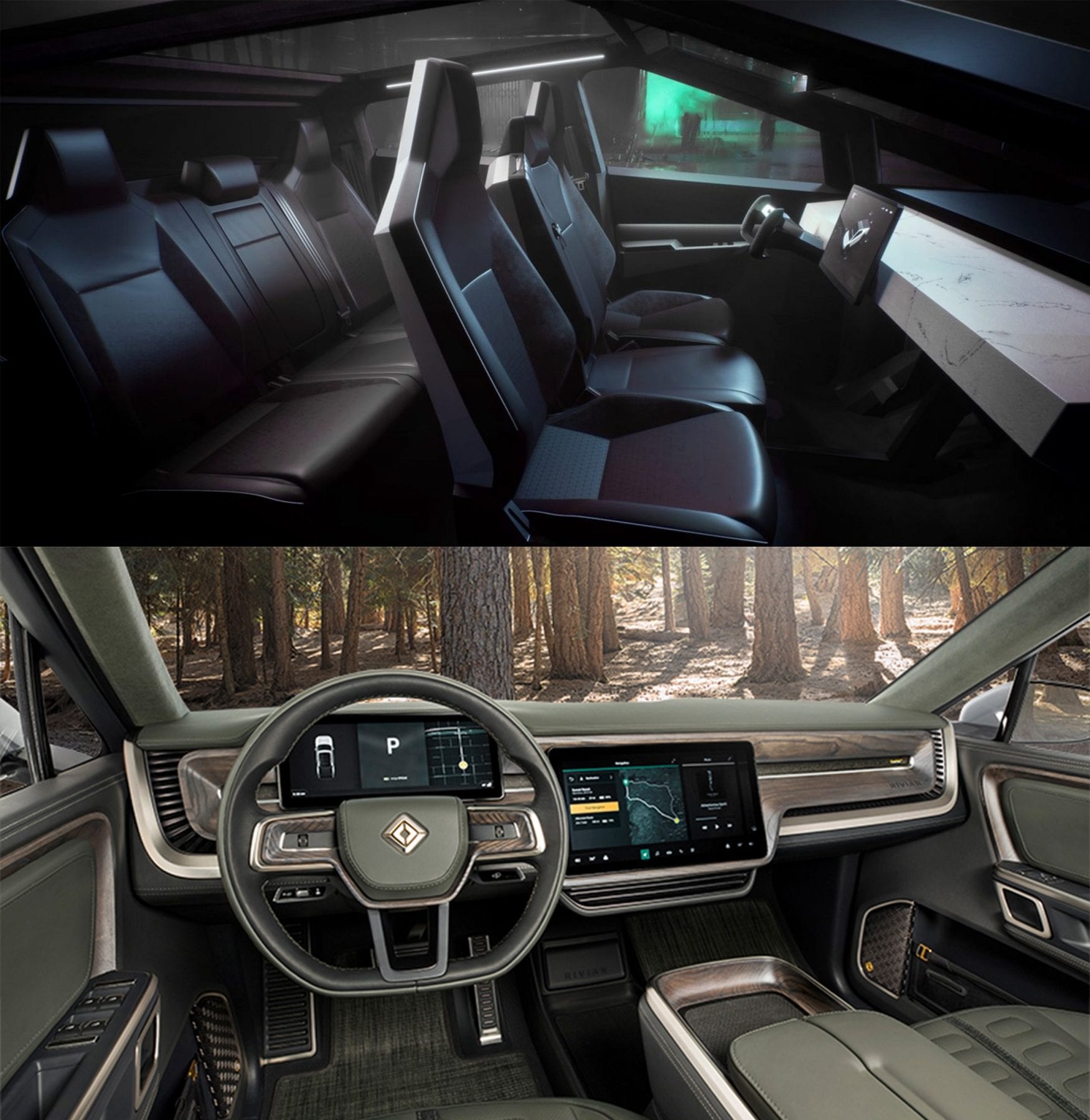 In regards to the interior, neither of the electric trucks are going for a rugged and spartan feel. Both interiors employ leather seats and clean lines with plenty of technology, it's not your base pickup truck littered with knobs and buttons with no automatic climate control.
Specifications
While it looks like both of these electric trucks will handle anything that the casual owner will throw at it, at this point in time the Cybertruck beats the R1T in every meaningful metric.
Speaking from a strictly pickup truck standpoint, the Cybertruck has a higher max payload (3,500 lbs. vs. 1,750 lbs.), higher ground clearance (16 in. vs. 14 in.), a longer trunk bed (6.5 ft. vs. 4.5 ft.) and the tri-motor version of the Cybertruck has a higher max towing rating (14,000 lbs. vs. 11,000 lbs.). The single-motor (7,500 lbs.) and dual-motor (10,000 lbs.) versions do however have lower towing ratings as all the Rivian R1T models have the same 11,000 lbs. towing capacity.
Moving towards electric performance statistics, the Cybertruck and R1T do trade some blows depending on what configuration you get. Both will offer three different models.
From a range standpoint, the Cybertruck either beats or matches the Rivian equivalent in range (250 mi vs 230 mi, 300 mi vs 300 mi, 500 mi vs 400 mi). The 0-60 times are more interesting as the single-motor and dual-motor Cybertrucks are beaten by their Rivian equivalents (6.5 sec vs 4.9 sec and 4.5 sec vs 3.0 sec). However, the tri-motor version of the Cybertruck does beat the top-tier R1T and is the overall fastest option. Interestingly enough, the top-tier R1T is not the quickest of the three, instead, it is the middle battery capacity variant.
All the different versions of the R1T have the same 125 mph top speed which beats out the top speed of the single- and dual-motor Cybertrucks but won't match the 130 mph speed posted by the tri-motor version.
The Cybertruck also edges out the R1T in charging speed with the Rivian having a charge rate of 160 kW, while the Cybertruck will presumably have at least a 250 kW charge rate.
It is important to note that both of these trucks are at least a year out from production, so some specifications may change by the time of launch.
Features
Both the Cybertruck and R1T feature little features that are unique to each electric truck. The Cybertruck for instance has a few features that make it more useful to people working with a lot of tools as the Cybertruck features 110V and 220V power outlets along with an air compressor. Tesla seems to be appealing to blue-collar workers as well as the usual Tesla fan. Both trucks feature different storage features, with the Cybertruck having its "vault" that can lock the truck bed, and Rivian's "gear tunnel" that will easily fit your skis for a trip to Aspen.
Both companies have also decided to showcase their electric trucks in a camping situation. Rivian has made use of their gear tunnel to house basically a mini kitchenette. Tesla also showed a camping edition of the Cybertruck during its reveal, also featuring a kitchen and tent, but instead of occupying a gear tunnel, it takes up what appears to be the bottom half of the truck bed.
While Rivian has expressed its intent to have different accessories for its gear tunnel and in turn basically confirming the "camping edition" of its R1T, Tesla has not commented on any sort of camping configuration for the Cybertruck aside from the above picture, so its production is left up in the air.
An interesting feature that is worth noting, but of unknown usefulness, is Rivian's tank turn which will appear in both the R1T and R1S and made possible by their four individual motors.
Tank Turn. Available on the R1T and R1S 🙂 pic.twitter.com/AsRKnFJGWr

— Rivian (@Rivian) December 25, 2019
No doubt a very cool looking feature, but it seems like the use case for it is pretty limited.
Of course, we cannot mention unique features without talking about Tesla's Full-Self Driving option which at the time of writing is $7,000, but will increase to $8,000 in July. The autonomous driving system has been getting constant updates as time goes on and it will be hard to imagine how much more advanced it will become by the time the Cybertruck is meant to be delivered in late 2021. Will it be able to reach full autonomy by that time? It's questionable, but if the current pace of advancement continues, we will be getting pretty close by that point.
Price
If you are not immediately turned off by the design of the Tesla Cybertruck, then the price difference between the two electric trucks will no doubt be a primary deciding factor between the two.
While Rivian initially stated that their base 105 kWh, 230-mile range R1T would start at around $69,000 that price was later adjusted. More recently Rivian stated that the $69,000 price would actually be enough for their middle-tier 135 kWh, 300-mile range R1T. At this point we still do not know how low their base model will be able to drop, nor do we know how high the price will be for their top-tier version.
Regardless, Rivian would have to cut the price of their R1T by a lot if they want to match the base price for the lowest-tiered Cybertruck, which starts at $39,900 (not including Full-Self Driving which is $7,000 at the time of writing). Even if you take into account the $7,500 EV tax credit which Tesla is no longer eligible for, but Rivian is, the base R1T would have to start at under $50,000 to match the Cybertruck. This represents an almost $20k gap between the two versions. Additionally, the tri-motor will start at $69,990, almost the same price as the mid-tier R1T (pre-tax credit), while offering performance that beats Rivian's top-tier model.
It looks like Rivian will have to rely on their traditionally more appealing design to win customers over as looking at strictly numbers, there would be almost no reason for someone to pick the R1T over the Cybertruck. While the Cybertyruck interior is not finalized, the R1T will probably have an interior with more luxury appeal that will probably want to drive something that doesn't look like a concrete slab.
Production
While the Rivian R1T was initially scheduled to start deliveries at the very tail-end of 2020, due to current world events, Rivian had to pause operations at its factory in Normal, Illinois which is still under construction. While an official statement has not been shared from Rivian, it is almost certain that the first deliveries will not happen until 2021. How far into 2021 however, we still do not know.
The Cybertruck, however, does not even have a factory yet, but has more breathing room as the dual- and tri-motor versions are not expected to start production until late-2021 with the single-motor version not starting production until late-2022. Tesla is still scouting locations within the middle of the United States for a new factory that will be principally responsible for producing the Cybertruck. Current cities being thrown around include Joplin, Missouri, Tulsa, Oklahoma, and Austin, Texas. A decision should be made as soon as possible to make sure that the factory will be up and running by late 2021, so expect to see an announcement from Tesla in early Summer.
With Rivian having about a year head start on the Cybertruck, it will certainly help in converting those customers who are just waiting to be able to transition into basically any competent electric pickup truck.
Of course, since neither has a functioning production facility for their respective electric trucks, any delay in the facilities will be felt in the final delivery date of each respective truck.
When compared side by side, it's clear the Tesla Cybertruck vs Rivian R1T argument continues. The two are heading towards different niches within the same segment and both will fulfill needs. Want something in between the two? You could always wait for the ever familiar Ford F150 to make its electric debut.