One of Tesla's many benefits is their ability to continuously update their vehicles through over-the-air software updates. They constantly improve their vehicles safety and add owner requested features making your car feel new again with each and every update. Here are just some of the latest Tesla software updates to come from the manufacturer.
---
Latest Tesla Software Update
The current, most recent update is 2019.20.4.2, but don't start to worry if you are behind. Tesla rolls out their updates in small batches. You can use TeslaFi to track current firmware progress and check out what percent of the Tesla owners fleet are on which firmware version.
At this point, Teslafi is a necessary tool for Tesla owners if you want to truly stay up to date with your car. When registered, you can track everything about your vehicle such as range loss, electricity savings, software updates, and charging data. It provides more statistics than you know what do with. You can check out their full list of features on their about page. Teslafi uses data from those registered to give us a better understanding of Tesla's overall fleet. The service is well worth it if you're a data nerd like us and if you want to know if you are truly getting the most out of your battery. If you're feeling extra adventurous, Teslafi has a leaderboard tracking the longest ranges achieved on a single charge. If you'd like a month long free trial you can use our referral code, EVBite.
The latest Tesla software update is usually reserved for those in the early access program. Those who purchased the FSD package prior to March 2019 are in the early access program. There was also an opportunity to enter the program through gaining a certain amount of referrals but that option is now gone.
Not all vehicles get all the new features. Your features will be dependent on your MCU, Autopilot version, and your countries regulations. We are currently on Autopilot 2.5 with MCU 3. Any car built after March 2018 should receive all new and present features that aren't region specific. MCU 3 is just now being rolled out but we expect months to go by before we see any MCU 3 specific updates.
Check out the latest Tesla software update mega-thread on Reddit for some discussions with other owners.
---
Beach Buggy Racing 2: Tesla Edition
Beach Buggy Racing 2 is part of Tesla's upcoming batch of games. Beach Buggy Racing 2 will see you racing your Tesla through many different locales and using different power ups to achieve victory. The coolest part of the games is that you can use your actual steering wheel to steer within the car (although be careful, if you play too much you might start to wear your tires as they still move when you play the game).
---
Arcade and Toybox
Tesla has now made it easier for you to reach the easter eggs section with a dedicated Toybox button. Additionally within the easter eggs screen is a new arcade button which takes you to the Tesla Arcade game lineup.
---
Dog Mode Improvements
You can now elect to have push notifications sent to you phone every 30 minutes when the Dog Mode is enabled and the battery reaches 20% or below. Definitely a welcome feature to give you peace of mind to make sure your pet stays comfortable.
---
CCS Charging
The newest update allows owners to charger their Teslas at third-party CCS chargers at up to 200kWh.
---
Driving Visualization
The driving visualization has been slightly adjusted. It will now automatically zoom in and out to maker better use of the screen space and give you a better understanding of the vehicles around you. When travelling at low speeds through city streets the view will zoom in. However when you are travelling at high speeds on a highway the view will expand to give you a much higher view of the vehicles around you.
---
Sentry Mode Improvements
Sentry Mode has received some quality-of-life improvements to help you make better use of it. It is now easier to enable and disable Sentry Mode by tapping the Sentry Mode icon at the top of your touchscreen when the car is in Park. Additionally your car can now be defaulted to have Sentry Mode always be enabled when you vehicle is parked. You can enable it by going to Controls> Safety & Security > Sentry Mode > ON, and if ON is selected then you can exclude your home, work, and/or other favorite places by selecting checkboxes. When selected, Sentry Mode will not be enabled when your Tesla is parked close to those locations.
---
Software Update Preference
Rejoice as you will now be able to opt-in to have a new software update available to you as soon as it is approved for your car configuration and region. Just go to Controls > Software > Software Update Preference > ADVANCED.
---
Conditional Speed Limits
Your Tesla will now be able to display conditional speed limits. If your road has a speed limit that is dependent on time of day or weather the system will display the conditional speed limit in grey below the regular speed limit sign for your attention.
---
Supercharger Improvements
Your Tesla will now be able to increase its charge rate from its previous maximum of 120 kW, to the new maximum of 150 kW that is provided by Supercharger V2. This should obviously help with charging your battery faster.
---
On-Route Battery Warmup
As described during the unveiling of Supercharger V3, when you navigate to a Supercharger your Tesla will start warming up the battery so that it doesn't waste time doing so after you plug it in. The feature is reported to decrease the average time of charging by 25% when compared to a 120 kW charge. When in combination with the improved 150 kW, it should save even more time at the charger.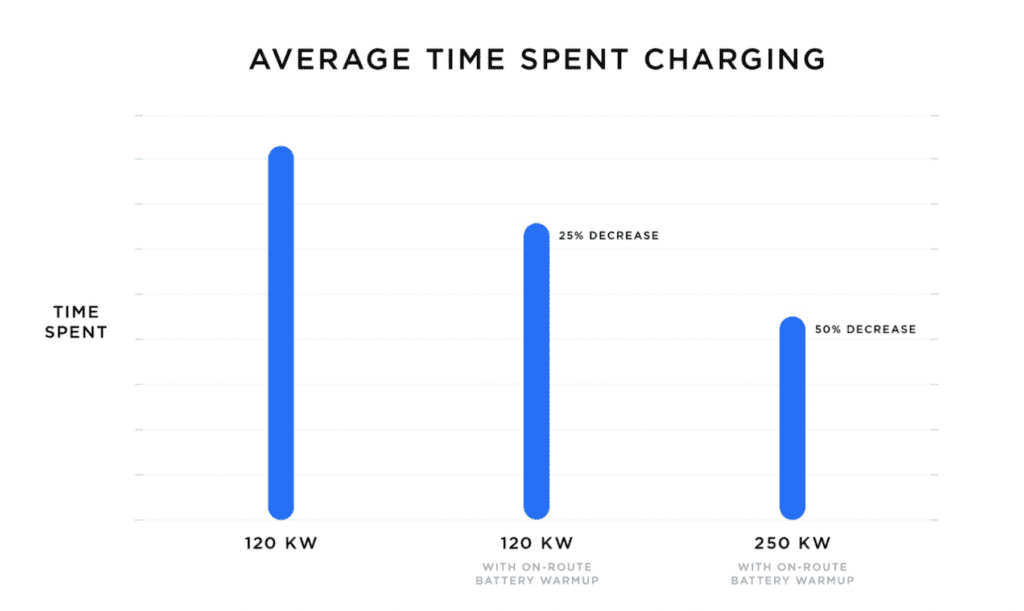 ---
Multiple Language Support
For a while now Tesla's software and features were only available in English. Many around theglobe in foreign speaking countries simply had to adapt but with the latest 2019.12 update, we are seeing multiple language support. This will allow you to change both the language on the display and the language for the voice commands.
---
Web Browser Upgrade
One of the major complaints by Tesla owners is the built in web browser. In simple terms, it's just not that good. With the 2019.9 update, we now have an updated web browser to improve performance and security. Elon Musk recently mentioned that the Tesla web browser was set to upgrade to Chromium. It is unconfirmed whether this feature is for only MCU2 cars or both.
About to be upgraded to Chromium

— Elon Musk (@elonmusk) March 22, 2019
---
Auto High Beams
Tesla Auto High Beams is a feature that has been available for the Model S and X for some time now. With this latest software update, the Tesla Model 3 can now take advantage of the same feature. When your high beams are enabled, the system will be on the lookout for oncoming cars, if they see one they will toggle off until that vehicle is out of sight. This is extremely useful for navigating those extra dark roadways without disrupting the vision of others on the road.
---
Press To Install Software Update
You can now see details regarding her vehicle software by going to Controls > Software. Not only will you be able to see you current software version, but you will now be able to see if there is a new software update available to be downloaded and a progress bar will be displayed once the car is connected to Wi-Fi. Once the download is complete you will be able to schedule when to install the update or have it installed immediately.
---
High Speed Performance
A few weeks ago we saw a range increase for the Tesla Model 3 with a promised ~5% performance increase coming as well. That update is finally here allowing your car to maintain torque and power for longer periods of time driving at high speeds. It is not yet confirmed which vehicles will receive this performance boost.
---
New Atari Games
TeslAtari updates inbound! Look for Super Breakout and more in the latest software update which will begin rolling out later this week 🕹

— Tesla (@Tesla) April 4, 2019
In a previous update, Tesla removed Pole Position from their list of Atari games and promised more to come soon. With this latest Tesla software update, we received not one, but two new Atari games. 2048 and Super Breakout have both been added to the growing list of games you can play on your Tesla.
Full List:
Missile Command
Astroids
Lunar Landar

Centipede
Super Breakout
2048
Not all games are available on all cars. For instance, those who have MCU 1, cars built before February 2018, never received Pole Position. There is no confirmation yet on whether some of these games will be limited to certain cars with this latest update.
---
No Confirmation Navigate on Autopilot
2019.8.5
No confirmation NOA has arrived. Video coming when it's daylight. pic.twitter.com/Ze7EN1y0L8

— tesla_raj (@tesla_raj) April 5, 2019
Tesla has finally released what they have been teasing for a while now, no confirmation Nav on Autopilot. Nav on Autopilot is a feature that allows you to go a full trip on the highway while on Autopilot. The car will make lane changes and maneuvers to get you on the right exits all by itself. Previously, this feature required a confirmation with the turn signal stalk to initiate a lane change that the car wanted to perform. With this latest Tesla software update, lane changes will now be made automatically as long as the driver has a hand on the wheel. You will be notified prior to the lane change via an audio, visual, or physical warning. With that warning you can either cancel the change or let the car proceed. This is just one step closer to a full self-driving Tesla but by no means is this full self-driving.
This feature does not make a car autonomous, and lane changes will only be made when a driver's hands are detected on the wheel. As has always been the case, until truly driverless cars are validated and approved by regulators, drivers are responsible for and must remain in control of their car at all times.
---
Sentry Mode
Back in January, we first heard of Sentry Mode and its wide release to all Tesla models with the previously available Enhanced Autopilot package. Since then, its actual release has been a bit slow with the first sighting being almost a month after conception. Owners of Model 3s started to receive the update with S & X owners left in the dark. Now both models are receiving the same love as the update has finally begun to roll out fleet wide along with a few other neat features.
Sentry Mode is a toggle-able security system. If anyone so much as walks by your car, it will turn on your center screen to show a "recording" message and activates cameras and senors to monitor any criminal activity. If criminal activity (such as a break-in) is detected, the car will trigger an alarm at full volume, increase display brightness, record the incident, and notify you via smartphone. You can then see the recording in your Teslacam. If you still have not set your Teslacam up, or need help doing so, check out this tutorial.
---
Dog Mode
Dog Mode is also being released alongside the Sentry Mode update to Model S and X owners. Your vehicle already has Cabin Overheat Protection, but with this new mode you can enable a screen that notifies any passersby that your pet is safe and the air conditioning is on.
---
Dynamic Brake Lights
One new feature you probably have not heard of yet is Dynamic Brake Lights, a feature not invented by Tesla that serves as a useful safety features for both the driver and those around. This feature is currently only available in Europe, as U.S. regulations have yet to permit any dynamic brake lights in the U.S.
"If you are driving over 50 km/h (31 mph) and brake forcefully, the brake lights will now flash quickly to warn other drivers that your car is rapidly slowing down. If your car stops completely, the hazard warning lights will flash until you press the accelerator or manually press the hazard warning lights button to turn them off."
---
Power Increase
The Tesla Model 3 has also received a peak power increase of about 5% for all versions. Owners around the globe are already reporting their vehicles feeling much faster. Range has also been boosted to 325 miles for the Long Range version and they have also increased the top speed of the Performance model to 162 mph through an over the air software update.
---
Model 3 Key Fob Summon
The Model 3 was released with no key or fob. Instead, you relied on your smartphone or key card to unlock and start your vehicle. After some owner feedback, Tesla released a key fob for the Tesla Model 3 but unlike the Model S & X, it did not allow the activation of Summon. With this latest Tesla software update, Summon is now available to be used on the Model 3 key fob as well. The fob itself does not come with the purchase of a Tesla Model 3 but can but bought afterwards from Tesla for $150.
---
Teslacam Upgrade
Teslacam has been around since ~October of last year. It is a feature that allows you to plug in a USB and use the on board cameras as a dashcam. When the car is on, it is constantly recording and with a press of an on-screen button you can save a 10 minute clip for later use. Originally, the only camera used for recording was the single front facing one. With this latest Tesla software update, Teslacam now uses the two side cameras as well.
If you havn't yet set up your Teslcam or are having trouble, check out our tutorial. You can also buy a simple ready-to-go package from PureTesla.