One of this automaker's many benefits is their ability to continuously improve and add to their vehicles through a Tesla over-the-air update. The company is constantly looking to improve the safety of their vehicles, adding owner requested features, or simply making owning a Tesla more fun. With each Tesla software update your car feels new again. Here's everything you need to know about the latest Tesla software updates along with previous versions and release notes.
---
Latest Tesla Software Update

The Tesla software update today can be a little confusing. Not every vehicle is on the same version, updates are done in batches spontaneously, and not all features are available to all cars. You can check out our Tesla software update history and Tesla software update release notes showcasing compatibility and breakdowns below.
The current and latest Tesla update today is 2020.24.5, but don't start to worry if you're a bit behind. Tesla rolls out their updates in small batches. You can use TeslaFi, a Tesla firmware tracker, to view fleet progress and check out what percent of the Tesla owners are on which Tesla software versions.
At this point, Teslafi is a necessary tool if you want to truly stay up to date with your car. While many use it as a free Tesla firmware tracker, it's much more than that. When registered you can track everything about your vehicle such as range loss, electricity savings, software updates, and charging data. If you wish, you can check out their full list of features on their About page. The site uses data from those registered to give us a better understanding of Tesla's overall fleet. The service is well worth it if you're data-driven or just want to know if you are truly getting the most out of your battery. If you're feeling extra adventurous, Teslafi has a leaderboard tracking the longest ranges achieved on a single charge.
You can earn a month-long free trial simply by using our referral code, EVBite.
How To Update Your Tesla's Software
The latest Tesla software update is usually reserved for those in the early access program. Those who purchased the FSD package prior to March 2019 are in a second program and receive updates slightly faster than the general public. There was also an opportunity to enter the program through gaining a certain amount of referrals but that option is now gone.
When a new Tesla software update is available, your car will notify you with a request to install it. There is currently no way to force a Tesla software update. The company pushes out available updates at random and the cars slowly download them in the background. You can promote faster download times and more frequent updates by leaving your car connected to WiFi. Additionally, you can go into your car's settings and change your update preferences for priority support.
'Controls' > 'Software' > 'Software Update Preference'
If your Tesla software update failed you'll just have to wait for the company to push it out again. The same process above applies to Tesla map updates as well.
What Tesla Features Do I Get?
Not all vehicles get all the new features. Your available Tesla features will be dependent on your MCU (Media Control Unit), your Autopilot version, and your countries regulations. All new Tesla's built today are on Autopilot 3 with MCU 2. Any car built after March 2018 should receive all new and present features excluding those that are region-specific.
For your convinced, we've compiled a list outlining Tesla features with their respective Autopilot and MCU version. If you're wondering what your car is missing out on or are considering buying a used Tesla we highly recommend checking out our list.
We also suggest you head over to the latest Tesla software update mega-thread on Reddit for some discussions with other owners. (2020.24.5 has not been made yet)
Here are the new features found in the new Tesla update today:
---
Driving Visualization Improvements
The driving visualization can now display additional objects which include stop lights, stop signs and select road markings. The stop sign and stop light visualizations are not a substitute for an attentive driver and will not stop the car. To see these additional objects in your driving visualization, tap Controls > Autopilot > Full Self-Driving Visualization Preview.
| | | |
| --- | --- | --- |
| First Noticed 2020.24.5 (June 2020) | MCU 2+ | AP 3+ |
Further improvements to the visualization of Tesla's Autopilot are coming. We have already seen updates that have added visualizations for things such as traffic lights and traffic cones, it looks like speed limit sign recognition is next on the list of visualizations.
---
Backup Camera Improvements
New OTA update in 🇨🇳 utilizes the two-side backward-facing cameras for parking guidance. A very practical feature👍 pic.twitter.com/iAUKFarZqi

— Ray4️⃣Tesla⚡️🚘☀️🔋 (@ray4tesla) June 18, 2020
You can now view video streams coming from your side repeater cameras for added visibility around the vehicle.

When the backup camera is visible, simply swipe to display the repeater camera video feeds.
| | | |
| --- | --- | --- |
| First Noticed 2020.24.5 (June 2020) | MCU 2+ | AP 2+ |
A very practical feature that I am sure many people are surprised at how long it took to be added. The new feature allows drivers to utilize the two side cameras which are used for Autopilot, to help with backing up into parking spaces. The two side views will now appear with the standard backup camera to give you more information than probably you know what to do with.
---
Dashcam Improvements
To make Sentry Mode videos easier to review, we have added a red dot along the video scrubber to indicate the moment when a Sentry Mode event was triggered. When playing a Sentry Mode video, the Dashcam Viewer will skip ahead and begin playback right before this point.
| | | |
| --- | --- | --- |
| First Noticed 2020.24.5 (June 2020) | MCU 2+ | AP 2+ |
A very small quality of life feature, it will now be easier for you find the relevant footage when looking for the reason that Sentry Mode was activated.
---
Walk-Away Door Lock Improvements
You now have the option to disable Walk-Away Door Lock when your vehicle is parked at Home. Tap Controls > Locks and select "Exclude Home."

Note: To save a home location, tap Navigate > Set Home.
| | | |
| --- | --- | --- |
| First Noticed 2020.24.5 (June 2020) | MCU 2+ | AP 2+ |
Another small quality of life improvement that will stop locking itself upon you walking away when it senses that it is at home.
---
On-Route Battery Warmup
Your vehicle will now precondition the battery when navigating to third party fast charging stations, in addition to Superchargers. As usual, you can find a list of nearby third party charging locations by tapping on the lightning bolt icon on the bottom of your touchscreen.
| | | |
| --- | --- | --- |
| First Noticed 2020.24.5 (June 2020) | MCU 2+ | AP 2+ |
Initially the on-route battery warmup was only activated when navigating to Tesla chargers. However it now looks like Tesla has extended the feature to work with third-party chargers. On-route battery warmup will get the battery to its optimum temperature as you drive to your charger, allowing it to start charging much quicker.
---
New Language Support
You can now select Portuguese as your language. To update your language setting, tap Controls > Display and select the desired option from the Language drop down menu.
| | | |
| --- | --- | --- |
| First Noticed 2020.24.5 (June 2020) | MCU 2+ | AP 2+ |
Shout out to all my Portuguese folks, you can finally interact with your Tesla in your native language.
---
Cabin Camera
Help Tesla continue to develop safer vehicles by sharing camera data from your vehicle. This update will allow you to enable the built-in cabin camera above the rearview mirror. If enabled, Tesla will automatically capture images and a short video clip just prior to a collision or safety event to help engineers develop safety features and enhancements in the future. As usual, you can adjust your data sharing preferences by tapping Controls > Safety & Security > DATA SHARING > Allow Cabin Camera Analytics.

Note: Cabin camera images and video clips will not be associated with your VIN to protect your privacy.
| | | |
| --- | --- | --- |
| First Noticed 2020.24.5 (June 2020) | MCU 2+ | AP 2+ |
An interesting addition, Tesla will now allow owners to utilize the cabin camera to share data with the engineering team to help develop safety features. While I'm sure the intention is good, I wonder how many people will opt-in and feel comfortable with a camera staring at their face everytime they drive.
---
Fallout Shelter
Fallout Shelter puts you in control of a state-of-the-art underground Vault from Vault-Tec. Build the perfect Vault, keep your Dwellers happy, and protect them from the dangers of the Wasteland.
To play Fallout Shelter, tap Entertainment from the Application Launcher, then Arcade > Fallout Shelter.
| | | |
| --- | --- | --- |
| First Noticed 2020.20 (May 2020) | MCU 2+ | AP 2+ |
We've known that Bethesda's Fallout Shelter would be hitting Tesla screens ever since last year's E3 conference. We did not have a release timeframe at that point, but it looks like the game is finally making its way to your car about a year later. The game, along with Cuphead and Stardew Valley, shows that Tesla's are capable of playing something more advanced than Chess or Astroids. Tesla's game library continues to grow larger than I think anyone thought it would. What's coming up next?
---
Theater Improvements
With this release, you can now play, pause, and skip video playback with your steering wheel controls while using Theater Mode. As usual, Theater Mode is only available while your vehicle is in PARK.
| | | |
| --- | --- | --- |
| First Noticed 2020.20 (May 2020) | MCU 2+ | AP 2+ |
While Tesla's theater mode already provided you with near limitless amount of content to stream thanks to Netflix and Youtube, there was still some areas where improvements could be made. Particularly in the navigation portion of the app, you used to only be able to play, pause, and skip using the touch screen, but now you are able to use those controls through your steering wheel.
---
TRAX Improvements
We have added a piano roll view that allows you to edit and fine-tune notes in a track. You can now tap in view to create a note, move or resize it by dragging the tail end of the note, and delete it with a long press. To play a note sound, simply hold and move the notes. In addition, when you tap the record button, a metronome beat will play to make it easier for you to record at the desired time.
| | | |
| --- | --- | --- |
| First Noticed 2020.20 (May 2020) | MCU 2+ | AP 2+ |
For those of you who continue to want to make some beats using Tesla's TRAX software, added functionality has been added with the piano roll to make it a bit easier for you to assemble your notes easier.
---
Nearby Charging Site
The charging list has been improved to easily filter nearby charging sites based on max power. Simply tap the charging icon on the map and filter by selecting the associated lighting bolt icons.
| | | |
| --- | --- | --- |
| First Noticed 2020.16.2.1 (May 2020) | MCU 2+ | AP 2+ |
Another small quality of life improvement in this update was Tesla allowing you to filter out chargers based on their maximum charge rate. With more and more chargers popping up and the latest models of Tesla being capable of 250 kW charging, it will important to make sure owners can find the most optimum charger for them.
---
Tesla Toybox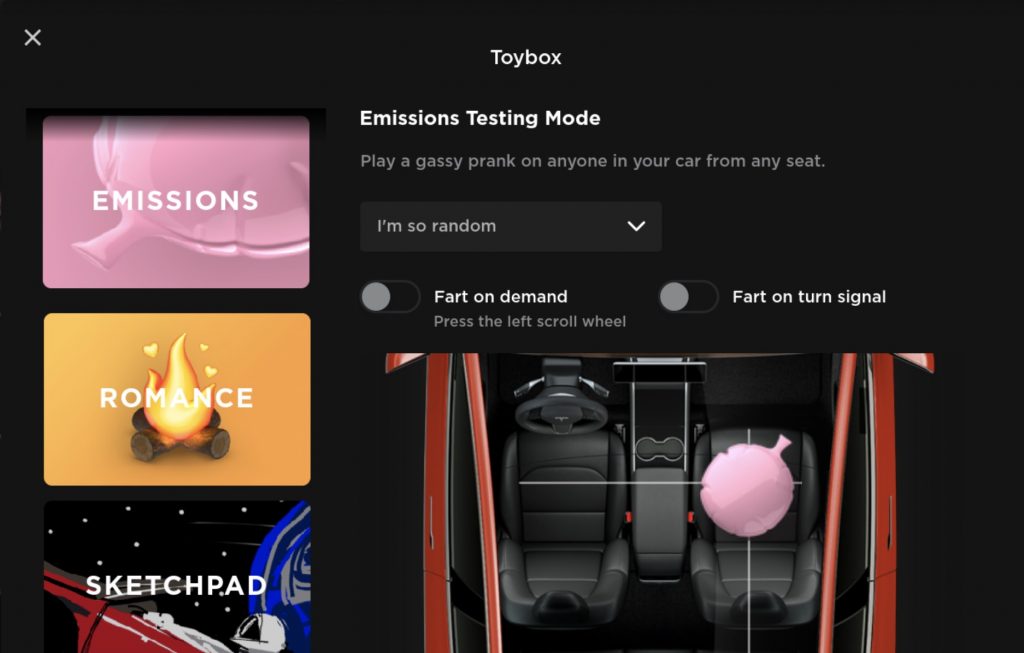 The Tesla Toybox has been redesigned to make it easier to view and play. Simply scroll through the toys and adjust the associated controls. As before, to access the Tesla Toybox, tap the Toybox icon from the Application Launcher.
| | | |
| --- | --- | --- |
| First Noticed 2020.16.2.1 (May 2020) | MCU 2+ | AP 2+ |
The Tesla Toybox which holds all of Tesla's fun apps such as the sketchpad and whoopy cushion has received an update in its design to make it easier on the eyes. There have not been any new features added to the Toybox, but it is a nice quality of life improvement.
---
Map Improvements
You can now directly tap the labels on the map to quickly view the associated place details and navigate to that destination.
| | | |
| --- | --- | --- |
| First Noticed 2020.16.2.1 (May 2020) | MCU 2+ | AP 2+ |
Tesla is continuing to improve their map usability.
---
Dashcam Improvements
Dashcam is now easier to setup or erase. After plugging in a USB drive, tap Controls > Safety & Security > FORMAT USB DEVICE to format and create the associated folders for Dashcam. Note: Formatting the USB drive will also delete any existing clips.
| | | |
| --- | --- | --- |
| First Noticed 2020.16.2.1 (May 2020) | MCU 2+ | AP 2+ |
It is no easier to make sure the USB you are using for Dashcam footage is formatted correctly. You used to have to manually format the USB on your own computer and make the appropriate folders yourself. This step led to having people make mistakes and difficulties with getting the dashcam to work. However it now looks like Tesla will have the car do this automatically, saving you of any further guesswork.
---
Backgammon Improvements
Playing Backgammon against your Tesla has now become more difficult. The most difficult level has now been trained with 20+ million games. Challenge your Tesla to a game by tapping the Application Launcher, then tap Entertainment > Arcade > Backgammon. Note: As usual, the Tesla Arcade is only available when your car is in PARK.
| | | |
| --- | --- | --- |
| First Noticed 2020.16.2.1 (May 2020) | MCU 2+ | AP 2+ |
Was backgammon just too easy for you? Did you become a backgammon god and feared that your Tesla could not put up a good fight anymore? Well Tesla has heard your cries of disappointment as they have used their vast resources to make backgammon now harder fo you. Rejoice.
---
View Previous Updates Here
---
FAQs
What is the latest Tesla software update?
Currently, the latest Tesla software update is 2020.24.5.
How do you update Tesla software?
When your car is ready to have a software update, a notification will appear on your touchscreen that will prompt you to either install it now or schedule it for later.
What's in the new Tesla software update
The newest update comes with: Improvements to the Driving Visualizations, Backup Camera, and Dashcam along with other small quality of life improvements as well as a Cabin Camera.
How can I get the Tesla software update faster?
You can go into your settings 'Controls' > 'Software' > 'Software Update Preference'. From there you can switch from 'STANDARD' to 'ADVANCED' which should allow you to receive updates sooner.
How do you download a Tesla update?
When your car is ready to have a software update, a notification will appear on your touchscreen that will prompt you to either install it now or schedule it for later.
Can you force a Tesla software update?
Some people report that holding the 'ADVANCED' button in the 'Software Update Preference' screen will force the car to check for an update, while others have had success calling their service centers to get the car updated there. Results may vary.