As Ford enters the decade they plan to entirely revamp their vehicle lineup. By discontinuing sedans they can focus on their money-makers, SUVs and trucks. The famed Mustang sports car will definitely remain as the companies flagship vehicle but Ford had to explore some new possibilities.
During the transition it only made sense to use the Mustang name and heritage elsewhere in the lineup to boost sales. Almost unexpectedly, the legacy automaker that started it all shook the world with their announcement of an electric Mustang SUV. The gas guzzling sports car purists were betrayed not once, but twice. The Ford Mustang Mach E is an affordable electric crossover willing to go head to head against the Tesla Model Y as early as this year.
While entering the newfound industry of mass market electric vehicles Ford looks to take some precautions. Tesla is a relatively new company that managed to squeeze themselves into an impenetrable century old industry. They've garnered the attention of both consumers and industry specialists. With the spotlight on them, it's obvious others look to follow suit. The Mustang Mach E and the general fresh route Ford is taking clearly displays their intention to follow others success.
Similarities Between the Two
During the unveil of the Ford Mustang Mach E many were quick to point out similarities between it and the Tesla Model Y. The two will both share the same vehicle segment and are very similar in size. The crossover segment is the fastest growing segment in the automotive world keeping most companies afloat. It makes sense for both companies to focus on globally available electric crossovers.
More notably Ford took aim at providing a monstrous sized extruding touchscreen display in their vehicle such as the one found in both the Tesla Model Y and Model 3. Massive entertainment systems are something we're seeing more and more in present day vehicles.
During the initial presentation the company focused heavily on their introduction of over-the-air software updates, something Tesla brought to the table early on. Tesla is credited for introducing methods capable of continuously improving older vehicles through new features and software updates. Prior, owners of dated vehicles would have to take their vehicles into the dealerships and pay for minor software updates and improvements. Through Tesla's innovative over-the-air system owners of both vehicles will continuously see improvements and additions to their vehicles right from within their garages.
Buying Process
Through Tesla's industry favored buying process they single handily transformed the future of car dealerships. There's no haggling, no misinformation, and no feeling of being robbed. It is seen by most Tesla owners as one of the companies largest benefits. Absolutely no one likes the traditional dealership experience and manufacturers like Ford are starting to take note.
Ford has advised their dealer network not to advertise the electric Mustang Mach E under MSRP. This means no bait-and-switch and no having to drive hundreds of miles for a better deal. Ford looks to match Tesla with their one price, no haggling, in theory.
This could be difficult for Ford as unlike Tesla, the legacy automaker does not own any of their dealerships. Instead, they're all privately owned franchises looking to make as much money as possible. In order to maintain control and implement these much needed experience improvements the company has restructured their invoicing for dealerships. To sell the electric Mustang Mach E and receive a bonus payout from the manufacturer, the franchises must comply with a small set of rules including not changing the advertised price and maintaining EV knowledge through certifications.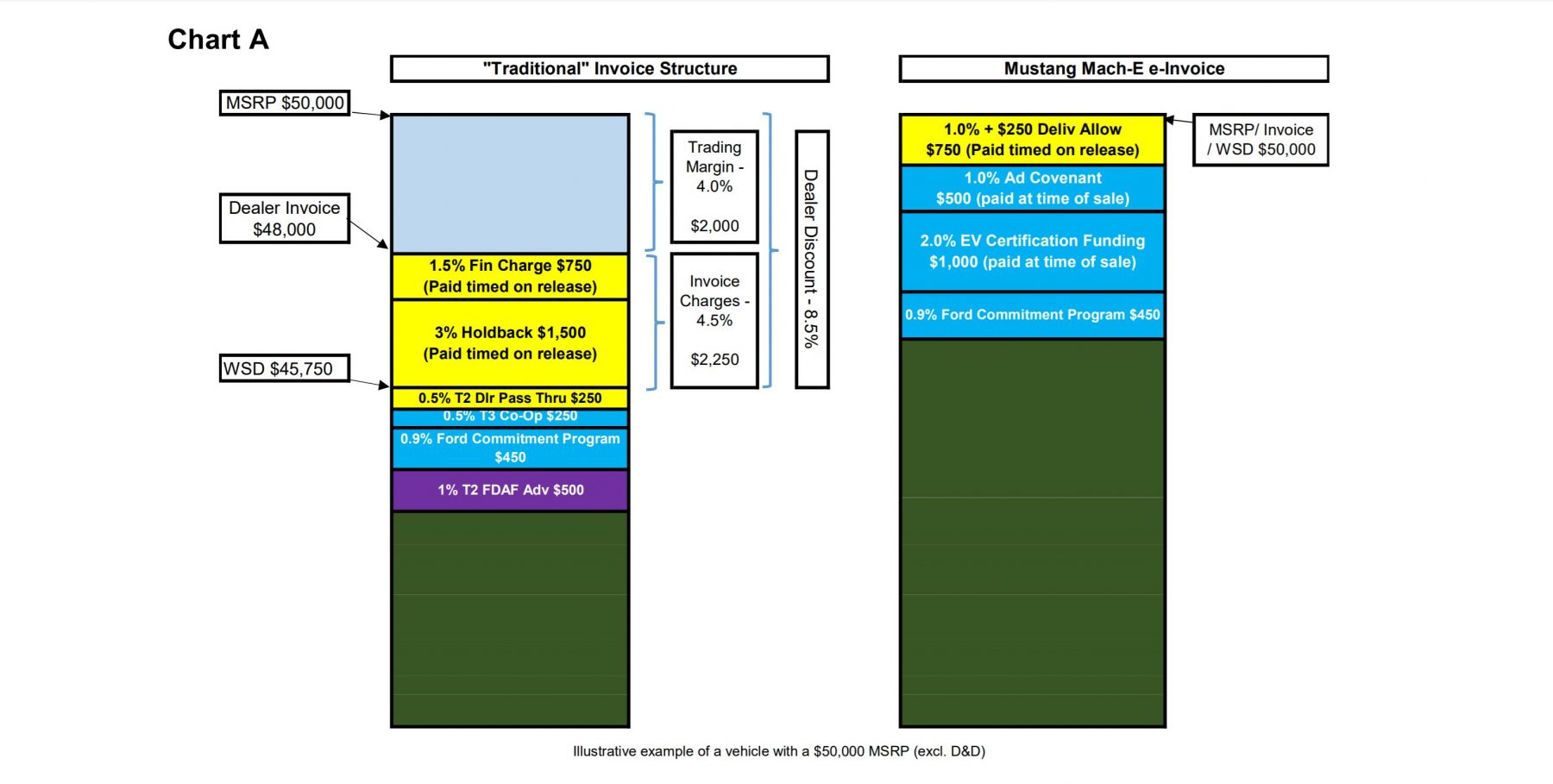 Regarding the specific changes to the Mach-E buying process Ford told their franchise network this:
There are three primary reasons for implementing these changes for the Mustang Mach-E: (1) be competitive in battery electric vehicle space by transacting in the way customers want to transact. (2) protect the brand image of the Mustang Mach-E, and (3) help protect dealer margins.
Under these new rules a dealership would lose 1% of their 4.5% profit if they advertised the vehicle below MSRP. The dealerships however are allowed to change up pricing after initial contact has been made, either in store or over the phone. There's not much Ford can do here as they don't sell cars to consumers, they sell cars to dealerships. The dealerships would also lose another 2% if they don't maintain their EV certification.
Charging Infrastructure
Tesla was able to make electric cars a social norm thanks in part to their Supercharging network. Through fast charging conveniently placed across the globe, longer than average commutes can be done at ease. This is something each and every manufacturer must conquer if they plan on selling electrified vehicles on a mass scale.
Ford has done so by teaming up with Electrify America to introduce, what they're claiming to be, North Americas largest EV charging network. They'll be adding access to more than 12,000 stations with 35,000 chargers. Some of which will be 150 kW levels giving Mach E owners 47 miles of range in just 10 minutes. It's not impressive next to Tesla's stated 75 miles of range in 5 minutes at their V3 Superchargers, but it's a start.
The company is also requiring each of their franchises install two chargers at their dealerships to remain EV certified. One option is the standard home charger which will be made available for consumer purchase while the other seems to take many cues from Tesla's now famous Supercharger design.