Tesla's Supercharger V3 has finally made its debut into the world. While it does not have the highest charge rate on the market, it allows the Model 3 to be the only car on the road to be able to charge at over 150 kW.
The rumblings of a Supercharger V3 have been around for a while now. Although the initial outlook had the classic Elon Musk exaggeration to it.

A mere 350 kW … what are you referring to, a children's toy?

— Elon Musk (@elonmusk) December 24, 2016
Although as time went on, the specifications become more grounded. During the
Q1 2018 Earnings Call
, Musk had stated the following when asked about the upcoming Porsche Taycan being able to charge at 350 kW.
Oh, we're definitely going to be improving our Supercharger technology. The thing about a 350 kilowatt charger is it doesn't actually make a ton of sense, unless you've got a monster battery pack or have like a crazy high C-rate, in which case your energy density is going to be poor. So it's kind of cockamamie. Yeah, we think maybe 200 kilowatt, on a per car – also I don't know if they made 350 kilowatts for a single car, that's really pretty – you're going to frag the battery pack if you do that.
During last week's cavalcade of announcements from Tesla which included the Standard Range Model 3 and Model Y unveiling date, Musk tweeted out that the first Supercharger V3 would go live on the 6th.
Tesla released a blog post which detailed the specification for this Supercharger update.
First and foremost, the new Supercharger architecture uses a 1MW power cabinet that will allow for a peak charge of 250 kW. At this rate, Tesla stated that a Long Range Model 3 will gain 75 miles in a mere 5 minutes. It is a charge rate of up to 1,000 mile per hour. Unfortunately only the Model 3 and (presumably) upcoming Model Y will be able to take advantage of the increased charge rate. However, the Model S/X will get an update that in the coming months that will increase their peak charging rate.
Additionally, due to the larger power cabinet, there will no longer be any need to split power between the car in the next stall. This is a benefit that all Tesla drivers will feel, regardless of which car they own.
Lastly, Tesla will push an "On-Route Battery Warmup" feature. When you navigate to a Supercharger location, your battery will start to heat up to be at the optimum temperature for peak charging rate. Tesla states that this will decrease charging times by 25%.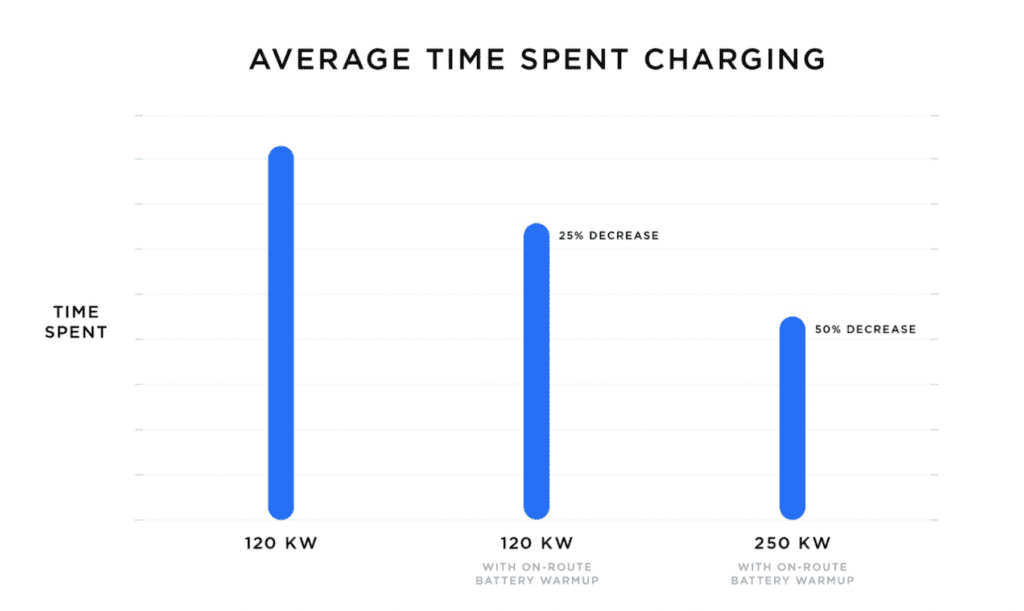 While it does not seem like Tesla will be retrofitting the V2 charging stations to to V3, they did state that they would update the V2 stations to charger at their peak rate of 145 kW in the coming weeks.
In terms of access and building plans, Supercharger V3 locations will be exclusive to those in the Early Access Program. The first non-beta stations will start being built next month.
Beginning today, we're opening the first public beta site in the Bay Area, which will incrementally be made available to owners in Tesla's Early Access Program. We're launching V3 Supercharging for Model 3, our highest volume vehicle, and we'll continue to expand access as we review and assess the results of millions of charging events. We will increase Model S and X charging speeds via software updates in the coming months. V3 Supercharging will roll out to the wider fleet in an over the air firmware update to all owners in Q2 as more V3 Superchargers come online. Our first non-beta V3 Supercharger site will break ground next month, with North American sites ramping in Q2 and Q3 before coming to Europe and Asia-Pacific in Q4.
Some people may take issue with the fact that Supercharger V3 only chargers at 250 kW. But what needs to be remembered is that even now, there are only a few cars that plan to be able to charge at 350 kW, notably the Porsche Taycan and Audi e-tron GT. Both of which will be at least twice the price of a Model 3. Additionally we do not know the stress that will be put on the battery at those high charge rates. I would hope the engineers over in Germany know what they are doing, but there may be some sort of charging stipulations for the cars when they release.
With a bit of a tumultuous last week, this announcement going smoothly was much needed for Tesla. Now we get to wait for the upcoming Model Y reveal.
What do you guys think of the Supercharger V3? Let us know down in the comments below.
Source: Tesla