As it's slowly been evolving to be slightly better year over year, the Tesla Model S has been waiting for a worthy competitor with none in sight. With the full reveal of the Lucid Air we've finally found an electric luxury car that can actually outdo the Tesla Model S in some metrics. So what does the Lucid Air vs Tesla Model S battle look like?
As always, the design aspect of the car will be the most subjective and will be near impossible to give an unbiased advantage to either car. With it nearing a decade old with minuscule changes, the Tesla Model S design has gotten quite stale for many people, so a fresh design coming from Lucid should do it some good in the design front.
Tesla Model S
As we've just said, the exterior of the Tesla Model S might be due for a refresh. If you have seen one in the past five years, then you already know what the current model year looks like. The only major change happened to the front in 2016, which modernized the face and got rid of the old pseudo-grille cutout.
| | | | | | |
| --- | --- | --- | --- | --- | --- |
| | Pearl White | | Solid Black | | Midnight Silver |
| | Deep Blue | | Red | | |
Otherwise, the Model S retains the same design, which isn't bad. It is a pretty good looking car and can still stick out from the crowd, even years later. It sports a nicely flowing roofline that comes to an end at the trunk lip which is adorned with a little carbon fiber spoiler, if you have the Performance variant, good for aerodynamics, but also good for looks.
| | | | |
| --- | --- | --- | --- |
| Length: | 196 in | Width: | 77 in |
| Height: | 57 in | Wheelbase: | 116.5 in |
The chrome trim pieces for the flush door handles and along the windows are not to everyone's cup of tea. The trim is frequently blacked out by owners after they get the car.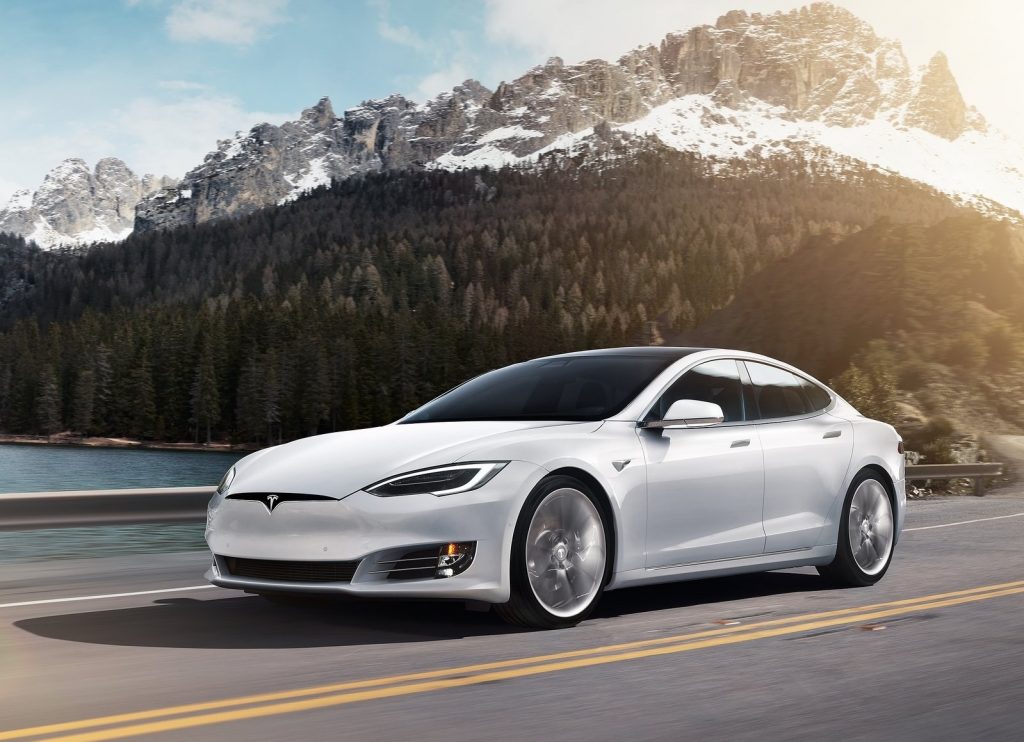 Lucid Air
The Lucid Air benefits from just being a different design period, something fresh to the eyes are bound to attract more gazes from onlookers when placed next to a Model S. The design is more 'futuristic' by making use of thin light bars in both the front and rear of the car, something that basically every concept car now includes because it gives that future Blade Runner aesthetic (and we all know that Cyberpunk is in right now).
| | | | | | |
| --- | --- | --- | --- | --- | --- |
| | Eureka Gold | | Infinite Black | | Stellar White |
| | Cosmo Silver | | Quantum Grey | | Zenith Red |
Lucid has forgone the chrome trim pieces for the door handles and door, but you will still see some of the shiny material running low around the entire bottom portion of the car. The roofline is an interesting one as it ends very far back. You might also notice that to open the trunk, you basically open the entire rear of the car so that you can get a pretty low load level for those instances where you need to put something heavy back there.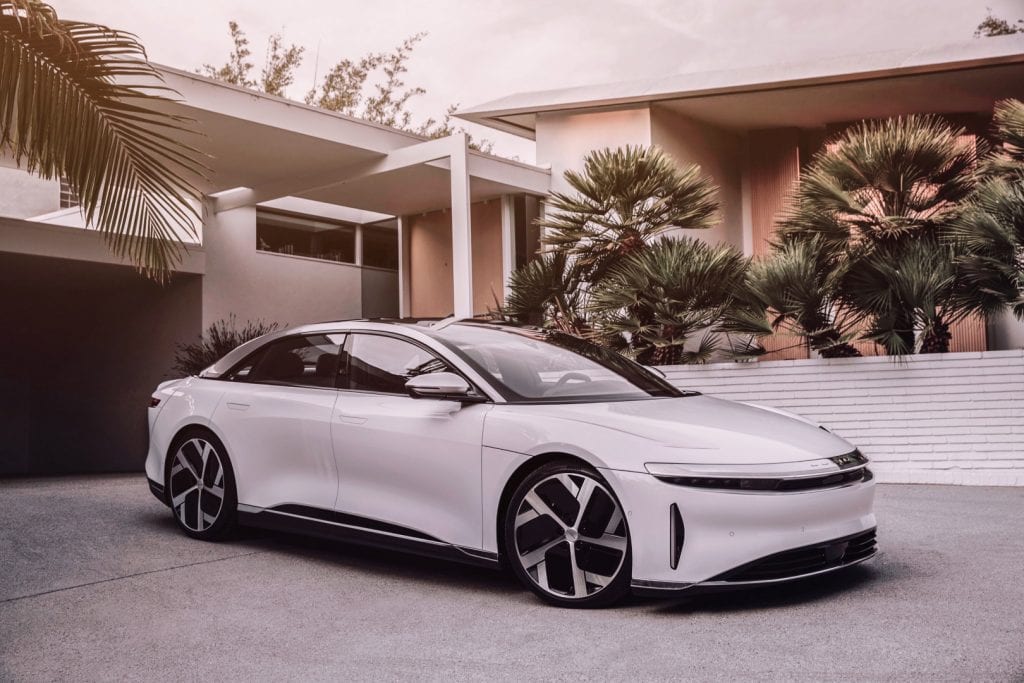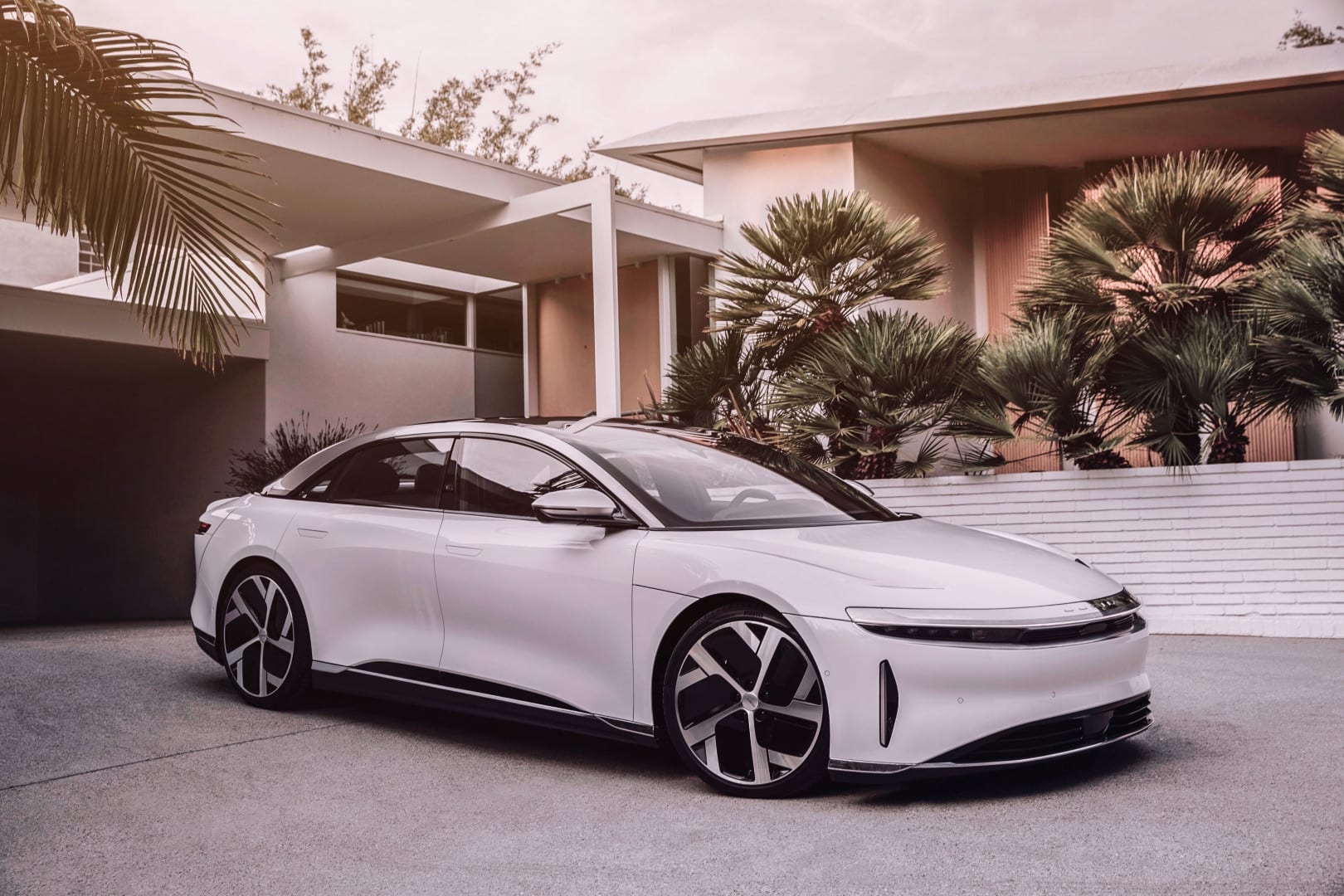 Overall, I think the Air has a slightly more aggressive look to it, but I wouldn't describe either as overly-sporty.
Tesla Model S
Once again the interior of the Model S has remained just as stagnant as the exterior. While not inherently a bad thing, people tend to get bored with seeing the same things for an extended period of time and will crave some sort of change.
As we've all seen by now, the Model S interior is rather simple and has one screen behind the steering wheel in place of the gauge cluster and one giant vertical screen dominating the center console. One could make the argument that the Model S really kickstarted this whole trend of putting as many large screens in the center console as possible, but the orientation has left something to be desired as even Tesla has moved on to putting wider screens akin to our TVs and computer screens for a more familiar view experience. So as a result any videos you watch will not be able to fill the entire screen in a Model S, as it would in a Model 3/Y, but I'm sure "video watching experience" is not high on many peoples' priority list.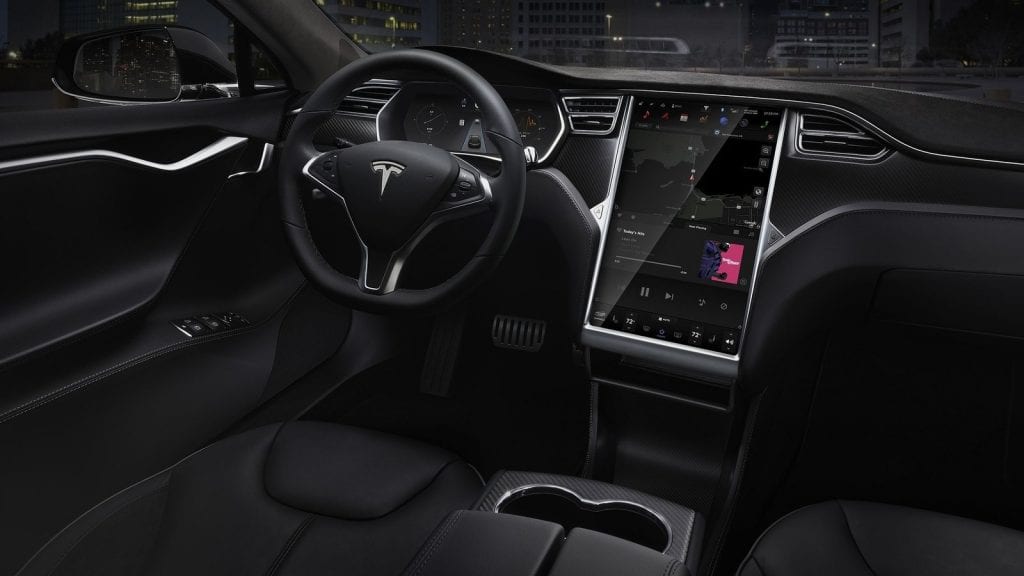 A generous panoramic roof lets light onto five leather seats which come in three different colors: black, white, cream. Each leather color comes with an accompanying trim color, white gets ash wood, black gets dark ash wood, and cream gets an oak wood trim. In the Performance model, the trim for the white and black interior options is replaced with carbon-fiber trim, and cream leather still has oak wood as its accompanying trim.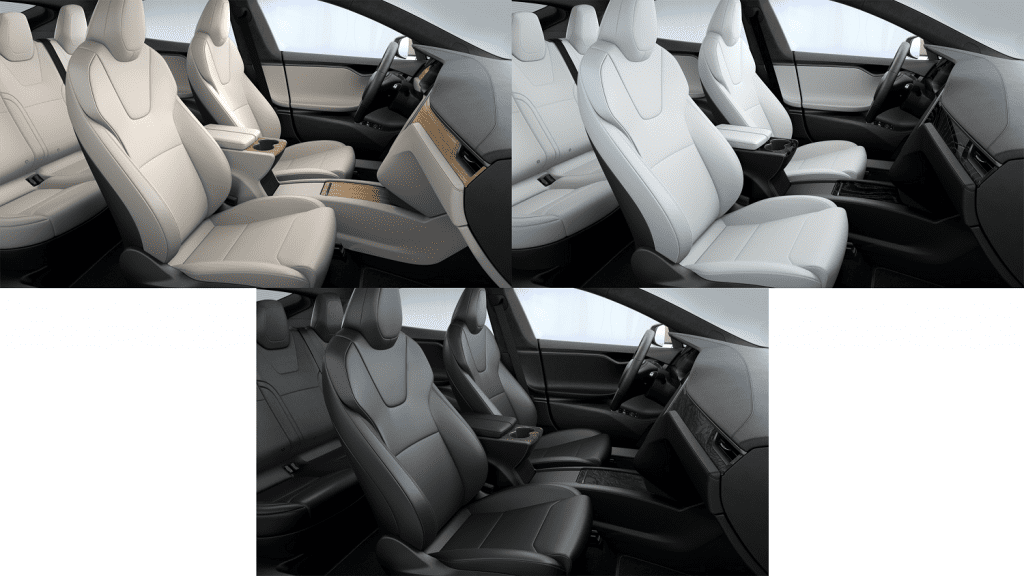 One can say that the Model S interior might feel spartan, while others will say its adequately minimalistic, how you feel about it is up to you.
Lucid Air
If you liked the windshield in the Model X that extended all the way to the roof, but wished that you could have that in a sedan, then the Lucid Air has your back. The extended windshield goes passed the top of your head before being interrupted by a beam, and another pane of glass extends to the rear of the car.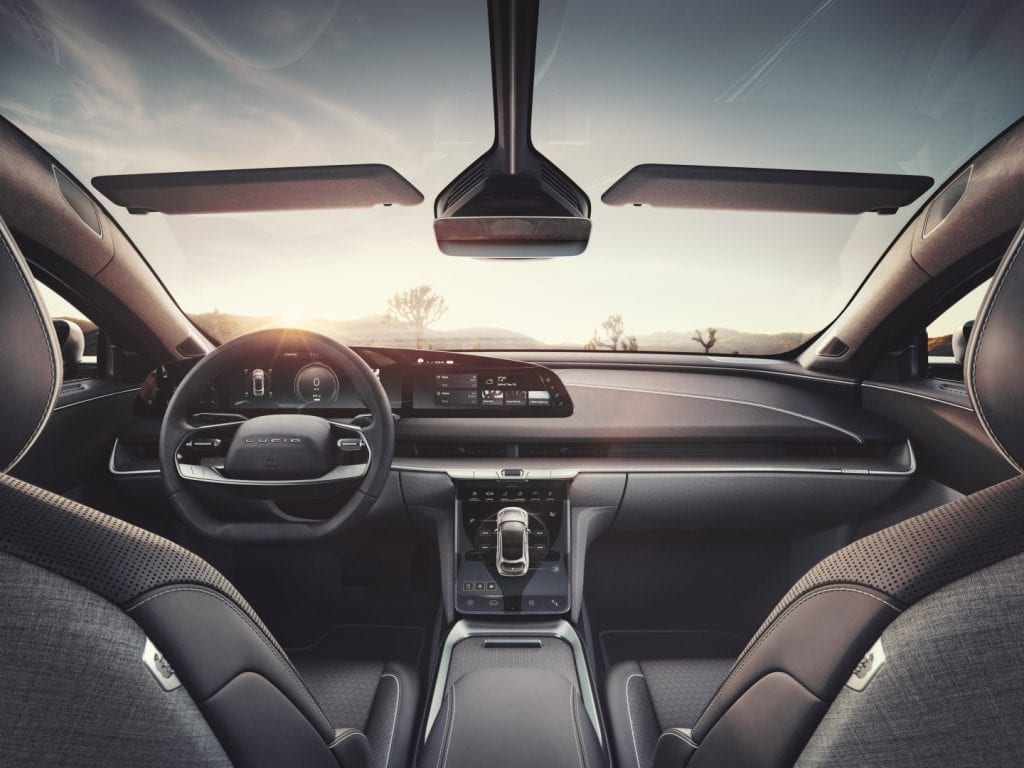 Sitting down in the driver seat, and you are unsurprisingly met with a lot of screens and technology. You have one large 34-inch 5k screen that doubles as the gauge cluster and a main center console screen as well as another screen at the bottom of the center console doubling over as an infotainment system. What makes this screen interesting, and a first as far as I know, is that it also acts as a lid for the storage compartment behind it, as it can be retracted. Lucid had the following to say regarding their multiple screens:
The interior of the Lucid Air reflects a revolution in how next-generation free form displays are elegantly integrated into the design architecture of the cabin, providing a beautiful and seamless way of interacting with the vehicle software and human-centric user interface. In front of the driver is a 34-inch curved Glass Cockpit 5K display that "floats" above the dashboard, contributing to the light and airy feel of the interior. In addition, a retractable central Pilot Panel sits in finger-tip reach of the driver and passenger for deeper control of the vehicle's systems and functions. To complement the digital displays, several highly tactile, precision-milled physical controls are present, including ribbed turbines for steering wheel functions, a volume control roller, and alloy toggle switches for tuning climate settings.
Just like the Model S interior, the Lucid Air interior makes extensive use of leather and wood trim pieces. Lucid has opted for an interesting design choice for their leather color, however. Regardless of which of the four (plus one exclusive one to the Dream Edition) interiors you pick, the front seats will be a different color to the rear. The difference is not as noticeable on the black/graphite version, but it certainly stands out on the orange/black and black/white versions. Once again, it's all a matter of taste, but I am sure that some potential customers would have wished for an option that had a consistent color throughout the cabin.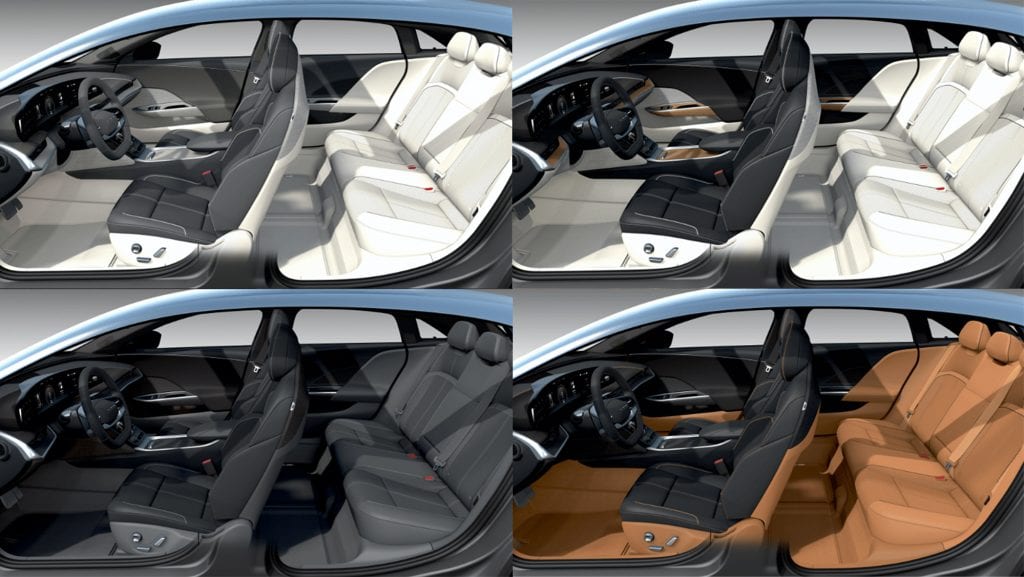 The backseats might be the real star of the interior, provided you get the executive rear seating option. While the standard seats look to be comfortable enough and given how large the interior is, you will probably still have adequate legroom, it pales in comparison to the upgraded option. The executive seating upgrade sacrifices the middle seat for two seats that look to be straight out of a private jet which can recline 55-degrees and allow for perhaps one of the most comfortable rides you can have. Unfortunately, the option has not been made available at this time and it is unclear how long a wait it will be before, or if, Lucid will start producing it.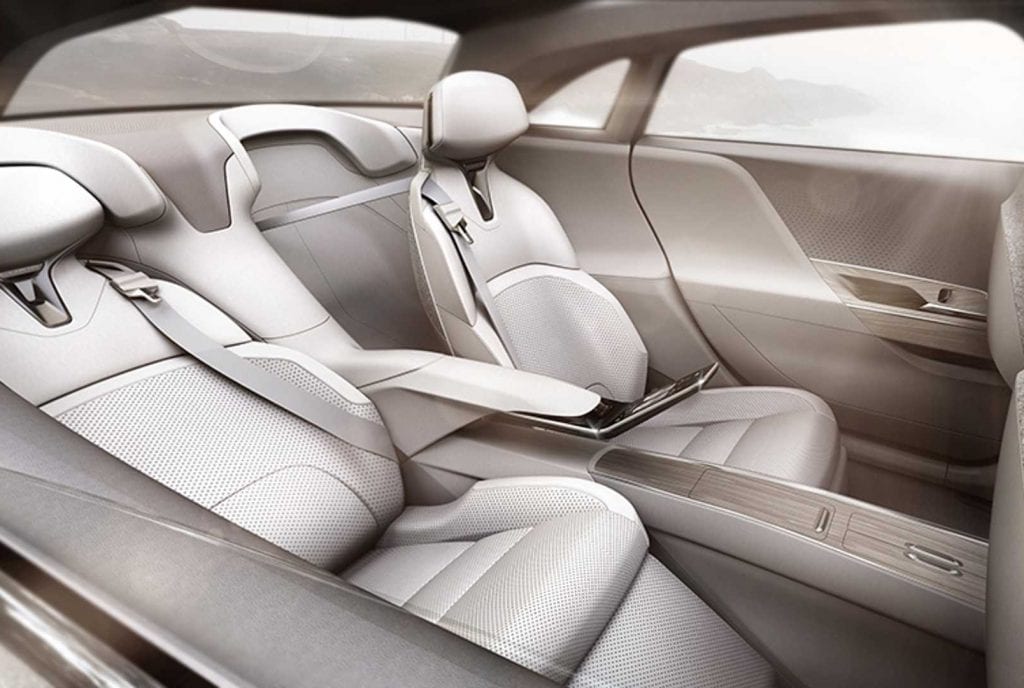 This is where we can start to quantify some of the differences between the Tesla Model S vs Lucid Air. For basically it's entire lifespan the Telsa Model S has enjoyed having the longest range and quickest 0-60 of any non-supercar EV. While the Lucid Air has not been able to beat the 0-60 mph time of the Model S, it more than makes up for it by creating a substantial gap between the top range of the two electric cars, and it also beat it in the 1/4 mile.
Here is the breakdown of the specifications between the two Model S versions, the Long Range and the Performance.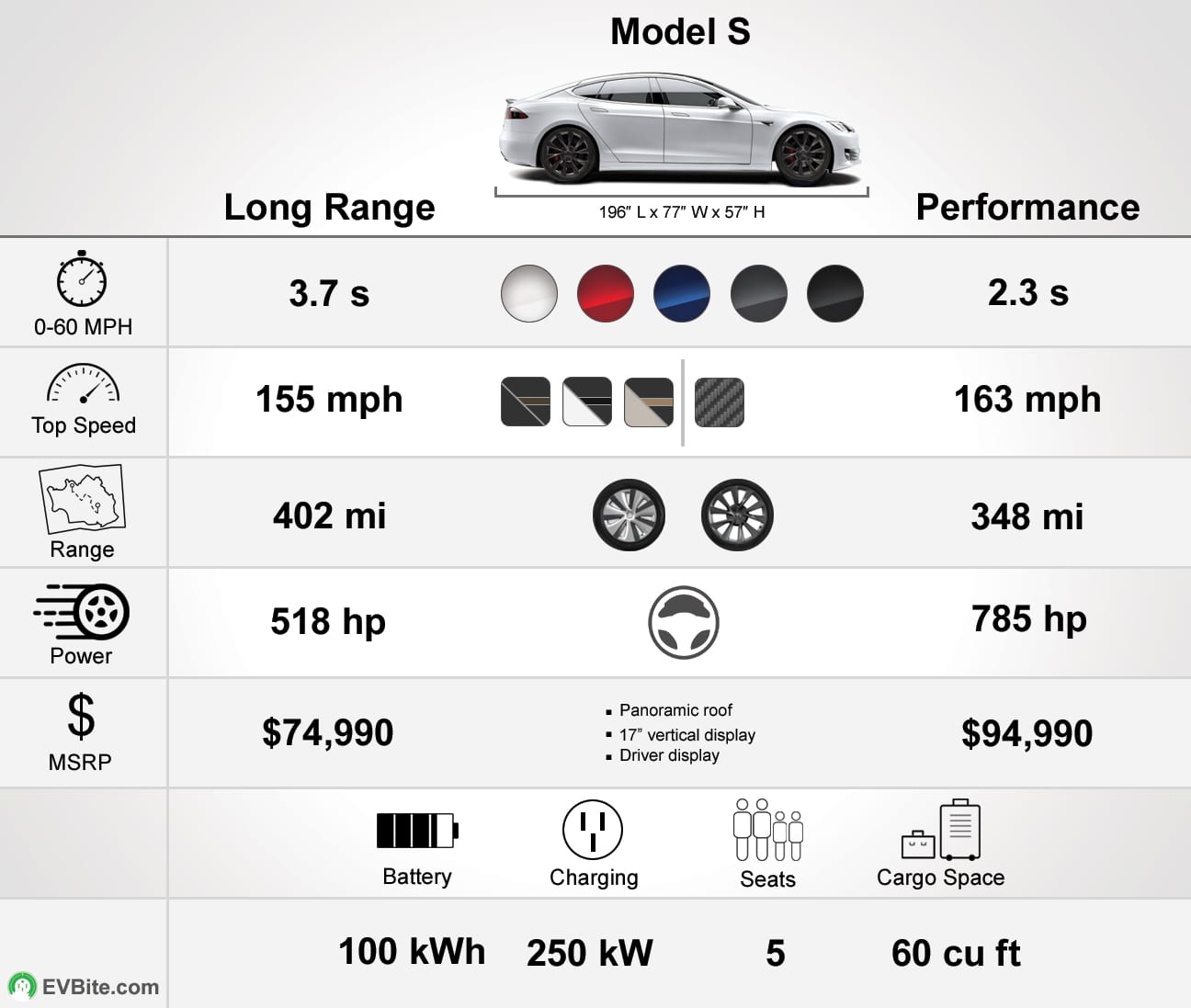 At the time of publication, the Model S is still the longest ranged electric vehicle on the market and will be at least until the middle of 2021, when the Air will start deliveries. Of course with Battery Day around the corner, we could see a potential upgrade to the Model S that will allow it to hold it's range crown even after the Lucid Air debuts.
The Lucid Air lineup has a little bit more going on with four different trim levels to choose from, albeit they will not all be available at the same time.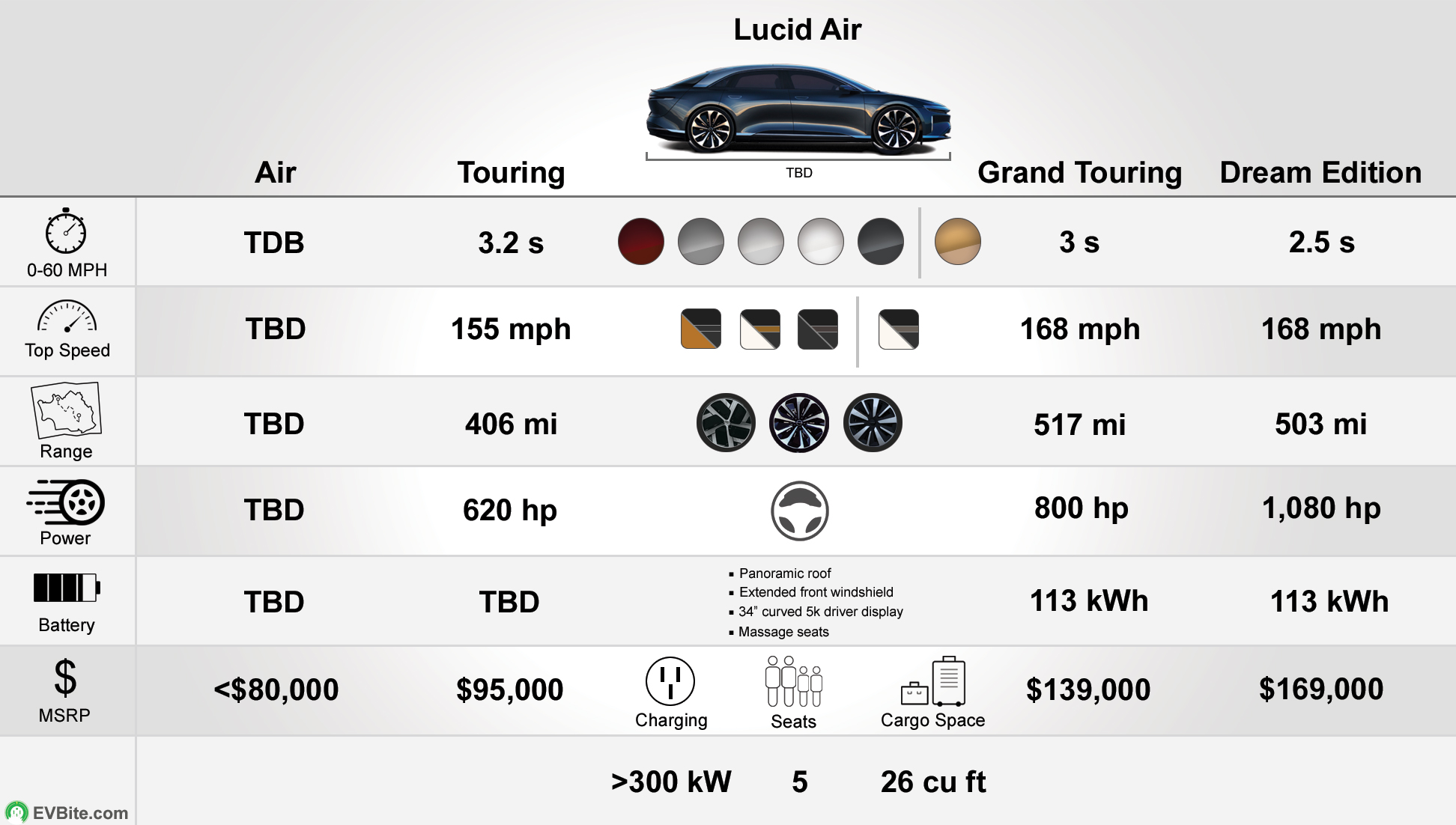 As we see the top end Air Dream Edition is not in fact the range leader, but it is not too far off by when using 19-inch wheels and having a range of 503 miles or only 465 miles when on the large 21-inch wheels. It is however the leader when it comes to performance as it is the model that can reach 0-60 mph in only 2.5 seconds and is the holder of the sub-10 sec. 1/4 mile time.
The next step down, the Air Grand Touring is the projected current range leader with a range of 517 miles, but it does sacrifice some performance by having a 0-60 time of 3 seconds and a 1/4 mile time of 10.8 seconds.
Availability

Lucid Air Dream Edition
Lucid Air Grand Touring
Lucid Air Touring
Lucid Air (base)
Spring 2021
Summer 2021
Late 2021
2022
Both of those models are $100,000+ cars, so while their specs are top-tier, many people will not be able to afford them. The Air Touring is not exactly an affordable car in itself, but it does price directly with the Model S Performance. While it does win out on range, it does come in slower than the Performance with a 0-60 time of 3.2 seconds and a 1/4-mile of 11.4 seconds (Model S Performance is somewhere in the mid-10 seconds.).
The bottom trim level is unfortunately the one we have the least information about. Lucid revealed that there will be a base Air that will start at "below $80,000" and after accounting for the $7,500 EV tax credit (which every trim is eligible for), the base Air will be cheaper than the Model S Long Range. There however are not further specifications given and who knows what the Model S will look like or cost in 2022 when the base Air is set to launch. Given that the mid-tier Air is the one with barely over 400 miles of range, it is extremely doubtful that the base Air will be able to match the range of the Model S when it comes out. Though a lot can happen in two years.
We also seem to have an upcoming performance showdown waiting to go down in the future. We are all awaiting the Plaid Model S which will feature a tri-motor setup, and we know that Lucid has a tri-motor prototype as well. Neither company have divulged much information about their top performance versions, but it is surely another battle to look out for.
It is certainly exciting to see a production-ready electric car that has not only gotten close to what the Model S offers but actually does better than it in some ways. Looking at the upcoming crop of luxury EVs coming from legacy automakers, it looks doubtful that those EVs coming out in 2021-2022 will even match the specifications of the Model S from this year or even from the previous two years. So it's nice that there looks to finally be some sort of alternative to the Model S that doesn't result in the customer having to settle.
Technology
This is where the Model S will hold an advantage from the onset and might even continue to hold an advantage even after Lucid starts to refine their system.
Looking at our vast list of Tesla software updates, you can see that the Model S is not only an electric car, but also a piece of technology. Before looking at driver assistance features, we can just look at all the things that Tesla has added to their cars through over the air (OTA) software updates. These updates have ranged from a growing library of video games and video streaming services, to tangible performance improvements to the car.
The car is constantly evolving and even though we might harp on the design getting stale, every month or so you are guaranteed to have some new feature to play. While I won't say it is like driving a new car every month, it does provide some entertainment and keeps things fresh.
Lucid, like many upcoming electric cars, will also feature OTA updates as well. We however are unsure of how exciting the updates for the Air will be. Will the updates being pushed to owners be simple bug fixes, or will we see new big features or performance improvements being added.
The only feature I can confidently say that the Air has that the Model S doesn't is the built-in Amazon Alexa support. So for all my diehard Alexa people, I hope your purchase decision isn't solely based on whether or not a car has built-in Alexa. You know the Echo Auto exists, right?
Autopilot
At this point, it seems like Tesla's Autopilot and full-self driving (FSD) hype have outgrown the hype of having an actually successful electric car. What was initially seen as a safety and convenience feature has continued to evolve into what might become the first commercially successful autonomous driving software and propel us to a future where cars don't even have steering wheels.
Tesla is still a considerable amount of time and effort away from moving into the Level 3 autonomous level and beyond, but there have been constant refinements to the system as highway driving looks pretty reliable and the team is now working on tackling stop signs and traffic lights within city and suburban streets.
Currently, all Tesla Models are included with Autopilot which will act as an adaptive cruise control and keep you within your lane. Autopilot independent of any more advanced features that Tesla offers is already a very useful feature and makes driving on long highways or stop and go traffic a more relaxed experience.
However, if you want the more advanced features you will have to pay extra for the FSD package. Att the time of writing this. the feature sits at $8,000. Tesla has been upping the price and will probably continue to raise the price as the software becomes improved.
The package includes:
Navigate on Autopilot: automatic driving from highway on-ramp to off-ramp including interchanges and overtaking slower cars.
Auto Lane Change: automatic lane changes while driving on the highway.
Autopark: both parallel and perpendicular spaces.
Summon: your parked car will come find you anywhere in a parking lot. Really.
Traffic Light and Stop Sign Control: assisted stops at traffic controlled intersections.
Upcoming:
Autosteer on city streets
Many of the features listed above are still in a beta stage and so it should be expected that they will be rough around the edges, but it is a great way to experience some cutting-edge tech. Do remember though, that a Tesla still cannot drive itself.
The suite of sensors consists of cameras, radar, and ultrasonic sensors placed around the car, and famously, no use of LIDAR which many have considered a necessary sensor for FSD to work, but Musk and Tesla had decided long ago to not implement it into their cars.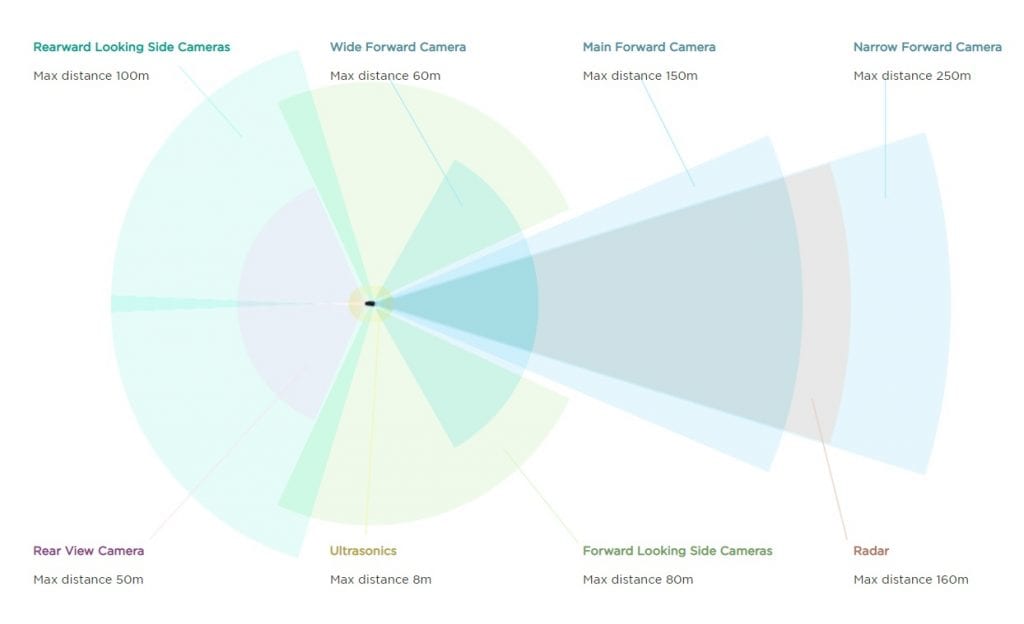 LIDAR is a sensor that shoots a large number of lasers at objects and their surroundings and measures how long it takes them to reflect back and at what wavelength. With this information, you can construct an accurate 3D representation of the world around you, something that cameras cannot inherently do. Musk decided to forgo the system due to its size, weight, and apparent unreliability when in thick rain, fog, smoke, etc.
DreamDrive
Regardless, Lucid's implementation of their autonomous system, called DreamDrive, is exciting as it will be the first production car that will have a LIDAR equipped. Autonomous driving companies such as Waymo have been using LIDAR in their test vehicles, but the equipment has not been used in a production vehicle until now.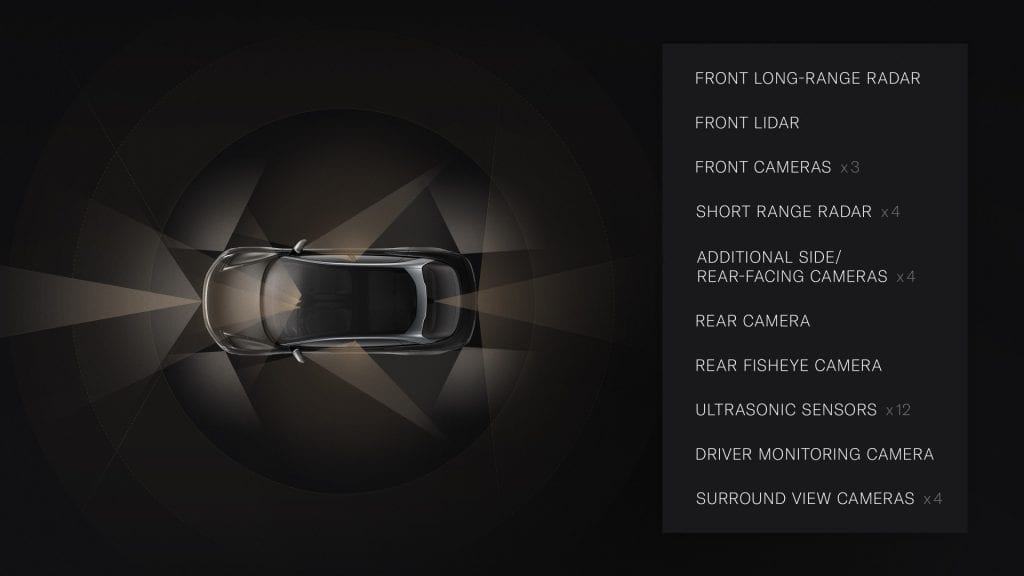 The DreamDrive suite includes 19 different ADAS features, with eight more that will make their way via OTA updates. Some of the different features that Lucid shared include:
Safety

Surround View Monitoring
Blind Spot Display
Cross Traffic Protection
Traffic Sign Recognition
Automatic Emergency Braking
Alerts for distracted or drowsy drivers

Driving

Full Speed Highway Assist (Adaptive Cruise Control and Lane Centering)
Traffic Drive-Off Alert
Headlight Assist
Parking
Autonomous Parking Assist
Pullout Control
Maneuver Comfort Braking
Lucid has stated that the DreamDrive's capabilities look to cap out at Level 3 autonomy, meaning that the system does not look like it will be able to reach full autonomy. While it looks to have the same sensors (+LIDAR) and positioning as the Model S, it looks that software development will be a key feature in breaking the barrier towards FSD and it seems like Lucid at the moment can't/doesn't want to devote extra effort toward it. Getting to level 3 will still put the Air on par with the best, but if Tesla can somehow make their system work, then it will be a huge blow against the Air when people are shopping around.
It is still way to early to call this one as you need to collect a large sample of different experiences to see how well Lucid's autonomous system functions.
The Model S is cheaper. If price is something that you cannot budge on, then no matter how amazing the specs the Air or any other electric car have, if you can't stretch your budget then you can't stretch your budget. I could tell you that the base Air after tax credit will end up being cheaper than the Model S, but with it being 1.5-2 years away, who knows what the luxury EV landscape will look like then.
However, we have seen many people being strung up on the fact that the top two trims of the Air are over $100,000 and not focus on the $95,000 model that. Yes, it is a full year away, but it can trade blows with the Model S Performance at an even lower price once you take EV tax credits into account. It may not have over 500 miles of range, but it still has just more range than the current range-leading Model S, so I would not really call it a sacrifice.
The Model S continues to be a great car for its price, but the Lucid Air has more than justified its price too.