With just about every celebrity and internet profile displaying their electric car as an accessory, Tesla has unintentionally created one of the worlds largest hype brands. It was only a matter of time before we started seeing Tesla hit the street wear.
Tesla apparel is by no means new. The company has sold their own merchandise since the start. Elon Musk has openly discussed the monetary importance of merchandising. As such, his companies have come up with some of the most unique limited edition products to raise relatively small amounts of cash. Whether it be flamethrowers, surfboards, or stuffed dinosaurs, Elon Musk's unique merchandise usually sells out pretty quickly.
The *real* money comes from merchandising. I learned it from this documentary https://t.co/E4gpqhl6KF

— Elon Musk (@elonmusk) December 3, 2017
During last years highly anticipated unveiling, the Model Y was not the only one grabbing eyes. The Tesla CEO took the stage wearing a one of a kind statement. The custom Tesla shoes quickly flooded social media with many ready to click "add to cart".
The shoes are actually not made by Tesla themselves, rather a custom shoe manufacturer known as DeMarco Footwear. Like Tesla, the small business does all of their manufacturing in the U.S. The company is run by a father-son duo, Marco Sr. and Marco Jr Acosta, with a passion for customization. Rather than outsource and speed up production, all of their shoes are hand made with care.
So how exactly did Elon Musk get a hold of those custom Tesla shoes? According to Marco Jr Acosta, the shoes were commissioned by a "close friend" of Musk's and a Tesla investor. Lucky for you, the team has decided to offer more pairs for sale to the public.
The Tesla Model Y is arguably the most important car of the last century. It's unveiling and execution is one we will read about for years to come. If the Model Y is too pricey, for the low price of $1,500 you can own a part of history with these custom Tesla shoes.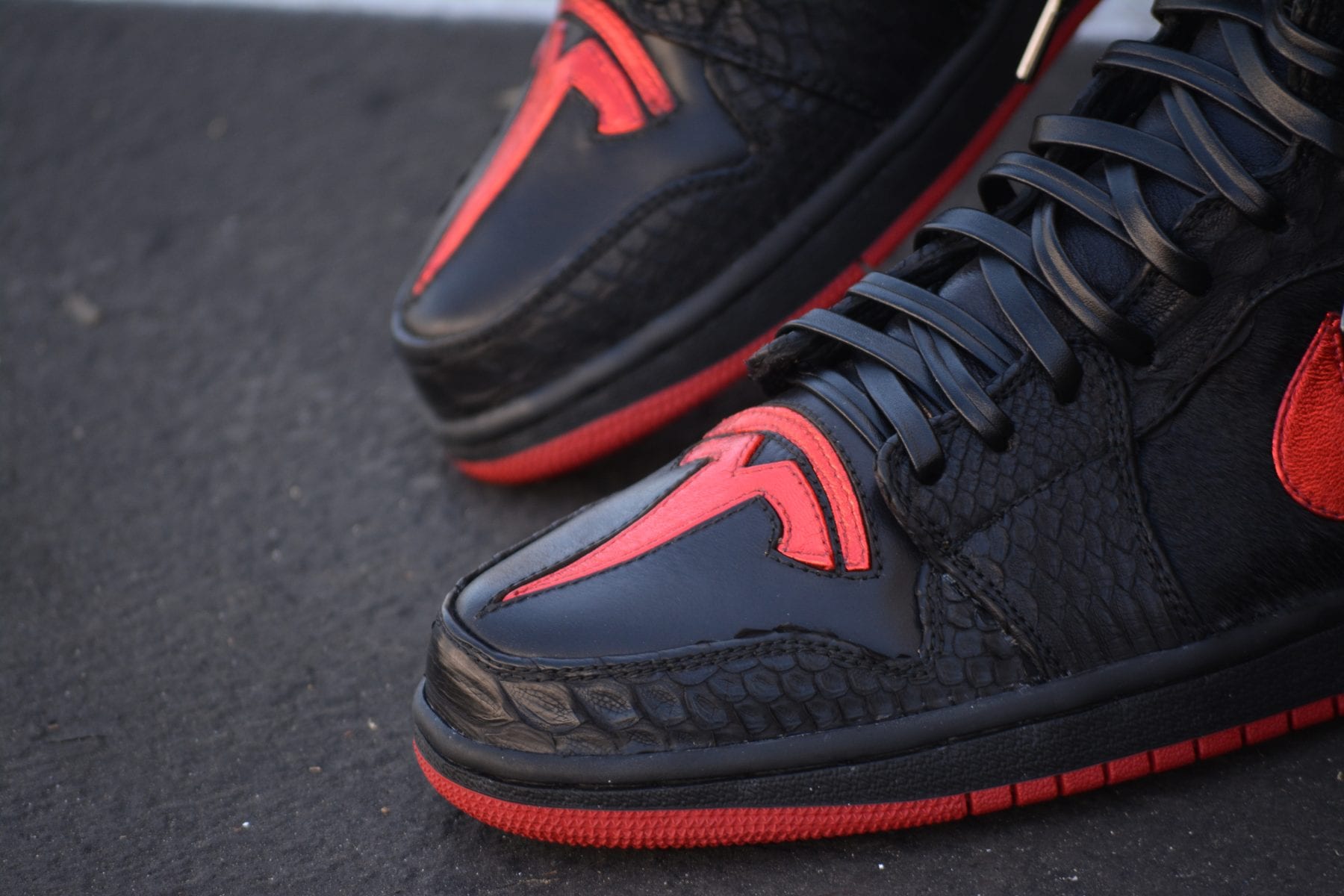 The pair originate from the beloved Air Jordan 1's. They're disassembled and reconstructed using premium Hair on Hide, genuine python skin, red metallic leather and lambskin sockliner. If you ever needed your toes to feel both comfortable and luxurious while representing the Tesla name, this is for you.
When first revealed for sale, DeMarco mentioned they would be limited to six pairs. However, as of today, they're still listed and available for order. If you're serious about purchasing these, you can check them out here.