All Teslas share a few similarities. Alongside their striking looks, they each receive a steady flow of over-the-air updates keeping them fresh and more advanced than their closest competitors. Each model (by far) holds the best-in-class electric range. For a while now, Tesla has been in a league of their own. As such, they can only be compared with one another. Let's take a dive and see which Tesla is the best for you. Here are the current Tesla models compared.
Skip Ahead:
Model S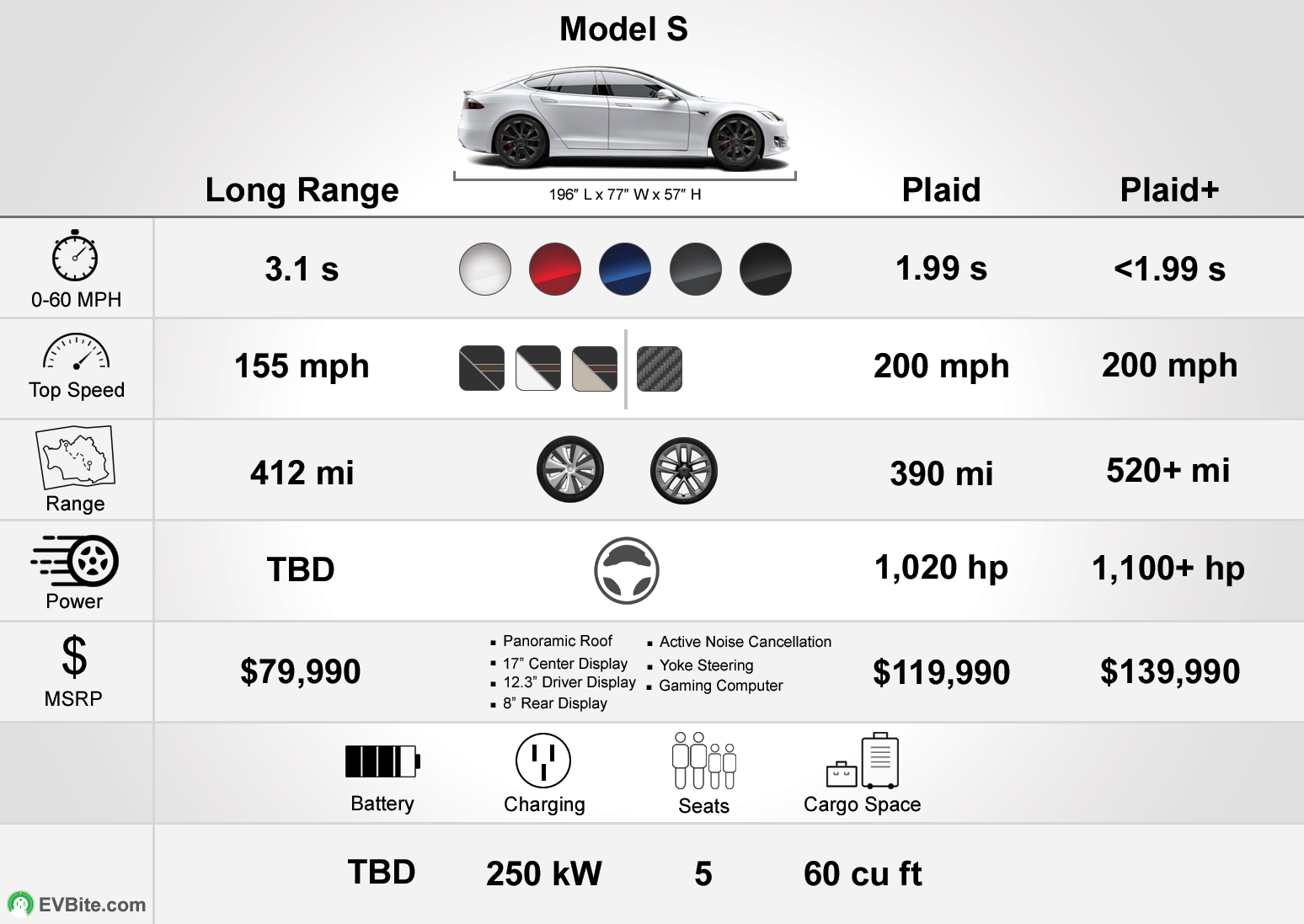 Baring the limited production of the original Tesla Roadster, the Tesla Model S can be considered the first mainstream electric car that Tesla produced. When most people think of a Tesla, they tend to picture a Model S in their mind as it's Tesla's oldest vehicle still in production. Some would argue that it's the one that started it all.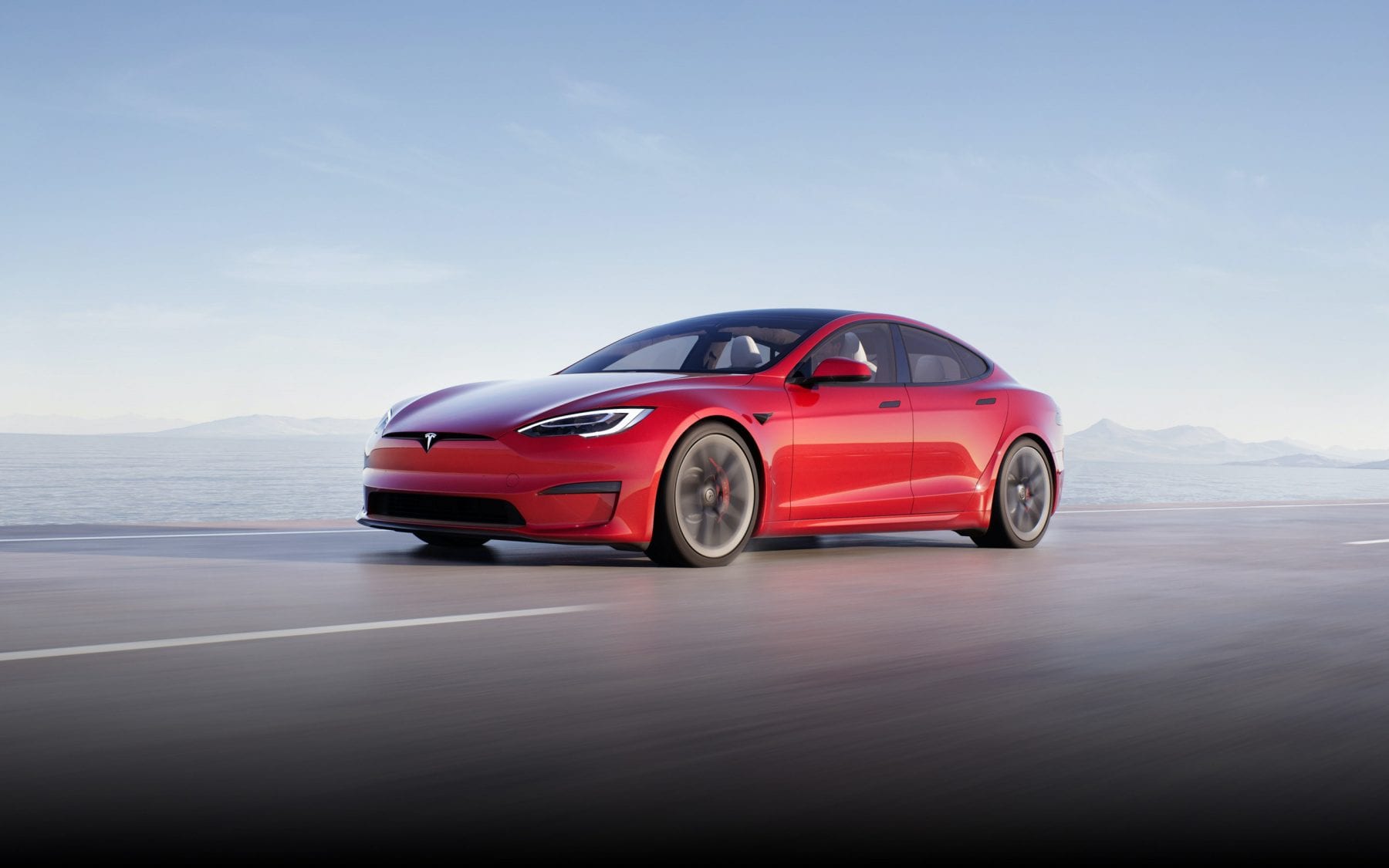 One look at this Popular Mechanics slideshow discussing the 2012 EV landscape and you can see just how much the Model S outclassed every other EV on the market at the time. Basically, every electric car on the list was made in supremely low quantities, aside from the Nissan LEAF which at the time only had a range of about 73 miles, compared with the 265 miles of the original Model S.
Tesla CEO, Elon Musk, stated that he does not like to have explicit new generations of cars and instead likes incremental changes done as they can be made. As such, the Tesla Model S has had several changes over its eight years. The most obvious change came in 2016 when Tesla removed the front nose cone and gave the flagship vehicle a more modern and sleek look.
Other changes have come internally. Over the production of the car, there have been numerous battery capacities placed, with 40 kWh being the smallest offered and 100 kWh being the largest. Both the Model S and X received a powertrain upgrade last year known as the 'Raven' powertrain which improved on speed, range, and the suspension of the car. Incremental changes have also come to both the Autopilot computer (the newest one being Hardware 3) as well as the center console computer, known as the MCU. Tesla has started offering upgrades to people with older MCUs so that they can have a smoother infotainment experience.
There is no "refreshed" Model X or Model S coming, only a series of minor ongoing changes. Most significant change in past few years was to use high efficiency Model 3 rear drive unit as S/X front drive unit. That went into production 3 months ago.

— Elon Musk (@elonmusk) July 9, 2019
The latest 2021 Tesla Model S went through a more significant refresh, contrary to Musk's prior statements. Once again the Model S received a facelift with a few more changes. By popular demand, chrome is no more. Instead, the Model S features black trim as found with the latest Model 3 and Y. Minor changes like upgrades to the tail lights were also made but the biggest features were seen from within the vehicle.
The new Model S refreshed interior was entirely rebuilt from the ground up. Aside from it's new design, it features a new high-res display doubling as a gaming computer, and a new third display for rear passengers. New tech such as active noise cancelling have also been implemented into the cabin alongside wireless charging and ventilated seats. A yoke steering wheel that absolutely no one asked for was also added.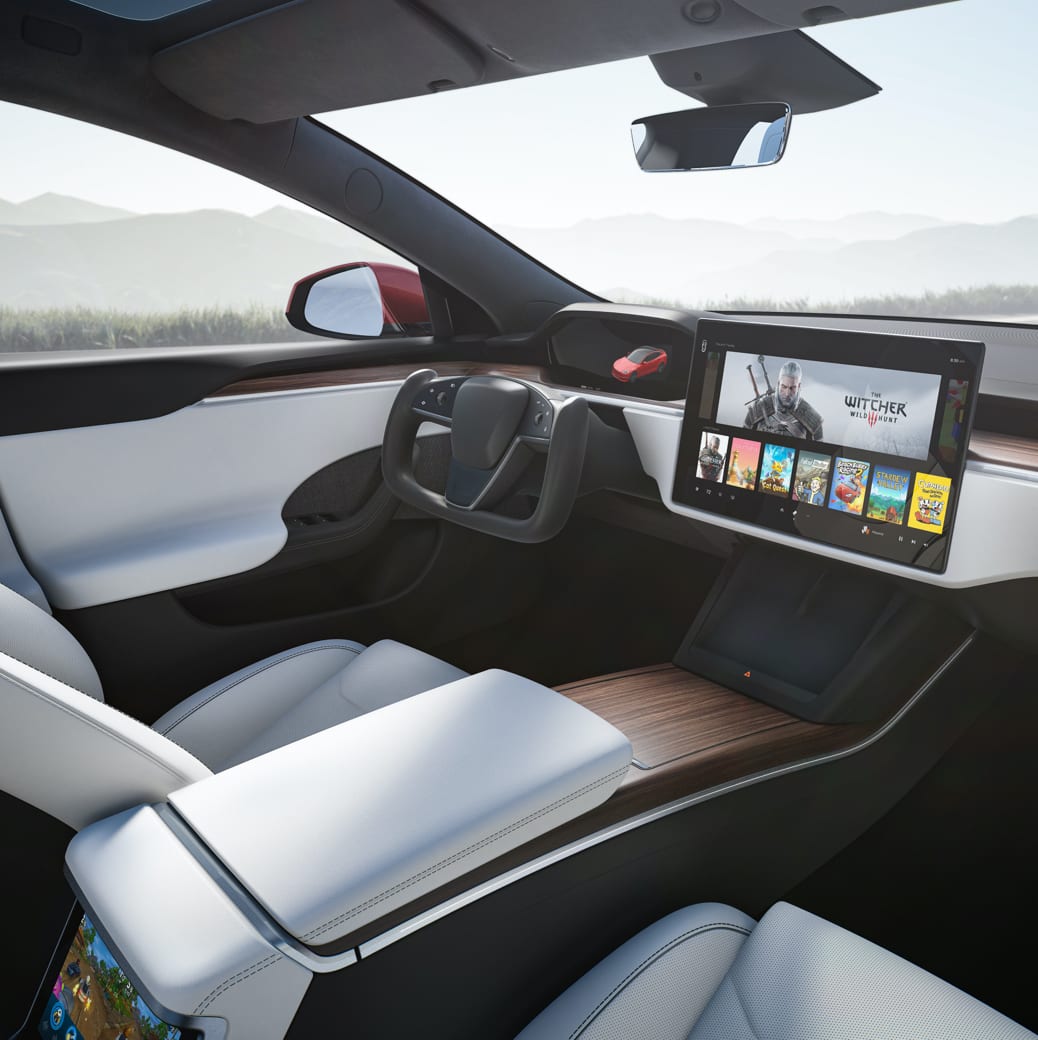 Currently, there are three versions of the Model S offered, a Long Range, Plaid, and a Plaid+, more on those later. The two Plaid models are the first vehicles to offer a tri-motor setup, alongside the Plaid Model X.
| | Long Range | Plaid | Plaid+ |
| --- | --- | --- | --- |
| Price | $79,990 | $119,990 | $129,900 |
| Range | 412 miles | 390 miles | 520+ miles |
| 0-60mph Time | 3.1 sec. | 1.99 sec. | <1.99 sec. |
| Top Speed | 155 mph | 200 mph | 200 mph |
The Tesla Model S has become the standard by which any new electric car is compared against as it has not only outsold a multitude of electric cars but has also done well against standard gasoline-powered luxury cars in its class. The Model S has had the honor of being the first production electric car to break through the 400-mile range barrier, all before any other automaker could make a car that could even cross the 300-mile border. Now, they expect to break the 500-mile barrier with the Plaid+ coming later this year.
Following Tesla's little head-to-head with the Porsche Taycan, the Model S Plaid was revealed. In this new era of performance EV's, the Tesla Model S Plaid+ vs Porsche Taycan Turbo S vs Lucid Air Grand Touring are the cars to watch.
Overall, the Tesla Model S is the best Tesla car for those people that want some space, but don't need the space afforded by the Model X. It will comfortably fit people in the back and has a large enough trunk for most of your non-Home Depot needs. Plus if you ever want to beat a Lamborghini Aventador SV on the drag strip, well the Model S can help you there too.
Model X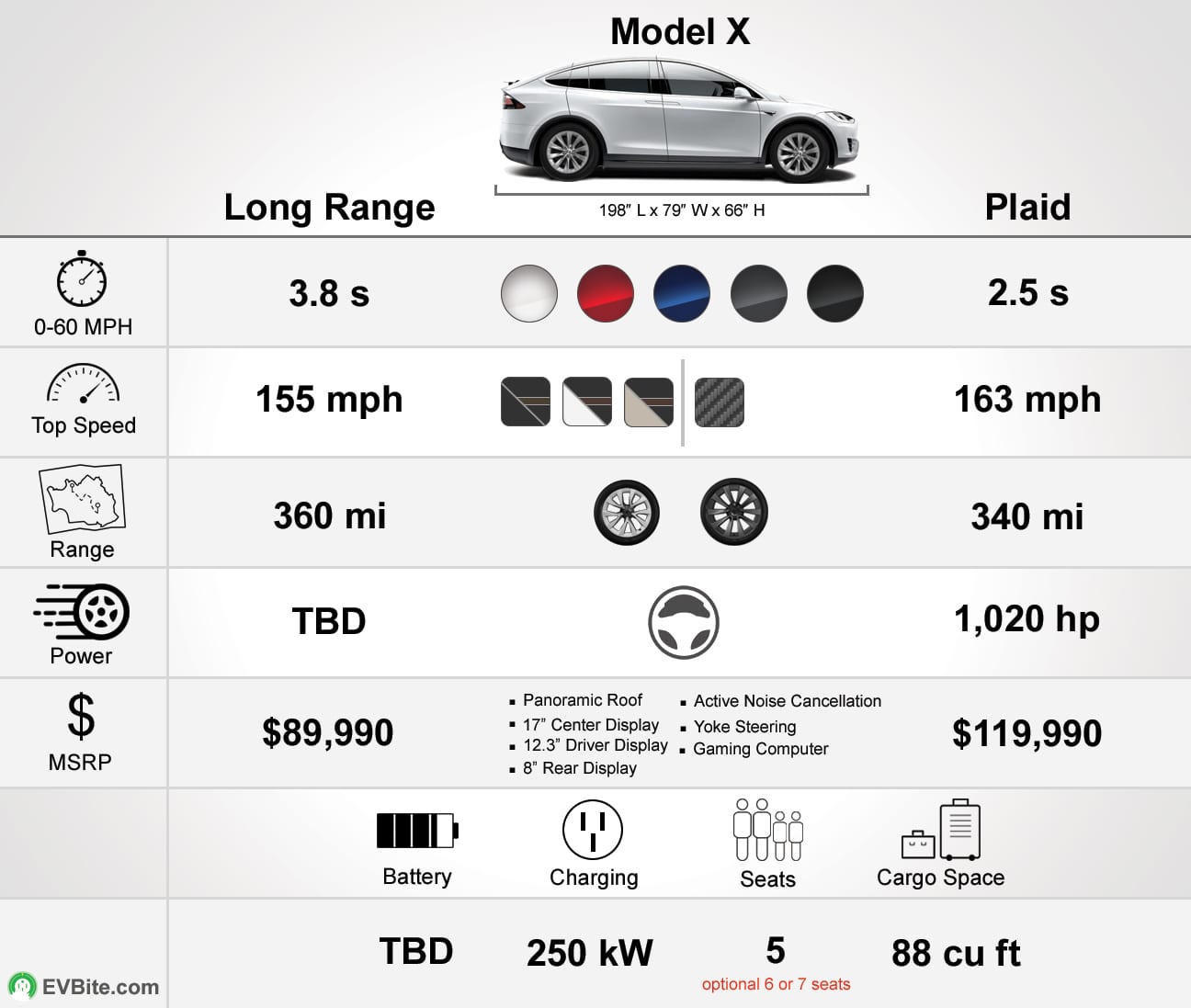 The Model X is the next Tesla model compared for good reason. Following the Model S, it made its debut just three years later, in 2015. Being built on the same platform as the Model S, it shares about 30% of its parts. The Model X is undoubtedly most famous (or infamous based on who you ask) for its falcon-wing doors which have attracted the attention of fans and critics alike. Early on the doors had issues with their operation and not being able to detect objects properly alongside not compensating the opening angle of the door properly. Musk himself had said that his hubris was responsible for the debacle, saying:
"I need to fault myself for a little bit of hubris for putting too much technology all at once into a product. In retrospect, the right thing to do with the Model X would have been to take a lot of the really awesome cool things but kind of table them for a future version . . . The software that controls the Model X and the operation of the doors has been incredibly difficult to refine, and getting the complex set of sensors to work well has been incredibly difficult to refine."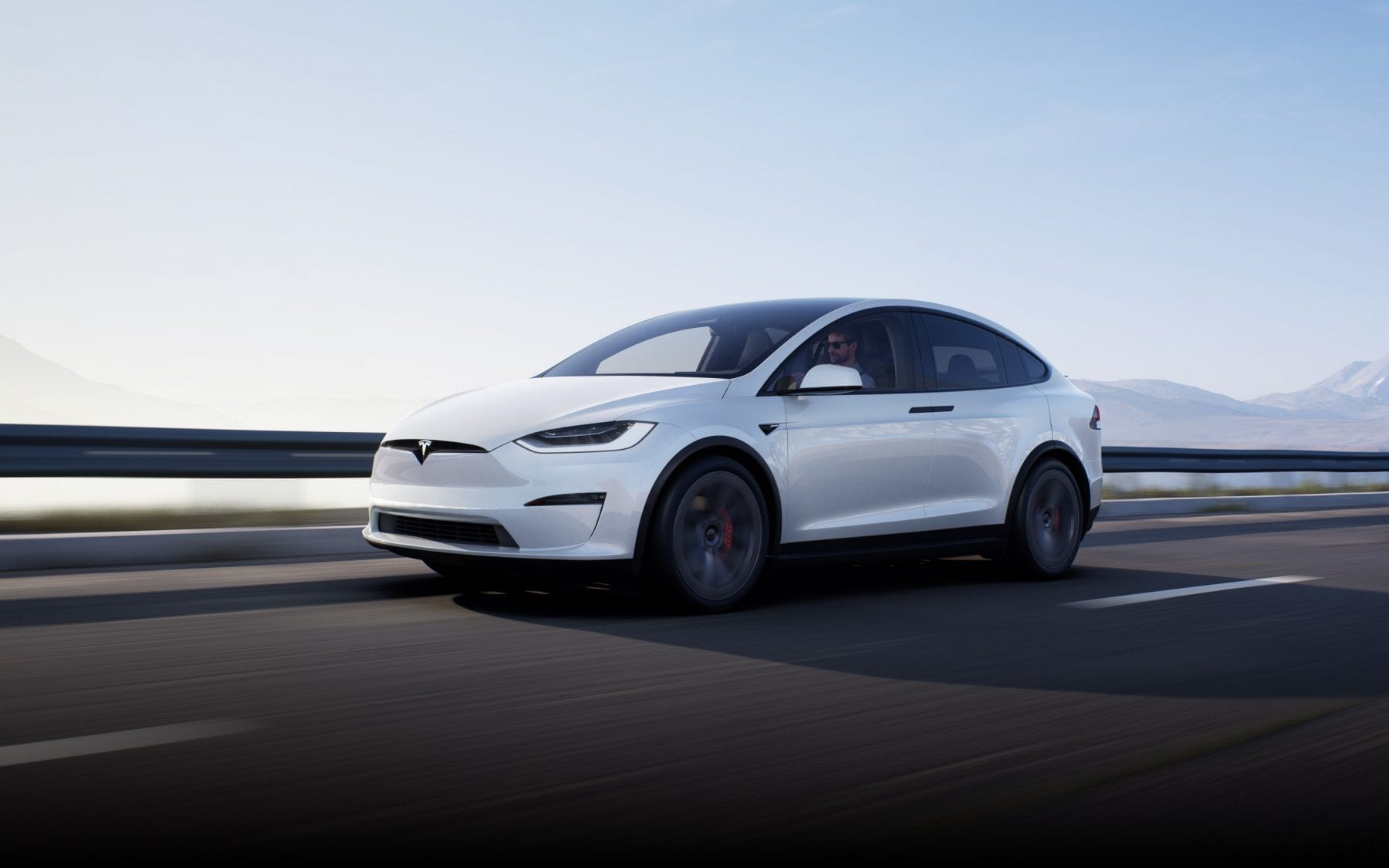 Given the popularity of SUVs in the world and the carbon emission savings potential of someone picking a Model X over a gasoline SUV, it seemed like it was the correct next step for Tesla to take.
The Tesla Model X, just like the Model S, has had several incremental refinements over its slightly shorter lifespan. It also received the same Raven powertrain upgrade alongside the Model S. There have been many different battery packs over the years, ranging from 60 kWh to 100 kWh. But just like, and along side, the Model S, a full refresh was implemented in 2020.
The two new Tesla refreshed models are just about identical. They feature the same interior design and tech as well as exterior changes. The only real difference between the two refreshes would be the Model X's lack of a Plaid+ model.
| | Long Range | Plaid |
| --- | --- | --- |
| Price | $89,990 | $119,990 |
| Range | 360 miles | 340 miles |
| 0-60mph Time | 3.8 sec. | 2.5 sec. |
| Top Speed | 155 mph | 163 mph |
The biggest difference between the Model S and X (aside from the complicated doors) is the increased space and different seating configurations available. The Model X is available in a traditional 5-seat arrangement along with a 6-seat and 7-seat arrangement. In the 6-seat version, the passengers in the middle row get seats similar to the front row, while the 7-seat version has the middle row on the standard bench seat. It is currently one of two Tesla's with a 7 seats as the 7-seat option for the Model Y recently became available. According to Elon Musk, a 7-seat option for the Model S is also bound.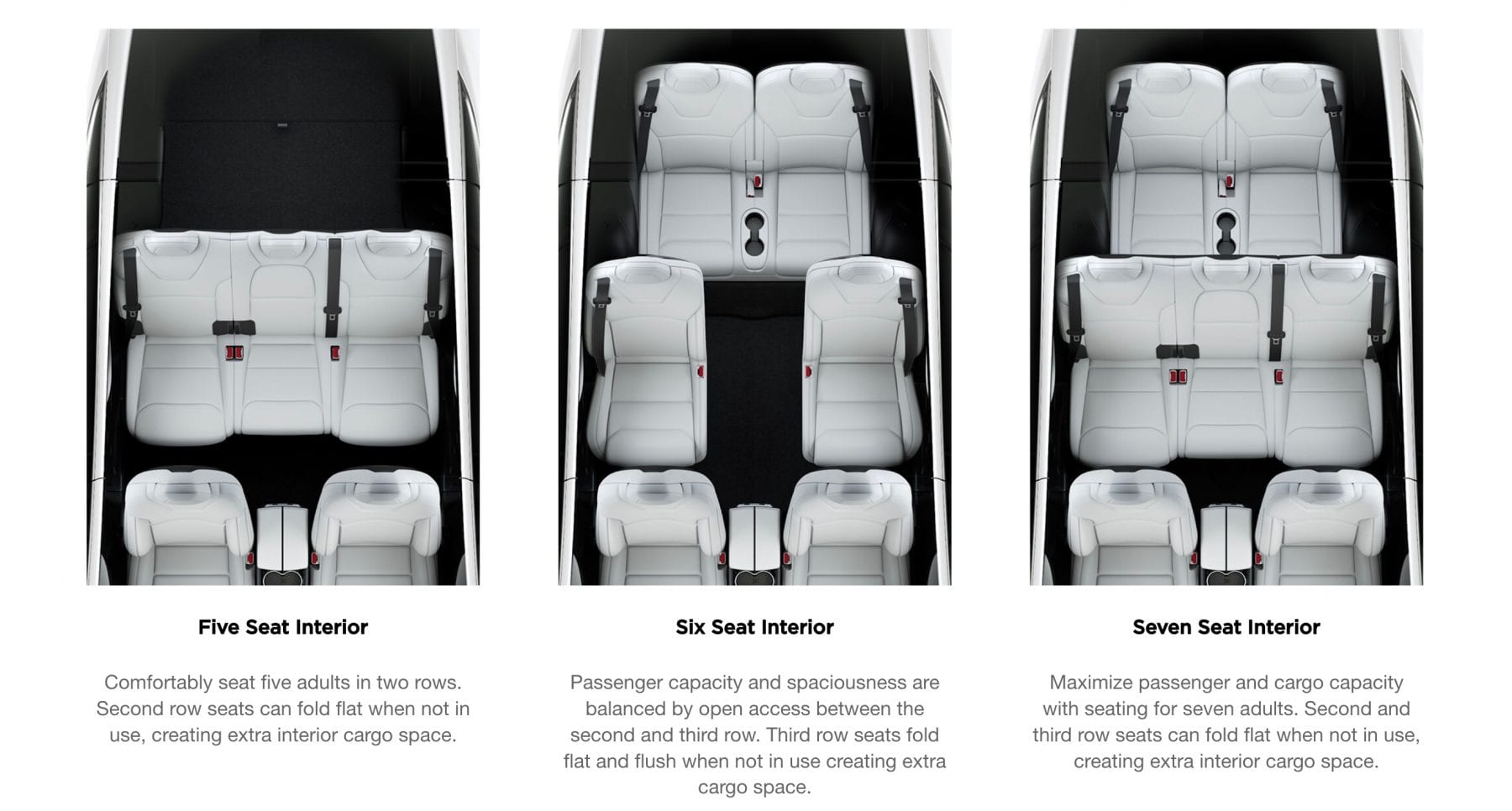 The Model X, just like the Model S, has become the standard for its class of electric SUVs, if there is a new electric SUV coming out on the market, it is without a doubt going to be compared to the Tesla Model X.
So if you read through the Model S description and thought to yourself "yeah, that sounds good, but I need my car to have the ability to fit 6 or 7 people", the Model X is your car. And instead of going toe-to-toe with an Aventador SV, you can go up against a Ferrari 812 (but probably not with all your kids in the back).
Model 3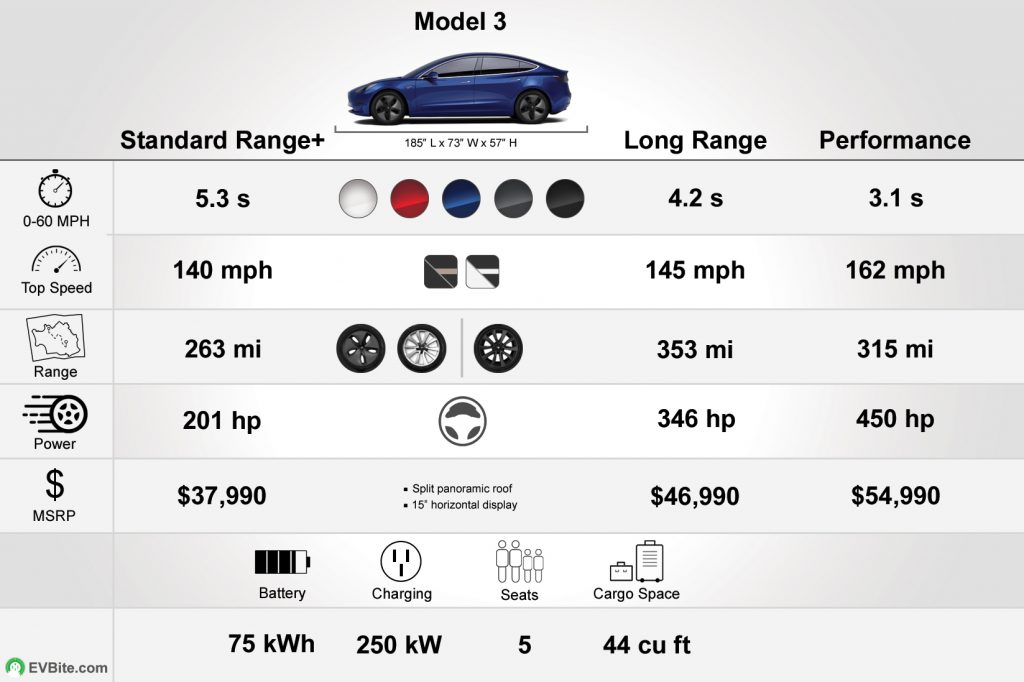 As a friend of mine would say, the Model S and X were just a commercial for the Model 3. Step three of the Tesla Master Plan, and arguably the most important step, was the creation of an affordable high volume electric car. That, of course, would be the Tesla Model 3. Originally intended to be named the Model E, a Ford trademark prevented that from occurring so we were left with Model 3, which kind of looks like an 'E' anyway, so not much was lost.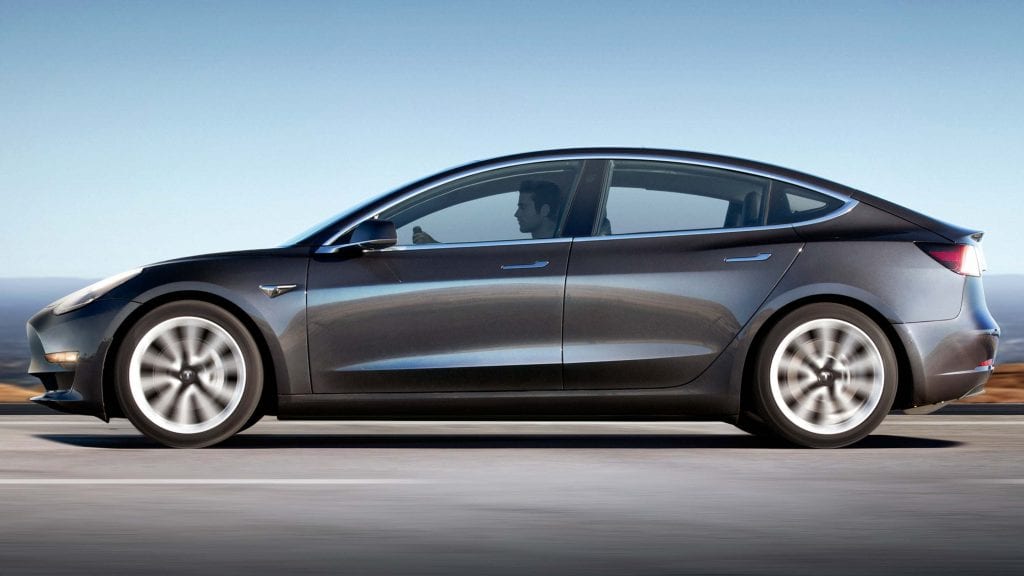 The Model 3 was able to accomplish what it set out to do, but not without a bunch of headaches for the automaker. Two big promises were made for the Model 3 before it came out. One was that there would be a $35,000 model made available and the second being that Tesla would be able to produce 5,000 units a week. With the Model 3 starting its production during the second half of 2017, the production milestone would not happen until July 2018. The introduction of the $35,000 Model 3 took even longer, as it was released in February 2019. After only a couple of months, the Standard Range $35,000 Model 3 was taken off the online configurator and was relegated to only over the phone or in-store orders. As of today, the $35,000 Tesla Model 3 is discontinued.
The current assortment of Tesla Model 3 trims available on the online configurator currently is as follows:
| | Standard Range Plus | Long Range | Performance |
| --- | --- | --- | --- |
| Price | $37,990 | $46,990 | $54,990 |
| Range | 263 miles | 353 miles | 315 miles |
| 0-60mph Time | 5.3 sec. | 4.2 sec. | 3.1 sec. |
| Top Speed | 140 mph | 145 mph | 162 mph |
While the Model S and X proved that electric cars could in fact be desirable and drivable in day to day life, the Model 3 proved that you can have a drivable electric car at a relatively affordable price. The success of the Model 3 could hardly be overstated, it not only outsold its premium car competitors but also was converting people from cheaper gasoline cars.
The Tesla Model 3 has not only been taking away sales from its competitors but arguably has been taking away some sales from Tesla's higher offerings, although the aforementioned "staleness" also is a factor to declining sales of Model S/X. While the Tesla Model 3 exploded in popularity, the Model S/X sales stayed relatively the same.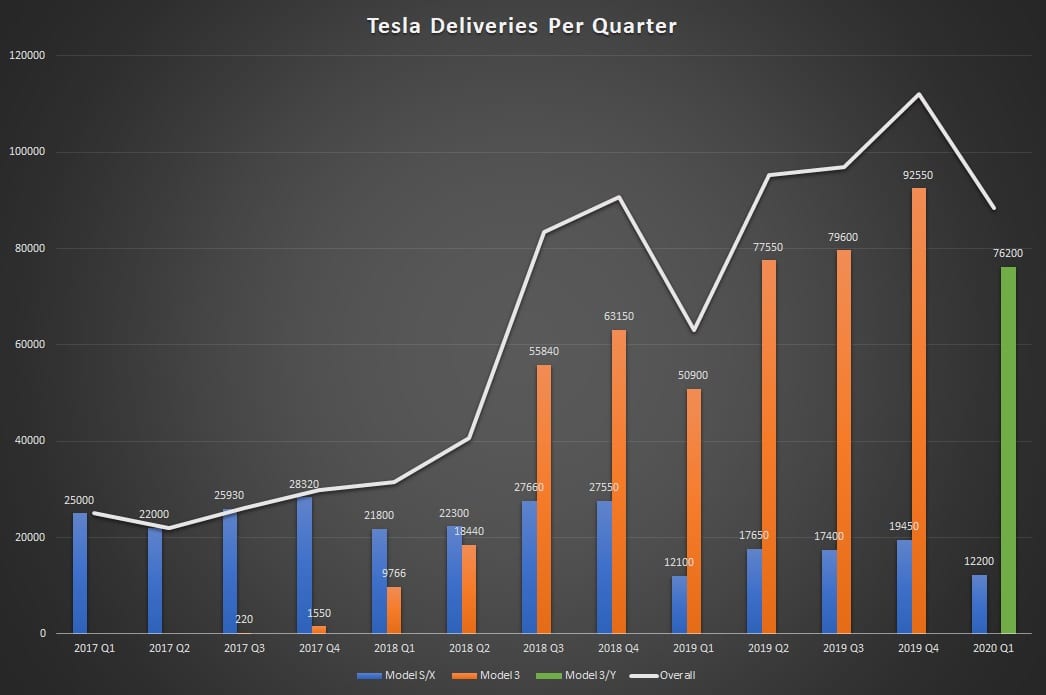 And when looking at the distribution of deliveries between the models, the Model 3 continues to grow.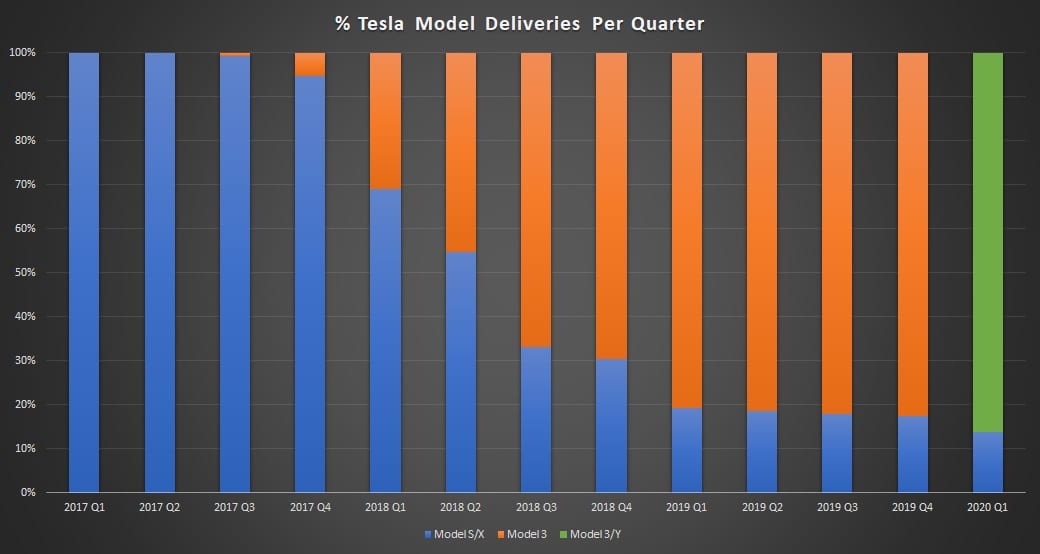 Musk has gone on to say that both the Model S and X "are really of minor importance to our future," following the release of the Model 3 with sales greatly outpacing Tesla's initial two models.
The Model 3 was the first Tesla to break away from the vertical center screen setup and instead opt for a giant horizontal screen with no digital gauge cluster. It's definitely a personal preference of which screen setup is for you, and I doubt that it would be a major deciding factor of which car you buy, but it is something to consider.
While the Model 3 is not the fastest Tesla as both the Performance Model S and X are faster, it is probably the most comfortable around a track and best handling Tesla available due to its size. It is for this reason that the Model 3 is the only car that Tesla decided to make a Track Package for with an extra set of wheels and brake pads, as its the model most likely to be taken on the track.
If you're coming from a car that is in the class of the Model S, you might find the Model 3 a little cramped, but it is by no means a small car and is a perfectly serviceable provided you don't have more than two children or plan to haul home renovation equipment every week. If you are looking for the Tesla with the best driving dynamics and might plan to have a track day or two, the Tesla Model 3 Performance should definitely be your choice. And of course, if you are looking for the most affordable Tesla, this should be your choice as well.
Model Y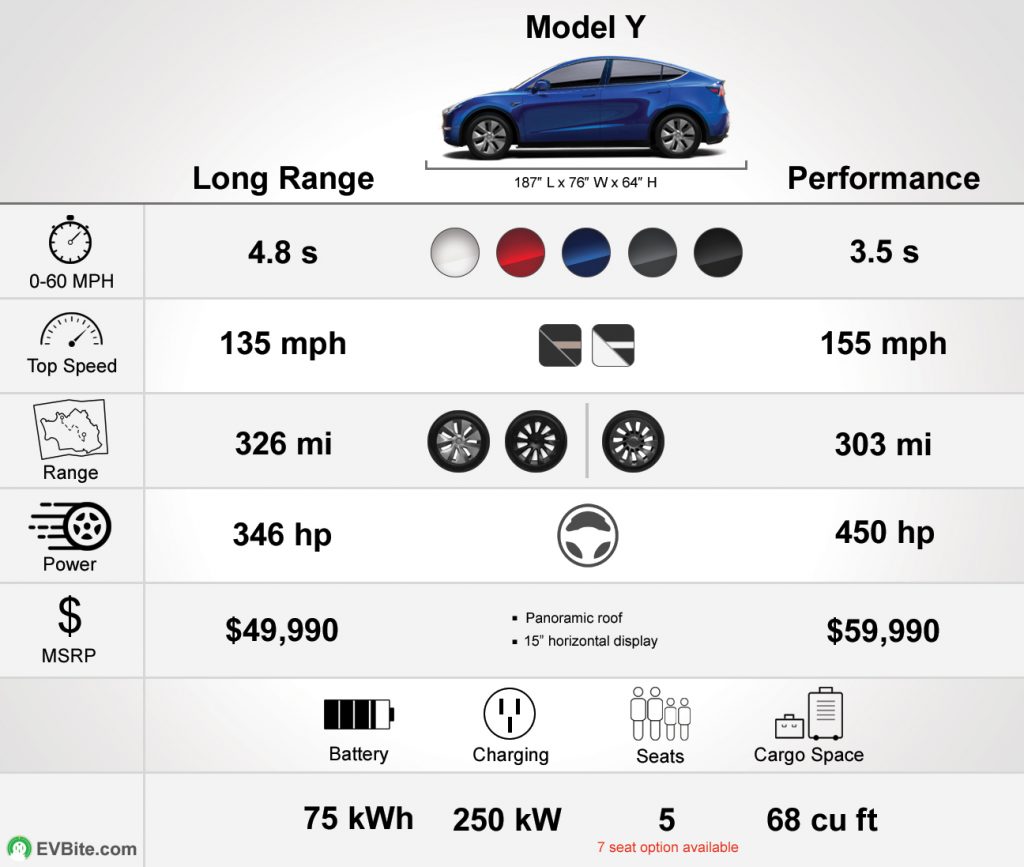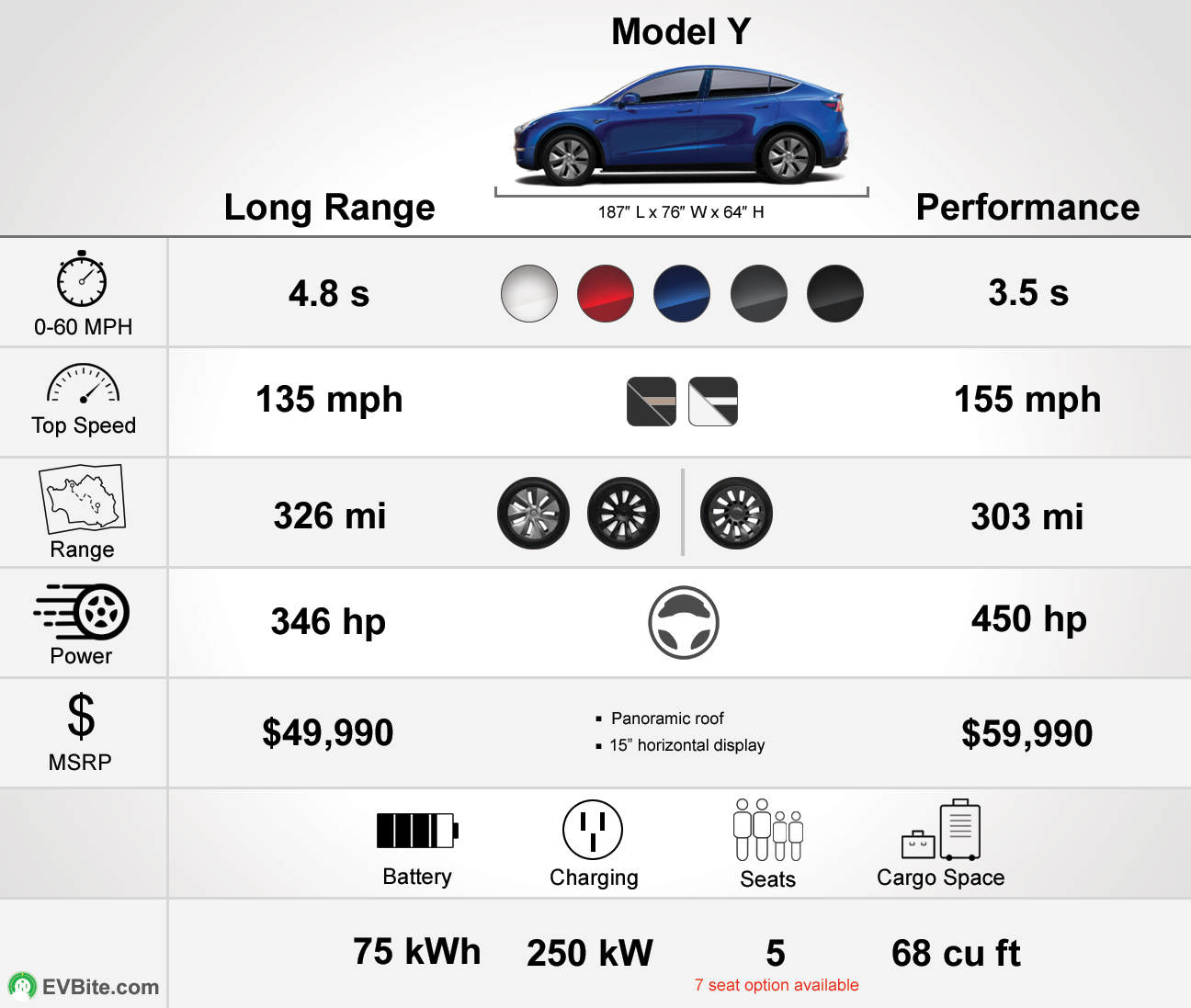 The Tesla Model Y is the newest addition to the lineup and one that Elon Musk has a lot of hope in. Coming in as an electric crossover, it is entering the most popular vehicle segment in the world. However, unlike its older siblings, the Model Y is entering a segment that actually has a decent amount of competition currently on the road already, and with a lot more planned to be making their debut soon.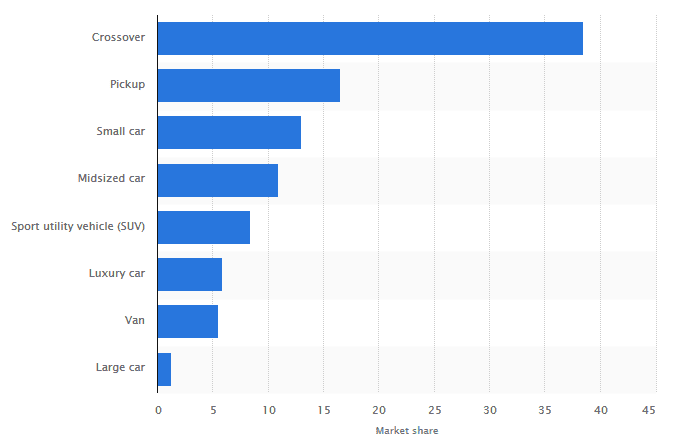 The Tesla Model Y is even more similar to the Model 3 than the X was to the S. The Model Y shares about 70% of its parts with its smaller cousin which allows for much more streamlined production. While the Model Y does share a lot of similarities with the Model 3, its dimensions make it a different enough of a car to justify being its own model.
The two Tesla's compare nicely, this is how it stacks up:
Length: 2.2 inches longer
Width (Including Mirrors): 1.6 inches wider
Height: 7.1 inches taller
Wheelbase: 0.6 inches longer
Ground Clearance: 1.1 inches taller
In regards to how that translates to interior space against the Model 3:
7in/1.7in more headroom front/rear
0.9in less legroom front, 5.3in more legroom rear
Shoulder room is 0.1 inches more in front, same in the rear
0.4in more front/1.8in less rear hip room
Tesla was even able to squeeze in a 7-seat option that is now beginning to ship. Truthfully, I really do not know how useful the Model Y third-row seats will be. The Model X third-row was already pretty cramped so I imagine that only the smallest of children will be able to make use of the Model Y third-row seats, at least comfortably.
| | Standard Range | Long Range | Performance |
| --- | --- | --- | --- |
| Price | $41,990 (est.) | $49,990 | $59,990 |
| Range | 244 miles (est.) | 326 miles | 303 miles |
| 0-60 mph Time | 5.3 sec. (est.) | 4.8 sec. | 3.5 sec. |
| Top Speed | 135 mph (est.) | 135 mph | 155 mph |
Based on the graph shown at the beginning of this section, I imagine that the crossover segment is appealing to a large majority of reading this. So if you've seen and thought to yourself, "I just need a bit more space than the Model 3″, the Model Y is the Tesla for you. It's essentially the same car, for better or for worse. I know some people wished for Tesla's next entry to stand out more, but it seems all that "stand out" energy went into the development of Tesla's electric truck, the Cybertruck.
Tesla Performance
As you probably have noticed each Tesla model has a Performance or Plaid variant. As the name implies, the Performance models have higher specs than their non-Performance siblings, but each Performance model doesn't grant the same options to the cars they are being added to. It is important to note that while the Performance versions are faster, they have significantly less range.
Plaid models have replaced the Performance naming scheme for the Model S & X and can also be used to indicate that the vehicle has tri-motors. The Model S Plaid+ simply adds more range and just a tad bit more performance. Both Performance and Plaid trims feature other changes like carbon fiber trim and spoilers.
The Model S Plaid, for instance, features the following:
Quicker acceleration: 0-60 mph in 1.99s
Ludicrous Mode
Enhanced Interior Styling
Carbon fiber spoiler
It is pretty self-explanatory, quicker acceleration is quicker acceleration. Ludicrous Mode allows you to put the car in its most optimal state for launching. You will have to put the Model S in Ludicrous mode if you want to experience its ludicrously fast 0-60 time of 1.99 seconds. Enhanced Interior Styling simply means that it features Carbon Fiber trim instead of wood. And lastly, the carbon fiber spoiler, is well, a carbon fiber spoiler.
The Model X following closely in the footsteps of the Model S offers mostly the same aside from a carbon fiber spoiler:
Quicker acceleration: 0-60 mph in 2.5s
Ludicrous Mode
Enhanced Interior Styling
Moving on to the Model 3, the difference between the Performance and non-Performance model is a bit more pronounced. Along with the performance upgrades, the Performance Model 3 comes with appearance changes and even a mode dedicated for track days. Here are the extra things that you will find in the Performance version of the Model 3:
20'' Gray Performance Wheels
Performance Brakes
Carbon fiber spoiler
Lowered suspension
Aluminum alloy pedals
Increased top speed from 145mph to 162mph
Track Mode
Track mode is the most interesting feature and is something exclusive to the Performance Model 3. You can think of it as being analogous to Ludicrous Mode in the Model S and X, but this time it is focused on providing optimum performance in a track scenario such as increased regenerative braking and increased corning power. A recent update to the system also allows you to use the cameras to record your lap along with analytic data showing your speed and g-forces.
For those wanting to take it a step further, Tesla offers a Track Package for owners of the Performance Model 3 with Performance upgrade that includes all your track day needs:
4 x 20″ X 9″ Zero-G Performance wheels
4 x Tesla logo center caps
20 x Lug nut covers
4 x 245/35ZR20 XL Michelin Pilot Sport Cup 2 tires
4 x tire pressure sensors
1 x front and rear high-performance brake pads
1 x brake fluid replacement
The Model Y follows a similar upgrade format as the Performance Model 3, albiet it doesn't have Track Mode, yet.
Increased top speed from 145mph to 155mph
21'' Überturbine Wheels
Performance Brakes
Lowered suspension
Aluminum alloy pedals
Overall all the Performance models bring the performance benefits of electric cars front and center. Each of the Tesla Performance models will be able to keep up with many supercars in a straight line, let alone other cars within their class.
The Best Tesla For You
All Teslas share a few similarities. Alongside their striking looks, they each receive a steady flow of over-the-air updates keeping them fresh and more advanced than their closest competitors. With each model holding the best-in-class electric range and out of this world performance numbers, the biggest comparison between Tesla models is their size and price. For a while now, Tesla has been in a league of their own. As such, they can only be compared with one another. With that being said, there's still one Tesla that's best for your exact situation.
The Bachelor/Bachelorette
For those of you who are living a free lifestyle, your choice of Tesla will be just as free. With very little requirements, essentially any Tesla listed above will be suitable for you.
If you are into making an impression, then either a Model S or X might be the car for you as their impending size and price tags draw attention. Due to how long they have been produced, both of them have been the Teslas that many people associate with the brand. The Model X might be a tad overkill for a single person given its size, but for those who like to drive big cars, it's certainly a good choice.
For those that don't need their car to make a huge statement or maybe want to save their money for other things, like maybe a house, going with a Model 3 or Y could be the better option. While the 3 and Y might not make the same impression as the giant Faberge egg of a Model X, you will still get head nods from other Tesla owners and EV enthusiasts.
The Model 3 has been very popular for a reason and people have been trading anything from Honda Civics to BMW 3-series to get into the popular electric car. It has been outselling basically all of its German competition for years, so that must mean something. Given the Model Y shares over 70% of its parts with the Model 3, it is most likely just as good as the Model 3, but in a slightly larger package.
Verdict: The world is your oyster, pick whatever you want. I mean, maybe not the X, it's kind of big for one person, but who am I to tell you what to do. Want something that makes more of a statement? Take the Model S/X. Looking to save your money on other nice things in life? Take the Model 3/Y.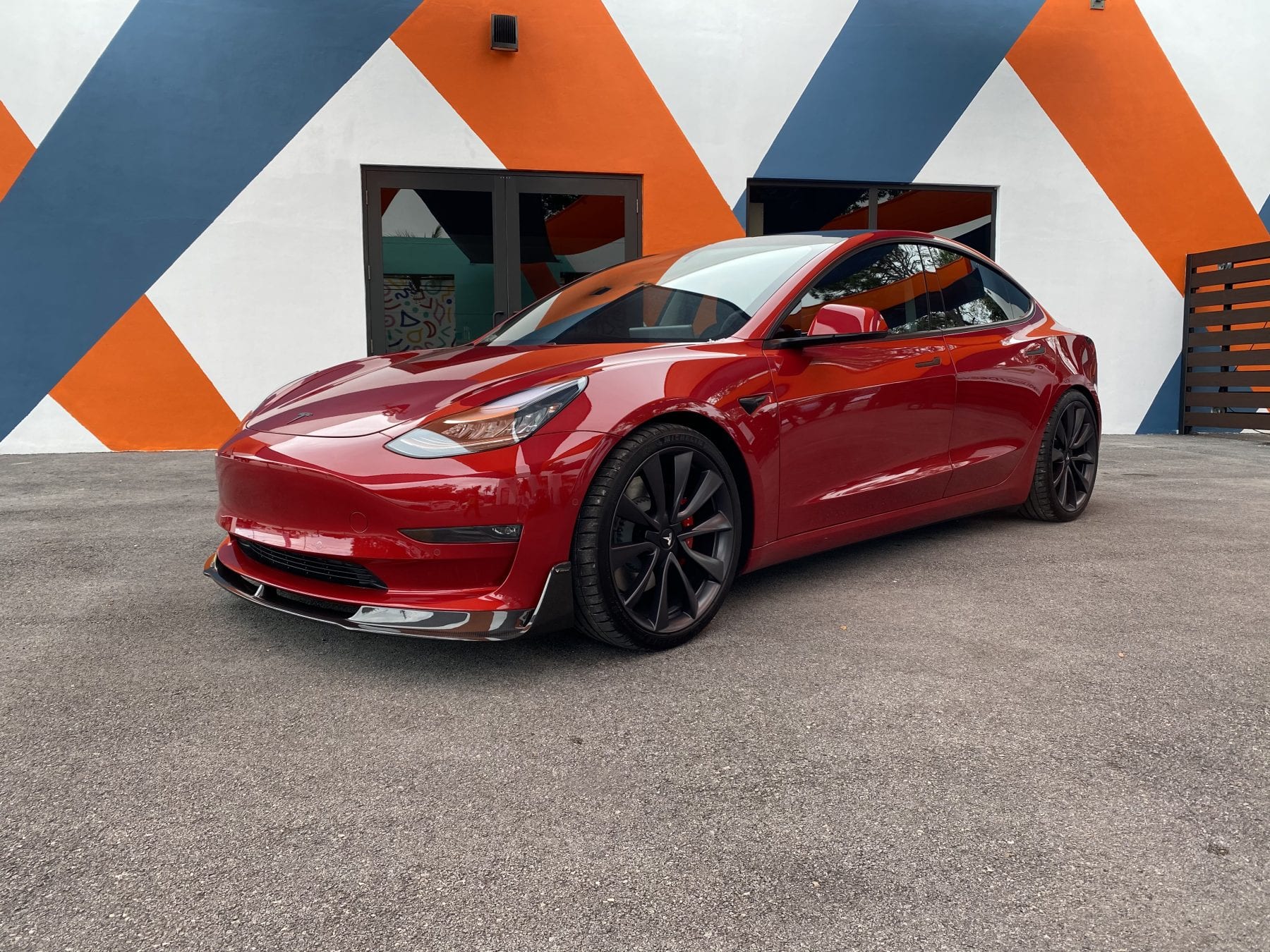 The Family
For those that maybe have a kid or two, your choices aren't really that much more limited.
It is now easier to justify going towards the Model X, but basically, any of the Tesla models compared will work. The 3, of course, will be the smallest and the most cramped of the four options, but plenty of people have car seats in cars of equal size or smaller, so I'm sure you will be able to make due, if you're stricken to the most affordable option.
The Model Y is once again a happy medium and will provide more than adequate space for a child or two in the back without committing to a much larger vehicle. With the third-row option now available, it might just be the perfect family car.
Verdict: As before, take your pick. It's now easier to recommend going with the X, but the Y will probably be the most sensible option if you aren't a Falcon Door-fanatic. The Model 3 will also work, but it will be the most cramped option.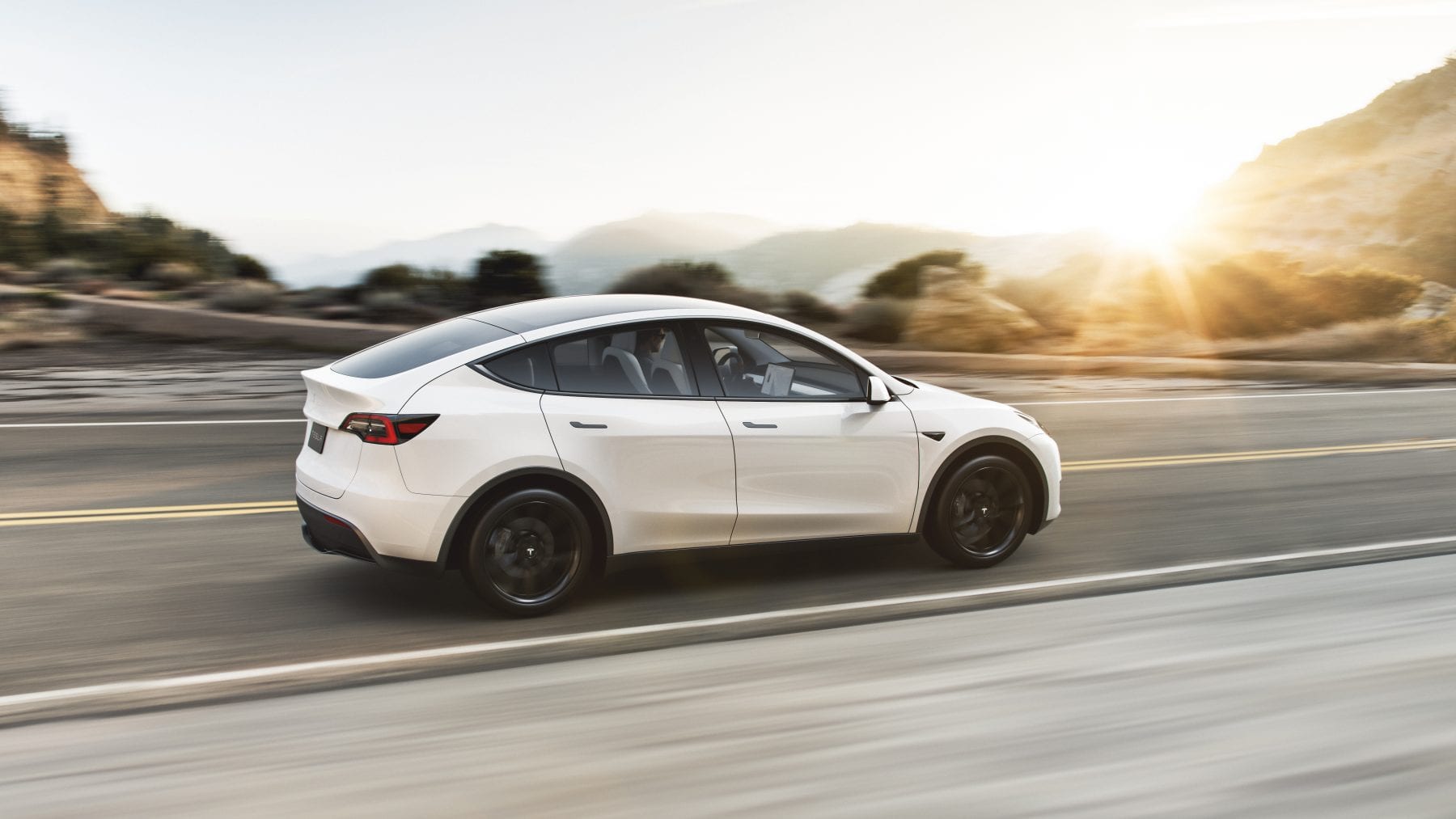 The Larger Family
So what happens if you have more than two kids or frequently just travel with a lot of people? Well, now your options have been limited.
If you are planning to buy at Tesla at this very moment you only have one choice. The Model X and Y are currently the only models that Tesla has with third-row seating. With the Model X, you can either have a 6-seat arrangement which makes the middle row have two captain chairs or a 7-seat arrangement that retains the bench seating in the middle row with two foldable seats in the back.
It should be noted that he Model Y does have a 7-seat option, however, it is not the most spacious. Given my kind of cramped experience sitting next to someone in a Model X's third-row, I do not know how spacious the third-row of a Model Y will be and at what age your children may outgrow them. Tesla does claim that 7 adults will fit in the Model Y but realistically they'd have to be on the smaller side.
Surprisingly the Model X and Y are not your only option. With the Plaid powertrain version of the Model S looking to launch later this year, Tesla thought it would be a good time to bring back their 5+2 seating that was available in the older Model S. This seating arrangement will have the standard 5-seats but with an additional two rear-facing seats in the back. You give up the entirety of your trunk space when you do this, but it is an option, and you always have the frunk. Musk has stated that they will update the design to accommodate larger passengers better than the original seats but we have yet to see them. We do not yet know if the rear-facing seats will be an option of other none-Plaid Model S.
Verdict: Need it now? Model X but leave the Model Y in consideration. Can wait? I guess you can consider the Model S. Model 3? Only if you are okay with stuffing people in the trunk (please don't).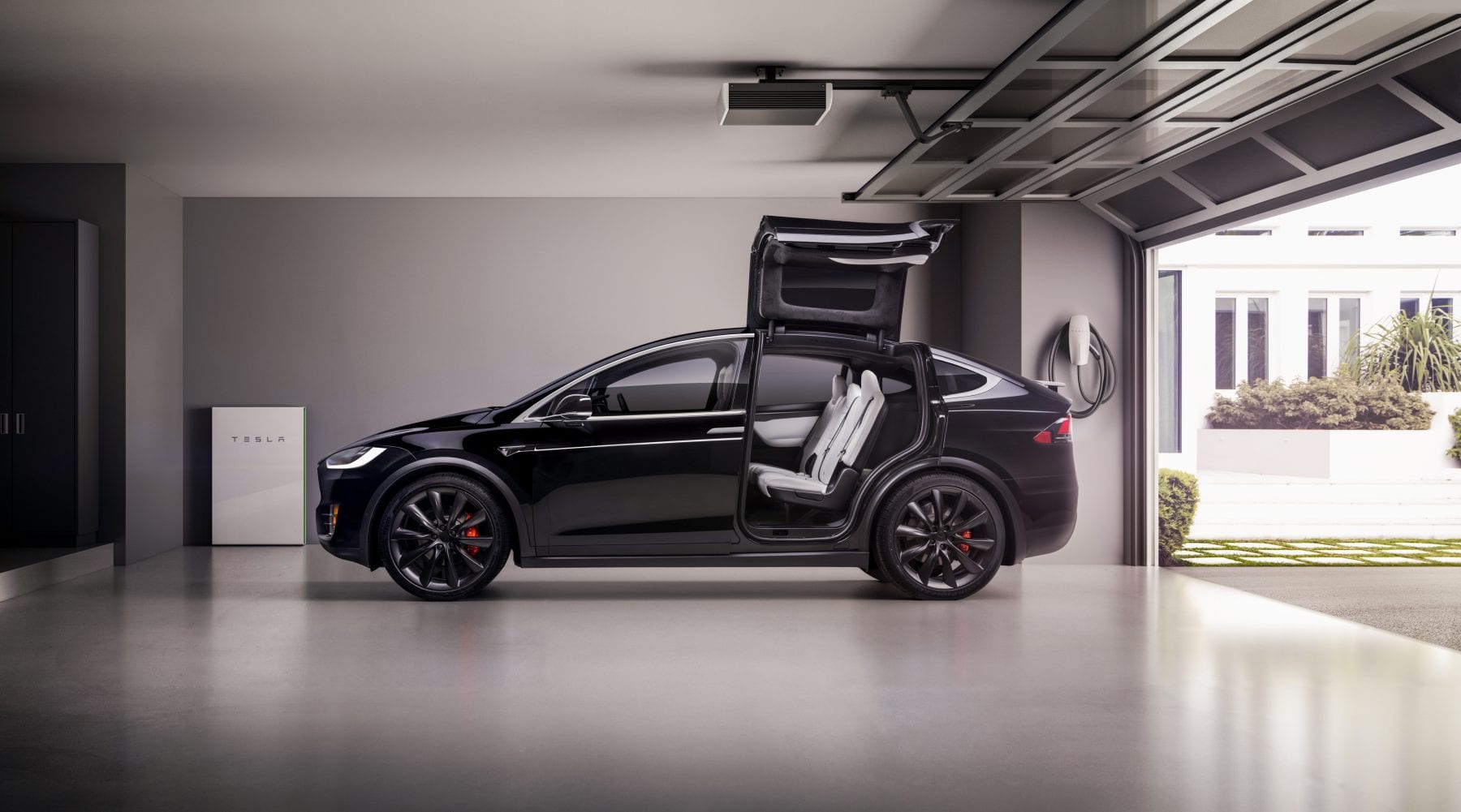 The Bargain Hunter
This is probably the most subjective section of an already pretty subjective list. In our opinion, the Model Y provides the best value of any currently available Tesla.
For most people, a range of 240 miles or more is already more than enough for most people's daily driving, so the extra range allowed by the Model S/X are not the biggest of pros given the extra cost. The materials used in the Model S/X interior are not particularly more robust than what can be found in the 3 or Y, again, at least not for the price difference.
The numbers speak for themselves and the Model S/X are making up a smaller proportion of sales as time goes on and people see more value in the 3 and now Y. The Model S and X are both great cars, but when it comes to value, Tesla has beaten itself.
That now leaves the 3 and Y. Given that the Y is largely the same car as the 3, but with just more room, it's easier to justify the Y because it provides a little more utility than the 3 does for a few extra thousand dollars. You do lose out on a micro amount of range but if we take it down to the price per cubic square foot, the Model Y is by far the best deal.
Verdict: Model Y.
The Businessman
Needing a car for work can range from needing it for travel, lugging around goods, or simply wanting to make an impression. Regardless of you scenario, Tesla will have a car for you.
The Model S is arguably the best looking Tesla. It'll certainly draw the attention of any potential clients and make you look like you mean serious business. It's built for comfort, so great for those long business trips. Getting some laptop work done while supercharging is easy in the S's spacious interior. But don't expect too many work breaks, the Model S is fit with a ludicrous 412 miles of range, and up to 520 miles in the Plaid+.
The Model X sacrifices some range for an even larger interior. But forget the $7,500 rebate other EV's offer, with the stated "hummer tax" you can save tens of thousands on a brand new Tesla Model X. In the right scenario, Tesla's most expensive vehicle could actually come out kinda affordable. I'm no accountant nor am I qualified to speak on the situation but if you have a business, ask your accountant about Tax Code 179.
The upcoming Tesla Cybertruck could potentially be the best of all worlds. A utility vehicle designed for labor-intensive work, a look that no one will forget, a spacious interior and range for comfort. We might just have to revise this verdict one day.
Verdict: While the Model S certainly strikes a pose, the Model X is comfortable for travel, great with storage, and comes with a nice tax break.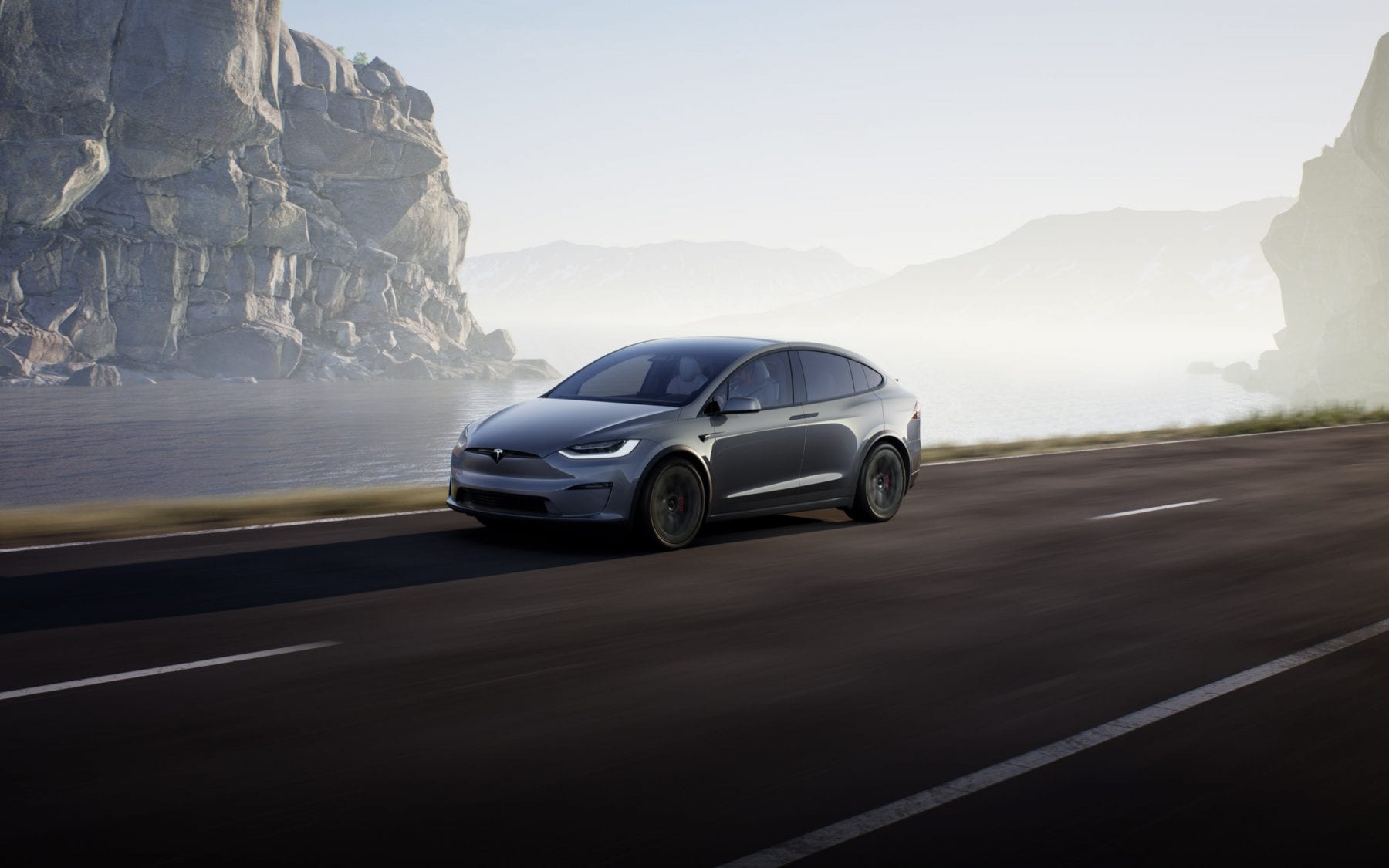 The Thrillseeker
Now to my favorite section, Performance. Each Tesla model compared has a performance version that will put cars many times your price weep in a race.
Make no mistake, whichever performance Tesla you get, you will smoke basically any other car in your class. But of course, not every one of these Tesla's will have the same driving dynamics as some will handle better than others. It would just make sense that something more compact like a Model 3 would take a corner better than a lumbering Model X.
Once again, if you have more than two kids and want to smoke some tire too, your choice is limited to the Model X Plaid. If you don't need the space and can make do with rear facing seats, the Plaid Model S is the most powerful Tesla made to date. But you probably shouldn't be tracking your car with your kids in the backseat.
If you are only interested in having drag races, then the Model S should be your choice as it has the fastest acceleration of the bunch with a 0-60 of 1.99 seconds and a quarter mile time of 9.23 at 155mph. With Tesla's newest launch control update incorporating a "Cheetah Stance," your Model S will be ready to pounce on essentially any stock. In fact, it's actually the fastest accelerating production car ever built.
For those that actually plan to take their Tesla onto the track, or maybe just want the Tesla that takes corners the best, the company has already pointed its finger at the car for you, the Performance Model 3. It is the only Tesla model compared that comes with a Track Mode, which focuses on providing optimum performance in a track scenario. However, it should be noted the Model S Plaid was created around the idea of running a track yet we don't yet know if a track mode will be made available.
Even then, the Model 3's small sedan body style lends itself well to better handling than the other models Tesla offers, at least until the Roadster comes out.
Verdict: Lots of kids/need space, need now? Performance Model X. Lots of kids/need space, can wait? Consider the Plaid Model S. Just need something for the straight line? Model S Plaid. Will take on track or sharp corners? Performance Model 3.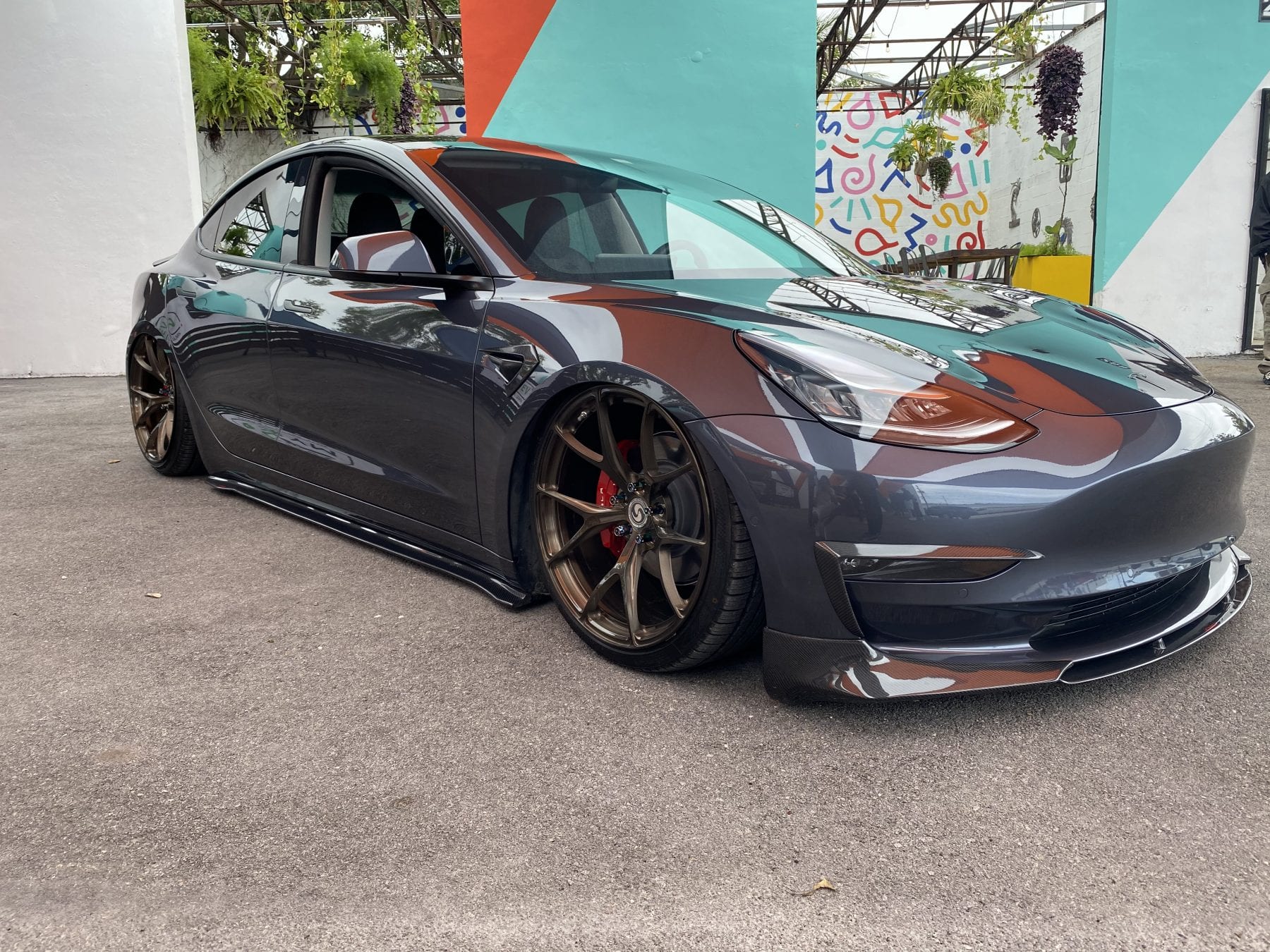 Autopilot vs. FSD
Electric cars are becoming mainstream with more and more automakers making plans to produce EVs. Tesla's most unique feature may no longer be that it's an electric car (although it is a very good electric car) but it may be its autonomous features which currently have no equal comparison.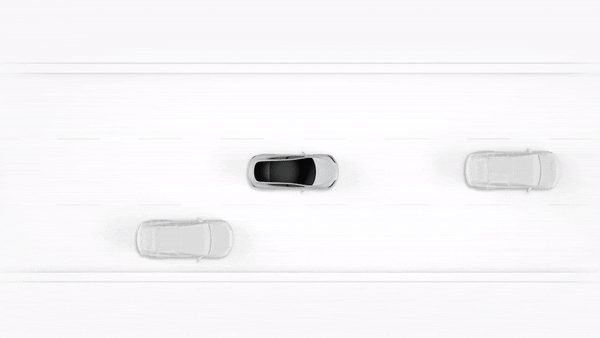 Tesla's autonomous features are split between two options, Autopilot and Full Self-Driving. While Autopilot used to be an option, it is now included on all new Tesla's free of charge.
Autopilot in its current form is an advanced adaptive cruise control system that can steer your car to keep it in its designated lane. It will slow down and speed up with traffic with no input needed from the driver. Before anyone asks, no, the Tesla does not drive itself (yet), it still requires constant supervision from the driver and will flash and beep at you to make sure that you are paying attention and keeping at least one hand on the wheel. It's a great feature for both long road trips and bumper to bumper traffic. However, this is the full extent of the Autopilot system, you will not be entitled to any additional features, should they come. Tesla Autopilot is simply cruise control of the future, something we are seeing other manufacturers jump on board with.
That leads us to the Full-Self Driving (FSD) Capability option that is available on every Tesla for sale today. The Tesla FSD upgrade has gone through a couple of price increases over the years and is currently at $10,000. Tesla FSD price increases will most likely continue to rise in the future. This is the option you want if you want to future proof your car and have as many autonomy features as possible at today's discounted price. At the time of writing, these are the features that are available:
Navigate on Autopilot: automatic driving from highway on-ramp to off-ramp including interchanges and overtaking slower cars.
Auto Lane Change: automatic lane changes while driving on the highway.
Autopark: both parallel and perpendicular spaces.
Summon: your parked car will come find you anywhere in a parking lot. Really.
Traffic Light and Stop Sign Control: assisted stops at traffic controlled intersections.
Tesla is actively working on refining its recognition and response to traffic lights and stop signs. Once that feature reaches an acceptable level, then it opens up the door for AutoSteer on city streets which will allow Tesla's autonomous technology to work on almost any road.
Again, no, your Tesla still is not able to drive itself even when you have the FSD option, but that is the plan. Buying the package today guarantees (according to Tesla) that your car will be able to drive itself in the near future. The company has plans to produce a robo-taxi fleet which will use owners cars in a self-driving rideshare program. While optimistic, if achieved the price of Tesla FSD today is drastically undervalued. Tesla claims every car they build today is full-self driving capable and the price will continuously move up as they near perfection. If you buy a Tesla with FSD today, it can one day be a nice side income.
I will not lie, while the features allotted with FSD are cool, they can still be very rough when first released to the public (hence why they are always beta versions). Both Navigate on Autopilot and Smart Summon were not the most functional upon their release and honestly, they are both still features that are not 100% there yet. Through data gathering from users, Tesla is able to constantly adapt and improve everything within their vehicles. Tesla's Full Self-Driving option follows the same rules as Autopilot, owners must maintain full awareness and be ready to take control at a moments notice. Eventually, the features will sway away from needing input but as of now, the whole program is in a makeshift beta program.
While it is recommended that you opt for Tesla FSD as it really sets the cars apart from basically every other car on the market, there is no doubt that you will get a lot of use out of just using the basic Autopilot system in your daily commute. $10,000 is a steep price to pay for minimal features but through Tesla's software updates, you'll see features drastically improve along with new ones added.
Regardless of whether or not your purchase FSD, your car will still have the cameras installed. You can unlock the features at any time (at an increased price) if you choose not to order it today.
What is the Average Tesla Lifespan?
A hard question to answer accurately, so let's take a look at the type of warranty that Tesla provides.
All new Teslas come with a fairly standard 4 year/50,000 mile limited warranty. The warranty for the battery and drive unit however vary depending on which car you have:
Model S and Model X – 8 years or 150,000 miles, whichever comes first, with minimum 70% retention of Battery capacity over the warranty period.
Model 3 and Model Y Standard or Standard Range Plus – 8 years or 100,000 miles, whichever comes first, with minimum 70% retention of Battery capacity over the warranty period.
Model 3 and Model Y Long Range or Performance – 8 years or 120,000 miles, whichever comes first, with minimum 70% retention of Battery capacity over the warranty period.
At the very least you can be assured that in the eight years that you own your Tesla (if you even decide to own it that long) that the battery will retain at least 70% of its charge. It is however very possible that you won't even get anywhere close to 70% of battery degradation, perhaps not even 80% in 150,000 miles. Several Tesla forum members have been collecting data from owners about their mileage and battery degradation and have set up a Google Doc that anyone can check.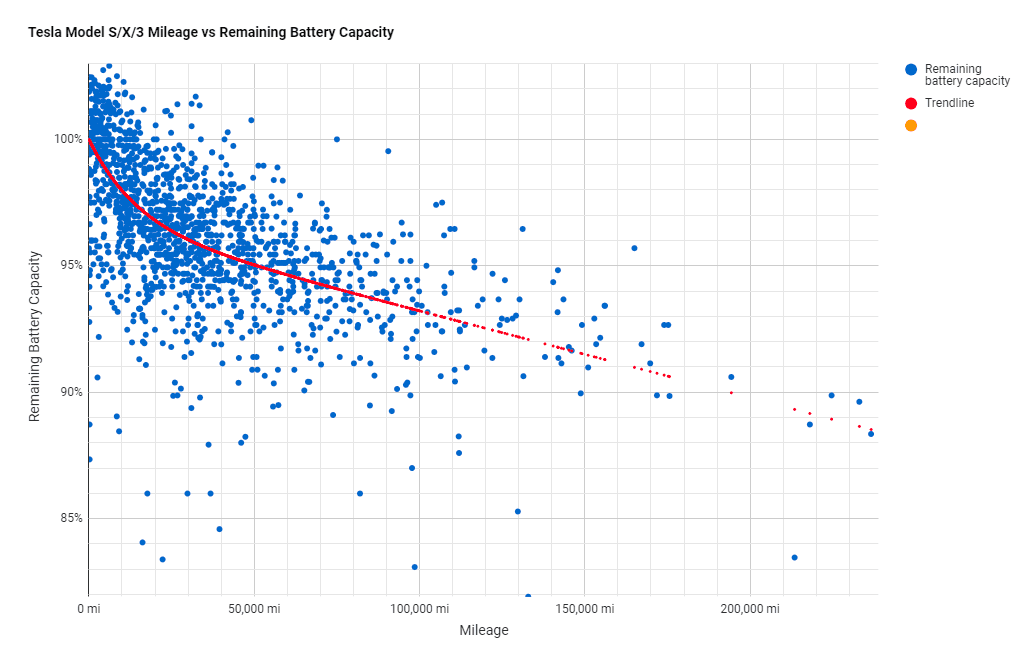 Based on that data found, it looks like battery degradation shouldn't be too much of a worry even at 100,000 miles. Of course, there are outliers, you can see that there were several owners who already had over 10% battery degradation before they reached 50,000 miles, but overall it seems like battery degradation shouldn't be too much of an issue.
Musk recently stated that the Model 3 (and presumably Model Y due to how many parts are shared) is designed to operate for a million miles and that the battery should last anywhere from 300,000 to 500,000 miles.
Model 3 drive unit & body is designed like a commercial truck for a million mile life. Current battery modules should last 300k to 500k miles (1500 cycles). Replacing modules (not pack) will only cost $5k to $7k.

— Elon Musk (@elonmusk) April 13, 2019
Considering the average car owner keeps their new vehicle for about six years, I doubt many owners will be driving 50,000 to 83,000 miles every single year for six years to completely deplete their battery.
In general, electric cars should be more reliable than their gasoline counterparts due to their significantly less complex powertrains with less moving parts, and a Tesla won't be an exception.
FAQ
What is the best Tesla?
Obviously there is no one correct answer, while all the models offered are great, the 'best' one will come down to your personal needs.
What is the most expensive Tesla?
Currently, the most expensive model offered by Tesla is the Performance Model X, which comes in at $99,990 but can go as high as $122,990.
What us the cheapest Tesla?
The cheapest Tesla on the online configurator is the Standard Range Plus Model 3, starting at $37,990. However, you are able to buy the regular Standard Range Model 3 over the phone or in-store which should cost a little over $35,000.
What is the fastest Tesla?
The Performance Model S is both the fastest in terms of both top speed and 0-60 mph time. The Performance Model S has a top speed of 163 miles and a 0-60 time of just 2.3 sec.
Which Tesla has 7 seats?
The Model X is currently the only Tesla available today with a 7-seat option. However the Model Y also has a 7-seat option, but it will not be available until 2021.
How many Tesla models are there?
Currently four: Model S, Model X, Model 3, and Model Y. There are three more planned: Semi, Roadster, Cybertruck
Do all Teslas have Autopilot?
All new Tesla's come with Autopilot standard, however if you want more advanced autonomy features then you will have to opt for the Full Self-Driving option which enables things such as Smart Summon and traffic light recognition.