While it is hard to disagree with the notion that electric car adoption will only be able to reach a peak once EVs get cheaper, it is still good to have a few expensive ones here and there for people to drool over, whether its design, tech, or performance. The Tesla Model S was the frontrunner for the best luxury electric car for many years and has recently seen competition from the Porsche Taycan and recently announced Lucid Air. While it looked like the Air was finally a car capable of beating the Model S in terms of specs, Tesla's recent Battery Day announcement gave us updated specs for the Model S Plaid+ which once again looks to be comfortable in its top spot (although not with as big of a lead as it has been used to).
The Taycan, Model S, and Air all look to provide the utmost best from each company in terms of technology and performance. None of the cars are within the average person's car price range, but all of them show the current capabilities of each automaker and bring electric cars into the public eye. Brand recognition (and EV recognition in this case) will help to drive the general public towards the existence of electric cars and their capabilities.
With all that being said, if you have $200,000 burning a hole in your pocket and are in the market for having the best of the best performance electric sedan, which one of the three current leaders should you get?
Design
Exterior
All three of the electric cars take on the same general shape of being rather long 4-door sedans with sweeping roofs.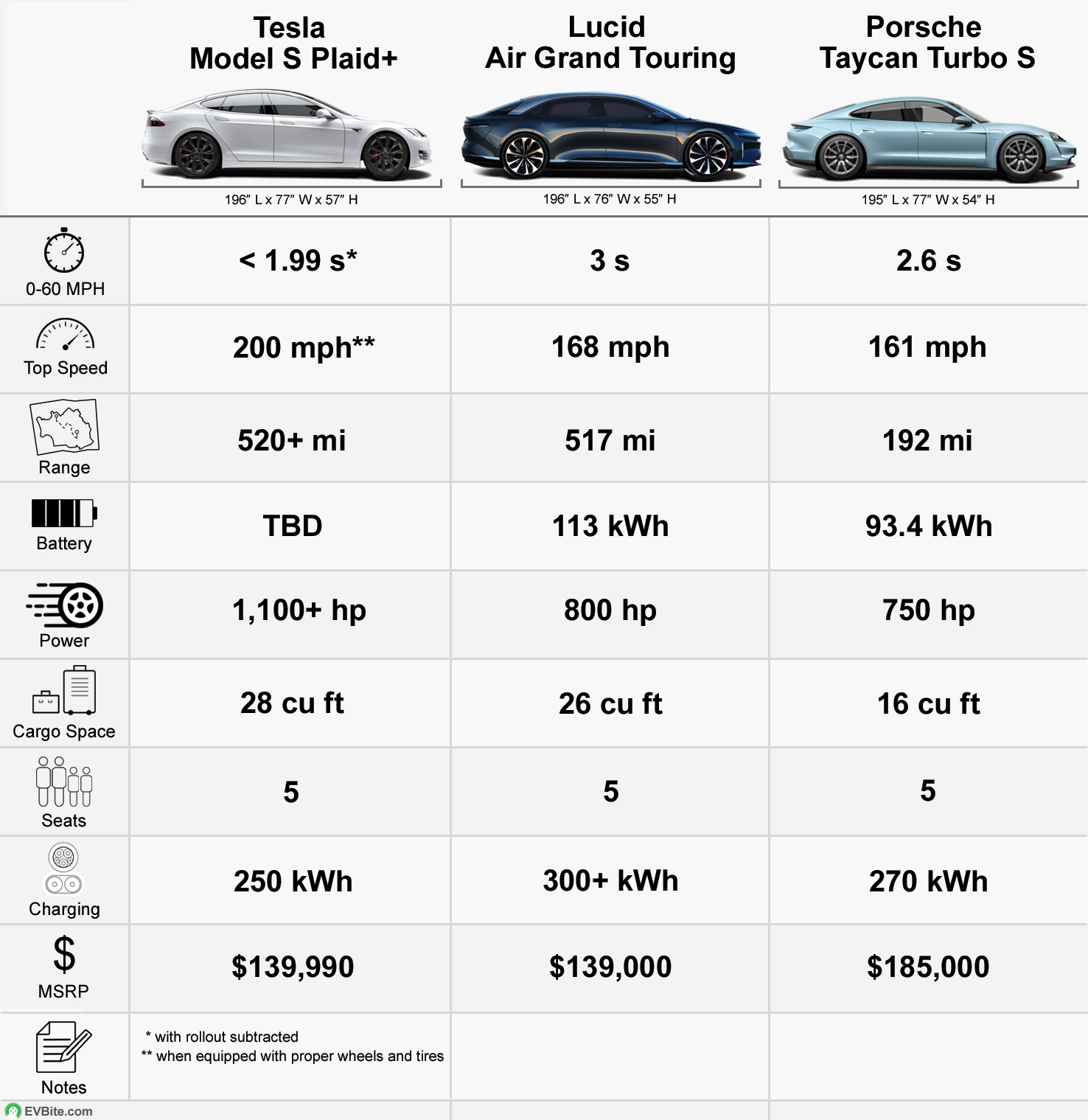 It is important to note that for the Model S Plaid+, we are still unsure about what the final exterior design will look like. While it will most certainly still maintain the same foundations as the current Model S, the prototype that we have been seeing drive around is equipped with a few aerodynamic pieces such as a large spoiler as well as wider fenders to accommodate wider tires. While the current configurator still displays the same Model S that we all know, it is unclear if it is just being used as a placeholder for the time being while Tesla is still figuring out what kind or if any exterior changes need to be made.
Exterior design of course all comes down to personal taste. Of the three cars we are looking at, I feel like the Taycan provides the most sporty look while the Air has a more futuristic atmosphere to it. The Model S design has been tried and tested for the past eight years with only a small facelift along the way. While some are still in love with the design, others might be finding it to be quite stale after all these years and are hoping that the Plaid+ version can spice it up a bit.
If having the most amount of factory customization is a big thing for you, then the Porsche Taycan is your car. One thing advantage many legacy automakers (or disadvantage if you like keeping things simple) over sprouting electric car companies are the large number of options are available to you straight from the factory. The current Taycan has about ten different exterior colors to choose from with the number increasing to 16 for the next model year. These colors feature an electric lime green and a "frozenberry" which almost looks like rose gold, colors that can help in individualizing the car for your specific tastes. On the flipside, both the Air Grand Touring and Model S feature only five different colors.
Factory customization might not be high on a lot of peoples' priority but if you've never configured a Taycan before, give a shot, and see how many options Porsche provides, you can choose things like if you want your side-view mirrors to match or even what color seatbelts you want.
Interior
Speaking of the interior, you can't really go wrong with either choice in this matter. Every car makes extensive use of leather, suede, and either wood or carbon fiber to wrap their interiors and provide a comfortable driving environment.
Along with the quality materials, you will find a large number of screens on the dashboard on any of the cars. It is funny to think of how ludicrous everyone though the Model S screen was when it came out, but fast forward to now and that screen is starting to get dwarfed by automakers putting 10 million screens all over the interior now. Regardless of which car you choose, I hope that you like fiddling with touchscreens because physical buttons have been kept to a minimum in every one of these cars.
A special note goes out to the Lucid Air which features an option for an Executive Seating package (which we do not know when will be out) that gets rid of the middle seat in exchange for two individual lounge seats. If rear passenger comfort is a top priority for you then I suggest waiting for Lucid to release the package. It is most likely that most rear passengers will not have any problems with the rear seats in either of these cars, but taller occupants may feel cramped for headroom due to the aggressive rooflines.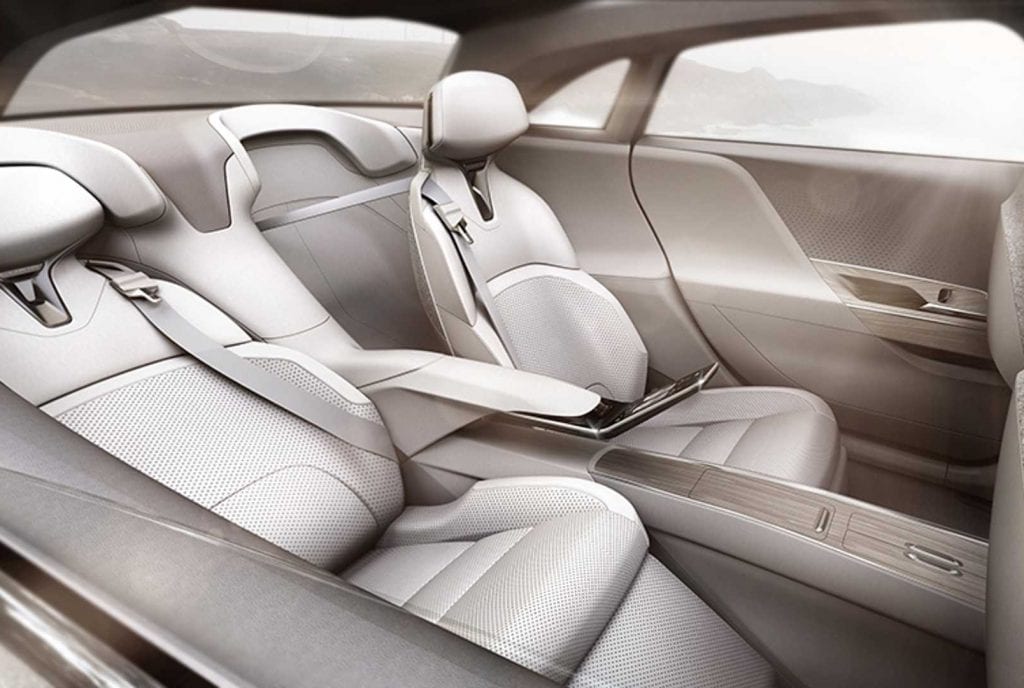 Performance
Here is where things start to heat up and unfortunately the Taycan Turbo S gets utterly blown out on paper.
| | Base Price | Range | 0-60 mph time | Top Speed |
| --- | --- | --- | --- | --- |
| Plaid+ Model S | $139,990 | 520+ miles | <2 sec. | 200 mph |
| Taycan Turbo S | $185,000 | 192 miles | 2.6 sec. | 161 mph |
| Air Grand Touring | $139,000 | 517 miles | 3.0 sec. | 168 mph |
Tesla Model S Plaid+ vs. Porsche Taycan Turbo S
Many have already done comparisons between the Taycan and Model S ad nauseam. The Porsche Taycan proved to be one of the first serious competitors to the Model S (if you overlook the range) and can be said to be partially responsible for bringing the Plaid+ version of the Model S to light thanks to Tesla's and Porsche's little back and forth at the Nurburgring.
While the regular Performance Model S already beat the Taycan Turbo S on basically every metric on paper, the planned specs for the Model S Plaid+ only widen the gap and makes you question even more about the existence of the Taycan. The Model S Plaid+ more than doubles up on the range, has an almost 40 mph top speed advantage, and gets to 60 mph in at least 0.6 seconds faster. All of that while coming in at a price tag that is about $45,000 less.
There are of course many things that are hard to quantify and put in a nice table to compare against. Porsche holds a very strong brand appeal due to its large catalog of legendary sports cars spanning over decades. Porsche has always made a point to have a high standard of driving dynamics and handling. Those types of things are hard to distill down to an easy to compare number. Most reviews due state that the Taycan is a joy to drive and despite the low range and despite the high price, Porsche is selling a healthy amount of them.
I am however not blind to the fact of how large a lead Tesla continues to build in its performance and how far short Porsche has fallen of expectations. If high range and the absolute fastest car is all that you care about, then there is no doubt that the Model S Plaid+ is your car. However, if you are looking to get a car from a brand that values building some of the greatest sports cars in history and can get by with rather poor range, then a Taycan test drive might not hurt.
Tesla Model S Plaid+ vs. Lucid Air Grand Touring
Now here we have a more evenly matched battle. For a few weeks we saw the Lucid Air as the next leader in many electric car metrics. And upon its planned release in mid-2021, it will be, but it will only be able to keep its crown for a few months before the Model S Plaid+ releases and once again regains its 'longest-range' title.
On paper once again the Model S Plaid+ comes out on top in all but the price (just couldn't shave off that last $990). The Model S Plaid+ holds a comfortable lead over the Air Grand Touring in both top speed and 0-60 mph time. And while the Model S Plaid+ does have higher range than the 517 miles provided by the Air Grand Touring, it doesn't hold the same triumphed lead in range that it has had all these years. While the Air won't be he longest-ranged electric car, they should be applauded for getting as close as they did to the Model S which probably will hold some of Tesla's most advanced powertrain technology.
With the specs being relatively close and the price being basically identical (the Air does still have access to the $7,500 tax credit which Tesla is no longer eligible for), it all comes down to personal tastes and feature preferences. A big selling point for the Tesla will no doubt be their Autopilot system and future ambitions of full-self driving which has been constantly improving as time went one. Lucid does have a competing system called DreamDrive which includes powerful LIDAR in its sensors, but Lucid claims that their system is limited to Level 3 autonomy, so it will not be able to match Tesla's system if they are able to reach full Level 5 autonomy.
Also if you have been keeping track of the constant Tesla software updates that continuously get pushed out, then you know how much of advantage Tesla has in terms of software over both cars and basically anything else on the road.
Availability
If you need a car now then you are basically forced to go with the Porsche Taycan as it is the only car mentioned here that is actually in production. While both the Lucid and Tesla are scheduled for mid-2021 and late-2021 respectively, anything can happen in that timespan that might set back the date. Lucid is currently building up their factory and any delay or production hiccup could set back the release date of the Air Grand Touring. The same goes for the Model S Plaid+, 'Elon Time' isn't a meme for no reason, the company seems to be better at setting their dates, but with the constant expansions going on, a delay of the Model S Plaid+ might end up happening (just look at the Semi and Roadster).
How do you guys feel about the cars? Which is your favorite? Is there another competitor coming that you think will compare nicely with these three? Let us know down in the comments below.