We have been waiting for the announcement of Tesla European Gigafactory (or Gigafactory 4, whatever is easier for you to say), for a few years now. While there has not been a strictly official announcement made by the company, Elon Musk has narrowed down the location enough where it might as well be an official announcement.
Tesla's most recent earnings report stated that the company would be accelerating their European Gigafactory efforts and would hopefully announce a finalized location in the next few quarters. There have been rumors for years now on where the final location will be and Musk himself stated a year ago that the new Tesla factory could be along the German-French border.

Germany is a leading choice for Europe. Perhaps on the German-French border makes sense, near the Benelux countries

— Elon Musk (@elonmusk) June 19, 2018
It seems that over the year, that target has moved westwards as during the 2019 Golden Steering Wheel award ceremony in Germany, Musk stated that Gigafactory 4 would be near Berlin and it's still under construction Berlin Brandenburg Airport.
While it's not an official announcement, it does give us a pretty good idea of Gigafactory's 4 final location.
Musk went on to twitter and stated that it "will build batteries, powertrains & vehicles, starting with Model Y". Forgoing the Model S/X and Model 3, meaning that European countries will still have to import those vehicles. However given how similar the Y and 3 are to one another, it shouldn't be too much of a hassle to add Model 3 production to the factory.

Will build batteries, powertrains & vehicles, starting with Model Y

— Elon Musk (@elonmusk) November 12, 2019
According to the table located in their latest earnings report, the European Gigafactory will eventually produce the Model 3.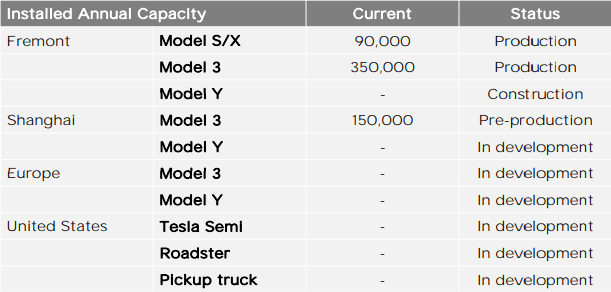 Final production capacity is not known nor if Musk meant that it will build the battery packs or the cells as well when he said that they will "build batteries".
With production slated to start at the end of 2021, we should expect an actual final location to be announced soon.
What do you guys think of the location? Let us know down in the comments below.
Source: Bild