The Tesla Q3 2019 Earnings Report was released yesterday to the shock of many analysts due to Tesla turning a rare profit for the quarter.
Tesla had announced revenue of $6.3 billion which was slightly under the expectations of most, but it reported a profit of $342M non-GAAP ($1.91 per share), which was much higher than expected as most were predicting a slight loss once again.
This is the third profitable quarter for the company in the past three years, the other two being Q3 and Q4 in 2018. However, Tesla is confident that this quarter will be the start of more common profitable quarters moving forward. Tesla wrote in the shareholder letter explaining its profitability:
Despite reductions in the average selling price (ASP) of Model 3 as global mix stabilizes, our gross margins have strengthened. Additionally, operating expenses are at the lowest level since Model 3 production started. As a result, we returned to GAAP profitability in Q3 while generating positive free cash flow. This was possible by removing substantial cost from our business.
The final count for production numbers were as follows with deliveries in parenthesis:
Model 3: 79,837 (79,703)
Model S/X: 16,318 (17,483)
Production and deliveries of the Model 3 have shown growth quarter over quarter. The Model S/X however, has continued to show a decline in the production and delivery when compared year over year but has increased or maintained numbers compared to previous quarters. It, however, was a record for the company with 96k total cars produced, just a few thousand short of the 100k milestone. With the Shanghai Gigafactory coming online, we will see if Tesla can break that milestone next quarter.
Aside from cars, Tesla has also been increasing its energy storage deployment along with Superchargers which now sit at 1,653 stations, an increase of 22% since last year.
Tesla was also happy to announce the increased pace that it had built the Shanghai Gigafactory at which has started trial production. The company also plans to find the location of their European Gigafactory soon with production starting there in 2021. The current split between factories looks like this.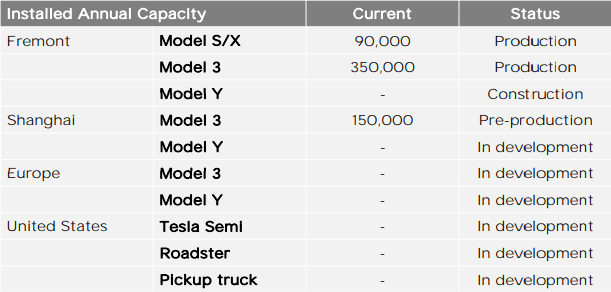 Tesla continues to touts how safe their autopilot is, stating that:
During Q3, we registered one accident for every 4.34 million miles driven in which drivers had Autopilot engaged. This compares to the national average of one accident for every 0.5 million miles based on NHTSA's most recent US data.
Looking Forward
Tesla sees this quarter as the start of profitability for the company, aside from expected seasonal fluctuations and product launches, the company expects to be profitable.
Vehicle Deliveries: Deliveries should increase sequentially and annually, with some expected fluctuations from seasonality. We are highly confident in exceeding 360,000 deliveries this year.
Cash Flow: Positive quarterly free cash flow going forward, with possible temporary exceptions, particularly around the launch and ramp of new products. We continue to believe our business has grown to the point of being self-funding.
Profitability: Positive GAAP net income going forward, with possible temporary exceptions, particularly around the launch and ramp of new products. Continuous volume growth, capacity expansion, and cash generation remain the main focus.
Product: Trial production of Model 3 in Shanghai has begun, ahead of schedule. We are also ahead of schedule to produce Model Y and now expect to launch by summer 2020. We are planning to produce limited volumes of Tesla Semi in 2020 and are hoping to announce soon the location of our European Gigafactory for production in 2021.
Tesla has a lot of product launches coming along with starting another major production project with its European Gigafactory. Given that caution that there will probably be unprofitable periods during product launches, there are still quite a few product launches and projects coming up (Model Y, Truck, Semi, Euro Gigafactory). So while last quarter will in no way be Tesla's last unprofitable quarter, we anticipate that the profitable ones will start to become more common.
Source: Tesla