Around the corner sits the electric Mustang Mach-E ready to come out from the shadows and take on the EV high king that is Tesla. With the highly anticipated electric vehicle currently in production and slated to begin deliveries starting next month, spectators are eagerly and impatiently waiting to see the competition that's bound to unfold. For months now we've seen Model Y vs Mach-E showdowns but past the surface level, the two are more similar than many want to believe.
Getting the obvious out of the way, both vehicles sit at the top of their class in the electric crossover segment. Pricing and specs are certainly all over the place but as it stands both are targeting the same customer base. Where the Mustang Mach-E falls in terms of performance and range, it excels at having a much more affordable price point, when accounting for that $7,500 tax credit which is no longer available to Tesla.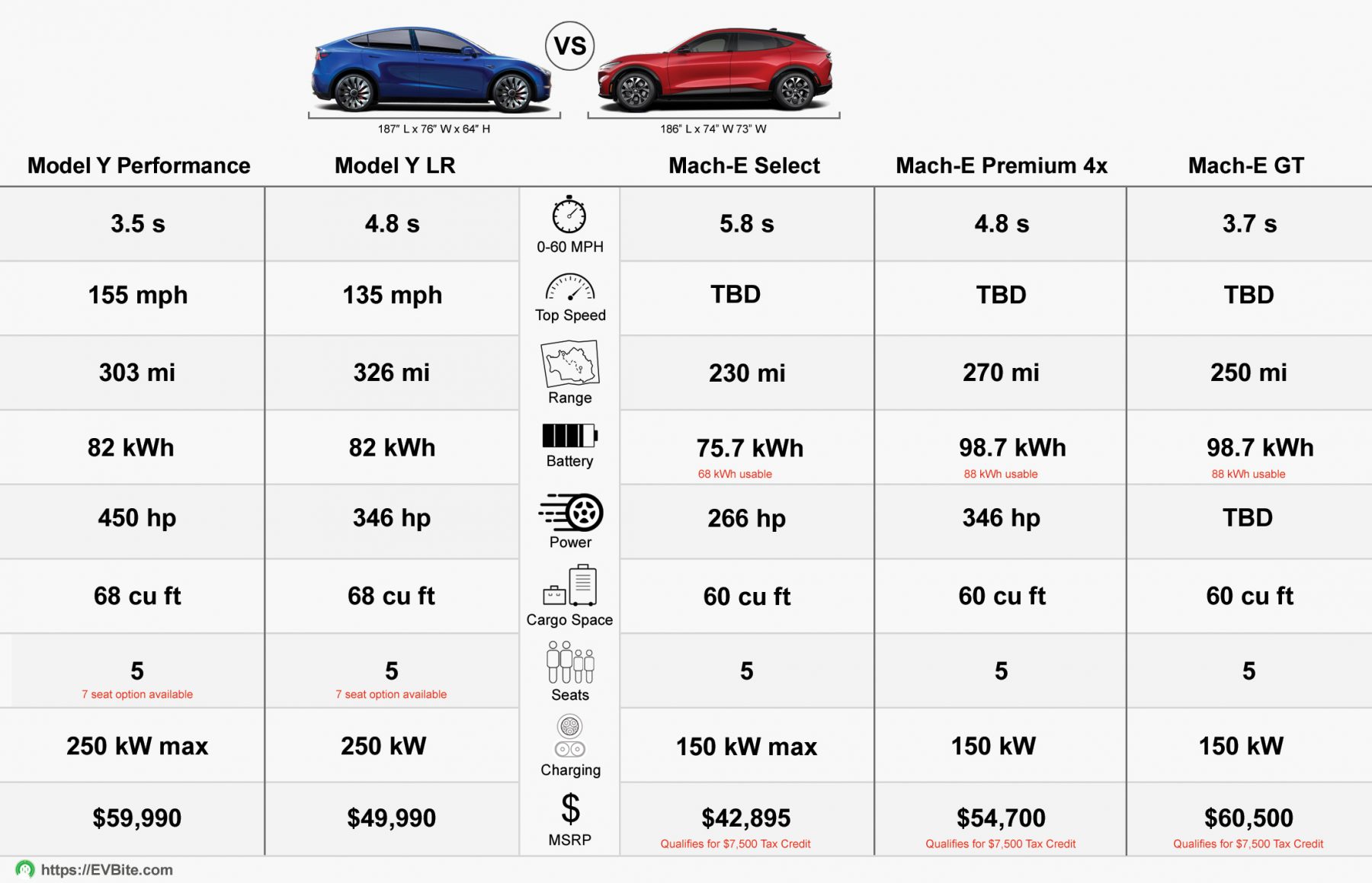 Most of us get caught up in the numbers but behind them lie an array of similarities between the two electric cars.
Design
Sticking with heritage, both the Tesla Model Y and Ford Mustang Mach-E are American cars. Aside from that, the two couldn't be any further away from one another in terms of strictly looks. The Mach-E features a rough and rowdy muscle car complex while the Model Y looks to garner the attention of minimalists with its modern and sleek curvature. However both target the same audience of electric crossover customers.
In the U.S, crossovers sit as the leading vehicle segment jam packed with competition scattered throughout each and every status class. These two however separate themselves from the rest by competing in the smaller sub category of electrification, a category that continues to rise year over year. It only makes sense that in this new era of electric vehicles, crossovers continue to stand out. Simply due to its class, the Tesla Model Y is expected to be the best selling vehicle from the company.
"We expect the demand for Model Y will be maybe 50 percent higher than Model 3, could be even double… As I understand it, the midsize SUV segment worldwide is the most popular type of vehicle, so we'll probably see a higher volume of Y than 3." – Elon Musk
With the Mustang Mach-E being labeled as Ford's flagship electric vehicle, one could assume a similar path for the vehicle. However, until EV's begin to outsell their ICE counterparts, it could be a while before we see the Mach-E at the top of Ford's internal leaderboards.
Technology
Like most next generation vehicles, both the Mustang Mach-E and Tesla Model Y have a similar tech oriented approach. As we push towards this "do less, have more" entitled future, technology is the primary focus under the limelight. Tesla has proven to the world that over-the-air software updates simply work, and consumers demand it.
With OTA, Tesla has been able to continuously improve their vehicles in terms of performance, range, and even additions. The company is able to take feedback and suggestions from yesterdays customers to keep them content with the brand. Ford is looking to take a similar approach. While only time will tell what the company does with this power, the Ford Mustang Mach-E is suited with over-the-air update compatibility. The first major Ford update has already been announced with the addition of hands-free driving coming early next year.
Unlike other cars roaming the roads, both of these EV's are fit with interfaces and displays in line with todays standards. Both high definition large screen touch screen displays are used to control the entirety of their respective vehicles giving us a glimpse into the buttonless future.
Autonomy
In this decade you can't talk about technology without speaking on autonomous driving. The race to robotaxi is at play with every automaker and tech company gunning to be first. With the stated OTA updates, Tesla has been able to continuously improve their autonomous features adding things like red light recognition and other stepping stones towards attaining full self-driving cars. The company claims that every vehicle being built will be capable of driving itself in the future through nothing more than software updates.
The Mustang Mach-E's approach to autonomy comes at a more basic level. With above standard adaptive cruise controls and upcoming hands-free driving capabilities, they sit above most but below the EV giant. However, up Ford's sleeve is a few self-driving projects unrelated to the Mustang Mach-E. With their 40% stake in Argo AI, their own path to fully autonomous vehicles is well underway.
Sales Process
One thing Tesla's early adopters will continue to argue as being the best in the game is Tesla's ability to ignore industry standards and pave a new, better, path to purchase. No haggling, no pushy sales staff, no waiting, and minimal physical paperwork. Creating a fully digital approach has forever changed the industry as we know it. Ford has taken note and created their own online buyers route for the Mustang Mach-E. Arguably more advanced, just like Tesla, Ford customers will be able to make their purchase, pay for their purchase, sign documents, get financing, ect. In addition they'll be able to add insurance, get trade-in quotes, and opt for home delivery all from a web interface in the comfort of their home, pants not required. Of course Ford still holds the common dealership route for those stuck with tradition, but this new option marks a first for automakers outside of Tesla.
---
For years now we've followed Tesla break barriers and prove the consumer demand for both EV's and tech focused vehicles. Along us were the automakers, some taking more notes than others. The Mustang Mach-E isn't just another available EV, it's one looking to eventually dethrone Tesla.