Tesla has started deliveries of the much anticipated Model Y electric crossover. This time however the Model Y is not entering into its intended market first. While the Model S and X had the benefit of being basically the only luxury electric car options of their kind, the Model Y is entering an electric crossover market that already has some cars occupying the space, with many more planning to join the fray. Let's take a look at some of the Tesla Model Y competitors.
In the U.S., crossovers are actually the leading vehicle segment. They make up 40% of all passenger cars sold. Some even speculate this number will rise to 50% this year. This single reason is why the majority of those entering the electric car market choose to do so with a crossover. While many EV enthusiasts would like more electric sports cars or electric trucks, they'll have to wait a few more years as manufacturers cater to popular demand.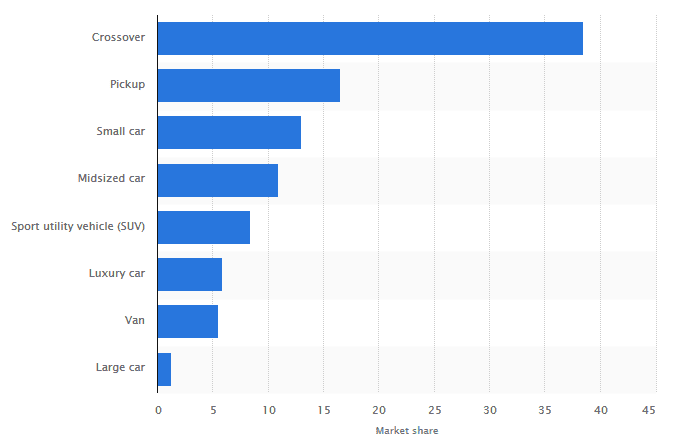 So why didn't Tesla start with an electric crossover? The Model S and Model X were classified as luxury vehicles rather than mass-produced ones when Tesla first started off as a smaller manufacturer. They then used their popularity and funds from those luxury cars to create the Model 3, the car some claim to be Tesla's first mass-produced vehicle. But the Model 3 is a small sedan and could have instead easily have been a crossover and in return, it would have received a larger customer base and more sales. Sure, small cars do better overseas but Tesla is U.S. based and California alone accounts for nearly 50% of all Model 3 sales. I'd like to think that Tesla used the Model 3 production ramp to work out the kinks before making their actual entry into the mass market. The Tesla Model Y is expected to be Tesla's best-selling vehicle, with Musk anticipating an annual demand of 1 million Model Y's.
So Tesla is late to this crossover game by a few years now. Their first electric crossover will not hit the roads until after the company's 17 year anniversary. Meanwhile, others like the Hyundai Kona Electric have been around since 2018. Before taking a dive into these Tesla Model Y competitors, let us take a look at the stated Model Y specs so we have an understanding of how it will hold up in the tight space.
---
Tesla Model Y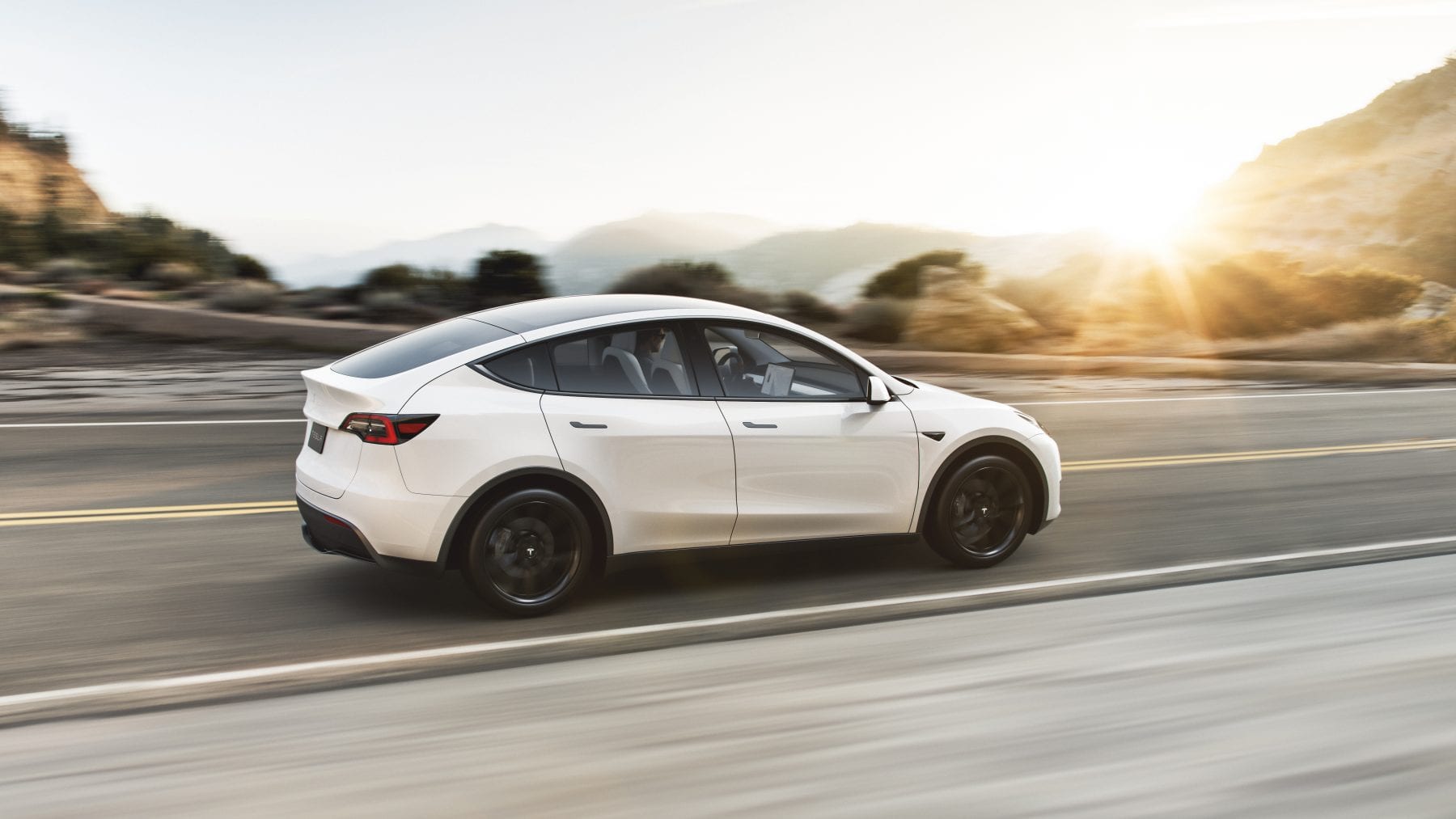 While the launch of Tesla Model Y was initially expected to start around the end of 2020, Tesla expedited the process and we now have Model Y's hitting the streets as we speak, giving us a much earlier look at the new electric crossover. As you have already seen, the Model Y shares a lot with the Model 3, around 70% of the same parts to be exact. In fact, the Tesla Model 3 Performance vs Tesla Model Y Performance is a comparison we've already done. While pictures don't show too much of a size difference between the two, a look at the measurements given by the owner's manual does show that there is an appreciable difference in size between the two.
Currently, there is both a Long Range version and Performance version of the Model Y, starting at $49,990 and $59,990 respectively. Upon the unveiling, a Standard Range version was also announced that would start at $39,000, but it was not planned to launch until 2021 and actually has been canceled as a whole. In its place will be a RWD version of the Model Y which will use the same battery as the Long Range Model Y and will be the cheapest variant of the Model Y. The reasoning given was that Tesla could not get an "acceptable" range of more than 250 miles from the Standard Range and so they scrapped it, plus it saves on them having to have two separate batteries. No pricing has been given, and range is said to be over 300 miles.
The breakdown between the variants is as follows (keep in mind that the Standard Range is no longer being produced):
| | Standard Range | Long Range | Performance |
| --- | --- | --- | --- |
| Price | $39,000 (est.) | $49,990 | $59,990 |
| Range | 230 miles (est.) | 326 miles | 303 miles |
| Top Speed | 120 mph (est.) | 135 mph | 155 mph |
| 0-60 mph Time | 5.9 sec. (est.) | 4.8 sec. | 3.5 sec. |
All of the versions feature 68 cubic ft of cargo space and even have an option to have seven seats placed, although if you decide to go with the seven-seat configuration then you will have to wait until 2021 to receive your car.
The motors, batteries, and most parts will be taken directly from the Model 3 so the Y will also be able to take advantage of the 250 kW charge rate provided by Tesla's Supercharger network. The network currently holds about 16,500 chargers with their new V3 chargers starting to now roll out.

Overall, the Model Y seems to be a good choice for someone who wants to have more space than what's provided by the Model 3 and similarly sized vehicles but doesn't want to commit to the size or price of a Model X.
---
Ford Mustang Mach-E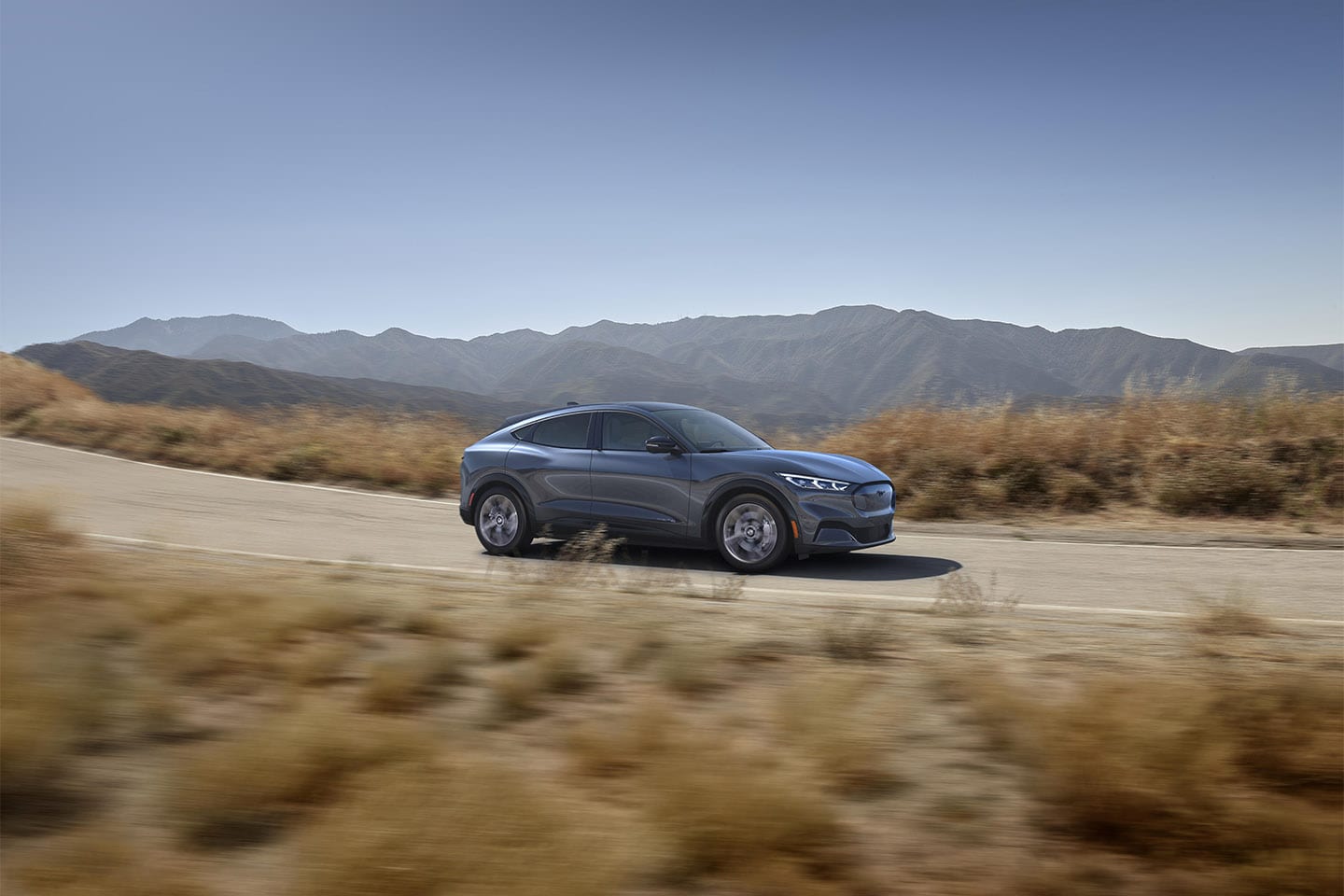 Ford certainly made a splash when they announced their first battery-electric car of this generation would use their storied "Mustang" moniker and would be an electric crossover. Some found the move too sacrilegious, while others found the decision to be indicative of Ford's intentions to charge headfirst into electrification. One thing was for sure, we would have a good ol' Ford vs Tesla fight on our hands when both cars make their way onto the streets.
The Mustang Mach-E carries over the aggressive stylings of its Mustang coupe counterparts while molding it into the shape of a sloped-roofline crossover. For those looking for a good electric crossover alternative to the Model Y, the Mach E might be the car for you, and Tesla's closest competitor.
Like the Model Y, the Mach-E will come in a multitude of different variants, all with different price, range, and delivery dates.
Select
Premium
First Edition
California Route 1
GT
Price (Starting)
$43,895
$50,600
$59,900 (Sold Out)
$52,400
$60,500
Battery
(SR): 75.7 kWh
(SR): 75.7 kWh
(ER): 98.8 kWh
(ER): 98.8 kWh
(ER): 98.8 kWh
(ER): 98.8 kWh
Range
SR RWD: 230 miles
SR AWD: 210 miles
SR RWD: 230 miles
SR AWD: 210 miles
ER RWD: 300 miles
ER AWD: 270 miles
ER AWD: 270 miles
ER RWD: 300 miles
ER AWD: 235 miles
Power
255 hp
SR AWD & RWD: 255hp
ER RWD: 282 hp
ER AWD: 332 hp
332hp
282 hp
459 hp
0-60 mph Time
SR RWD: low 6 sec.
SR AWD: mid 5 sec.
SR RWD: low 6 sec.
ER RWD: mid 6 sec.
SR & ER AWD: mid 5 sec.
mid 5 sec.
mid 6 sec.
mid 3 sec.
Top Speed
111 mph
111 mph
111 mph
111 mph
124 mph
Charge Rate
115 kW
150 kW
150 kW
150 kW
150 kW
Availability
Early 2021
Late 2020
Late 2020
Early 2021
Spring 2021
Keep in mind that many of the specs listed above are "targeted specs" for the different versions of the Mustang Mach E, so do expect the numbers to vary slightly upon the actual release of the car.
On paper, it looks like the Mustang Mach E loses in every category to the Tesla Model Y. The most comparable version of the Mach E to the Long Range Model Y is the Premium Extended Range AWD model which costs about $5,000 more than the Model Y while being slower, having lower range, and charging slower.
However, Ford is still eligible for the full $7,500 EV tax rebate which significantly helps even out the price of the Mach E and can actually make it cheaper than a Model Y. Sure, 270 miles is less than 316 miles, but not by much when talking about typical daily driving. While it is slower, I doubt many people will feel the difference between 4.8 seconds of the Model Y and the "mid 5 seconds" that Ford is targeting.
Both offer comparable cargo space with the Model Y offering 68 cubic ft. while the Mach E offers 59.6 cubic ft. with the front seats down, and an additional 4.8 in the frunk.
At the end of the day, the Mustang Mach E looks more like a regular car, which for some people who don't want to deal with Tesla's spartan and minimalistic interior is a great benefit.
At this point, the greatest detriment to the Mustang Mach E success might be dealing with the traditional dealership network. If traditional dealers are not educated or not motivated enough to sell electric cars, then no matter how good the Mach E might be, it won't stand too much of a chance as a Tesla Model Y competitor.
---
Hyundai Kona Electric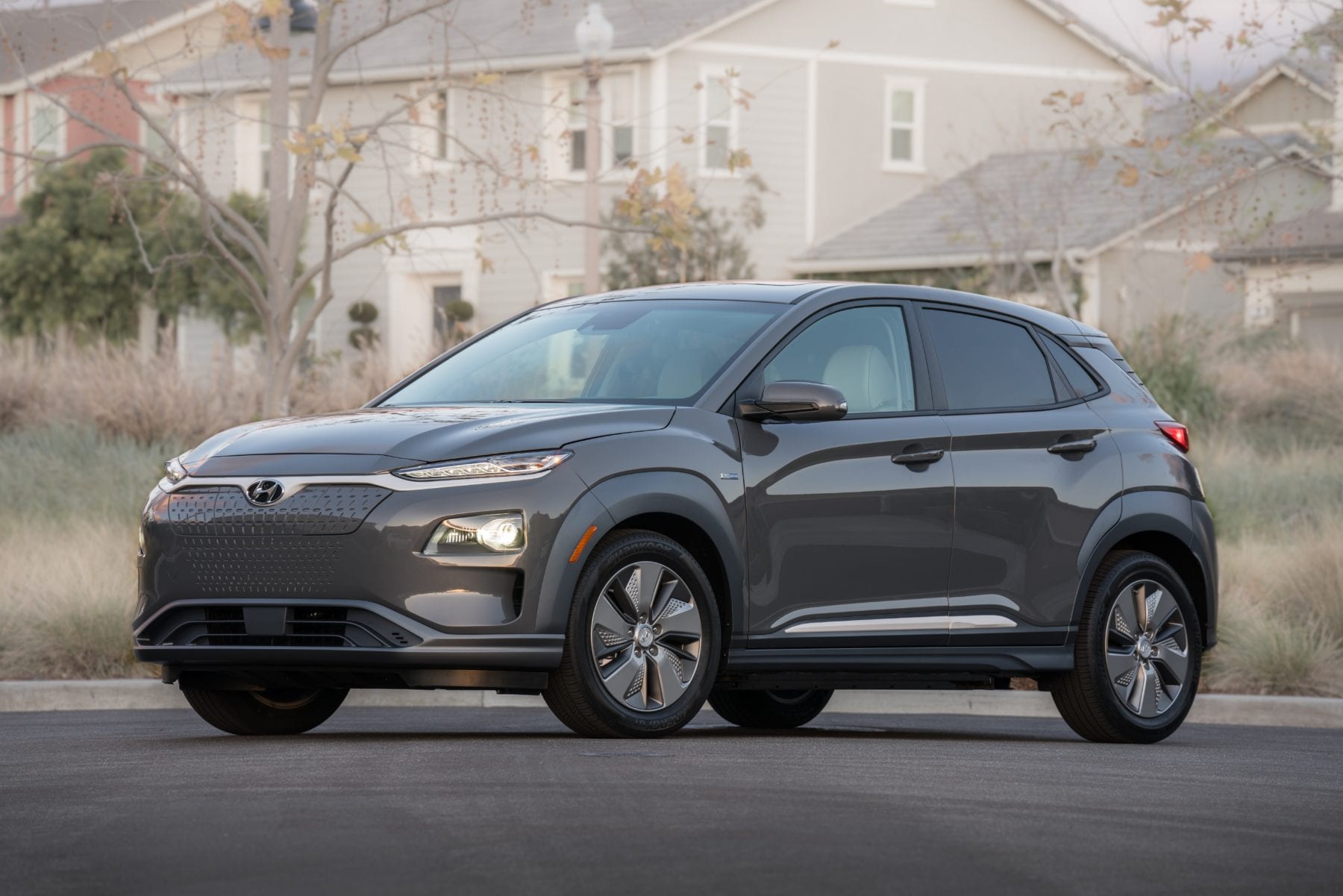 The Hyundai Kona Electric can be said to be the most comparable to the Model Y currently and its closest competitor. The problem is that both Kia and Hyundai have major problems with making an adequate amount of their electric cars, and even when they do, most of them are directed towards Europe rather than North America, so good luck finding one.
However, if you do manage to end up finding the 2019 North American Utility Vehicle of the Year, you'll find yourself a pretty good deal. With a starting price of just $37,190, its 64 kWh battery is able to propel you 258 miles, making it the highest ranged non-Tesla vehicle on the market today. Additionally, the Kona Electric is still eligible for a $7,500 tax credit, so you can lower that price down even more.
| Price | $37,190 |
| --- | --- |
| Battery | 64 kWh |
| Range | 258 miles |
| Power | 201 hp |
| 0-60 mph Time | 7.4 sec. |
| Top Speed | 104 mph |
| Charge Rate | 80 kW |
There are of course some tradeoffs. The Kona Electric is not the most luxurious car on this list and it only has about 45.8 cubic ft. of space with its seats folded down, making it significantly less spacious than the Model Y or Mustang Mach E. However, I feel like it has enough space for most people and provides a substantial amount of range for not that much money.
Now if only you could find one.
---
Jaguar I-Pace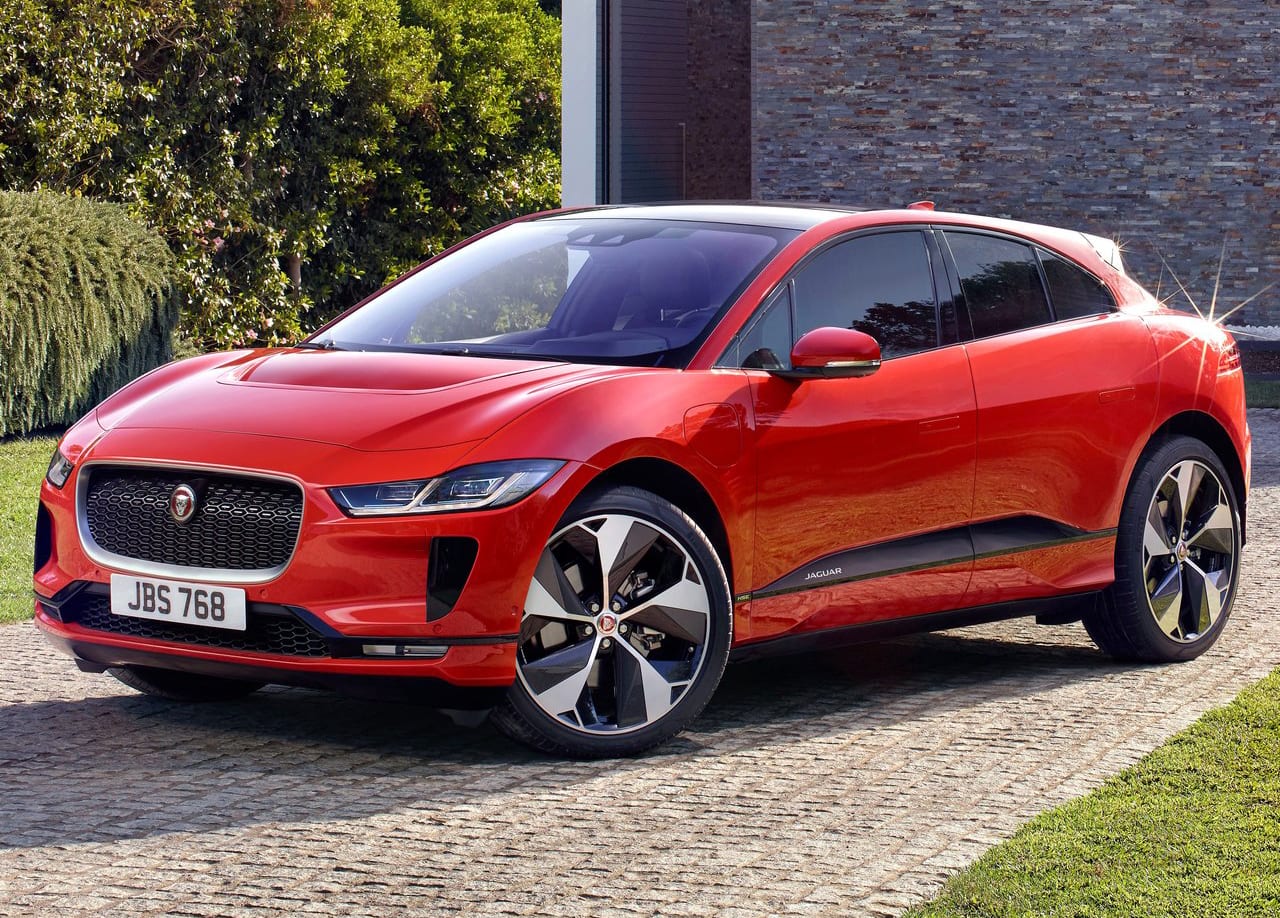 Another award-winning car on this list, the Jaguar I-Pace was named the 2019 World Car of the Year, 2019 Green Car of the Year, and 2019 European Car of the Year. Quite a resume for one of the first "Tesla Killers" to hit the market.
Upon release, Jaguar pitted the I-Pace against the Tesla Model X (and continue to do so), but we always felt that its size lent itself more to being a future Tesla Model Y competitor. In fact, the Model Y is even larger than the I-Pace when looking at the dimensions.
| Price | $69,850 |
| --- | --- |
| Battery | 90 kWh |
| Range | 234 miles |
| Power | 394 hp |
| 0-60 mph Time | 4.5 sec. |
| Top Speed | 124 mph |
| Charge Rate | 100 kW |
It's true that the I-Pace is pretty far away from the ~$53,000 starting price of the Model Y, but after accounting for the $7,500 tax credit the I-Pace is eligible for, the price almost falls in line with a Performance version of the Model Y or a Long Range with upgraded wheels and full self-driving.
The cargo space with the rear seats folded is about 51 cubic ft. in the I-Pace making it less than both the Model Y and Mustang Mach E, but more than the Kona Electric.
While I doubt there will be many buyers making the choice between the two, there might be a couple of people who want a more luxurious electric car in the size of the Model Y, in which case that is where the Jaguar I-Pace comes in.
The biggest hurdle someone will have to face, other than the price, will be the much lower range that the I-Pace offers. With only a 234 mile range, it might be hard for some people to stomach the high price.
---
The Rest
The following electric crossovers are ones that might be a stretch to call true Tesla Model Y alternatives/competitors or we simply do not have enough information about them to make any meaningful comparisons at this point.
Kia Soul EV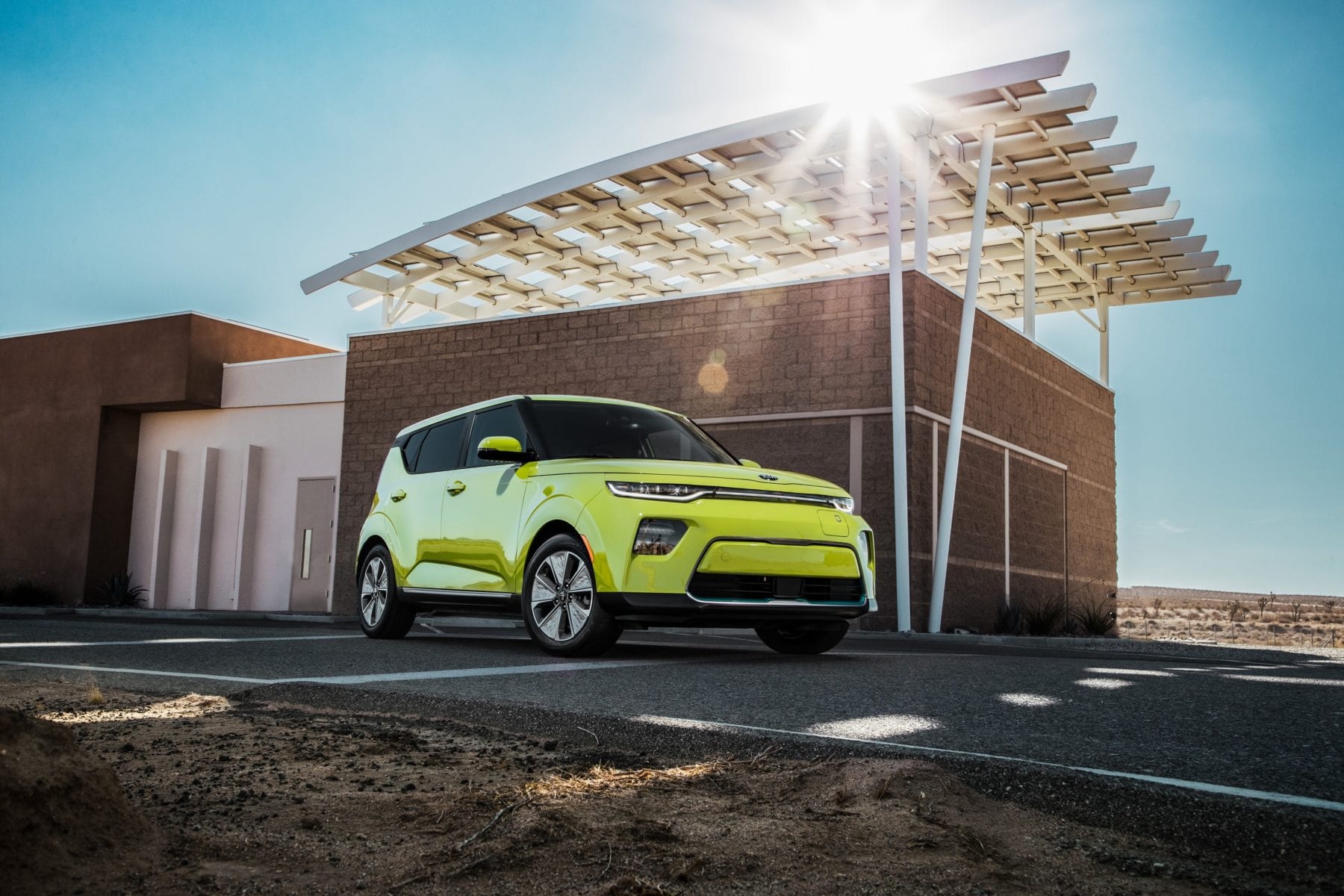 The original Kia Soul EV came out way back in 2014 with a mediocre range 93 miles. Albeit, standard at the time but lackluster in today's market. Kia was one of the first to actually market their electric vehicles rather than treat it as the compliance car it was.
Thankfully a new Kia Soul EV received a much-needed refresh in 2019 with a 64 kWh battery and 243 mile range. The charger is rated at 100 kW but if history repeats itself, it will be software limited to 70 kW. That's nowhere near Tesla's charge speeds but much higher than others in the field. Its new estimated base price is near $35,000 but its availability is set for just a handful of states. You'll have to visit CA, CT, GA, HI, MD, NJ, NY, OR, RI, TX, VT, or WA if you want to purchase a Kia Soul EV.
However, it might be a while before the new Kia Soul EV will make its way to North American Shores as Kia is prioritizing sending cars over to Europe where the emission standards are tougher. As a result, we might not see the Soul EV until 2022.
While many find the design of the Kia Soul to be a bit too much in terms of style, Kia has sold over 1 million of these vehicles. Electrifying such a popular vehicle is sure to bring traction towards the overall electric car market.
Mercedes EQA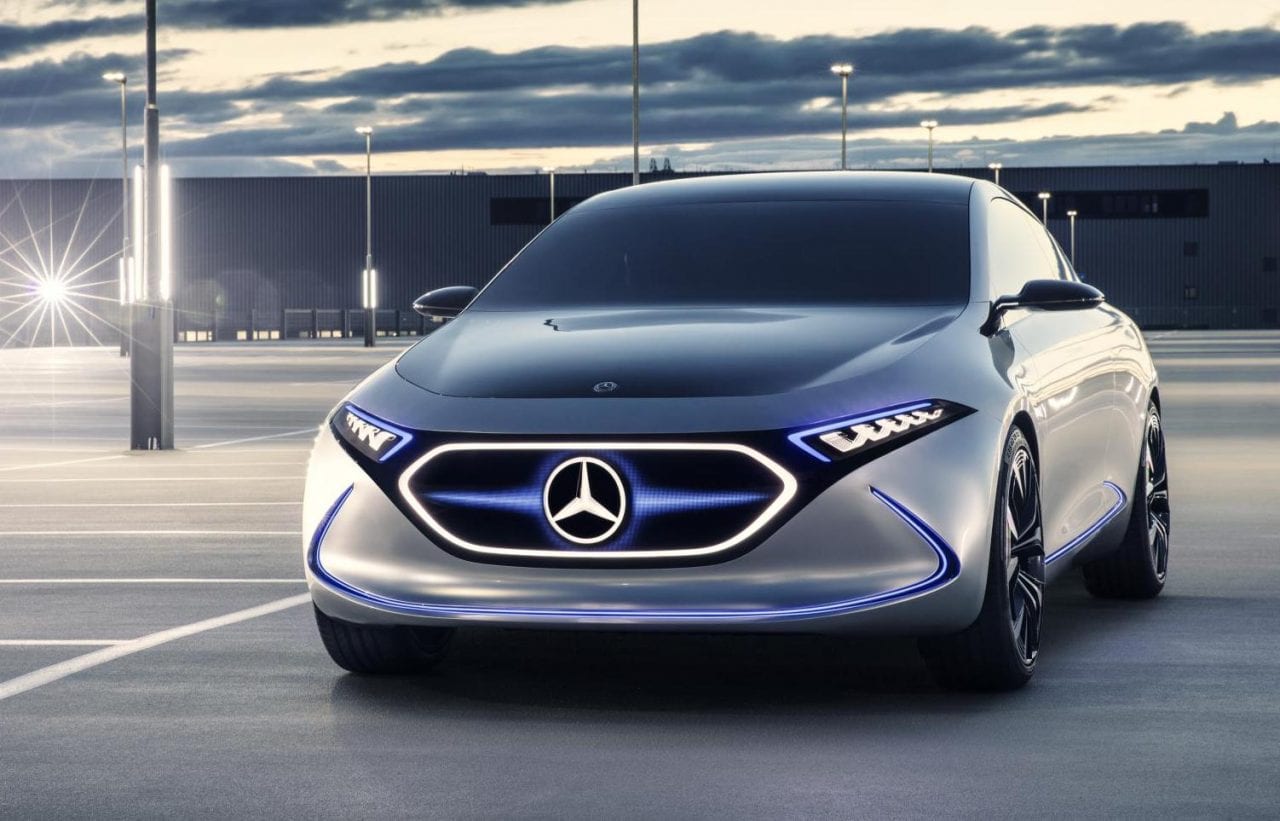 The Mercedes EQC is basically already here but the less talked about EQA is just around the corner. This electric crossover could be a closer competitor to the Model Y than the others as it also rests in the luxury segment. We will just have to wait for more information and specs to be released on the EQA.
Audi Q4 e-tron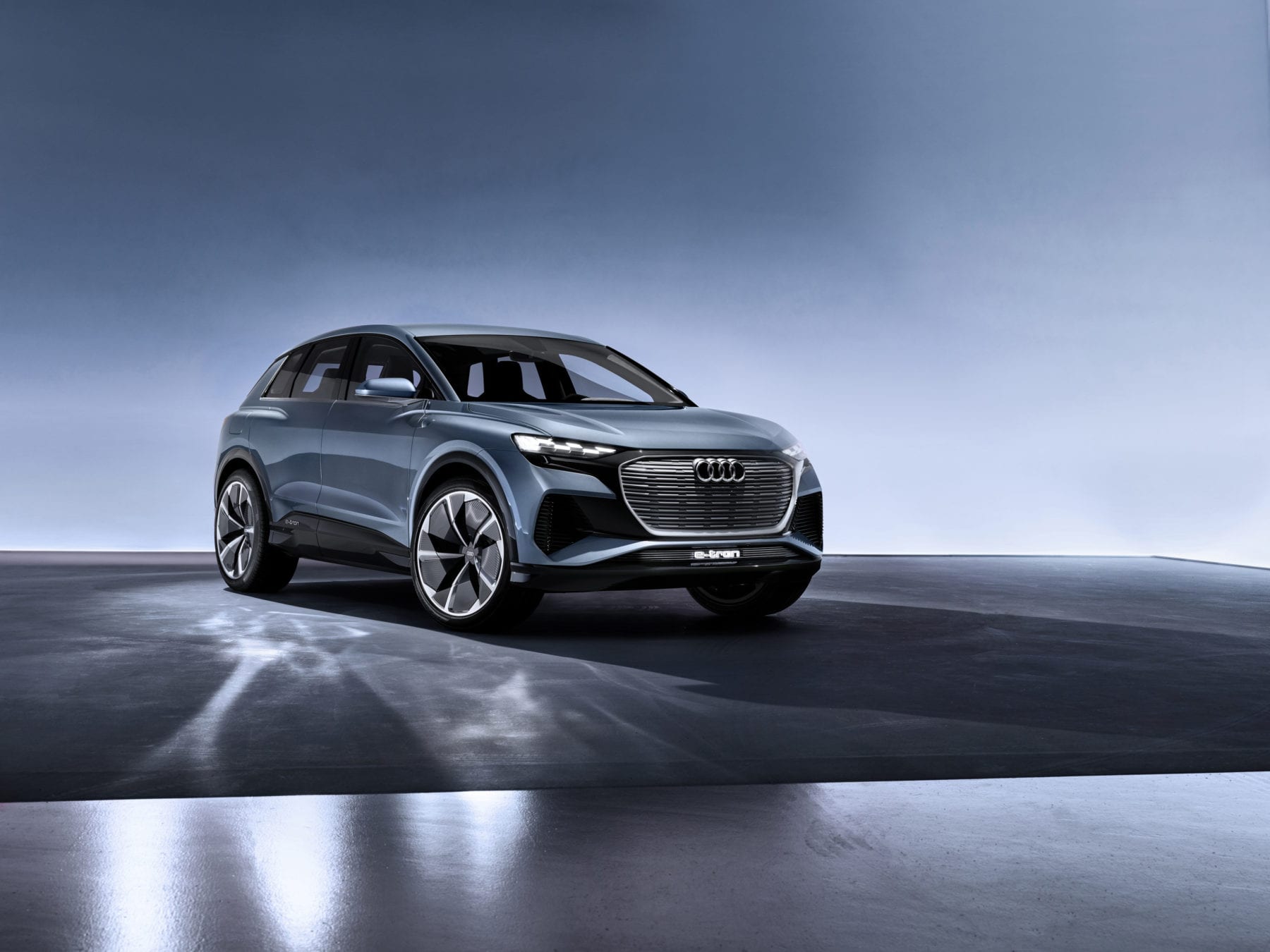 Like the EQA, we have not seen the Audi Q4 e-tron in production-ready form. The electric small SUV might end up being a tad bit too big as a Tesla Model Y competitor, but until we see the full production model it will be too early to tell. As of the time of this writing, the concept features dual motors making about 300 hp and propelling the car to 60 mph in 6.3 seconds with a top speed of 112 miles. An 82 kWh battery allows the Q4 e-tron to have a range of about 280 miles.
We expect the Q4 e-tron to start going on sale around 2021, adding another luxury alternative to the Model Y.
Porsche Taycan Cross Turismo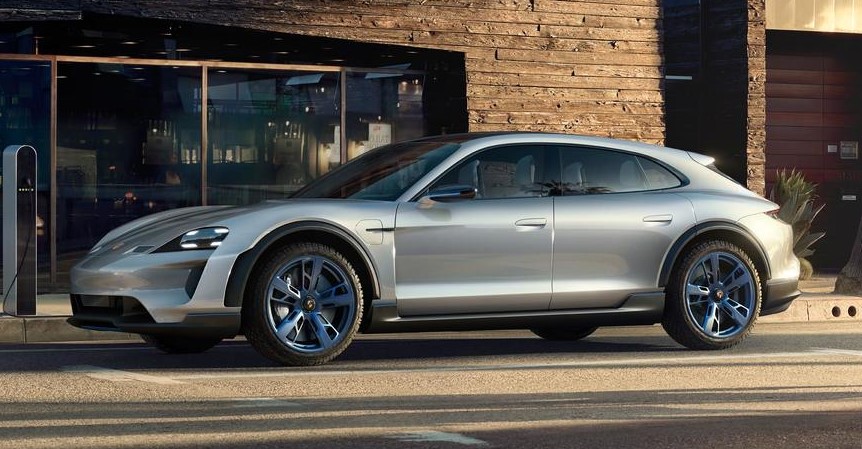 The Porsche Taycan was set to be a direct competitor to the Tesla Model S. What some might not know is that a Porsche Taycan Cross Turismo is planned to make its appearance not too long after the release of the regular Taycan (at least that was the plan, who knows now). While it looks more like a wagon, some are calling it an electric crossover which would put it up against the Tesla Model Y. It will more than likely have the same powertrain and battery as the current Porsche Taycan, meaning a range of around in the low 200-mile range, at least according to the EPA. This one will probably be too expensive to compete directly with the Model Y, but maybe Porsche will adjust some sort of pricing to not make the comparison too much of a leap.
Nissan Ariya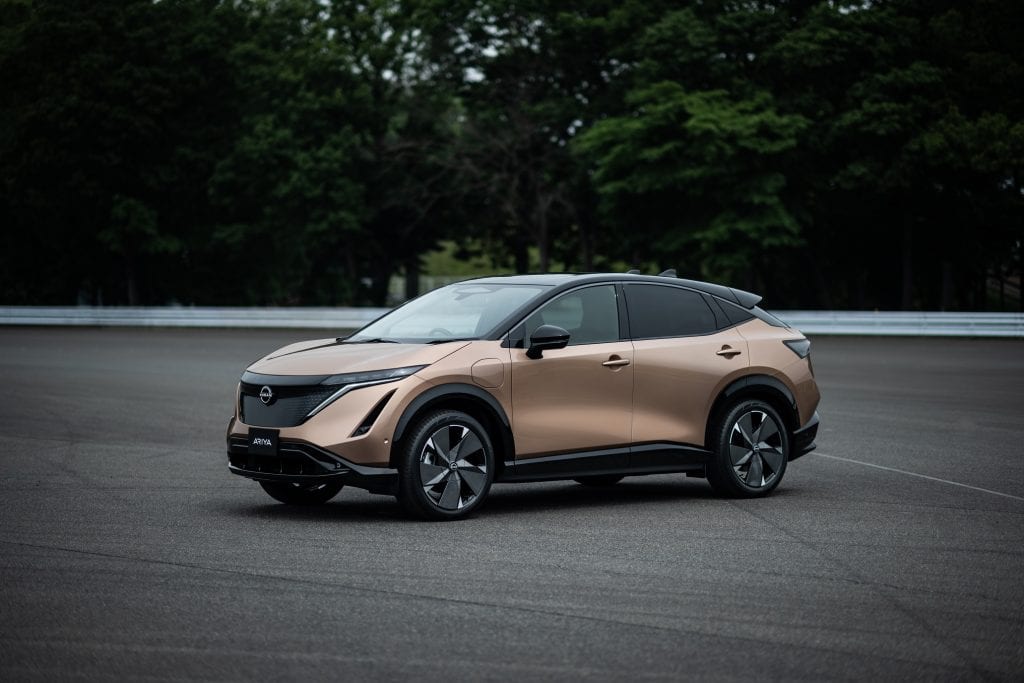 Heavily based on Nissan's 2017 IMx concept, the Nissan Ariya concept was shown off late last year and finally unveiled in July of 2020. The Ariya electric crossover features a very premium and sleek look and is designed with "Timeless Japanese Futurism" in mind. The specifications have not been fully unveiled at this point, but we do know that there will be four different variants of the Ariya with choice of either single- or dual-motors and either a 65 kWh or 90 kWh battery.
Nissan is aiming for a 300-mile range for the Ariya, which will definitely give it a fighting chance when compared against some other electric crossovers. The Ariya will also come with ProPILOT Assist 2.0, which actually seems to contain a decent amount of features that can be compared to Tesla's Autopilot. The system includes features such as adaptive cruise control and automatic lane changes.
The Ariya will debut in Japan in mid-2021 with a US release sometime later in 2021. The starting price is aiming to be in the $40,000 range. Unfortunately, Nissan is set to be the next automaker to run out of their tax credits, so it is uncertain if the Ariya will be able to gain a significant price advantage from the credits.
We expect to see more concrete specifications as the year draws to an end.
Volkswagen ID.4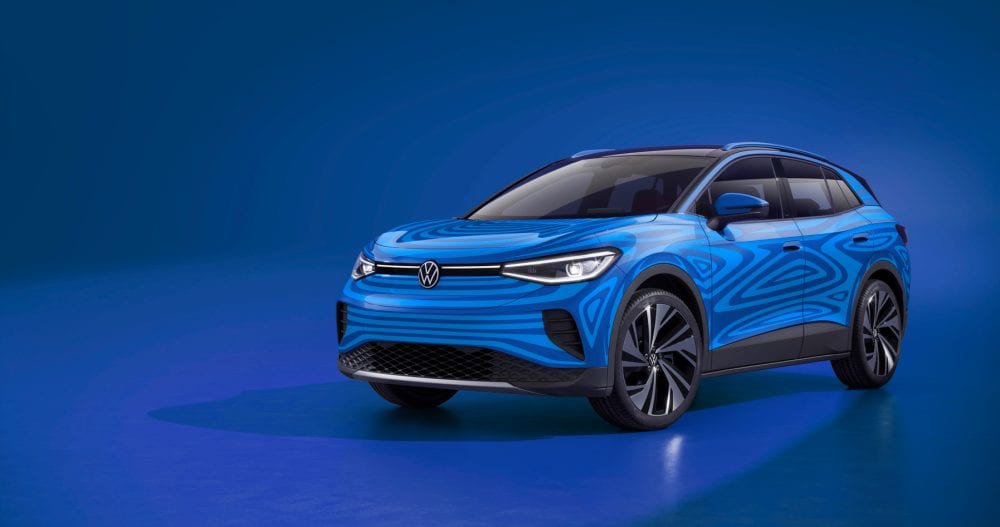 Starting out life as the I.D. CROZZ concept many years ago, the concept has formed into an almost production-ready version electric SUV known as the ID.4 which is the first set of electric cars from Volkswagen, which include the ID.3 and the ID BUZZ. Once again the size might not be totally comparable to the Model Y, but we will have to wait and see what the dimensions are when the production-ready version is revealed.
Volkswagen has been using Tesla as a benchmark when it comes to electric cars, so I have no doubt that they will try to be as competitive as possible with the Model Y and the rest of Tesla's cars.
Not many specifications are known about the ID.4, but it is safe to assume that there will be multiple battery options like the ID.3 has with the largest battery giving the ID.4 a range of about 310 miles (WLTP).
Production is expected to start at the end of this year.
Fisker Ocean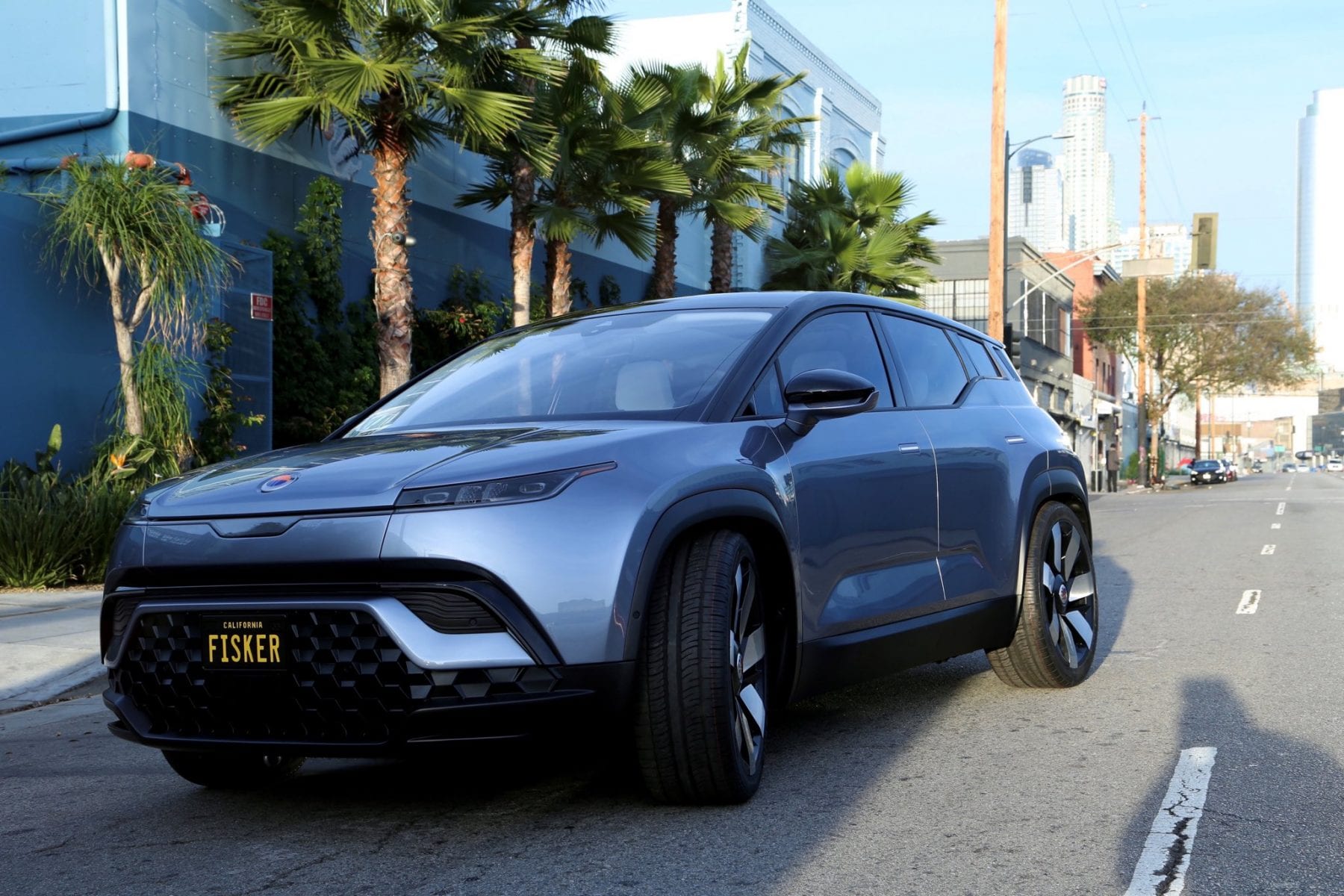 Fisker has yet to produce any sizable amount of cars since their rebirth a couple of years ago. The Fisker Ocean electric crossover is an ambitious move for them as they are planning a very high volume car, without proving that they are capable of making a large volume of cars.
The final specs of the Ocean have not been set, but during the unveil the goal of having around a 300-mile range was still the same. Henrik Fisker also stated that the top-end version of the Ocean would have a 0-60 time of about 2.9 seconds, making it the fastest car on this list and a future Tesla Model Y competitor.
However, the real magic is not with the car itself, but with the pricing. First off the Ocean at this point has reached its goal of being a sub-$40,000 car, with a starting price of $37,495 along with an added $7,500 tax rebate. However, the real interesting part is the leasing option that Fisker plans to introduce. With a $2,999 deposit, you can pay $379 a month for as short or as long as you like. You can end your lease in four months or after many years. It comes with a 30,000 annual mileage allotment and any service that is needed is covered by Fisker. Forget about a good deal for an electric car, that's a good deal for any car period.
While my confidence in Fisker to produce a meaningful amount of cars is admittedly low, I would be lying if I said that the Ocean might be one of the most attractive buys when its planned production at the end of 2021 begins.
---
As you can see, this is a very competitive market. Some of these cars are already available for purchase, and new electric crossovers are being announced at a rapid pace. While the Tesla Model S, X, and 3 benefited from little to no competition at the time of their releases, Model Y buyers will have an ample amount of alternative choices. The Model Y will act as a litmus test for Tesla to see if they can sell cars off of more than hype and scarcity of alternatives. An important stand out feature that the Model Y has over every car mentioned is its Autopilot and Self-Driving capabilities. For consumers where autonomy is important, there is simply no other alternative. However, will that alone be able to sway buyers towards the Tesla Model Y in this crowded market?