Prior to Tesla achieving EV mass production and the hoards of people who began gaining interest, EV misconception circulated with the majority lacking the bare minimum in terms of EV knowledge. Through that time we saw Model 3 owners, the first owners of their kind, consistently have to fix misplaced ideology surrounding electrification. Comedic misconceptions roared loud with those in the know at the helm ready to best explain.
Even now, with the introduction of mass produced electric cars behind us, we still see the same misconceptions continued to be spread by the uninformed. One car that stands out amongst the rest would be the Ford Mustang Mach-E. Due to its origin taking place in the most competitive segment of electric crossovers alongside the Model Y, fans of both vehicles are just about ready to box it out. The Mustang Mach-E vs Model Y fight has a clear favorite but there's a bit more to the story.
Ford is bringing to the table a car ready to compete against the best, yet many don't see it that way. Some Tesla owners who spent years fixing EV misinformation regarding Tesla's range, charging, safety, etc., have become the assailant in the war against facts.
It's easy to fall into a preconceived notion given the history of so called "Tesla Killers" but the Mach-E might just be the exception. Sure, the Chevy Bolt, Hyundai Kona, BMW i3, etc., are all horrible examples to compare with anything Tesla has to offer. Strictly from a feature standpoint, Tesla holds the crown in a lead miles long.
But the Mustang Mach-E sits on the bridge between that gap in a lead of everyone except a small company named Tesla. Whether you like it or not, know it or refuse to learn it, as of today, Ford has brought to market the closest Tesla competitor to ever exist. Here's a few popular misconceptions about the Mustang Mach-E clarified.
---
Infrastructure
"There's no place to charge"
Through partnerships, Ford has amassed more than 12,000 charging stations with more than 35,000 charge plugs. The company made the bold claim to have
North America's largest charging network
which not surprisingly drew negative attention. After all, how could someone bear a claim against the best by simply gathering a bunch of third party infrastructure names to the table?
For those with electric cars, there's no comparison between Tesla's exclusive Supercharger network and the dreadfully never ending list of third party infrastructure companies. Each individual company with their own prices, payment platform, accounts, and process. When comparing between the two, the inconvenience simply outweighs all else.
Ford's solution however is more than seen at face value. The company has collaborated with Greenlots to provide the same experience across all third party networks. Whether it be an Electrify America or Ionity charger, regardless of the electric car charging station, all payments and services will be handled directly from your singular Ford account. Just like in a Tesla, compatible charging stations will appear inside of the car, you will drive to one, plug in, and the car will be automatically billed based on your consumption.
At the end of the day, from a consumer level, the Mustang Mach-E just as good a charging experience with more available charging locations.
The Ford Mustang Mach-E can charge up to 150 kW achieving 61 miles of range in approximately ten minutes, and from 10-80% in 45 minutes. Just like in a Tesla, trips will be pre-routed to necessary charge points along the way. New owners of the EV will even receive 250 kWh of free charging.
---
Price
"You get less for your money"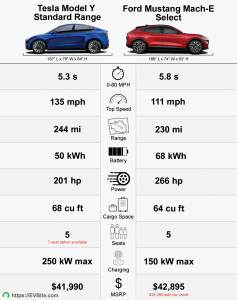 Yes, the Mustang Mach-E has worse performance and range specs than its competition, the Model Y. However, the more affordable price cannot be disputed. As of now, electric Fords qualify for a $7,500 tax credit. With that being accounted for, the Mustang Mach-E starts at $35,395, making it highly competitive as an affordable electric car.
For comparison, Tesla's Model Y starts at $41,990 with only 14 miles more range and a 0-60 just half a second faster.
---
Software
It's not future proof
Like most next generation vehicles, the Mustang Mach-E is suited with Over-The-Air software updates. Other automakers have introduced this feature to make minor bug fixes and map updates more convenient with very few automakers taking it to the next level. Tesla stands out as a company using software updates as a selling point consistently providing new features and adapting the owner experience post sale.
While we've yet to see what Ford has up their sleeve, we expect the company to progress into something similar.
Yes and Yes. First one coming soon.

— Jim Farley (@jimfarley98) January 24, 2021
---
Dealerships
"No one likes the traditional car buying experience"
Todays EV owners tend to be on the more technological savvy side but todays EV owners couldn't be any further away from the average car buyer. You probably hate it just as much as I do, but statistically speaking, the average car buyer is bound to prefer the traditional route for years to come. It would be foolish to not consider Ford's dealer network as a massive advantage when targeting the mass market audience.
The story doesn't end there with Ford noting the importance of maintaining competitive technological advancements. The company will soon offer their own online experience for EV owners. Home delivery and mobile service are both features available today from Ford with a focus on expanding both. Regardless of which route you prefer, Ford has a solution.
---
Autonomy
"It doesn't drive itself"
I'll be the first to admit it, it's hard to go back to a "normal" daily driver after experiencing Tesla's Autopilot. It simply makes highway driving and traffic an absolute breeze to handle. For many, the look for a car ends right there. However, Ford has something similar planned for the Mustang Mach-E.
Using the noted OTA, Ford plans on introducing their own Autopilot competitor later this year. Sure, it won't eventually drive itself in a robo-taxi fleet, but it also doesn't cost $10,000.
The feature comes standard on the Premium, First Edition, and California Route 1 and is packaged in a $3,400 tech package for the base Select edition. Because this feature wont be available on release, the company is bringing you a way to save on the Mustang Mach-E with a $100 rebate as a compromise.
---
Commitment
"Ford doesn't care about the Mustang Mach-E"
Ford is investing $11 billion into electric cars with the Mustang Mach-E leading the pack, bearing the name of their most beloved, the Mustang. They've restructured their entire sales process even adding a new, fully digital buying process to better fit the decade. They're investing in the industry even owning a stake in Rivian and on the autonomy front, a stake in Argo AI. Millions are currently invested in marketing for a vehicle some claim the company doesn't care for.
The Mustang Mach-E is a stepping stone for Ford. It's the first with autonomy features, OTA, a digital purchase option, and many more internal changes. Does that sound like another compliance car to you? It's the start of something great.