With production ramping back up for basically anyone making anything, every automaker is trying to get back to their normal production numbers and hope that people will continue buying at the same rate they did three months ago. Recent internal information from Ford shows that while they are not exactly back to normal, their recovery is progressing nicely.
Now while some might not see this as "EV news" due to Ford not being a wholly EV company like Tesla or Rivian, Ford does hold a lot of weight in the electric car future due to its reach and manufacturing capability. The Volkswagen Group is another that has a lot of weight, but for the time being a lot of their efforts are limited to the European market. In fact, Ford has even partnered with Volkswagen to bring more electric Ford's to Europe. On the other side of the world, we don't really know what mighty Toyota is doing, sometimes they are down with electric cars, sometimes they are for it, who knows.
The point is, aside from Tesla, Ford represents one of the biggest players in bringing electric cars to North America, especially with news of the electrification of their F-150, the literal best selling vehicle in the US. So in saying that, it is important to keep an eye on the financial health of Ford, because you know that electric programs will be one of the first things cut when an automaker is doing poorly.
Andrew Frick, Ford's Director of U.S. Sales, closed off the month of May with a few important stats.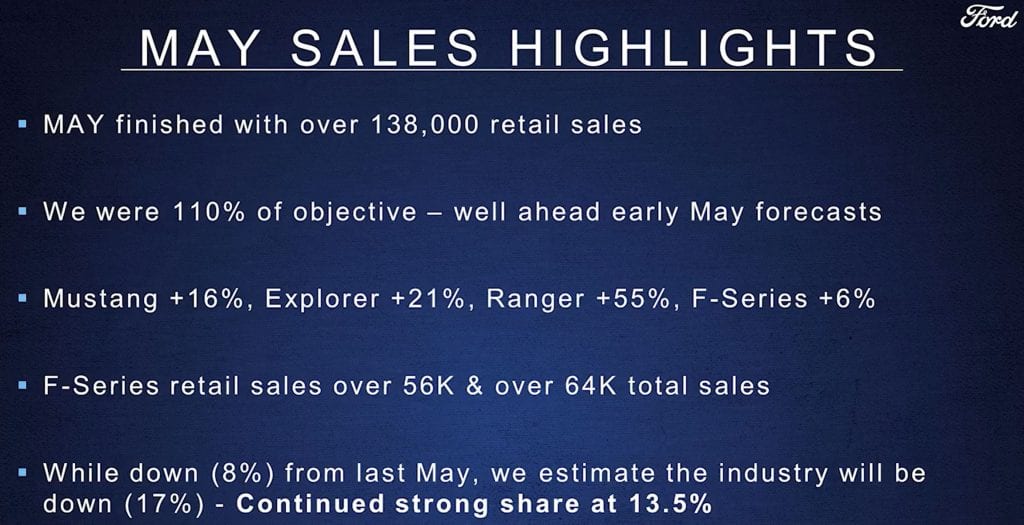 We had a great close last night finishing with over 138,000 retail sales in May. This was a 44% improvement from our April sales levels. And those 138,000 units are still down 8% YoY but much higher than our early forecasts as we came out of April given the overall environment out there. Based on some of the early industry results that we're seeing, we clearly out perform the industry as well which is fantastic. We have had a great March, April, and now May when it comes to share. We even had four vehicles beat year ago levels, and not by just a little bit…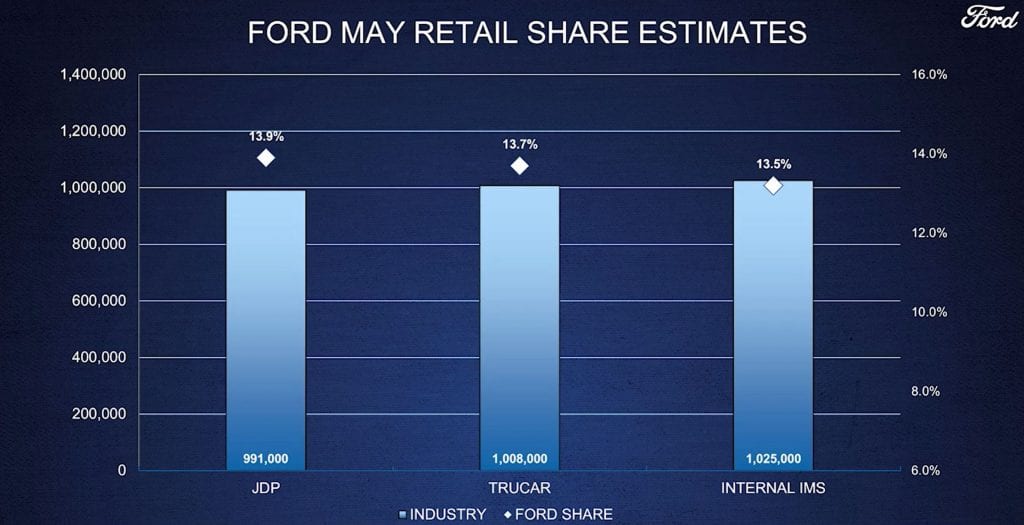 So yes, while Ford is still down as a whole for the year, they predict themselves as leaders in the recovery period stating that the industry as a whole is down a much larger percent. They've beat their own forecasts by large margins and continue to move forward and away from the lows seen in March.
Moving on to what expect in June, we have some potentially exciting news.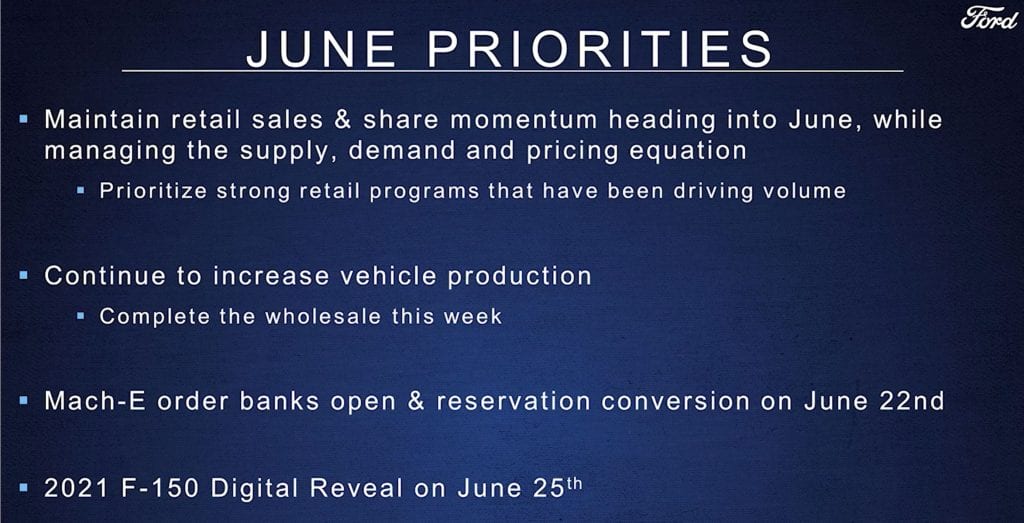 The last two bullet points are potentially very important. Mustang Mach E order banks being opened means that reservations will start to become converted to full orders, giving some credence that Ford will be able to make its deliveries by the end of 2020 rather than being delayed to early 2021.
Secondly, and completely speculated, we do know that an electric Ford F-150 is in the works. With a digital reveal of the next F-150 happening this month, we could very well see the electric version of it, or at the very least get some more information about it. An electric F-150 will make a big effort towards electrification as it will most likely appeal to the big majority of "truck guys" who are interested in electric trucks but aren't completely sold on the Cybertruck or Rivian R1T.