The Ford Mustang Mach-E has undergone a price reduction of $1,000 – $3,000 (dependent on trim)

No changes seen for the GT variant
Ford's Mustang Mach-E, the latest vehicle looking to enter the EV landscape has already undergone some significant changes. Prior to the vehicle even hitting the road, the company has already decided to reduce its price. Surprisingly, this is not the first spontaneous change made to the new electric vehicle. Earlier this year the company upped its performance specs just a tad bit.
The new pricing is as followed:
$3,000 MSRP reduction on all Premium models
$2,000 MSRP reduction on the CA Route 1 model
$1,000 MSRP reduction on all Select and First Edition models
Check out more ways to save on a Mustang Mach-E.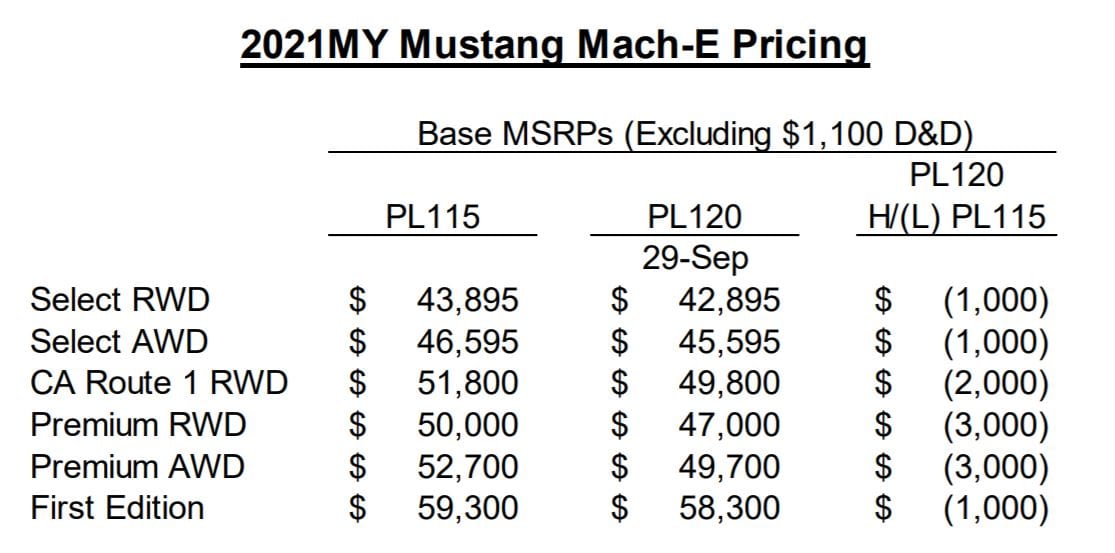 The addition of the $7,500 federal tax credit reduces the price even further and more in line with other competing vehicles.
Price changes for the electric Mustang Mach-E can be seen live on their configurator. If you've already placed an order at the previously higher price, no worries. Ford has instructed their dealers to honor the new price reduction throughout all customer. Those waiting on a vehicle should be contacted via email or phone prior to finalizing their order. Or skip that process entirely and finalize your Mach-E order through Ford's new online exclusive program.
The question behind this price change has gone unanswered. Without the cars on the lots, there's no data that showed a required change needed to sustain sales. Instead, it looks like another attempt to inch closer to their largest competitor, Tesla. With Ford's dealer network significantly holding them back, the company will need all the help it can find.
The electric Ford Mustang Mach-E looks to start production in October with deliveries beginning shortly after in December. Could this electric crossover be the one that to shine amongst the rest?
Update: An internal Q&A answers some of our many questions regarding the matter;
Why is Ford reducing prices before the vehicle is on sale?
We're adjusting 2021MY Mustang Mach-E pricing to remain fully competitive in a segment that is seeing dynamic price changes.
Does the price reduction apply to customers who have already ordered or reserved a Mustang Mach-E?
Yes.
Can a customer change their order specs now that pricing has changed?
Yes. Customers can change their order spec if they so choose – they may want to apply the price reduction to a larger battery, AWD or even a trim
level change. All order spec changes must be done by the dealer in WBDO. The customer cannot change their order on Ford.com.
Can a customer change their reservation specs now that pricing has changed?
Yes. Customers can change their order spec if they so choose – they may want to apply the price reduction to a larger battery, AWD or even a
trim level change. Prior to order submission, online reservation specs can be made by the customer in their Ford.com manage order screen.
When are order changes due by?
You can change customer order specs prior to the vehicle being scheduled (mid-October).
When will customer order scheduling begin?
Mid-October
When will customer orders arrive at EV Certified Ford Stores?
Deliveries will begin late 2020.
How will the MSRP price reduction affect my dealer price in VL Plus?
Your pricing structure ($ or % of MSRP) will be maintained from the date of customer order submission. The MSRP will decrease, but any adjustments you applied in VL Plus will carry forward on top of the new, lower base MSRP. You are in control of your final pricing at time of sale.
Do I have to sell the vehicle at these adjusted MSRPs?
Ultimately, customers and dealers will agree to the final pricing. Ford shares manufacturer suggested retail pricing for all vehicles with dealers and customers.
If my customer placed an offline order, will their pricing change?
Orders in WBDO will reflect the latest MSRP pricing.
Will Mustang Mach-E GT pricing be affected at a later date?
This price adjustment does not include a change to currently stated GT pricing. We are not sharing information on
pricing for future years at this point. The marketplace will help decide future pricing.
How can I track the change in price from Price Level 115 to 120?
For existing online orders, you can verify new pricing in Dealer Acceptance Portal in the customer handling page(s) and review your CRM lead details for previous pricing.
How will my customers learn about this price adjustment?
All reservation and order holders will be informed of the price reduction via email from Ford on the afternoon of 9/29. Online customers can view their adjusted price in their manage order screen on Ford.com. Examples of Ford email to customers found on the following page.