Volkswagen and Ford have announced the expansion of their partnership which was first mentioned last summer. The partnership involves collaboration on a wide range of aspects, such as commercial vehicles, electric vehicles, and autonomous driving.
The highlights of the parameters of the partnership can be summarized as follows, the partnership will:
Produce a medium pickup truck engineered and built by Ford, for sale by Volkswagen as the Amarok starting in 2022 within the Volkswagen Commercial Vehicles lineup
Further strengthen the commercial-vehicles businesses of both companies as early as 2021 – with a city delivery van based on the latest Caddy model, developed and built by Volkswagen Commercial Vehicles and later a 1-ton cargo van created by Ford, and
Lead to a highly differentiated Ford electric vehicle for Europe by 2023 built on Volkswagen's Modular Electric Drive, or MEB, toolkit, expanding on Ford's zero-emission capabilities in the region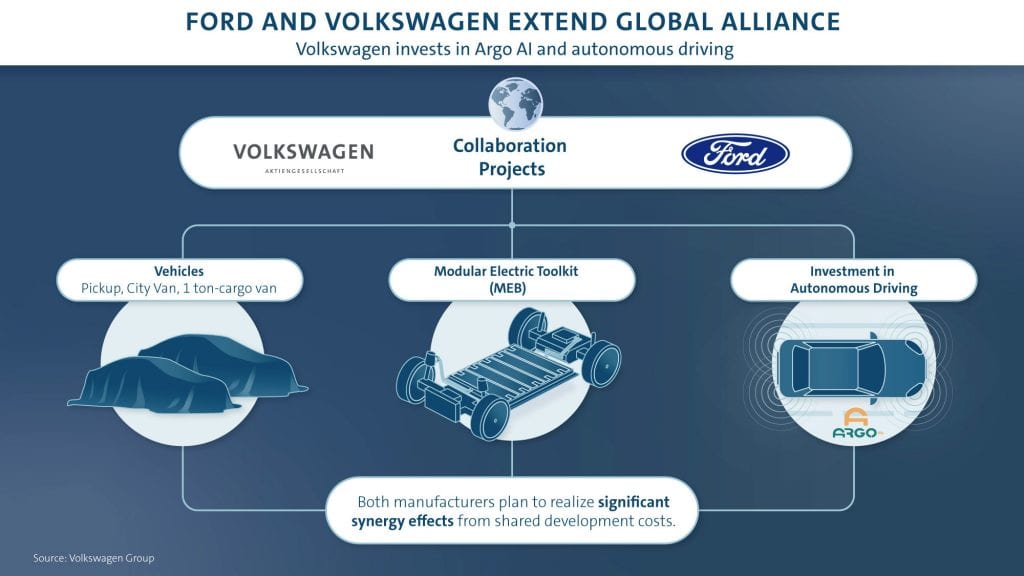 From a quick look through the details, it looks like the biggest aspect of the partnership will be utilizing each other for commercial vehicles. Both companies expect to produce a combined eight million units of medium pickup trucks and commercial vans over the course of the partnership.
Overall it seems like an equal share of work for both companies. Ford will be responsible for the alliance's pickup truck and one-ton cargo van. On the other end, Volkswagen will produce a city van and the MEB platform for Ford's European electric car. Both made an independent investment in Argo AI regarding autonomous driving technology.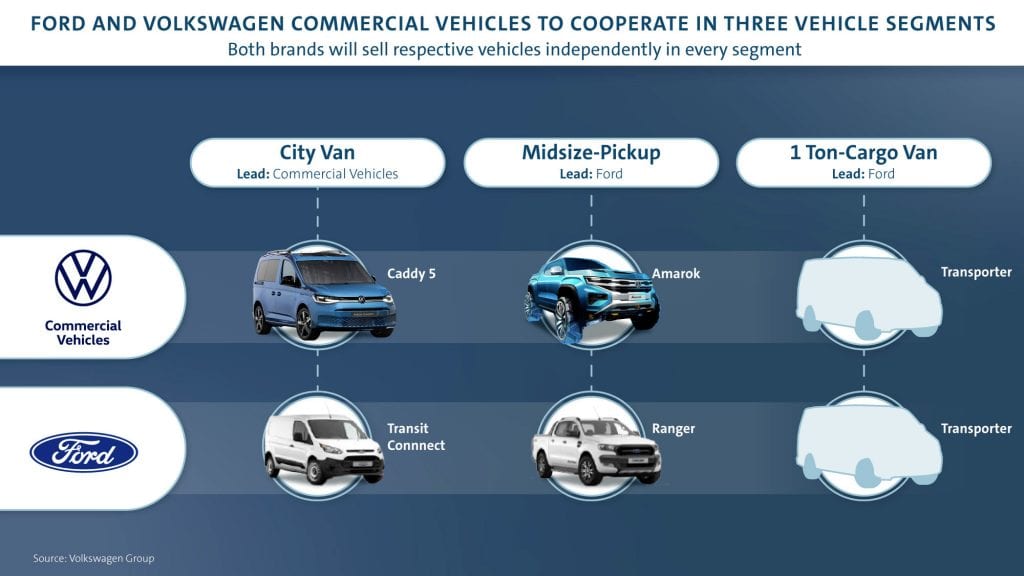 While Volkswagen is flush with planned electric cars, Ford is still getting into the groove of things with the Mustang Mach E coming later this year. To make the process of offering more electric cars, Ford will be using VW's highly modular MEB platform for an electric car in Europe.
Over several years starting in 2023, Ford could deliver 600,000 electric vehicles atop the MEB architecture, which is designed to combine space and performance with electric drive. The vehicle, which will be designed and engineered by Ford in Cologne-Merkenich, will add another compelling nameplate to its own all-electric Mustang Mach-E, which will be introduced in 2021.
No further information was given regarding future electric cars in the partnership aside from a statement saying that the two "plan to explore additional ways to cooperate on electric vehicles". For the time being, Volkswagen has its own slew of ID models coming independent of the alliance and Ford stated that there should be an electric F-150 and Transit within the next 24 months.
I would like to know how many years "several years" is as it determines how impressive the 600,000 electric vehicle figure is.
Lastly, the two will be utilizing their investments in Argo AI to implement autonomous driving in the vehicles produced within the partnership and presumably outside of the partnership as well since they were independent investments. Argo's self-driving system is the first to have commercial deployment in both Europe and America. Now with their system being introduced in Ford and VW vehicles, some of the most numerous in the world, the autonomous driving company will be fed a lot of geographic data to fine-tune their system. We have seen the testing already begin with the Volkswagen electric van.
Interestingly enough, even though there is pretty deep cooperation here, neither company has taken any ownership of the other, both are still independent of one another and as the press release states, they will "will remain competitors in the marketplace."
What do you guys think of the partnership? Do you think the changing tides of the automotive world will cause us to see more partnerships between automakers, at least until the transition has been fully complete? Let us know down in the comments below.