Taking a similar approach as Tesla, alongside the unveil of the Ford Mustang Mach-E, reservations were opened. Now, as we inch closer towards production and delivery of what's arguably one of the most highly anticipated cars of 2020, those reservations are being converted to confirmed orders.
If you have a reservation for a Mustang Mach-E, you've probably received a call from your local dealership getting you prepped for delivery. Sadly, due to the traditional dealer model, and against Ford's wishes, some dealerships are hiking up the price of this unreleased new age electric vehicle.
Seeing upwards of a $15,000 markup certainly is infuriating but it's not the norm. On average, it looks like the Mach-E hovers around a standard $5,000 premium. The good news is you don't have to pay a premium with this easy to do method. In fact, you might just be able to find a discount for the Mustang Mach-E.
1. Finding a Dealership Without a Premium
Contrary to popular belief, this one is easier than imagined. Thanks to the advancements of the 21st century, everything is now taking a direct online approach. Ford will show you, directly on their site, each dealerships Mach-E markup. Labeled as "Difference from MSRP" you can easily scavenger around for a dealership with a $0 premium or even potentially a discount.
This might seem like an inconvenience at first, but the folks over at MachEForum have made it a bit easier. They've compiled a user created list of dealerships selling the Mustang Mach-E without a premium added. If your dealership is ADM free, be sure to add it to the list and help others out!
2. AXZD Plan
This won't neccesrally affect the majority of reservation holder, but on the off chance, you should know that the Mustang Mach-E qualifies for Ford's AXZD-Plan pricing.
A-Plan (Ford Employees): 4% discount from MSRP (excluding destination and doc fees) + $275 customer admin fee + 0.25%
Z-Plan (Ford Retirees): Follows A-Plan
D-Plan (Dealer Employees): AZ price + $100
X-Plan (Ford Partners, Friends & Neighbors): 2% discount from MSRP (excluding destination and doc fees) + $275 customer admin fee
If you happen to work for Ford, worked for Ford, or know someone who does, be sure to take advantage of the appropriate plan as it could reduce your overall price significantly.
3. Purchase Options
Obviously, with this one, you'll have to cater to your personal desires. But it should be noted that changing the way you take delivery of your car can significantly decrease your monthly payment. Given the new age of vehicles rapidly improving technology, the Mach-E, or any vehicle bought today, might not be a car you want to hold on to for ten years, at least not if you want to keep up with EV advancements. Who knows, in ten years the Mach-E could be the new norm with 1,000 miles of range for half the price.
Ford has taken this into consideration and implemented an all new purchase option dubbed "Ford Options", exclusive to the Mach-E. Ford Options is a purchase program which takes numbers directly from their standard leasing program.
A typical lease is priced out using a residual value. In short, a vehicle with a 40% residual value would imply you pay 60% of that vehicles MSRP throughout the term of your lease, plus interest.
With Ford Options, you own the car for the same price as a lease payment. At the end of the term, you will owe that final residual value in the form of a single balloon payment. While that sounds scary, there's one important fact within the contract. At the end of the term, you can return the vehicle and the balloon payment is waved.
This is highly consumer beneficial. Not only do you own the car, you receive a smaller monthly payment. Additionally, if the vehicle sustains value, you could end up having more in equity than your final balloon payment, walking away with a nice check. If you truly want to keep the car, you can just finance that final balloon payment and your payments will still remain much lower than purchasing a new car of equal value.
It's uncertain if Ford Options will entirely replace the leasing option, but we do know it follows Ford's current Red Carpet Lease Factors:
| | | |
| --- | --- | --- |
| Tier | 36 Months | 48 Months |
| 0 | 5.5% | 5.66% |
| 1 | 5.89% | 6.05% |
| 2 | 7.05% | 6.89% |
| 3 | 8.45% | 8.33% |
| 4 | 10.78% | 10.45% |
| 5 | 10.78% | 10.45% |
Purchasing, of course, is the traditional method followed by most. Your interest rate comes out to be less but your monthly payments remain a tad bit higher. Ford's current Mach-E interest rate can be found below:

4. Rebates and Incentives
Rebates are a bit hard to find for the public as some dealers keep them hush hush to add them onto their profit margins. Asking is always the easiest route but if you have trouble, feel free to message us your zip code and we'd be happy to provide you with your local deals.
Currently, Ford is offering a rebate if you opt for their new Ford Options program. Again, the amount will vary dependent on your location.
Miami, Florida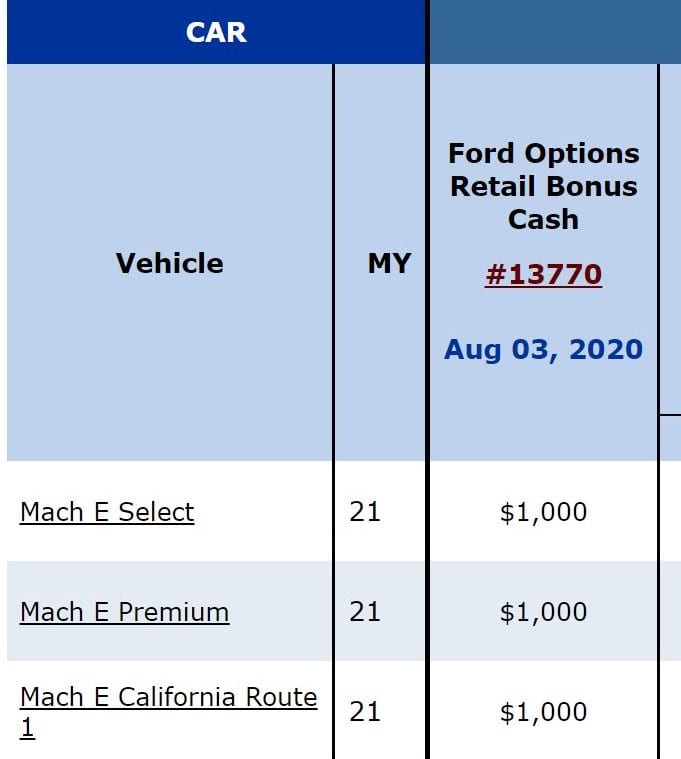 Los Angeles, CA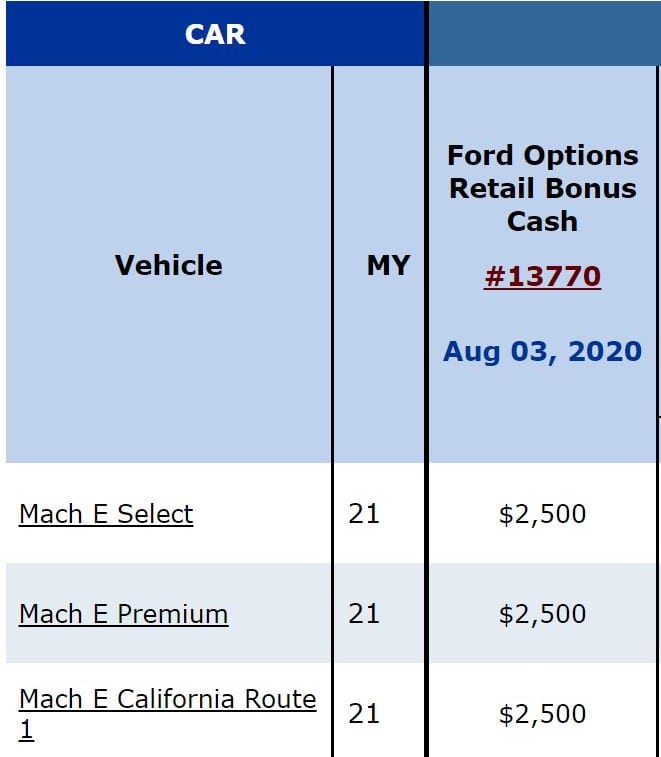 The Mach-E also qualifies for Ford's College Student Purchase Plan. The program itself is available to anyone currently in college or up to three years after graduation. As long as your monthly payment is below 22% of your income and your credit score is above 620, you'll qualify for tier 1 rates. If you're a graduate of a 4-year program or advanced degrees, you'll qualify for tier 0. This benefit can also be used on the new Ford Options.
In a less exciting but still beneficial incentive, the company has chosen to give all Mach-E customers 250 kilowatt-hours of complimentary charges through Electrify America. In layman's terms, this will come out to about three to five charges depending on how much you're "filling up".
5. Buy a Demo
Many don't know this but the very first Mustang Mach-E to hit each dealer lot will be required to be placed under Ford's Courtesy Transportation Program. This program is typically used for loaner cars given out while vehicles are in service. In some cases, such as this, the car is placed in the program and used as a test drive unit. The Mach-E guideline states the vehicle will be in the program for no less than 4 months or 4,000 miles.
With participation of the program, dealers are given an allowance back from Ford for the loss in value due to miles incurred. Because the car is never titled, it is still considered brand new to banks, the state, and the dealer. As such, they dub it a "Demo" and tack on a discount, typically matching the dealers allowance.
If you're okay with buying a vehicle with 4,000 miles, the discount can be worth it. Dealer allowance varies by vehicle but currently ranges from $500 – $2,500. We'll know the exact amount once the cars shift into reality.
Assuming dealers don't try to mark up these electric cars down the line, this amount can be deducted from your price while the dealer maintains their original new car margin. With every single dealership being required to hold a Mach-E in FCTP, there will be plenty of discounted Mach-E's in the first few months. Just be sure to act fast as I'm sure they'll go quick.
6. FordPass Rewards
Credit cards and their reward systems are nothing new to the general public. If you know how to utilize them properly, you can come out ahead in most case scenarios earning discounts in the form of cash back or rewards for doing absolutely nothing.
To maximize potential savings, Ford has introduced a Ford branded credit card. Using the Ford Pass Rewards Card, you'll be allowed to place up to a $3,000 down payment at an impressive 5% earnings rate. Additionally, you'll receive a $100 statement credit for spending that $3,000 within the first three billing cycles. An annual statement credit of $200 will also be given if you spend $6,000 within 12 consecutive months.
Ford's Credit Card can earn points in a variety of ways:
5 percent Back in Points on Ford dealership purchases
3 percent Back in Points on gas, auto insurance, tolls, parking and dining
1 percent Back in Points on all other purchases
10 percent Back in Points¹ on Ford service – 5 percent back in Points on Ford dealership Purchases plus 5 percent back in Points with FordPass Rewards
The small catch is that these earned points have limited uses. They can be redeemed for just about any expenses found when servicing your car at a Ford dealership, including oil changes (lol) and any other general maintenance. The EV team at Ford is working hard to make these points redeemable for charging credits, at Ford's every-growing collaborative charging infrastructure.
7. Tax Credit
While this might seem obvious to most, it's truly one of the largest savings you'll find on the new Mustang Mach-E. Ask an accountant for more information but in short, if you pay more than $7,500 a year in federal tax, you'll receive a check back for that amount. If you haven't paid yet, it'll be deducted from what you owe. The same applies for any amount between $0 and $7,500.
Not every electric car qualifies for the federal tax credit. The program was introduced only allowing the first 200,000 BEV's sold by each manufacturer to qualify for a $7,500 federal tax incentive. After that, a phase out period begins.
One of the Mach-E's biggest advantages when comparing it to vehicles such as the Tesla Model Y is this incentive as it quickly puts it within the same price range of their competitor.
Again, this only qualifies for the first 200,000 Mach-E's sold. If Ford succeeds with this vehicle, as planned, you're limited to just a few years of this advantage. Companies like Tesla no longer qualify.
Additionally, some states have their own incentives as well. California, for example, will add an extra $5,000 of savings. Be sure to check out your state's options for some massive savings.
8. Hold Out
Rather than be impatient, it could be beneficial to hold out a bit longer. As we inch closer towards the wide release of Ford's Mustang Mach-E, we're certain we'll see more incentives added. Ford has already sent dealers a survey asking what they believe would help convert reservation holders over to confirmed order.

Rebates and interest rates are changed up on a monthly or quarterly basis. They could go either direction, but my personal opinion is that the current first-in-line high demand leaves them with no reason to convince customers with monetary reasoning. In a few months, after the first batch of orders are out, and Mach-E's are consistently available on dealer lots, we could see dealer rebates in the thousands, as is normal with most other vehicles sold by Ford.
Potentially, EV volume bonuses or the arising competition could drive dealers to sell these vehicles bellow MSRP. Only time will tell.