At roughly $119 billion, Tesla is nearly six times the size of Ford, a company once known for its lead in the global automobile market. Tesla broke records last year with 367,500 vehicles delivered, Ford on the other hand sold merely 2.4 million vehicles.
At face value, the disproportionate numbers could lead to skepticism. However, there's a few more variables to account for. Without a dealer network, Tesla sells their vehicles direct to consumers, skipping the middle man. This leads to industry leading margins and unrelated, an overall better experience.
Through full self-driving and their lead in battery technology, Tesla is also valued off of their future potential. The company also holds other revenue sources such as their solar panel business and the massive Supercharger Network. With the addition of self-driving robo-taxi's, some say Tesla could become the next trillion dollar company.
Change
While Ford hasn't changed much in the last century, they see that the path Tesla has laid will lead to a lucrative future. Now, they're gunning straight for the electric car company with claims that they can do it both bigger and better. As they say, change or die.
Ford is looking at Tesla closer than most. While other manufacturers are simply focused on bringing an EV to market, Ford is changing their entire business model. Through their new e-invoice system, the company seeks to bring a direct sales experience through their dealer network. Tesla has forever changed the future of car dealerships with Ford being one of the first to take notes.
Infrastructure
Through Ionity, a charging network co-founded by Ford, and other partnerships, the company already has access to 12,000 charging stations with 35,000 charging points. They also plan to install a minimum of two chargers at each of their dealerships and offer their own self-branded home chargers.
With flattery in mind, their new fast chargers looks suspiciously similar to something I've seen before.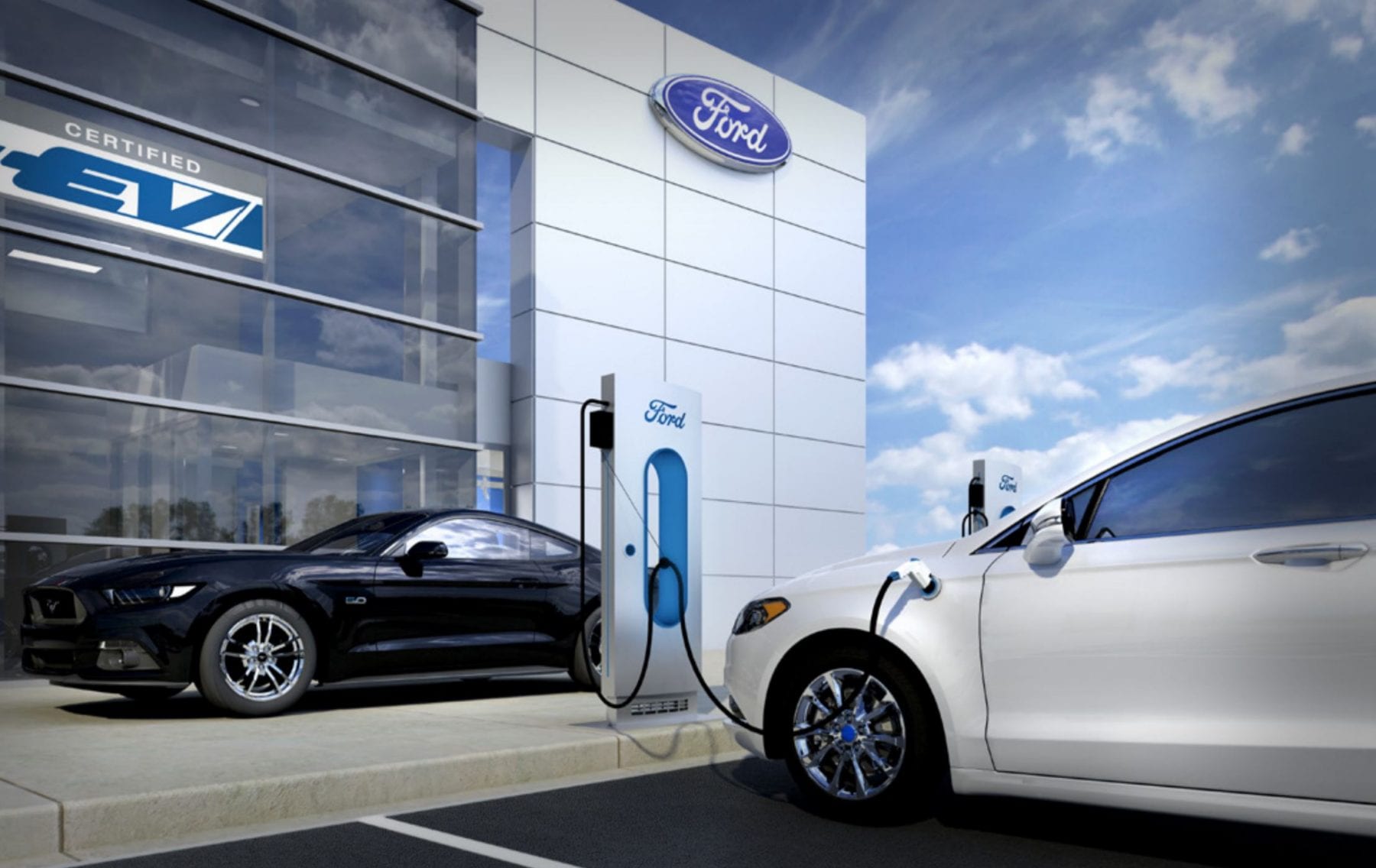 The Competition
The Ford Mustang Mach E sparked interest with its intention to directly compete against the upcoming Tesla Model Y. With specs actually comparable to the best, it was made clear that Ford was ready to enter the new age. In a mass manufacturing race only comparable to Ford's dated competitive racing history, Ford vs Tesla is a movie we'll watch play out in the years to come.
The Ford Mustang Mach E and Tesla Model Y compare nicely. While Tesla remains in the lead for now, the Mustang Mach E is one of the best first steps we've seen come from a legacy automaker.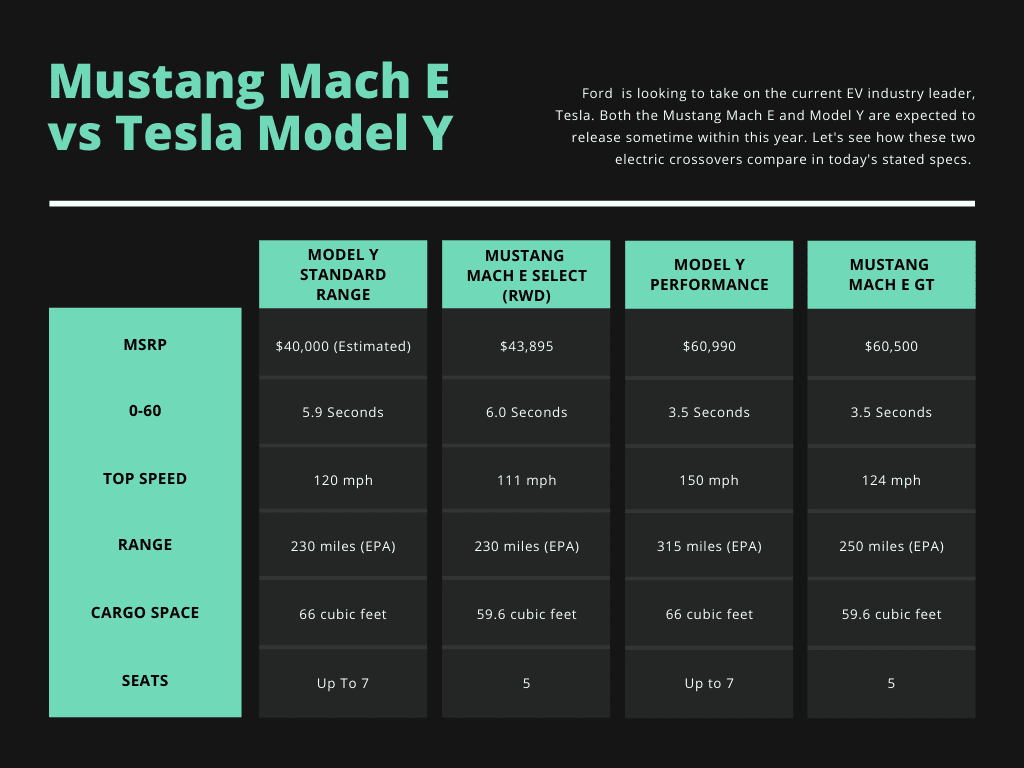 Ford's Biggest Advantage
Like Tesla, Ford introduced this vehicle alongside a reservation list. In order to be first in line, you must place a $500 deposit. Unexpectedly, the Mustang Mach E is already nearly sold out.
With their advanced vehicles, Tesla hit a new audience of tech savvy car enthusiasts. However, selling cars strictly online drastically limits their potential customer base. It's why Tesla opted to keep their stores open, people like to touch and feel before they buy.
We all hate the traditional dealership experience but the vast majority of consumers refuse to buy cars elsewhere. A large portion of car purchases are done on a whim which is near impossible to do with Tesla, a company with a constant waiting list. You can walk into any Ford dealership and walk out with a brand new car in just a few hours. As inventory stocks up, this will be one of Ford's greatest advantages in the race against Tesla. Dealers have surely created a bad name for themselves but their structure and inventory keeps the entire system afloat.
Ford understands this well. Before delivering a single vehicle to consumers, the company plans to suit every dealership with at least one Mustang Mach E solely to be used for test drives. Their current ~45,000 preorders will drastically increase as the vehicle is seen and tried by traditional car buyers. Ford already gets significantly more foot traffic and nearly equal online traffic as Tesla currently does.
While Tesla has had to convert consumers to EV's through means of word of mouth, Ford will do so through their extensive dealer network. With thousands of uninformed car buyers rushing into their stores daily, ready to buy another ICE, Ford's sales staff will be able to inform and convert car buyers to electric.
The Numbers
Due to battery constraints, production for the new electric Mustang is capped at 50,000 for the first year. This pales in comparison to Tesla's one million cars already produced but it's only the start.
An F-150 electric truck is set to make an appearance within the next year and will go head to head with the Tesla Cybertruck. Through their partnership with Rivian, Lincoln will build an electric SUV.
Ford has previously stated their intentions of eventually distinguishing Lincoln as an electric car company. Another electric Lincoln based off the Mustang Mach E hit the rumor mill last year.
Once Ford overcomes battery constraints, which they'll have to do in order to meet their stated goals of shifting towards an electric lineup, they'll be able to sell millions of EV's annually. The true question is whether or not Ford can make the transition and outsell Tesla before they grow too large to catch.
Tesla Is No Longer Ahead
Just a few years ago Tesla lead the industry in just about every aspect. Times are quickly changing as others are catching up with the consumer needs Tesla satisfied years ago. Decent range, a great interface, OTA software updates, and "Autopilot" systems are all achievable by Ford today. The Mustang Mach E is the first Ford set to have all of it.
The Mustang Mach E wont offer a full self-driving system, as of yet, but it will however offer their proprietary Ford Co-Pilot360 Assist 2.0, a new system which is said to compare nicely to today's Tesla Autopilot. Like Tesla, the software will continuously adapt and advance itself through OTA updates as well as introduce new features. In a Q&A with a Mach E engineer, it was said that the vehicle will offer a future-proof industry leading interface.
Range and efficiency fall slightly below Tesla with a 98.8 kWh battery achieving 300 miles of range. In comparison, the Long Range Tesla Model Y is set to have 315 miles of range on a 75 kWh battery. Fast charging on the Mach E is also limited to 150 kW while the Model Y can hit a max rate of 250 kW. This could factor into some peoples decisions but as long as you don't drive hundreds of miles per day, current electric car range shouldn't matter and most EV owners will never use a public charger.
Who Will Win?
Ford is the clear leader today in terms of general car sales but we are talking about the new world, the electric world. If there was a magical switch to electrify each Ford sold today, there would be an obvious winner. Sadly, nothing is ever that simple.
Both companies hold their own advantages with the gap constantly thinning. If you ask me, Ford will be one of the fastest growing EV automakers of the decade but will they surpass Tesla? Only time will tell. Once the Mustang Mach E hits the streets we will get a better picture as to where they stand against history's fastest growing automaker.
Only one thing is certain, EV sales are bound to grow exponentially in the next few years. The Mustang Mach E alongside other electric cars available to view, touch, and drive will only fix common misconceptions and increase EV awareness. Ford could end up unintentionally selling more Tesla's than Mach E's on their lots.