The Tesla Model Y dimensions have been a topic of discussion ever since the car was announced. Over the past few months, people have been trying to figure out the size of the prototypes on the road. People busted out tape measures, water bottles, took pictures next to the Model Y and then a Model 3, the whole lot. Well with deliveries finally starting, we are able to see what the Model Y dimensions are really like.
Here's a look at the page of the owner's manual with all the relevant measurements.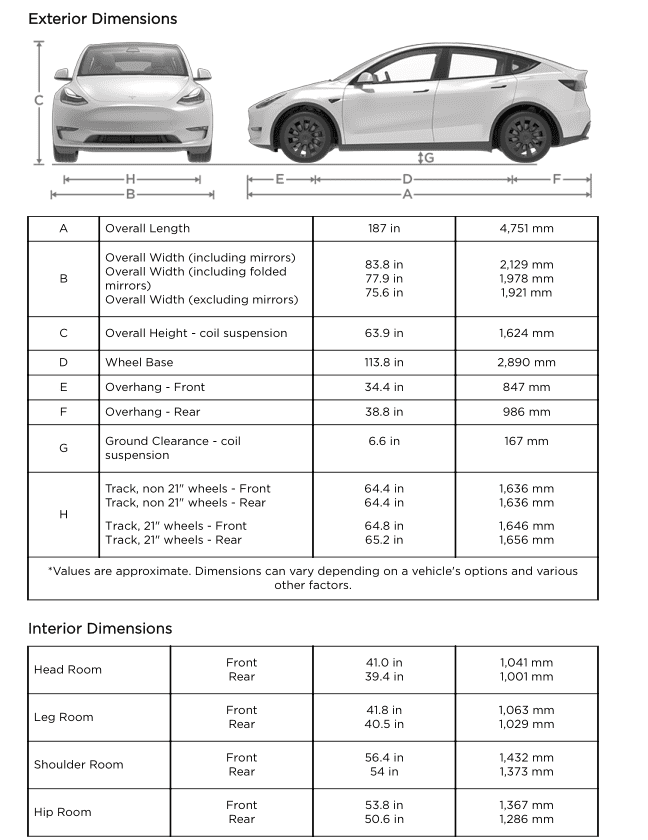 Compared to the Model 3, this is how it stacks up:
Length: 2.2 inches longer
Width (Including Mirrors): 1.6 inches wider
Height: 7.1 inches taller
Wheelbase: 0.6 inches longer
Ground Clearance: 1.1 inches taller
In regards to how that translates to interior space against the Model 3:
7in/1.7in more headroom front/rear
0.9in less legroom front, 5.3in more legroom rear
Shoulder room is 0.1 inch more in front, same in rear
0.4in more front/1.8in less rear hip room
Moving forward to comparing the exterior dimensions of the Model Y to the upcoming Ford Mustang Mach E, we get:
Length: 1-inch longer
Width (excluding mirrors): 1.6 inches wider
Height: 0.9 inches taller
Wheelbase: 3.2 inches shorter
Ground Clearance: 0.9 inches taller
Taking a look at the dimensions of other mid-size SUVs, we can see that the Model Y is more or less in line with the average heights of most, but seems to be substantially longer than most of the other SUVs by a fair margin.
Additionally, it is now apparent that the size difference between the Model Y and Model 3 is a bit more than we initially thought at the time of the unveiling of the Model Y. The Model Y is significantly taller than the Model 3, although this does not seem to translate to that much more headroom as the seats are also positioned in a taller position, making it easier to get in and out of the car.
You can now peruse the owner's manual yourself here, and if you are interested in seeing the Model Y dimensions for yourself, they are on page 188.
What do you guys think of the Model Y size? Is it what you expected? Is it different enough from the Model 3? Let us know down in the comments below.