Happy February everyone welcome to another addition of our weekly round up, where we recount the EV news that we didn't cover at length. I hope you all have had a wonderful week. If you are looking for Tesla specific news, then you are in luck as we have a post just the post for you. This week we had Volkswagen mention a super-affordable electric car coming in 5 years along with an extremely cool-looking electric motorcycle from RMK. Along with the EV news that we did not cover, we have a recap of all the EV news that we did cover in length at the bottom as well, in case you missed it.
Sub €20,000 Electric Volkswagen Coming in 2023-2024
In a recent press release from Volkswagen stating their intentions of sharing their MEB platform to any interested automakers to make future electric cars cheaper, they mentioned a car that we have not heard of before.
MEB and ID. Family are part of the Volkswagen Group's electric offensive, for which the company is investing around €30 billion by 2023. By 2025, the Group brands plan to increase the number of their all-electric cars from six today to more than 50. Jost, who is also the head of Group Product Strategy, emphasizes that electric vehicles are by no means synonymous with sacrifice: "We build cool electric cars that are fun to drive, beautifully designed and fully networked." He notes that starting in 2023, or at the latest in 2024, Volkswagen will launch an electric model, which will be the size of a T-Roc, for less than €20,000.
While there were rumors of a much cheaper ID-series car coming, we were let down to find out that the rumors were referencing the existing VW e-Up!. However we now have official confirmation about a much more affordable electric car coming from VW. If it is indeed the size of the T-Roc, then this yet unnamed EV will go up against the likes of the Kona EV and possibly Tesla Model Y. While this news does not affect us in the near future, it is nice to think about the fact that in 5 years, EVs can be just as affordable as regular cars.
Read More Via Volkswagen
---
Report States EV Ownership Will Reach Cost-Parity with ICE Cars by 2022 in the UK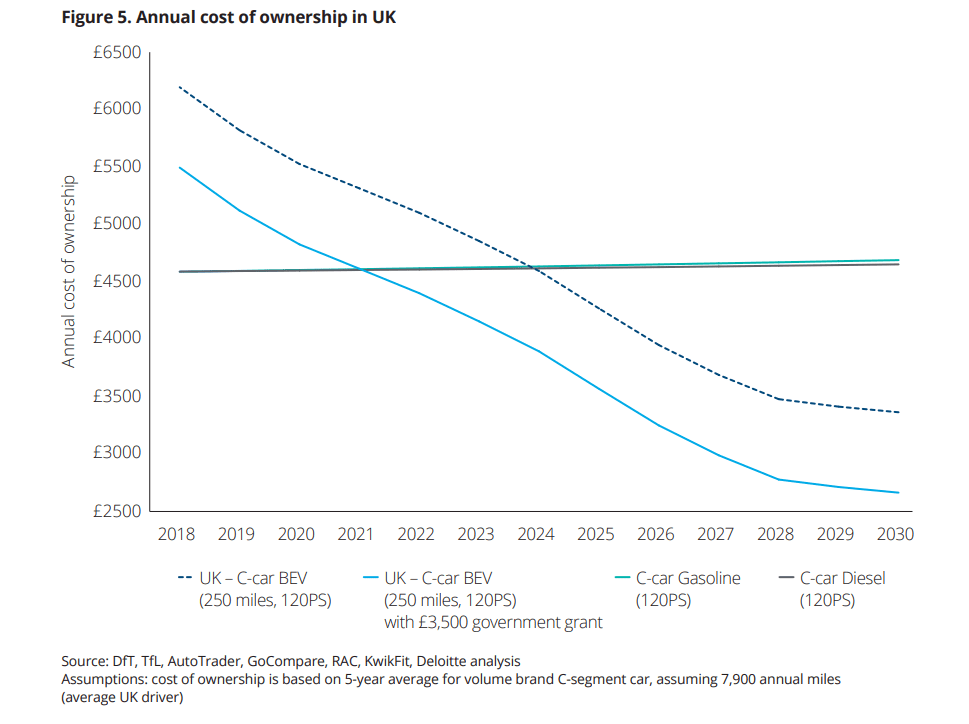 A report coming from English agency, Deloitte claims that in the UK, EVs will reach a "tipping point" in 2022 and be as cost-effective to own as ICE cars. In the detailed report, Deloitte goes on to say that the two major factors that caused them to reach this conclusion are: policy and regulations, and customer demand. The report points towards stricter emissions and fuel economy standards, financial incentives, and city access restrictions (approximately 20 major cities have announced plans to ban gasoline/diesel vehicles by 2030). Additionally consumer demand is expected to increase as time goes one and automakers tackle concerns such as cost, range, and charging infrastructure. While the report claims that EVs will capture 10% of the market by 2024, it also states that automakers are overestimating the demand of EVs by 14 million units by 2030.
Read More Via Deloitte
---
Porsche Taycan Owners Will Get Three Years of Free Charging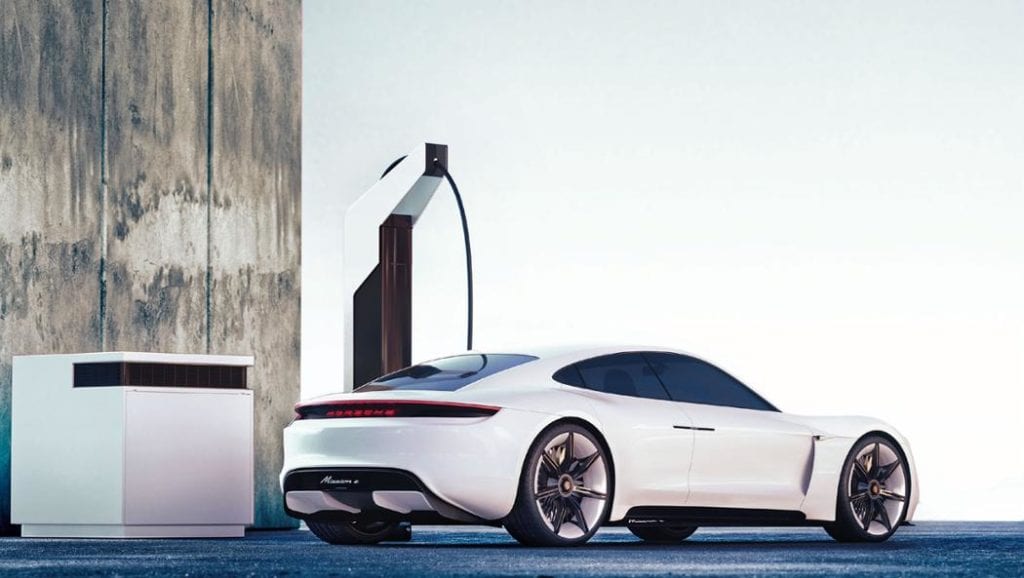 As we near the launch of the new Porsche Taycan, Porsche is hard at work trying to entice as many buyers as possible for their first modern electric car. One of the nice perks from Tesla was the free supercharging that you could get, and it seems like Porsche is trying to win over customers after Tesla ended their free supercharging program, with a charging program of their own. Every new Taycan owner will get 3 years of 30 minute charging sessions from Electrify America charging points. Seeing as Porsche's parent company, Volkswagen, operates Electrify America, it probably was not a hard deal to set up. Porsche states that Electrify America will have 484 nationwide locations in the summer, ahead of the launch of the car. While this is smaller than Tesla's current supercharging network, which is numbered at 1,422 stations in North America. However Electrify America will continue to expand, and also has an advantage in terms of charging speed when compared to Tesla's supercharger network. While superchargers currently max out at 135 kW, Electrify America will have chargers at each location that can handle 350 kW. As the Porsche Taycan is the first production EV to offer 350 kW charging, Porsche is very keen on advertising this fact. A 0-80% charge will be able to be done in 15-20 minutes. It's good to see this deal being done as initially we were worried when Porsche stated that they would charger for charging from the get-go. However it would seem with the recent cancellation of free supercharging from Tesla, Porsche could not help but to jump on any advantage they might have over them.
Read More Via Autoblog
---
The RMK E2 Electric Motorcycle Has the Coolest Motor in the Business
Motorcycle makers, new and old, have really started planning out and developing their electric motorcycles recently. Another company joining the fray is Finnish motorcycle maker, RMK Vehicles and their E2 electric motorcycle. The E2 sports a peak power of 50 kW (67hp) with 320 Nm of torque, a limited top speed of 160 km/h (100 mph), a range of 200-300 km (124-186 miles), and a price of around €24,990 ($28,600). But its most unique feature is the hub-less rear wheel that houses the motor bike's and allows the main part of the body to house the battery. While a wheel hub motor is not a new idea, the RMK E2 might be the first vehicle to actually put it into production. Along with the Tron-like rear wheel, the E2 has thick-gauged yellow wires which gives the bike a further industrial look. One major issue that RMK will have to deal with is the increased unsprung weight of the rear wheel which can cause issues with handling, especially over any sort of bumps (not to mention the possible extra steps needed to change the rear tire). However with a sea of electric motorcycles coming out from Zero, Lightning, Harley Davidson, Ducati, and others, the E2 will get my vote for the coolest looking one.
Read More Via EVNerd
---
Caterpillar Shows off a 26-Ton All-Electric Excavator with a 300-kWh Battery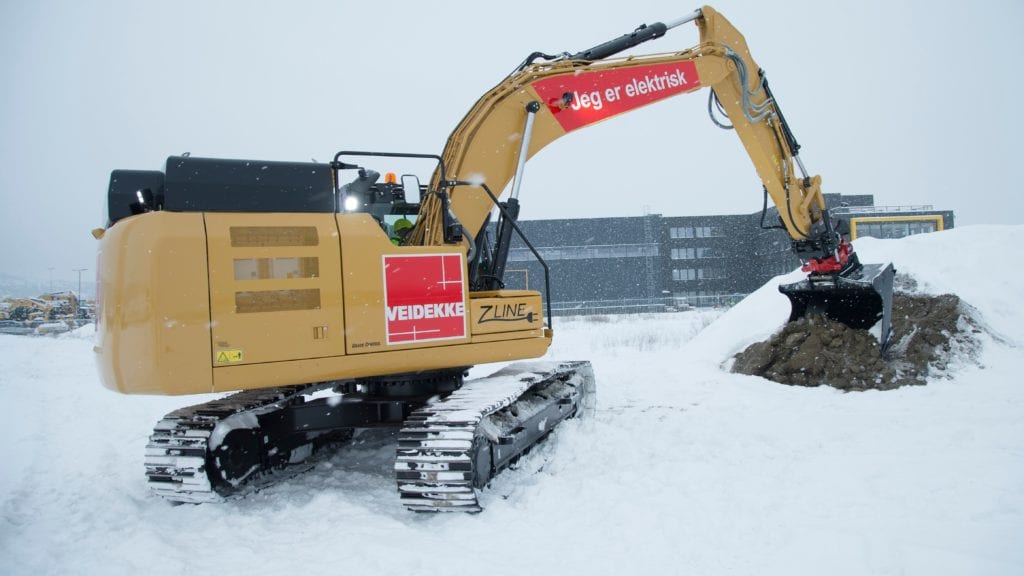 On the complete opposite side of the vehicle spectrum, Caterpillar, along with Pon Equipment has unveiled a 26-ton excavator with a 300 kWh battery that weighs 3.4 tons. It was built as a prototype for Norwegian construction company Veidekke, who plans on using 8 of them (of course Norway of all countries is starting to electrify construction equipment). The excavator has a run time of five to seven hours and can be charged overnight, or just have a really long extension cord plugged in 24/7. While the idea might seem weird at first, its said that the excavator works almost silently, except for the actual hydraulics within. Can you imagine walking by a construction site and not being bombarded by the sounds of diesel engines? It would almost feel surreal. Additionally one of the executives states that if all approximately 2,500 excavators in Norway would be replaced with electric ones such as this, it would be equivalent to taking 60,000 cars off the road. While electric construction equipment might not be as exciting as new electric cars or motorcycles, it is certainly a sector of electric vehicles that should also be pushed.
Read More Via Electrek
---
Audi Announces Pricing for its e-tron Charging Service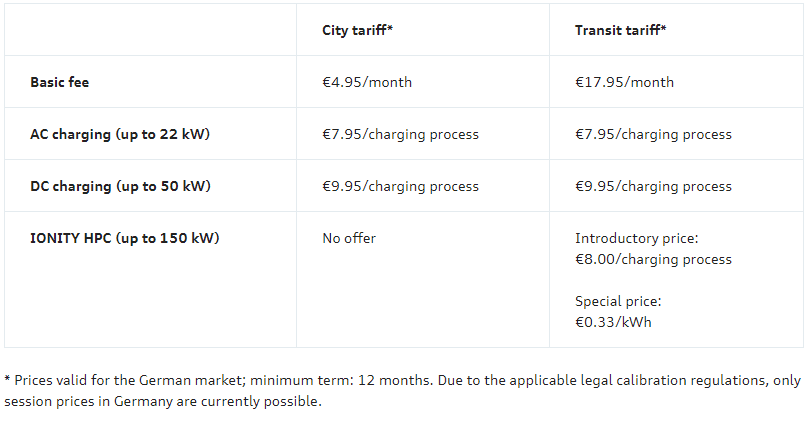 Some months ago, we report on Audi coming with a service that will allow you to access 220 different charging providers in Europe with only one service. Initially the service will by in 10 countries (Austria, Belgium, Finland, France, Germany, Ireland, Italy, Luxembourg, Netherlands, Switzerland), with plans for 6 more by Q1 2019 and Eastern Europe by the end of 2019. The service is split up into two plans a 'City tariff' for those that are driving predominately in urban areas, and 'Transit tariff', for those owners that are planning on traveling long distances. The only difference between the two is that the Transit tariff adds the IONITY network and any other high-power capacity providers. However it is not as if the owner gets a cheaper rate for IONITY charges, as the standard rate as of right now is €8. And to make the special pricing worth it, you would need to charge less than 25 kWh to save money versus the flat €8. Regardless this is a nice idea, but I do not know the how much the convenience of it is worth as America does not have even a fraction of the charging providers as Europe does.
Read More Via Audi
---
In Case You Missed It: