The upcoming Tesla Pickup truck has been hyped up in terms of its performance and design. Recently, Elon Musk has given us some insight into the starting price of the Bladerunner-esque electric pickup.
Elon Musk made an appearance on the Ride the Lightning podcast this weekend, and he gave some further insight into the Tesla Pickup.
The starting price will attempt to be under the $50,000 mark:
"We don't want it to be really expensive. I think it got to start at less than $50,000 – it's got to be like $49,000 starting price max. Ideally less. It just can't be unaffordable. It's got to be something that's affordable. There will be versions of the truck that will be more expensive, but you've got to be able to get a really great truck for $49,000 or less."
Not only does this price point undercut the acclaimed Rivian R1T which starts at $69,000 for the "230 mile+" range model, but it also puts it in striking distance of the more premium trim levels of the Ford F-150. While the base price of a Ford F-150 XL is only $28,155, this balloons quickly to $67,135 for the top trim level F-150 Limited.
Furthermore, it will be placed in the neighborhood of the F-150 Raptor which starts at $52.855 and probably the only truck that will be able to compete with the Tesla Pickup in terms of performance.
Musk stated his high expectations for the Tesla Pickup to be able to fulfill multiple roles:
"It's going to be a truck that is more capable than other trucks. The goal is to be a better truck than a [Ford] F-150 in terms of truck-like functionality and be a better sports car than a standard [Porsche] 911. That's the aspiration."
Finally, Musk confirmed that the cryptic teaser image of the Tesla Pickup is in fact the front of the vehicle.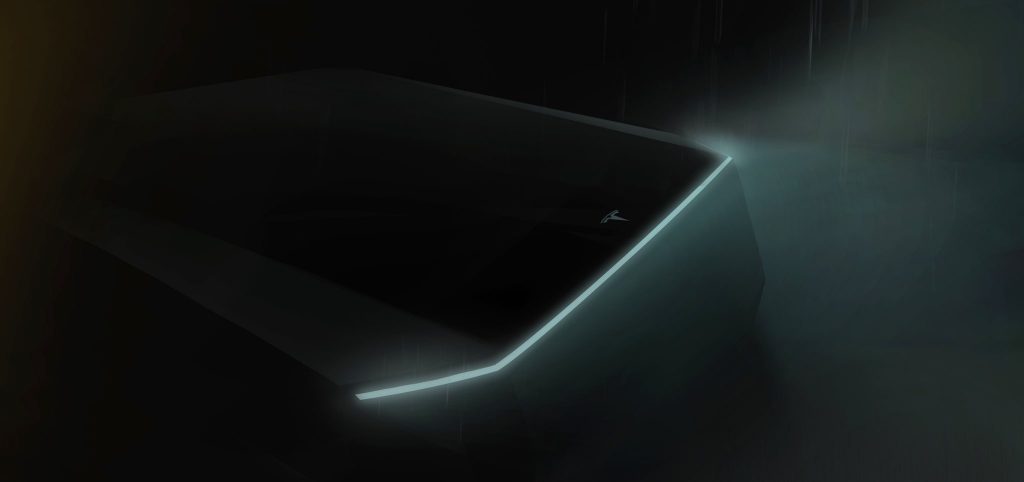 Does that make it any easier to figure out? Not for me.
The Tesla Pickup has had some lofty specifications teased: six-seats, 400-500 mile range, 240V power outlet for heavy duty tools, and a towing capacity of up to 300,000 pounds.
It is however important to temper expectations for the base model. For the starting price of under $50,000 it will be unlikely that the Tesla Pickup will have those lofty specifications. But even if the base model has a range in the mid-200 miles, it will still undercut Rivian's lowest offering and be competitive with the F-150.
At this point Musk has been hammering away at how unconventional the design is, and I cannot wait to see it.
So what do you guys think? What specifications do you think we'll see in the base model Tesla Pickup? What are your thoughts on the design?  Let us know down in the comments below.
Source: Ride the Lightning