Tesla has recently announced its Model 3 Track Pack which includes a few hardware upgrades to help your Performance Model 3 perform at its absolute limit. Many of Tesla's competitors offer a Sport Package of sorts for their cars, so how do they compare with the Tesla Track Pack?
Before taking a look at what traditional automakers supply in their Sport Packages, let's take a look at what comes with the Tesla Track Pack.
4 x 20″ X 9″ Zero-G Performance wheels
4 x Tesla logo center caps
20 x Lug nut covers
4 x 245/35ZR20 XL Michelin Pilot Sport Cup 2 tires
4 x tire pressure sensors
1 x front and rear high-performance brake pads
1 x track-focused brake fluid
The whole package will run you $5,500 and includes installation and shipping to your selected Service Center.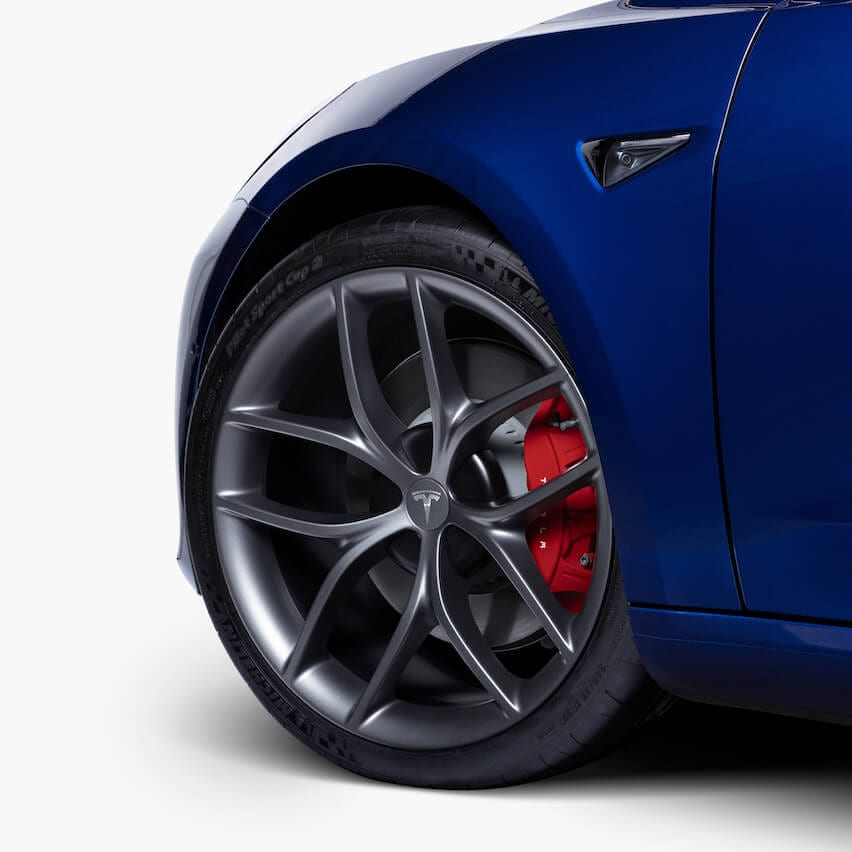 Keep in mind that this package is only available to those with a Model 3 Performance and who opted for the Performance upgrade which already was a worthwhile upgrade which included:
20'' Gray Performance Wheels
Performance Brakes
Carbon fiber spoiler
Lowered suspension
Aluminum alloy pedals

Increased top speed from 145mph to 162mph

Track Mode
Overall the package is relatively unique as it is, as the name implies, a package for taking your car on the track. The performance upgrade for the Model 3 Performance already comes with upgraded wheels, brakes, and lowered suspension. For all intents and purposes that fulfills the function of a 'sport package' as we'll see during our comparison. It is good practice to have a different set of tires and brakes when seriously tracking your car as the wear on them will be significantly increased during track conditions.
Moving on we will take a look at some of the performance or sport packages offered by some of Tesla's competitors. I have defined a sport package as any package that should make some sort of tangible difference in the performance (i.e different suspension, upgraded exhaust). I have not included any packages that are simply cosmetic changes that make the car look more sporty.
BMW Competition Package
The first package we will look at is the Competition Package that BMW offers on its M-series of cars. The package will run you $4,750 and actually offers a decent number of add-ons that give a little boost to the already good performance of the M3 and M4. BMW describes the package as:
Experience pure high-performance and ultimate motorsport feel with the specially developed Competition Package. The enhanced dynamics deliver faster acceleration (-0.1s for 0-60 mph), which come from a horsepower increase of +19 to 444hp (vs. 425), more direct steering ratio, Adaptive M Suspension with new settings in all 3 modes, New DSC setting and New setting for Active M Differential. The package also features 20″ Forged Light Alloy Wheels, high-gloss black elements including the kidney frame, side gill and rear designation, and black-chrome dual tailpipes for the Sport exhaust. For M3 Sedan and M4 Coupe, the interior features M Sport seats with break-through elements in the seat back and front seat belts with M Stripes.
Audi Dynamic Package & Dynamic Package Plus
Audi had two different packages that seem to be related to one another. These packages were found on the RS5 which isn't exactly comparable to the Model 3, but I would imagine the RS4 would have the same packages available to it if it were still in production.
The Dynamic package will cost $3,350
Red brake calipers
RS sport suspension plus with Dynamic Ride Control
RS sport exhaust system with Black tips
The Dynamic Package Plus costs $5,800
174 mph top speed limiter
Carbon engine cover
Gray ceramic front brakes
Gray steel rear brakes
Mercedes-Benz AMG Line
Unlike both BMW and Audi, Mercedes does not have any sort of performance package for their top-end AMG cars, at least not for the C-class AMGs that I was seeing, I guess Mercedes considers the AMG versions powerful enough. However, the non-AMG versions of the C-class do have an AMG Line package which does provide a decent number of options for only $2,000.
AMG Body Styling
18-inch AMG twin 5-spoke wheels
Chrome Diamond-block grille
Sport Suspension and Steering
AMG line interior with sport seats
Sport Steering Wheel
Brushed Aluminum Pedals
The AMG versions do have one track-oriented option and that's a $250 'AMG Track Pace' which will store driving data, such as speed and lap times of various race tracks around the world.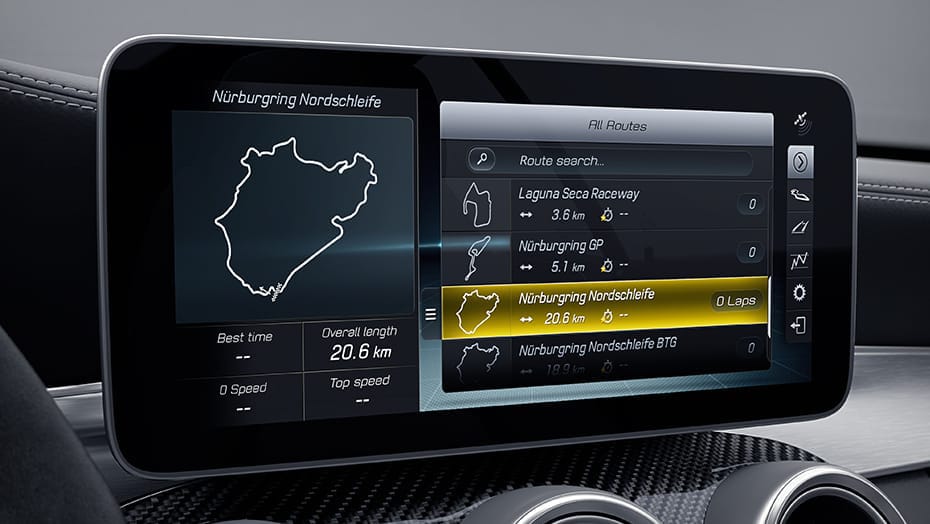 Dodge Dynamics Package
The prevent this being an all-German affair, I thought it would be fair to look at what kind of packages a Dodge Charger has (even though I cannot imagine there are a lot of people stuck between a Model 3 and Dodge Charger, but hey I'm sure there's a couple of you). Unsurprisingly the Dynamics Package is not too dissimilar to the other packages that we've seen, this time clocking in at $2,295.
Black Brake Calipers
Brembo 6-Piston Fixed Front Caliper Brakes
Leather Flat-Bottom Steering Wheel
20-Inch x 9.5-Inch Forged / Painted Aluminum Wheels (Unavailable with some configurations)
275/40ZR20 All-Season Performance Tires (Unavailable with some configurations)
Dodge Demon Crate
To be fair the Dodge Demon is no longer in production, but it would be the most similar in terms to the Model 3 Track Pack, albeit much much more extreme. The Dodge Demon was essentially purpose-built to smack any car on a drag strip straight from the factory. Dodge provided a Demon Crate option which included a multitude of parts and tools to help the Demon be in tip-top shape when it came to laying down rubber for a quarter-mile. Dodge said there was more than $6,000 worth of parts, but the package was only a $1 option. It included:
a hydraulic floor jack with carrying bag
a cordless impact wrench with charger
a torque wrench
a tire-pressure gauge
a fender cover, and
a tool bag
a foam case that fits into the trunk and securely holds the front runners
a performance powertrain control module with high-octane engine calibration
replacement switch module containing high-octane button
conical performance air filter
passenger mirror block-off plate
front-runner drag wheels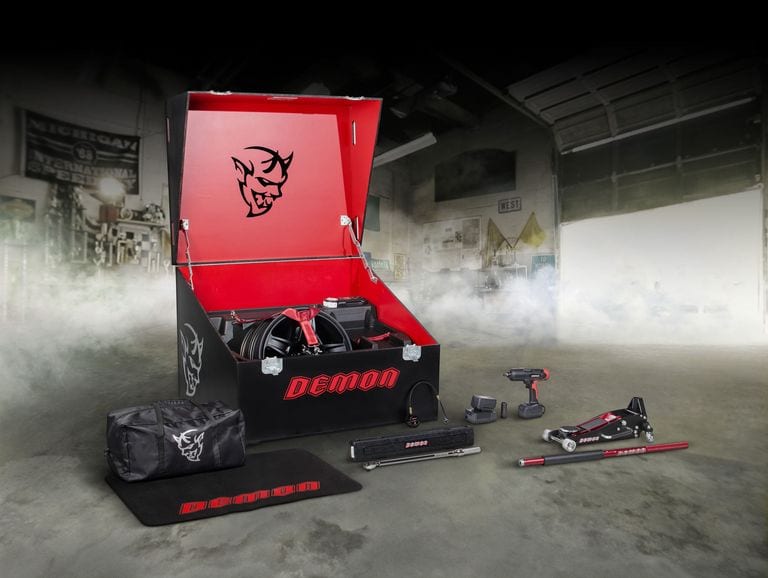 Conclusion
After looking through the various packages, it seems like Tesla Track Pack is not exactly comparable to most sport packages offered by its competitors. Most of the packages we looked at, baring the Demon, look to be more comparable to the Performance Upgrade for the Model 3, which is free. None of the packages are providing a separate set of wheels and brake pads for your track days, you would still be on the hook to get those yourself. Sure the truly enthusiastic track day guys might get everything separately and save some money, but the option to have one neat package is nice. The included additions seem to be quality, a similar-looking performance OZ wheel goes for about $2,200 and Michelin tires are about $1,500. That already amounts to $3,700 without the pads, sensors, and installation cost.
What do you guys think of the new Model 3 Track Pack? Let me know down in the comments below.