If you own a Tesla, you have probably received some sort of goodwill gesture from the automaker as Tesla has been a company known for their generosity when it comes to out-of-warranty service repairs. We have seen them go as far as to give free parts and labor to those in need simply due to their compassion for the average consumer.

---
Disclaimer: In order to protect the identity of this source numbers have been skewed and rounded but the original message still stands; Tesla has put an end to goodwill and it will make a significant impact on their financials.
Our source is a verified Tesla employee who would hold such knowledge but without visual verification, the information given here should be taken with a grain of salt. We have reached out to Tesla with no response.
---
Goodwill is the act of providing a service or product out of shear generosity. These are services performed to vehicles that were not required under warranty.
According to our source, Tesla has finally put an end to their generosity. He claims that their store is one of the most conservative in spending and still managed to rack in a bill over $3 million last quarter.
With 82 Tesla Service Centers in the U.S, this is upwards of $300 million in quarterly expenditures. This is significant as Tesla's only profitable quarter turned a $312 million profit.
These changes were put into affect at the beginning of this quarter. Our source claims that since the start of these new rule sets, the entire east coast has only spent ~$300,000 in goodwill. A absolutely massive drop off seeing as how we are already halfway through the quarter. There are 28 service centers on the east coast and according to him, the west coast spends even more on average.
Last year we saw a few Tesla Model 3 bumpers fall off after going through shallow puddles. An interesting note is that he mentioned this is no longer covered by Tesla and all previous repairs were done under goodwill.
1/2 hr, bringing Model 3 home, run in to heavy rain on the streets & bumper comes off #devastated @Tesla #help @elonmusk pic.twitter.com/mOh2UAjWWr

— Rithesh Nair (@rithesh) August 12, 2018
While it is great to see Tesla saving some money, I am sure their complaint department is getting an ear-full. If this information turns out to be accurate, Tesla is a lot closer to turning a profit this quarter than they were the previous.
Goodwill is not directly reported in Tesla's earning reports so we will never really know the exact numbers and how much this played a role in anything.
We estimate that Tesla has spent nearly $4,000 on our Tesla Model S since the purchase last year. This is a combination of cosmetic issues brought up during delivery and goodwill. According to some, Tesla leads in warranty spending per vehicle sold.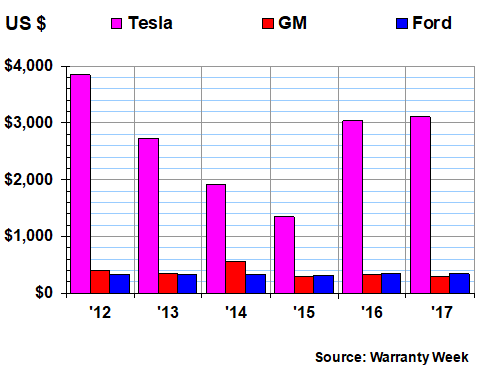 One of the arguments on why Tesla should franchise lies in their spending. Having no one in charge to reap the benefits of saving money leaves to overspending. If putting the hammer down actually worked this well, Tesla could be better off continuing with direct sales for the time being.