The Tesla Q3 Earnings Report might be one that Tesla fans print out and tape to their walls. Tesla has surprised many of us with the Earnings Report, posting an actual profit. Pinch me because we might actually be dreaming.
But in all seriousness, with the fervor that Tesla was producing Model 3s (even though they never reached a consistent 5,000/week pace) and sizable layoffs earlier, it would be surprise if they hadn't posted a profit. However, not many were expecting it to be of this size.
The total revenue was $6.8 billion, $6.09B from the automotive side and $399M from the energy and battery storage division. The GAAP profit was $312 million, or $1.75 per share. A multitude of analysts had Tesla penned at a loss of tens of cents per share.
It is no surprise that the Model 3 pulled most of weight as Tesla is working through their backlog and delivered 56,056 Model 3s in Q3 (Along with 27,710 Model S/X).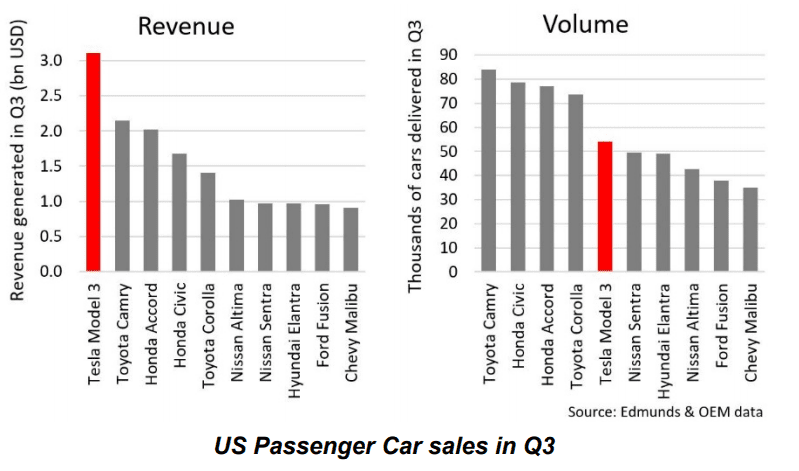 Tesla is exceptionally proud that the Model 3 is going up against some of the highest volume sedans sold in the United States and netting them a decent profit. The Model 3 according to Tesla has a gross margin of more than 20%.
At an average Model 3 production rate of about 4,300 per week in Q3 (excluding planned shutdowns), Model 3 gross margin grew very significantly to above 20%. The mix of the Model 3 Performance version was only slightly higher than the Performance mix of Model S and X. This strong margin growth was driven by a higher production rate while keeping fixed costs stable, significant reductions in manufacturing costs through lower labor hours per unit, lower scrap rate, lower material costs, and higher average selling price.
Tesla had also published a graph illustrating the average price of a vehicle that was traded in for a Model 3.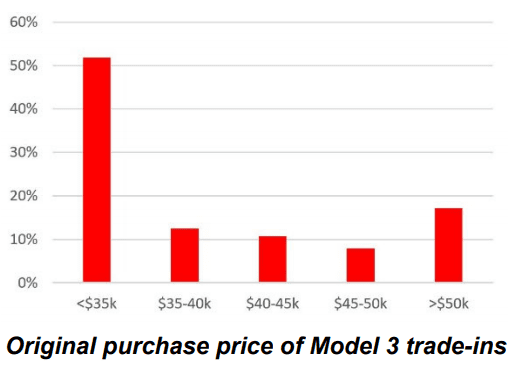 As we can the majority are coming from owners of budget-vehicles.  And in Tesla's words:
It is clear that customers are trading up their relatively cheaper vehicles to buy a Model 3 even though there is not yet a leasing option and the Q3 starting price of a Model 3 was $49,000. This leads us to believe that the total market potential for Model 3 is larger than just the premium sedan market. Additionally, we are working hard to bring down the price of Model 3 to $35,000. We have taken a step forward by recently introducing a medium range version that has a 260-mile EPA estimated range and a starting price of $46,000.
The reason for the medium range version of the Model 3 having its price increased by $1,000 days after release was not given. However we can guess that a $46,000 base price point allows the car to still be under the magic $35,000 after all the savings that Tesla has on their website.
While the at least 20% margin Tesla has on the Model 3 is nice, this has to leave almost no breathing room for margins on the standard range version. The Standard Battery is still listed as 4-6 months so we'll see what advancements Tesla will make in the coming year. The report states that Tesla will continue to work towards a 25% gross margin without ZEV credits on the Model 3, whether that includes the standard range, we do not know.
Other interesting tidbits in the Earnings Report and Conference Call
Musk has stated that FSD was taken off because it was causing confusion for customers due to Enhanced Autopilot sounding similar. You can still order a car with FSD if you want.
The Hardware upgrade will happen around Q2 of 2019 and  according to Musk will be the only change needed to achieve full self driving.
"Of the 455,000 net reservations that we reported in August 2017, less than 20% have cancelled."
"In order to significantly increase the affordability of Model 3, we have decided to accelerate our manufacturing timeline in China. We are aiming to bring portions of Model 3 production to China during 2019 and to progressively increase the level of localization through local sourcing and manufacturing"
Musk has stated that he has approved production of Model Y prototypes
Musk expects to turn a profit from following quarters barring the one's where Tesla pays back a significant amount of debt
The Model 3 will make its way to Europe early next year
So congratulations to Tesla for finally having a quarter with profit. Whether Musk can make good on his promise, we will see. This quarter was very painful for Tesla, and to even achieve these numbers they had to build Model 3s in a tent and have volunteer owners help deliver cars.
Was this an unrepeatable sprint, or a sustainable run? Guess we'll see in 3 months time.
For those that want the nitty-gritty numbers, you can look at the Tesla Q3 Earnings Report here.