It has finally happened, Tesla has launched the mythical Standard Range Model 3 that was promised years ago. But the launch of the new $35,000 Model 3 was not the only piece of news that came from Tesla today.
Back when I wrote that article on the Mid Range Model 3, I ended it by saying that I would hope to one day write an article about a $35,000 Model 3. Well here it is. At the point in October, the configuration said that the Standard Range would be available in "4-6 months".  While many were skeptical at the time frame (me included) it seems that Tesla has delivered on the time-frame.
The announcement brings us both a Standard Range Model 3 and Standard Range Plus Model 3. The Standard Range starts at $35,000 has a range of 220 miles, 0-60 mph time of 5.6 sec., and a top speed of 130 mph. Additionally it comes with just a standard interior which includes:
Manual seat and steering adjustment

Cloth seats and base trim

Basic audio

Standard maps and navigation

Center console with storage and 4 USB ports
The Standard Range Plus starts at $37,000, a range of 240 miles, 0-60 mph in 5.3 sec., and a top speed of 140 mph. Additionally it comes with a partial premium interior which is listed as:
12-way power adjustable heated front seats

Premium seat material and trim

Upgraded audio – immersive sound

Standard maps & navigation

LED fog lamps

Center console with storage, 4 USB ports and docking for 2 smartphones
Both versions of the Standard Range Model 3 will include the following interior options:
Tinted glass roof with ultraviolet and infrared protection

Auto dimming, power folding, heated side mirrors

Music and media over Bluetooth ®

Custom driver profiles
Therefore, for a $2,000 increase you get a 20 mile boost in range, slightly quicker acceleration and top speed, along with an improved interior. It seems like a worthwhile upgrade and I wonder if most will opt for the Plus.
For the time being, the regular Standard Range is listed as 2-4 weeks delivery, while the Standard Range Plus is "within 2 weeks". Musk has stated that the Standard Model 3 will come to Europe in ~6 months and Asia in 6-8 months.
So while the Standard Range Model 3 was the big news for the day, Tesla made some other changes.
Autopilot/Full Self Driving
Tesla has changed the structure of whats included in both Autopilot and FSD. Navigate on Autopilot, Summon, and Autopark were initially within the Enhanced Autopilot option. However, those options have now been moved over to the Full Self Driving Option. However if you have a Tesla with Enhanced Autopilot, but no Full Self Driving option, your features will be grandfathered in.
Everyone who bought Enhanced Autopilot will get Navigate on Autopilot on highways, advanced summon & autopark

— Elon Musk (@elonmusk) February 28, 2019
Additionally, further FSD features have been added on that will hopefully be here by the end of the year. In other words, it breaks down like this.
Autopilot costs $4,000 to add after delivery, and FSD costs $7,000.
Lineup Changes
The Long Range RWD Model 3 now shows a range of 335 miles
Model 3 performance 0-60 time has decreased to 3.2 seconds and top speed increased to 162 mph.
All Model 3s should get a ~5% increase to their peak power on March 15th.
The Standard Range Model X has been discontinued
Pricing Update
Tesla has stated that they have been able to decrease the price of all their cars by an average of 6%.
Model 3

Standard Range: $35,000
Standard Range Plus: $37,000
Mid Range RWD: $40,000
Long Range RWD: $43,000
Long Range AWD: $47,000
Performance: $58,000

Model S

Standard Range: $79,000
Long Range: $83,000
Performance: $99,000
Performance + Ludicrous Mode: $114,000

Model X

Long Range: $88,000
Performance: $104,000
Performance + Ludicrous Mode: $119,000
But At What Cost?
So, you may be wondering to yourself, "How did Tesla manage to drop the price across the board?". Well within the same blog post, Tesla has announced their decision to shift to an online-only sales strategy.
Over the next few months, we will be winding down many of our stores, with a small number of stores in high-traffic locations remaining as galleries, showcases and Tesla information centers.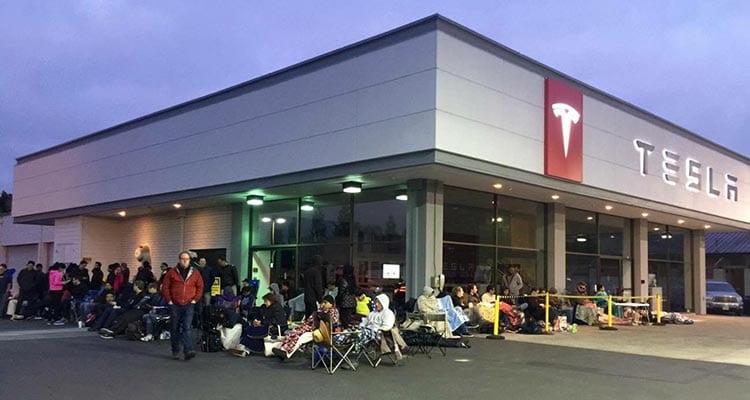 I was excited to see that the Standard Range Model 3 was finally coming, but this decision made me worry a bit. Tesla has no advertising whatsoever, possibly even less so now that the referral program has ended. Yes we know that Tesla owners are some of the most enthusiastic in the car world, but I don't know if they are enough. What happens if you don't have a friend with a Tesla?
To try an assuage the fears of new buyers, Tesla has stated that you can return the car 7-days with up to 1,000 miles. But is that really enough? There would be a situation where someone's first time inside and driving a Tesla would be after they bought it. How is Tesla going to convert the people who are on the fence? Do you think that person would go through a whole ordering process just to touch and drive a potential car purchase?
Overall, it's a decision that I don't know if I agree with. For the time being Tesla is still riding the waves of its enthusiastic fan base. But when they want to reach 1 million annual sales, they'll run out of the die hard fans. At that point will the regular car buyer be willing to deal with an online only experience? For the time being I doubt it.
Lastly, we have to wonder the effect that his new Standard Range Model 3 will have on Tesla's profits. Musk has already stated that Q1 will not be profitable:
"Given that there is a lot happening in Q1, and we are taking a lot of one time charges, there are a lot of challenges getting cars to China and Europe, we do not expect to be profitable. We do think that profitability in Q2 is likely,"
Its possible that the announcement of the Standard Range Model 3 was rushed to help counter the troubles Tesla is having with the SEC currently. Seeing as Tesla sees Q1 as being unprofitable, perhaps they will eat the loses for the Standard Range Model 3 during the same quarter and hope to turn profits in Q2. (Note: this is all assuming that the Standard Range is not profitable, if it is, then this point is moot).
But, that's just me putting on my tinfoil hate and purely speculating.
Above all, the most important thing is that the Standard Range Model 3 is now available to purchase. What comes from this financially for Tesla will left to be seen.
So, what do you guys think of all these changes? Let us know down in the comments below.
Source: Tesla