After the now notorious unveiling of the Tesla truck, like most, I felt a bit perplexed. Is the world ready for such a drastic change in scenery? Is the widely admired fictional cyberpunk dystopia actually where we are heading in this pre-apocalyptic society? When the Tesla Cybertruck hits the road, it will definitely draw eyes, but for what reason? After the questionable thoughts settled in, I went ahead and did the obvious thing, I ordered one. Expect a thorough Tesla Cybertruck review in the coming years. For now, let's take a deep dive into everything we know.
---
---
With much anticipation, the Tesla truck was finally unveiled in late 2019. However, the Cybertruck launch came with a few curveballs. For one, absolutely no one was expecting the truck to look so… ahead of its time. From the most rabid Tesla fans to their largest skeptics, similar expressions were shared across the globe.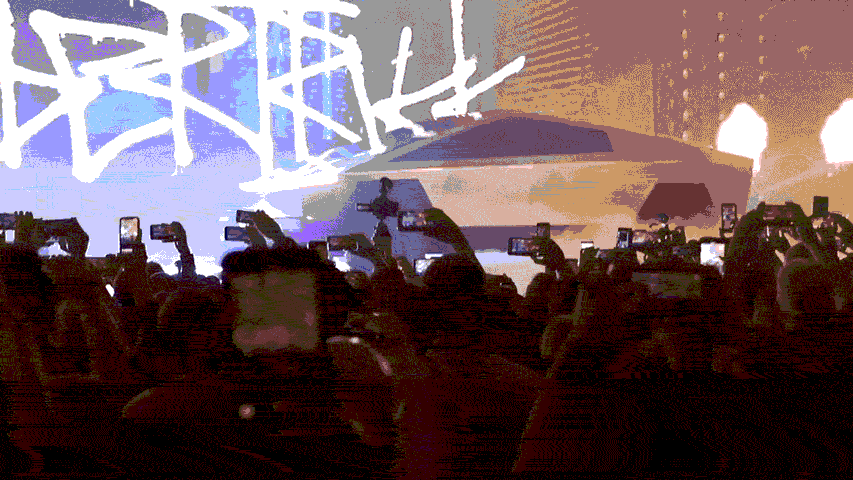 Aside from looks, it was clear Tesla created a truck worthy of going head-to-head against the rest of them. After years of remaining optimistic about Tesla's next vehicle, the Cybertruck ended up being everything we ever wanted, plus more.
That was until one unfortunate moment arose to stain the entire event. On the global stage, Tesla decided it would be best to demonstrate their industry-leading glass durability. Throwing a ball made of steel directly onto the glass, it shattered. A shatter that was heard and talked about for weeks. Topping the innovation, the only thing people could talk about was the one laughable moment.
The unique design drew in attention of its own, of course. As is tradition, the internet took the opportunity to engrave the whole event through the artistic median known as memes.
---
| | Single Motor RWD | Dual Motor AWD | Tri Motor AWD |
| --- | --- | --- | --- |
| Price | $39,900 | $49,900 | $69,900 |
| Tow Capacity | 7,500 lbs | 10,000 lbs | 14,000 lbs |
| Max Payload | 3,500 lbs | 3,500 lbs | 3,500 lbs |
| Range | 250 miles | 300 miles | 500 miles |
| 0-60 | 6.5 seconds | 4.5 seconds | 2.9 seconds |
While we don't have the Cybertrucks battery size confirmed, with a stated 500 miles of range, we can assume it will have Tesla's largest battery yet. As we transition into better EV's, one thing we are seeing is plans to evolve into larger batteries. Rivian is planning on using a 180 kWh battery in their 400-mile ranged truck. Even with Tesla by far holding the lead in terms of battery efficiency, we expect the Tesla Cybertruck to have a battery size of around 150 kWh.
Doing so won't be too difficult. The upcoming Next Gen Tesla Roadster is expected to have a 200 kWh battery in a car half the size. With Battery Day coming up, we expect Tesla to showcase their latest and greatest density and efficiency related battery technology.
We've seen single-motor and dual-motor options from the company for years now. But something separating the Cybertruck specs from the current bunch is its implementation of a tri-motor option. That's right, three whole motors.
Interestingly, the Cybertruck isn't the first scheduled Tesla to receive the tri-motor treatment. Tesla's Tacyan Killer, the Model S Plaid, is expected to be released later this year. Certainly the platform and everything learned will be sent over to the Cybertruck the following year.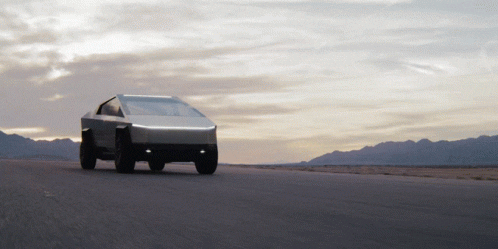 With that tri-motor option, the Tesla Cybertruck will be one of the fastest trucks on the road with a 0-60 of 2.9 seconds. This places it inline with some of the fastest exotic cars available today for ten times the price. For a more related comparison, the similarly priced Ford Raptor has a 0-60 of 5.5 seconds.
The dual and single-motor options are nothing to laugh at either. At 6.5 and 4.5 seconds, they'll be more than enough to put a smile on your face while lugging work tools in the back.
The top speed for all three models seem to be up in the air but by no means should we expect to take this truck around a track. That might best be fit for a Cyber Roadster.
After watching the unveil, many wondering if the seemingly massive truck would fit in the standard garage. The Tesla Cybertrucks length sits at 231.7 inches long with its width at 79.8 inches. Before its release, Elon Musk promised a six-foot-tall person would be able to comfortably fit within the vehicle. As always, Tesla delivered with the Cybertrucks height at 75 inches tall.

Due to the Cybertrucks unique truck shape, its bed can hold significantly more than the competition. Ford's 6.5 ft bed option allows for 62.3 cu ft of space while Tesla's goes deeper in order to hold 100 cu ft. Even Ford's largest option, the 8 ft bed, only allows for 77.4 cu ft of space.
As for the interior, no exact dimensions have been reported. We do however know the Tesla truck will boast 6 seats, taking advantage of an adjustable center console, as found with other trucks built today.
The Cybertrucks weight is also still unknown but with a hefty battery pack and a few tons of Ultra-Hard 30X Cold-Rolled Stainless Steel occupying the body, we expect this thing to move like a tank.
By virtue of being a pickup truck, the Cybertruck automatically comes with a lot more utility than a standard car. Whether it's reaching for the trucking niche or not, its still a truck. As a truck, the Cybertruck comes fit a new load of specs most people who aren't truckers couldn't care any less about. Yet even those exceed the competition.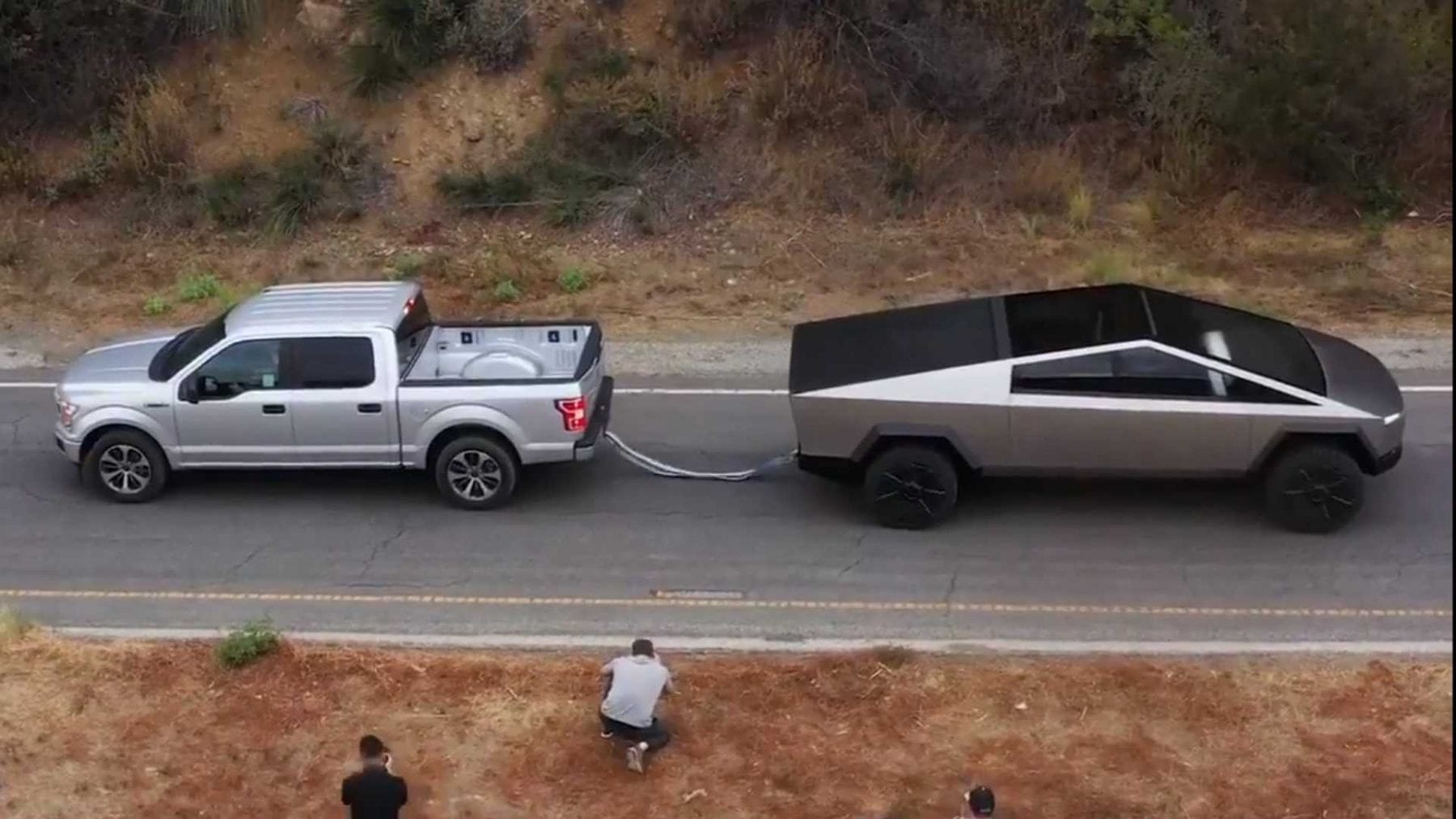 If you're hauling heavy equipment, it should be noted that the Cybertrucks tow capacity is tied directly with its trim. The tri-motor option caps out at a 14,000 lbs tow capacity with the single motor pulling in a respectable 7,500 lbs. The dual-motor will be the sweet spot for most sitting right in the middle at a 10,000 lbs tow capacity. All three Cybertruck options will have a max payload of 3,500 lbs, once again completely outdoing the competition.
The Cybertruck bed size is above standard at 6.5 feet. While that might not be enough for every scenario, talks of expanding the bed with a reclining wall have made their rounds. On the other end of the spectrum, a smaller Cybertruck is all but confirmed.
With clearance angles of 35° approach and 28° departure side-by-side with a 16-inch clearance height, you might be inclined to take this beast off-road. It might not be able to climb walls like a Wrangler, but it'll certainly take on most other obstacles.
Typically asked with every EV considerations, most are curious as to how fast the Tesla Cybertruck charges. With the companies release of Supercharger V3, 250 kW charging has become the new norm. Every Tesla currently available is able to take part in the upwards of 1,000 miles per hour charging speeds.

There's no stated information regarding a fourth upgrade to the Supercharging platform, but others are acting fast. Companies have been drastically expanding their charging networks composed of lightning-fast speeds. In an attempt to future proof, we are seeing chargers installed at speeds currently unusable in today's vehicles. Tesla has opted against this only installing stations with speeds currently usable to Tesla's built today.
While it would make sense for Tesla to one day begin installing Supercharger V4, I can't imagine it will begin before the release of the Tesla Cybertruck. That being said, the Cybertruck could potentially hold a larger than a 250 kW max charging rate in preparation for the next generation of Tesla's charging technology. For now, it is safe to assume the Tesla Cybertruck charge time will remain the same as all other Tesla's built today.
---
Upon the announcement of the Tesla truck, many had started to wonder where Cybertruck production would take place. Sure, there was Giga Shanghai, but that was allocated for Model 3/Y, so was the freshly announced Gigafactory in Germany. Given how much more popular the pickup truck segment is in North America compared to the rest of the world, it would not have made logistical sense to have Cybertruck production in China or Europe just to send a majority to the US. With the factory in Freemont already working overtime to churn out models at a record pace, it was unlikely that it would be able to meet the projected demand for the Cybertruck. As such, musings of a new Cybertruck factory location within the United States started to spread. Many rumors started to fly as the factory location would have to be chosen quickly if it would be prepared in time for the Cybertrucks late 2021 debut.
Many of the locations vying for a new Tesla Gigafactory were located strategically in the mid-west, giving ample coverage for both the West and East coasts. Two cities in particular that had a lot of momentum were Austin, Texas, and Tulsa, Oklahoma with government officials and Tesla fans alike making cases for why their city should be chosen. After many months of waiting, Musk announced that they had chosen Austin to be their location, but he did state that Tulsa would be a prime candidate for any future expansions planned. And thus, Giga Texas joined the likes of Giga Shanghai, and Giga Berlin as three simultaneous factory build-outs currently ongoing.
The Austin Tesla factory will however not be exclusive to Cybertruck production, as the Model Y will also be built there. We, however, assume that the Tesla truck will take up the majority of the production capacity given that it will be the sole site of production and it looks like there are many orders waiting to be filled.
---
The true showstopper at the Cybertruck reveal was easily it's price. Nearly no one was expecting anything near what's considered affordable. Not only does the Tesla truck kill the competition, it comes in at a price close enough to make them sweat. The Tesla Cybertruck price starts at $39,900 with the variables listed below:
Single Motor RWD
Dual Motor AWD
Tri Motor AWD
$39,900
$49,900
$69,900

FSD: $8,000
Cybertruck reservations have crossed the 700,000 mark. If you want to be first in line and haven't yet ordered, it might be a bit too late. Reservations are opened and sit at just $100 securing your spot in line and the current price. With FSD constantly increasing in price, it's best to order a Tesla sooner rather than later. Go ahead and add that as a reason to order a Cybertruck.
Cybertruck options like the camper edition or a simple tow hitch could run up the sale price a bit. Until we near production, Tesla has just given us the base price of each model.
---
Without an exact Tesla Cybertruck production date, we can't be certain as to when this EV will be released. Cybertruck configuration and order books are scheduled to open in late 2021, according to the company. The first Cybertrucks are, as of today, set to hit the roads in late 2021.
As we cross 700,000 total Cybertruck reservations, it's clear this vehicle's demand is high. The release might be set for late 2021, but unless you were one of the first to place your order, you shouldn't expect to receive your truck for months after. In the first 48 hours alone, Tesla received 146,000 reservations, quickly filling up their supply line.
In any case, assuming Tesla Giga Texas is completed in time, you should expect to see Tesla's future truck take over the roads by the end of next year.
---
For the first time ever we are seeing the design language of the Tesla lineup drift away from the modern-esque stylings owners have come to love. The Cybertruck was built like a movie prop with a cyberpunk future in mind. Taking notes from movies like Bladerunner and The Spy Who Loved Me, this truck will be built decades ahead of its time while ignoring all present-day design conventions. Elon Musk certainly was not lying when he said that the design would not be for everyone.
Sure, maybe the Cybertruck is ugly. But doing as Tesla does, the company aimed for an entirely new niche of consumers, those who want to make a statement and drive around in a street-legal tank.
The truck market is arguably the most competitive arena in the automotive world. In order to stand out, Tesla designed a vehicle you'll always recognize and never forget. Even the most out of the loop, non car enthusiast, will recognize the Cybertruck on the road. They've captured an audience and cast a wide net while simultaneously providing best-in-class utility for those who actually need a truck to… truck. For the rest, a Tesla Cybertruck Hot Wheels is in the works.
Something entirely new to the Cybertruck, or all cars for that matter, is the implementation of a full-body Cybertruck exoskeleton. It certainly sounds cool and futuristic but there's actually a lot to it. Using an exoskeleton rather than the traditional body on chassis method allows the Cybertrucks weight to remain lighter. This is important given the body is entirely made out of steal, rather than the traditionally lighter aluminum.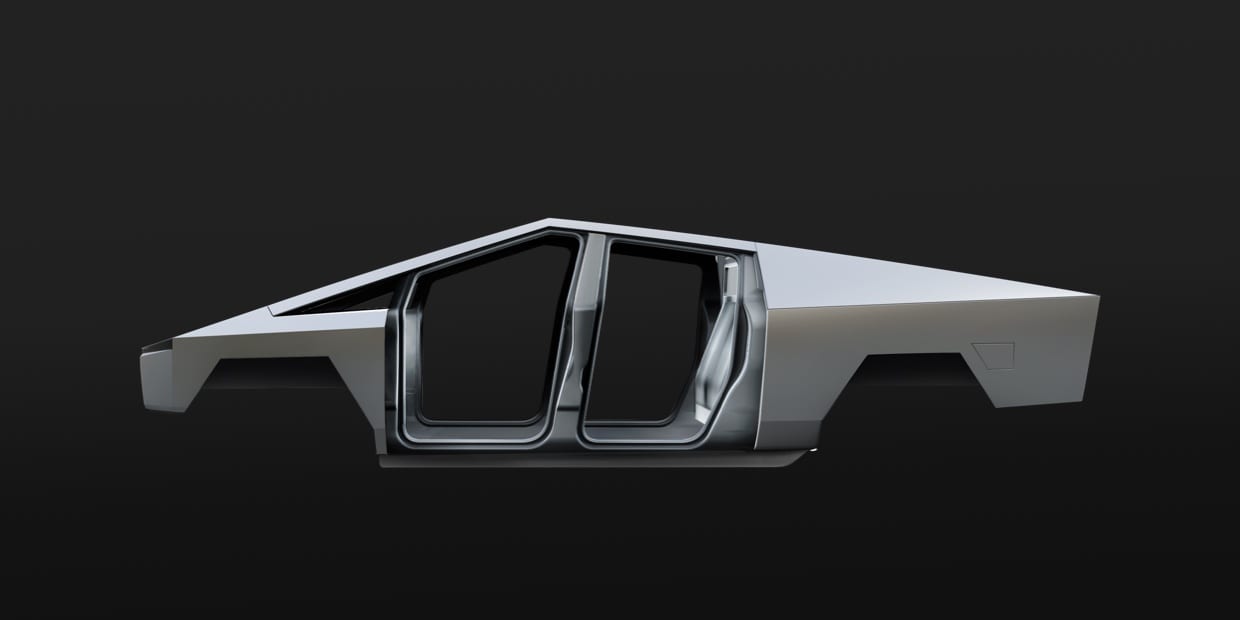 Taking advantage of Tesla's proprietary Ultra-Hard 30X Cold-Rolled stainless-steel, the body of the Cybertruck is nearly impenetrable. Road debris damage and door dings will be a thing of the past with the Cybertrucks hammer proof body structure. Nothing is certain yet, as the truck isn't available yet, but the Cybertruck could potentially lead the industry in safety. One major concern seems to be repairs. In the odd chance that someone does drastically damage their Cybertruck, you can't just snap off a body panel and snap on a new one.
The futuristic electric truck rolled off stage wearing a set of massive 35-inch tires. The Cybertruck wheels were displayed with aero wheel covers, hubcaps designed for improved efficiency. If it's anything like all the other Tesla models, unlike traditional hubcaps, these sport a well designed wheel beneath them for those who want to opt-out of the cover. The real Tesla Cybertruck wheels can be seen in the footage below.
Franz throws steel ball at Cybertruck window right before launch. Guess we have some improvements to make before production haha. pic.twitter.com/eB0o4tlPoz

— Elon Musk (@elonmusk) November 23, 2019
An important tidbit is the Cybertrucks mirrors, or lack thereof. Many have questioned whether or not the Cybertruck is street legal with this being one of the points noted. Tesla tends to not reveal prototypes, rather production versions of their vehicles, but with the Cybertruck nearly a year away and laws not changing anytime soon, we can expect to see some minor changes to the design of the Cybertruck before it hits the roads.
Unlike the Model S and X, the Tesla Cybertruck interior leans towards the ultra-minimalist stylings of the Model 3 and Y with nothing but a single center display. That display however does happen to be the largest of the bunch at 17″. From what we've seen in sneak peaks, the interface will have its own UI built from the ground up for trucks. Check out the Tesla Cybertruck video for a glimpse of our future.
Like the side mirrors in question, the rearview mirror in the Cybertruck is entirely digital. By the time deliveries begin, Full Self-Driving is set to be road-ready, so you won't need them regardless.
---
The Tesla Cybertruck features a long list of quirky specs. Being on the more affordable end of the Tesla lineup, surprisingly it boasts the adaptive air suspension found in the premium Model S and Model X. As is normal on all new Tesla's, the Tesla truck will also come standard with Autopilot. Taking a note from other truck makers, the center console will double over as a sixth seat. Most notably, it will also come with Tesla's software updates which will push your vehicle's software to new heights even after your initial purchase. Tesla Cybertruck updates alone will push this vehicle ahead of the current competition.
On the utility side, the Tesla truck has much-needed features to make the truck stand out among the rest in a work environment. Taking advantage of the massive battery pack found in EV's, you'll be able to power both 120v and 240v outlets straight from the vehicle, getting rid of the necessity of a job-site generator. The truck will also feature a built-in air compressor for all your air compressor needs.
While the above quirks are great and all, there's a few Cybertruck features like no others before it.
The Tesla Cybertruck glass nearly wraps around the entire top of the vehicle. Like the Model X, the front windshield comes at an abnormally large size resulting in a more spacious and futuristic interior. Like the others, the roof is also covered in a large panoramic roof. With so much glass found in Tesla's vehicles, the company thought it best to innovate in that field as well.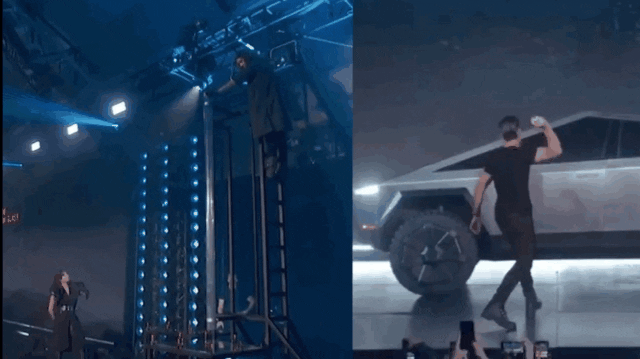 With the unveil of the Tesla Semi, the company introduced a proprietary "Tesla Armor Glass". The ultra-durable composite glass is designed to make rock chips and cracks an issue of the past. Obviously the company decided to bring the nearly bulletproof glass over to their Cybertank. Just don't throw steel balls at it.
The Tesla Cybertruck bed size sits above standard at 6.5 ft long. However, thanks to its side walls, it outperforms the competition in terms of volume, boasting 100 cu ft of space. The walls not only extend higher than a traditional truck bed, but they also provide additional storage within. As an interesting addition and utilization of space, Tesla opted to add a ramp built into the Cybertrucks tailgate.
The bed itself is so unlike the others that Tesla opted to rename it as a "Vault". The Cybertruck Vault features a lockable cover that can automatically open or close at the tap of a button. While other manufacturers offer bed covers made of thin materials, the Cybertruck bed is so sturdy you can even stand on it.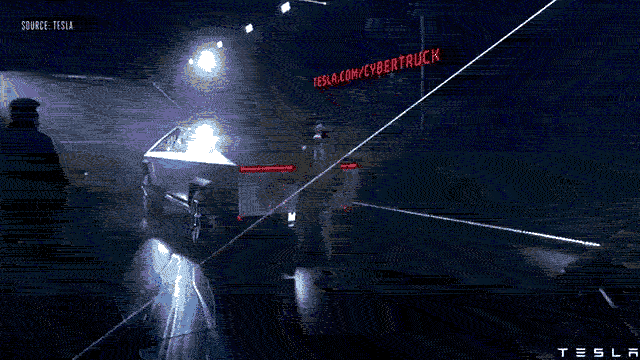 Locking the hardened vault alongside with Tesla Sentry Mode will provide you with one of the most secure storage locations found in the automotive world. Surely the name Vault wasn't thrown on without merit.
The Cybertruck will feature no paint, rather a bare stainless steel body. However, that doesn't mean customization options are out of the question. Elon Musk confirmed a matte black Cybertruck will be made available. While not impossible, painting the Cybertruck will be harder than normal. As such, Musk has stated the best thing to do would be to wrap your vehicle. Doing so allows you to choose from an infinitely sized color selection.
Wrapping however won't be your only option. With the Tesla Truck being stainless steel, you'll be glad to know torching it is an option. By heating metal up to specific temperatures, you can temper the steal resulting in a unique assortment of colors.
Yes

— Elon Musk (@elonmusk) July 26, 2020
A third option would be a little difficult to execute given the trucks massive size and lack of removable panels. But if offered by Tesla, engraving the Tesla Cybertruck could be an affordable way to customize it. If not offered from the factory, it will certainly make a great future 3rd party Cybertruck modification. Tesla Cybetruck colors are nice and all but nothing makes more of a statement than having a fully customized engraving wrapped around your vehicle. Owners will of course get creative with some yet to be seen Cybertruck mods.
---
While the Cybertruck itself looks as bare as can be, your options are everything but limited. Tesla seeks to make available a few lifestyle add on's almost necessary for the outdoor enthusiasts. Tesla Cybertruck options are currently limited to whether or not you want to pay $8,000 for FSD, but there's been a few less talked about products potentially coming to market alongside the military-grade adventure truck.
Alongside the reveal of the Tesla truck, a last-minute Tesla ATV was revealed, because what's more cyberpunk than a futuristic bike. Little is known about this quad but it's set to release alongside, or soon after the Cybertruck itself. It would be interesting if Tesla took a unique approach of selling this vehicle as an option for the Cybertruck, allowing the two to be financed together. We will just have to wait until close to the release of the Tesla cybertruck to find out more.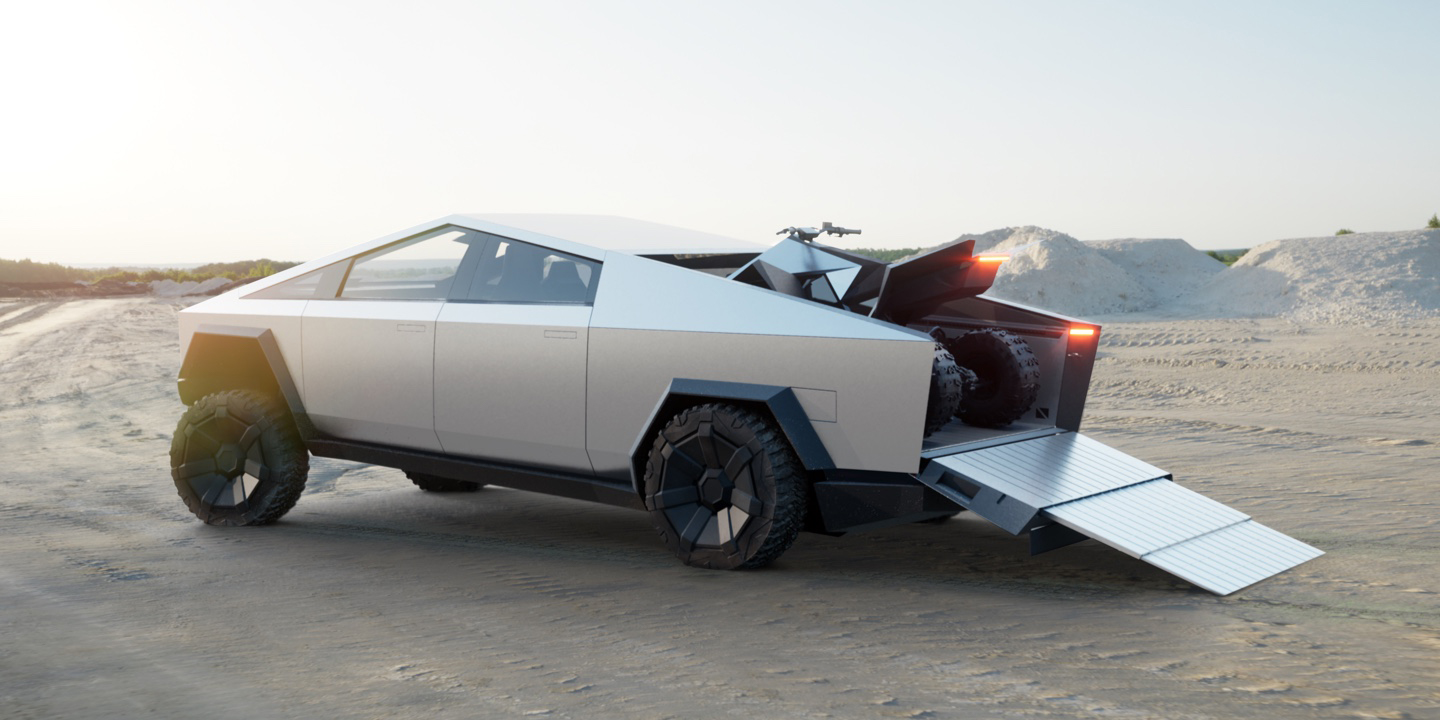 Using the built-in ramp, owners will be able to drive around their ATV without the use of a trailer. With the 240v outlet in the back, you'll also be able to charge it as you drive to your destination.
For those that need to store more than just an ATV, Tesla shared a photo of a rendered Tesla Cybertruck trailer. Nothing about this Cybertruck option has been specified and it's uncertain if the trailer is meant for storage or as an RV. What we do know is that it looks cool.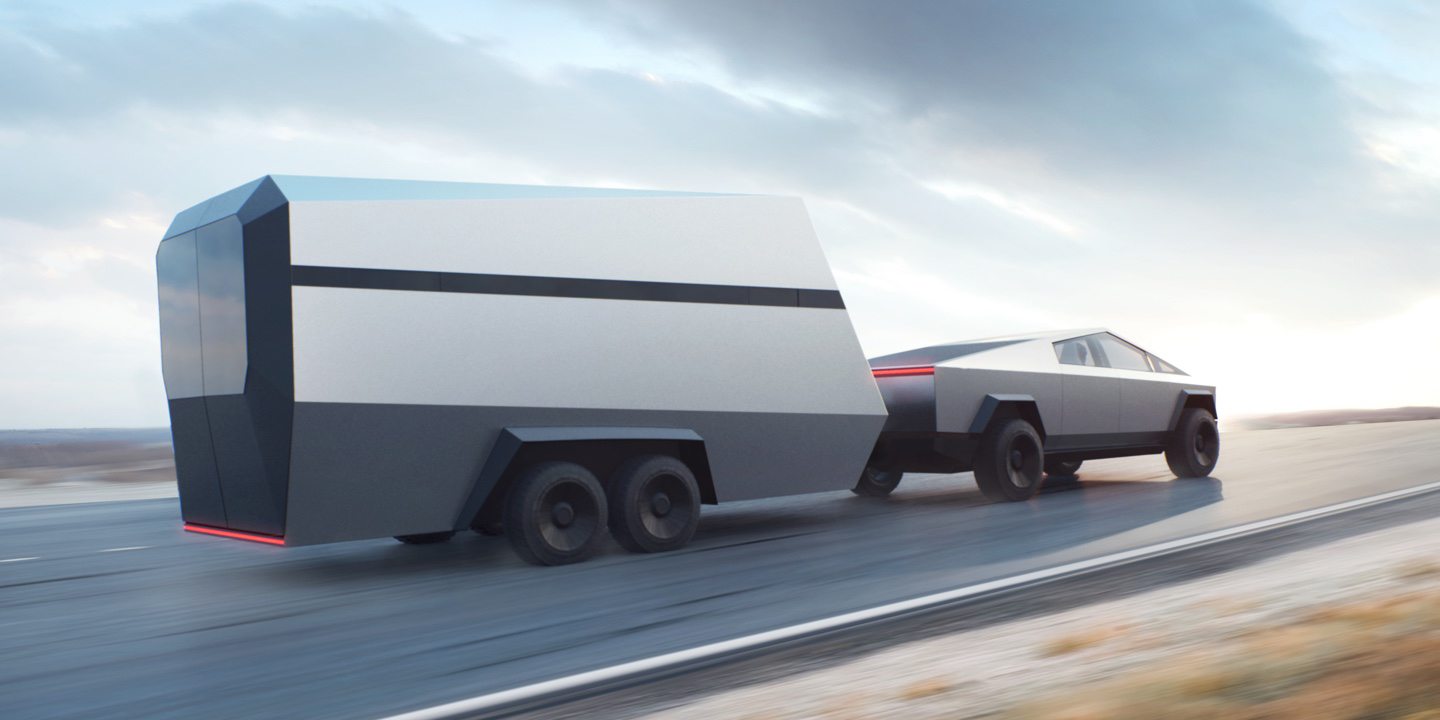 Unlike the ATV, we have never seen a prototype of the trailer. It is uncertain if or when the product will come to fruition but we expect to hear more as we inch close to the release of its mother, the Cybertruck.
Like the trailer, we know nothing about the Tesla Cybertruck Camper. Based on the render, it looks to feature a pop-up tent allowing you to sleep on the bed of the truck. The storage space beneath seems to be occupied by a selection of outdoor equipment ranging from cookware to stovetops.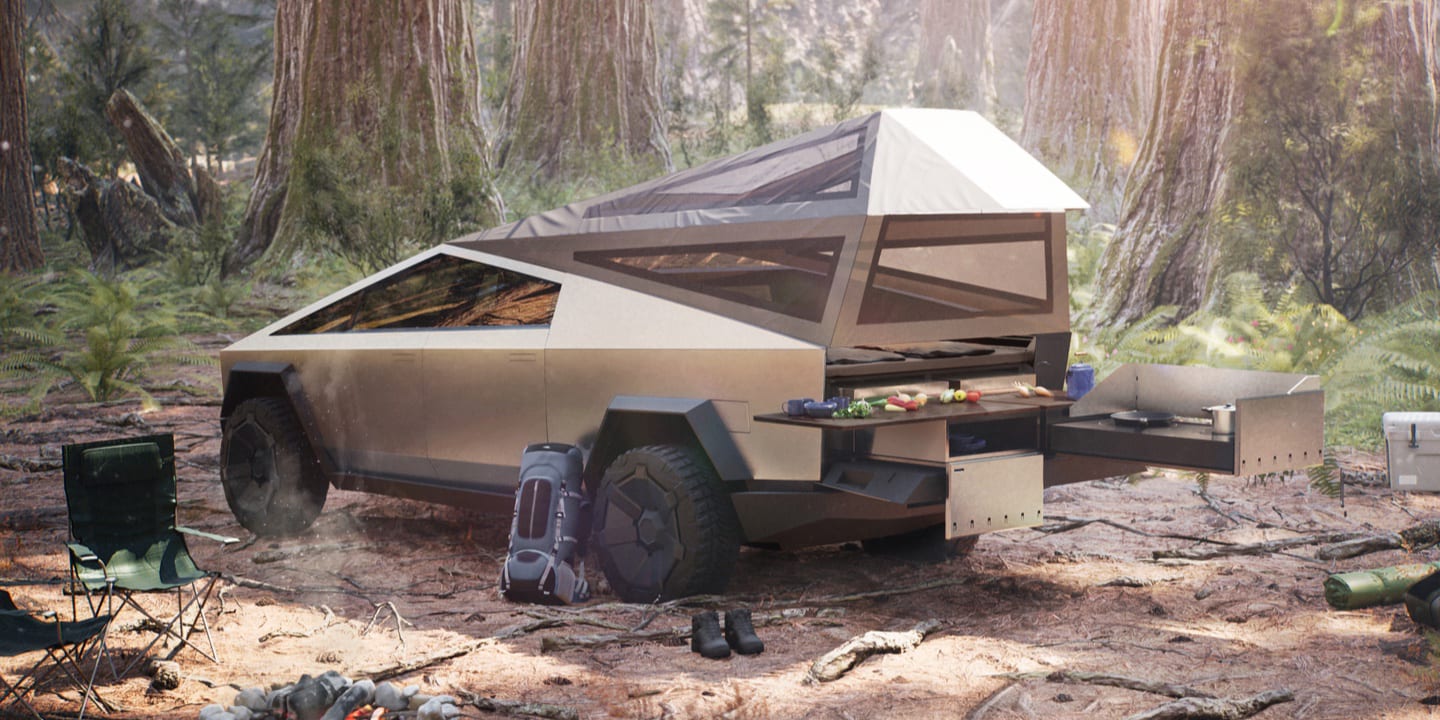 For once, the company is not first to the campsite with this option. Rivian, their closest competitor, revealed their camper edition months prior. With a real-world variant, we can get a close approximation as to what living with a Cybertruck camper would be like.
Based on the render, like the Rivian this looks to be a new version of the vehicle rather than a simple Cybertruck accessory. We have no word on pricing for this option but hope to see it closer with the release of the truck rather than later. Many outdoorsy reservation holders are looking to buy this edition so it wouldn't be favorable to hold out too long.
---
As a first for Tesla, the company will not be the sole player in this space. Trucks are one of the largest segments in the U.S. and by far the most competitive. In fact, the top 3 best selling vehicles in the U.S. last year were the Ford F Series, Ram Trucks, and the Chevy Silverado, with Ford holding that spot for thirty-seven years. Tesla knew going into this space, if they wanted to compete, they had to be both different but better. The Tesla truck accomplished just that.
With no electrified truck currently available, a long list of electric truck manufacturers began to sprung up. Based on scale and expectations, only two others are looking to lead the market, Rivian and Ford.
| | Tesla Cybertruck | Rivian R1T | Ford F150 |
| --- | --- | --- | --- |
| Max Payload | 3,500 lbs. | TBA | 3,270 lbs. |
| Max Towing | 14,000 lbs. | 11,000 lbs. | 13,200 lbs. |
| Max Range | 500+ Miles | 400+ Miles | 500+ Miles |
| Top Speed | TBA | 125 mph | 110 mph |
| 0-60 mph | 2.9 sec. | 3.0 sec. | 5.1 sec. |
Coming in at right around the same size as a Ford F-150, the Tesla truck puts all truck lovers to shame. It can tow more, carry more, and can launch much, much, faster. At 500 miles of range, it even compares in distance traveled per "tank". So far, the Ford vs Tesla battle has a clear winner.
Except Ford doesn't look to go head to head against Tesla with yesterday's truck. The company has plans to begin selling an electric F-150 by mid-2022. Expectations are for an unveiling showcasing a production version alongside price and specs by the end of next year.
Until the F-150 officially becomes electrified, with accompanying public specs, the Tesla Cybertruck vs Rivian R1T comparison is the only thing being talked about. The two have been placed up against one another by fans for years now. With both trucks expected to hit the roads within the next two years, it's no wonder why spectators are getting excited.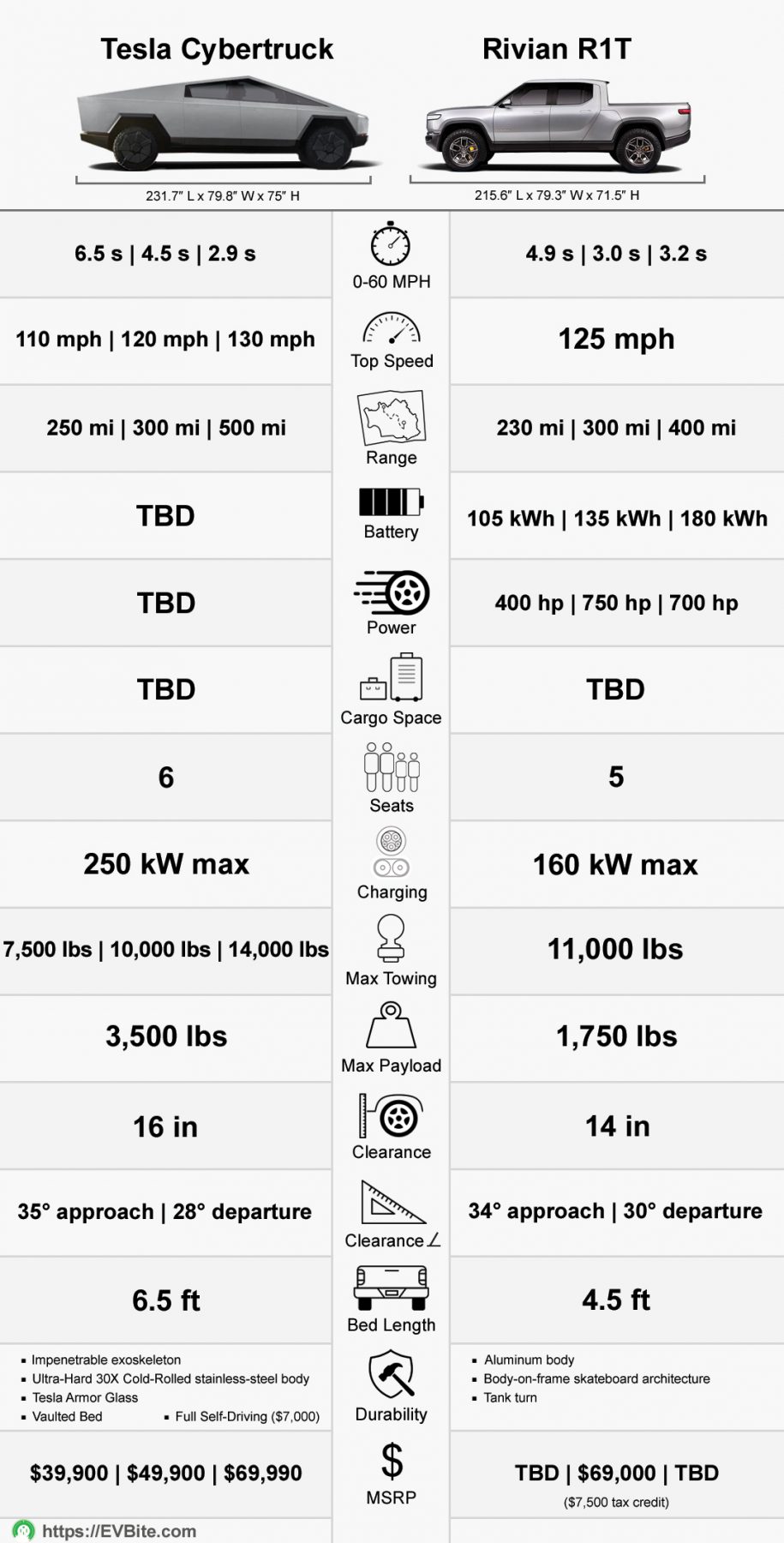 Rivian is a well funded EV company who's been working in secret since 2009. The R1T will be their debut vehicle aiming at dominating the luxury truck space. The R1T is set to begin production early next year.
---
As with anything new and unfamiliar, public opinion is split on this one. Will this end up another low production niche vehicle like the Hummer or that weird 6-wheeled Mercedes G-Wagon? Will it capture the millennial market and roam within the streets of Silicon Valley? Will it become a military-grade vehicle to govern our streets? Clearly, it's not a truck. It's everything but a truck.
Only it is a truck. One of the best trucks.
Tesla isn't reaching to create a new demographic of cyberpunk enthusiasts, they aren't selling a gimmicky electric vehicle, they're selling a truck. Sure, it looks different, but so did the first iPhone. This might be just one of the many electric trucks to soon hit the market, but the Tesla Cybertruck is the only one to steal the show from the rest. We'll just wait for some new Cybertruck news before we begin to form any rash opinions.
---
Is the Tesla Cybertruck Real?
Of course the Tesla Cybertruck is real. We know that it looks weird, but the Cybertruck is indeed going into production in more or less its current from.
How much is the Tesla Cybertruck?
The Tesla Cybertruck costs $39,900 for the single-motor, $49,900 for the dual-motor, and $69,900 for the tri-motor. If you want full self-driving than add on another $8,000 to the respective price.
When does the Tesla Cybertruck come out?
The Tesla Cybertruck Dual- and Tri-motor versions will come out in late 2021, while the single-motor version will not arrive until late 2022.
How many Cybertruck Orders Have Been Made?
The current Cybertruck reservation number is unknown as you would have to find the most recent reservationist and ask them for their number. However current crowdsourced data has put the total reservations at over 700,000 reservations.
How Much Can the Tesla Cybertruck Tow?
Depending on which motor layout you get, the towing capacity will change. The single-motor has a 7,000+ lb. capacity, the dual-motor has a 10,000+ lb. capacity and the tri-motor will have a 14,000+ lb. capacity.