Tesla, a company already known for their industry breaking innovation throughout the last decade, has one feature that stands out among the rest, their built-in Tesla dashcam. Using their proprietary Autopilot cameras, owners are able to store and record live footage at no additional cost. A feature all other manufacturers drastically lack will eventually become a staple in the automotive industry due to TeslaCam's ever-growing popularity.
2/ Dashcam: record and store video from the forward-facing camera in your car pic.twitter.com/dm3cy98dVg

— Tesla (@Tesla) October 5, 2018
Introduced in last years major over-the-air software update, TeslaCam brings a much needed insurance and security measure. With the always-running free-to-use system, owners have been able to capture some gnarly accidents, prove insurance fraud, and even help identify hit and run suspects. I've never personally had a dashcam prior to owning my Tesla but this has me wondering if I could now live without one. The automaker has even added a feature dubbed "Sentry Mode" that allows the cameras to continue recording even with the vehicle turned off. This has led to a string of arrests as vandals and thieves seemingly can't get their hands off electric vehicles.
The system simultaneously records from three different angles for an optimal, unobstructed, view of its surroundings. The three cameras, front, right repeater, and left repeater, are just three of the eight on-board cameras used to enable Tesla's Autopilot. That's right, the same cameras used to record your accident footage is what allows your car to practically drive on its own! If you're lucky, the Tesla dashcam setup is a 30 second process. If you're having issues with the Tesla dashcam install we can certainly guide you through it bellow but there's an easier way.
The Easy Method
Before we begin this tutorial you should check out the easy method. While the below works great, our friends over at PureTesla have come up with a simpler solution. They provide a ready-to-go package to get your TeslaCam USB working with a fraction of the effort. With everything pre-installed to get your Tesla Sentry Mode and dashcam working, it's as simple as plugging it in and driving away.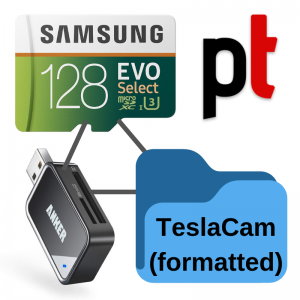 This method is great if you see below that your USB is not compatible or you simply don't have one available. If you'd like to take a crack at it yourself, we will show you exactly how to setup Tesla dashcam.
---
Tesla Dashcam Setup
What You Need
Hardware 2.5

– That would be any Tesla built in or after August of 2017. The TeslaCam feature is not available to older cars just yet.

USB with at least 1.8 GB Formatted to FAT32

– The Tesla dashcam USB size must be a minimum of 1.8 GB but the more space, the more clips you can save. Each minute of video recorded uses approximately 30 MB.

– The best USB for Tesla dashcam actually isn't a USB at all. Due to the drastic amount of writing and re-writing, you'll want to use a MicroSD card with included adapter for longevity. This is not a requirement and a standard Tesla USB drive will do just fine for now.

– If it's not already, you must format USB for Tesla dashcam to FAT32 or MS-DOS (FAT) if on a Mac.

Any computer with a USB port
This TeslaCam guide
How Much Space is On My USB?
If you aren't sure how much space is on your TeslaCam USB, simply plug it into your computer and follow the steps bellow. Additionally, you can use this to see what format your USB is on. You cannot run TeslaCam exFAT but don't worry if its not formatted properly. We will walk you through how to overcome that down below.
TeslaCam Folder
If you have enough storage space and are running the proper Tesla dashcam format, FAT32, just create a root folder named 'TeslaCam' and you're done. Plug it into the front USB port in your Tesla and if everything went right, you now have the Tesla Dashcam feature working.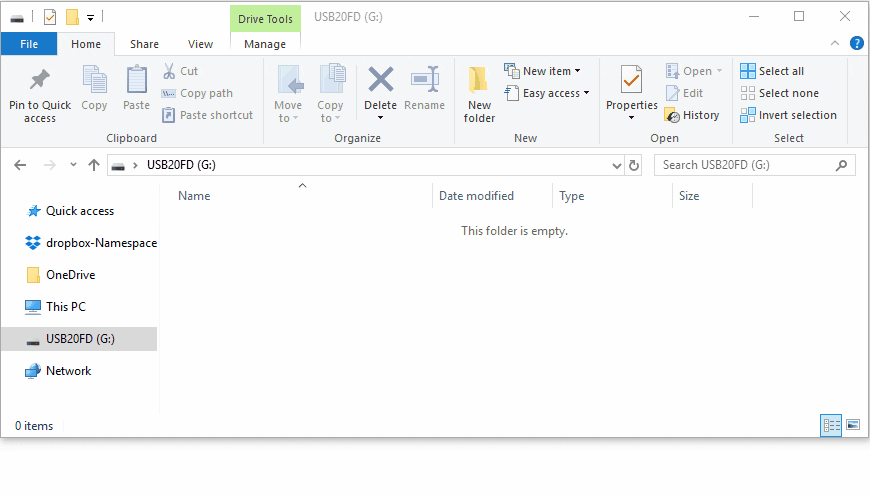 ---
Tesla Dashcam Not Working
If you can't get the Tesla dashcam USB to work, it might not be your fault. Tesla has been having a few issues with this current setup regarding compatibility. Your first troubleshoot step is to check if your USB is formatted properly (above). This seems to be one of the most common issues but luckily, the fix is quick and easy. If you're having issues while on the proper format you should still follow the Tesla dashcam instructions below to reformat and possibly calibrate your Tesla USB.
Format Tesla USB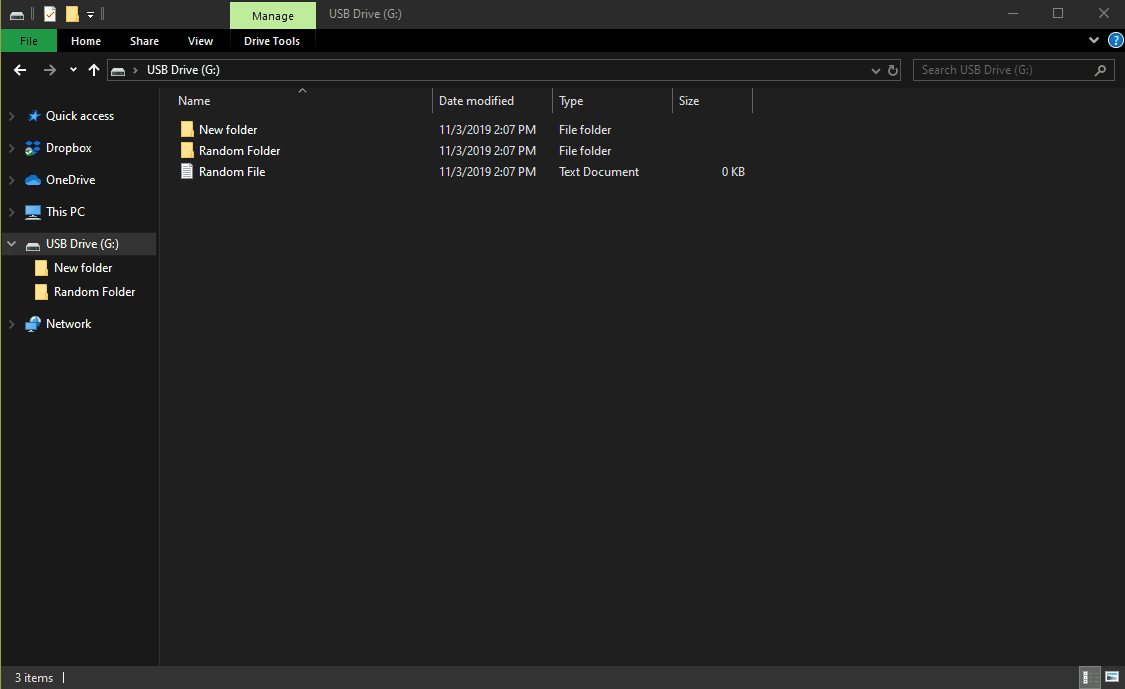 You can easily format your USB through windows as illustrated above. However, some people have reported that they have not gotten success through this method and relied on a third-party software to do the formatting. Below you can find a video of how to use a third-party partition manager as well as a step by step guide if that is more to your liking.
Download a Partition Manager
Plug your USB into your computer and download a free partition manager.
Select Your Device
Launch the partition manager and select your USB from the list of drives connected to your computer. Go ahead and press "format partition".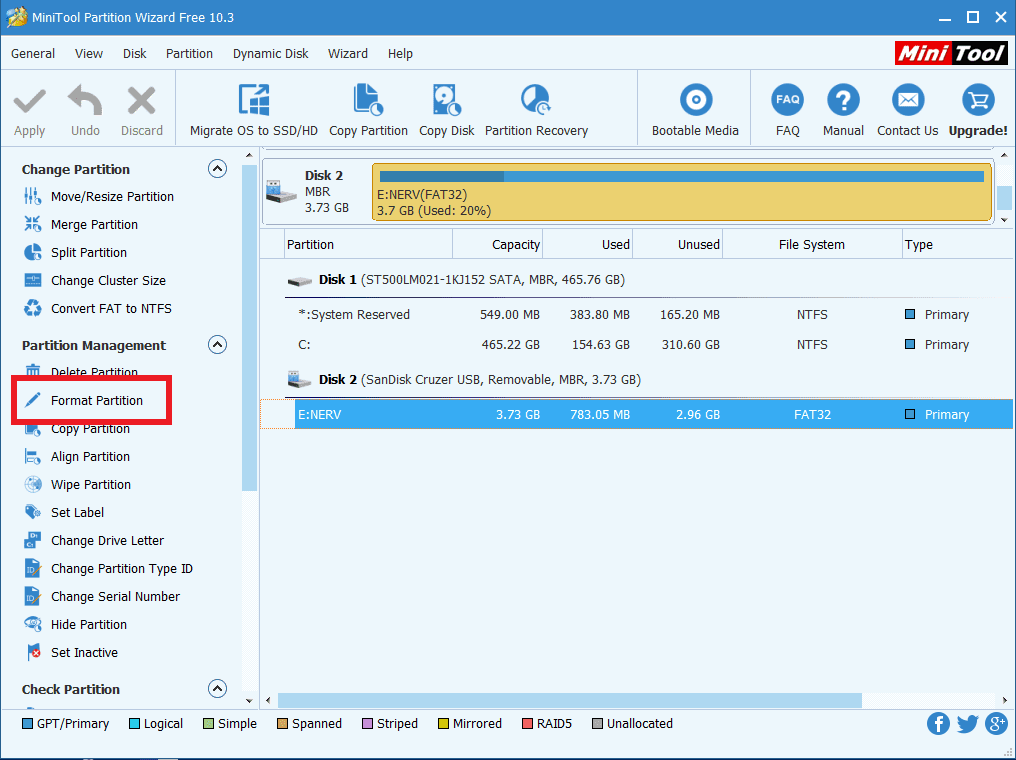 Change Format
Under "File System", select FAT32 and press OK.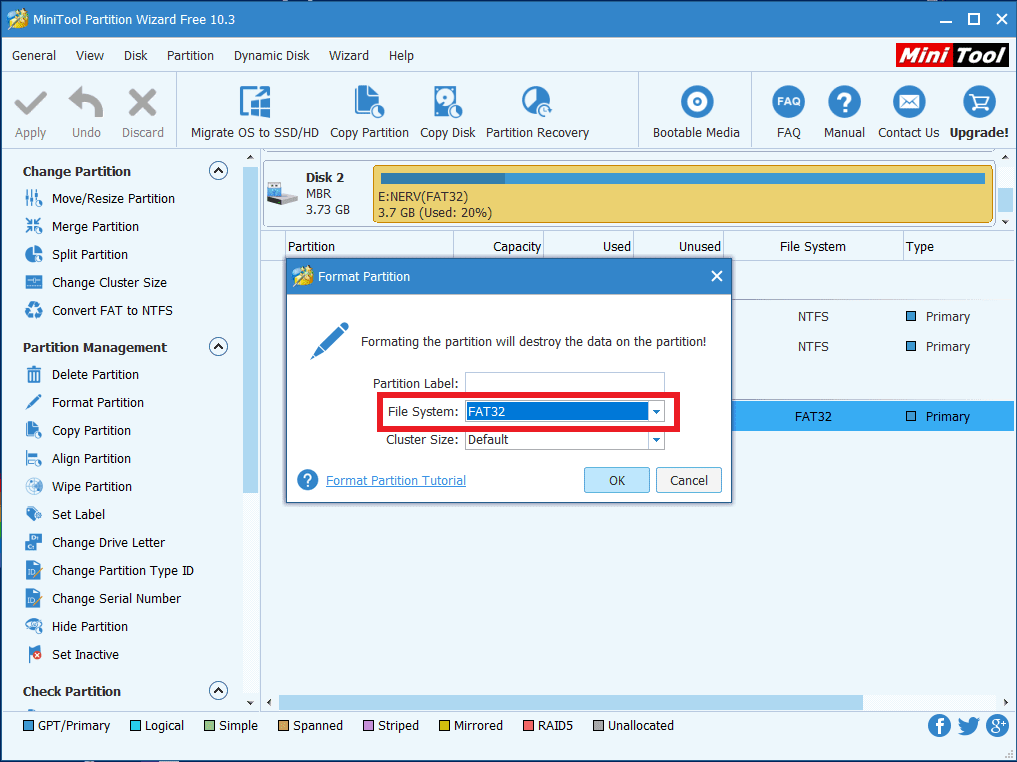 Apply Changes
On the top left corner select "Apply". That's it! Create the TeslaCam folder (as seen above) and enjoy both your new dashcam and Tesla Sentry Mode.
If issues persist, there's a few more steps you can take. Unplug your USB and reset your MCU by holding down both scroll wheels on your cars steering wheel for approximately 30 seconds. Once the car reboots, plug your USB back in. If the TeslaCam icon is still missing or crossed out even after reformatting and resetting your car, the issue might lie with your device. Users have been having issues with lower end USBs, understandably. As stated above, it could be in your best interest to swap to a MicroSD card. You can also check out one of the many crowd sourced verified working USB lists on Reddit or elsewhere. Feel free to comment bellow with any issues and we might just be able to help out.
---
How TeslaCam Works
The Tesla dashcam feature runs on a pretty basic system. While the car is on and in drive it uses the forward facing and two side cameras to record. There's no need to toggle anything on or off, as long as you see the red indicator on your cars top right display, the system is running properly. Everything is being recorded and saved as you drive. When your USB runs out of space, the car will automatically delete and overwrite older footage. If you'd like to permanently save a clip, just tap that red indicator. That will capture the previous 10 minutes of driving and separate it into a new folder. If you forgot to save something, don't worry, it's still there until you run out of space. Pressing the save button just puts the footage aside from the deletion cycle into a new folder. In my opinion, the Teslacam is one of the most useful features Tesla has to offer. The quality isn't as good as a $500 dashcam but it's still very useful and best of all, free.
How to Use Tesla Dash Cam
Using the Tesla dashcam is even easier than installing it. Just tap the red record icon on the top of your display to save the last 10 minutes of footage. To view the footage, simply disconnect the USB from your car, connect it to a computer, and open one of the video files. They will be organized by date for convenience. Both features record in short 1-minute intervals. Even when saved, you'll have ten minutes of footage separated into ten different files for each of the three cameras. This can be a hassle for those without video editing software but we'll go over some shortcuts and convenient methods down below.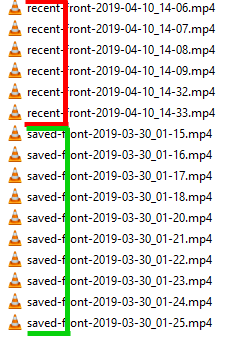 To keep things very simple, you should just always leave your USB plugged into your Tesla until you need to review the footage. Constantly unplugging your TeslaCam USB runs the risk of corrupting your files and having to reformat it once more. If necessary, in order to not corrupt your USB or files, when removing the USB from your car press and hold the record button. If you're having issues, this could very well be another culprit.
Tip: stop and start recording when taking out your USB from teslamotors
Tesla Sentry Mode Setup
While most might have heard of it prior some might be asking "what is Tesla Sentry Mode?" Sentry Mode is a secondary feature that allows you to use the same Tesla dash cam cameras and USB to record while your car is off. The Tesla Sentry Mode setup is identical to TeslaCam. If you have one, you have both ready to go. Due to its excessive battery drainage, Sentry Mode does actually have a toggle switch. To enable, tap the lens icon to the right of the red TeslaCam icon. Additionally, you can enable the feature from within the Tesla app. Once you get back to your car the feature will disable so you'll have to re-enable with each use. You can expect to lose upwards of 20 miles of range per day if ran constantly.
According to federal statistics, there was an estimated one motor vehicle theft or attempted theft every 40.8 seconds in the United States in 2017— and that doesn't even include the vast number of car break-ins that happen nationwide. To further enhance the security of our vehicles and give our customers additional peace of mind, today we're starting to roll out a new safeguard – Sentry Mode – to protect against break-ins and theft.
Tesla's Sentry Mode is more than just an active camera system. In addition to the camera, the feature uses the cars sensors to monitor for suspicious activity. If anyone so much as leans on your car, the cars display will flash a "recording" message, notify you via phone, and save the footage. The Tesla Sentry Mode recording is sent to the same TeslaCam folder. Will technically still new, the Tesla Sentry Mode Video has been used hundreds of times in identifying vandals and damage to vehicles.
---
TeslaCam Viewer
Due to its popularity, there is now an abundance of ways to view both your dashcam and Tesla Sentry Mode video at ease. This first method will not require a computer aside from the initial formatting and organization of your USB drive but comes with some downfalls. It only works using an Apple device and a very specific USB.
The cool part about this SanDisk USB is that it is able to transfer data wirelessly to another device, freeing you from having to pull it out of your car to watch footage. This adds the convenience of being able to watch your footage directly on your phone rather than connecting to a computer.
To use this method, you will still treat it as a regular USB and follow the tutorial above. However, when its time to view the clips you will follow some new steps.
Unplug the USB from your car. I know this seems counter intuitive, but this will not work if the USB is still connected to the car.
Take your iOS device and connect to the USB through Wi-Fi like you would any other internet connection. The USB will act as an access point that you can connect to.
Once connected, launch the SentryView app and you're good to go. Your clips will appear with all three camera views and a slider to control the date and time of the clip.
As always our friends at PureTesla have a bundle ready to go so that you can get setup with the least amount of hassle.
For those of you who do not want to fiddle around with getting your phone connected to Wi-Fi, there is another way to view your footage on your iOS device. This PureTesla bundle comes with a Sandisk iXpand drive which has a full USB on one side and a lightning port on the other so that you are able to connect it to your iPhone/iPad. Additionally it also happens to work with the same SentryView TeslaCam app. As always, the drive comes pre-formatted so you can plug it in to your Tesla straight away.
The final option listed is a web based Tesla dashcam viewer. Through this TeslaCam browser you can upload and view all three cameras side by side in video format. If you have any issues with it you might need to try it out on Microsoft Edge, Safari, or download this Microsoft extension. This is due to Tesla's using a video encoding not yet implemented by other browsers.
---
Building a "Smart" Dashcam
Reddit user drfrank has put up a very in depth tutorial on how to create a smart USB to use as your Tesla dashcam. If Raspberry Pi's are your thing, you might want to look into this.
Read More
---
Teslacam Alternative: An Actual Dashcam
Perhaps there is something in the Teslacam that you find lacking, maybe you are still having issues with getting it to work, you aren't ok with the quality, or your Tesla does not have Hardware 2.5. Whatever the case may be, you can turn to a traditional dashcam as an alternative. A popular dashcam company that gets recommended regularly is BlackVue, specifically the DR750S and the DR900S. Here are two videos that compare each of the aforementioned dashcams to the Teslacam.
DR750S:
DR900S:
As you'll notice right away, the Blackvue dashcams (and basically any other dashcam you may choose) has a much wider field of view than the Teslacam. While this may make it harder for you to get the details, such as the license plate, of the car in front of you, it does allow for the dashcam to see incidents that might happen in the peripheral. Keep in mind that Tesla might one day allow you to access their wide field of view camera in the front. Additionally, the dashcam footage does seem to be clearer, however nighttime footage does seem to have light sources overblown in the dashcam footage. Currently, the Teslacam does not give you access to the rearview camera, but as you can see the BlackVue's can come with 2 cameras, allowing you to place one in the front and the other in the rear.
Id go out on a limb and say that the Tesla dashcam still holds the advantage here. Simply put, it's free, wireless, and continuously improving.