Tesla had a very eventful earnings call recently, especially concerning their autopilot. Tesla says that they will release a 9.0 software update within 4 weeks and it will promise to bring new features.
Software Update 9.0
It has been almost two years since Tesla released version 8.0 in 2016. According to Elon Musk version 9 will be available in about four weeks to those in the early access program according to the earnings call transcript.
 "… version 9 software release which has got a number of really cool things in it. And we're hoping to get that out to early access program in about four weeks and then broadly in September. That's the hardcore focus right now, and that will certainly include some significant advancements in autonomy. And then once that's out and stable, I think that could be a good time to work on the coast-to-coast drive."
One of the highly touted features will be the 'On-ramp to off-ramp' feature. Stuart Bowers, VP of Engineering said as such during the call:
"So right now, a lot of the focus is on Autopilot v9, which is our sort of on-ramp to off-ramp solution that's going to automatically attempt to change lanes, understand what lane the car is in, understand the route the user wants to travel and take that route for the user and ultimately hand back control to that user which is kind of stay in control."
This feature was supposed to be released in 2017, but has been suffering delays over the past year. Musk has stated that this update would include some Full Self Driving features, and this is one of the features that might push Autopilot from being level 2 to level 3.
Its interesting to note that Musk believes that the coast-to-coast autonomous drive that was supposed to happen last year will be done by the end of this year.
Some other features that were revealed with this update are an updated interface the match the new capabilities of Autopilot. The other, is a partnership with Atari to bring games easter eggs to the new version. One of the games, Pole Position, will be able to be played with the steering wheel. So this seems like a nice time waster while waiting at a supercharger.
Some of best classic @Atari games coming as Easter eggs in Tesla V9.0 release in about 4 weeks. Thanks @Atari!

— Elon Musk (@elonmusk) August 1, 2018
Hoping to include last three in this release, with pole position linked to actual car steering wheel (while stationary tbc haha)

— Elon Musk (@elonmusk) August 1, 2018
***Updated September 26, 2018***
So the release of software Version 9.0 has been delayed in classic Tesla fashion. But Elon Musk has stated that it will be rolling out by the end of this week. And I think it might actually be happening.
Tesla Model 3 owner Marc Benton took to Twitter today and shared some pictures of the new software update. The following is some of the release notes with the new update.
Version 9.0
Version 9.0 introduces new applications including Calendar, Energy and Web Browser, which can be accessed from the application launcher in the bottom bar. For those with Enhanced Autopilot, we are also introducing Navigate on Autopilot (Beta) — our newest Autopilot convenience feature, designed to get you to your destination more efficiently by guiding your car on and off the highway. Finally, we have made improvements to the Tesla mobile app, Status Bar, Navigation, Climate, Media, and Seatbelt Card in addition to several safety features.
With this update, Tesla's Mobile App also received some added features:
Mobile App
With this car software version, you can now do even more with your vehicle from your mobile app.

You can now start navigation in your car by using the share button in your favorite phone apps. In iOS, you can enable sharing to your vehicle by opening up the app you want to share from, tapping the More button in your sharing media, and then scrolling to the right until you find your vehicle.

You can also allow your passengers to quickly control the media. Play/pause, previous/skip, and cycle through your media favorites. Note: You can disable this feature by going to Media Settings > Allow Mobile Control.
Here are some additional pictures of the interface with the version 9.0 update on the Model 3
And yes, we did in fact get the Atari game Missile Command as Musk promised. Benton has also stated on Twitter that the graphics have received an update as well and look better in the new update.
Along with that, there is now a neat new animation for controlling the air flow within the cabin
And a little video of the new AC/Heat controls. pic.twitter.com/eW1B8e9MY7

— Marc Benton (@marc_benton) September 26, 2018
Lastly for now, we had a look at the new motorcycle and truck icons while you drive. It is interesting to note that trucks were seen in Autopilot 1, but only now has the feature been added to Autopilot 2. The motorcycles however, are brand new
Stay tuned as I am sure more information will be coming out in the upcoming days.
***Updated September 28, 2018***
Well over the past couple days we indeed did receive some more images and video of the new Tesla software update.
Earlier yesterday, Reddit user u/lamaus posted some more pictures about Tesla's new Navigate on Autopilot feature.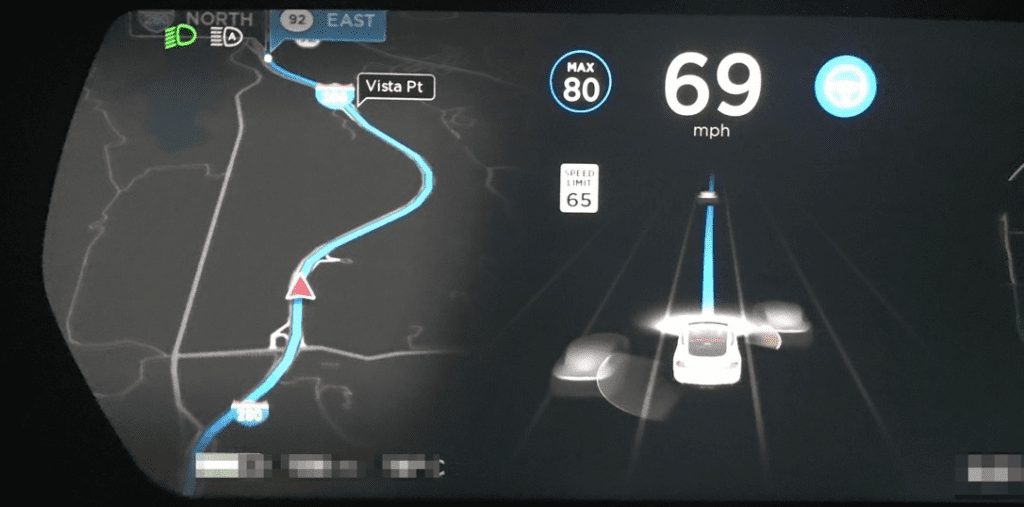 In it we see the path that the car plans to take while on the highway in the instrument cluster. Along with that we see two different options. One for "Speed Based Lane Changes" which will allow you to set how fast you want the land changes to be. The fastest and most aggressive lane change option is aptly named "Mad Max". Musk had joked about adding a "LA Freeway" option, but sadly that did not make the cut.
The second option allows you to disable lane change confirmation. By default when the car wants to change lane, the driver still has to confirm the action by pushing the appropriate turn signal. For those that want to have the car more self-driving, there is an option to turn the confirmation off. Be warned though, this feature is still in beta, so be prepared to correct mistakes that the car might not see.
Lastly for today, Tesla Model S AP1 owner Soma Zambelly gave a walkthrough of the update on his Model S. Notice how the interface on the Model S (and X by extension) is now more in line with the interface of the Model 3.
***Updated September 30, 2018***
We now have video of how the Navigate by Autopilot looks. But first we want to share the release notes for the feature:
Introducing Navigate on Autopilot (Beta) — our newest Autopilot convenience feature, designed to get you to your destination more efficiently by guiding your car on and off the highway. Navigate on Autopilot intelligently suggests lane changes to keep you on your route in addition to making adjustments so you don't get stuck behind slow cars or trucks.

When Navigate on Autopilot is active, a single blue line indicates the path ahead, keeping your car in the lane. Gray lines highlight lane changes for a more efficient driving route. Navigate on Autopilot will also automatically steer toward and take the correct highway interchanges and exits based on your destination.

You can enable Navigate on Autopilot by going to Controls > Autopilot and first enabling Autosteer. For each route where Navigate on Autopilot is available, you have the option of enabling the feature by pressing the button located in the Navigation Turn List.
And here is a video of it in action:
Along with a video of the Navigate on Autopilot, we have also been treated to video of the dashcam feature courtesy of Marc Benton, who provided the initial pictures of the update. This feature is limited to Tesla's that are equipped with Autopilot 2.5 and is Beta just like the Navigate on Autopilot. The release notes are as follows:
You can now record and store video footage captured by your car's forward facing camera onto a USB flash drive. Note that you must manually add a base-level folder in the flash drive called "TeslaCam" (without quotation marks) before it can be used for Dashcam. Refer to the Owner's Manual for details on how to use Dashcam.
The quality of the video is actually very good considering that it was shot at night. I'm glad that it's finally a feature, and can see a decent number of Tesla owners putting it to good use.
We will continue to update as we get more information, but it seems like all the features have been explored at this point. All we have left to do now is wait for a general release.