Welcome to our weekly Tesla news recap, where we discuss and share the latest Tesla news. If you don't have the time to constantly monitor Tesla and their ever-changing company and products, this is for you. This week, Elon Musk went on a podcast discussing full self-driving and a new timeline, the mystery behind the $35,000 Model 3, Model 3 leases coming soon, and more.
Tesla Model 3 Leases Coming Soon
Tesla fans have been patiently waiting for the opportunity to jump on a Tesla Model 3 lease. Leasing is just one of those things every automotive manufacturer offers yet Tesla has held out for well over a year now. Reason being, it would negatively affect Tesla's financials, at least on paper.
Leasing negatively effects Tesla cash flow, so we prob won't offer Model 3 leases for 6 to 9 months. Loan financing is a better deal anyway, as bank conservatism for new car models is v conservative about residual value, but Teslas have always had strong residual value.

— Elon Musk (@elonmusk) June 3, 2018
With U.S. demand slowly coming down, a lease option would bring it right back up. Many waiting out for the infamous $35,000 Model 3 could be upsold into a higher trim for the same monthly payment through a lease program.
But don't get your hopes up yet. Historically, Tesla has offered mediocre lease rates with low residuals. Former Tesla CFO, Deepak Ahuja, once mentioned that leasing only makes up ~20% of S & X deliveries. I'd imagine and hope that residuals will be better for the Model 3 but we will just have to wait and see.
This is simply an internal document to ensure teams are prepared for when we eventually introduce a leasing option to customers. No decision has been made about when Model 3 leasing will be available, but it will definitely be after the dates outlined in this document.
This news came from an email obtained by Electrek. Tesla will offer Model 3 leases to employees in the next few weeks before making them available to the public, eventually.
---
$35,000 Model 3 Not Happening?
Elon Musk once mentioned the need to keep their promise to reservation holders and release the base $35,000 Tesla Model 3. Well now, both the version and time frame has been removed from their online configurator.
The base Tesla Model 3 version was originally supposed to be available in the first half of 2018. That deadline consistently got delayed until eventually settling on "4 to 6 months" within the online configurator. In typical Tesla fashion, it held that time frame for well over 4 to 6 months.
Currently, the lowest priced Tesla Model 3 you can buy today starts at $42,000. $7,000 over the promised price point. With incentives, that price can be brought down to under $35,000.
Lowering manufacturing costs seems to be the biggest hurdle here. It's not as easy as just tossing on some cloth seats and a steel roof as the manufacturing cost difference isn't as wide as you'd imagine. The $35,000 Model 3 was also supposed to come with a smaller battery pack and lower range but it seems like even that doesn't make the price point possible.
Who knows, maybe Tesla can easily achieve the price point tomorrow but would rather continue to try and upsell customers into a higher margin product. There's no word as to why the base version was removed from the site or if and when it will be back but I'm more than positive it will eventually become available. At least for the original reservation holders.
---
Tesla Full Self-Driving This Year
Elon Musk recently went on a podcast where he discussed full self-driving and the like. He was not shy with his new deadline of "this year".
"I think we will be feature complete, full self-driving, this year – meaning the car will be able to find you in a parking lot, pick you up and take you all the way to your destination without intervention, this year. I would say I am of certain of that. That is not a question mark."
For those unfamiliar, this uses Tesla Autopark/Summon. Slightly smarter version hopefully ready soon. By next year, a Tesla should be able to drive around a parking lot, find an empty spot, read signs to confirm it's valid & park.

— Elon Musk (@elonmusk) October 31, 2018
That tweet was sent out last year, not this. So although we are always hopeful, Tesla has very rarely hit deadlines they themselves placed.
Tesla advanced Summon ready in ~6 weeks! Just an over-the-air software upgrade, so will work on all cars made in past 2 years (Autopilot hardware V2+).

— Elon Musk (@elonmusk) November 1, 2018
Now over 16 weeks since that one with still no update, software or verbal.
Musk mentioned that the initial version of FSD will still require driver awareness/input and it will take at least 2 years before a Tesla can drive to your destination while you take a nap in the back.
"My guess as to when we would think it is safe for somebody to essentially fall asleep and wake up at their destination? Probably towards the end of next year. That is when I think it would be safe enough for that."
---
500,000 Teslas Per Year
Tesla made 0 cars in 2011, but will make around 500k in 2019

— Elon Musk (@elonmusk) February 20, 2019
Earlier this week, Elon Musk made a tweet referencing 2019's annual output. "Tesla made 0 cars in 2011, but will make around 500k in 2019". The tweet was very conflicting as he previously mentioned 2019's goal would be 400,000.
He later cleared things up and stated that 500,000 would be the annual production rate by the end of the year. So Tesla will achieve ~10,000 vehicles per week by the end of 2019 and the initial 400,000 vehicle goal for the year will remain the same, as of now.
Meant to say annualized production rate at end of 2019 probably around 500k, ie 10k cars/week. Deliveries for year still estimated to be about 400k.

— Elon Musk (@elonmusk) February 20, 2019
---
Free Plug Life Decal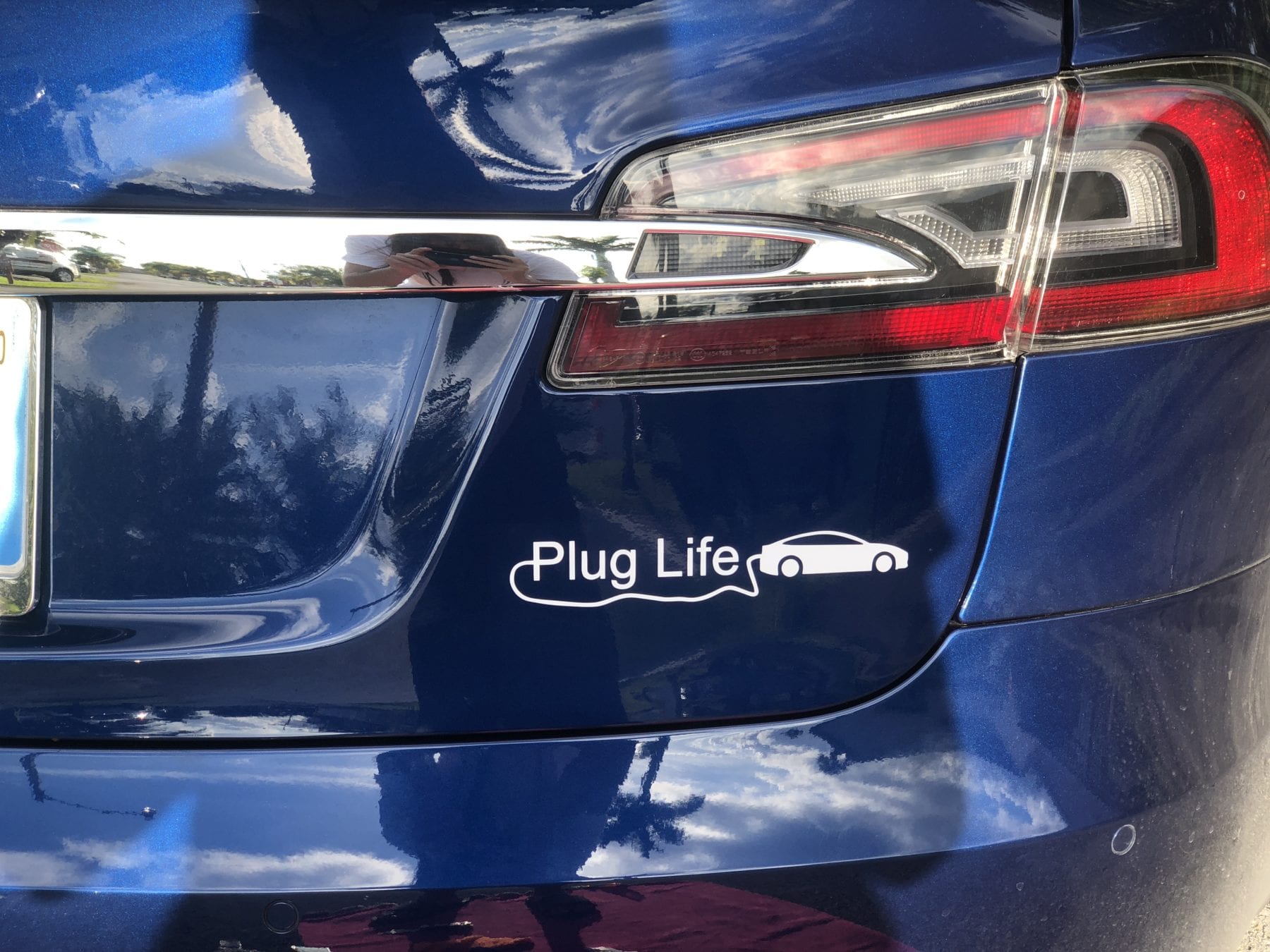 If you drive an electric car and would like a free Plug Life decal, email us at [email protected] or use our contact form before March 1st, 2019.