1000hp, 350-miles of range, $112,585 price, available in Fall 2021

4 total trims with base model not coming until 2024 with 250 mile range and $80k price
Make sure to check outside your windows to see if pigs are flying, Hummer, the pinnacle of gas-guzzling vehicles has finally been reborn as an electric car. Coming back under the GMC brand, but still keeping the 'Hummer' name, GM has given us a look at their future electric pickup truck that will try to go toe to toe with the likes of the Tesla Cybertruck and Rivian R1T, among other entrants into the space.

The Hummer EV can be seen as one of the first electric cars from GM that are the start of a next generation of EVs for the American brand. The Hummer EV will be one of the first to make use of GM's newest Ultium battery technology which they showed off earlier this year, along with any lessons the brand learned with their Volt and Bolt electric cars.
Mark Reuss, president of General Motors reiterated the importance of the electric Hummer:
"This innovative truck comes to market with speed and purpose, bringing GM another step closer to an all-electric future," said Mark Reuss, president of General Motors. "With our Ultium Drive architecture as the foundation for an exceptionally broad range of performance, HUMMER EV is perfect for the customer who wants capability, efficiency and performance."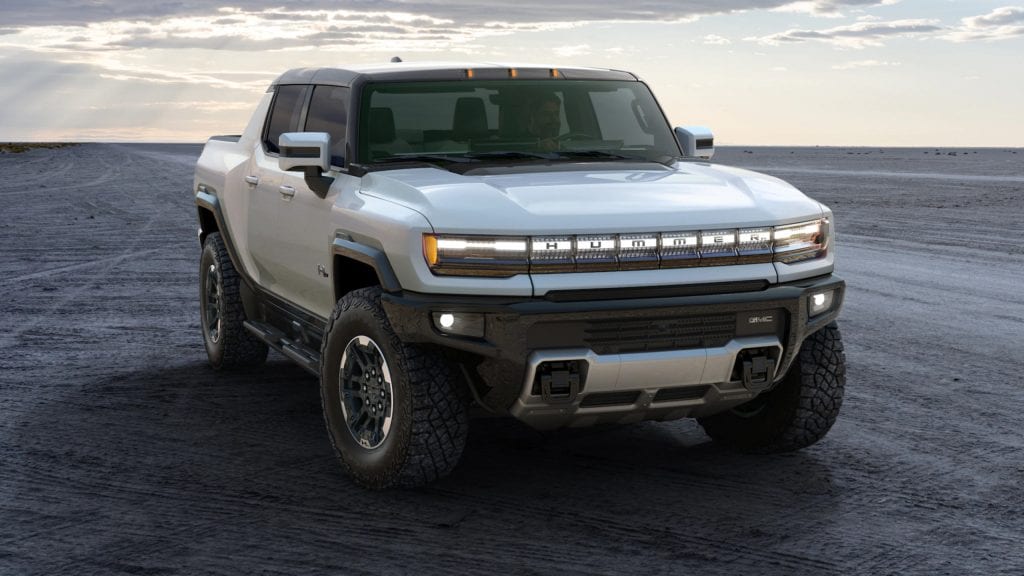 For those that liked the look of the original Hummers, then you are in luck, as a lot of the original look of the brand has been retained. If you weren't a big fan of the original look, then you might still have something to enjoy as the overall design has been modernized and while the Hummer EV does still look rugged, it doesn't look like a couple of refrigerator boxes on wheels. The front of the electric pickup is dominated by a light bar that spans the entire front end because lightbars are the future as we are seeing from every concept car. The lightbar has little slits of metal evenly spaced out to give an appearance of old-school grill lines. Additionally, one quirky feature with the light bar is that it can also double as a huge charging indicator when you plug the Hummer in to charge.
It would be hard to look at the Hummer EV and not mention the absolutely huge 35-inch wheels that come with the truck. GM states that these huge wheels allow the Hummer EV to scale 18-inch verticles and drive through 2 feet of water. Best part is that if 35-inches is too small for you, the Hummer EV will accommodate up to 37-inch wheels. Speaking of off-roading, the bottom of the electric truck has been reinforced with steel plates to not only protect the integrity of the truck, but also to protect the new added batteries that now occupy the floor of the car from any rocks or other off-road extremes.
Another cool feature regarding the exterior is the 'Infinity Roof' as GM dubs it, which are removable roof panels that can be easily stored in the frunk and converts your Hummer EV into a convertible. On the top-end model, the roof panels are actually glass so that you get a good view of the sky even when all the panels are on.

Overall I think the exterior of the Hummer EV is pretty good looking, GM has been able to keep enough of the character of the older models to make this EV recognizable, but without looking dated.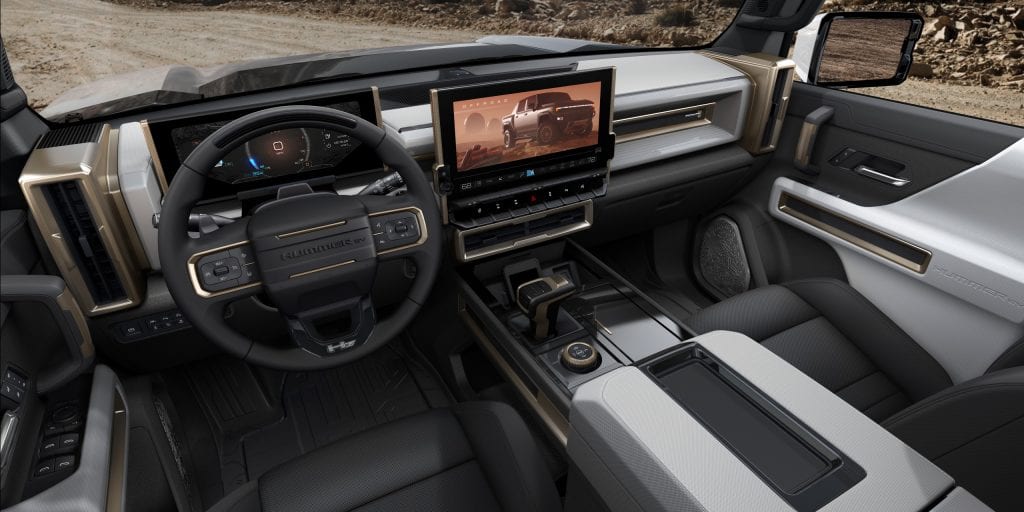 Stepping into the interior we are of course met with a bunch of technology and some comforts to contrast the ruggedness of the exterior design. The trim showed off features an attractive two-tone black and light grey color scheme with nice copper accents on some doors and dashboard pieces. GM states that "Intergalactic travel and otherworldly landscapes" were the inspiration for this 'Lunar Horizon' color scheme. The Hummer EV will be able to seat five people comfortably who will be free to stomp around merrily on durable all-weather flooring which GM looks to have made a priority.


Looking ahead to the dashboard you will find the now ubiquitous screen setup of 'large center console screen and slightly less large information screen behind the wheel'. The Hummer EV a 13.4-inch center console screen and a 12.3-inch information display behind the wheel. The interior features a lot of straight lines and sharp angles to no doubt remind you that you in an off-road machine. The air conditioning vents are bigger than my head, the gear selector is chunky, and the center console storage looks like it can fit the small country of Andorra in it. Of course the somewhat brutish design doesn't mean that the Hummer EV can't have some cool tricks which GM highlighted:
Segment-Exclusive 4 Wheel Steer featuring CrabWalk — a segment-exclusive feature that allows the rear wheels and front wheels to steer at the same angle at low speeds, enabling diagonal movement of the vehicle, for even greater maneuverability on challenging terrain.
Adaptive Air Suspension with available segment-leading, Extract Mode capability enables the suspension height to be raised approximately 6 inches (149 mm) to help the HUMMER EV negotiate extreme off-road situations such as clearing boulders or fording water.
UltraVision that includes new front and rear underbody cameras with live "virtual spotter" views to help drivers navigate obstacles and place wheels on and off the trail. The underbody cameras are packaged to help protect against damage and equipped with a wash function to help clear debris. HUMMER EV offers a best-in-class number of camera views, with up to 18 available from the vehicle to help increase awareness of surroundings.
Off-road widgets that display vehicle functions and terrain status through the infotainment and driver information screens. Examples include torque output, differential locker engagement, tire pressure, pitch and roll angles (including maximum values), a drift gauge (with maximum values), friction circle, torque vectoring and more
The latest version of Super Cruise, an available driver assistance feature offering hands-free driving on more than 200,000 miles (approximately 322,000 km) of enabled roads, and a new automatic lane changing feature, where the system can determine when a lane change is optimal and initiate the maneuver, while following signaling protocols.
Once again, the design of the interior is down to personal preference, if you are fan of angles other than 90 degrees than you might find the interior lacking. It does however seem in-line with what we have been seeing from other automakers. Hopefully GM has made cleaning up any off-road messes easy and designed the interior with that in mind.
SEATING

STORAGE

5 seats

N/A
The Hummer EV will be available in four different trim levels that will be released in a staggered fashion on yearly basis starting from next year, with the cheapest and least powerful version not appearing until 2024. GMC's order page gives a quick and concise look at the differences between all the models.




As is becoming customary in the EV world, the first version of the electric Hummer will be a special edition version that is denoted as the 'Edition 1' which has all the best specs and the biggest price. As we said in the beginning the Hummer EV will be one of the first to utilize GM's newest Ultium technology and we can see the improvements with the top Hummer EV trim coming with a 350+ mile range, 3 sec. 0-60 time, and 350 kW charging. We did not get any specifications on the exact battery size, but we are assuming that GM crammed the largest battery they could fit into the truck and it could possibly be around the 200 kWh mark.
Moving down the Hummer EV3x which is set to come out the following year in Fall 2022, we see a slightly less powerful model. The EV3x still retains a tri-motor setup, but its power is cut from 1000hp to 800hp, but still has a healthy range of over 300 miles.
Then in 2023, we will receive the Hummer EV2x which loses a motor and goes with a dual-motor setup, further decreasing the power from 800 hp to 625 hp. However, GM sees that range is a priority and is also targeting an over 300-mile range with this model.
Finally, in 2024, we get the Hummer EV2 which retains the same motor setup from the EV2x, but presumably gives up some of its battery capacity as its range drops down to 250+ miles. It also loses out on the 800-volt charging architecture found in all the other trims, so charging time will be greatly increased in the base model.
Unfortunately, we do not have any specs regarding maximum towing or payload for the Hummer EV. It seems that GM is really pushing the Hummer more towards offroading, but we hope that that does not mean that they compromised in other aspects of the car that could have given it more utility.
The specifications of the Hummer EV are tough to tackle and the car almost seems to become a worse and worse deal the cheaper it gets. Yes, the Edition 1 is certainly very expensive, but it comes with some pretty solid figures that might be enough to sway some of the more wealthy, and most importantly, it comes out relatively soon. Looking forward two years, 350+ miles and a 3 second 0-60 from a truck will be very competitive. But looking at the base truck, all the way in 2024, I would be hard-pressed to say those are competitive specifications for an electric car 3-4 years in the future. It especially stings because the truck doesn't get significantly cheaper in that time frame. By 2022 Tesla plans to have a $40,000 Cybertruck with at least 300 miles of range and I personally don't know how you can plan to release a truck for twice the price with inferior specification two years after that, regardless of any features that you tack onto the car.
As mentioned in the interior section, the Hummer EV does have a couple cool pieces of technology behind its tough skin. Some however look to be more useful than others.
One of their most highlighted featured is their Crab Walk which allows the front and rear wheels point at the same angle and move the car in a roughly 45-degree angle at most. We questioned the real use of this feature, and even in the reveal clip where the feature was demonstrated in bypassing an obstacle, it still seemed like you could have just driven around it. Widescale usability aside, it's still a cool little quirk and hopefully acts as a stepping stone to wheels that allow the car to move completely sideways.
Another feature we already mentioned is the Ultravision which allows you to monitor the underside of the car. Of course, this feature will only be useful to those of you who actually plan to take your $100,000 electric truck off-roading, but in the event that you do, you can easily monitor the underside of your car to make sure you are taking the most optimum path that will spare the underside of your car from any scars.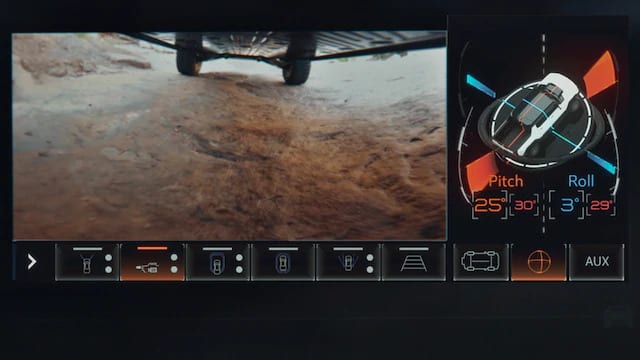 In regards to autonomous driving, the Hummer EV will have GM's Super Cruise which is actually one of the best implementations of autonomous driving in any production car. The system has been exclusively in Cadillacs, but the Hummer EV will be the first non-Cadillac to be able to use the system. Super Cruise actually is able to be driven hands-off on about 200,000 miles worth of roadway across America. Currently, automatic lane changes are in the works to be added to the system next year, so hopefully, it will be in time for the Hummer EV's debut. The system can also act as a traditional adaptive cruise control as well as employing lane centering.
As is the case for any new electric car coming out, the first model year has to be a bit special, and Hummer is no exception. The first model year of the Hummer EV will be known as 'Edition 1'. The Edition 1 looks to be offered in only one color and interior trim and comes with the highest specifications and basically all the options Hummer is offering for its EV. GM outlines the features below.
Three-motor e4WD drive system that will offer the equivalent of GM-estimated 1,000 horsepower and GM-estimated 11,500 lb-ft of torque.
800-volt DC public fast charging5 compatibility of up to 350 kilowatts. Industry-first technology mechanically switches the batteries from parallel to series mode during charging, which makes HUMMER EV compatible with the fastest 350 kW DC fast chargers, enabling nearly 100 miles of range in 10 minutes of charging.
24-module, double-stacked Ultium battery propulsion system that will offer excellent range and power to three motors.
GM-estimated 350+ miles of driving range on a full charge, based on preliminary testing.
The latest version of Super Cruise, an available driver assistance feature offering hands-free driving on more than 200,000 miles (approximately 322,000 km) of enabled roads, and a new automatic lane changing feature, where the system can determine when a lane change is optimal and initiate the maneuver, while following signaling protocols.
Watts to Freedom — a driver-selectable immersive experience that unleashes the full acceleration capability of the EV propulsion system, including GM-estimated 0-60-mph performance in approximately 3 seconds.
Drive Mode Control offers driver-selectable modes that tailor performance — including torque splits between the front and rear wheels, and four-wheel steering settings — for different driving conditions. It includes Terrain Mode, which raises the HUMMER EV's ride height by nearly 2 inches.
Adaptive Ride Control continuous damping that is tailored for both on- and off-road driving.
Open-air driving enabled by the structural rigidity of the Ultium batteries, with standard Infinity Roof and removable transparent Sky Panels that can stow in the "frunk" storage compartment at the front of the vehicle.
Premium, technical interior materials.
Large, 13.4-inch diagonal infotainment10 screen and 12.3-inch diagonal driver information center display convey a wealth of vehicle performance and driver awareness information.
MultiPro Tailgate with six functional positions.
Power rear drop glass window and power tonneau cover.

The price of the four trims are as follows:

EV2: $79,995
EV2x: $89,995
EV3x: $99,995
Edition 1: $112,595

All prices above are shown before any incentives.

As of the writing of this article, GM has noted that the reservations for the Edition 1 have been filled, albeit it is just a $100 refundable deposit for any of the trim levels, so who knows what the commitment level for those currently in line for the Edition 1 are. No production number targets have been given for the Hummer EV, but given the price, we cannot imagine that any of the trim levels will be any near high volume. As some sort of reference, the Hummer H2 sold about 150,000 times over its eight-year history, leading to a roughly 19,000 a year average. I can imagine that being more less in line with what we can expect from this $100,000 electric pickup, probably even less.

No doubt it will be a hard sell for those that don't care about the Hummer brand name. Not only will the Hummer EV have to content with the outstanding performance of the Tesla Cybertruck, but it will also have to go against the Rivian R1T which offers a more luxurious and conventional option at a higher price than the Cybertruck, but still far below what GMC is asking for the Hummer EV.

Production will start in late 2021 in GM's newly renovated Factory ZERO Detroit-Hamtramck Assembly Center which is seeing $2.2 billion in renovations and retooling for electric vehicle production.

Pros

Cons

Pretty competitive specifications

Six-figure price tag

A lot of nice off-road features for those who are willing

An $80k sub-300 mile EV in 2024 doesn't seem like a good idea

From a strict specs perspective, the Hummer EV is on the upper end for any electric car, but it's value looks to quickly plummet as the years go on and the specs remain stagnant, a 250 mile, $80,000 electric pickup in 2024 just doesn't seem like its a good idea. While I like the rugged aesthetics and off-road features I always have to wonder about the market for people willing to take a six-figure vehicle and actually take it off-road.

What do you guys think? Let us know down in the comments below.