GM has been putting a lot of faith in Cadillac to act as it's forerunner towards electrification, showing off the best of what GM has to offer. During their EV day GM teased the silhouette of an electric Cadillac SUV that would be the brand's first fully electric car, and today we get to see the LYRIQ in full.
If we are being fair, the LYRIQ won't be the first electric Cadillac as the brand did release the ELR in 2013 which was a plug-in hybrid with up to 40 miles of electric range. But considering the fact that it was essentially a prettied up Chevy Volt, and that there were only about 3,000 ever produced, you wouldn't be wrong in saying that it doesn't count.
That brings us to the LYRIQ, Cadillac's first fully electric vehicle. The LYRIQ will help set the tone for future electric cars from GM and Cadillac, as evidenced by the statement of executive vice president and president of GM North America, Steve Carlisle:
"Led by LYRIQ, Cadillac will redefine American luxury over the next decade with a new portfolio of transformative EVs. We will deliver experiences that engage the senses, anticipate desires and enable our customers to go on extraordinary journeys."
LYRIQ Design
The LYRIQ undoubtedly tries to look as futuristic as possible while trying to retain a look that will allow people to identify that it is a Cadillac. The front end is grille-less and adorned with slim light bars that seem to be in fashion if you want your car to look futurist (not that I'm complaining). We also see that the logo on the front is also lit up, a design choice that several other companies have employed to signify their transition towards the future.
A sporty SUV concept is incomplete without a sweeping roofline, which the LYRIQ does. While it doesn't look aggressive enough to encroach on the headroom of rear passengers, it is there. Arguably the most interesting portion of the side profile is the taillight segment that goes up almost the entire D-pillar in the back of the car. It's an interesting design choice to say the least, and I am unsure if I like it or not yet.
The rear is adorned with the same light bars that are found on the front with the side taillights appearing to go through the bodywork, which is a neat feature. Also if you notice the trunk opening, you will see that the rear of the car is wide. Cadillac has talked about how it wants the LYRIQ to be sporty, and it shows in the proportions.
Andrew Smith, executive director, Global Cadillac Design, described the design:
"The LYRIQ represents the next iteration of the iconic brand's styling, enabled by electrification, as only Cadillac can express. Inside and out, LYRIQ is a thoughtful integration of design and technology and is intended to make every drive an occasion."
The interior has a clean and modern look to it. Cadillac has decided to try and compete with Byton's 48-inch screen and have the LYRIQ come with a 33-inch screen that takes the spot of the gauge cluster and infotainment screen. While that might sound huge, it actually looks rather well proportioned.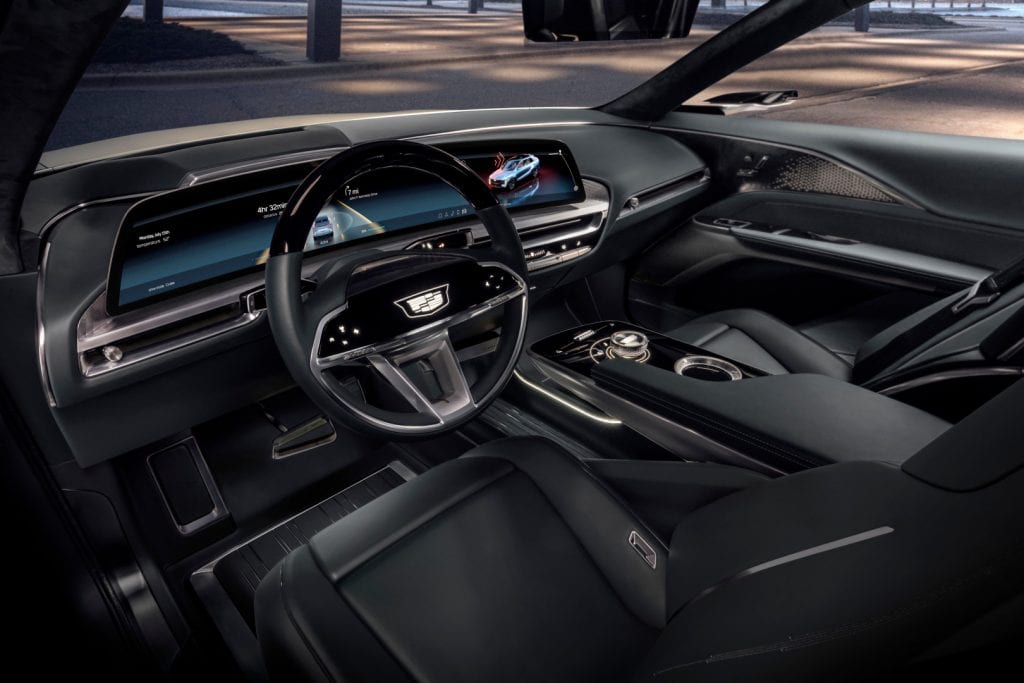 LYRIQ Technology
If you have a screen that massive you better have some cool things that it can do. Cadillac states that the display has the "highest pixel density available in the automotive industry today and can display over one billion colours, 64 times more than any other vehicle in the automotive industry". Whether or not that will be true in two more years is uncertain.
In regards to autonomy features, the LYRIQ will come with GM's Super Cruise which is already found on the Cadillac CT6 and has been getting some pretty positive reviews. It features and adaptive cruise control and lane centering and is designed to not have your hands on the wheel. The hands-off portion is only available on certain highways, but looking at the map on their site, it looks like most major highways are covered and hopefully more will be added by 2022.
The LYRIQ will also be able to park perpendicularly and parallel on its own, without you having to be in the car. It doesn't seem to be advanced enough to act like Tesla's Smart Summon and actually meet you in the parking lot however. Regardless of having a system that can compare well to Autopilot is the more important feature here.
LYRIQ Performance
The LYRIQ will make use of GM's new Ultima Batteries which they were happy to show off at their EV day. The LYRIQ will feature a battery pack that is around 100 kWh in size and will have a range beyond 300 miles according to their internal testing.
We would, of course, like to see a higher range as 300 miles might be the new bare minimum when it comes to ranges in 2-3 years. However, one benefit of the new battery is that it reduces the need for Cobalt, hopefully allowing for cheaper costs. According to GM:
Ultium's state-of-the-art NCMA (nickel-cobalt-manganese-aluminum) chemistry uses aluminum in the cathode to help reduce the need for rare-earth materials such as cobalt. In fact, GM engineers reduced the cobalt content by more than 70 percent, compared to current GM batteries.
The charging rate will be set at 150 kW, which once again looks to be the bare minimum in a few years' time, especially with ultra-fast chargers being more prevalent in the future.
There will be a rear-wheel drive and all-wheel drive version of LYRIQ, and we can assume the 300-mile range will be for the RWD version of the electric SUV.
So in summary:
Range: "Beyond 300 miles"
Battery: 100 kWh
Output: N/A
0-60 mph: N/A
150 kW Fast Charging
19 kW Level 2 Charging
RWD/AWD
Overall, I wouldn't consider anything here bleeding-edge technology, but it is enough that it will satisfy the needs of almost anyone in the world, especially if they are looking for a luxurious EV option. With the release still being two whole years away, it will not surprise us if specifications get changed around (hopefully for the better). The design of course is also not production-final, but I do hope that as many elements will be carried over to the final version.
What do you guys think of the electric Cadillac LYRIQ? Let us know down in the comments below.
Source: Cadillac