Nissan has finally doubled its electric vehicle offering (no I'm not counting the electric NV200) with their recent reveal via livestream of the Nissan Ariya electric SUV which will finally give the Nissan LEAF some company. It has been 10 years since the release of the LEAF, so let's hope that Nissan has been putting all that time to good use for their second go-around at an electric car.
It might have taken a long time for Nissan to release their second electric car, but the Ariya does represent the start of much many more electric car releases as Nissan is planning on releasing 10 new electric models in the next 20 months, many of them will no doubt just be electric versions of existing models and limited releases in places like the Chinese market, but hey, it's better than waiting another 10 years for another electric car.
Chief Operating Officer, Ashwani Gupta commented on the importance of the Ariya, stating:
The Ariya, a key model in Nissan's plan to roll out 10 new models in 20 months, demonstrates our commitment to meeting customer demand for crossovers with the most advanced electrified, automated and connected technologies. The company expects sales of its EVs and e-POWER electrified models to be more than 1 million units a year by the end of fiscal 2023. The Ariya will play a significant role in attaining that goal."
Design
For those of you who were and of the concept design, you will be happy to know that the production version of the Nissan Ariya has not changed much of its design from the looks of the concept, a rather rare thing in the car world.
The Ariya features a sharp and minimalist design that Nissan dubs "Timeless Japanese Futurism" which they state is characterized by "a distinctive Japanese approach conveyed in a simple-yet-powerfully modern way". An example is seen in the grille which features a traditional Japanese kumiko pattern just under the smooth surface, and at the same time acting as protection for the important sensors that are being kept out of sight.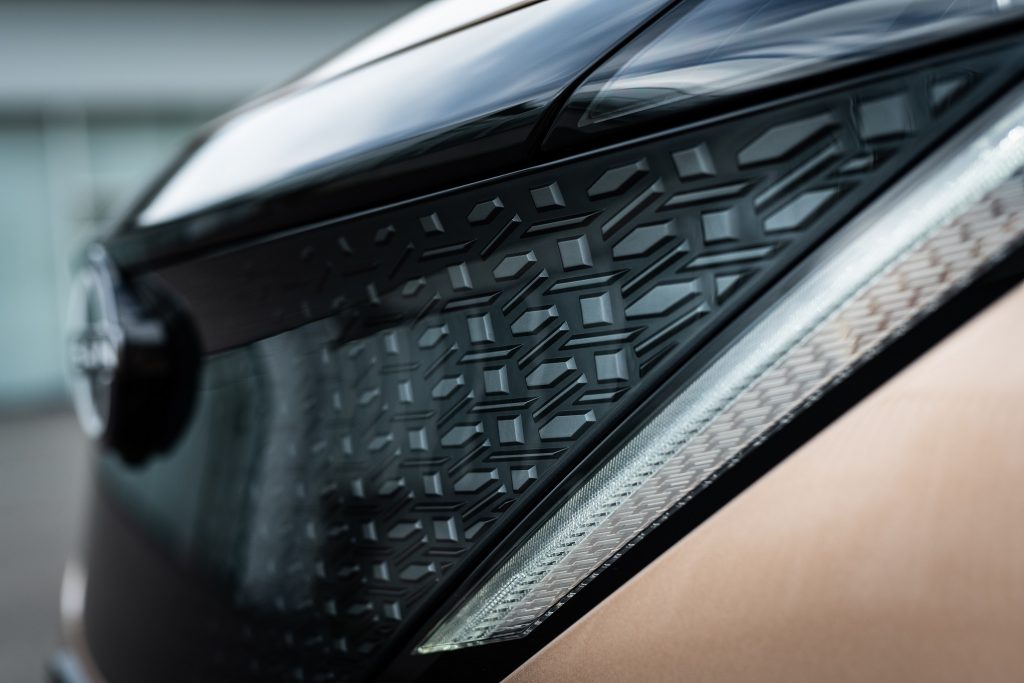 The Ariya will feature six different two-tone exterior paint options including a copper and black two-tone package that Nissan calls Akatsuki, and "expresses the moment just before dawn, as the sun marks the beginning of a new day." Clearly a lot of work was done to try and incorporate as many Japanese design elements within the Ariya.
Moving on to the interior you are greeted with a spacious and minimalistic interior that is pretty much expected of any new electric car at this point. Nissan describes their interior as "more akin to a sleek café lounge on a starship, evoking performance and intrigue." I don't know about all that, but it is a pretty good looking interior.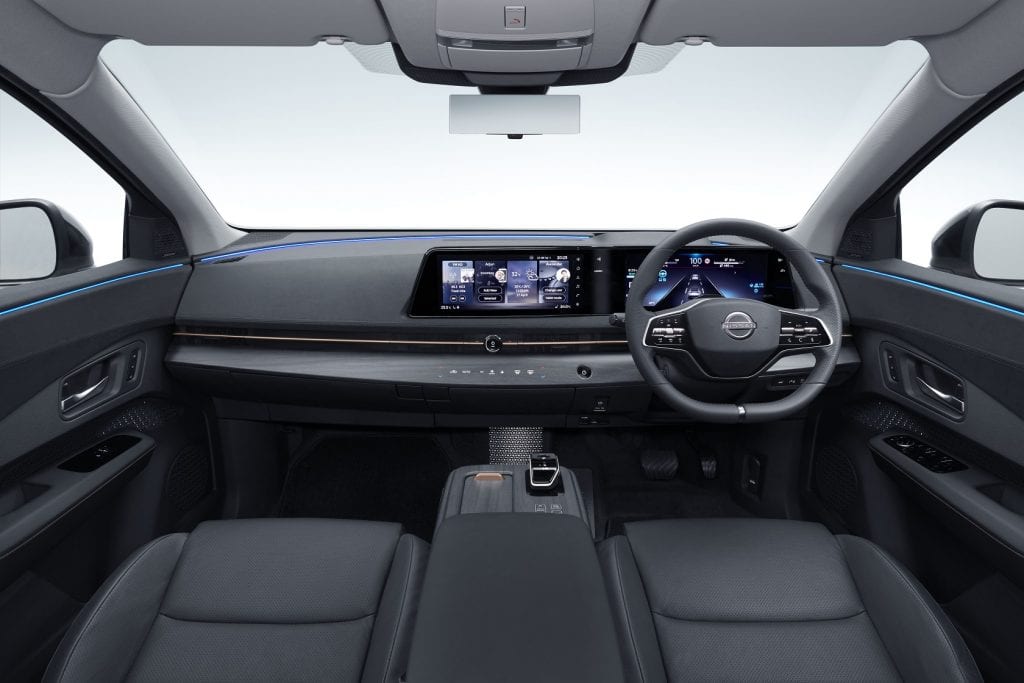 As expected of high-tech electric cars there is a large 12.3-inch screen in the center that is connected to another 12.3-inch screen in place of the instrument cluster behind the wheel. Although with the Ariya, the screen does not dominate the entire center dash like the Model S or Mustang Mach-E and there are a few buttons that are located on the dashboard. They however do not appear to be actual buttons, so you won't receive any tactile feedback when you reach to press them, completely defeating the purpose of having dedicated buttons in my opinion.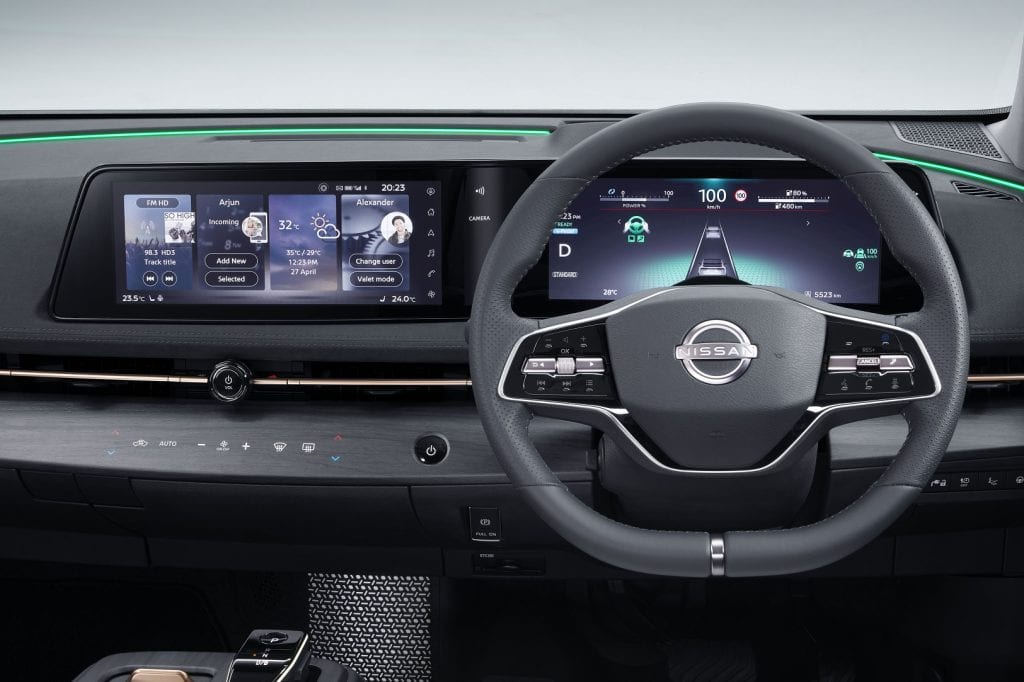 As previously mentioned, interior room for both the front and rear passengers looks to be good. However, there is a caveat when it comes to cargo space. The Ariya will not have a front trunk due to how Nissan decided to arrange certain components of the car, so you will be stuck with the rear trunk. While the rear trunk looks perfectly adequate in pictures, the spec sheet provided states that the Ariya has only 16.5 cu. ft. or 14.6 cu. ft. of cargo space depending on if you get the single motor or dual motor. To put it into perspective, something like the BMW i3, which is much smaller car, has about 15 cu. ft. of cargo space. So fingers crossed that its just a mistake on the spec sheet.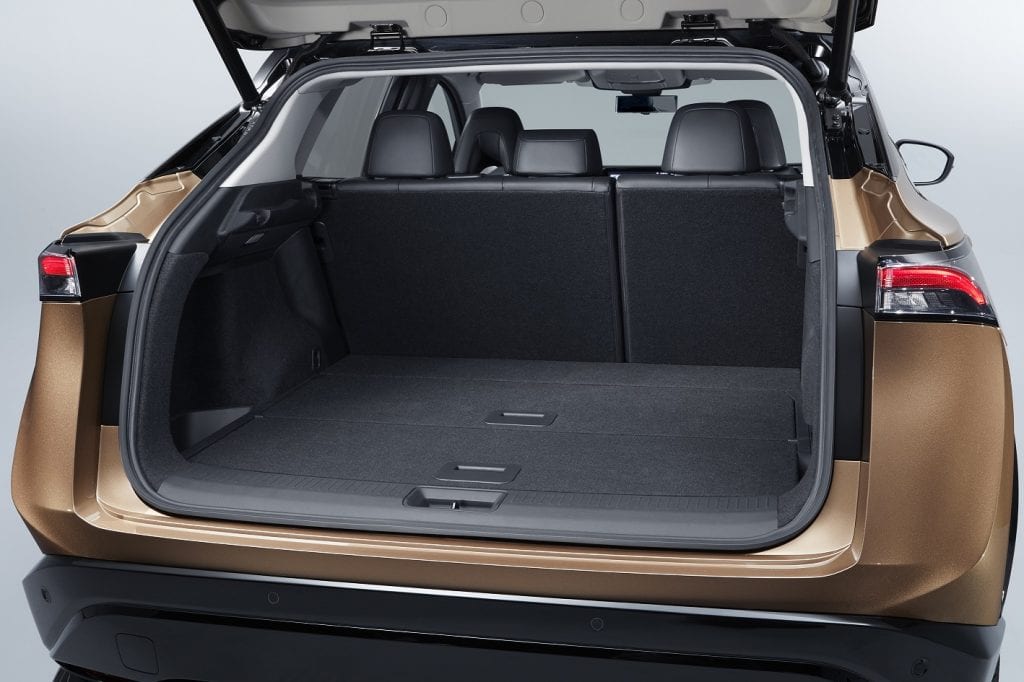 Specifications
Moving on to specifications, the Ariya will come in four different configurations. You will have a choice of either 2WD or 4WD and then either a 65 kWh (63 kWh usable) or a 90 kWh (87 kWh usable) battery.
Depending on the configuration, the total output of the Ariya will be 160 kW or 290 kW. In terms of range, Nissan states that the Long Range single motor version to have a range of about 300 miles. Since this is the range they decided to highlight, it most likely means that the dual-motor versions will have lower ranges, so expect the Short Range dual-motor version to be much closer to 200 miles in range. This however has not been confirmed.
Another thing not known to us is either the 0-60 mph time or the top speed, but it's safe to assume that you won't be taking it out on the drag strip.
Nissan dumped the CHAdeMO charge port for the more widely used CCS plus. The max charge rate is said to be 130 kW, which is definitely an improvement from cars with a 100 kW limit but does fall shy of many future EVs that are planning at least a 150 kW charge rate. It's possible that this might improve to 150 kW, but we will see. I'm sure that Nissan wants to eliminate as much wait time for charging as possible.
300 miles is certainly a good target to have and will be more than good enough for a vast majority of people. We will now have to wait and see if people who want a little bit more performance out of their Ariya will have to pay a significant price in regards to range.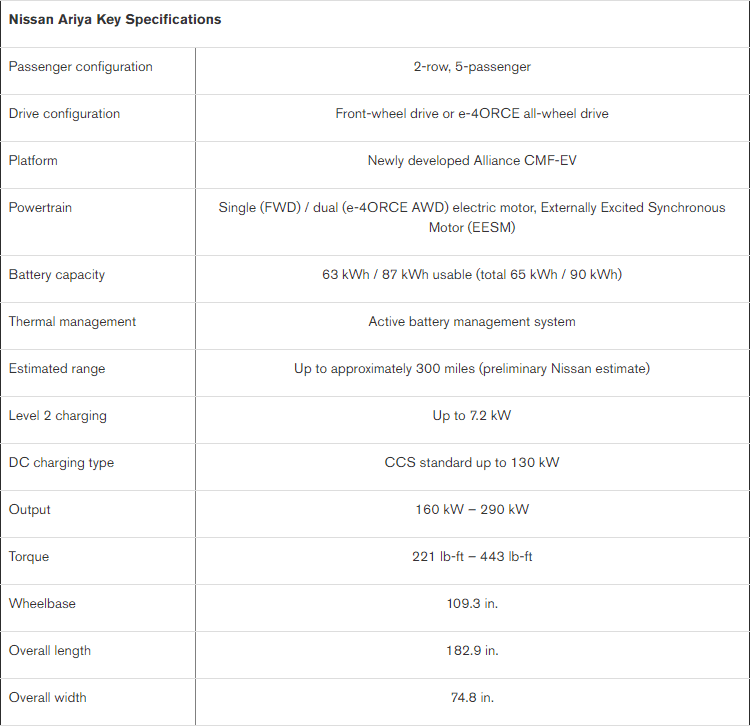 Technology
At this point, you can't really talk about an upcoming electric car without exploring any possible autonomy features that it might have.
While Nissan isn't touting any sort of full self-driving features like Tesla, it's ProPILOT Assist 2.0 is no slouch. The ProPILOT Assist program has been available on a variety of other Nissan models at this point and functions as an advanced adaptive cruise control which "helps drivers stay centered in their lane, navigate stop-and-go highway traffic and maintain a set vehicle speed and distance to the vehicle ahead."
The system has matured and the 2.0 version expands out to allow"attentive drivers to take their hands off the steering wheel under certain conditions, helping reduce the driver's workload and stress in single-lane highway traffic. In addition, ProPILOT Assist 2.0 also supports multi-lane highway driving tasks such as lane changes, passing and highway exiting."
While the FSD features that Tesla releases are nice to test out as a gimmick, most people still probably consider regular Autopilot and Navigate on Autopilot as the most useful autonomous features. If ProPILOT Assist is able to provide a competitive system to regular Autopilot, then it will be good enough for almost anyone until full autonomy can actually be achieved.
In addition to the autonomy features, the Nissan Ariya will be interpreted with Amazon Alexa for those of you that are already in the Amazon ecosystem.
Lastly, Nissan confirmed that over the air updates would occur with the Nissan Ariya.
Price and Availability
Nissan is eying a mid-2021 release in Japan followed by a US release sometime later in 2021, giving us a potential one and half year wait before we see the Ariya stateside. The price will start at about $40,000 for presumably the Short Range single-motor version. No further pricing concerning the other versions was mentioned.
Nissan will have some stiff competition, the $40,000-$50,000 price bracket will get crowded in the next couple of years, especially for small electric SUVs/Crossovers. You will have the Tesla Model Y, Volkswagen ID.4, Audi Q4 e-tron, and Mustang Mach-E all going head to head in that space.
How do you guys feel about the Ariya and its chances of success? Let us know down in the comments below.