There has been about a decade wait between the release of Nissan's first electric car, the Leaf, and their second upcoming EV, the Ariya. It however does not seem like we will be having to deal with a wait anywhere near that length for their next electric car which is rumored to be an electric Titan pickup truck. While Nissan isn't exactly known for their pickup trucks, that Japanese automaker can see the previously neglected segment getting a lot of attention from many, and they might want to jump in, with some help, before it's too late.
According to Bloomberg, sources familiar with the matter have stated that Nissan is in ongoing talks with Detroit-based EV startup Hercules. The source is claiming that the partnership will see Nissan purchasing electric powertrains from Hercules and in return, Nissan will provide various other parts for Hercules to use in their upcoming Alpha electric truck due sometime in mid-2022.
As a quick refresher, the Hercules Alpha is yet another electric pickup truck on the horizon. The Alpha is looking to provide 1,000 hp from its 4 motors allowing for a top speed of 120 mph and a 0-60 time of around 4 seconds. It will have a goal range of 300+ miles along with 12,500 lb. towing capacity and 2,500 lb. payload capacity.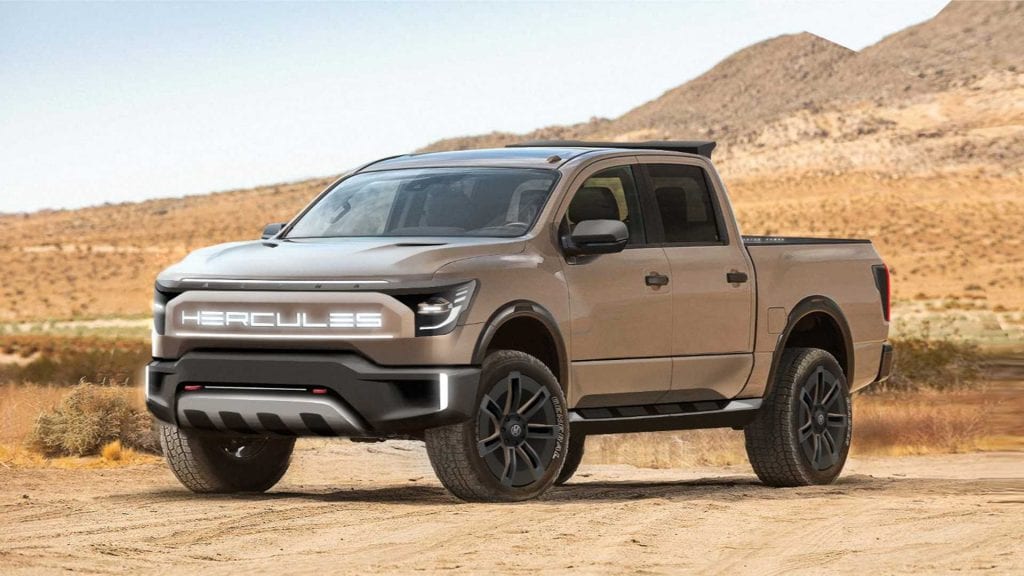 (Is…is this render just pasted on top of the Nissan photo up top?)
The report states that the deal has not been completed yet and that it could still fall through. No doubt many looking at this news will wonder why Nissan is looking to purchase an electric powertrain from someone else given their relatively large experience with electric cars. As I've stated before Nissan is not exactly known for their pickups and that was evident as Titan sales have dropped 38% over the last year. As such it seems like Nissan might be looking to gain some traction in the new EV truck space while not wanting to commit too much to a model that isn't selling well.
If the deal goes through it will just add to the growing list of partnerships that include Ford with Rivian and (possibly) GM and Nikola as established automakers try to kickstart their electric efforts by funding startups in the sector.
What do you guys think of the news and Nissan's thought process? Let us know down in the comments below.