The companies maiden vehicle, the Atlis XT truck, looks to take on the competition heavy industry segment of electric trucks.

Against all odds, Atlis plans to outdo the likes of Tesla and Rivian with specs seeking the upper limit of possibility.
While it looks like electric pickup truck plans are being thrown around by every automaker in hopes of making the news cycle, there's one company that has been here from the beginning. With its founding in 2016, Atlis Motors is another startup trying to make something of themselves during this electric vehicle renaissance. Unlike side projects brought in by others, Atlis Motors sole ambition is to create an electric truck fitting all the needs of the working class while delivering exceptional specifications for the rest.
The team has been working on the Atlis XT electric pickup for some time now with progress seemingly slower than others. The company is officially nearing the crucial moment where funds need to be collected and prototypes need to be made in order to continue. Atlis has a lot on its plate, making an EV is tough, designing a battery and charger that can eventually charge the truck in just five minutes, that's even harder. With plans to offer the vehicle in a consumer friendly subscription service and ambitions of making the truck modular, allowing you to upgrade parts of the truck instead of buying a whole a new one, Atlis seems to lead the industry in theoretical innovative ideas.
Rather than go public with unsolvable claims, Atlis wants their product to do the talking before looking for billions of dollars in investment for a product that doesn't yet exist. Mark Hanchett, CEO of Atlis Motor Vehicles, took some time to discuss their future:
On conception, the Atlis electric truck is aiming to have specs high enough to lead the industry. Presently, the Atlis XT truck offers four future trim levels. A 300 mile ranged, 400 mile ranged, 500 mile ranged, and another 500 mile ranged pickup with higher towing specs. Each model comes all-wheel drive with four doors, something lower end pickup trucks tend to miss. Atlis Motors states that the vehicle will be able to be propelled to 60 mph in just five seconds and have a top speed of 120 mph, but there's no clarification on which trim level those specs are stated for.
Towing capabilities range from 6,000 pounds all the way to 17,000 pounds, while payload restrictions go from 1,000 pounds up to 5,000 pounds. The heaviest duty Atlis XT will offer an 8′ bed with a gooseneck cable of towing 35,000 pounds. The 8′ bed is not restricted to the priciest model as it will be offered to the lower trim levels as a $3,000 options. The option to opt for a dually version will also be available for those who need the most out of their pickup truck.
With these tier one specs, you'd certainly expect an upper class price tag. Lucky for consumers, Atlis looks to make a vehicle suited for most at a price most can afford. The Atlis XT price starts at just $45,000.
300 miles
400 miles
500 miles
500 miles +
0-60

5 sec*

Top Speed

120 mph*

Towing
6,000 lb
10,000 lb
14,000 lb

17,000 lb
(35,000 lb gooseneck)

Bed

6.5′

8′

Charge Time

15 min*

MSRP
$45,000
$58,000
$69,000

$78,000
*We are uncertain which (or if all) trims will contain this single stated spec
One look at the Atlis XT truck, its specs, and it's stocky build and you can easily tell what the company is aiming for; A great electric truck option for any job site. The design is rather boxy with a somewhat busy face, not too far off from what we've come to expect from truck makers. The front of the XT is imposingly flat and tall resembling nothing but a brick wall heading your way.
Front facing lighting is separated in two, a light strip right below the frunk opening, and then a set of two circular fog lights just below. It's a configuration that I've rarely seen and does give the XT a distinct look. To find extra use for the truck, you'll find that the XT is equipped with two points for attaching hooks for tow straps and other things.
The most distinctive feature of the front end is that the front portion can fold open like a rear tailgate, allowing for easy access into whatever you are storing in the frunk.
From the side, you would be hard-pressed to be able to tell the Atlis XT from any other regular truck (although the concept does lack side mirrors in favor of cameras). The only real giveaway would be the charge port which is located in front of the driver's door. Moving on to the rear and we see some rather standard looking tail lights and no signs of a light bar like the one in the front.
In terms of body configurations, the XT will be available in either a 4-door cab or a 2+2 crew cab (available after launch). As seen with traditional pickups, there will be two different bed lengths, an 8 ft. option as well as a shorter 6.5 ft. version. Thanks to the modular design, further customization is found for the rear of the truck as you can spec out the XT to have a flatbed or a service body that allows for an increase in storage compartments, a feature that shows Atlis' commitment to catering towards their truck needing to be a 'work truck'.
Overall the design is not too flashy and looks to retain functionality which fits into Atlis' mission of making things simple.
While the Atlis XT interior looks to prioritize function over form as well. However, that doesn't mean that it can't have some of the luxuries found in todays higher end consumer trucks. While the standard interior is cloth, for $3,000 you can opt for leather seats and carpeted flooring. Both the front and rear seats fold in a 40/20/40 configuration, allowing for seating of six people (unless you get the 2+2 configuration). Atlis Motor Vehicles is not oblivious to the fact that the interior is going to be beaten up on a daily basis and will be subject to dirt, grime, snow, rain, etc. They have explicitly stated that they are aiming to have their interior be able to stand up to the abuse found in day to day heavy usage.
In the dashboard, you can find the usual array of screens found in todays modern day car. A digital gauge cluster and a large center screen to let you control all the various functions of the vehicle, making you feel at home in the future. Atlis CEO, Mark Hanchett, describes it as:
The center-mounted digital touch screen serves as the hub for all vehicle settings. Physical rotary knobs flank the sides and are configurable for your desired preferences. The dash instrumentation is a multi-split display, showing live vehicle information and live camera feeds from the driver assistance cameras.
The UI behind the wheel ensures that the driver is in full control and allows for various customization. Either side of this screen is where you find the side camera feeds. That's right, the Atlis XT comes with no side mirrors, instead opting for cameras. With them positioned to the left and right of the steering wheel, the driver does not have to shift their eyes at all to take in all surroundings.
Trucks come with heaps of potential in regards to technological improvements. From the workforce to the weekend getaway, little to no situation has been adapted for our current technological state. The Atlis XT pickup looks to capitalize on situations like this. In a towing scenario, the electric truck will be able to recognize a trailer that has been previously towed and automatically adjust the mirrors, power delivery, and whatever else to give the best experience to the driver, leaving minimal time fiddling around.
On worksites the Atlis XT truck is a tool itself. The company looks to add necessary feature such as an on-board air compressor and readily available 240v and 120v outlets used to power tools using the energy stored in the truck itself.
Staying with the new norm of technologically advanced vehicles, Atlis Motor Vehicles plans to incorporate OTA updates. Taking a look at something like Tesla software updates and you quickly find the importance of continuous vehicle updates. Vehicle software updates are nothing new to the world. However, throughout the years, aside from a relatively few, they've only been used to fix minor bugs. With consistent updates being sent to vehicles implementing new features and concepts, your car feels fresh for longer. This also allows automakers to cater to both new and current customers at the same time, leaving everyone ecstatic about their purchase decision.
Autonomous driving features are planned with a partner in the future, but no more details have been given. The Atlis XT electric truck is said to come stock with these autonomous features included in the already low price.
To further showcase the ruggedness of the truck, Atlis will offer a unique air sprung suspension design allowing the truck to dynamically adjust to your trucks load. Through software, ground clearance options from 12 inches to 15 inches are made available.
In all, the Atlis truck looks to cater to all situations. Whether it be the workforce, the tech savy, the off roaders, the roadtrippers, or just those needing to get from A to B, the Atlis XT electric truck is set to fill all those shoes without exceptions. Forget the VW ID Buzz, this is the vehicle we need to see on the road pronto.
A truly standout feature of the Atlis XT will be its ability to make use of Atlis Motor Vehicles 1.5 MW chargers. The industry leading technology will be able to charge the electric truck in less than 15 minutes, closing the gap between EV charging time and gasoline fill-up time. Electric car charging sits as the biggest concern for those making the switch from ICE vehicles. With the gap narrowed, concerns will vanish and the switch to an electric truck like the Atlis XT will be a no-brainer.
Even with high electric car ranges, charging times are still one of the biggest headaches for automakers and consumers alike. It is hard to transition from five minute fill-up times to stops that can regularly take over 30 minutes. Atlis Motor Vehicles has set the charging experience as a top priority. With a set a goal of 15-minute charge times, their future gas stations will, like the rest of the company, remain ahead of the curve. To achieve this they have engineered both a 1.5MW (yes, MegaWatt) charging station, along with a battery that won't degrade rapidly under all that power.
Concerns of battery lifespan is warranted when talking about pumping that much energy quickly into a battery. In all facets of our life, we have been told that fast-charging will noticeably degrade the life of the battery and how much of a charge it will hold. However Atlis CEO, Mark Hanchett informed us that the company will be able to achieve around 2,000 battery cycles (to reach around 1,000,000 miles) while fast-charging the truck at these speeds.
In regards to the charging network itself, the Atlis electric truck is equipped with a standard CCS outlet, allowing it to utilize already existing charging networks such as Electrify America. Atlis Motor Vehicles states that they will initially focus on bringing their chargers online in local areas of commercial partners during the first year. Once that has been accomplished they will start pacing out the chargers along major highways starting from the Southwestern portion of the US and then moving out, eventually making it possible to travel across the country using just their MegaWatt chargers. Since the Atlis truck uses a standardized CCS plug, other EV owners will also be able to take advantage of the companies chargers, basically saturating the charge rate of any car on the market today.
The modularity of an electric car's platform has increased in priority for many automakers. As they try to streamline the production process and find ways to save money, creating a single platform for a multitude of vehicles just makes sense. Undertaking the expensive task of transitioning to electric power requires some monetary compromises.
At a superficial glance, most EV platforms now look identical with the heart of electric cars taking on a skateboard foundation that houses all the batteries, motors, charging equipment, etc. along the entire body of the EV. Like most, Atlis Motors has created a platform of their own. Dubbed the XP Platform, it will underpin the Atlis XT electric pickup and presumably any other future models from the company. Interestingly enough it appears that Atlis is planning to have the platform itself be purchasable so that smaller companies can electrify their fleets or perhaps limited production custom automobiles.
Atlis lists the following as some of the possible applications of the stand-alone platform:
RV manufacturers looking to enter the electric revolution
Step van manufacturers looking for a 100% electric platform
Box truck manufacturers looking to electrify their fleets
Aftermarket vehicle builders looking to electrify a classic vehicle
Innovative entrepreneurs looking to build a new generation of automotive vehicles
In theory, it's a good idea to give yet another route of electrifying current and future cars. Companies like VW and their MEB platform are already offered to others but smaller startups might not be able to source platforms from larger automakers.

The company itself will use the modular platform for multiple variants of the Atlis truck. Multiple bed configurations and sizes will be available along with a dually version on launch.
The ownership experience of the Atlis XT is once again another interesting aspect of the companies ambitious goals. The XT will be available via either direct purchase or through a subscription service. The direct purchase method is one that we are all familiar with. With a starting price of $45,000, you will have to provide your own insurance. The electric vehicle will come with a generous 10-year bumper-to-bumper warranty. It's a pretty standard car purchase, aside from the longer than average warranty.
Moving on to the subscription service, Atlis will attempt to streamline the entire car ownership process. With a starting price of $700 a month, you will be entitled to a new car every 3, 5, or 7 years, have unlimited charging sessions at Atlis' MegaWatt chargers, routine maintenance covered, as well as insurance provided. It's certainly an appealing option for anyone trying to make ownership as streamlined as possible.
Simplicity, after all, is a big goal for Hanchett and Atlis:
"Our focus, and truly being focused on the work market, that segment, is to make things as simple as possible. So from a high-level perspective, the concept should be: you open the door, you get in, you just go, the vehicle is ready to go"
In regards to maintenance, Atlis is trying to push forward with a highly modular design, which will allow for major parts of their cars to be upgraded as time goes on, rather than having to outright purchase a new electric car. Hanchett explains:
"[Atlis is focusing on] continuous updates of hardware within the vehicle. So if you're on one of our subscription programs then not only is the software going to get better over time, but the hardware itself as we sort of progress and as things reach perhaps end of life or cycle or maintenance reasons, those eyes will be continuously upgraded. So imagine a vehicle that not only gets better from say, a software standpoint over say the 10 maybe even 20 years that you own a vehicle, that the hardware within that vehicle also continuously is improved."
He calls it the concept of a "circular economy":
"We are really trying to get to this concept of a circular economy. Where vehicles, they do last much longer, as parts sort of come off they are either refurbed, repurposed, or recycled back into a brand new part, and that goes right back into the vehicle."
It's an idea that has been thrown around before, especially with the simplification of the vehicle powertrain after transitioning to electric power. The Google Ara featured a similar concept for smartphones but unfortunately didn't end up going anywhere, so we hope Atlis and any other automaker looking to make modular vehicles a reality will find more success. It's certainly an exciting prospect, not only from a technological aspect, but also from an environmental one. Upgrading a few motors and a battery will no doubt end up using less vital resources when compared to a customer having to buy a completely new car because they aren't happy with the performance of their current one.
While the market has been in a mania recently with zero emissions companies like Nikola, Fisker, and Canoo going public through reverse mergers with much hype, Atlis has gone with a more humble approach. While you won't find Atlis Motors stock listed in any market, it does offer the public ownership shares.
The company has a current goal of raising $25 million in a Regulation A public offering. The funds are said to be used for their production facility and machinery needed to build their prototypes. That's right, Atlis Motor Vehicles doesn't yet actually have any prototypes of their electric truck.
Atlis chose this method to continue to drive home their 'for the people' ethos. With the maelstrom of drama we are witnessing with Nikola, no one wants to overpromise and under-deliver. Atlis Motor Vehicles state that they have a lot of work to do to prove themselves before they want to start making waves. If nothing else, that is at least admirable. They are however open to the eventual idea of a reverse merger or the like, but are not actively looking to make it happen.
Atlis Motors has previously raised $2.3 million with another $1.7 million currently raised from their $25 million Reg A offering. They currently have a facility and a small team of just 17 employees but have a full roadmap in place. Hiring and expansion is currently underway with multiple technology and production based projects in the works.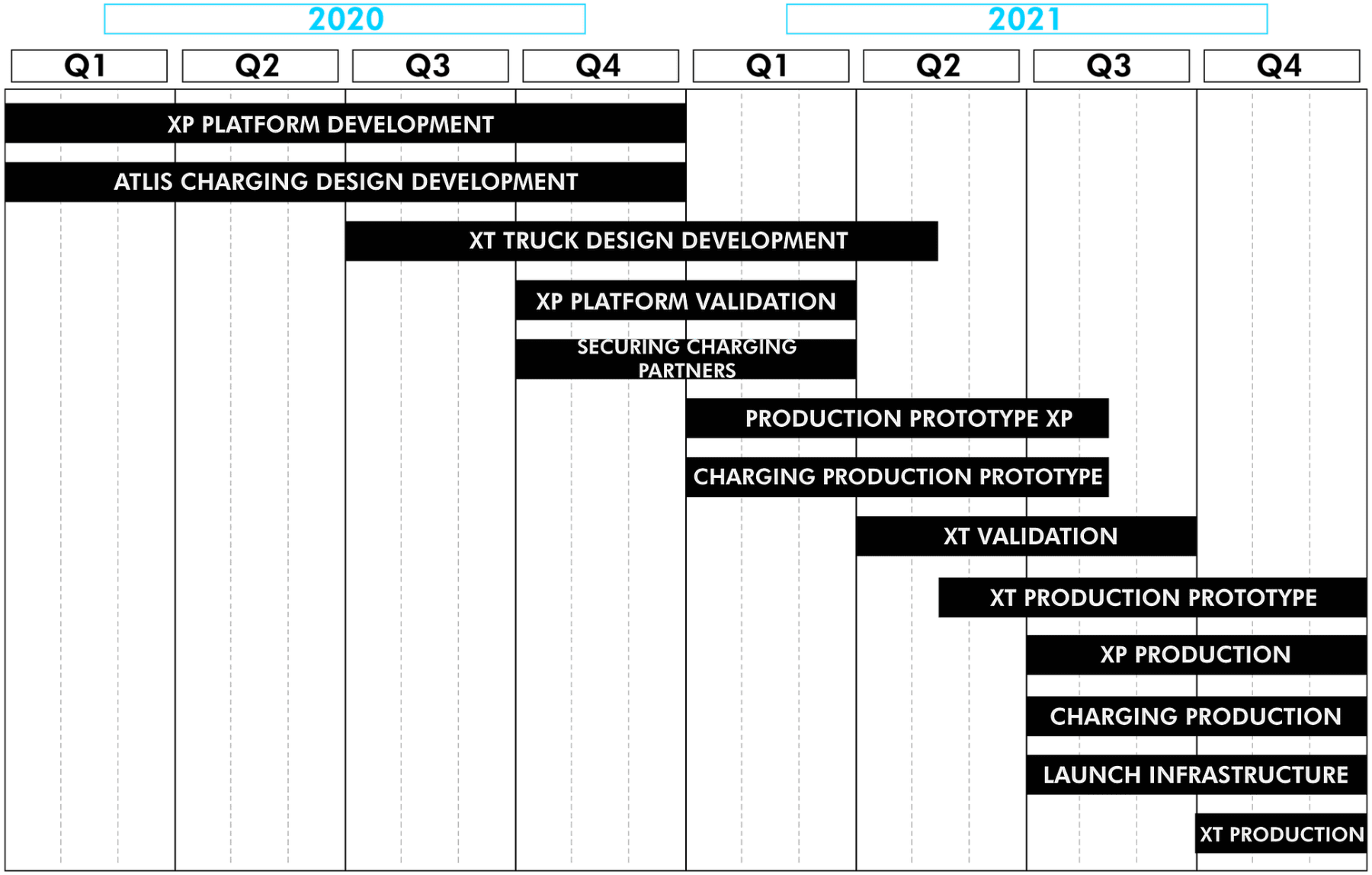 With that being said, Atlis does have a lot of work to do. While there are a lot of promises, it is very important to note that full production prototypes have yet to be made for either the charging station or the XT truck and XP platform. The ambitious battery technology has been showcased on small scales but production vehicles are a bit different. The company however does have active patents and is seemingly honest about their expectations and output.
Pros

Cons

Exponentially growing segment

Time constraints

Industry leading specs

Unproven technology

Ambitious

Low funding
Atlis Motors is also in the midst of looking for partnerships for various aspects in both charging infrastructure and the more structural portion of the XT (such as the body in white). If all goes to plan the company is looking to start prototype production at the beginning of 2021 with the actual production of the Atlis XT starting towards the end of the year.
I don't have to say how incredibly hard it is to create an automobile company. Companies like Tesla and their EV competitors have thrown billions on billions of dollars in tech and have been unable to achieve half the specs promised by Atlis Motors. That being said, nothing is impossible. However, a lot more money needs to be raised and a lot of actual positions in that company still need to be filled.
With most of the work yet to be done, we would not blame anyone for being skeptical at Atlis and their claims. Atlis Motor Vehicles is not only trying to deliver an EV with market-leading specs, but also a market leading charging network, along with a never before done ownership experience. There is just so much that needs to be worked on. With legacy automakers struggling to create a car that can match Tesla and other startups making dubious claims about their own cars, Atlis will have a lot of work to do to win the trust of the people and make good on their claims.
For now, our eyes are kept tight on the company and their following moves. It's understandable that everything starts somewhere and you must sell the dream before making it reality. It is however important to stress their current stage as a startup. If you've noticed some small discrepancies between the photos provided, it's because the truck doesn't yet exist and nothing is finalized. The above images shared are all renders of a future vehicle.
If you're interested in the Atlis truck, you can reserve your vehicle today with no money down. If you're interested in Atlis Motor Vehicles as a potential investor, you can buy shares directly from them.