Since the early introductions of the Fisker Karma, the newfound automaker has done nothing but make headlines through innovation. The 2012 Karma was the first production car with a solar panel roof. As a luxury plug-in hybrid it was a first of its kind before the company was sadly struct with a bit of bad luck. After their battery supplier went out of business, the luxury automaker was forced into bankruptcy.
Henrik Fisker's dream still lives today. The Karma molds were sold to a company who still produces the vehicle under the name Karma Revero. Nearly a decade later and Henrik's dated design is still one of the most beautiful cars on the road. The original has also held up well as Henrik himself is still seen driving it daily.
Now, the renowned automaker is back at it with plans to introduce a mass produced affordable electric SUV. The Fisker Ocean is not just a car, it's innovation on wheels. In order to succeed in today's market you must try something new, Henrik did just that.
The electric Fisker Ocean holds an abundance of never before seen industry features. It's solar roof is capable of gaining 1,000 miles annually of free range from the sun. This won't last you through the year but it's a nice discount on your electricity bill at no extra cost to you.
With it's proprietary "California Mode", you'll be able to open up all nine windows at a push of a button. That's right, nine. The four standard, the two rear quarter windows, the back window, and the two glass roof panels. Whether you're just looking for a breeze or need to stuff a surfboard in the back, this feature will be seen as a must-have. That is until someone finally makes an electric convertible car. Oh wait, Fisker themselves could be planning just that.
California mode in action! https://t.co/eI1Xz4nX13 #fisker #EV #Sustainable #ClimateChange #surf #sun #vacation #fun pic.twitter.com/zuvF9YRdzw

— Henrik Fisker (@henrikfisker) January 9, 2020
The SUV is fully electric with an estimated 250-300 miles of range and a base price of $37,495 before tax incentives. The performance versions is stated to have an impressive 0-60 of 2.9 seconds.
But all of this is seen as standard when compared to everything else Fisker has planed. Through a new leasing program dubbed "FLEXEE", owners will benefit through multiple unique terms. With $2,990 down you can get a 2020 Fisker Ocean SUV lease for $379 a month. The catch? none. Unlike traditional leases, the term is flexible. You can keep the car as long or as short as you'd like. Your miles are restricted to an industry leading 30,000 annually with monthly rollover and all service charges are covered under the program. If and when achieved, it might just be the best deal out there.
This is just one of the many industry aspects Fisker seeks to improve. The traditional car buying experience is not fond by many. Other automakers such as Tesla have been looking for ways to turn around the public's opinions on car buying. Fisker's idea is to create an entirely digital car company.
Just about everything will be done digitally from within the Fisker app. Even placing the $250 reservation deposit today is done so through your phone. So phone calls, no in-person visits, no emails. Everything is done at a tap of a button, as it should be in 2020.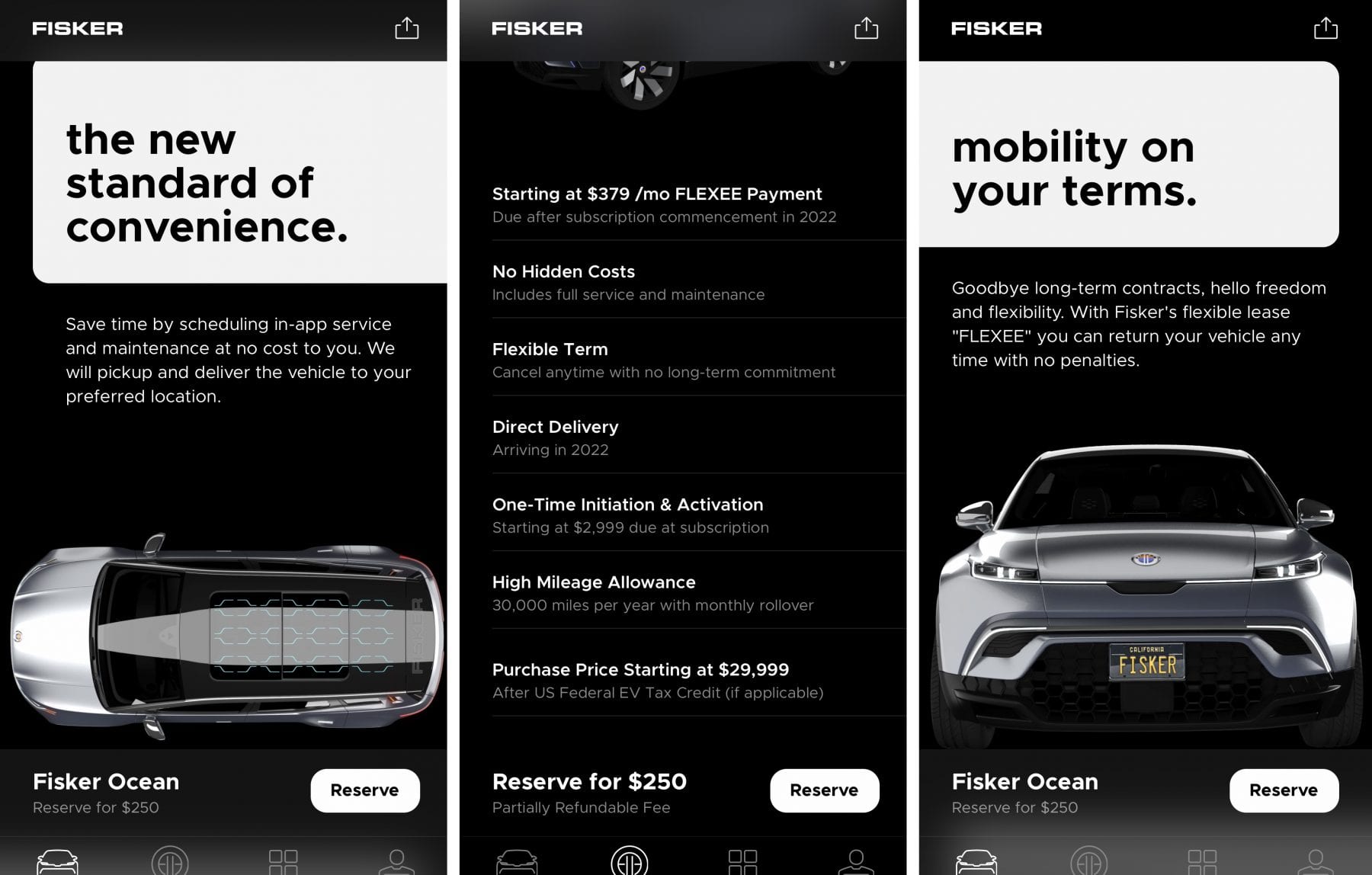 Once the vehicle is in production the app will expand to cover just about everything in the car buying process and ownership. You'll be able to set up your trade in, add your insurance policy, and even make your lease payments. Once the car is purchased you'll be able to control features in it through the very same app. Fisker states the following added features:
Schedule a test drive at a location of your choice – no need to visit a dealership
Search new and used vehicles for lease or purchase at the touch of a button
Value and arrange your trade in
Organize insurance
Make lease payments
Remotely control certain features on your vehicle
Schedule service and maintenance
View and purchase Fisker products
Manage your loyalty account
Fisker seeks to provide consumers a car buying experience they so desperately seek, a hassle free one. As a digital car company they will capture an untapped market and wiggle their way into a nearly impenetrable industry. The electric Fisker Ocean SUV will be available in masses starting 2022.