The Lightyear One is looking to become the most usable solar-powered car with its recent unveiling. Lightyear maintains that the Lightyear One will have a range of 450 miles (725 km) WLTP-rated range and be able to capture 12,427 miles (20,000 km) worth of energy a year from the sun, all while looking more-or-less like a normal car.
If you read our post covering solar panels in cars, you know that solar panels have had limited use in current vehicles. For the most part, their best use case was providing auxiliary power to things such as the air-conditioning.
However, Lightyear has been working on making a solar-powered car a viable choice when picking your next vehicle.
Lightyear is made up of engineering students from the Technical University of Eindhoven in the Netherlands. They competed in the Bridgestone World Solar Challenge as Solar Team Eindhoven and won the challenge in 2013,  2015, and 2017 with their Stella and Stella Lux solar-powered cars.
Of course, these cars were super lightweight and didn't resemble the traditional shape of most cars, thus not making them a viable choice for day-to-day driving. However, Lightyear had taken its expertise and teased the Lightyear One about six months ago.
At the time of the teaser, Lightyear had been promising a range of almost 500 miles and the ability to capture about 5,000-6,000 miles worth of energy from the sun. We thought at the time it was already great, but it seems the real numbers will be even more impressive.
At the car's revealing in the TheaterHangaar in Katwijk, Netherlands, the Lightyear One was officially unveiled.
Lex Hoefsloot, CEO and co-founder of Lightyear had the following to say regarding the mission of the Lightyear One.
"The main goal of the car is to fill in where electric cars fall short. Research has shown that range and the lack of charging options are still the top concerns that people have when considering electric cars. We are solving these issues with what we call ultra-efficiency. On one hand, that will lead to an exceptional range of 725 km (WLTP) on a relatively small battery. On the other hand, it can charge directly from the sun because its energy consumption is much lower, generating up to 20,000 km worth of energy per year. Moreover, all of the charging options out there become easier to use because you get a lot more range for the same amount of energy charged. So effectively, you charge a lot faster from any power outlet. You can charge up to 400 km per night from ordinary 230V sockets. That's great for road trips because you don't need charging infrastructure."
Not only does the Lightyear One have an absurdly long range of 450 miles, but it also can capture up to over 12,000 miles worth of energy a year depending on your climate. According to the US Department of Transportation, the average US driver drives 13,476 miles a year. In essence, this means that you could drive the Lightyear One without ever having to touch a plug.
Lightyear offers a handy calculator on their website for you to get a better understanding at the amount of energy you will be able to harness given your location.
In terms of power, the battery pack size was not disclosed, but Hoefsloot did express that it was a relatively small battery. Propulsion comes from four independent motors on each wheel, but given the car's goal of going as far as possible, acceleration performance is put on the back-burner with a 0-100 km/h (0-62 mph) time of around 10 seconds.
Along its roof and aerodynamic fishtail, the Lightyear One has five square meters of solar cells which Lightyear claims are strong enough to have a fully grown adult walk on top of without damaging anything.
Now comes the price. Given its low volume and extensive use of lightweight materials, the Lightyear One will not come cheap. The reservation fee for the first 500 units is  €119,000 ($135,000), with the full cost being €149,000 ($170,000) including the 21% VAT.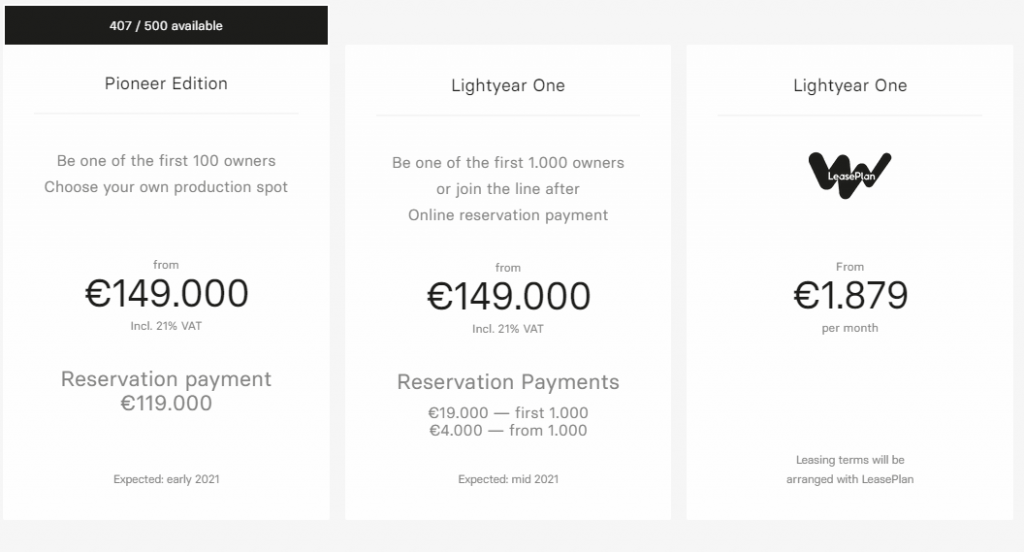 Production is set to start in early 2021, and you can reserve your Lightyear One here.
The Lightyear One is the first step in Lightyear's plan towards providing a more affordable and sustainable car for all.
"Since new technology has a high unit cost, we have to start in an exclusive market; Lightyear One is the first long-range solar car and has staggering specifications. The next models we plan to develop will have a significantly lower purchase price. In addition, future models will be provided to autonomous and shared car fleets, so the purchase price can be divided amongst a large group of users. Combined with the low operating costs of the vehicle, we aim to provide premium mobility for a low price per kilometer. A third, final step will be to provide truly sustainable cars that are more affordable to use than the cost of gas you need to drive a combustion car. This will prove to be our most important tipping point in the near future, and it will pave the way for a car fleet that is one hundred percent sustainable."
Now obviously there are caveats here. If you park somewhere in a garage you won't get much benefit from the vehicle's solar panels. Do you live close to the arctic circle where it's nighttime for half of the year? You're in trouble. If you are looking for the lightning-quick acceleration that is typical in premium electric cars, you won't find it here.
However, even if you find no use in its solar-power, the Lightyear One will still have the highest range of any electric car released in 2021. Additionally, even driving the car around on a sunny road will be enough to give you some sort of "free miles". Granted, someone who is willing to spend almost $200,000 on a car probably does not care for the couple of dollars they save on not charging the car with a plug, but if sustainable energy is a passion in your life, a solar-powered car is your option, and there isn't a better one than this.
Watch the unveiling here:
What do you guys think of the Lightyear One solar-powered car? Let us know down in the comments below.
Source: Lightyear