Fresh off the company's 400th charging station, Electrify America has announced its plan to start deploying solar-powered EV chargers that can be placed off the grid to allow for even greater accessibility for EV charging.
The solar-powered EV chargers will be provided by Envision Solar, a San Diego-based sustainable tech company. Electrify America has made a $2 million investment in the company and will deploy 30 of the company's EV ARC 2020 stations to "carefully selected areas in rural California". Electrify America claims that the stations can be set up within minutes and do not require any disruptive construction.
Giovanni Palazzo, president and chief executive officer of Electrify America stated:
"Envision Solar's innovative technology allows us to offer renewable energy solutions for electric vehicle charging. Along with supporting California's broader air quality goals, this investment expands reliable, low-cost charging solutions to California residents living outside of major metropolitan areas – further demonstrating that electric vehicles are for everyone."
Envision Solar's EV ARC station is a transportable solar-powered EV charger that is equipped with a 4.28 kW sun-tracking solar array, 32 kWh of battery storage, and will come with two of Electrify America's Level 2 EV chargers. These EV charging stations will not come with DC fast charging as the Level 2 chargers can only deliver a charge rate of up to 6 kW. However, two cars will be able to charge at the station at the same time while using 100% renewable energy.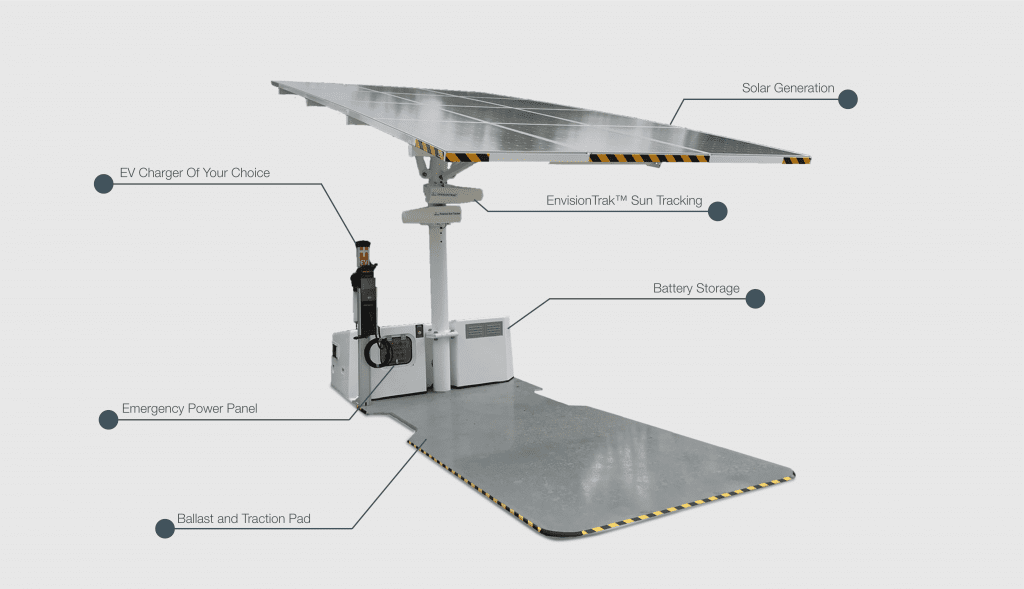 Desmond Wheatley, chief executive officer of Envision Solar remarked:
"Electric vehicles accounted for about 8% of car sales in California in 2019 but EV penetration is still less than half a percent in rural areas. Electrify America's deployment of our rapidly deployed, solar-powered EV charging products will help the state get closer to its goal of 250,000 charging stations by 2025 while putting fully emissions free driving within reach of those who need it most. We look forward to continuing to support Electrify America's efforts now and in the future."
The stations are not only able to work off the grid, but are said to be able to withstand extreme conditions such as winds of up to 120 mph and floods of up to 9.5 feet.
It is an interesting move to have chargers set up in the rural parts of California as you wouldn't expect those who live in the middle of nowhere to own electric cars, especially with the long distances that need to be driven. But it does seem like the best environment to test the viability of a solar-powered EV charger like this.
While I would like to think that the end goal would be for every charger in the world to have power being harnessed from the sun, we still have a ways to go. Level 2 charging in the middle of nowhere will certainly test your patience and with a 32 kWh energy store, it will basically only enable one charge in the middle of the night (although the roads probably aren't well-traveled where these will be placed).
The transportable aspect of it is certainly interesting and I wonder if that aspect will have a place in future EV chargers, allowing for deployment in high traffic areas that might not necessarily be in an urban area.
What do you guys think of the plan? Let us know down in the comments below.