The Mustang Mach-E is arguably the most important car for Ford since the Model T. The auto industry is facing its first global transition since that from the horse carriage. Like the Model T did for Ford's first mass-produced ICE cars, the Mustang Mach-E is serving as Ford's entry into the next generation of transportation.

Including its first production year, there have been 58,181 Mustang Mach-E's built for worldwide consumption and 18,853 sold in the U.S. International sales figures have not yet been released.
With the cost to build an EV still too high for most, Ford has opted to build the Mustang Mach-E at their Cuautitlán factory in Mexico. This alongside technological advancements allows the company to deliver an affordable EV while maintaining profits. The plant previously made the Ford Focus along with a multitude of other cars over its five decades of operation. Initial production goals upon the launch of the electric Mustang Mach-E were set at about 50,000 cars for its first year of production.
A higher capacity is certainly possible given the size of the factory and its dedication to the Mustang Mach-E. Ford has stated that a big reason for the relatively low production guidance is simply due to battery constraint concerns. As if battery constraints weren't hard enough to deal with, the Great Chip Shortage of 2021 has caused another obstacle for the electric Mustang's upward momentum. Still, if the Mach-E production plateaus for the rest of the year at its current output, Ford will still make good on its goal of producing 50,000 vehicles.
Mustang Mach-E 2021 Monthly Stats

Jan
Feb
Mar
Apr
May
Jun
Jul
Aug
Sep
YTD Totals
Production
4,250
3,846
6,709
6,155
6,845
6,963
5,694
5,353
5,390
58,181
Sales (U.S.)
238
3,739
2,637
1,951
1,945
2,465
2,854
1,448
1,578
18,858
Production ramps ups are known to cause some issues here and there, especially when the product is some sort of new technology, like electric cars. The Mustang Mach-E instrument cluster having an annoying buzzing noise was one of the few small problems that the first generation product has had to deal with. Of course, even Tesla, known for their production ramp-ups are not immune to production faults such as the infamous Tesla Model Y panel gaps.
Some would point out that the Mach-E actually sold 6,614 units in its first quarter, a greater number than Tesla was able to do in its first quarter of Model 3 production. This news should be no surprise as Ford has had over a century of mass manufacturing experience. However, Tesla was able to put all of its Model 3 production experience to use with the roll-out of the Model Y. The Model Y is estimated to have sold over 16,000 units in its first quarter.
Mustang Mach-E Quarterly Stats

Q1 '20
Q2 '20
Q3 '20
Q4 '20
Q1 '21
Q2 '21
Totals
Production
106
39
162
6,410
14,805
19,963
41,485
Sales (U.S.)
–
–
–
3
6,614
6,361
12,978
The All-New Electic Mustang Mach-E
Going against the simplification of upcoming electric cars, there are four different Ford Mustang Mach-E trim levels, with a previously available First Edition being the fifth. The current trims are called: Select, Premium, California Route 1, and GT.
Not including the powertrain found in the performance-oriented GT model, there are four different powertrain configurations. Ford offers both a 68 kWh Standard Range battery, as well as an 88 kWh Extended Range battery, both can be had in either a rear-wheel drive or all-wheel drive configuration. The whole scope of powertrain options is only available in the Premium model as the Select model can only be optioned with a Standard Range battery and the California Route 1 only comes in an Extended Range rear-wheel drive configuration giving it the best available range of 305 miles. The specifications of the different configurations are as follows:
| | SR (RWD) | SR (AWD | ER (RWD) | ER (AWD) |
| --- | --- | --- | --- | --- |
| Range | 230 miles | 211 miles | 300 miles | 270 miles |
| 0-60 mph | 5.8 sec. | 5.2 sec. | 6.1 sec. | 4.8 sec. |
| HP/Torque | 266/317 | 266/428 | 290/317 | 346/428 |
One currently absent member of the Mustang Mach-E family is the sporty GT version. The Mustang Mach-E GT delivery date is believed to be somewhere in Fall 2021, but we already have the sport crossover's specifications. While it does sacrifice some of its range, it more than makes up for it in regards to the power that it will deliver. For those looking for even more performance, there will be a Performance Edition of the battery that will further sacrifice some range for a better sprint time.
| | ER (AWD) | ER Perf. (AWD) |
| --- | --- | --- |
| Range | 250 miles | 235 miles |
| 0-60 mph | 3.8 sec. | 3.5 sec. |
| HP/Torque | 480/600 | 480/634 |
The current starting price for each trim of the Mach-E is as follows:
Select: $42,895
Premium: $47,600
California Route 1: $50,400
GT: $59,990
The upgrade cost from RWD to AWD is $2,700 and upgrading to the larger battery will cost $5,000 where it is applicable. It is important to note that Ford still qualifies for the $7,500 Federal Tax Credit so the Mustang Mach-E should come in at a competitive price for many.
Mirroring the revitalization of their product line, Ford is also working to improve the traditional buying experience. While you still can't 100% buy a Ford online, Mustang Mach-E customers can get the majority of the buying process finished online and only handle the very last part with their dealership, so it isn't direct to consumer sales, but it's close.
Ford vs The Competition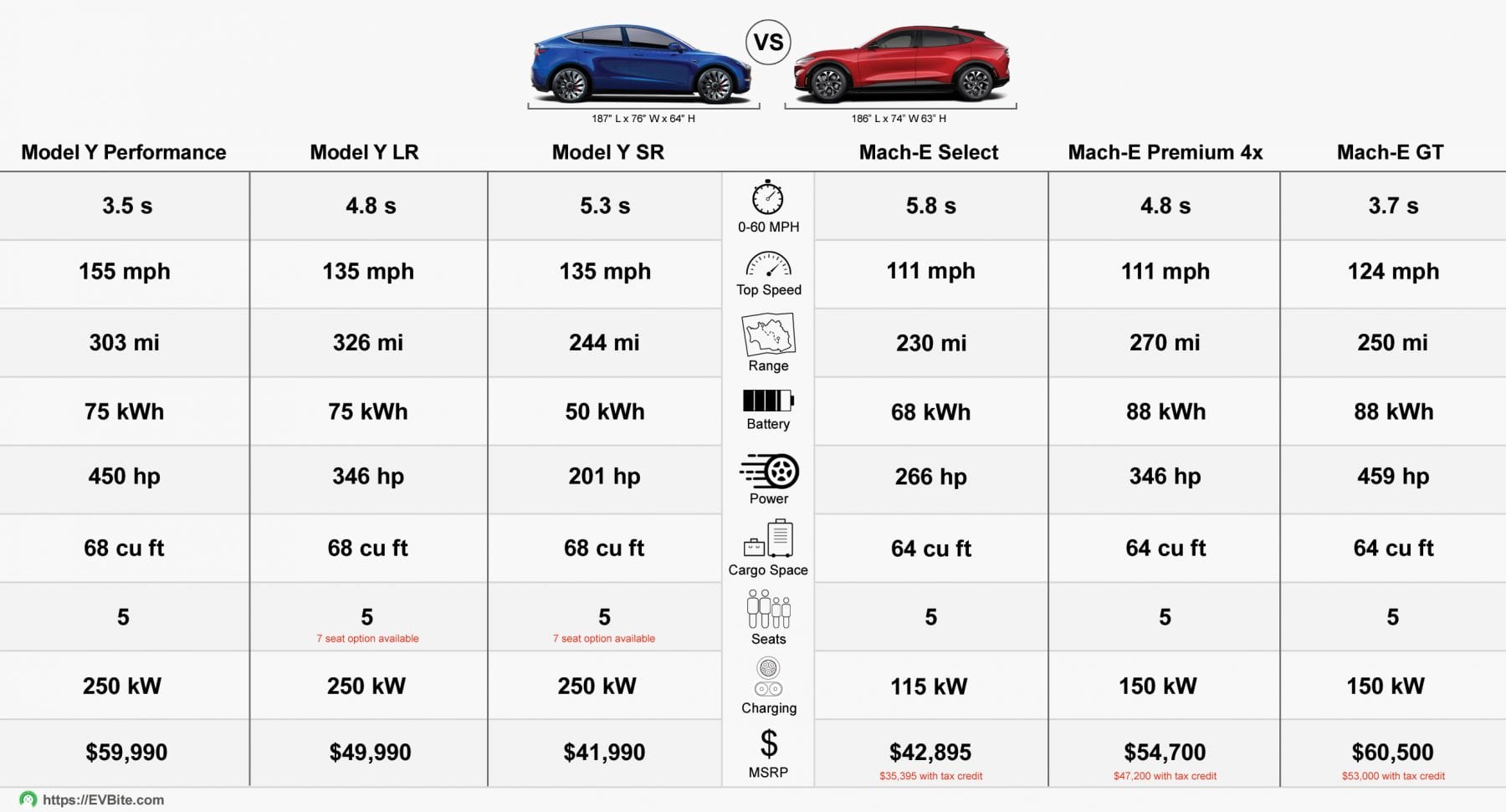 Upon announcement, the Mach-E vs. Model Y debates were an inevitability. With two electric SUV's in the same price bracket from two of America's most prominent brands, comparisons are bound to happen.
While Tesla has enjoyed many years of being largely uncontested due to their own technological advancements plus the generally slow pace of everyone else, the Mustang Mach-E would not be such a pushover. Its biggest advantage is its price point and tax credit eligibility. Accounting for a $7,500 tax credit, one could effectively get a Mach-E for under $40,000 while Tesla has continually increased the price of their Model Y to over $50,000 now.
On paper, the Mustang Mach-E does lose to the Model Y in a lot of performance specifications, but not significantly enough that one could easily brush aside the price difference between the two. The Model Y's one big advantage would of course be Tesla's Autopilot and FSD system. While Ford introduced BlueCruise, it is limited to only working on pre-mapped highways. For those looking for the cutting edge in autonomy features, it will be hard to sway them away from the Model Y. But at an additional $10,000 for the FSD package, you're talking about a $20,000 difference between the two electric vehicles.
Overall, we have seen a rather well-thought-out electric car when compared to the competition. Ford thankfully didn't seem to just phone it in with the Mustang Mach-E. The brand has been making important strides in electrifying the underrepresented commercial segment with the Ford E-Transit and electric F-150 Lightning as well.
A Focus On Software
Thankfully, the Mustang Mach-E doesn't just feature a modernization of its propulsion, but also of the technology found within the car. We have previously touched on the design of the Mustang Mach-E touch screen and the importance of a good user experience. The Mustang Mach-E features an interesting UI design language that sets itself apart from some of the other more sterile UIs found in some other vehicles.
There's also a Ford Mustang Mach-E app which in itself really isn't anything special at this point, but is still noteworthy. You can find all the usual information such as range and charging time within. You can also have access to basic controls such as locks, headlights, and the horn.
The use of OTA updates has been a topic of discussion for many new cars after seeing what Tesla has been doing with their Tesla software updates. While software updates previously were treated as nothing more than bug fixes, Tesla used them to revitalize cars by adding new features constantly and sometimes even improving performance. Many are waiting to see if the Mustang Mach-E software updates will follow suit and bring something more substantial than bug fixes. While the first few updates weren't anything special, we recently have seen a sketchpad added and will be waiting for BlueCruise to make its appearance through a software update later this year.
Similar to Tesla's early access program, Ford has also opened up a beta program for owners who want to try out any upcoming features before a wide release is seen.
Resources