Commercial electric vehicles have seemingly taken a back-row position in the spotlight that is our transition into electrification. However, the commercial EV segment is anything but insignificant with a total of over 8 million fleet vehicles currently registered in the U.S. At nearly 800,000 sold annually, the commercial vehicle segment is actually larger than the current EV segment as a whole. It only makes sense that Ford, a leading brand in the U.S., will bring the first batch of electric fleet vehicles to market. The Ford E-Transit and Electric F150 will both look to capitalize in this regard.
Ford looks to cater directly to commercial electric vehicle buyers as the first OEM to offer both an electric van and electric truck alongside the necessary technology for cost savings and future-proofing.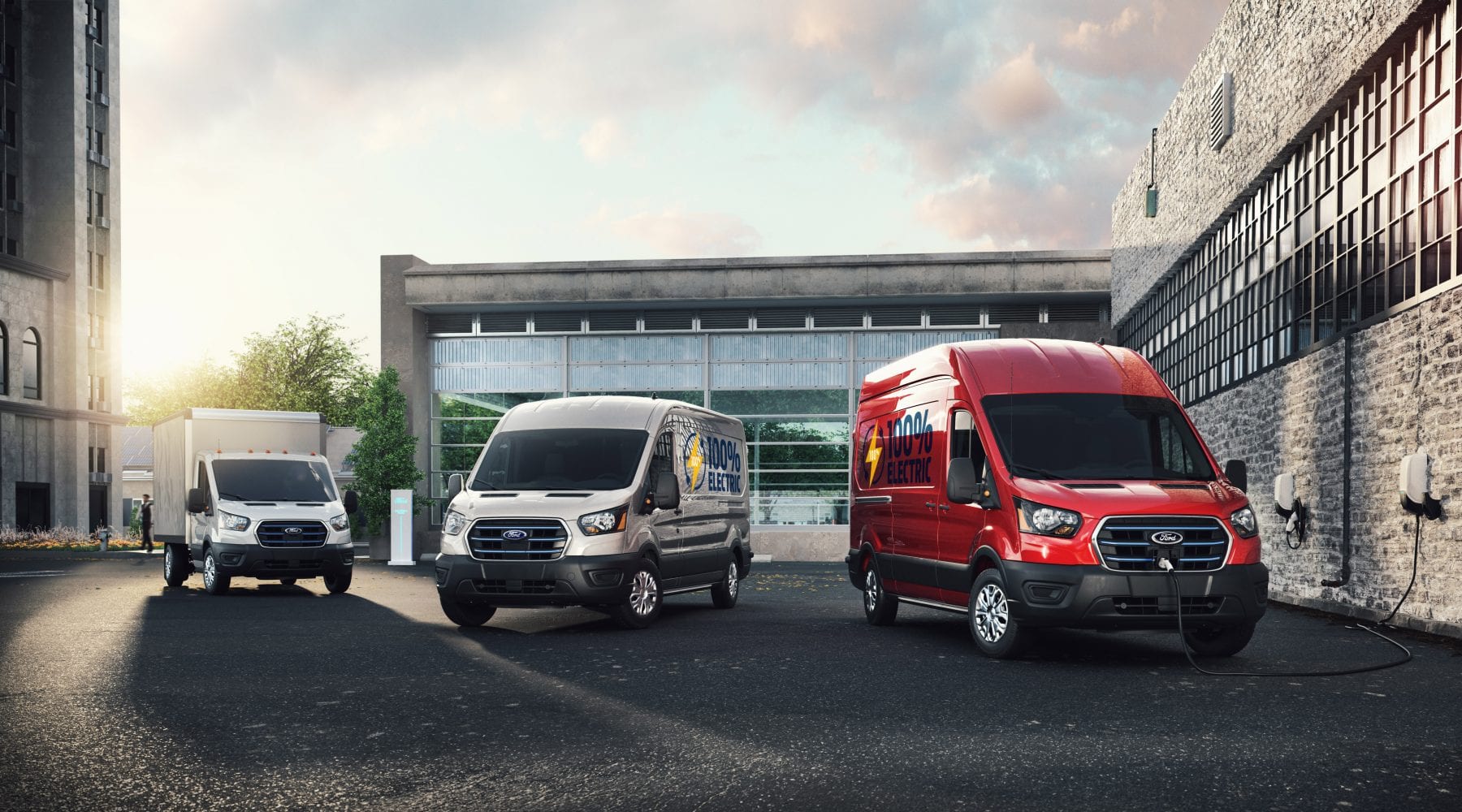 Over the last 42 years, Ford has maintained its title as America's best-selling full-size commercial van brand. The Ford E-Transit looks to extend the offering to fleets looking to save money or simply lower their carbon footprints. While the vehicle might not cater to all needs, the company has analyzed over 30 million miles of telematics data to understand customer needs and deliver range and payload offerings fit for the average commercial van in the U.S.
Specs
While the Ford E-Transit's range might seem lackluster at just 126 miles targeted (for the low-roof variant), Ford's data showed that the average electric commercial van will, on average, drive just 74 miles per day. The company claims each variant of the Ford E-Transit will offer a range over 100 miles.
The Ford electric van uses a battery actually smaller than their base electric crossover, the Mustang Mach-E (68 kWh), at just 67 kWh. Sadly, no larger battery options are planned for the initial release.
The payload for the low roof variant of the electric Ford Transit sits at 3,800 lbs. The company promises the payload capacity for the electric models actually surpasses that of their ICE counterparts. It however should be noted that the Ford E-Transit is an electric counterpart to the Transit 150, not the 250 or 350.
Payload Capacities
Low Roof: 3,800 lbs
Chassis Cab: 4,250 lbs
Cutaway: 4,290 lbs
Like the regular Transit van, the electric variant is offered in 8 configurations; 3 roof heights, 3 wheelbase lengths, a cutaway, and a chassis cab option. Among the few electric fleet vehicles heading to market, the E-Transit seems to be the more flexible option.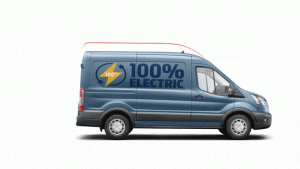 The new Pro Power Onboard feature adds 2.4 kW of external power, good enough to power any 120v tool, and can even recharge portable tool batteries while driving to the next job site.
Thanks to the technology that goes hand and hand with electrification, the Ford E-Transit offers unique acceleration control. Regardless of the scenario, driving the electric Ford Transit van will feel similar. The E-Transit accelerates at a consistent rate whether it is full of cargo or empty with the engine's torque adjusting for the payload.
Release
Registration for future orders of the electric Ford Transit opened back in May. Order banks are officially now open with first deliveries late this year.
The Ford Transit electric price is set to start at $43,295 and go as high as $52,690.
| Body Type | Roof Height/ Wheelbase | Range (miles) | MSRP |
| --- | --- | --- | --- |
| Cargo Van | Low Roof (83.6″)/ Regular (130″) | 126 | $47,185 |
| Cargo Van | Low Roof (83.6″)/ Long (148″) | 126 | $48,395 |
| Cargo Van | Medium Roof (100.8″)/ Regular (130″) | 116 | $48,280 |
| Cargo Van | Medium Roof (100.8″)/ Long (148″) | 116 | $49,490 |
| Cargo Van | High Roof (110.1″)/ Long (148″) | 108 | $51,530 |
| Cargo Van | High Roof (110.1″)/ Extended (148″) | 108 | $52,690 |
| Chassis Cab | Low Roof (83.6″)/ Extended (178″) | N/A | $43,825 |
| Cutaway | Low Roof (83.6″)/ Extended (178″) | N/A | $43,295 |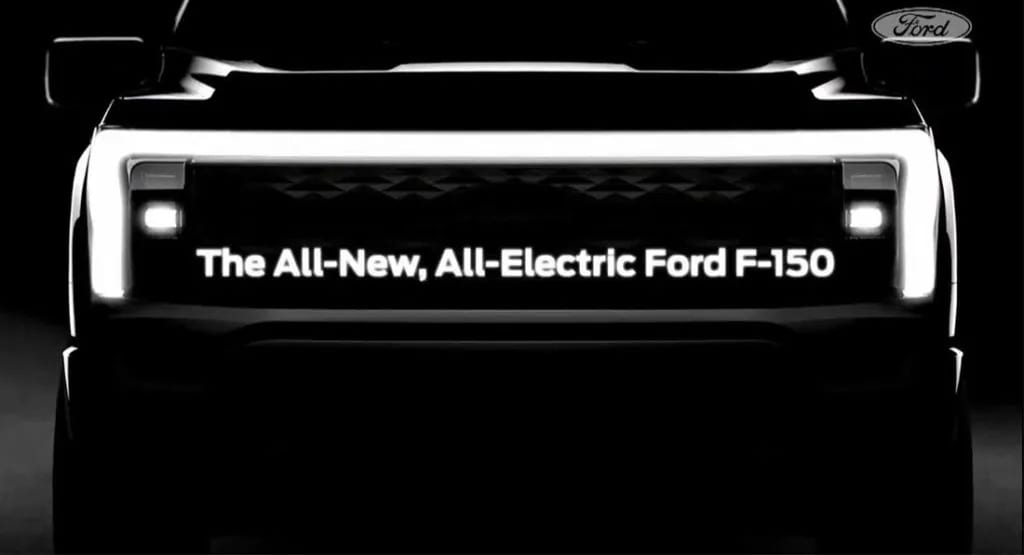 "Merging muscle with finely tuned intelligence and design, ushering the bestselling truck into the electrified age.
It's tougher and smarter than ever before, putting productivity at the forefront with the tools you need for on-site capability."
Year after year, the Ford F-Series dominates as the number one best-selling vehicle in the U.S. In 2019 alone, the company delivered 896,526 units. It would only make sense that the company producing the most popular truck would expand its clientele where seen fit.
Not much is known about the electric F150 as we wait for its reveal later this year. The electric truck is set to begin deliveries in mid-2023 for both retail consumers and commercial electric vehicle customers.
With Ford's new Sync4 technology, the company has taken its new vehicle lineup a step further into the future. Ford has future-proofed its EVs with OTA capabilities and next-gen features. As digitally connected vehicles, commercial EV's will automatically consider and route to chargers when needed. You'll be able to view real-time information such as which locations are in use and whether or not a charge on the way to your driver's destination would even be required.
The introduction of Ford Co-Pilot360 Assist 2.0 and Blue Cruise has brought Ford to the competitive playing field with hands-free driving. More advanced autonomy features such as lane changes and eventual full self-driving can all be brought via over-the-air updates to every compatible Ford sold today.
Fleet Telematics and Cloud Managment
Continuing their tech-forward mindset, Ford has connected commercial vehicles for consumer data gathering allowing fleet owners to optimize their lineup at ease.
Starting with the 2020 model year, all Ford vehicles have an embedded modem to gather vehicle data and telematics. Retail users take advantage of this technology through the FordPass app while commercial customers receive more control and data through Ford E-Telematics.
Ford commercial electric vehicle customers use the connected capabilities delivered through the embedded modem to provide fleet managers the ability to monitor and manage their vehicles in real-time to help optimize cost and uptime.
Things like GPS tracking, vehicle health with alerts, the ability to manage service and inspection schedules, monitoring fuel usage, as well as driver behavior insights including available in-vehicle real-time driver coaching (available later this year), make operating a fleet easier and more productive.
Through Ford E-Telematics, electric vehicle fleet managers can set alerts and scheduled controls for a more hands-on experience. Features include:
Range Status – Set thresholds to alert if a vehicle falls below a certain range.
Plug-In Status – Schedule charge times and be alerted if a vehicle is not plugged in when it should be.
Charge Logs – Analyze key factors to gain performance insights, kWh Consumption, Charge Speed, and Distance to Empty.
Remote Preconditioning – Optimize cabin temperatures and schedule pre-conditioning while the vehicle is plugged in to maximize battery efficiency.
Localized Cost Tracking – Track the amount of energy drivers use while charging at home for reimbursements.
These features are of course unique to electric commercial vehicles but Ford's telematics can be useful across all types of fleets. Ford is now extending their telematics services to include data on vehicles from other automakers as well as outdated Ford vehicles with no internet connectivity through a plug-in device connected via the OBD2 port.
Commercial electric vehicles offer increased uptime with reduced scheduled maintenance. Fewer moving parts with a more affordable fuel source directly result in a reduced total cost of ownership and an increase in driver wellbeing. Simple things like lack of emissions allow for electric cargo vans to be used indoors for easier loads. Thanks to new driver insights from Ford, even higher productivity and time savings with fewer fuel stops can be easily seen and accounted for.
Less Maintnance
No Emissions
Less Stops
Noiseless
Power on the Go
Technologically Connected
The total benefits of commercial EV's will be dependent on a per-use case. Vehicles like the Ford E-Transit won't work for everyone with its range limitations at play.
Commercial electric vehicles are best fit for customers with predictable routes within the range provided, and room to spare. Stop-and-go traffic is better for poor aerodynamic vehicles like the electric transit van. Long-range highway driving in the E-Transit would result in aerodynamic-related range loss.
With fewer moving parts, no oil changes, transmission flushes, or spark plugs, Ford estimates that drivers can save upwards of 40% on scheduled maintenance when compared to its ICE counterpart. Just cabin air filters, tire rotations, and brakes are needed to keep the vehicle in its prime.
Even brakes have less wear than a gasoline vehicle because of regenerative braking, avoiding the use of friction brakes entirely if they're not needed.
When compared to gasoline, customers of electric commercial vehicles can expect up to 50% savings on fueling expenses. Additionally, the price of electricity is more predictable than the price of gas. It's generally set by regulators in each state and there is advanced notice when that price is going to change compared to the daily fluctuations of gasoline prices.
As of today, all electric Fords sold qualify for a $7,500 tax credit. The total cost of ownership for a commercial EV can be further improved with localized incentives:
Rebates
Grants
Reduced Electricity Rates
Free Parking
Low Carbon Fuel Credits (CA)
HOV Lane Permits
Charging Installation Incentives
Due to the predictable nature of the schedule of a commercial vehicle, there is plenty of room for planned charging and so a super fast charge time isn't necessary for commercial vehicles. That being said, Ford has made the E-Transit capable of 115 kW charging, allowing the electric van to take advantage of DC fast-chargers along with the usual slew of charging options.
Mobile Charger
All electric Ford's come with a standard mobile charger included. At 20 ft in length, this charger can be plugged into either a 240v or 120v for convenience. Using a 240v, the Ford E-Transit will take 11 hours to fully charge.
Charges 11 miles per hour
Wall Connector
Another option is Ford's Connected Charge Station. This charger costs $799 and must be professionally installed. Also at 20 ft in length, this charge option can fully charge the electric Transit van in just 8 hours. The Ford Connected Charge Station allows for the addition of telematics data and energy consumption insights via WiFi compatibility.
Charges 15 miles per hour
Best for mid day refills or over-night use
Public Chargers
Generally, electric vehicles are parked overnight near a charger ensuring the vehicle retains a full charge and battery every day. Some customers will see on-the-go charging as an insurance policy while others will see it as a must-need capability.
For the latter, Ford has created a conglomerate of charging infrastructure companies resulting in the largest charging network with 16,000 chargers scattered across North America. Of which, 2.5k+ are DC chargers allowing for a 15-80% in 34 minutes for the electric Ford Transit. Below are some charging companies available to use in Ford's network:
Electrify America
Greenlots
Automatic and centralized billing allows drivers to plug in, charge, and leave with no payment. Instead, billing for the entire fleet is combined.
Ford's electric vehicles also offer strong warranties for those skeptical of the technology. 8 years, 100,000 miles covering the battery, motors, and any other EV-specific components.
The battery itself is covered up to 70% degradation ensuring the range stays within your required usage. After the warranty, if needed or requested, a new battery replacement can be expected to cost near $20,000.
With 2100+ electric vehicle certified dealers and 600+ electric commercial vehicle centers across the U.S., Ford remains ahead of the competition. Ford has a geographic advantage along with experience in other electrified products.
For the toughest of emergencies, Ford offers emergency roadside assistance to tow your vehicle to work, home, a charge station, or an EV-certified dealer.
This push towards commercial electric vehicles can partially be ascribed to Ford's $29 billion investment in EV's and autonomy through 2025. With $22 billion allocated towards electric vehicle development and manufacturing, Ford has already begun many changes to its manufacturing infrastructure.
The companies historic Rouge facility has been recently updated to support the final assembly of the Ford F150 electric pickup truck next year. The new Rouge Electric Vehicle Center will leverage the stamping, body, and paint facilities of the existing plant while providing an increased footprint to manufacturing the new product.
The electric Ford Transit on the other hand will be built elsewhere. The company has invested $100 million into their Kansas City assembly plant to produce the Ford E-Transit alongside its gasoline-powered variants.
Unlike newer companies in the space, Ford has the ability to quickly introduce mass-market scale at ease. Ford's first new-age EV, the Mustang Mach-E, proved just that by producing more in its first full quarter than the Tesla Model 3 was able to do in its.