If we look at zero-emissions cars as the modernization of the everyday car, then we can look at the push towards online sales as the modernization of the dealership experience. For the longest of times, the dealership experience has been a thorn in basically every car buyer's side, long waits, pushy salesmen, haggling, etc. makes for a draining experience. We have seen Tesla not only prove that electric cars are feasible, but also that a simplified online car buying experience can be successfully done. While it looks like many others are not quite yet ready to abandon their dealership networks, Ford is looking to dive headfirst into a fully online buying experience, possibly even beating Tesla's process.
I don't think that I have to go over the fact of how much most people dislike having to go to a dealership. With electric cars signaling a paradigm shift for cars as a whole, it represents a good time to rework how people buy cars and make it more streamlined and enjoyable. Being able to buy a new car should be a happy occasion for many people, not one where they have to wade through countless obstacles.
With the Mustang Mach-E representing the start of a new chapter in regards to Ford's vehicle offerings, the American automakers been making major changes as to how their system operates, from the bottom up. Ford realizes that EV car buyers tend to be more technologically capable and would prefer to do their shopping and other tasks online. According to the companies data, a whopping 72% of initial Mach-E orders were done online without any dealer interaction, and that number jumps up to 97% if you include the people that called the dealership but still ended up ordering online aftwards. This means a grand total of only 3% of orders were taken in by the dealer network itself.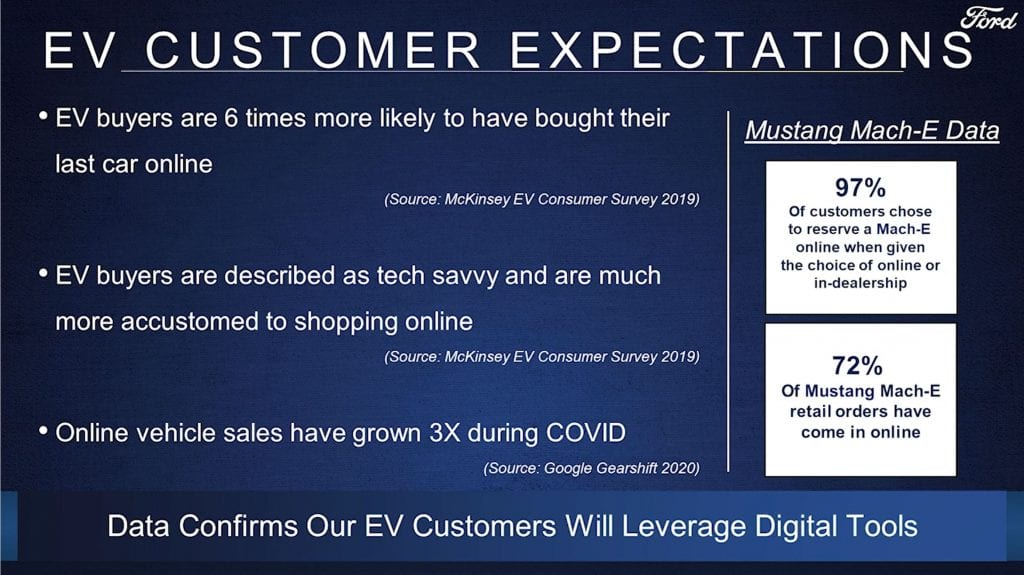 We have previously said that Ford has been using Tesla as a blueprint for how to set up their efforts towards electrification. However, in this regard, it looks like Ford is taking extra steps to provide an even more digitally complete service than Tesla currently has. Tesla's online ordering system is perfectly capable, but there are still some areas in which they are lacking and Ford is looking to capitalize on these deficits by providing a more complete system.
The online experience will allow consumers to structure their car purchases all on their own. Giving customers more control than ever before, the following features are included in the Mustang Mach-E's online buying process:
View and add public and private incentives
Receive instant trade-in offers
View taxes and dealership fees upfront
View and purchase special programs like Ford Protect (extended warranties)
View and purchase all other F&I offers (including 3rd party services)
View and purchase dealer offered after market accessories
Combine all purchases into a single loan
Previously mentioned incentives are a huge part of making electric cars more affordable and so Ford has partnered with ZappyRide to show all local, state, and utility incentives available after purchase.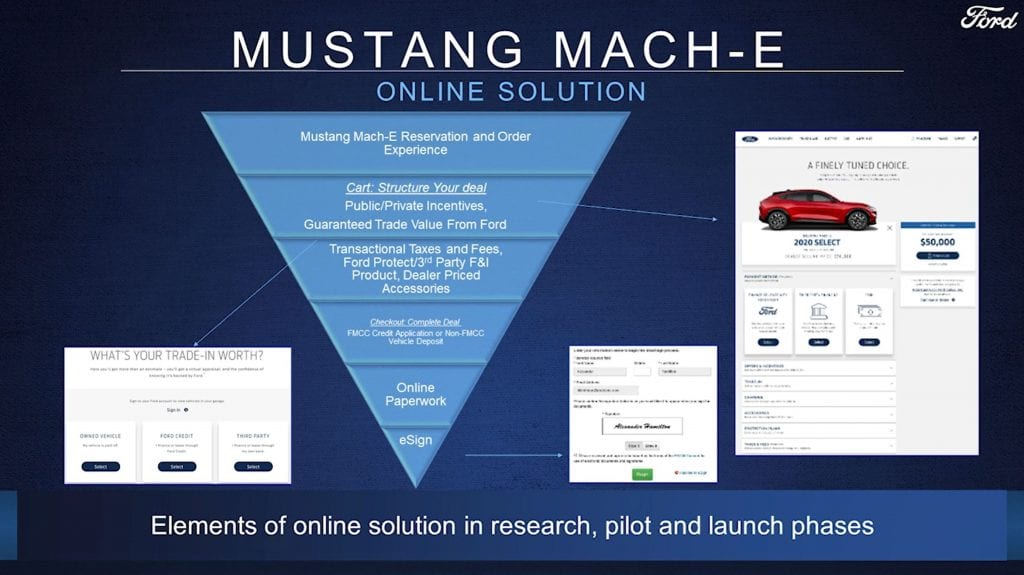 Financing
Filing a credit application online and getting pr-approved is nothing new to the automotive world. Ford however has integrated this small tidbit into a whole new e-commerce experience quite never seen before. The entire buying process, from start to finish, can be done from the comfort of your own home, with no exceptions.
Warranties including 3rd party, extended, or GAP, can be chosen directly in the Mustang Mach-E purchase dashboard. There's no haggling, there's no being lied to, and there are no extended periods of waiting. You have full control of your purchase experience with absolutely no compromises regarding available options.
Trade-ins
One very interesting feature of Ford's online buying solution is the ability for you to get an instant trade-in offer online if you are planning to trade a car in. The process is very similar to the process of trading back an iPhone back to Apple online. You input the basic information about your car and answer some simple questions regarding the overall condition of the car, if it has been in an accident, any warning lights, odors, etc.
Once all the questions have been answered, you will be presented with an instant trade-in offer based on your information. That's it, you don't even have to bring the car to a dealership if you elected to have your Mustang Mach-E home delivered (depending on if the dealership offers home delivery). Even with the Tesla buying experience you still have to bring your car to a showroom, but with Ford's implementation, it looks that you can truly be dealership-free.
On the dealership side of things, the dealers will have the ability to purchase those trade-ins at Ford's stated price, or pass the offer and send them to auction. Scummy dealer or not, your trade-in price will be fair and offered by Ford directly, leaving consumers worry-free.
Accessories
The system will also allow you to pick the accessories that you want to be included/installed in your vehicle such as window tints, floor mats, etc. No more having to tell the guy at the dealership 20 times that you do not want the paint protection, just decline it as an add-on. The dealerships still however do control the cost of the accessories along with the labor rates to have them installed (if it's something that needs to be installed).
The price of accessories are clearly highlighted for you and will show you what kind of effect they will have on your monthly payment, if you decide to include them in your monthly payments rather than paying upfront. Allowing you to roll accessories such as floor mats or even Ford's home charging solution into your financing plan is something even Tesla doesn't offer.
Taxes and Fees
To add to the transparency, taxes and fees are showcased upfront. Inputting the necessary information allows you to know exactly what you're paying prior to being hit with a surprising price increase near the end of your car purchase.
Rebates
Ford has given public access to something typically locked to retailers, rebates and incentives. Any local or national Mustang Mach-E rebates will be showcased upfront. Even the smaller niche-focused rebates will be displayed and available to add towards your purchase yourself.
---
For the past couple of months, we have pondered if Ford will try to distance themselves from the physical dealership model following the news that some dealers started putting substantial markups on upcoming Mustang Mach-Es with others just not prepared to take on EV's. It's no secret that many consumers dislike the dealer experience and with so many functions of day-to-day life moving online, it looks like the ultimate fate of dealerships has been sealed. Undoubtedly it will be a considerable time before everyone abandons physical dealerships in favor of small showrooms and an online buying model, but the first dominos are starting to fall.
This Ford buying process is a fully online experience. No phone calls, no physical paperwork, and no sales staff. If you don't need a test drive, you can buy a car without ever visiting a dealership, regardless of the scenario.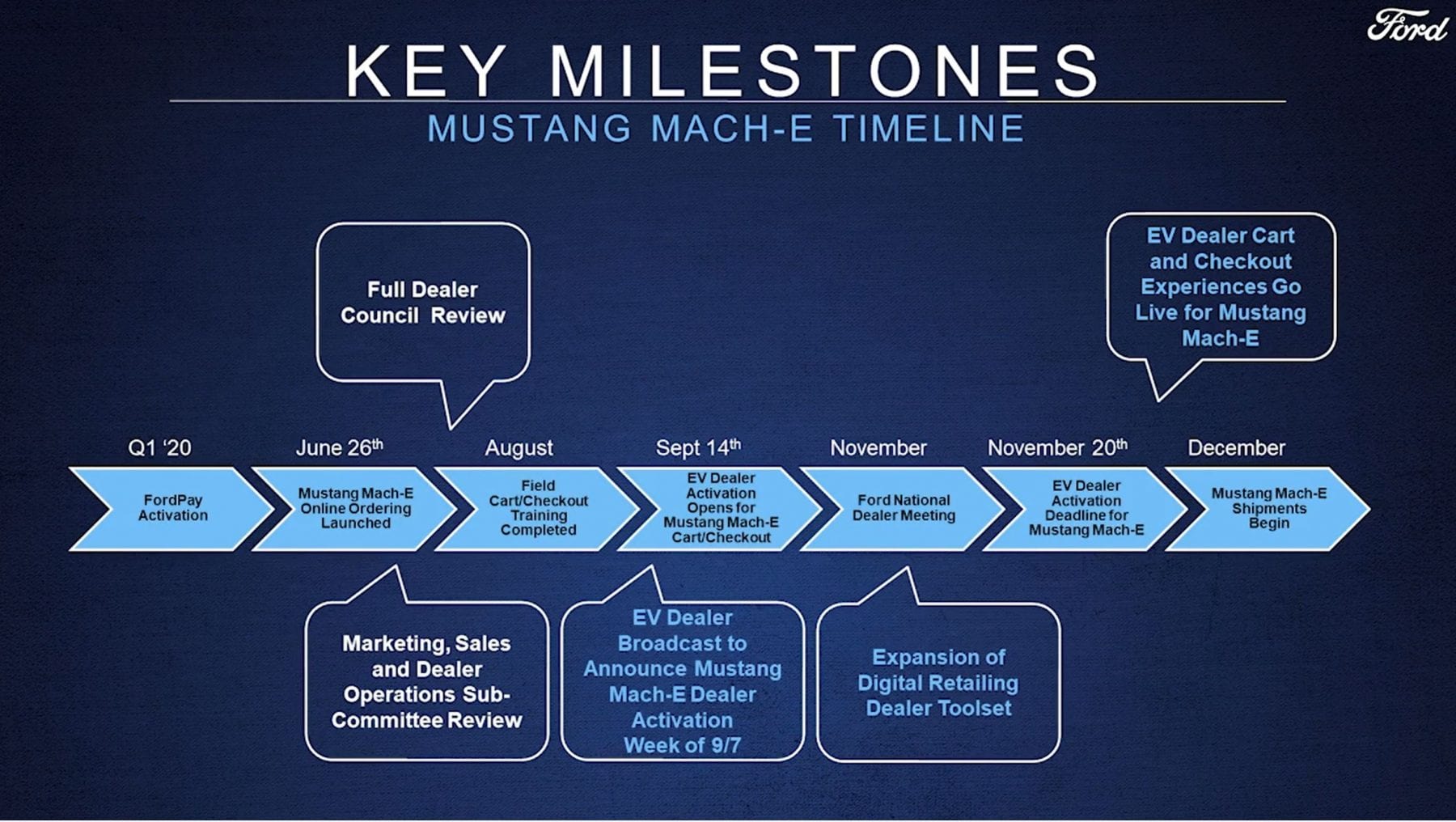 This system was created side by side with the Mustang Mach-E (and upcoming EV's) in mind, due to the average EV customer's preference. However, this is the future of Ford and will be available across the model lineup either alongside its release or shortly after.