Ford's "Mustang-inspired Electric Crossover" has finally been given a name, as well as showed its face. Not only will the electric crossover take some design cues from the Mustang, but it will also be sharing its name. It will be known as the 'Mustang Mach E' and has some strong similarities to the classic two-door sports car.
If you remember, Ford's Mustang-inspired electric crossover has been talked about for a year or two at this point as Ford prepared it to serve as their first real entry into the electric world. They plan to have 16 fully electric models by 2022 and this one would serve as the vanguard.
Ford has been taking electrification more seriously over the past year. The legacy automaker has begun an $850 million project to build a factory dedicated to producing just their future electric cars. Through a newfound alliance with Volkswagen, the two will share and collaborate on both electric vehicles and autonomy. Using Volkswagen's MEB platform, Ford is expecting to sell 600,000 electric vehicles for the European market in the next six years alone.
Moving on to what we know. The Mustang Mach E website was found by a user on the MachEForum, and while the website will stay down until the official unveiling of the car, users took screenshots of the site that is loaded with a lot of information.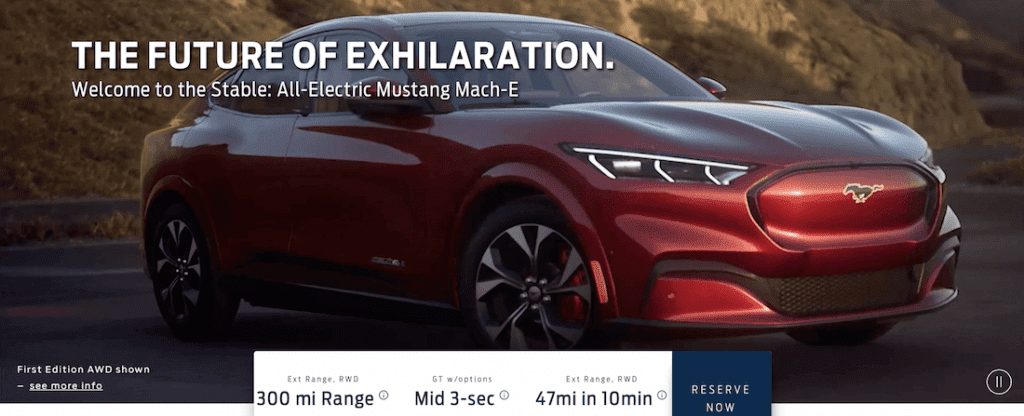 Pricing & Specs
The part that we want to focus on is a table which shows all the variants of the Mustang Mach E. There will be five in total, with the last one, the GT version, being a high-performance variant of the Mustang Mach E.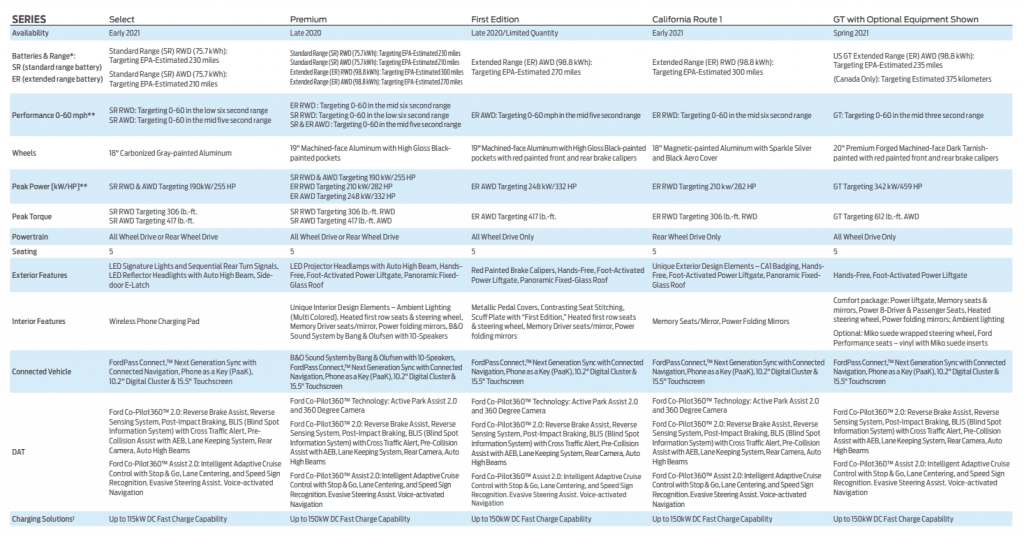 Select ($43,895)

Range: 210 miles (AWD) or 230 miles (RWD)
0-60 mph: Mid-5 sec. (AWD) or Mid-6 sec. (RWD)
Early 2021

California RT.1 ($52,400)

Range: 300 miles
0-60 mph: Mid-6 sec.
Early 2021

Premium ($50,600)

Range

Standard Range: 210 miles (AWD) or 230 miles (RWD)
Extended Range: 270 miles (AWD) or 300 miles (RWD)

0-60 mph:

Standard Range: Mid-5 sec. (AWD) or Low-6 sec. (RWD)
Extended Range: Mid-5 sec. (AWD) or Mid-6 sec. (RWD)

Late 2020

First Edition ($59,900)

Range: 270 miles
0-60mph: Mid-5 sec.
Late 2020
"This limited edition will feature three exterior colors including an exclusive Grabber Blue Metallic body color, unique interior contrast stitching, First Edition scuff plates, brushed aluminum pedals, and red brake calipers."

GT ($60,500)

Range: 250 miles
0-60 mph: Sub-4 sec.
Spring 2021
A 'GT Performance Edition' which is targeting a 0-60 mph time of mid-3 seconds was also announced which Ford is more than happy to compare with the time of the Porsche 911 GTS. Whether this will be an additional trim or an option added to the existing GT is left to be seen. Due to the increased power consumption, Ford says that the range will drop down to about 235 miles.
As you noticed, certain trims come with two different batteries. For those interested in the capacities, the standard range is a 75.7 kWh battery and the extended range is a huge 98.8 kWh. The Mustang Mach E will offer a charge rate up to 150 kW  (except the Select, which caps out at 115 kW)and customers will have access to the recently announced FordPass Charging Network which has over 12,500 charging stations.
Do keep in mind that, as always, these prices are before any electric car incentives and that the Mustang Mach E is eligible for the full $7,500 tax credit from the federal government.
That tax credit will help immensely for Ford as the competitor on everyone's mind will be the upcoming Tesla Model Y. With Tesla not being able to utilize the tax credit by the time the Model Y launches, Ford has a great price advantage when the tax credit is considered. Even without the tax credit, having another electric car that is sub-$50,000 being added to the mix is great for competition and consumer choice.
Exterior
Taking one look at the outside and the 'Mustang-inspired' parts become very apparent as the headlights and taillights look to be straight off of the current-generation Mustang. It also manages to almost maintain the same roofline angle as the regular Mustang.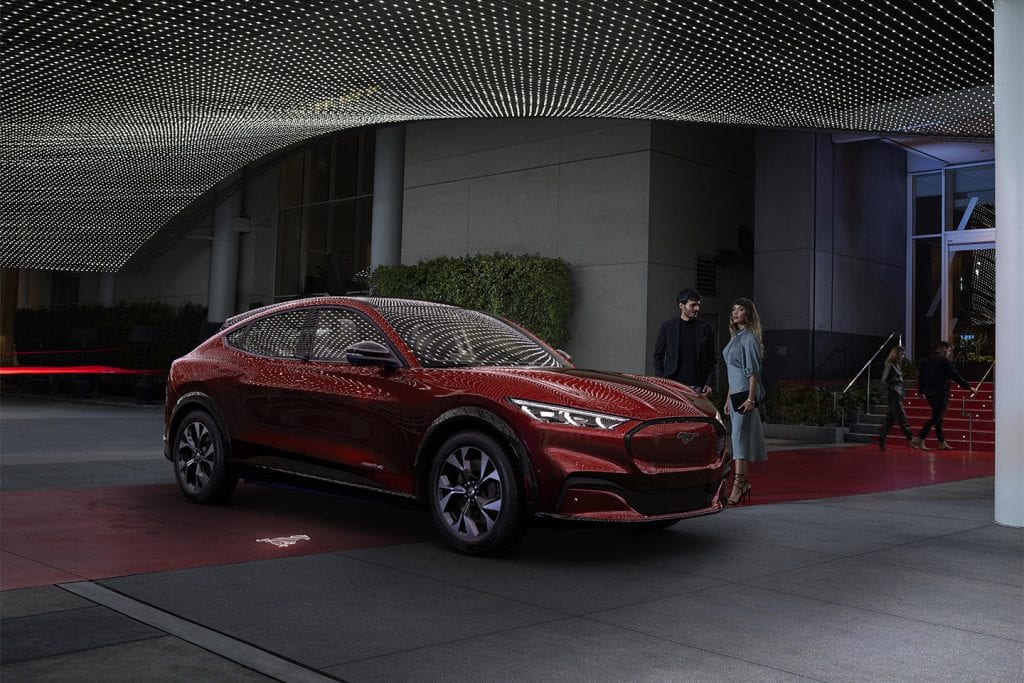 Ron Heiser, Ford Mustang Mach E chief program engineer, had the following to say about the design:
"Thanks to advances in battery technology, the Mustang Mach-E is the kind of car that gets people excited about driving, with a sporty, beautiful silhouette that delivers an incredible shape rarely seen in SUVs,"
Personally, while I do not think that the Mustang Mach E is the most beautiful car I have ever seen, I do like how it looks and most certainly like the design when compared to the Model Y. Perhaps it looks a little too much like the Mustang, but it shares the namesake so I guess that's not too much of an issue.
On interesting feature is that the frunk is drainable, meaning that you can pack full of ice for parties and tailgates and not worry about what to do with all the water.
Interior
While the exterior had a familiarity to it, the interior has fallen in line with the minimalistic interior standard that electric cars have been setting. As with Tesla, there is now a giant 15.5-inch screen in the center that will take care of all your car's controls. However, Ford has elected to keep its gauge cluster unlike the Model 3.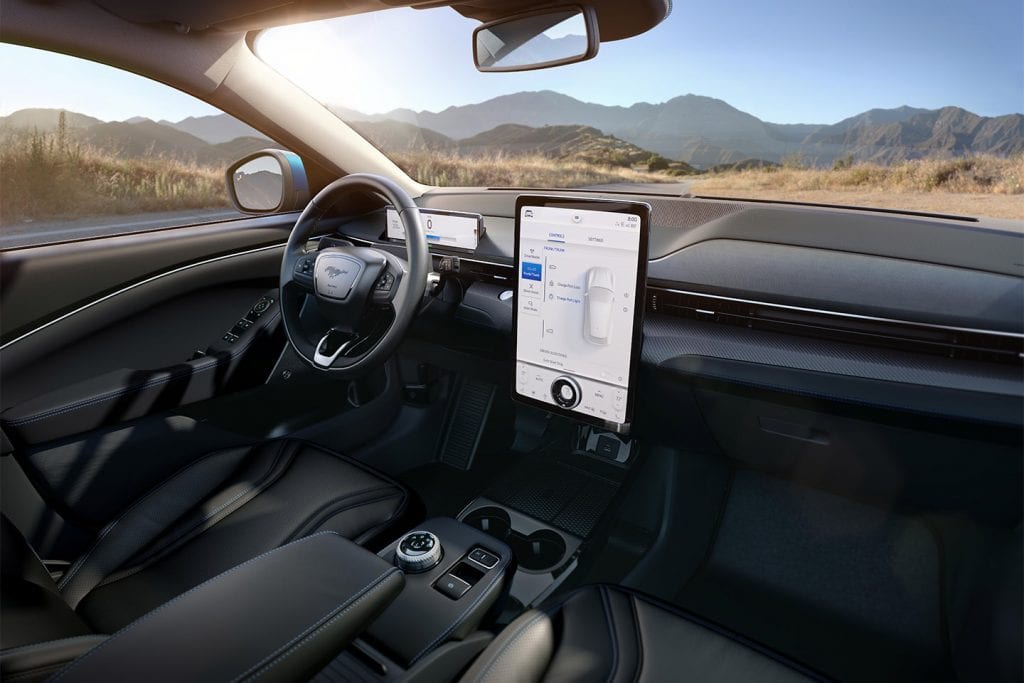 Ford's next generation of SYNC will be making its debut on the Mustang Mach E, which is the infotainment software that Ford uses in their cars. Just like the interior, the interface has been designed to be very sleek and modern. Over the air updates will also be available, but we highly doubt you will see a whoopie cushion apps being pushed to Mustang Mach E owners.
Darren Palmer, Ford global director for battery electric vehicles, commented on the next-generation SYNC technology:
"Next-generation SYNC actively starts adapting to you as soon as you start using it, quickly learning your preferences and making personalized suggestions. It can suggest going to the gym if it learns Mondays are workout days or calling home if you do that every day after work. The result is a cloud-connected assistant and interface that's intuitive, beautiful and ready for the future thanks to fast over-the-air updates."
Of course, when it comes to space, electric car architectures always provide an advantage in this regard. Even with the aggressively sloped roof, the Mustang Mach E has 29 cubic feet of space in the rear trunk. With the rear seats down, the Mach-E boasts 59.6 cubic feet of space. This does not include the 4.8 cubic feet of space in the previously mentioned frunk.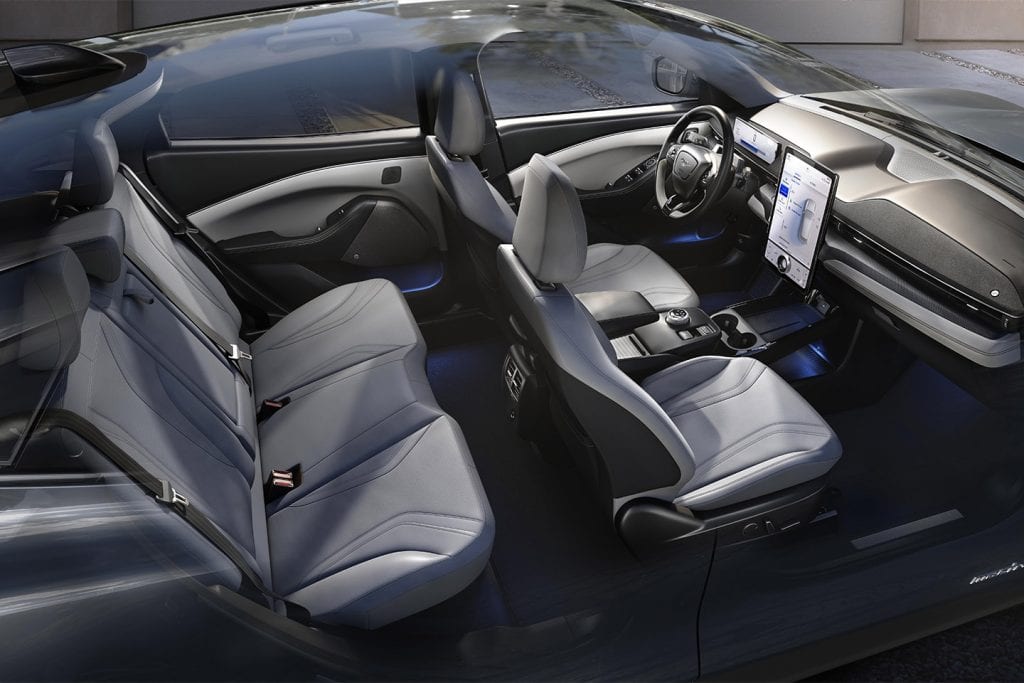 The Name
When Ford first announced that a Mustang-inspired electric crossover would be built, the idea of using the "Mach" name was thrown around but was quickly met with backlash due to the long history of Mustang Mach 1s.
However, Ford had gone along with calling it a Mach E anyway, and not only that, they have decided to make it an actual Mustang model. It might seem almost sacrilegious to name an electric crossover after one of the most legendary and storied sports coupes in the world, but Ford intends to make the Mustang Mach E as influential as the original.
Bill Ford, executive chairman, Ford Motor Company, stated:
"At the first-ever Detroit auto show, Henry Ford said he was working on something that would strike like forked lightning. That was the Model T. Today, the Ford Motor Company is proud to unveil a car that strikes like forked lightning all over again. The all-new, all-electric Mustang Mach-E. It's fast. It's fun. It's freedom. For a new generation of Mustang owners."
Personally, I see what Ford is saying, but I would rather it have not been considered a Mustang. But I am sometimes a purist to a fault and it really is a silly nitpick in the grand scheme of things. One could take this decision as Ford showing that they are really committing to electrification by naming this electric crossover after the car they are most famous for.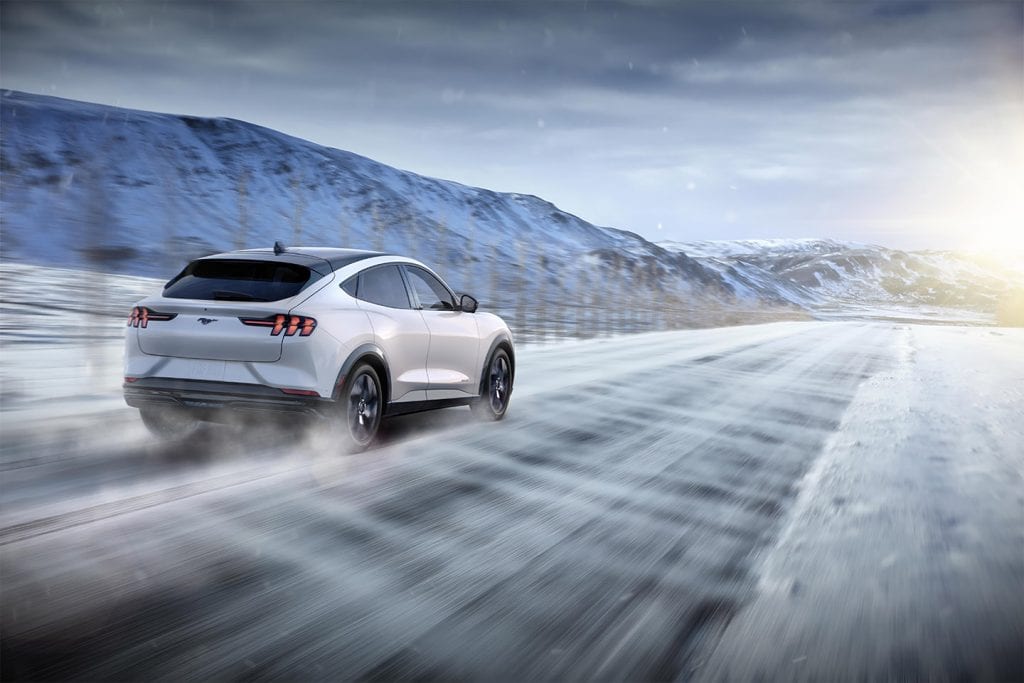 Overall, I would say that this is a pretty good showing for the company's first real electric car (Ford Focus Electric and Ford Ranger EV, notwithstanding). The price is pretty good especially with tax credit and while the range and speed is not the best of the best, it will be more than enough for most people. We will have to wait and see how well Ford will push the electric crossover to its customers and if their dealerships will be knowledgable enough to answer all the customers' questions.
We will have to wait for the end of next year to see the Mustang Mach E in action. In the meantime, you can configure and reserve your own model at this site.
What do you guys think? Let us known what you think in the comments below.