Ford has maintained pickup truck dominance for many decades with its F-series trucks. However, that dominance has started to look a little shaky with the upcoming electric transition. Many new players are coming into the truck market with compelling options, one of them being none other than Tesla and their Cybertruck. With Ford being unable to fall behind, the American automaker has given us a look at the next step in the F-150's evolution with the new electric F-150 Lightning.
When you think of Ford, chances are probably only two vehicles come to mind. The Mustang and the F-150. With the Mustang kinda sorta entering the electric space with the Mustang Mach-E, it was now the beefy F-150's turn to make the jump. With a lot of competition coming quickly from the Cybertruck and R1T, Ford doesn't have much time to delay their answer in the electric truck world.
And so, yesterday we got our first look at the F-150 Lightning (no, not that F-150 Lightning) as well as a few specs that Ford is targeting. Ford President and CEO Jim Farley had the following to say regarding the reveal of their new electric truck:
"The F-150 Lightning is a massive moment for our Ford team. America's No. 1 auto brand is going zero emissions with America's favorite vehicle. It's quicker than a Raptor, with standard 4×4 and independent rear suspension; a power frunk, enough juice to run your house for three days or power an awesome tailgate; and it will forever improve with over-the-air updates. It will be built at the Rouge factory, where Henry Ford changed the world and my grandfather punched in every day. F-150 Lightning represents all that our country can do when we push for progress."
Design
For those that were hoping for some sort of radical redesign to set the electric version apart from the gas sibling, well, we got a lightbar and a half. The side profile of the F-150 Lightning is largely unchanged from the regular F-150, so unless you get a look at the front or rear of the car, you will just have to guess what you are looking at (unless you notice the lack of gas cap).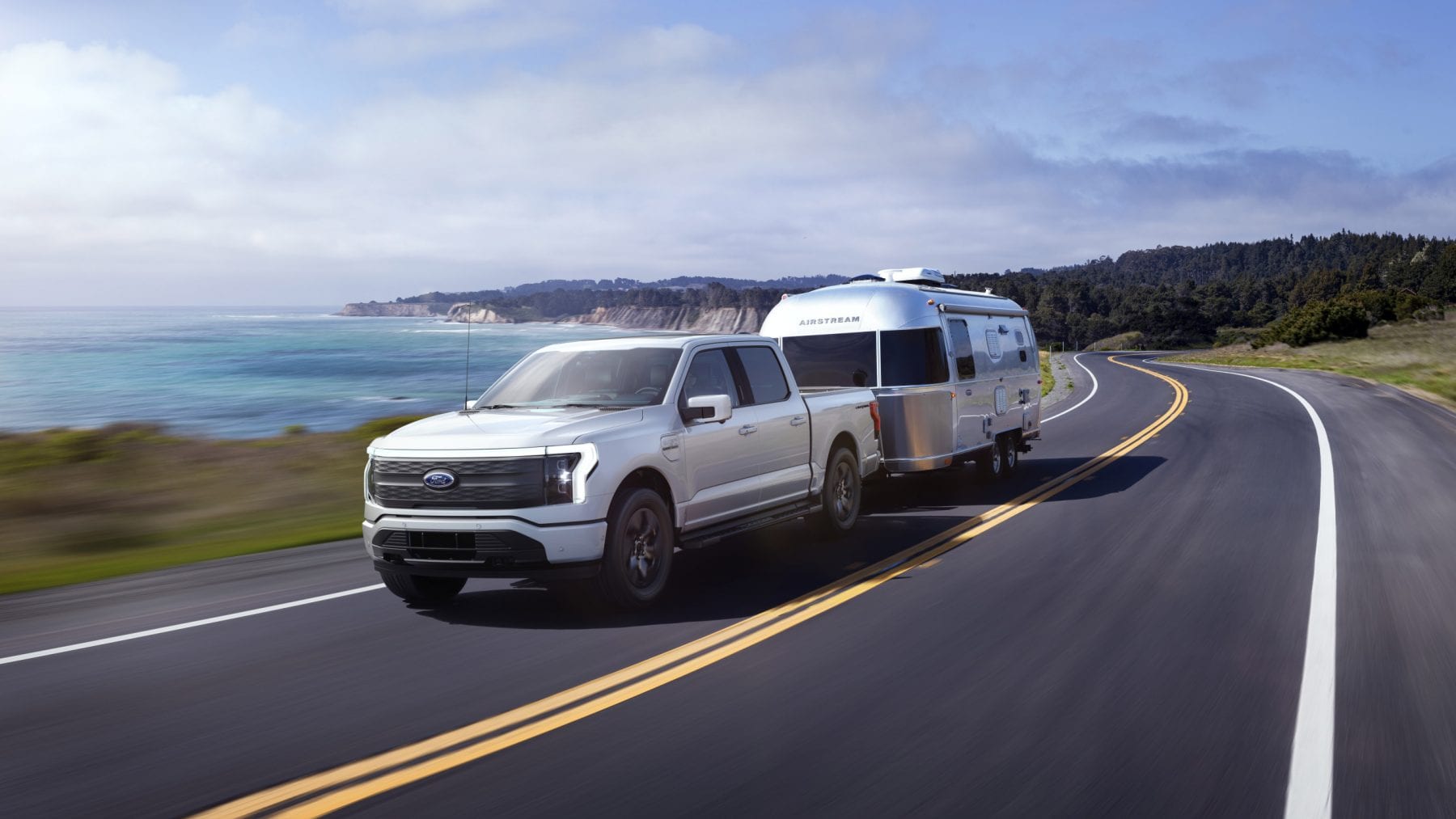 The front received the most change from the gas version, but that's not saying much. The most obvious change has been the lightbar that now runs along the top of the grill, connecting the two headlights to each other. The grill is still there, albeit no longer being used as an air intake, and instead features a dimpled design which Ford says is available in three designs.
As for the rear, you have an incomplete lightbar with the middle third not functioning as a brake light. Instead, it appears to be used as the reverse light as well as just an actual light that you can turn on to illuminate the rear of the car if you are working on something back there.
Though there were not many easily visible changes to the design, Ford does state that this is the most aerodynamic F-150 ever (how much more, they did not say), so at the very least the design is functionally better than the gas counterpart.
The F-150 Lightning comes with a very spacious frunk which Ford is targeting a 400-liter volume capacity. Also, the opening of the frunk goes below the grill, allowing for much easier loading into the frunk. In an effort to make the frunk as versatile as possible, Ford intends to make the area water-resistant with a drainable floor as well as equipping it with four outlets and two USB chargers.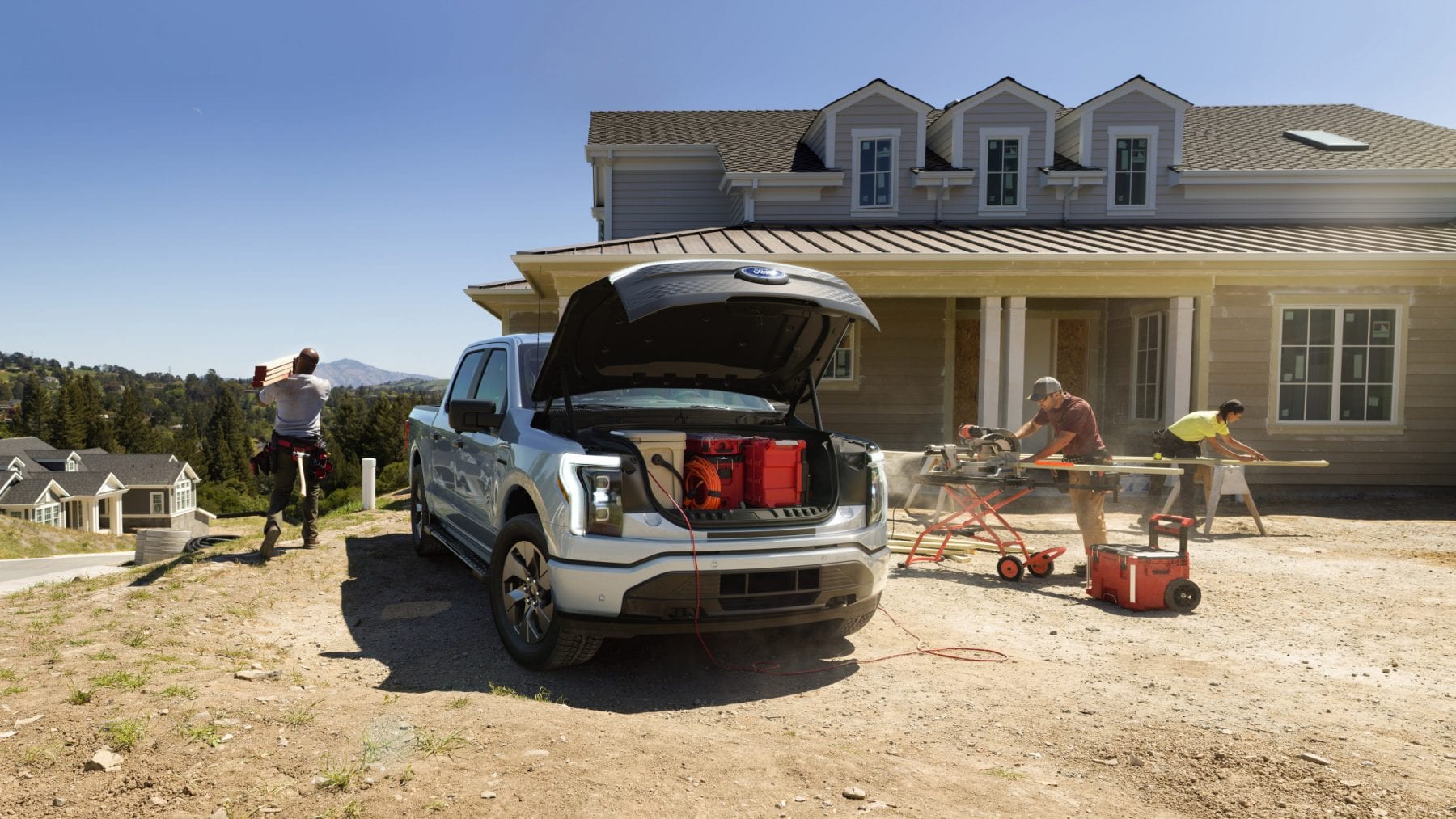 Interior
In regards to the interior, there is even less changes and it looks to be more or less the same as the interior of a regular F-150. Ford states that the cab dimensions are the same as the regular F-150 so you should feel right at home if you are switching over from a regular F-150.
Behind the steering wheel, you will find a 12-inch instrument cluster, but the center screen is not something that is standardized between all trims. The top tier Lariat and Platinum models will be equipped with SYNC 4A which features a verticle 15.5″ screen like the one found in the Mustang Mach-E. On the XLT model however you will only have SYNC 4 which features a 12″ horizontal screen that doesn't engulf the entire center console and leaves room for regular buttons.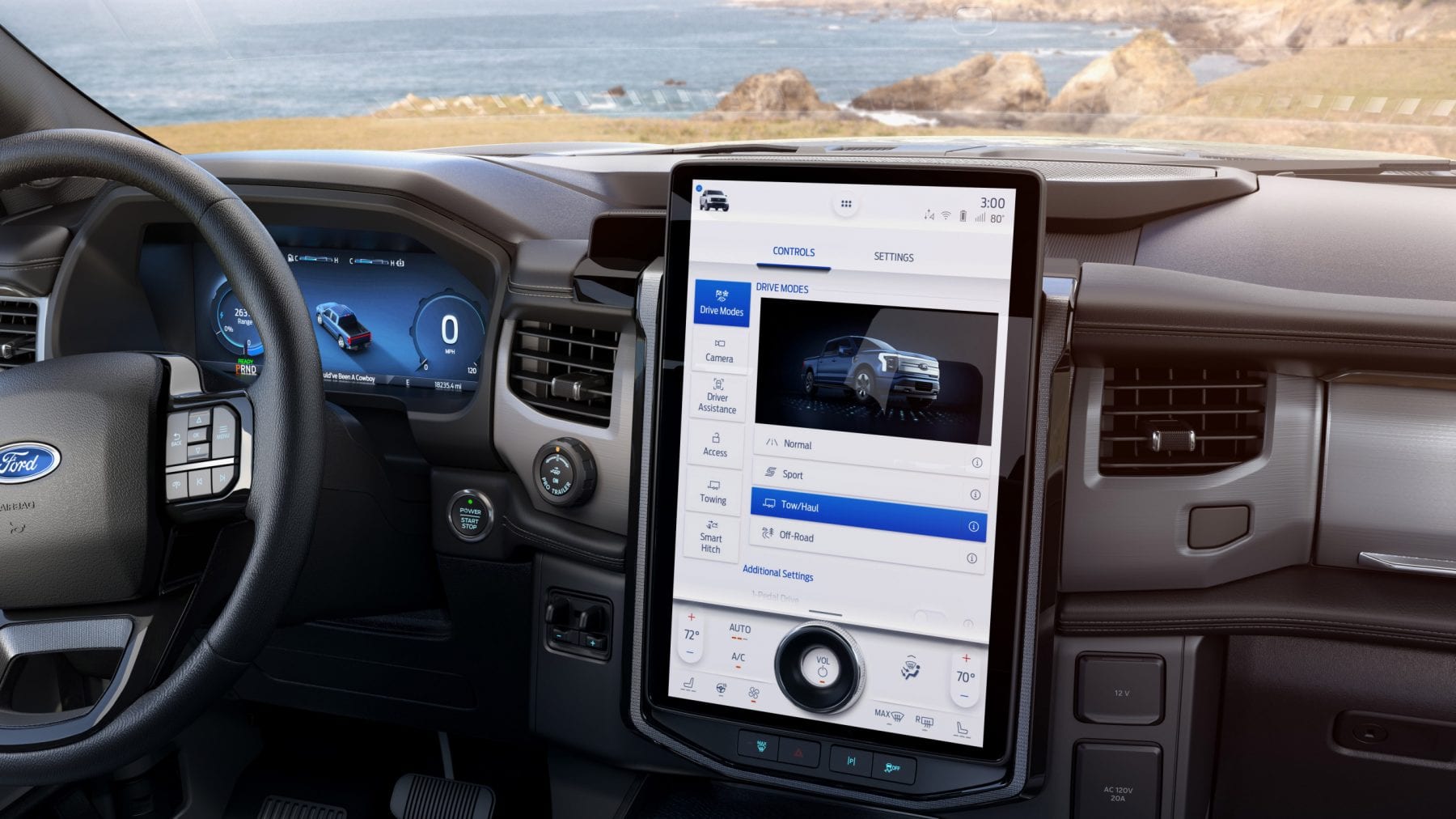 Functionally both systems are not too different from one another. But the different screens do have a significant effect on how the interior looks.
Specifications
The Ford F-150 Lightning specifications are still not finalized as the specs given are are still targets for Ford ahead of their Spring 2022 release. Nonetheless, they did share that at least for the non-commercial (more info about the base commercial version will be given later) there will be two battery sizes. Additionally, all the consumer models will have a dual motor setup with AWD.
| | Standard-Range Battery | Extended Range Battery |
| --- | --- | --- |
| Horsepower | 426 hp | 536 hp |
| Torque | 775 | 775 |
| 15%-80% Charge Time (150 kW) | 44 min. | 41 min. |
| Range | 230 miles | 300 miles |
| Max Payload | 2,000 lbs. | 1,800 lbs. |
| Max Towing | 7,700 lbs. | 10,000 lbs. |
Specifications do seem to compare well with the gasoline version of the F-150, so it will have to be down to whether or not new owners will need the extra range. It is important to note that if you have the larger battery, you will have to sacrifice payload weight, but you will be able to tow considerably more weight than the standard battery.
Ford did not give us a top speed, but they stated that the extended range should be able to hit a 0-60 mph in the mid-four seconds, so the F-150 Lightning is no slouch.
Technology
Embracing the growing importance of competent technology in cars, Ford has highlighted that just like the Mustang Mach-E, the F-150 Lightning will deploy software updates to both improve the experience and add new features to the car. Ford is dubbing it the "Ford Power-Up". So far we have seen the Mach-E updates be nothing more than bug fixes, but we assume that something more fun is coming around the corner.
In terms of autonomy, Ford is offering the F-150 Lightning with their BlueCruise which is part of their Co-Pilot360 package. Similar to SuperCruise from GM, BlueCruise allows for actual hands-free driving on more than 100,000 miles of pre-mapped highways in the US and Canada. Of course, if you are driving in urban areas or on highways not mapped, then this feature will not be available to you.
For people actually hauling objects in their F-150 Lightning, the truck bed is equipped with an onboard scale that will not only let you know how much weight you are transporting but also show you the effect that it will have on your range.
Power Your Home
The F-150 Lightning extends the use of its battery past simply just powering the truck. While vehicle-to-grid technology is nothing new, it's not a widely found feature. With the Lightning's presumably large battery capacity, it would be a shame if you could not use it for other applications.
Thankfully Ford seems to be putting a lot of effort into making the F-150 Lightning into a mobile power source. The automaker states that based on the average household power usage of 30 kWh per day, an extended battery F-150 Lightning should be able to power a home for three days and even longer if the energy is rationed.
However, you are not limited to using this feature in times where there is a blackout. Ford plans to release "Ford Intelligent Power" which will allow the truck to power the house during high-cost peak-energy hours and then charge back up during off-peak hours.
If powering your home is a little overkill for you and you just want your truck to power a couple of tools, Ford has you covered too. The F-150 Lightning can be optioned to have up to two 120V outlets in the cab, four in the bed and front trunk, and an additional 240V in the bed. That's more outlets than some people have in their homes.
Price & Production
First deliveries will take place in Spring 2022 and Ford will be producing the F-150 Lightning in their new Rouge Electric Vehicle Center which they have invested $700 million into.
Pricing is still unclear as Ford has only given us a few price points. The commercially-oriented entry model will start at $39,974 and the price goes all the way up to $90,474 for a fully loaded Platinum model, A mid-tier XLT will start at $52,974. All of these prices are not accounting for the $7,500 tax credit.
Taking the XLT model as an example, after the tax credit the price is $45,474. The starting price of a gasoline XLT is $40,310. It's unclear if Ford's number includes a couple of options as well, but regardless the difference in price is not outrageous after accounting for the tax credit.
Ford states that more detailed pricing will be released in Fall, so we will have a better understanding in a few months.
The F-150 Lightning currently has reservations open with a $100 deposit.
So what do you guys think of Ford's new electric truck? Let us know down in the comments below.