It has been a long time since we touched upon the electrification plan from FCA a few years ago. The plans didn't really come to fruition and Chrysler has been on its back foot these past couple of years as other automakers are taking electrification more seriously. Since then, however, FCA joined forces with Peugeot to form Stellantis at the beginning of 2021. We hoped that this merger would help kickstart Fiat Chrysler's lagging progress. And it seems to be the case, as the new automotive conglomerate recently held an EV Day of their own, detailing the brand's next moves.

The Plan
The highlights of the plan for Stellantis and its 14 brands are as follows:
Invest more than €30 billion through 2025 in electrification and software
Targeting over 70 percent of sales in Europe and over 40 percent in the United States to be low emission vehicle (LEV) by 2030
All 14 brands committed to offering best-in-class fully electrified solutions
Delivering BEVs that meet demands of customers, with ranges of 300-500 miles and class-leading fast charging capability of 20 miles per minute
Four flexible BEV-by-design platforms, scalable family of three electric drive modules and standardized battery packs to cover all brands and segments
Platforms designed for long life via software and hardware upgrades
Global EV battery sourcing strategy of over 260GWh by 2030, supported by five "gigafactories" between Europe and North America
Plans include dual battery chemistries: a high energy-density option and a nickel cobalt-free alternative by 2024
Solid-state battery technology introduction planned in 2026
The Tech
As is the case with every other automaker, having flexible platforms that can be used for multiple segments and save on costs is paramount. Stellantis is no exception and so, the brand is planning to have four platforms to fit all of the needs of its 14 brands.
STLA Small, with a range up to 300 miles
STLA Medium, with a range up to 440 miles
STLA Large, with a range up to 500 miles
STLA Frame, with a range up to 500 miles
Stellantis is also planning three different flexible electric drive modules (EDM) that combine the motor, gearbox, and inverter. They are configured for front-wheel drive, rear-wheel drive, and all-wheel drive applications as well as different power ratings (70 kW, 150-180kW, and 150-330 kW).
Different battery chemistries are also a goal with nickel-free chemistry hopefully making its way into lower-ranged cars by 2024. Interestingly enough, Stellantis is also targeting a 2026 date for solid-state battery technology to make its way into their cars.
It will take until 2026 before Stellantis feels that their electric cars will reach cost parity with internal combustion engine cars.
Carlos Tavares, Chief Executive Officer of Stellantis talked about the importance of this plan:
"Our electrification journey is quite possibly the most important brick to lay as we start to reveal the future of Stellantis just six months after its birth, and now the entire company is in full execution mode to exceed every customer's expectations and accelerate our role in redefining the way the world moves. We have the scale, the skills, the spirit and the sustainability to achieve double-digit Adjusted Operating Income margins, lead the industry with benchmark efficiencies and deliver electrified vehicles that ignite passion."
Along with the overall plans from Stellantis, some of their brands released videos of their own teasing their upcoming electrified cars.
Jeep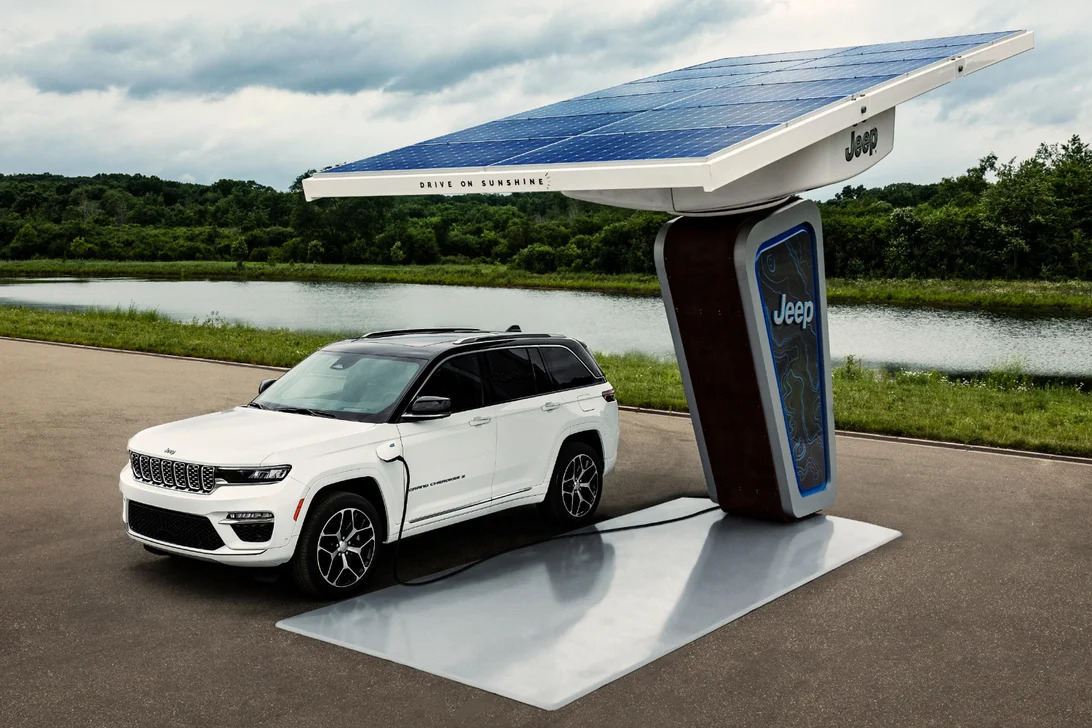 Jeep took the opportunity to show us the first images of the Jeep Grand Cherokee 4xe plug-in hybrid. Along with the small reveal, Jeep restated their commitment to an electrified future.
Jeep plans to continue releasing their 4xe models and plans to have a fully electric option in each one of their segments by 2025. They also took the time to show off their plans to have autonomous driving that works off-road by 2030, allowing your Jeep to drive around while you hike through the wilderness.
We were also able to catch a glimpse of their solar-powered charging stations which they plan to have placed near trails.
RAM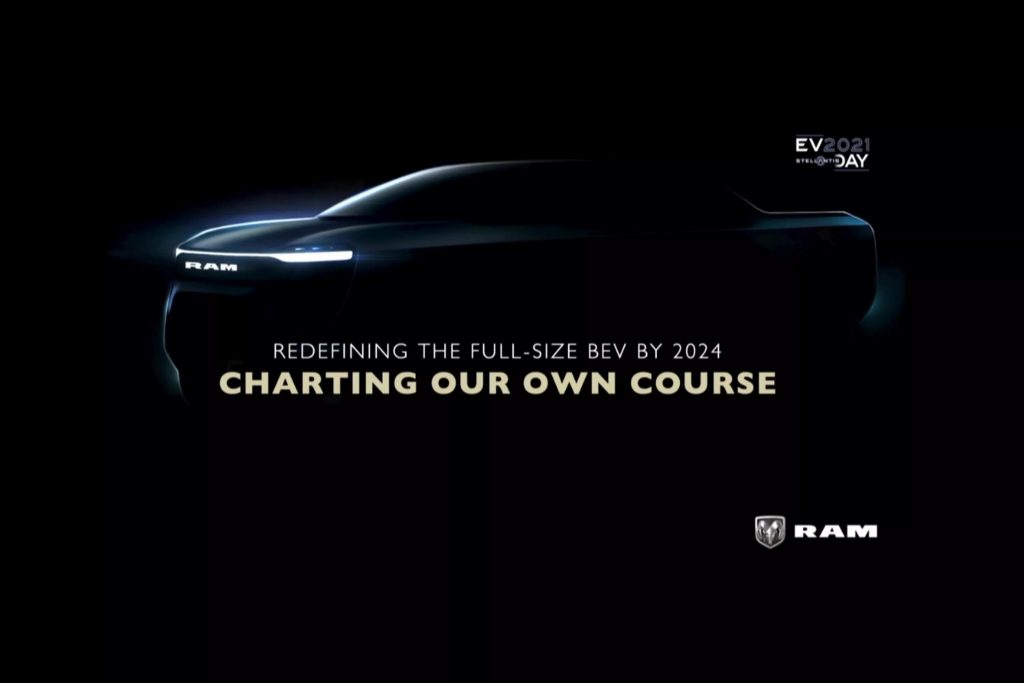 With Ford announcing their e-Transit and Ford F-150 Lightning already, the ball was in RAM's court regarding electric trucks and electric vans. While less revealing than what Jeep announced, we did get some plans from RAM.
The brand announced that their electric pickup would come in 2024, making it possibly the last one to make it to market, so we hope that it will be worth the wait (I also really hope they can deliver past their "up to 150 kW" charging by the year 2024). Additionally, RAM announced that there will be an electric option in the majority of their segments by 2025 and in every one of their segments by 2030.
Regarding the electric truck, all we got was a concept sketch, but given the truck is still three years away, we doubt that it is any indication of what the final design will be.
Dodge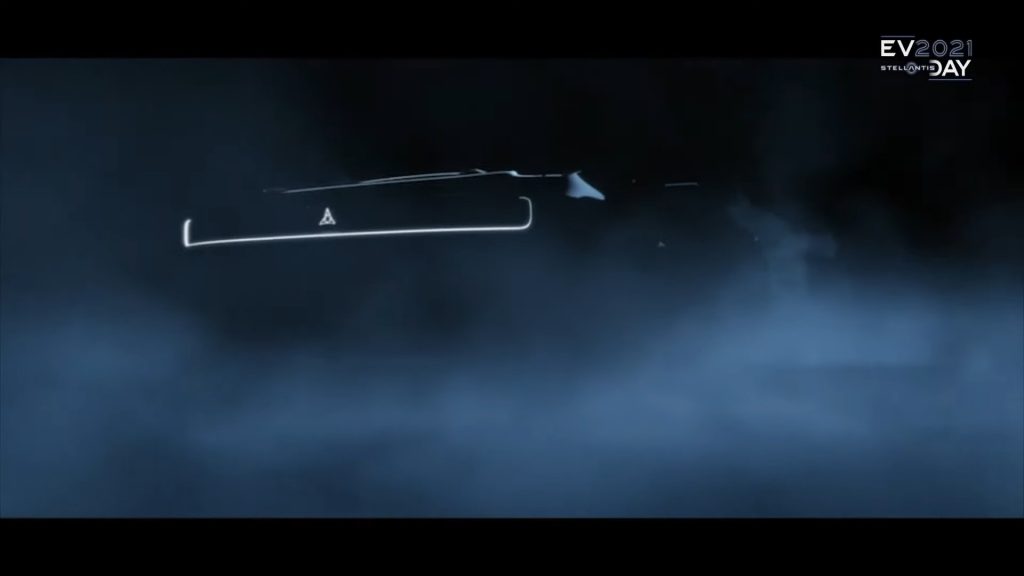 Dodge…well Dodge took an interesting route in talking about their electric plans. And that is that they will not sell electric cars, they will instead sell eMuscle cars. Dodge is of course probably the company most likely to bathe in gasoline so it isn't really a surprise that they are trying to play it cool.
Also, Dodge is totally not making this move for environmental or regulatory reasons, no, they apparently finally figured out that they can get more power out of their cars with some electricity. So it has become their obligation to bring electric power to their customers. Uhuh, yeah.
Dodge, just like RAM, didn't show off an actual car, but they do share a date of 2024 as the year of their first electric car. Dodge showed off something reminiscent of their 70s design, which would be pretty neat, I'm a sucker for retro-futurism. Other than that, we got no additional info from the brand.
The Verdict
I am conflicted. Going through the highlights of Stellantis's plan, it all seems fairly solid and rather detailed. The number of factories, platforms, powertrains, and battery chemistries is all set and planned out. Contracts and deals are being written out or are already done, giving me hope that this plan will actually move forward.
Some things do stick out, however, mainly Stellantis's actual sales goals. The brand wants "70 percent of sales in Europe and over 40 percent in the United States to be low emission vehicle (LEV) by 2030". Low emission vehicle is very unclear terminology to me and it muddles the actual plan for how many electric cars they plan to produce. Is an LEV a synonym for "electrified"? Does it include mild hybrids? I hate to repeat myself, but I hate when automakers give goals like this.
Secondly is how far away Stellantis see's electric cars having to go before reaching cost parity. Many other estimates have placed this year prior to 2025. We already have electric cars starting at less than the average new car price, so 2026 seems to be a pretty far away time before Stellantis seems cost parity. That will certainly work against them as they try to bring in electric cars in mid-2020 and ending up being more expensive than their competitors.
Lastly, looking at what Jeep, Dodge, and RAM plans, we have a long way to go before we see any actual fully electric cars from Stellantis, at least in America. Jeep is somehow ahead of the curve while RAM will probably be the last automaker to release an electric truck, and Dodge will be doing…whatever Dodge does.
Don't get me wrong, I like that there is a fairly concrete plan in place. But it seems that there is still a lot of preparation to be done before we see bonafide electric cars coming from these Stellantis sub-brands.
What do you guys think of the plan? Let us know down in the comments below.