Fiat Chrysler Automobiles (FCA) has not been particularly proactive when it comes to electrification. While they released a roadmap two years ago detailing their plan towards 2022, not much progress has been made and in fact some of it has been scaled back. Alfa Romeo is one example that had seven cars planned for 2022 with six of them having at least a plug-in hybrid variant. But with the departure of the Giulietta, Alfa Romea will soon only have two models and won't have a fully electric model in the form of a small SUV until 2022.
According to Autocar Alfa Romeo is in the process of trying to expand its model lineup which will soon be down to only two different models, the Giulia sedan and Stelvio SUV.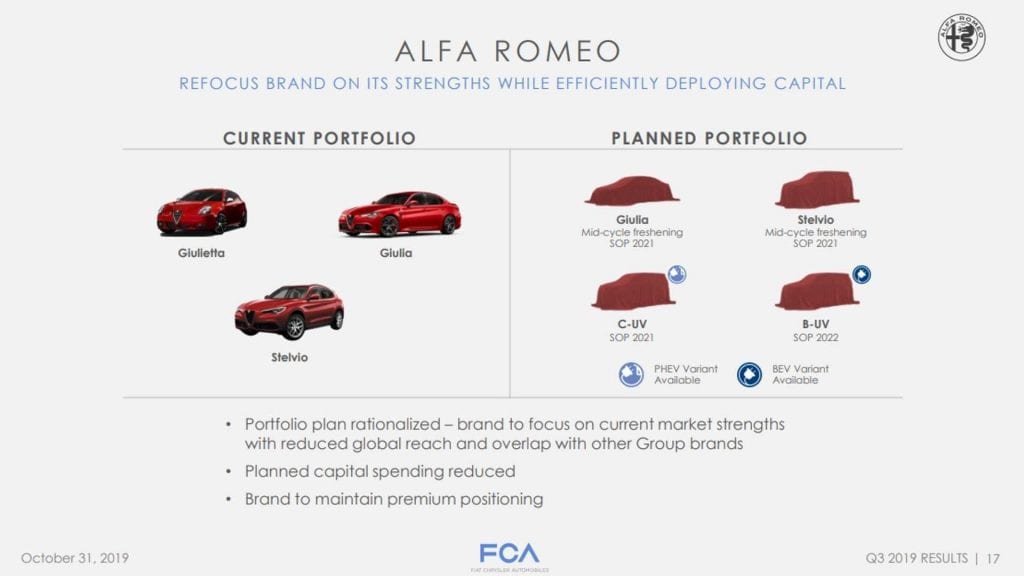 Alfa Romeo will look to double their model lineup by 2022 and both of the new entries will be electrified in one way or another, thanks in part to FCA's recent ongoing merger with the PSA Group which has been more successful in the EV world.
The first of the new cars from Alfa Romeo will be the mid-sized Tonale SUV (pictured in the featured image) which will be offered in a plug-in hybrid version. The Tonale will not use any technology gained from FCA's merger with PSA, but instead will most likely use the same hardware that is found in the plug-in Jeep Renegade.
The first all-electric Alfa Romeo, a small electric SUV coming in 2022 will sit on PSA's eCMP platform which has already been tried and tested on various PSA electric cars such as the Peugeot 2008 and DS3 Crossback. With 2022 still being so far away, there are no specifications on the upcoming small electric SUV, however, Autocar did give a comparison to the Peugeot e-2008 which is roughly the same size. The e-2008 comes with a single front motor and makes 136bhp and 192lb ft of torque. The 50 kWh battery allows it to go up to 192 miles on the WLTP testing cycle.
Of course, when you are paying Alfa Romeo money you are going to expect better specifications than that, especially with another two years of development time.
A spokesperson from Alfa Romeo commented:
"When we launched the Giulia and Stelvio, we were recognised as a sporty brand, because of the amazing handling. We're trying to communicate that our cars are not only sporty but can also be driven in a comfortable way – something that previously customers wouldn't expect from Alfa Romeo, to help us appeal to a larger customer base."

"For electric, we will stay consistent to Alfa Romeo's sportiness and use electric motors for a performance approach. We're looking to achieve an Alfa Romeo customer's expectations but also [those of] customers looking for comfort. The B-segment is probably the best solution for range and usage, and the recharging infrastructure will be better [by the time we launch the car]. We will see the evolution of the market quite quickly. We're seeing different approaches in the market – some successful, some not so. We have the opportunity to see what advances and react in the proper way."
Hopefully we will be able to get more news about Alfa's first electric car when the Tonale plug-in makes its debut early next year.