Jeep's current Global President, Christian Meunier sat down with Autocar recently to talk about the prospectives and trajectory the SUV company is working towards and how the end goal is to become the greenest, most sustainable SUV company" there is.
It has been almost two years since FCA announced their electrification plans for the coming years up to 2022. In that plan was a slide showing that Jeep would have four different fully electric Jeeps along with 10 plug-in models by 2022.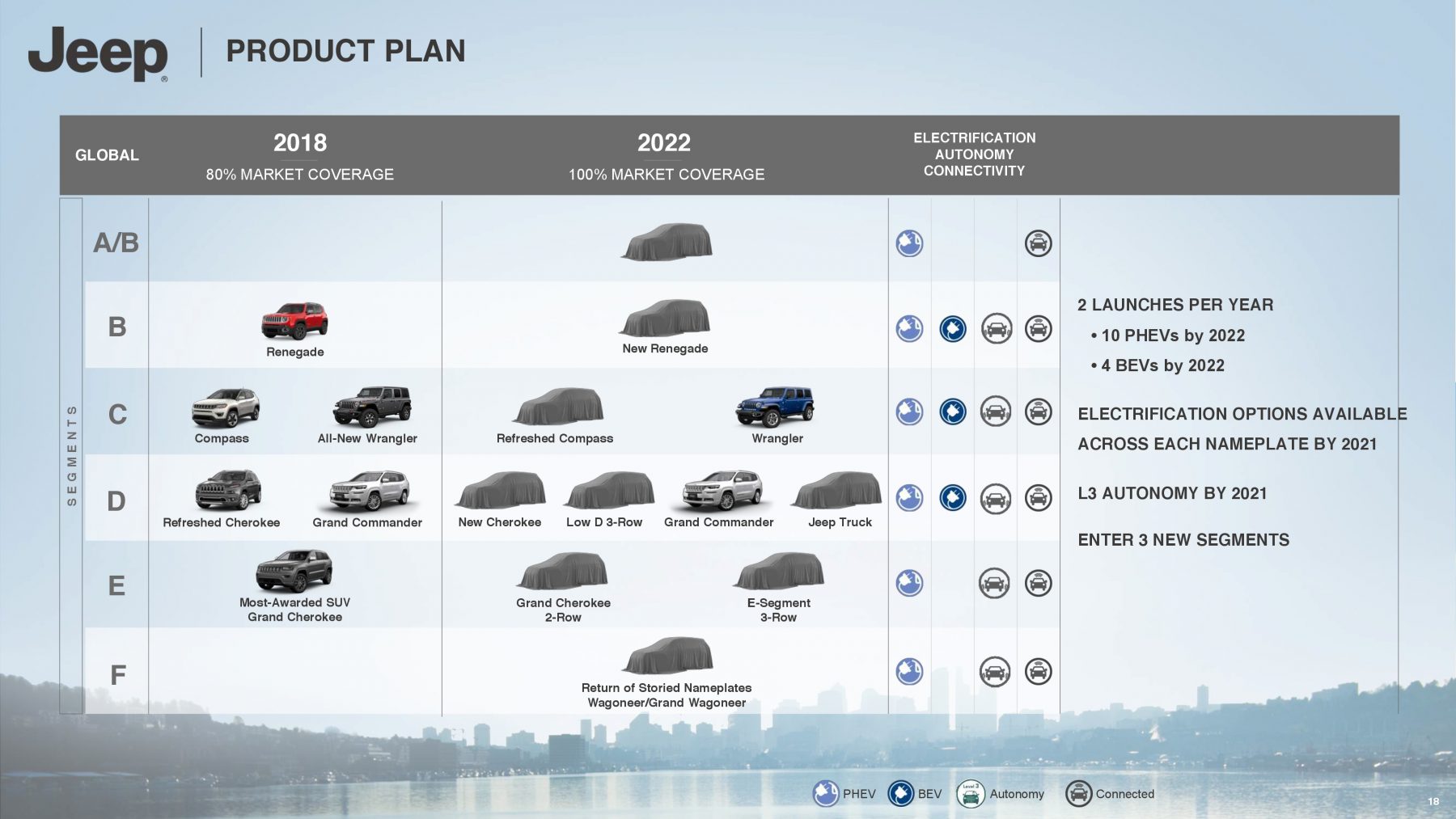 With ongoing changes in the company over the past two years, who knows if the plans from back then are still the guidelines that the companies are using.
So far Jeep has shown three different plug-in models for the Renegade, Compass, and Wrangler at the recent CES, but no fully electric versions.
Meunier stated:
"There are so many things we need to bring together to make Jeep a modern, contemporary brand that will break through and sustain for the next 80 years. "That's a big transition in our world. There was a little evolution every year, but there's a big revolution happening now. To make Jeep the greenest, most sustainable SUV company is a little bit of a challenge, but it's the most exciting one."
He would later add that we will soon see a lot of the things they are working on, one of which being BEV. So we do know that Jeep still plans to make fully electric SUV, I mean, they would have to if they want to be the greenest SUV company. The real question is just when and which models are going to be fully electrified.
While we do not know when we will get more information about prospective battery-powered Jeeps, it is reassuring to see that Meunier seems to be invested in electric architecture and talks about some of the benefits that customers will see with an electric Jeep.
"Think about a Wrangler Rubicon, full electric or PHEV. This is a car that's going to do 0-60mph in six seconds, potentially, so you're going to get acceleration you're never going to get with an engine. You're going to get the most capable Jeep ever."
He would also go on to talk about the instantly available torque, non-nature disturbing sound of electric motors, and capability for providing high power for camping trips.
However, the priority for the automaker is plug-in hybrids for the time being. Given how foreign the concept of hybrid Jeeps are, it makes sense that the company would want to have some building blocks for fully electric Jeeps. The planned plug-ins have all-electric ranges of about 31 miles, making them great for short emission-free drives, especially for customers that are still battling with range anxiety.
While Meunier states that Europe and China are critical to them with this transition, he does believe that the US customer base will adopt electrification quicker than most anticipated.
"Either you try to be compliant and do the bare minimum or you embrace it and go full speed on it. The latter is the way we should go, because we have the opportunity to make some really, really exciting products, and I think the company is convinced of that. You'll see a lot of electrified products in the next few years. It's not about having small cars to offset big cars; every car will have a role to play."
It seems that the Jeep boss has the enthusiasm to drive the company forward towards electrification. But as we all know that doesn't mean a lot until a large number of their cars are hitting the streets with electric engines.
What do you guys think of Jeep's prospects? Will there be four fully electric models by 2022? Let us know down in the comments below.