Electric vans are a rarely covered topic in the EV community. The regular car buyer does not need the extra space and most EV vans don't really have any features or specifications to make them stand out amongst enthusiasts. With the being said, we can't reach full electric vehicle adoption unless every vehicle segment has competent electric alternatives and that includes the passenger and cargo van segment. Being able to electrify the large amounts of vans on the road will do wonders for the electric mission, and thankfully it looks like there isn't a lack of options.
While it seems like automakers are prioritizing commercial electric cargo vans before making electric passenger vans available to the public, there are already a few options available now, and more are set to come soon. Electric crossovers might be the first choice for the common family but a large electric minivan is basically the only choice for those extra-large families who want to travel together.
While passenger vans are far from the most exciting vehicle segment to look at, there are a few standouts such as the ID BUZZ, Canoo, and the possible upcoming Tesla Van that might be able to catch the eyes of even the most die-hard performance car fans.
Many of us won't need an electric cargo van, but it's a very important segment of vehicles that need to be electrified. As e-commerce continues to grow, more cargo and delivery vans will roam the streets, so companies should have competitive electric options.
Thus far it looks like more effort is being put into bringing electric cargo vans and electric delivery vans to market rather than electric passenger vans or minivans.
---
VW Electric Vans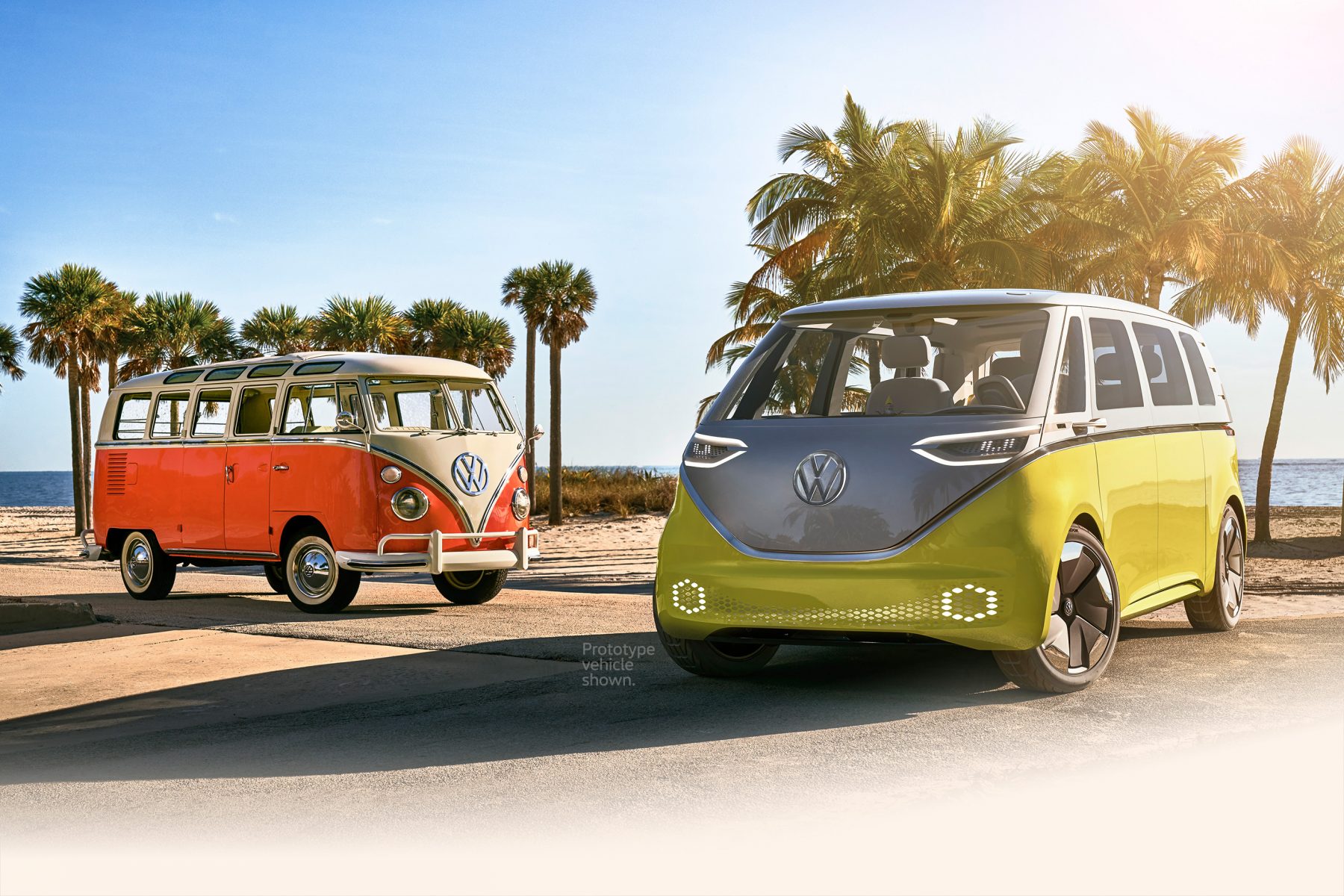 Volkswagen has been very loud about their future electric car plans. While the brand slept through a lot of EV progress the past decade, the German automaker is very optimistic about its chances of being a new dominant force. Leveraging its vast production capabilities and capital, VW and its subsidiaries clearly want to make up for the lost time.
The plan is to produce one million EVs annually in 2023 and scale upwards to 1.5 million by 2025. VW has been on a roll announcing vehicles left and right to fill every possible niche. Trying to not leave any need unmet, the brand also announced their new VW electric van, the ID BUZZ, hoping to bring back a classic from long ago.
The Volkswagen ID BUZZ electric van looks to be a modern revival of the classic Type 2 microbus from the 60s. As generations increased the iconic van has lost some of its soul and VW wants to bring it back with the ID BUZZ.
The ID BUZZ's main purpose is to act as an electric passenger van (though a cargo version will also be released), but many of the specifications are still unknown. We do know that there will be two versions of the ID BUZZ with an 83 kWh battery and a 111 kWh battery. Current range estimates have the smaller battery version going about 270 miles and the larger, 373 miles on the WLTP cycle. The ID BUZZ will be capable of at least 150 kW charging, making it one of the most powerful on this list.
One of the most unique features of the ID BUZZ is the rail system built for its seats. Thanks to the increased interior space from going electric, the cabin of this VW electric van becomes very flexible. Every seat can be moved around, folded flat, folded into tables, and swiveled to provide the exact seating arrangement that you need. The VW ID BUZZ seating capacity is hard to gauge, but the concept showed four captain's chairs, and a two-person bench, giving us six occupants. Will that be the case for the production version? We don't know.
The ID BUZZ won't hit Europe until 2022 with a US release in 2023, so there is still a lot of room for adjustments in looks, features, and specifications. We look forward to better understanding the price and final specifications towards the end of 2021.
Read More: VW ID Buzz
To make full use of their platform Volkswagen has shown off a VW ID BUZZ CARGO, a commercial Volkswagen electric van. This version of the VW electric microbus is built to serve as an electric cargo van.
Some of the differences from the regular VW ID BUZZ electric van include a four-inch longer body, solar panels on the roof that add about 9 miles of range a day, no sliding doors, and 240-volt power outlets for power tools. The ID BUZZ CARGO features the same 111 kWh battery, but only has a single 201 hp motor for the rear wheels. The Volkswagen electric van range is estimated at 340 miles based on the WLTP cycle.
Volkswagen states that the electric cargo van could launch in Europe as soon as 2022, but it will not make its way to the United States. The Volkswagen electric van price has also never been mentioned and it could go either direction as a commercial vehicle.
Read More: VW Electric Cargo Van
You might be surprised to know that there is already an electric delivery van from Volkswagen available. Although to be fair, the ID BUZZ will be the first that is created completely in-house. The ABT e-Transporter is a collaboration between VW and German tuning company ABT. It's essentially an electric conversion of the currently available Transporter 6.1 but it can be bought directly from Volkswagen.
The conversion can be done to any of the Transporters sold, so you have a wide range of options between having an electric delivery van, electric passenger van, or even an electric campervan. ABT fits a single electric motor and 37.3 kWh battery giving the e-Transporter a WLTP-estimated range of about 82 miles. The max charging power is 50 kW, meaning an 80% charge can be done in around 45 minutes.
While the e-Transporter can be had in a wide variety of configurations, given its low range, we think that most people will use a last-mile electric delivery van or cargo van. With that in mind, the total cargo room in the e-Transporter is about 236 cu. ft.
Volkswagen has stated that a larger battery size might be available in the future. It will be interesting to see if and how the e-Transporter will continue after the release of the ID BUZZ and the cargo version.
---
Ford Electric Vans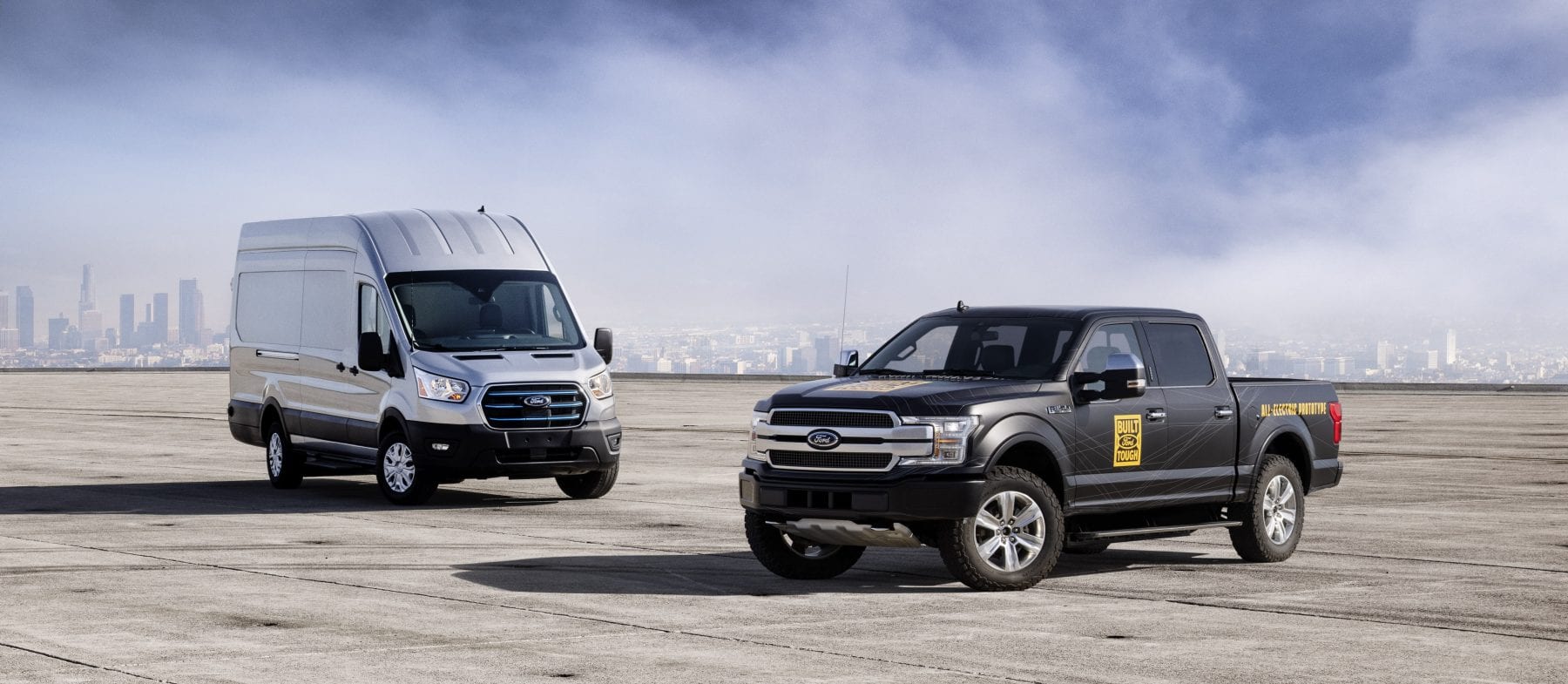 Ford is trying to cover all of its bases from the start with its electric offerings. The Ford Mustang Mach-E is already on the road, and we are expecting a Ford electric truck in the coming year or two. Those two vehicles cover the pickup and crossover segments, two of the most popular vehicle classes.
Turning to the commercial side, Ford is hurriedly trying to bring Ford electric vans to a US market that is quite thin when it comes to electric van options.
The brand had a bad start in the early 2010s when only a handful of poor compliance cars to their name. However, this time around it looks like the American automaker is trying hard to offer compelling electric cars to buyers.
The electric Ford Transit is not yet here but should start deliveries towards the end of the year. The E-Transit is of course the electrified version of Ford's popular Transit van. The E-Transit is an important addition to the electrification effort as it is one of the few electric vans on this list that are actually available in the US.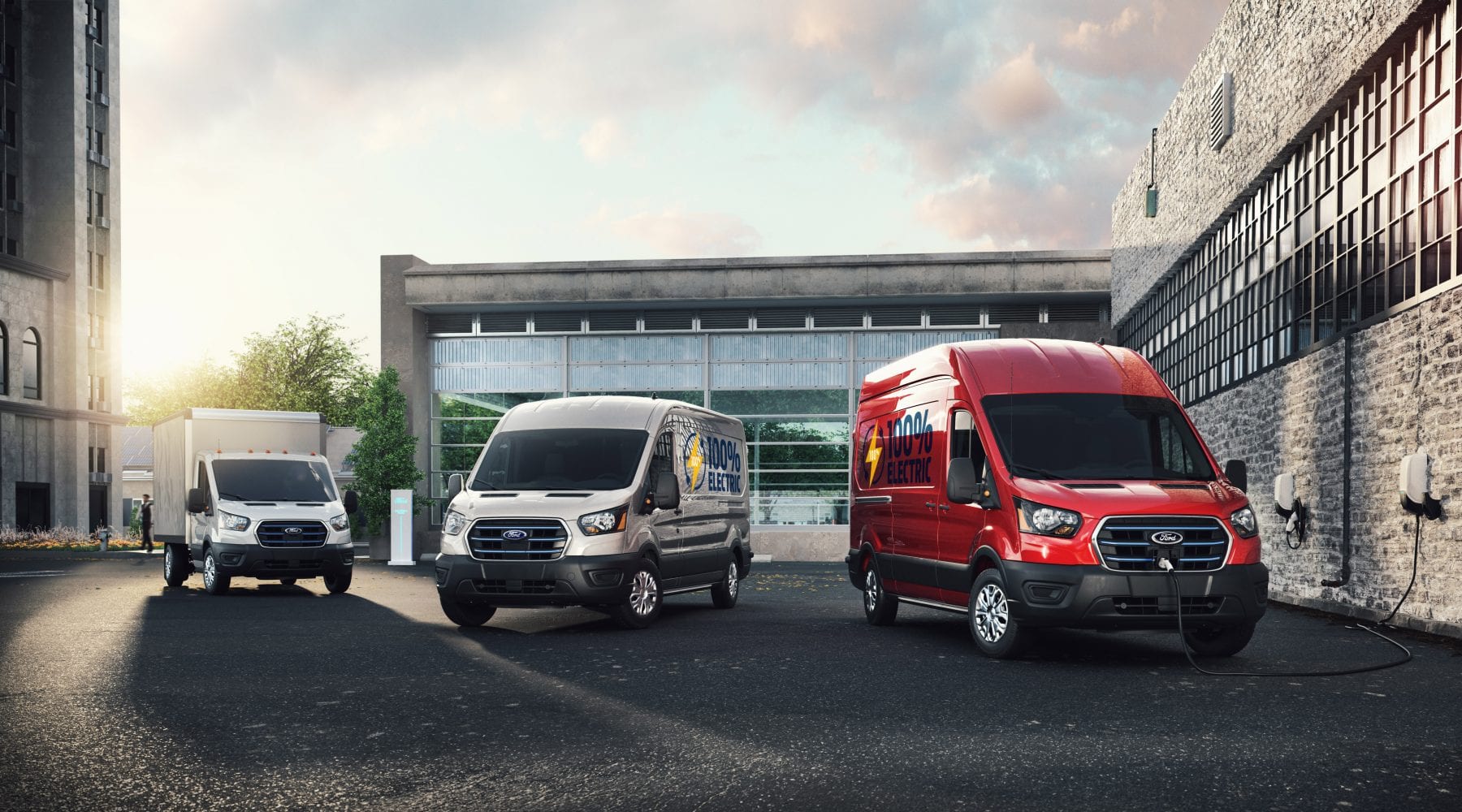 At this point, the E-Transit looks to be only offered as an electric cargo van. Given that the regular Transit does have a crew van and passenger van configuration, we might expect to see an electric passenger van version sometime in the future. The E-Transit is powered by a single rear motor and is expected to have an EPA-estimated range of about 126 miles for the low roof variant. A 67kWh battery is used to power all configurations causing some of the larger versions to subtract some range figures. Ford promises each variant will have at least 100 miles of EPA-rated range.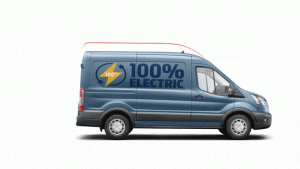 Just like the regular Ford Transit, the Ford E-Transit will have three roof heights and three lengths to choose from. While Ford has not given us the interior specifications of the E-Transit, we can obviously use the gasoline Transit as a reference. Depending on which length and roof you go with, you can have anywhere from 280 cu. ft. to 536 cu. ft. of maximum cargo room. We expect that the maximum cargo room in the E-Transit will be more or less in line with the gasoline version.
The Ford Transit electric price is set to start at $43,295 and go as high as $52,690.
| Body Type | Roof Height/ Wheelbase | Range (miles) | MSRP |
| --- | --- | --- | --- |
| Cargo Van | Low Roof (83.6″)/ Regular (130″) | 126 | $47,185 |
| Cargo Van | Low Roof (83.6″)/ Long (148″) | 126 | $48,395 |
| Cargo Van | Medium Roof (100.8″)/ Regular (130″) | 116 | $48,280 |
| Cargo Van | Medium Roof (100.8″)/ Long (148″) | 116 | $49,490 |
| Cargo Van | High Roof (110.1″)/ Long (148″) | 108 | $51,530 |
| Cargo Van | High Roof (110.1″)/ Extended (148″) | 108 | $52,690 |
| Chassis Cab | Low Roof (83.6″)/ Extended (178″) | N/A | $43,825 |
| Cutaway | Low Roof (83.6″)/ Extended (178″) | N/A | $43,295 |
Registration for future orders of the electric Ford Transit is now open.
Read More: Ford's Commercial Electric Vehicle – The E-Transit
Ford Transit Hybrid
For those looking for a Ford Transit hybrid in the US, you are out of luck. Europe does have a Ford Transit PHEV which is actually called a Ford Transit Custom Van. The electric van is only available in a passenger carrier configuration and isn't offered as a cargo version. While there are many variations of the Transit Custom, only the electric cargo van version, and electric passenger van Transit Kombi have plug-in hybrid options.
While the regular Transit Custom is offered in two lengths and two heights, the Transit PHEV is only being offered in a small length, short roof configuration. The hybrid Transit features a small 1.0L EcoBoost engine along with a 14 kWh battery. The all-electric range on the Ford Transit PHEV is rather respectable 34 miles based on the WLTP cycle.
Once again, this version of the Ford Transit is only available in one size configuration. The maximum cargo space in this version is about 211 cu. ft. putting it on the smaller size compared to other electric vans on this list. The Kombi version is also only available in a single size and can be outfitted in either a six or nine-person configuration.
Given that Ford is moving forward with the E-Transit for the US market, we are doubtful that we will see a Ford Transit PHEV in the states.
Electric Ford Transit Connect
I am sorry to say that an electric Ford Transit Connect or Ford Transit Connect Hybrid does not exist. The smaller sibling to the full-size Ford Transit does not have an electrified option, but it once did have a low volume run long ago.
Back in 2010, when Ford thought it was okay to cram a battery into a Focus with less than 100 miles of range and call it a day, Ford collaborated with Azure Dynamics to create the Azure Dynamics Transit Connect Electric. As you can guess it was an electric version of the Ford Transit Connect. It had a 28 kWh battery that provided 56 miles of range and cost twice the price of its gasoline counterpart, even after rebates. This was no doubt a terrible recipe and only about 500 of them were ever produced between 2010 and 2012.
Since then we have obviously seen Ford more effort into their electric cars so we anticipate that whenever an electric Ford Transit Connect comes our way, it will deliver competitive specifications. In regards to when we expect to see it, we don't even have any rumors to go off of. We can assume that Ford would like to put forth a lot of its efforts into the E-Transit before moving down the model lineup. The Transit Connect is the perfect urban electric delivery van so we don't think that we will have to wait too long following the release of the E-Transit to hear news about the E-Transit Connect.
Read More: 2010 Ford Transit Connect EV Unveiled
---
Nissan Electric Vans

Nissan was one of the forerunners of our current generation of electric cars. The Nissan LEAF has stayed as a strong (and basically only) pillar of Nissan's electrification. While the Japanese automaker has been slow to introduce more electric passenger vehicles over the years, they have at least given some of their commercial customers an electric option with the following electric vans.
The Nissan e-NV200 electric van is the electric version of Nissan's popular NV200 ICE-powered van that it has been building since 2014. The Nissan e-NV200 use case is either a small electric cargo van or electric delivery van. There is no option to outfit it as an electric passenger van, but there is a passenger-oriented version below.
The e-NV200 derives its powertrain from the Nissan LEAF. Whenever the Nissan LEAF receives an update to its powertrain, the e-NV200 is sure to follow afterward. The current generation sports a single motor and a 40 kWh battery. The Nissan electric van range based on the WLTP standard is 124 miles or 187 miles if you do strictly city driving according to Nissan. Optionally the e-NV200 can handle a charge rate of up to 50 kW, otherwise, you will have to deal with charge times that take almost eight hours using a 7 kW charger.
The e-NV200 comes in a single height and length. Nissan lists the usable space cargo volume at about 148 cu. ft.
The Nissan e-NV200 Combi is the electric passenger version of the regular e-NV200.
It's essentially the same van as the e-NV200 but instead is outfitted to carry people instead of supplies. It has the same powertrain with the same WLTP range of 124 miles combined and 187 miles in the city. Same motor, same battery, and same charge rate.
Instead of having 148 cu. ft. of space, however, you get to configure the e-NV200 Combi to carry either five or seven people. If you choose the five-seat option then you will still have about 74 cu. ft. of space while in the seven-seat option the cargo room drops significantly to about 30 cu. ft.
While not glamourous, this is one of the few electric vans on this list that you could realistically use as a family minivan.
---
A Tesla cargo van or passenger van is still very much on the tail-end of the company's plans. While it was rumored for a while, Elon Musk has recently talked about adding an electric van into the lineup eventually.
Musk stated during the Q4 2020 earnings call:
"I think Tesla's definitely going to make an electric van at some point. The thing to bear in mind is that there is fundamentally a constraint on battery cell output. If you're not involved in manufacturing, it's really hard to appreciate just how hard it is to scale production. It's the hardest thing in the world!"
As with the Tesla Semi, a big hurdle for creating the Tesla Van is the limited battery supply. Once Tesla gets their 4680 cell production underway we might see moves being made towards a van.
An electric Tesla van was also mentioned earlier this year when Musk did another interview with Joe Rogan where they discussed solar panels on vehicles. Musk stated:
"A van, because you have a big flat area, that's actually where solar starts making a little more sense."
We've seen many times that solar panels aren't yet at the point where they can provide a meaningful amount of energy without a very large surface area. As such, a large van is a perfect candidate for having meaningful solar power according to Musk.
"You can also have a roof with solar and then when it is stationary and it goes out from the sides to provide shade. now with triple the area and a big flat surface, you can start having enough solar to get something like 30 miles of range per day."
In one of the earliest mentions of an electric van, Elon Musk toyed with the idea of a Mercedes/Tesla collaboration.
Maybe interesting to work with Daimler/Mercedes on an electric Sprinter. That's a great van. We will inquire.

— Elon Musk (@elonmusk) November 19, 2018
What could the Tesla van price or production table be? It's literally anyone's guess at this point. We certainly don't expect an electric van from Tesla in 2021, or for many years for that matter. Tesla's factories continue to spring up across the globe but not one has been mentioned to house a future van project.
---
Mercedes Electric Van
Similar to Volkswagen, Mercedes has been planning a rather aggressive electrification plan, at least when it comes to the number of models to be offered. At this point, Mercedes has already released or planned the EQC, EQV, EQA, EQB, EQS, EQS SUV, EQE, and EQE SUV to be released by 2022.
The German automaker took the step to state that it would stop the development of future internal combustion engines and instead use the funds to continue with electric power.
Mercedes has a wide range of vans for both commercial and personal use, and they aren't being neglected in Mercedes' electrification efforts. Below you will find some of the Mercedes electric vans that the storied automaker is producing.
The Mercedes eSprinter is the electric version of the Mercedes' popular Sprinter van. While the electric Sprinter is currently available in Europe, it's unlikely to make its US debut until sometime around 2023, in which case it might be an entirely new generation from the currently outlined one.
While the gasoline-powered Sprinter is a rather versatile van coming in many configurations, the eSprinter is currently limited to being an electric cargo van and is only available in one size. Perhaps in the next few years, we'll see an electric passenger van version as well. The current eSprinter features a single forward-mounted electric motor as well as a 55 kWh battery, of which only 47 kWh are used. The WLTP estimated combined range is about 95 miles, making the electric Sprinter better suited as a last-mile electric delivery van rather than an intercity hauler. Max charge is set at 20 kW, but can optionally be upgraded to an 80 kW charge rate, making an 80% charge take about half an hour.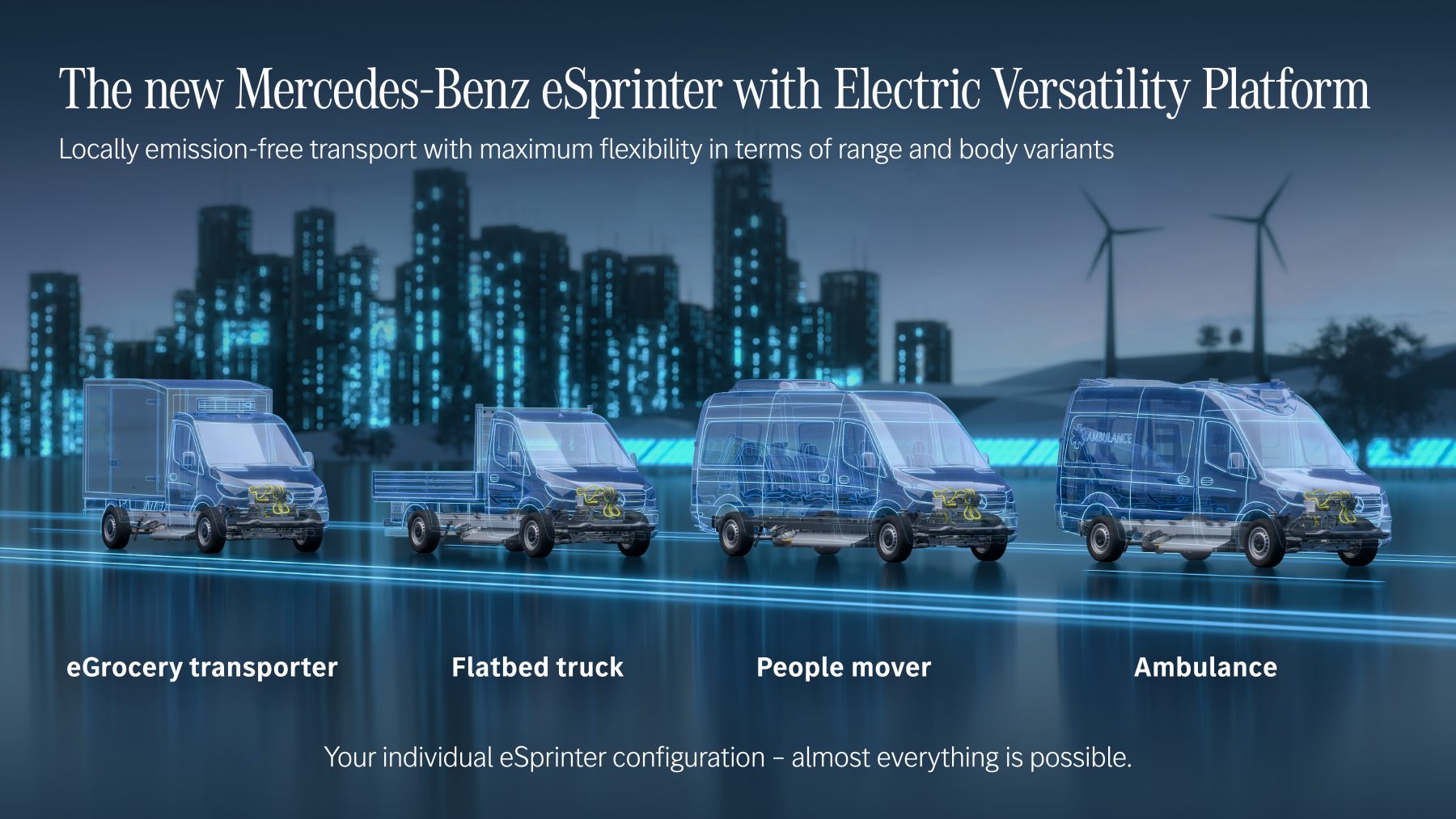 As stated already, the eSprinter is currently only offered in one size, making it much less flexible than many of the other options on this list. The one configuration comes with about 388 cu. ft. of cargo space, giving you plenty of space, but overkill for smaller needs (good thing the eVito exists as well). Mercedes is seemingly working on providing more variants for the eSprinter so given time we could see that as a good option across all uses.
The Mercedes eVito is the electric version of the Mercedes' smaller van offering, the Vito (known as the Metris in North America). Unlike the eSprinter, the eVito is offered in both an electric delivery van and electric passenger van (detailed below) configuration.
Also unlike the eSprinter, the eVito is offered in two different lengths, giving you a little bit more flexibility in regards to space needs. Both lengths feature the same powertrain, with a single forward-mounted electric motor and a 41 kWh battery, with only 35 kWh being usable. The WLTP estimated combined range for the eVito is 92 miles while full city driving will increase it up to about 103 miles. So just like the eSprinter, its best use case would be as an urban electric delivery van. One big negative is that the eVito is not compatible with DC fast charging, meaning you will be stuck waiting six hours for a full charge using AC power.
While there are two lengths offered for the eVito, the difference in space is not that large between the two. The smaller length gives you 211 cu. ft. of cargo room, while the slightly longer one gives you 233 cu. ft.
At this time there has not been any word on when or if we can eventually expect this smaller electric van in North America.
While the eVito Tourer is technically just a variant of the eVito, it can be seen as a separate model due to its completely different powertrain. As the name implies the eVito Tourer is used as an electric passenger van rather than an electric delivery van.
The specifications of the eVito Tourer see a huge boost over the regular eVito and much more palatable to the average consumer. The eVito Tourer carries a more powerful forward electric motor as well as a substantially bigger 100 kWh battery with 90 kWh of usable space. This large increase in the battery size gives the eVito Tourer a WLTP-estimated combined range of about 245 miles, good enough for trips outside the city limits. Another welcome upgrade comes to the charge rate, which is increased to 110 kW making it possible to get an 80% charge in about 40 minutes.
Just like the eVito, the eVito Tourer is available in the same two lengths. You can configure the seating in both lengths to carry up to nine people in a 3-3-3 layout. Mercedes does offer a lot more seating options if you would rather have more cargo space and fewer people.
The Mercedes EQV is Mercedes' luxury electric passenger van offering. While the eVito Tourer is partly positioned for commercial use, the EQV is an electric entry into the consumer V-Class lineup.
With that being said, the EQV shares the same underpinnings as the eVito Tourer. It features the same electric motor and 100 kWh battery with 90 kWh being usable. The range is slightly better with a WLTP-estimated range of 251 miles. It also can charge at 110 kW, bringing an 80% charge in about 40 minutes.
All of the upgrades come to make the EQV a more comfortable electric family van. The materials used in the interior are higher quality and the dashboard features more technology and creature comforts. Just like the eVito Tourer, the EQV features a rail system that allows for a lot of seating configuration. The EQV electric van comes with six individual captain's chairs in a 2-2-2 layout, but can be made to carry seven or even eight people.
---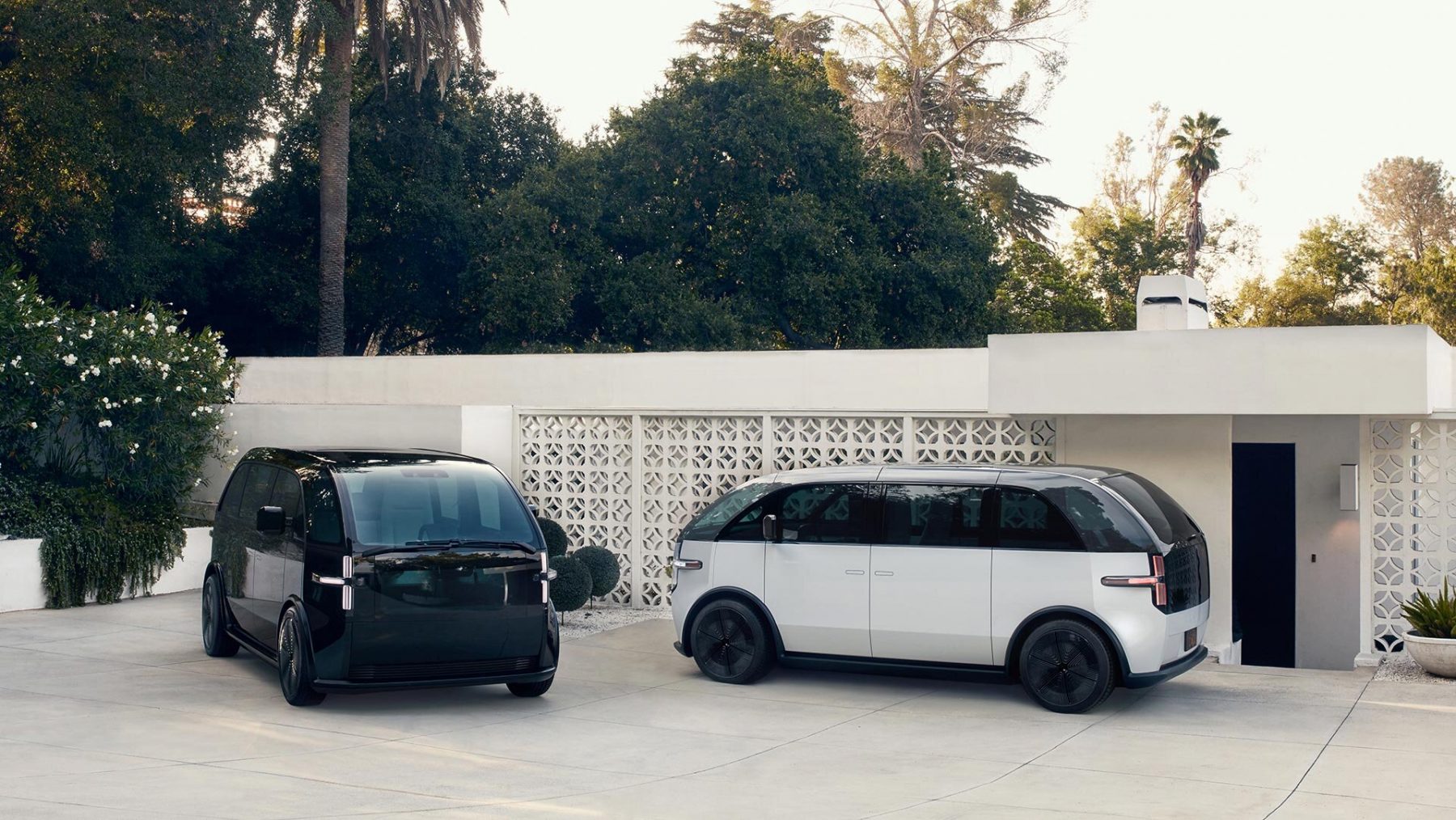 At a time where basically every EV startup is debuting with a mass-market electric crossover or flashy luxury sedan, Canoo took a different approach. Instead of debuting a Canoo car, we instead got a Canoo van as the brand's maiden electric vehicle.
Officially known as the Canoo Lifestyle Vehicle on their website, the electric van is probably the most unique on this list. As the name implies, the Canoo van does not intend to be a utilitarian electric delivery van or electric cargo van. Instead, it looks to be an extension of one's home, if the ID BUZZ didn't exist, this would be the van closest to carrying on the spirit of the original VW microbus.
The futuristic-looking pod has a lot of features that are unique to it on this list. Almost the entire top half of the car is glass, allowing for the maximum amount of sunlight. The interior features lounge seating, jump seats, and an optional table. In its current state, the Canoo Van can seat seven people. Continuing the 'lifestyle' trend, you can also find a pegboard in the interior for you to further personalize the electric van.
The dashboard, if you can call it that, is as minimal as you can be. Canoo forgoes putting in a screen of its own and instead will rely on your phone to act as the infotainment center. There is a secondary information bar in the front but it's only used to display things like speed.
The Canoo Van comes with an 80 kWh battery pack that should give the electric passenger van about 250 miles of range. Additionally, Canoo states that an 80% charge can be expected in about 28 minutes when using fast chargers. Canoo lists the luggage capacity as 15.8 cu. ft. and the total interior volume as 188.1 cu. ft., meaning that this probably shouldn't be your electric cargo van of choice.
The Canoo electric van was initially supposed to be offered in a subscription model. However, following their most recent earnings call, it looks like the EV startup might be going a different, yet unclear, route.
The Canoo MPDV (Mult-Purpose Delivery Vehicle) is the electric cargo van and electric delivery van version of the regular Canoo Van. Built on the same platform, the Canoo MPDV looks to tackle the commercial market. As you can see, the MPDV gets rid of all the lifestyle features of the original Canoo Van and replaces it with a barebones box.
The Canoo MPDV electric cargo van is planned in two sizes, the MPDV1 and MPDV2. Both versions will be offered with either an 80, 60, or 40 kWh battery. Depending on the battery size, the smaller MPDV1 is expecting an EPA-estimated range of 130-230 miles and the larger MPDV2 will have a range of 90-190 miles. A single forward motor propels both versions. Presumably, it will have a charge time that is similar to the Canoo Van. The company is also planning an even larger MPDV3 after the production of the MPDV1/2 is underway.
Canoo lists the cargo volume of the MPDV1 as 200 cu. ft. and 450 cu. ft. in the MPDV2. Looking at the reveal video you can see that while there's not much on the inside at first glance, there's actually a lot of neat gimmicks throughout the interior to maximize the use of space.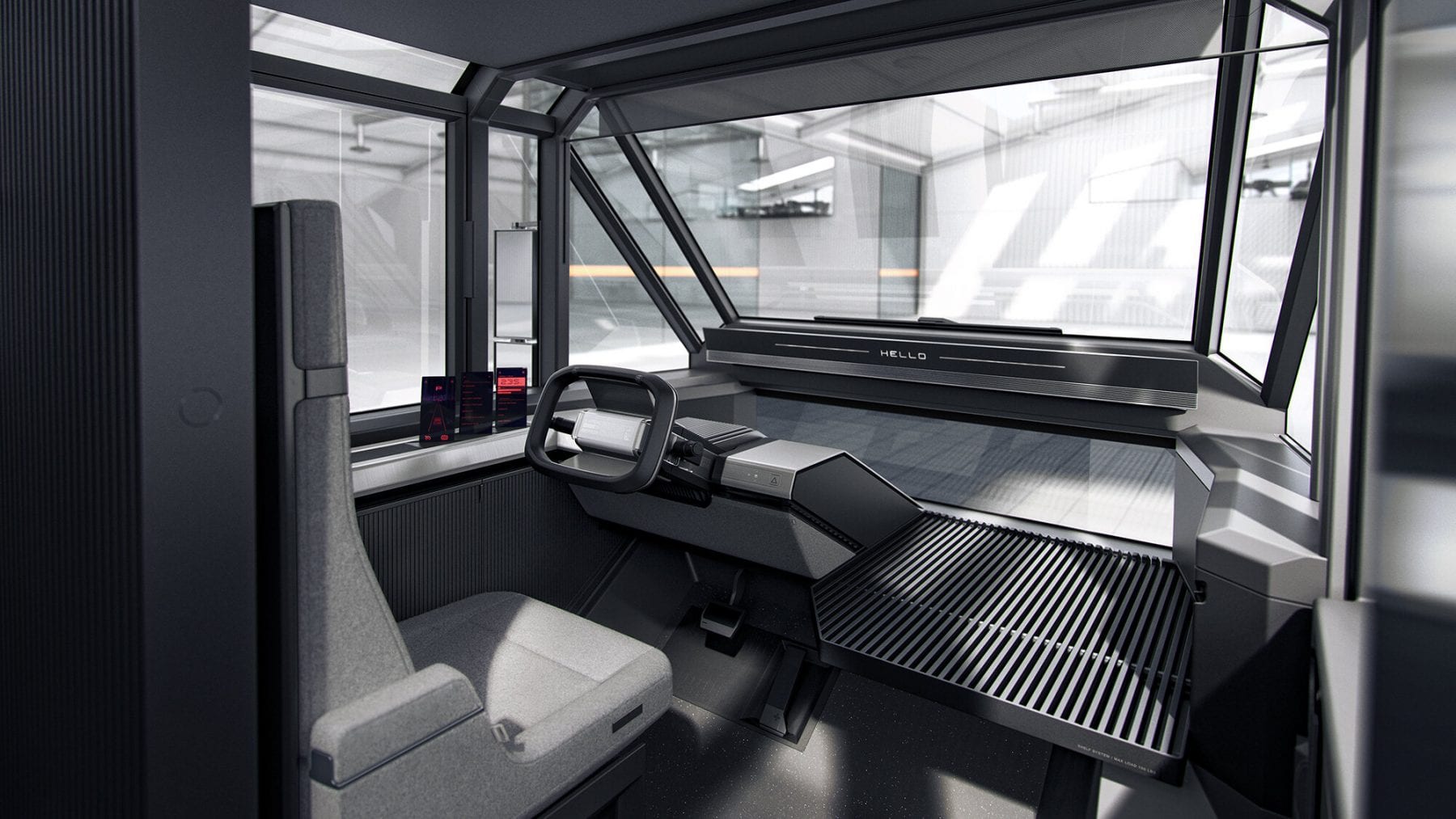 There will be a limited production of the electric cargo van in 2022 with full-scale production planned for 2023. The Canoo MPDV will carry a starting price of $33,000 for the 40 kWh MPDV1.
---
Citroen Electric Van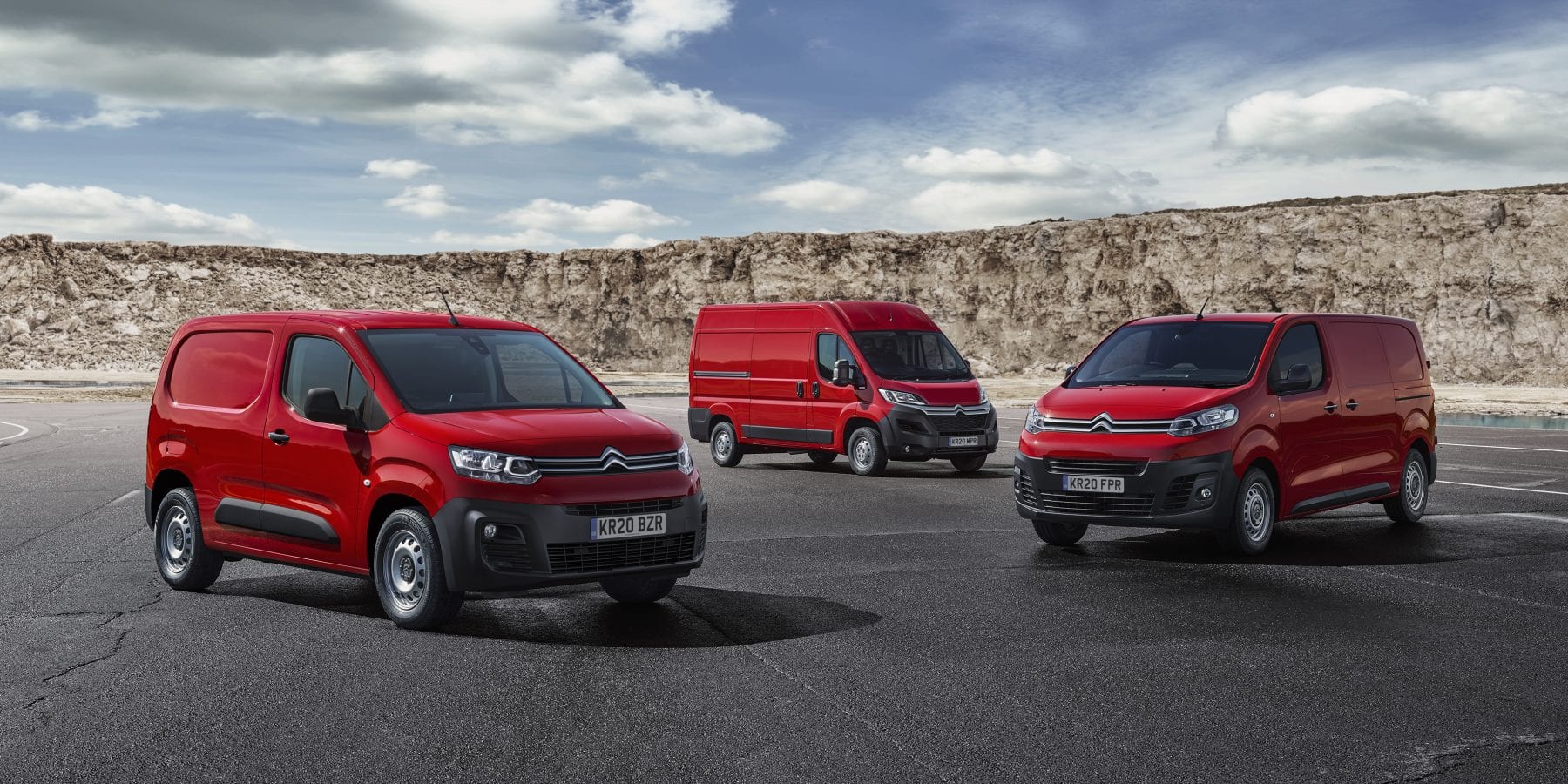 Citroen is one of France's oldest automakers, first founded in 1919. It has since grown to become part of one of the largest automaker groups in the world, Stellantis in 2021. Citroen, as part of the former Group PSA that merged with FCA to create Stellantis, committed to having a fully electrified range of cars by 2025. Looking at the current non-commercial offerings, Citroen has two EVs and one hybrid, leaving five models yet to have an electrified option.
Below you will find three Citroen electric vans ranging in use cases from commercial delivery vans to family minivans.
The Citroen e-Spacetourer is one of the few electric vans on this list that isn't made primarily for commercial use. Like many others on this list, however, it is not a standalone EV and instead is offered side by side next to ICE versions of the same van.
The e-Spacetourer is not offered in either a panel van or chassis cab version like many others on this list, instead, its primary use will be as an electric passenger van. It comes with a 50 kWh battery giving it a WLTP range of about 143 miles. It is capable of charging at 100 kW, making it one of the fastest charging electric vans on this list, able to get an 80% charge in about half an hour. With Citroen putting 75 kWh and 70 kWh batteries in its other offerings, we'll hope that the e-Spacetourer will someday get a larger battery option as well.
While its combustion-engined sibling is offered in three lengths (S, M, XL), this electric passenger van is only being offered in the M length. It is still enough to load eight passengers in a 2-3-3 layout, but cargo room is sacrificed compared to the XL version. The third row can be removed, opening up a large amount of cargo space, but cutting the passenger count down to five.
The Citroen e-Dispatch is the small electric cargo van of choice if you are planning to go with the French automaker. Just like the e-Spacetourer, the e-Dispatch is not a standalone EV and instead is an electric version of the existing Citroen Dispatch van.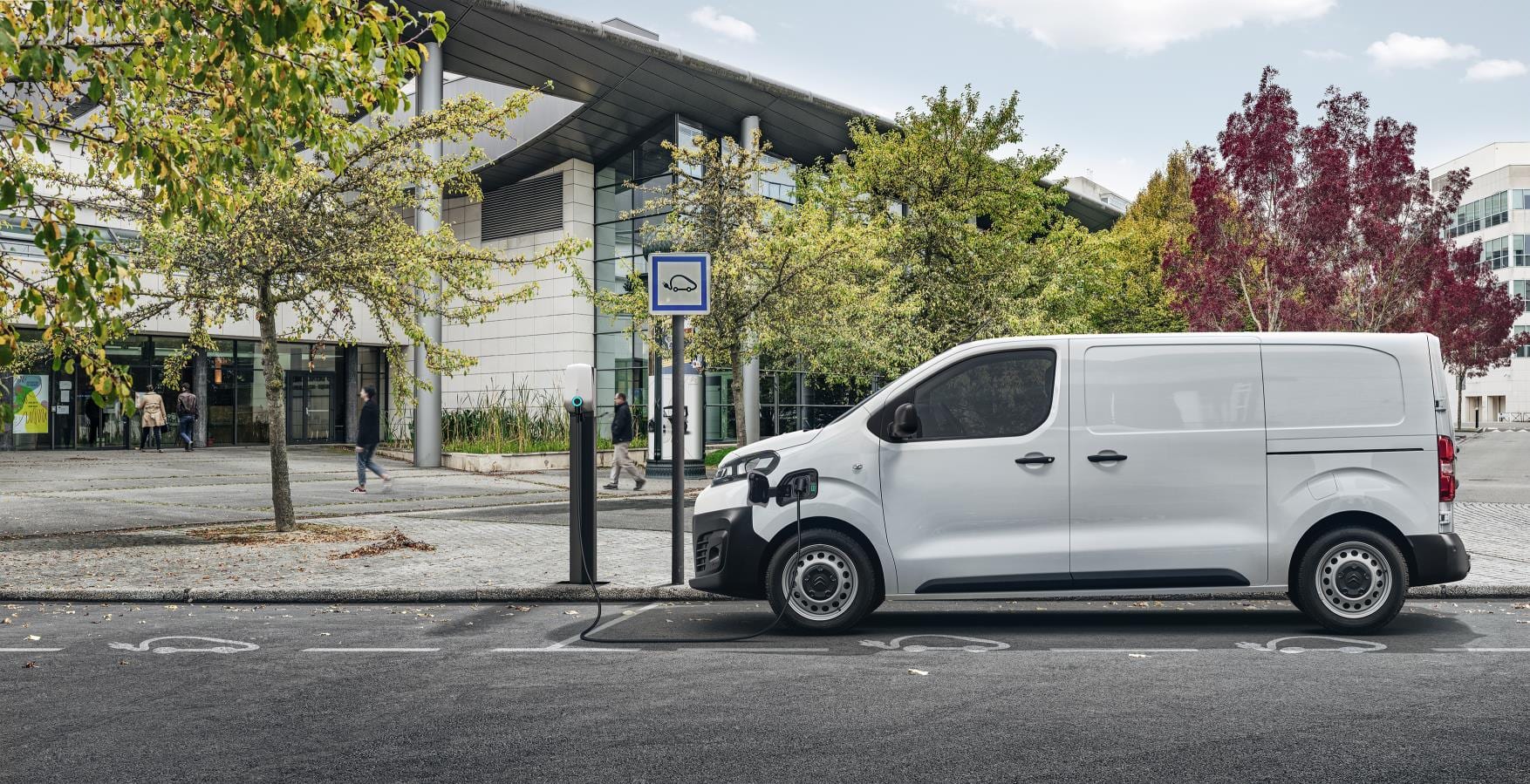 The Citroen e-Dispatch is only available as a panel van, so its uses will be limited to either an electric delivery van or electric cargo van. The regular Dispatch is capable of being configured with seats in the back, but it's not offered on the e-Dispatch. That being said there are three wheelbases and two battery options to choose from. There is a 50 kWh battery available for the XS and M sizes and a 75 kWh option available for the M and XL sizes. The 50 kWh battery will deliver a range of up to 143 miles while the 75 kWh version can go as high as 205 miles. Like the e-Spacetourer, it is capable of charging at 100 kW, meaning an 80% charge can be achieved in about half an hour.
The e-Dispatch is far from the largest electric van on this list, but it has a decent amount of cargo space for those who aren't transporting elephants around. The XS has 162 cu. ft. of space, the M has 187 cu. ft. of space, and the XL has 215 cu. ft. of usable space.
The Citroen e-Relay is the largest Citroen electric van, but it has not made its debut yet. Like the others, the e-Relay is an electric version of the currently available ICE-powered Citroen Relay.
The e-Relay is available in a panel van configuration, making it a good option as an electric cargo van. The regular Relay is offered in four different lengths and three different heights, but it is yet unclear if the e-Relay will be available in all the different sizes. The e-Relay will have two battery sizes, with a 37 kWh battery available on the two smaller length e-Relays and a 70 kWh option for the larger lengths. Citroen says that you can expect ranges of up to 124 miles on the small battery and up to 211 miles on the larger battery. Unlike the e-Dispatch and e-Spacetourer, the e-Relay can only charge up to 50 kW, meaning an 80% charge will take about an hour.
With so many size configurations, chances are that you will be able to find a model that hits your sweet spot for cargo room. As stated previously, we still don't know if the e-Relay will be available in the same configurations as the regular Relay, so keep that in mind. Depending on how you configure your roof height and vehicle length you can have cargo volume anywhere from 282 cu. ft. to 600 cu. ft. of space.
---
Peugeot Electric Van
You may think that the Peugeot electric vans below look awfully similar to the Citroen electric vans above. And you would be right. As part of the former PSA Groupe (now merged with FCA to form Stellantis), Citroen and Peugeot utilized badge-engineered vehicles extensively. As such you will see certain models that look basically identical to one another.
This relationship continues to this day. Aside from minor changes, the next three Peugeot electric vans are basically identical to the previous three Citroen electric vans.
The Peugeot e-Traveller electric passenger van is Peugeot's version of the Citroen e-Spacetourer. The two share the same platform, powertrain, battery, and charging capabilities.
There are very minor styling differences between the two electric vans, but for all intents and purposes, the two are basically the same. The Peugeot electric van does have one advantage over the e-Spacetourer, and that's the two different lengths. While the Citreon is only offered in an M length, the Peogeuot is being offered in both standard and long versions for a possible increase in the usable interior room, if you so choose.
The Peugeot e-Expert is the Peugeot version of the Citroen e-Dispatch detailed above. The specifications of the Peugeot electric cargo van are identical to the Citroen version. There is a 50 kWh battery for the smaller vans and a 75 kWh option available for the larger sizes. The 50 kWh battery will deliver a range of up to 143 miles while the 75 kWh version can go as high as 205 miles.
The styling once again is changed, but it's essentially the same van underneath. Like the e-Traveller, going with the Peugeot does give you a bit more flexibility. The e-Expert does have a crew cab configuration, unlike the Citroen e-Dispatch. Along with the regular panel van options, you can have a 3-3 seating layout in the e-Expert so that you can haul both people and supplies.
The Peugeot e-Boxer is Peugeot's version of the upcoming Citroen e-Relay. Like the e-Relay, it has yet to make its debut as well. The e-Boxer represents the largest Peugeot electric van offering at this current moment.
And yes, you guessed it, the e-Boxer is essentially the same car as the e-Relay aside from some styling changes. Although surprisingly, this time around it looks like the Peugeot version has few size options. While in the Citroen e-Relay the cargo space went all the way to about 600 cu. ft., the maximum size on the e-Boxer is 529 cu. ft. With this, we can assume it has at least one less size option than the e-Relay.
---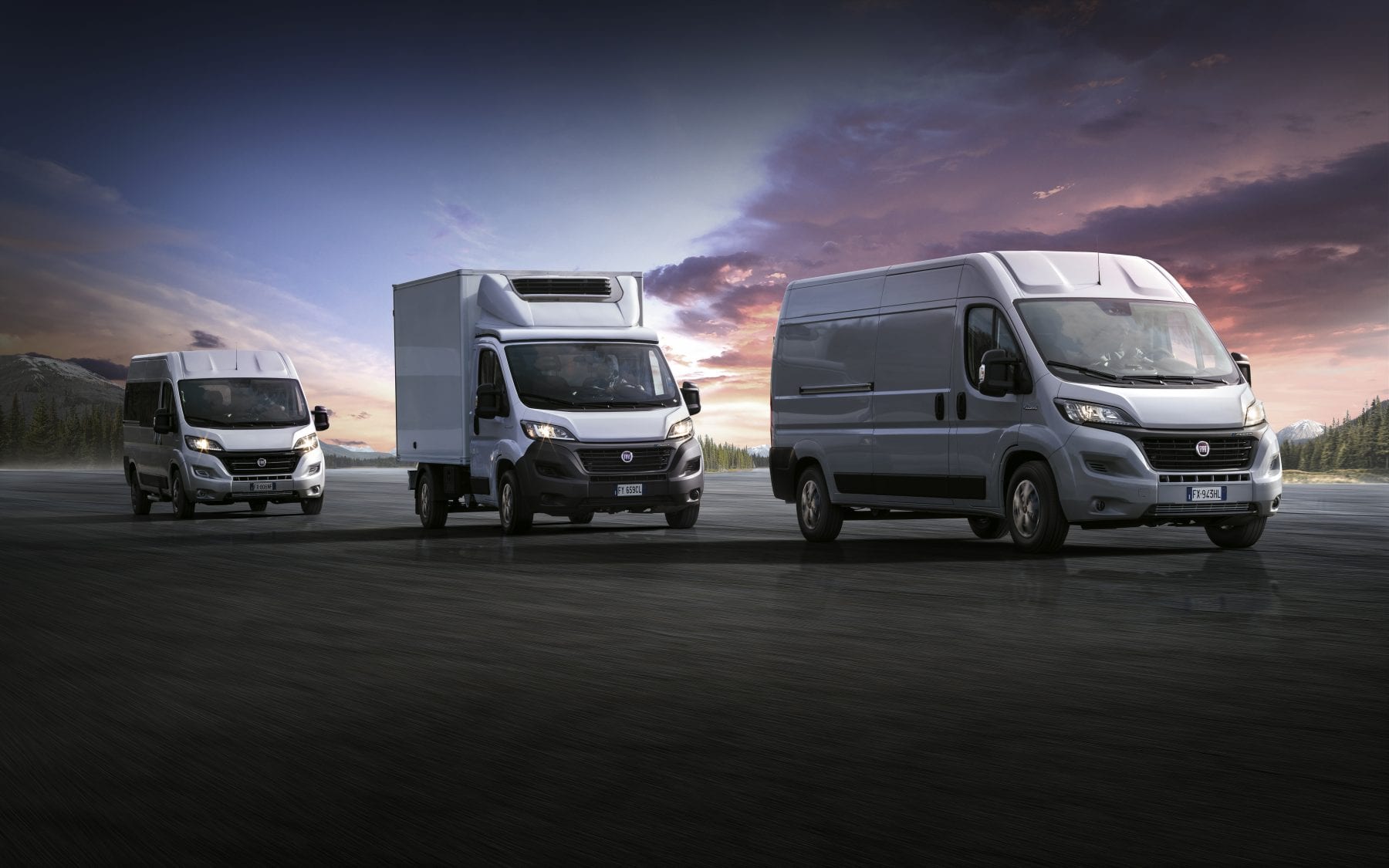 The electric Fiat Ducato is one of the most versatile options on this list, being able to act as both an electric cargo van, electric delivery van, and electric passenger van. This is the first time that Fiat's Ducato van that it has been producing since the 80s has been electrified.
The Fiat E-Ducato comes in a panel van, chassis cab, and passenger van configuration with a multitude of sizes. All of the versions come with a single 90 kW battery and 50 kW fast charging capabilities. There are also two battery sizes being offered, a 47 kWh and a 79 kWh size for each version. The ranges of course will vary depending on which battery and configuration you go with. The panel van will have a WLTP range anywhere between 98 miles to 108 miles for the 47 kWh and 161 miles to 175 miles for the 79 kWh version. The passenger van gets 103 miles with the 47 kWh battery and 168 miles with the larger battery.
The electric Fiat Ducato van comes in three different lengths with three different roof heights, leading to a wide range of usable cargo space. The amount of cargo room ranges from roughly 353 cu. ft. to 600 cu. ft. and many more options in between. The electric passenger van version can be configured to have five, six, eight, or nine seats.
While the Fiat Ducato is not available in the US, the Ram Promaster is a badge-engineered version of the same van. While we don't have any news of an electric Ram van, there is a pathway for making it happen.
---
Maxus Electric Van
Who is Maxus? Another brand that we in the US will probably never get to experience. The Chinese brand is a subsidiary of the much larger SAIC Motor, one of China's largest automakers. The company was born following the purchase of the defunct British-based LDV Group in 2011. The name came from one of the popular model names, the LDV Maxus.
Since then, the automaker has been cranking out SUVs, vans, and pickups. Within their portfolio are two Maxus electric vans which look to be available basically anywhere that isn't North America.
The Maxus EV80 electric cargo van is a no-frills offering. As one of the least expensive options on this list for the size, it shines as an electric delivery van.
The EV80 features a 56 kWh battery and a single 100 kW motor. According to Maxus, this is enough for a 120-mile NEDC-estimated range at half-load. Given the NEDC test cycle was phased out due to being too generous with range estimates, we can assume that the real-world range is considerably less. The EV80 can charge at up to 30 kW, allowing it to receive a 5-80% charge in about 1.5 hours.
There are various configurations for the EV80 including a panel van with a regular and high roof. A chassis cab version allowing you to place different modules on the rear frame is also available. None of the options however have seats or windows in the rear, meaning you won't be able to use this as an electric passenger van. Still, the cargo room found in both panel van versions is pretty solid. The low roof version has a cargo volume of 360 cu. ft. and the high roof version a little larger at 409 cu. ft. of space.
The Maxus e Deliver 3 electric delivery van represents the next generation of vehicles from Maxus. The styling has been improved and more configurations have been made available. However, an electric passenger van is still not a possibility for the e Deliver 3.
The Maxus e Deliver 3 now comes in two different battery sizes, a 35 kWh and a 52.5 kWh version. There are also three different body configurations, with a short and long-wheelbase panel van, as well as a long-wheelbase chassis cab. Both the short and long-wheelbase vans vary a single 90 kW electric motor. Depending on wheelbase and battery size, you'll get a WLTP-rated range of about 98 miles and 93 miles on the 35 kWh short and long wheelbase, respectively. On the larger 52.5 kWh battery, the ranges will be about 150 miles and 142 miles. Maxus states that the electric delivery van should be able to charge to 80% in about 45 minutes using a fast charger.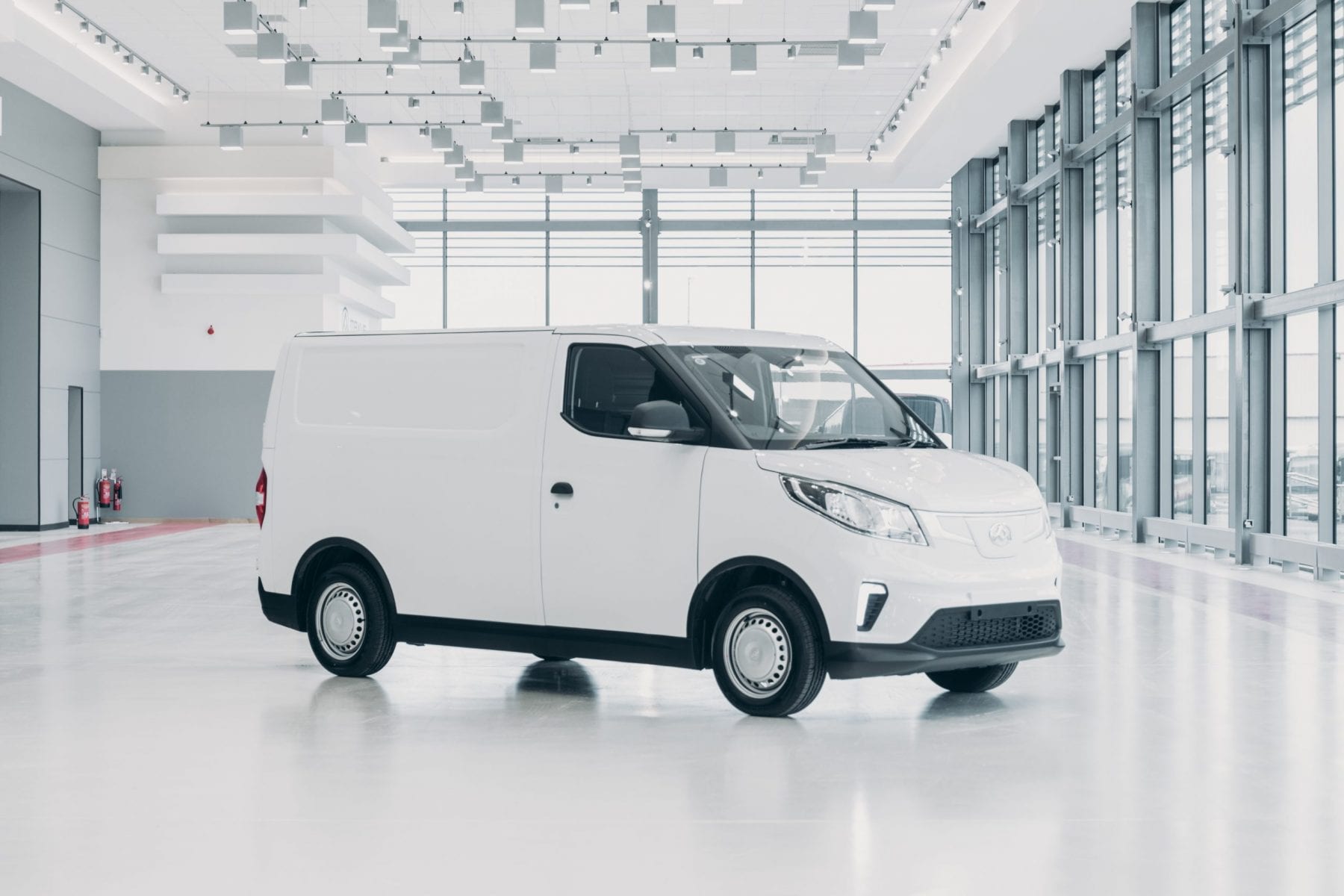 With the e Deliver 3 being considerably smaller than the EV80, you are giving up a significant amount of space. The short wheelbase version has about 169 cu. ft. of space while the long-wheelbase has about 222 cu. ft.
The Maxus e Deliver 9 electric cargo van will serve as the replacement for the older EV80. Taking cues from the smaller e Deliver 3, the e Deliver 9 will look to provide a more modernized experience in a larger size.
Along with going with a more modern look, the e Deliver 9 comes in even more configuration options. Now available in three battery sizes as well as short and long-wheelbase panel van and a long wheelbase chassis cab. Every version features the same 150 kW motor as well as fast charging that enables an 80% charge in 40-45 minutes. The three battery sizes are 51.5 kWh, 72 kWh, and an 88 kWh option that is only available on the long wheelbase. The 51.5 kWh battery provides a range of 147 miles regardless of length and the 72 kWh battery provides a range of 179 miles. The long-wheelbase 88 kWh version reaches a range of 219 miles, a very solid number.
Once again, there are no electric passenger van uses for the Maxus e Deliver 9, but it does give a significant increase in space versus the e Deliver 3. The short wheelbase provides 342 cu. ft. of cargo space while the long-wheelbase has 388 cu. ft. of cargo space.
Renault Electric Vans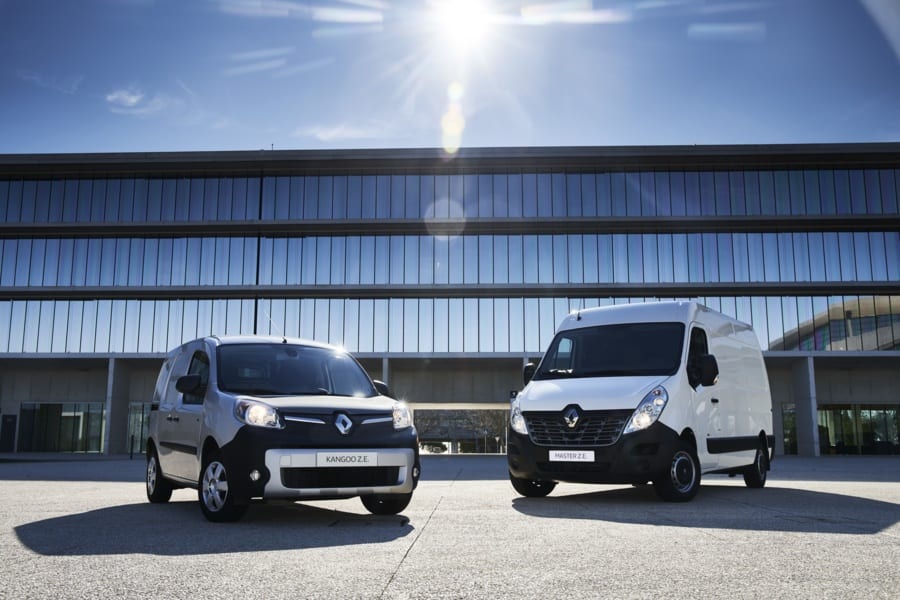 Renault is one of the oldest automakers starting all the way back in 1899. It has become one of the most dominant European automakers and through its Renault-Nissan-Mitsubishi Alliance, has become one of the largest in the world. The French brand appeared to the electric car scene rather early with the release of the Zoe in 2012.
Since then Renault has committed to electrification by slowly transitioning its offerings. The company wants to have 14 new electrified models by 2025. Commercial vehicles have also played a big part in Renault's offerings and won't be ignored in the electrification efforts. Below you can find some of the Renault electric vans that the automaker offers already.
The Renault Kangoo has long held a place in Renault's lineup since its inception in 1997. It was one of Europe's most popular light commercial vehicles. This popularity would continue with the introduction of the Renault Kangoo Z.E. electric van in 2011. The Kangoo Z.E. electric cargo van received an update in 2017 including a new battery, motor, charger, and heat pump.
The current electric van features a 33 kWh battery, giving the electric cargo van a WLTP range of about 143 miles. The range goes up to about 199 miles in city driving, which is where most of the Kangoo ZE's driving will take place. There is no fast charging so the quickest you'll get to a full charge is 6 hours or so.
The Kangoo Z.E. is offered in various configurations allowing it to either be an electric cargo van or electric passenger van. There is a long-wheelbase version offered and can be configured to have only two seats or five seats. Depending on your configuration, you will have anywhere from 120 cu. ft. to 162 cu. ft. of loading space. It's not large enough to start a moving company, but probably enough for most small businesses.
Look for an updated version to come out sometime this year alongside the next generation of gasoline-powered Kangoos.
Is the Kangoo Z.E. too small for your needs, well then the Renault Master ZE might be up your alley. Following the success of electrifying their small Kangoo van, Renault expanded their Z.E. lineup by bringing the Renault Master Z.E. electric cargo van.
The underpinnings of this electric delivery van are pretty much identical to its smaller cousin, the Kangoo Z.E. The Master Z.E. features the same 33 kWh battery but due to its larger size, the range cuts down to 75 miles or 95 miles in strictly city driving. Likewise, the charging speed is limited to about 7 kW, so a full charge will take about 6 hours.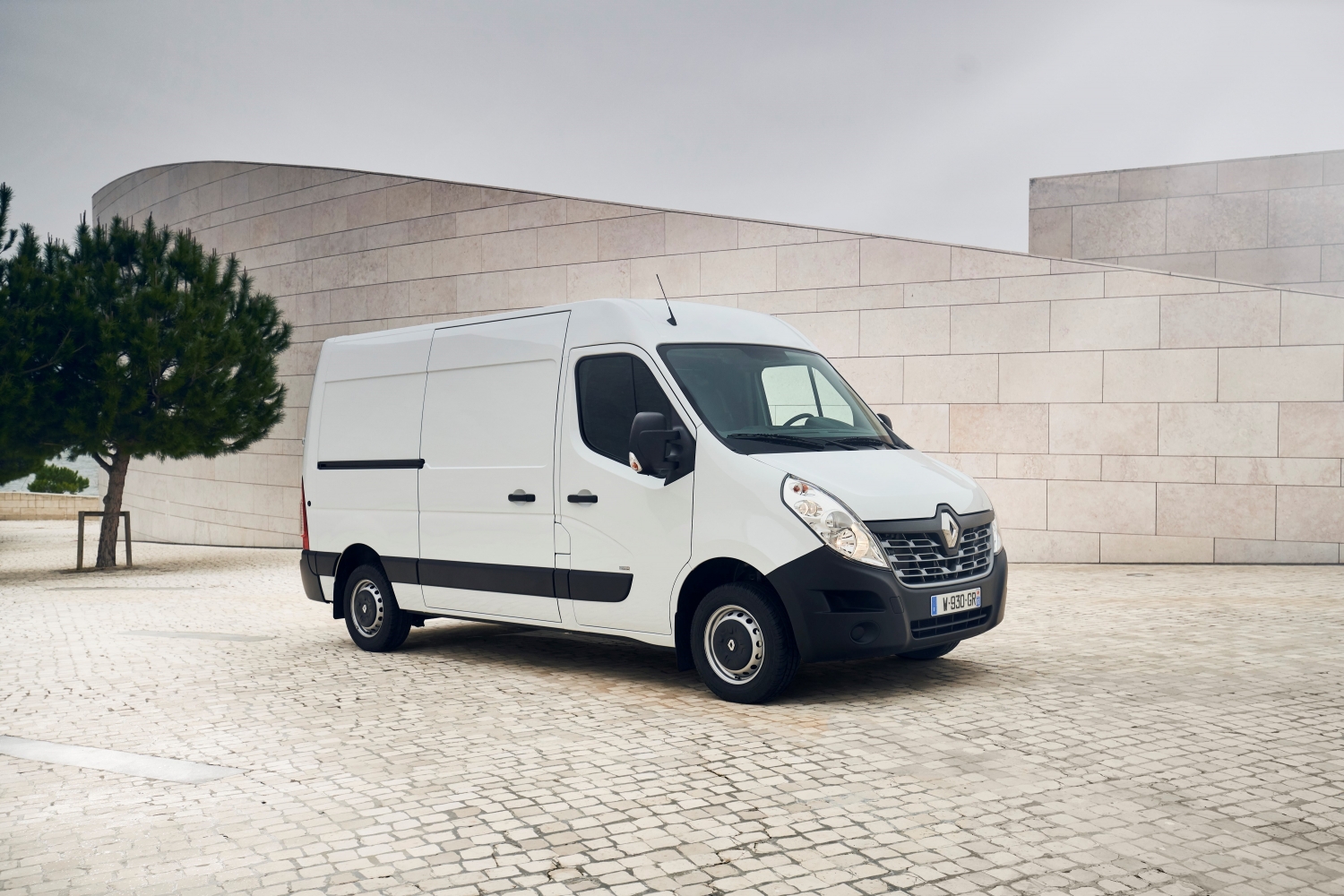 The Master Z.E. comes in many more sizes than the Kangoo Z.E., but none of them come with extra seats beyond the front row. As such, you are limited to using this as either an electric cargo van or electric delivery van. Depending on the size option, the Master Z.E. has a loading volume of anywhere from 282 cu. ft. to 459 cu. ft.
Along with offering a panel van, the Master Z.E. also comes in a chassis cab and platform cab configuration. This allows you to turn the Renault Master Z.E. into a box truck and gain even more space.
Someone at Renault is very loose with their definition of 'van'. I am sorry to tell you that the Renault Zoe Van should not be considered a van, but since it's in the name, we have to mention it. The Renault Zoe has become one of Europe's best-selling electric cars since its release in 2012 and is the pillar of Renault's electric lineup.
The Zoe Van features the same great powertrain as the regular Zoe with a 50 kWh battery that gives a WLTP range of 245 miles. The electric van features actual 50 kW fast charging, allowing for about 90 miles of range in half an hour. Those specs obviously best the above two Renault electric vans by far. But the above two vans have much more utility than the Zoe Van since you know, the Renault Zoe isn't really an electric van.
Simply put, Renault took an existing Zoe and ripped out the rear seats, and added a cage to separate the front cabin from the cargo area. All in all, this gives you about 35 cu. ft. of space to haul cargo.
If you have a really really small business then I guess this could be your electric cargo "van" of choice.