As something of a Volkswagen groupie, I was more than a little excited to see that they are bringing back the groovy look of the 70s VW vans, but with a twist. The Volkswagen ID Buzz is the electric version of their classic Type 2 Microbus, although it is only inspired by the classic van without mimicking it directly. According to Volkswagen, the new Volkswagen ID concept will be loaded with features, technological advances, and it will be more affordable than you might expect. It's still in its designing stage for now, but it will be released soon along with a multitude of other amazing all-electric models. This article will cover what we know about some of these electric Volkswagen concept cars that are part of their Volkswagen ID series.
Volkswagen ID Buzz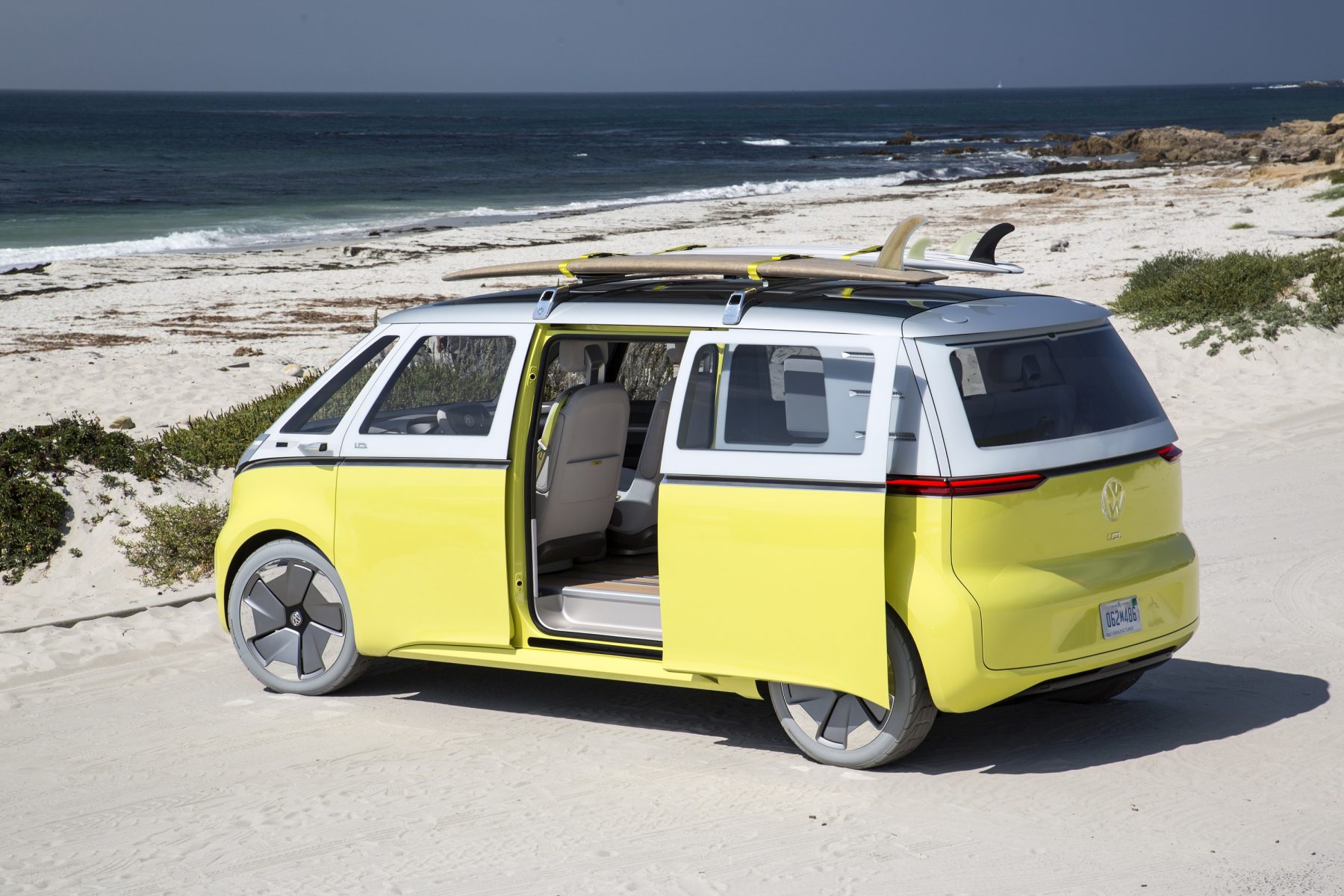 Probably the most exciting Volkswagen ID concept is their concept van. Depending on how old you are, you may remember cruising around in a classic Type 2 Microbus. Even if you don't remember it yourself, chances are you've seen it in a movie or on television. There's something about that particular vehicle that can really bring out the nostalgic side of people. Set for production in 2022, Volkswagen has already made several very optimistic promises about the Buzz's performance and package. The claim is that the ID Buzz, along with the other concepts they have recently debuted, will set new standards for battery life, miles per charge, and charge time. On top of that, they are promising that it will have all the latest and greatest features. We're talking nearly 300 miles per charge, a 111 kWh battery pack hidden in the floor of Volkswagen's patented Modular Electric Drive kit (MEB), and 369 horsepower, not to mention all the interior space of a van.
The new ID Buzz, which is the seventh generation of the Volkswagen bus, has stowable seating, third row seating, and a variety of seating arrangements so that you'll have plenty of space for you, your passengers, and anything else you need to bring along. There is also a front-trunk for even more storage space. If the nostalgia, the features, the performance, and the interior space were not enough to impress you, how about the fact that Volkswagen is promising that the ID Buzz will be even more affordable than the electric vehicles that came before it? The ID Buzz is set to make electric cars even more groovy than they already were.
ID Space Vizzion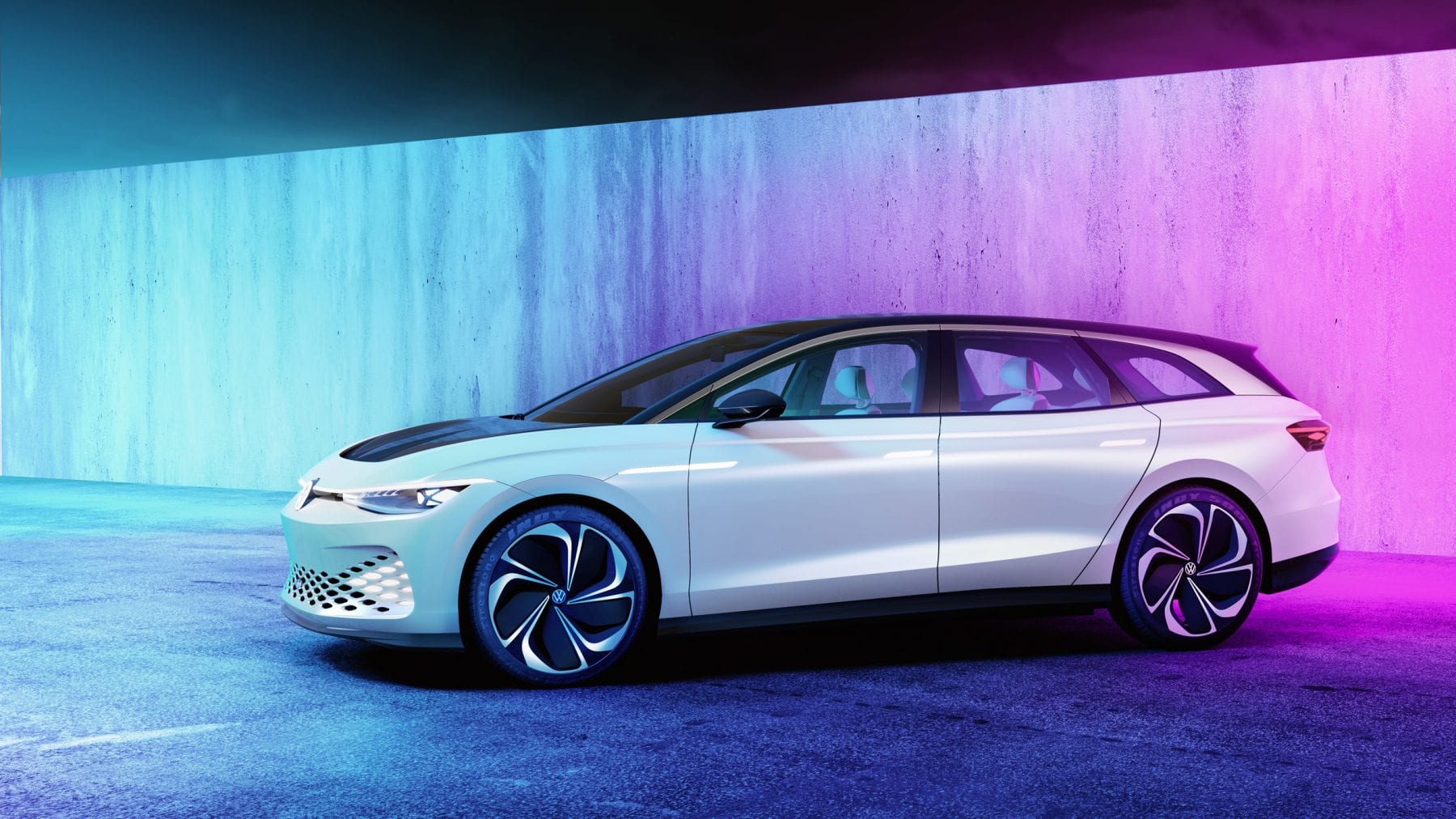 The name alone should tell you all you need to know about this futuristic electric car. Expected to be on the market in 2021, the ID Space Vizzion is Volkswagen's attempt to bring the stuff of science fiction into reality. The pioneering look is emphasized by the absence of any door handles. Instead, touch sensitive haptic pads will light up when a driver approaches. The light-up Volkswagen logo on the hood, sleek LED trim, and animated lights that can look like eyes as the open or close give the ID Space Vizzion the futuristic look that Volkswagen was going for, but this all-electric crossover is much more than just aesthetics. The Space Vizzion was designed to maximize its aerodynamic flow. Several design features were added with this in mind; including the integrated spoiler above the tailgate, the slot between the headlights, and the 22-inch wheels which were specially designed to maximize airflow. The ID Space Vizzion has 275 hp, and 82 kWh battery, and the 4Motion version can go 0-60 in about 5 seconds flat.
Inside, the ID Space Vizzion can seat four lucky people that will enjoy limousine-like luxury. The interior is spacious and the seats use a new fabric called Apple-skin, which feels like leather, but is not made from any animal products. If you weren't already convinced that Volkswagen is going all out on this one, you'll want to check underneath the luggage compartment behind the seats. That's where you'll find the two electric skateboards to get around on when you can't take the car with you. I started this article by admitting that I'm a bit of a Volkswagen groupie, now that you've been introduced to the ID Space Vizzion, you might be starting to understand why.
ID.4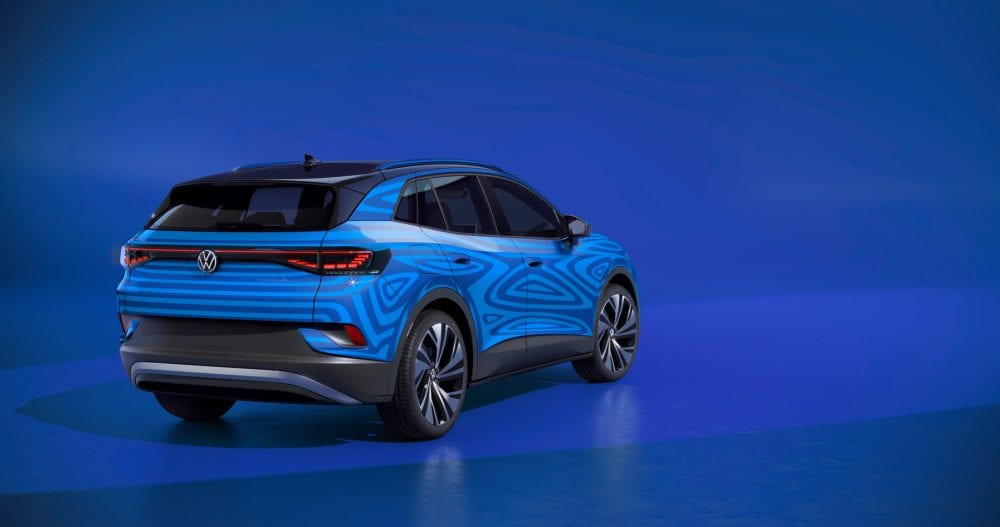 Volkswagen has not released as much information about this VW concept as some of the others, but we don't know that there is a lot to be excited about here. The ID.4 is an all-electric SUV that is set for production in the U.S. in 2022. At a low price point, it is expected to be one of the upcoming Tesla Model Y competitors. The design is intended to wrap an aerodynamic body around a spacious and luxurious interior. The ID.4 is meant to have high tops speeds and lightning-fast charging times. Volkswagen is claiming that it will have a very competitive 250 miles per charge. The inside will have all the lovely bells and whistles you would expect from a Volkswagen, and the aesthetics are impressive as always, although we've yet to see the final design. The plan is to release a rear-wheel-drive version first, then they will follow that up with a slightly more rugged all-wheel-drive two-motor version shortly after that. They have yet to release much information on this particular model, but there's no reason to doubt that Volkswagen will deliver something as impressive as ever.
ID Roomz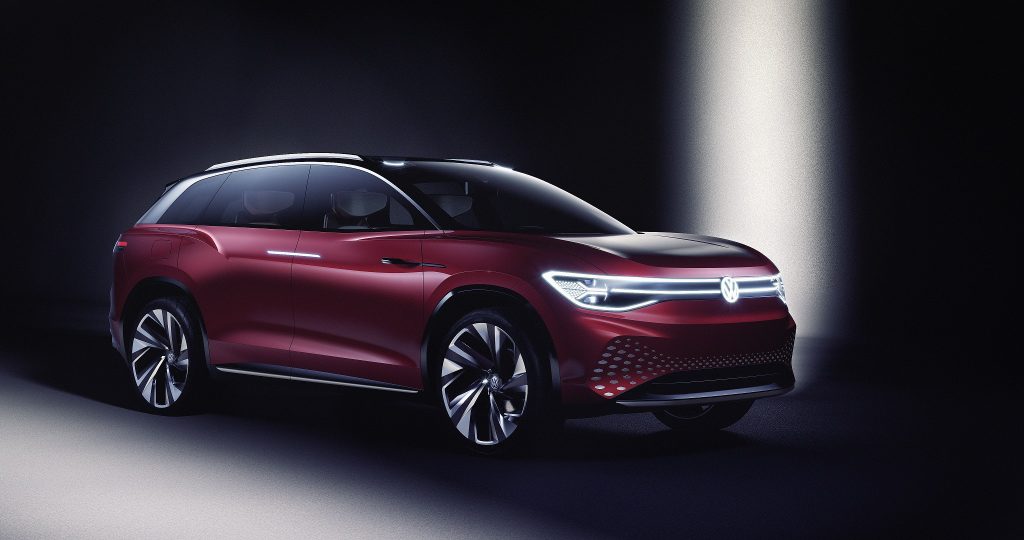 The larger brother to the ID.4 and what will most likely be called the ID.6 was originally revealed as the ID.ROOMZ electric SUV concept. Get it? Because it has a lot of room. I know, it's really subtle. Stylistically it does just look more or less like a larger ID Crozz Volkswagen concept, down to the sliding rear door with an absent b-pillar giving the cabin a wide-open feel, however, this will most likely be gone for its 2021 production date. As the name implies there is a lot of room on the inside and there will be three rows to fit seven passengers. The concept did show that this was not set in stone and that there could be different seat configurations in the cabin, similar to what they showed for the cabin of the ID Buzz. Just a lot like the other Volkswagen ID concepts, the ID Roomz was shown with level 4 autonomy and retractable steering wheel, both of which are highly unlikely to make the production vehicle. The preliminary range was about 280 miles on the WLTP scale using an 82 kWh battery, which is pretty decent for a vehicle of this size. Unfortunately, the ID Roomz looks to only be making its debut in China in 2021 with no word on when/if we will see a worldwide release of the electric SUV.
ID Vizzion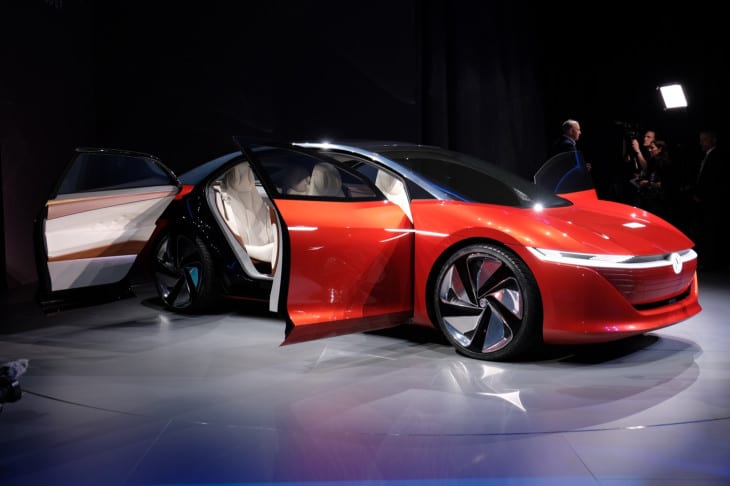 The ID Vizzion is the most 'concept' concept on this list of concepts as the electric car doesn't even have a steering wheel. Once again as the name implies, this is Volkswagen's vision of what their electric cars will look like by 2030. In this hypothetical vision, Volkswagen will have reached the mythical level 5 autonomy and allow for a completely hands-off journey anytime the driver (now technically passenger) gets in the car. The car also has a high tech LED matrix on the front that can project images on the road ahead of it, an example given was a crosswalk being projected on the ground to let pedestrians know that the car is stopping for them and it's safe to cross the road. The future sedan based on this concept is looking to be produced in 2022 and while Volkswagen states that the level 5 autonomy won't make it onto the production version, the 111 kWh battery giving a 400-mile range, will. Given the similarities in concept names, we can expect the Vizzion (ID.5?) to look more or less like the Space Vizzion that was revealed afterwards with a more evolved design.
ID Buggy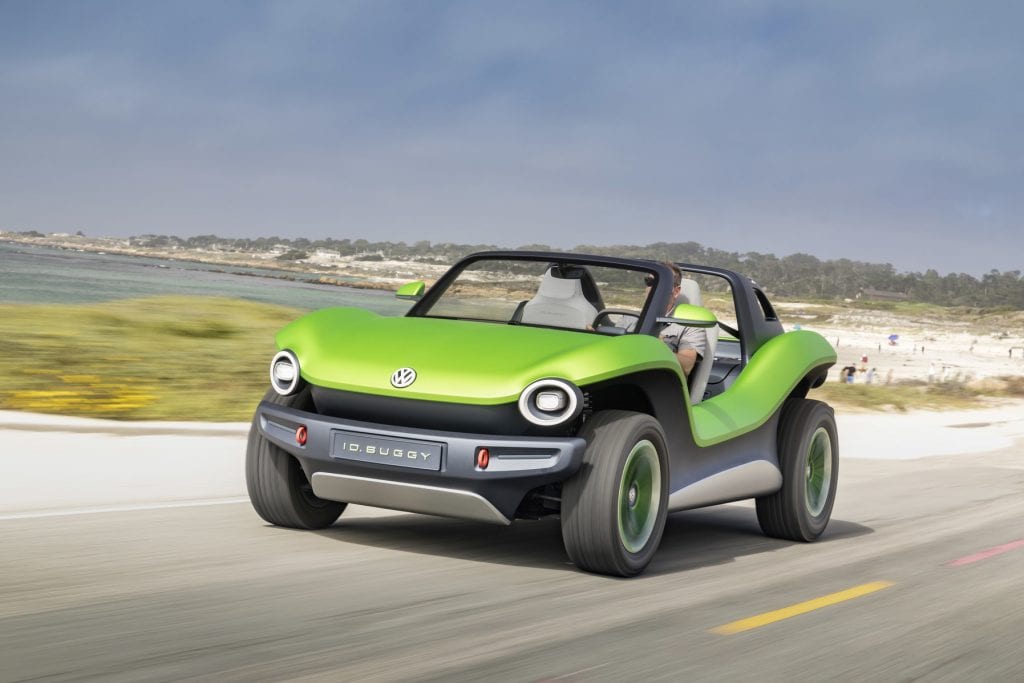 Competing with the ID Buzz as the most exciting Volkswagen electric concept car, the ID Buggy is a car that many thought would have been too 'out there' for Volkswagen to seriously consider creating, but it looks like the German company wanted to have some fun. Volkswagen Chairman Herbert Diess explained it best, "We decided on the Buggy because it is the most emotional and irrational vehicle we could develop.". Unfortunately, while it is cool, it will be made in pretty low quantities due to the niche appeal of it, so it might be hard to ever get your hands on one, but if you really are about that funky buggy life, then Volkswagen has given you the opportunity to own this seriously cool electric buggy. The concept was shown with a 62 kWh battery that will give you about 155 miles of range. While the range is lacking, it will all be made up for by the jealousy of onlookers as you cruise past in your neon green electric bug.
The goal with all these models goes beyond being innovative and pioneering new designs for electric cars. Volkswagen claims to be making an effort to make electric cars affordable to the masses, so that they can take one more step toward replacing traditional gas-powered vehicles with these more environmentally-friendly vehicles. The plan is for all of these concepts, and many future models that have yet to be announced, to be priced to sell to everyone, and not just as novelty cars to millionaires. The Volkswagen ID Buzz, ID Space Vizzion, ID Vizzion, ID Roomz, ID Buggy and ID.4 are promising and optimistic representations of the future of the electric car industry. That is good news for us, since we get to drive these beautiful vehicles. It's also good news for the environment, since our carbon footprint is shrinking by the day, and that is great news for us again, since we get to live on this planet as the air gets a little more fresh. Keep an eye out for these groovy new additions to the Volkswagen lineup.